Comforting Chinese noodle soup with chicken, noodles and bok choy is quite easy to make. The Chinese chicken broth is packed with flavour because of the fresh aromatics.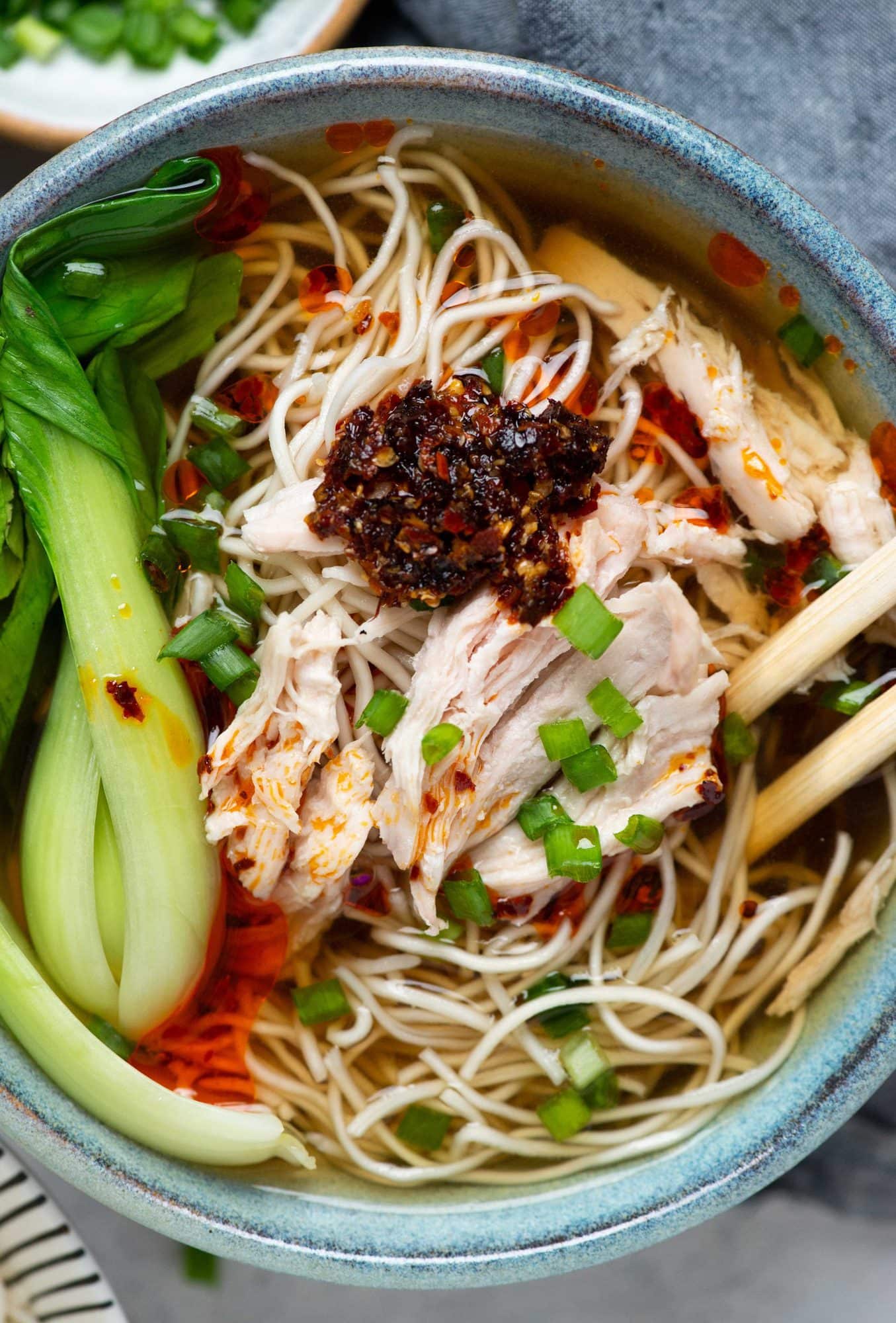 Egg noodles, chicken, and vegetables in a flavour-packed Chinese broth, this soup feels like a hug in a bowl. Perfect soup in cold weather or when you are feeling under the weather. And the best part is it takes less than 30 minutes to put together this soup, with only a handful of ingredients.
This soup is not only quick, but it is also versatile. You will easily swap vegetables and proteins of your choice.
Ingredients
Broadly this soup can be divided into 5 components
Stock - Chicken stock is the base of the soup, so make sure the stock is of good quality. No doubt homemade stock is the best, but to save time you can use store brought one. The stock needs to be low sodium, else after adding seasoning it will be saltier.
Aromatics- This is the secret for the most flavourful soup base. Adding aromatics to the stock lifts the flavour and adds freshness. We are using crushed garlic, ginger, cilantro stems, green onion, and peppercorn. Simmering the stock along with the aromatics for 10 minutes is just enough.
Seasoning - After incorporating the aromatics, the next thing is to add seasoning. Soy sauce, Chinese cooking vinegar, and sugar. Soy sauce and Chinese cooking vinegar add umami and sugar to balance the overall flavour.
Add ons- Noodles, Chicken, and veggies of your choice like bok choy, Carrot, spinach, mushroom, etc.
Toppings- Green onion/ Cilantro. And how can I forget to add a spoonful of chilli oil?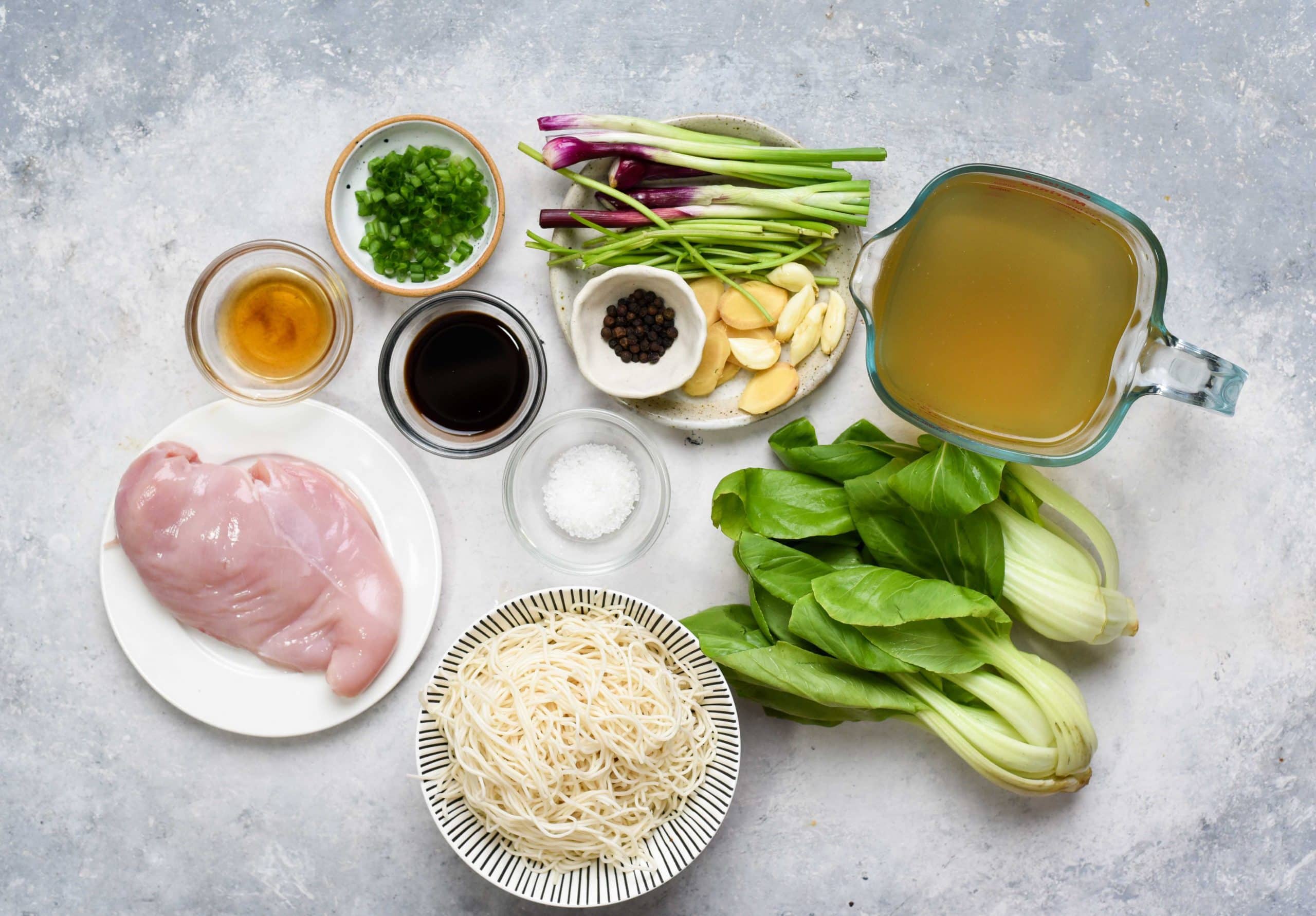 What type of noodles to use
Fresh thin egg noodles are what works the best in this recipe. But you can use almost any kind of noodles you prefer. For a healthier version, you can also use rice noodles.
Here are the steps to make Chinese Noodle Soup
Making the broth- Add sliced ginger, crushed garlic, peppercorn, cilantro root, and green onions to the broth. Once it comes to a boil, add chicken breast. Cover and simmer for 10 minutes. I like to cook the chicken along with the broth, as it adds a lot of flavours to the meat. You can also use cooked shredded chicken instead.
Chicken- Once the chicken is cooked, remove it from the broth, cover, and let it rest for 10 minutes. This ensures the chicken is moist and tender.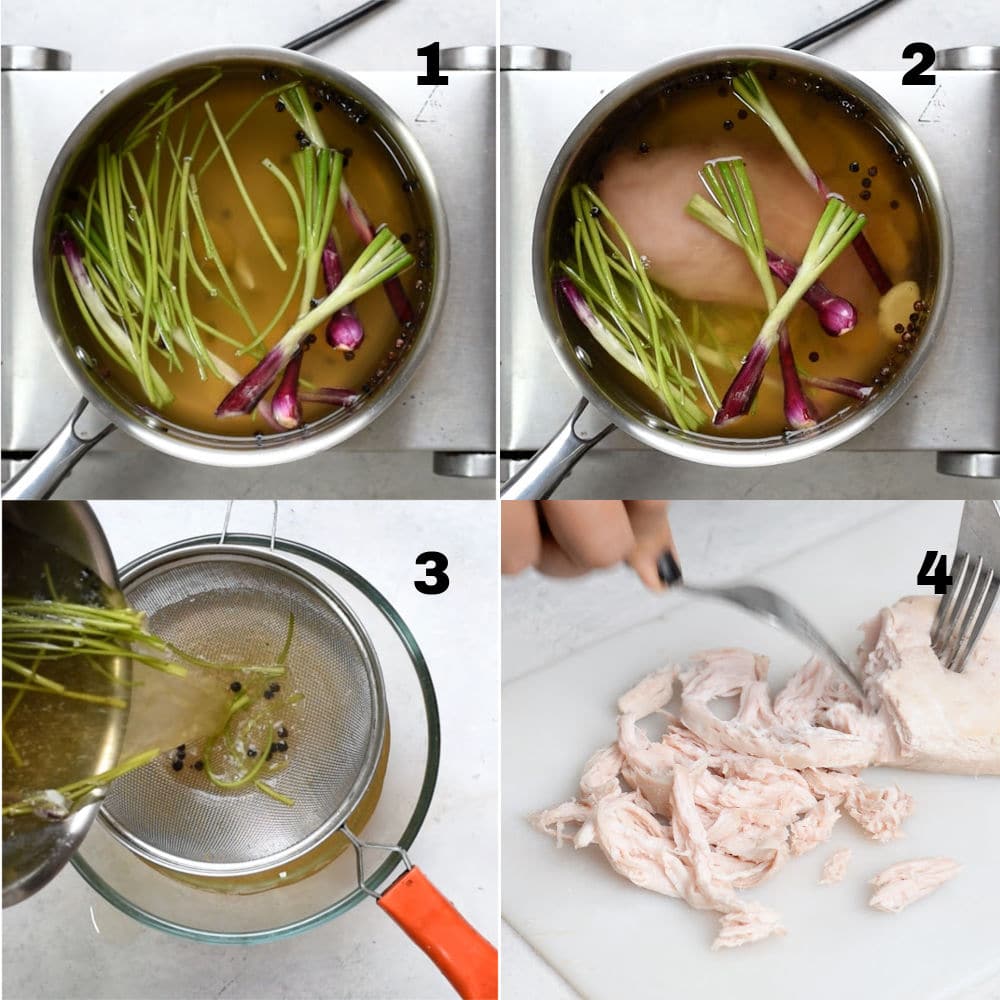 Noodles- While the chicken is cooked, cook noodles in a separate vessel. It is always advisable to cook the noodles separately. Noodles soak up a lot of broth if cooked directly in it and also the starch released from the noodles will make the broth cloudy. So cook noodles separately in slightly salted water.
Final seasoning of broth- Strain the broth and add it back to the pan. Time to add the final seasoning. Add soy sauce, Chinese cooking wine, and sugar. Check and add more salt/sugar if required.
While the broth is simmering, shred chicken.
Add bok choy to the stock and cook for a minute.

Time to assemble the Chinese noodle soup. I like to assemble on the table, just before serving.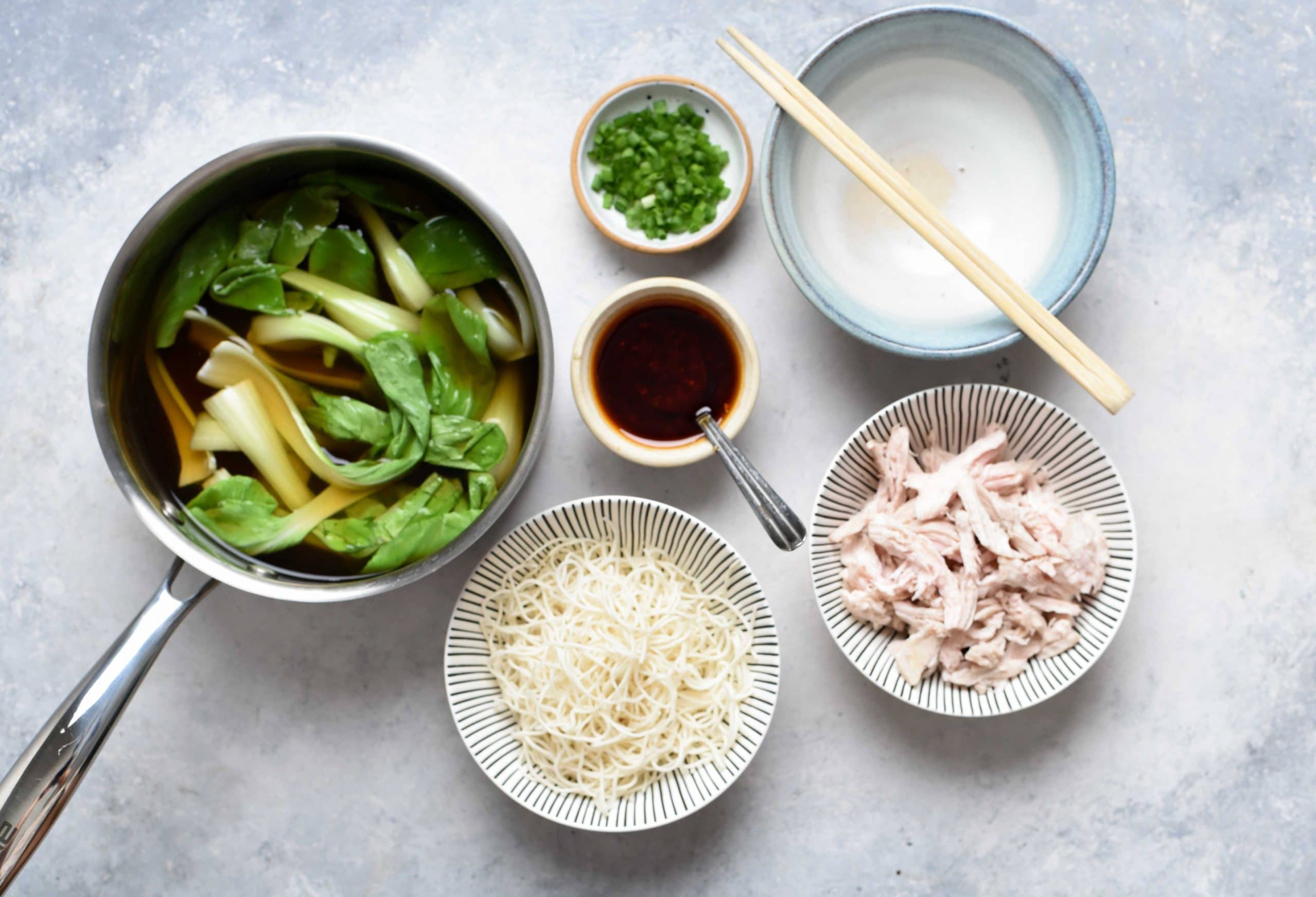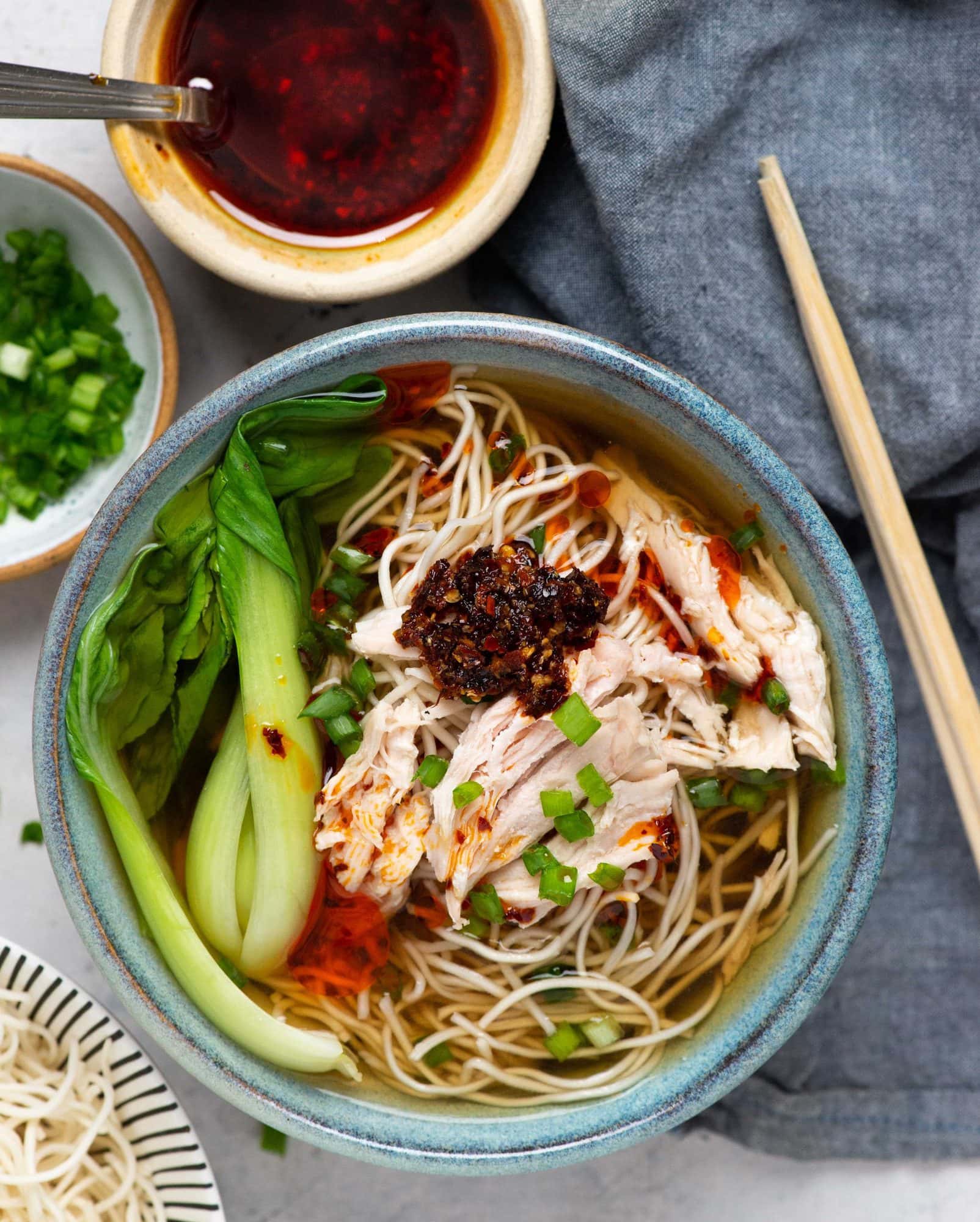 More soup recipe...
Instant Pot pumpkin sweet potato soup
📖 Recipe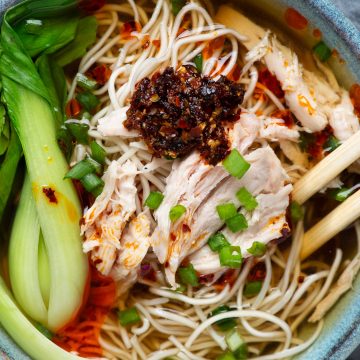 Chinese Chicken Noodles Soup
Comforting Chinese noodle soup with chicken, noodles and bok choy is quite easy to make. The Chinese chicken broth is packed with flavour because of the fresh aromatics.
Print
Pin
Rate
Ingredients
4

cups

Chicken Stock

2-3

Garlic Cloves

1

inch

Ginger

cut into thick slices

½

tablespoon

peppercorn

3-4

Green onion

only the green part

Small bunch of coriander stem

250

grams

Boneless chicken breast

2-3

baby bok choy

1

tablespoon

All-purpose soy sauce

1

tablespoon

Chinese Cooking VInegar

1

teaspoon

sugar

200

grams

Fresh/dried noodles
Instructions
To a soup pot add chicken stock, crushed garlic, ginger slices, spring onion, cilantro roots, black peppercorn. Let it come to a boil.

Gently slide the chicken breast to the pot. Simmer and let it cook for 8 minutes. Take the pot off the flame and let it rest for 5 minutes.

Remove the chicken breast, cover and keep it aside.

Strain the content of the pot in a colander. Discard the aromatics.

Transfer the strained stock back to the soup pot. Let it come to a boil, then simmer. Add soy sauce, Chinese cooking vinegar and sugar. Check the seasoning.

Time to add the veggies. If you are adding any tough veggies add them first let them cook for a few minutes or so, followed by softer vegetables. Veggies like spinach. bok choy should be added at the end and cook for 30 seconds.

Meanwhile, cook noodles in a separate pan. Shred chicken with two forks.
Assembling Chinese Chicken Noodle Soup
In a soup bowl place cooked noodles. Add chicken. Top with the broth along with veggies.

Garnish with your favourite toppings like chili oil, fresh cilantro, green onion, fried shallots, fried garlic.
Notes
If using already cooked chicken, then the cooking time cuts down by 10 minutes. 
Nutrition