Healthy Spinach Soup Recipe
This post may include affiliate links that earn us a small commission.
Creamy Spinach Soup recipe is easy, delicious, and loaded with the goodness of spinach. There is only spinach here, thickened with cream cheese and a good dose of freshly cracked black pepper.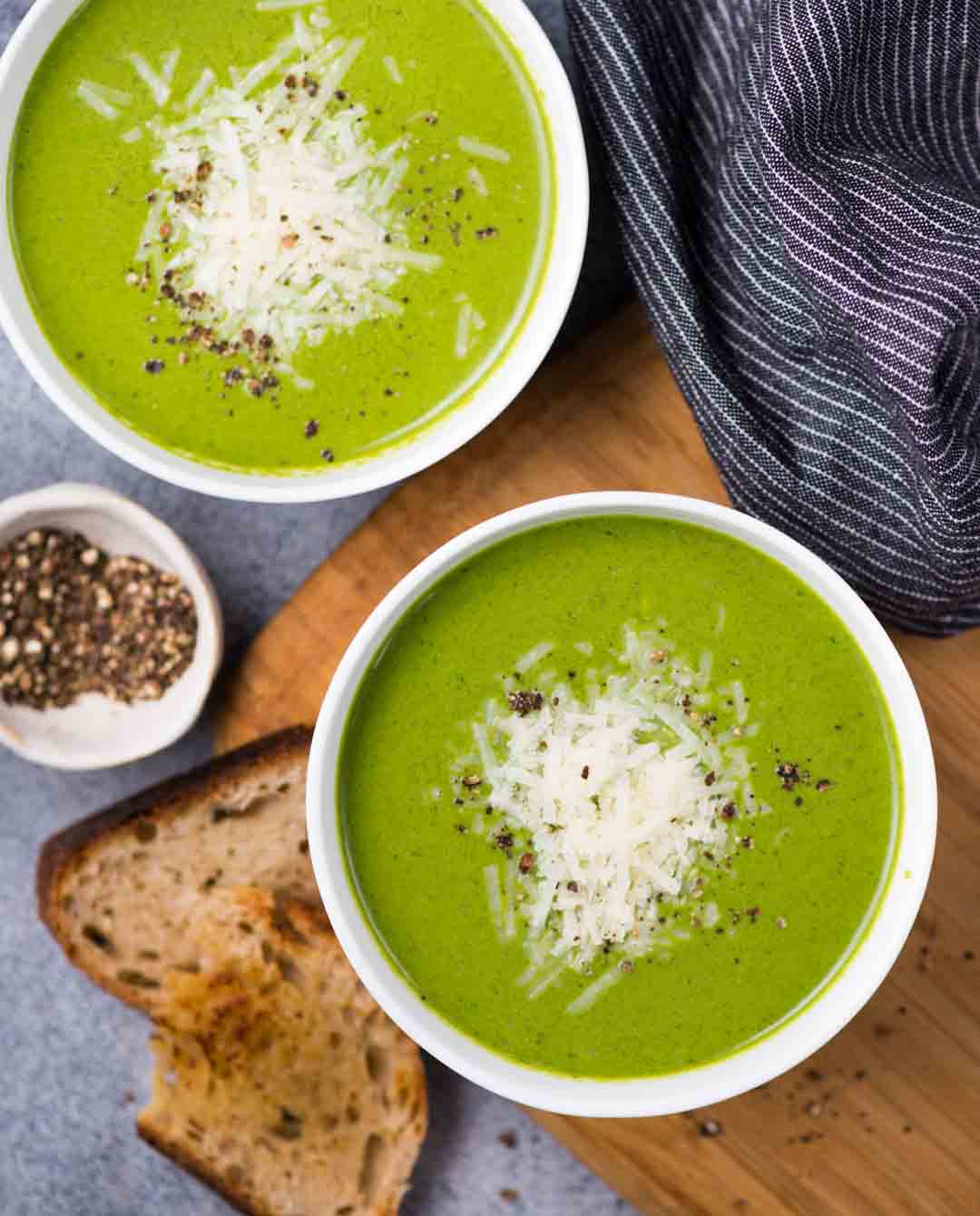 Flavours In Your Inbox
Subscribe for recipes straight to your inbox
This Spinach Soup Recipe is a great way to include spinach in our diet. Look at the vibrant rich color of this Spinach Soup. It not only looks refreshing but also is very light and delicious. This soup is a great way of including green leafy vegetables in your diet.
Except for the green color, you could hardly get the strong taste of Spinach in it. So a spinach hater like my daughter who runs away at the sight of greens finished a big bowl of it in just 10 minutes.
I am not kidding here guys, this Spinach soup really tastes fantastic. It is refreshing, creamy but not very rich on the palate.
There are no other vegetables like potato, Zucchini, which are generally used to give the soup a body. There is only 100% spinach. It takes less than 30 minutes to make it.
Wondering if Spinach Soup is Healthy For You?
There is no doubt that Green leafy vegetables are loaded with dietary fiber and should be included in our daily diet. But many don't like the taste of Spinach. I am also one of them who don't like Spinach unless it is prepared in certain ways. This Spinach soup is definitely one of my favorites.
Spinach soup is healthy and filled with nutritional benefits. Spinach is not cooked for too long in this recipe, so it does not lose any nutrition.
Another ingredient here is cream cheese, which I am sure would worry you. Even though cream cheese is high in calories, it is packed with good saturated fat. And 20 grams of cream cheese is barely 50 calories.
Basically, this soup is loaded with iron, dietary fiber, good fat, and a lot of other nutrients.
There are so many ways you can use spinach. I have used it in pasta – Creamy Spinach Pasta, another soup – Red Lentil Soup With Spinach, used it as a stuffing in chicken – Mushroom Spinach Stuffed Chicken Breast, as a wonderful filling in Spinach Corn Sandwich – Video recipe, a delicious appetizer – Creamy spinach stuffed portobello mushrooms and there is a very popular Indian curry – Palak Matar Curry ( Spinach and Green Peas Curry).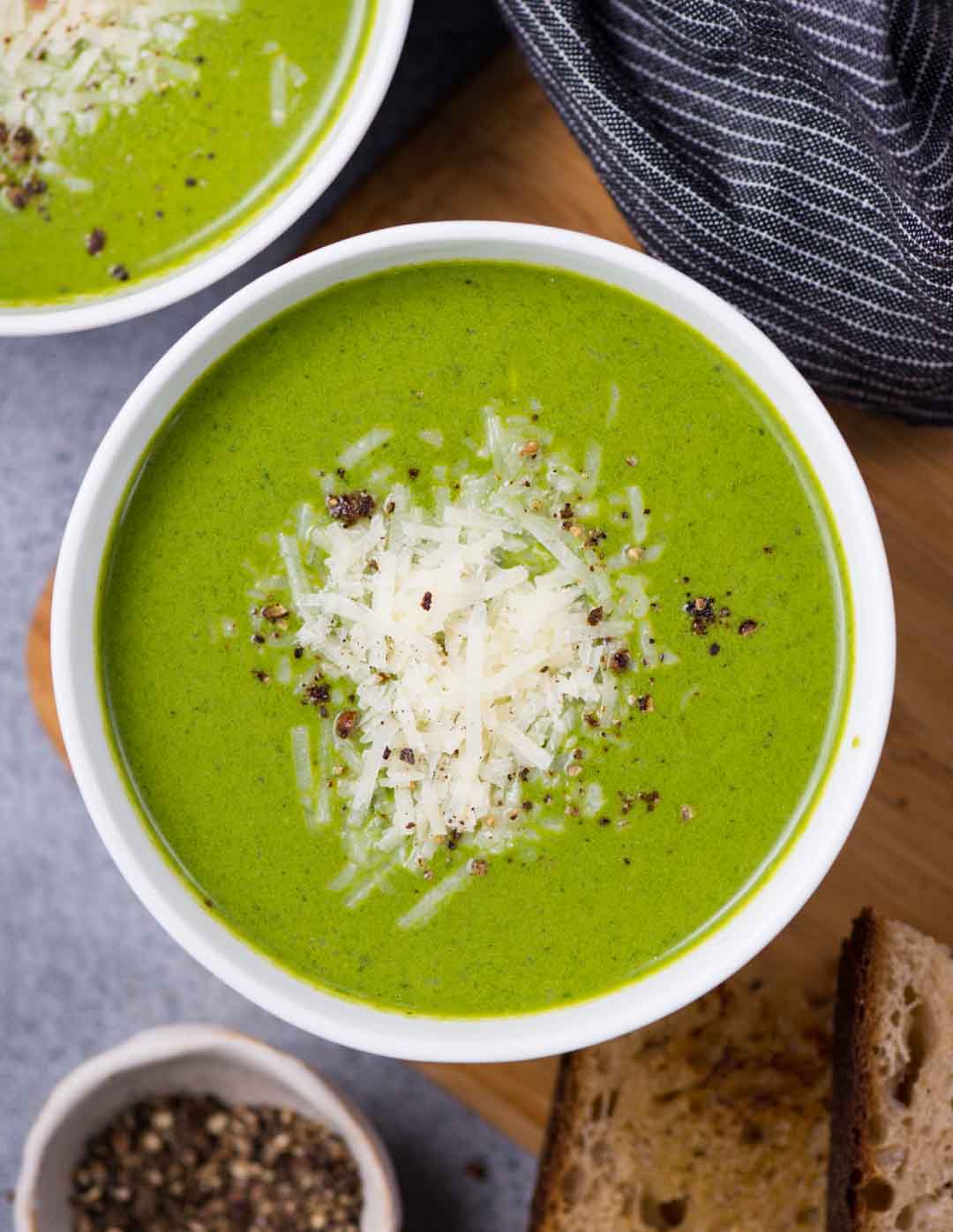 How To Cook Spinach For This Spinach Soup Recipe?
Technically we are just blanching the spinach here, not boiling it. The blanching process is nothing but cooking spinach in boiling water for 20-30 seconds and immediately plunging it into ice water to stop the cooking process.
This method of cooking not only retains the nutritional value of spinach but also keeps the vibrant green color intact.
Can We Use Frozen Spinach Instead?
While this Spinach Soup recipe calls for fresh Spinach, you can certainly use frozen Spinach instead. Frozen SPinach usually comes in handy when you run out of fresh Spinach leaves.
While using frozen Spinach leaves, completely thaw it and squeeze as much liquid as possible before adding it to the pan.
Store
You can safely freeze spinach soup for many months and as long as 10 months. Cooked spinach keeps well when frozen so do not worry on that front. Just thaw the frozen soup before reheating.
You may refrigerate this for up to five days and no more as this has onion in it. Reheat in a microwave or on the stovetop
Serve With
This is best served with either bread like this No-Knead Rustic White Bread , Cheesy Garlic Bread , or with any meaty sides Lemon & Thyme Roast Chicken or Rosemary Lemon Chicken Thighs or Easy Grilled Chicken with Buttermilk Marinade.
More Soup Recipes…
Chinese Noodle Soup with Chicken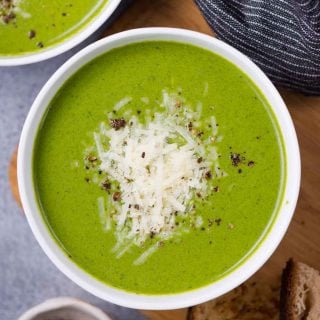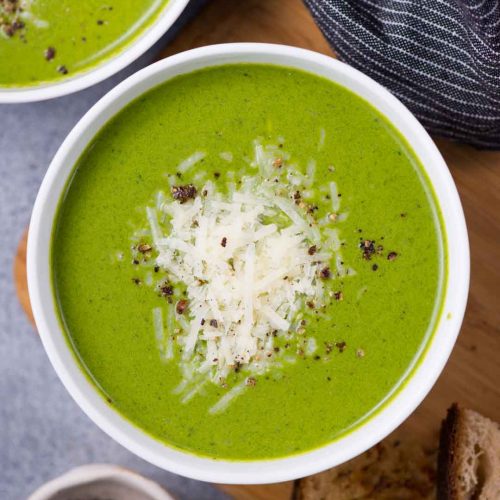 Creamy & Healthy Spinach Soup
Vibrant green, refreshing creamy Spinach soup is loaded with health benefits of Spinach. It is light, comforting and perfect soup on any day. Recipe video with step by step instruction after the recipe.
Ingredients
2 pound Fresh Spinach Leaves
1 tablespoon Butter
1 small Onion
1 tablespoon Garlic Minced
1 Jalapeno Sliced
3 cups Low Sodium Vegetable Stock warm
4 ounce Cream Cheese at room temperature
¼ cup Freshly grated parmesan Cheese (more to sprinkle on top)
½ teaspoon Salt (Adjust as per taste)
¼ teaspoon Freshly grated black pepper (Adjust as per taste)
Instructions
Bring a big pot of water to boil. Meanwhile, in another bowl keep ice cold water ready.

Add cleaned Spinach leave to the pot of boiling water. Cook briefly for around 30 seconds.

Then immediately remove from hot water and plunge Spinach for the ice bath.

Let the spinach sit in ice bath for 5-6 minutes. Then drain it in a colander and keep aside.

In another soup pot, melt butter.

Add minced garlic and chopped onion. Saute for 1-2 minutes. Let the onion soften and raw smell of garlic is gone.

Add one chopped Jalapeno ( Deseed it if you don't want the heat). Cook for 30 seconds.

Stir in blanched SPinach, warm vegetable stock, Cream Cheese, salt and pepper. Let it cook for around 1-2 minute.

Switch off the flame. Using an immersion blender blend until it is smooth and creamy.

Stir in Parmesan cheese.

Serve warm topped with more grated parmesan and sprinkle freshly cracked black pepper
Nutrition
Serving: 1serving | Calories: 152kcal | Carbohydrates: 5g | Protein: 4g | Fat: 13g | Saturated Fat: 8g | Cholesterol: 39mg | Sodium: 967mg | Potassium: 60mg | Fiber: 1g | Sugar: 3g | Vitamin A: 760IU | Vitamin C: 6mg | Calcium: 106mg | Iron: 1mg