This post may include affiliate links that earn us a small commission.
An easy and effortless bread that you can bake at home. This no-knead bread has got wonderful texture, just look at those air pockets. Read below to learn how to make this rustic white bread with just four ingredients.
I am sure you would have already scrolled through the images and must be wondering how a No-knead bread can have such a fabulous texture.
Flavours In Your Inbox
Subscribe for recipes straight to your inbox
Believe me or not, this rustic white bread that you are seeing is No-knead and I have spent hardly 5 minutes to put everything together.
No dirtying your hands, no muscle work. But you need to have loads of patience. And when you see freshly baked bread with a lovely crust and a chewy texture, all your waiting would seem worth.
It's not that I don't love kneading bread dough. I absolutely love doing that. Bread from my archive Strawberry Focaccia, Turkish Lamb Pide, ARTOS all of these bread needed a good amount of kneading.
But there are times when you are really in a mood to have some freshly baked bread but don't want to sweat to bake a bread, these kinds of bread come to your rescue.
What is No-knead bread?
This is a very old method of baking bread and predates as much as flour itself. Conventional and popular bread baking involves the procedure of kneading bread. Kneading bread helps in developing the gluten in the bread and that gives bread its texture.
To accomplish the same development of gluten strands, an alternative is to give the dough a lot of time and hydration. Leaving doughs overnight (preferably, allowing till 16 hours) and making a wet dough helps in the natural building of gluten.
No-knead bread thus involves less physical work due to lack of kneading but requires patience as the dough should be allowed to rest much longer.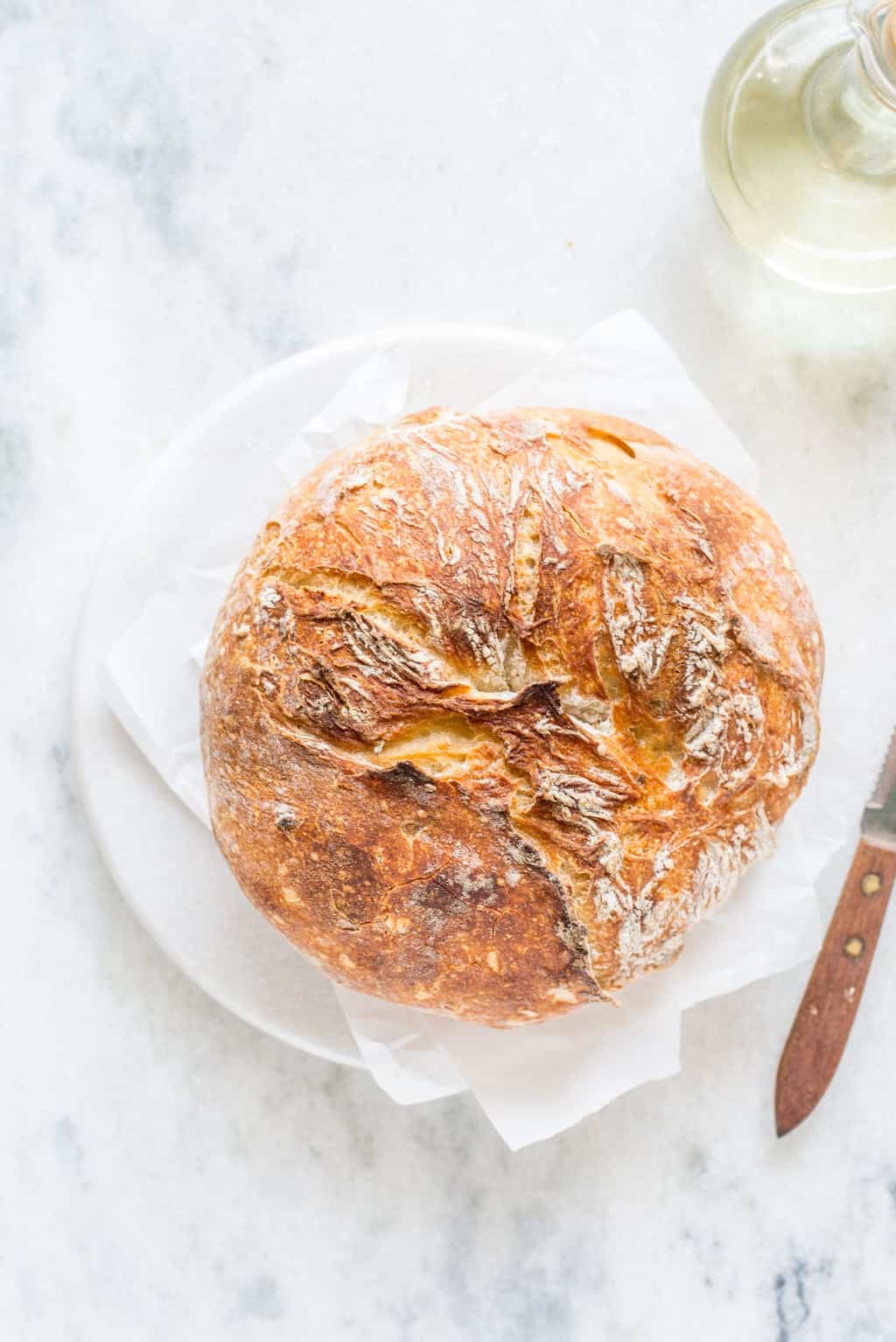 Ingredients
For such amazing texture (my heart knew boundless joy 🙂 ), this recipe needs only a few ingredients
Instant dry yeast
All-purpose flour
Salt
Water
Sugar
The dough is quite wet here. Even the amount of yeast used is quite less. Because of long resting hours, the dough rises enough and also develops good flavor. You might find the dough quite stretchy, this is because the flour gets enough time to absorb the liquid.
If you find the dough is not stretchy enough then the dough needs more hydration.
Equipment to use
Dutch Oven
Casserole Dish
Use at least a 4 qt oven for this so the bread can rise and have enough space for all the steam that gets built up. The steam is essential to get a crispy and hard crust.
A dutch oven is preferred over others because of its weight. It holds the heat well for the bread to bake. It also has a heavy lift which does not let steam escape.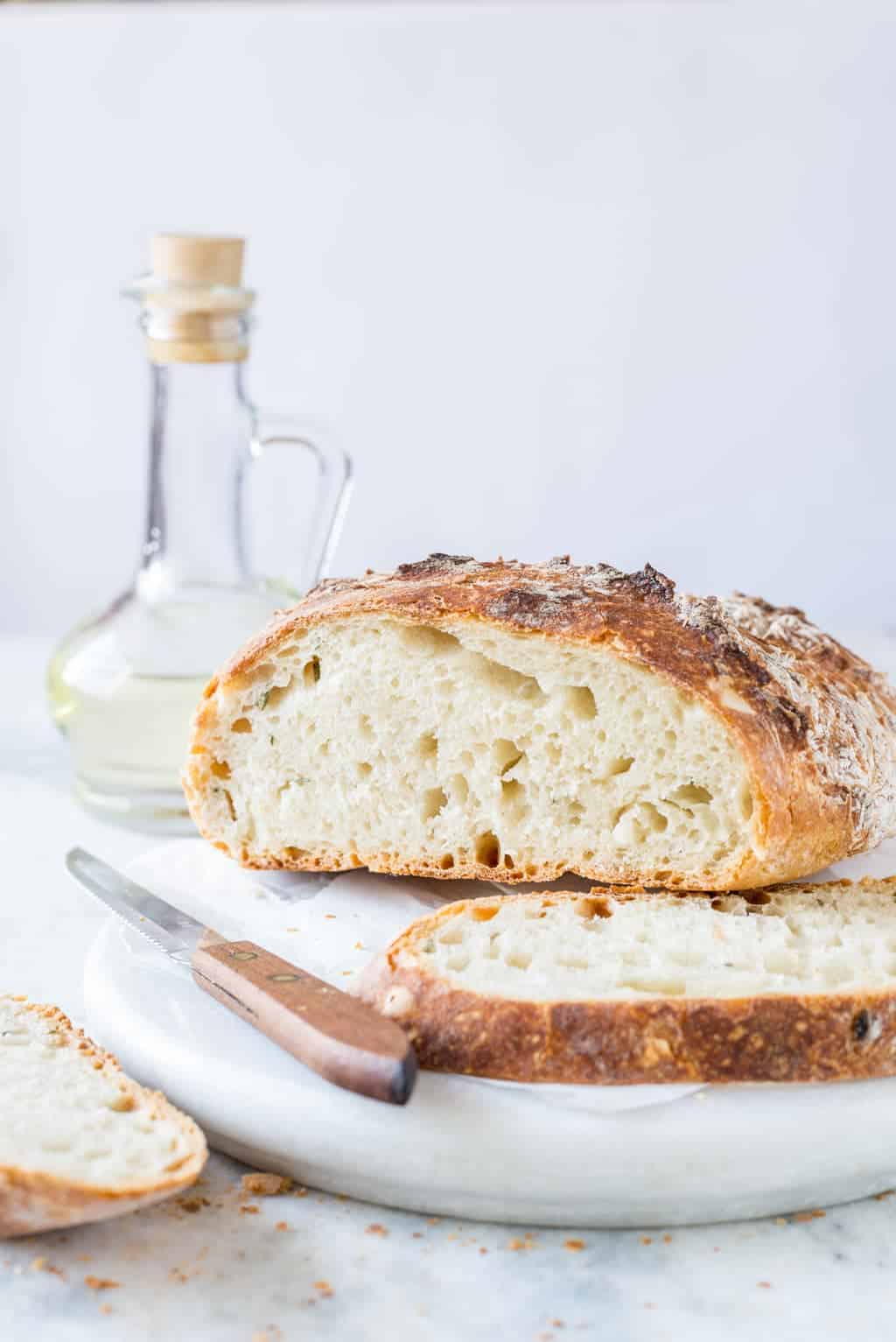 How long to rest the dough?
After resting the dough overnight, the dough would appear bubbly but would have flattened at the top (which is normal). the dough needs to be handled with well-floured hands.
Though you might be tempted to start shaping it after 6-8 hours, I would recommend leaving this overnight. The dough needs time for the yeast to do its magic and build the flavor and lightness, characteristics of good bread.
Tips to shape the dough
If you find it difficult in shaping the dough, Keep the dough in the refrigerator for a couple of hours. It is comparatively easy to work with refrigerated dough.
When the dough is still cold, shape the dough into a loaf and let it rest covered on a well-floured surface till it comes to room temperature.
I haven't tried the refrigeration technique for this particular recipe but this technique is applicable for most Artisan bread. So if you are giving it a try, I would love to hear about your experience.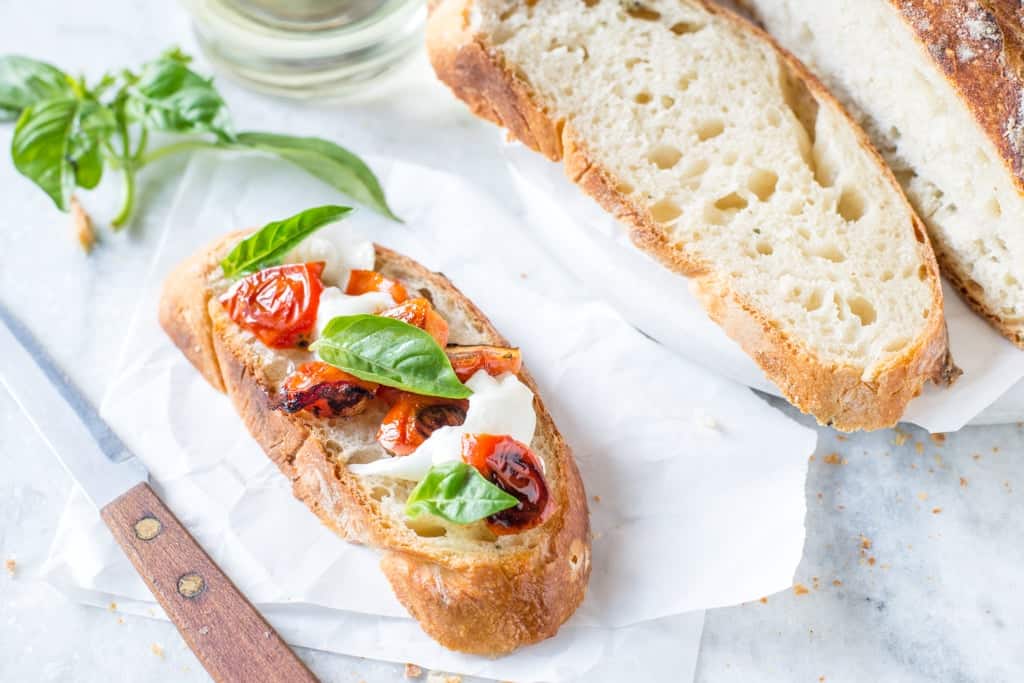 To serve with
I prepared some bruschetta with roasted tomatoes, fresh basil leaf, buffalo Mozzarella cheese, and drizzled with EVOO.
Shoot me, with any questions you have while baking this bread. I will try my best to answer 🙂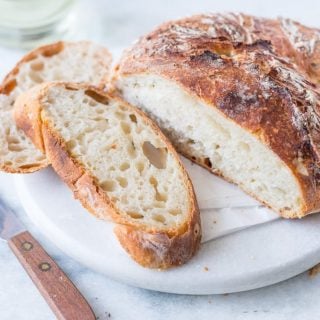 No-Knead Bread
A simple recipe with a handful of ingredients to getting great bread. This No-knead bread needs no muscle work and still gets beautiful texture with lightness and airiness.
Ingredients
3 cups All purpose flour
1.5 tspns Salt
½ tspns Active dry yeast
1 ½ cups water Luke warm
½ tspn sugar (optional)
For rosemary and garlic flavour
1 tbsp rosemary Fresh
2 – 3 pods garlic Roasted
Instructions
In a large bowl stir together flour, salt and yeast. if adding rosemary, slightly crush it and add. Add crushed garlic (if using). Add water and using a spoon mix well.

The dough will be wet and shaggy .Don't over work the dough. The less you work with it, more fluffy and soft the bread will be.

Cover and let the container be on kitchen counter for 8-12 hours. (I prefer doing it overnight). The dough will rise and look bubbly at the surface.

When ready to bake, Preheat the oven to 220-degree celsius. Place an oven proof baking dish covered with a lid (Dutch Oven or any heavy bottom) for about 20 minutes.

While the dish is heating up, with floured hands remove the dough from the container and place on a well-floured surface. Shape it to a loaf.

At the end of the heating period, carefully remove the dish. If you want to be extra careful,slide in a piece of parchment paper/or brush with oil to prevent the bread from sticking.

Carefully slide in the dough ball. Cover the lid and bake for 30 minutes covered.Then remove lid and bake for 10-15 minutes / till you get a golden brown crust (Which ever is earliest) .

Remove and let the loaf come to room temperature.