There are time things doesn't happen as they are planned. For me this always happens, especially when it comes to cooking on weekends. Once it is Friday I put my thinking cap on and start searching over the internet and listing down few new recipes to try over the weekend. But many times it has happened I plan for something and end up cooking something else. This Italian Potato and Chicken Bake happened on such a weekend.
We were not in a mood to have the regular meal on that day. My domestic help had taken off and I was totally focused on completing the household core. It was about lunch time and I started searching the freezer. Started putting ingredients on the counter. There was fresh basil and all I could think was something Italian. I really don't know whether any such combination exists in Italian cuisine or not. But the outcome was so delicious and one of the best I can say. We had this with some rustic bread and some pasta tossed in olive oil.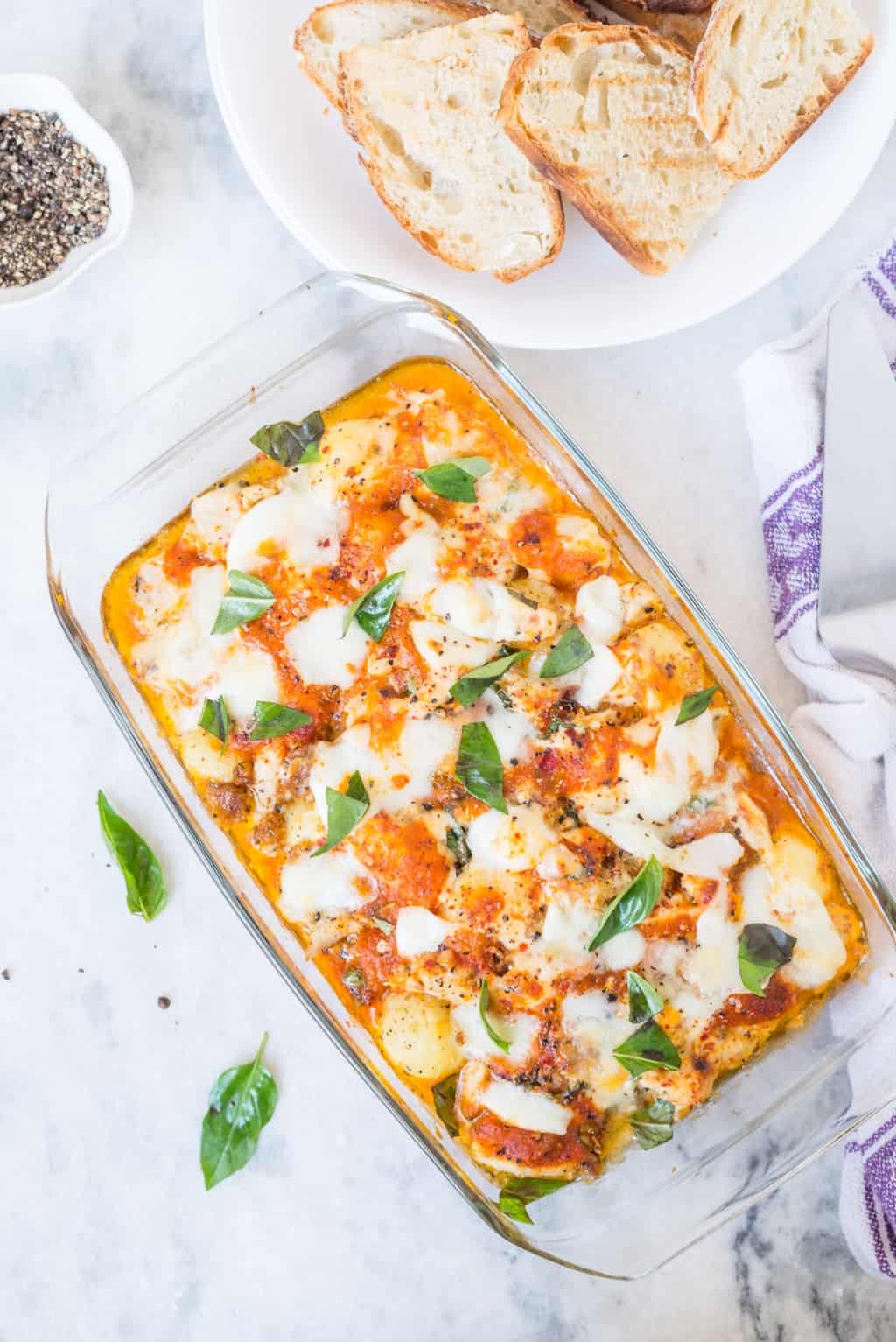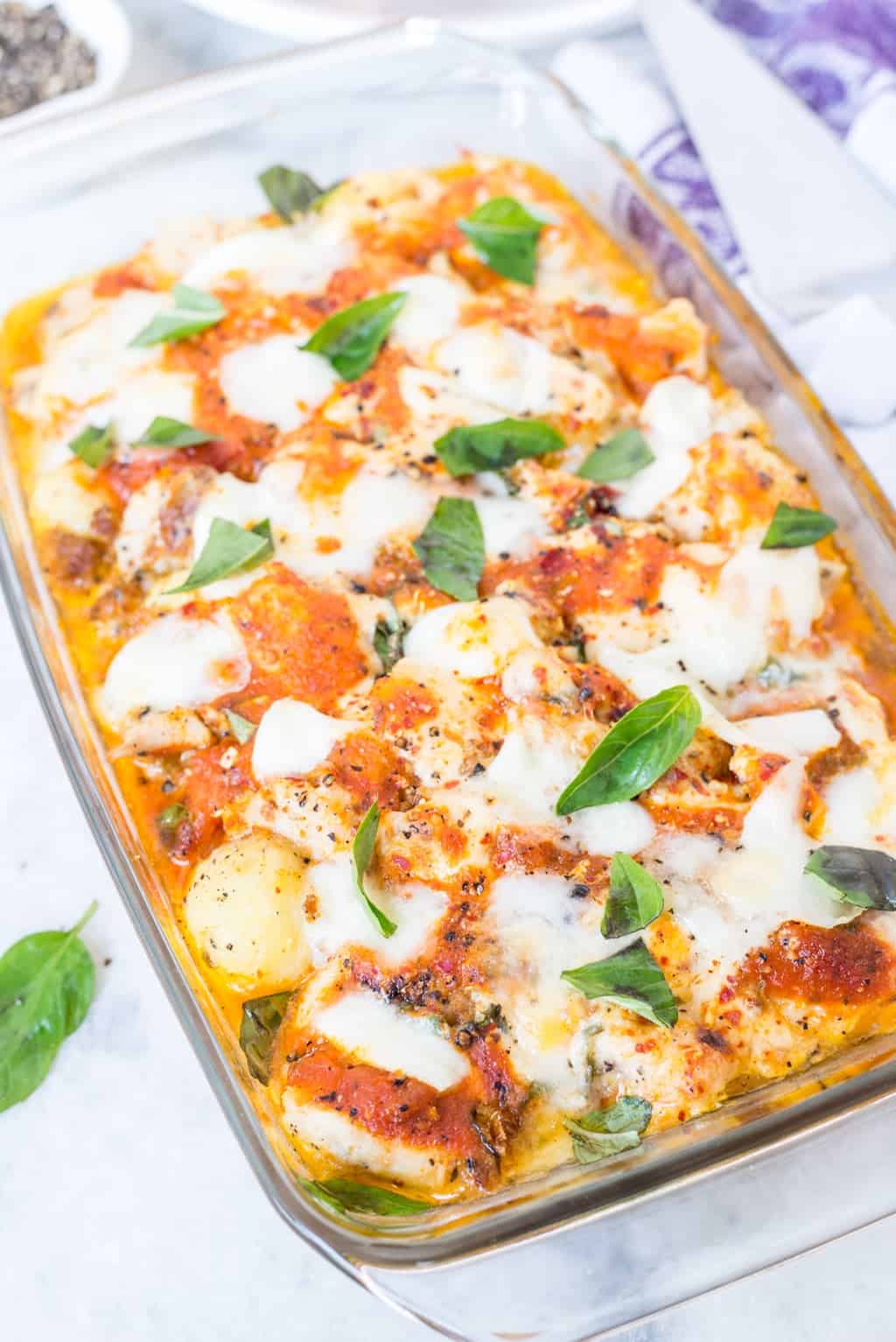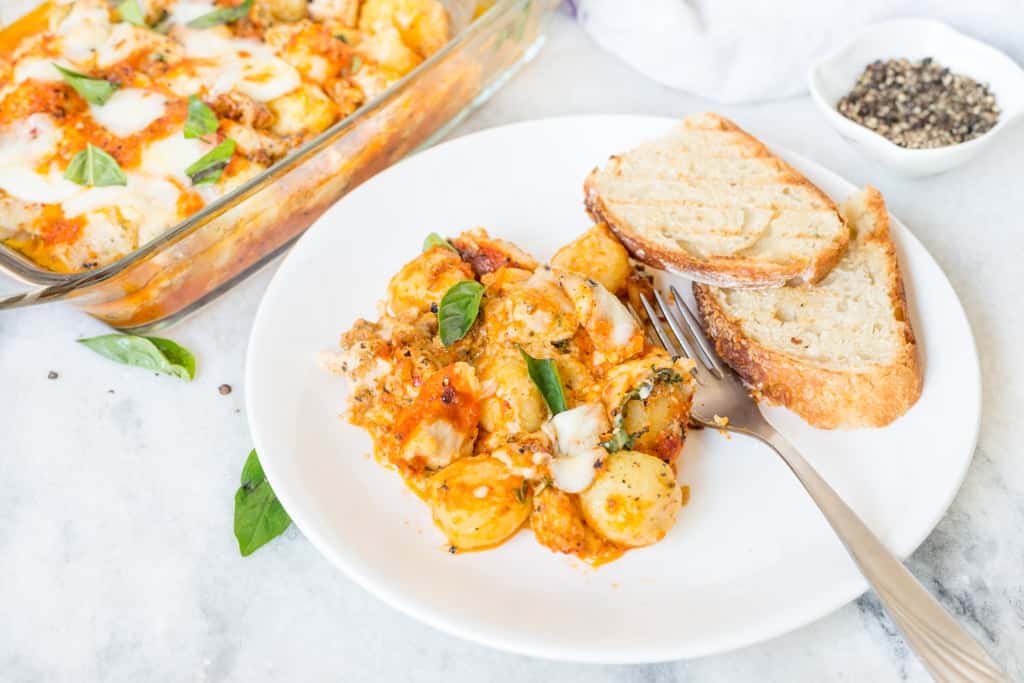 📖 Recipe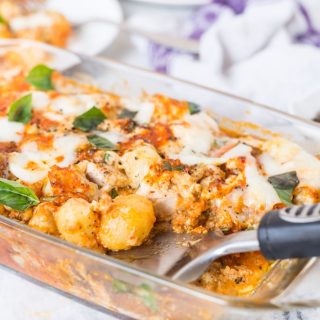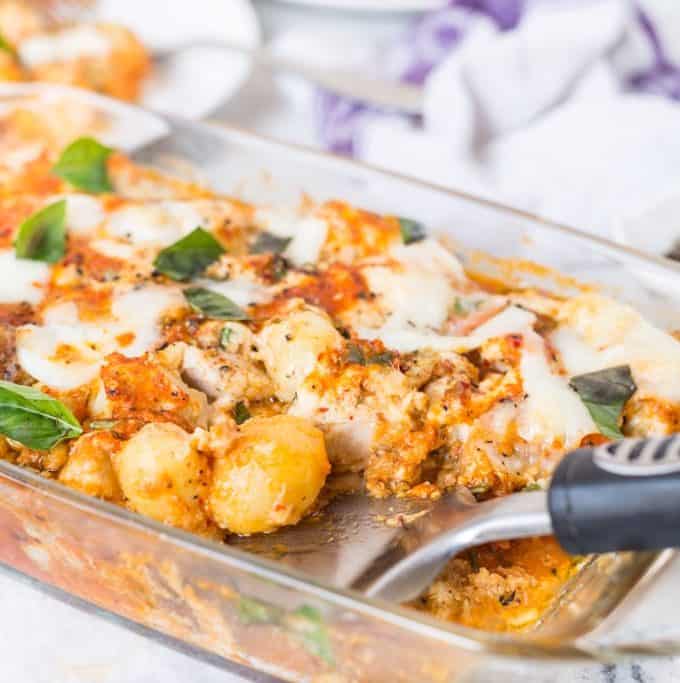 Ingredients
400

gms

Chicken Breast

, Cut into slightly bigger chunks

250

gms

baby potatoes

, cooked and peeled

3.5 + 1

tbsps

All-purpose Flour

Salt pepper

and for Seasoning

2

Cloves

garlic

2.5

tbsps

Oilve

Oil

Red Chilli

flakes (as per taste)

Mozzarella cheese

to top .

Basil

leaves for garnishing
For Marinara Sauce
6 - 7

Tomatoes

(Reserve water after blanching) Medium Blanched

2

tbsps

tomato paste

2 - 3

cloves

Garlic

1

tablespoon

Olive oil

to taste

Salt

pinch

Sugar

Handfull

basil

fresh leaves , chopped roughly
For Bechamel Sause
1

tablespoon

butter

(I used Unsalted)

1

tablespoon

All purpose flour

1.5

cups

milk

¼

cups

Parmesan Cheese
Instructions
Marinara Sauce : In a pan heat oil. Add chopped garlic. Followed by chopped blanched tomatoes, tomato paste, salt and sugar. Bring everything to a boil. Add reserved water if required to get the consistency. Stir in chopped basil leaves. Switch off the gas.

Bechamel Sauce: In another pan add butter. Add few drops of olive oil. Stir in flour and mix continuously until the paste cooks and bubbles a bit. Take care not to burn. Add hot milk. Stir constantly and allow it to boil. ( try to avoid lumps by stirring constantly ).

Switch off the gas. Stir in parmesan cheese. Keep aside the sauce.

In a pan 1.5 tablespoon of olive oil, Minced garlic, salt and pepper. Mix well. Add potatoes. toss well. Remove and Keep in a separate bowl. Then toss them with 1.5 tablespoon of flour.

In the same bowl add chicken cubes to the remaining marinade. Mix well. Toss the chicken cubes with remaining 1.5 tablespoon flour. Keep aside.

In a thick bottom pan add remaining oil (1 tbsp). When the pan is hot add the chicken cubes and toss in high heat for not more than 4 minutes. (We are going to bake it later, so it's ok if it is not cooked through)

Once the chicken looks brown on outer side, remove and keep aside. Scrape any residue from the pan.( Don't ever through the roasted residue from the pan, it's the best part)

In the same pan toss marinated potatoes. Fry on medium-high heat until they are roasted and golden brown. Remove from the pan and any of its residue. Keep aside.

Pre-heat oven to 180 degree celsius.

In a rectangular baking pan spread ¼th of the Marinara sauce. Arrange roasted potatoes and chicken cubes in a layer. Sprinkle some chilli flakes(if using) and chopped fresh basil.

Spread ½ of the remaining Marinara sauce and bechamel sauce.

Layer with remaining potatoes and chicken, followed by leftover marinara sauce and bechamel sauce.

Sprinkle some more chilli flakes and chopped basil. Top with shredded Mozzarella cheese.

Cover the tray with an aluminium foil and bake for 10-12 minutes. Remove the cover and bake for 5-6 minutes more until the cheese melts.

Serve warm with some toasted rustic bread and pasta.