This post may include affiliate links that earn us a small commission.
Chicken Paprikash is a Hungarian stew made with browned chicken pieces braised in a rich, flavourful and creamy paprika sauce. This hearty dish, traditionally served with dumplings or egg noodles is a family-style comfort meal and easy to make.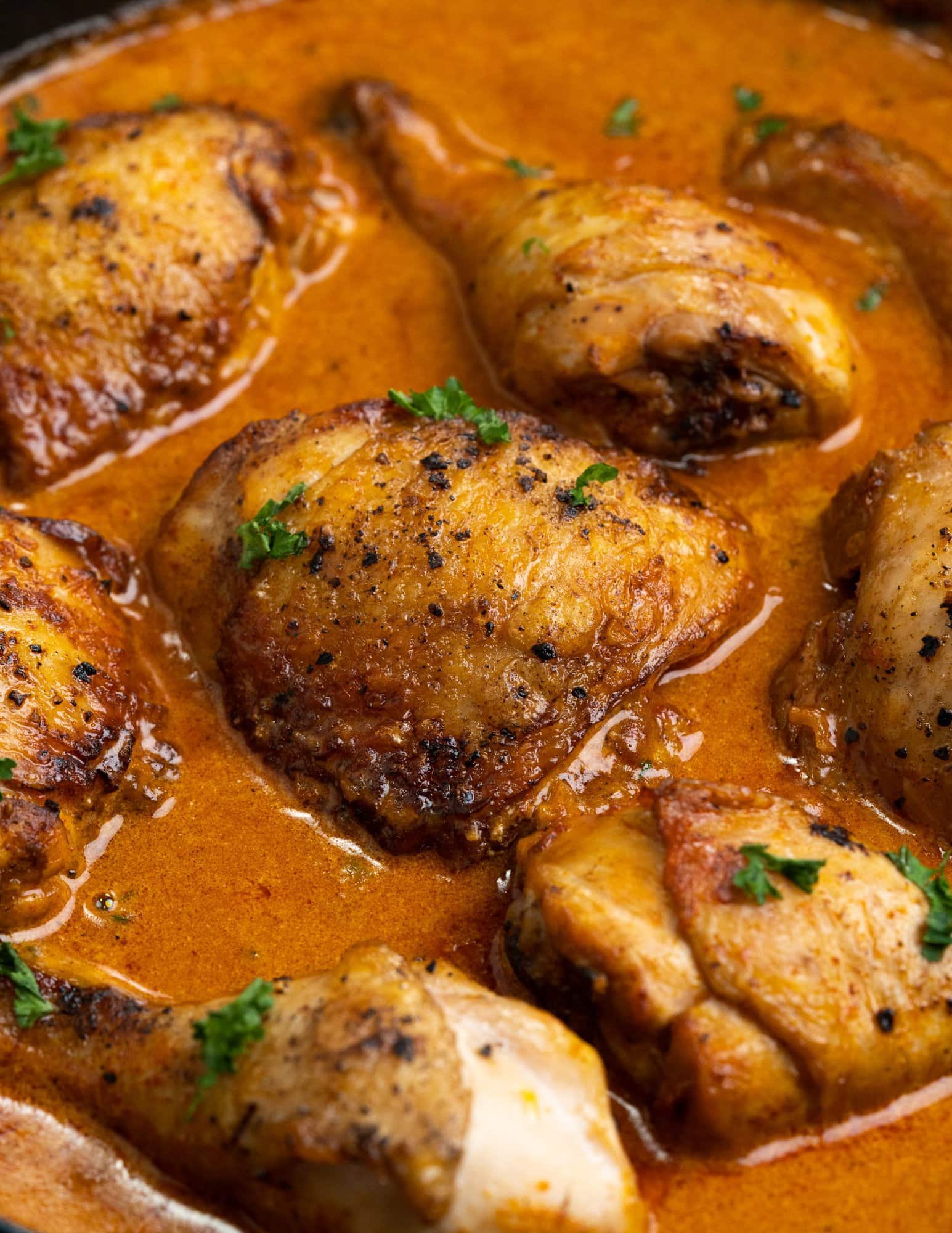 Little about Chicken Paprikash
Also known as 'Paprikas Csirke', is probably the next popular dish to Hungarian Goulash. Bone-in chicken pieces are first seared and then braised in a paprika sauce made with onion, garlic, loads of paprika, and chicken stock. Sour cream is added toward the end to give the sauce a smooth velvety texture.
Paprika is the highlight of this dish and gives the dish a rich red color. The amount of paprika added here is a lot but it doesn't make the dish spicy. Also, the sour cream balances the strong paprika flavor and makes the stew creamy.
Flavours In Your Inbox
Subscribe for recipes straight to your inbox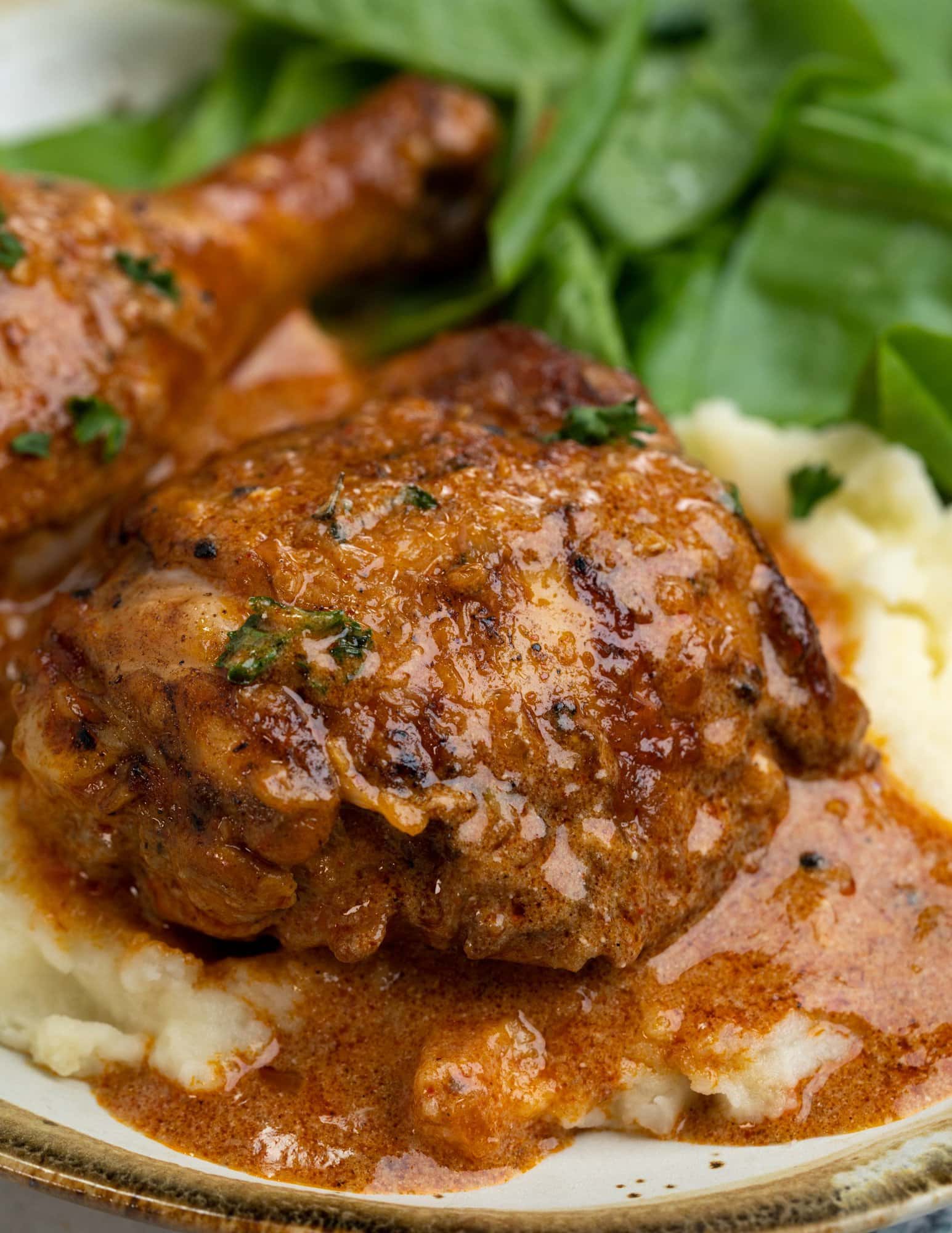 Ingredients in Chicken Paprikash
Chicken- This dish is best made with skin-on, bone-in chicken pieces, that get beautifully cooked when simmered in the sauce. Traditionally, whole bone-in chicken is used in this recipe. Bone-in chicken always works best in stews. You can also use boneless chicken thighs but chicken breast is not something I would suggest because it will easily get overcooked.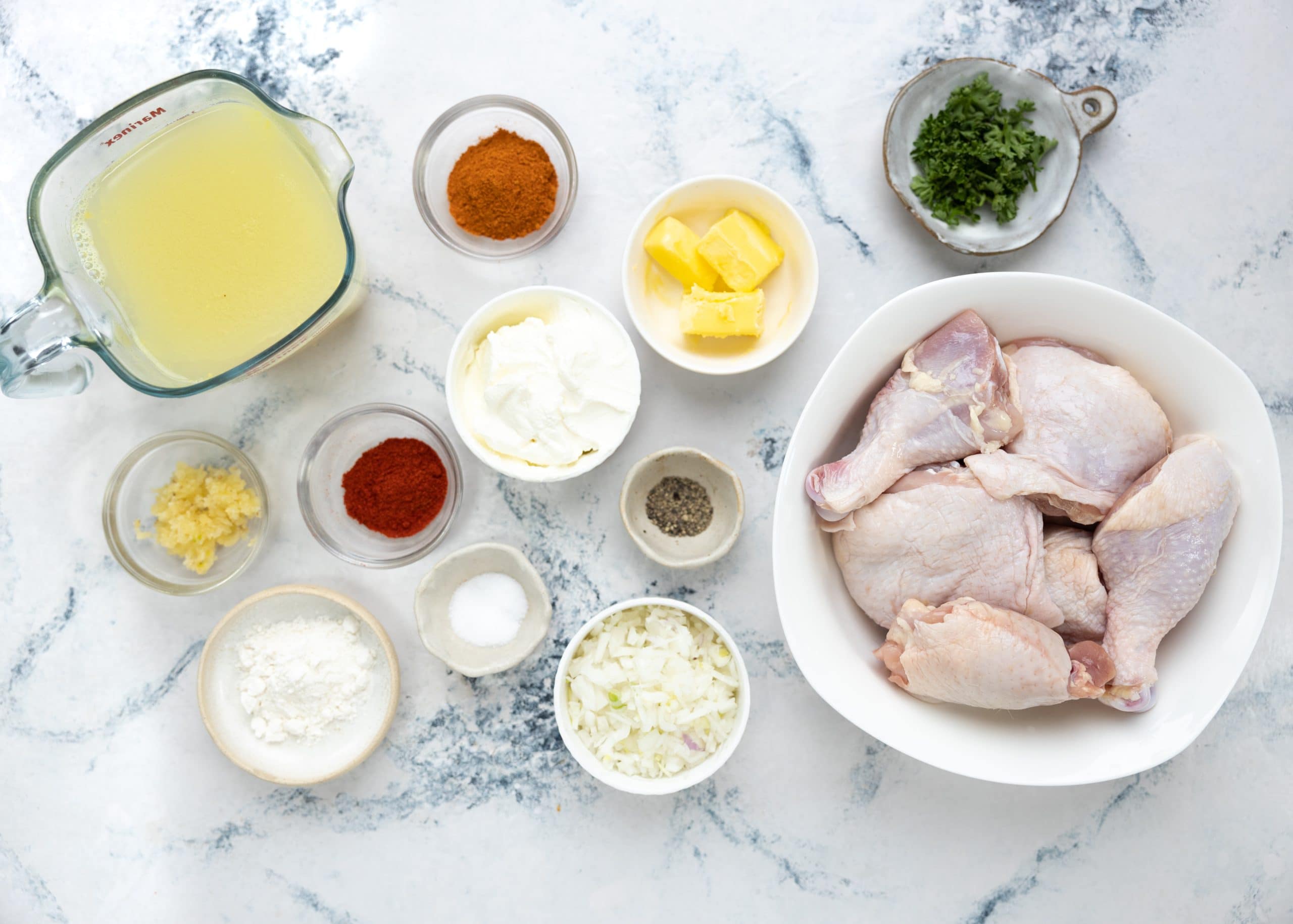 Paprika – Paprika is the highlight of the dish. Hungarian paprika stands out in its rich flavour and vibrant red color. It's a staple spice in most Hungarian dishes. Hungarian paprika ranges from bright red to orange in color, from sweet to spicy. The most widely used variety is sweet paprika with bright red color. Unlike regular paprika, Hungarian paprika is more complex in flavour.
Garlic and Onion– Only aromatics are used here along with paprika. Works as a base for the recipe.
Butter- Lard is the choice of fat in this recipe. Though using lard is authentic, you can also substitute it with butter. Olive oil can be used for a lighter version.
Chicken Broth – Chicken broth == Flavour. But water can also be used instead.
Sour Cream- Sour cream balances paprika, making it rich and creamy.
flour – A tiny bit of flour, thicken the gravy, and also flour prevents sour cream from splitting.
A few versions also use crushed tomato and Hungarian peppers. I added tomatoes, but didn't quite like the taste as the tomatoes were masking the subtle paprika flavour.
Steps To Make
Sear chicken and braise in paprika sauce, that's all.
Sear Chicken -Season and sear chicken in batches. By cooking in batches without crowding the pan, you will get crispy golden brown skin. Though the skin doesn't stay crispy in the final dish, caramelization adds a lot of flavor to the sauce.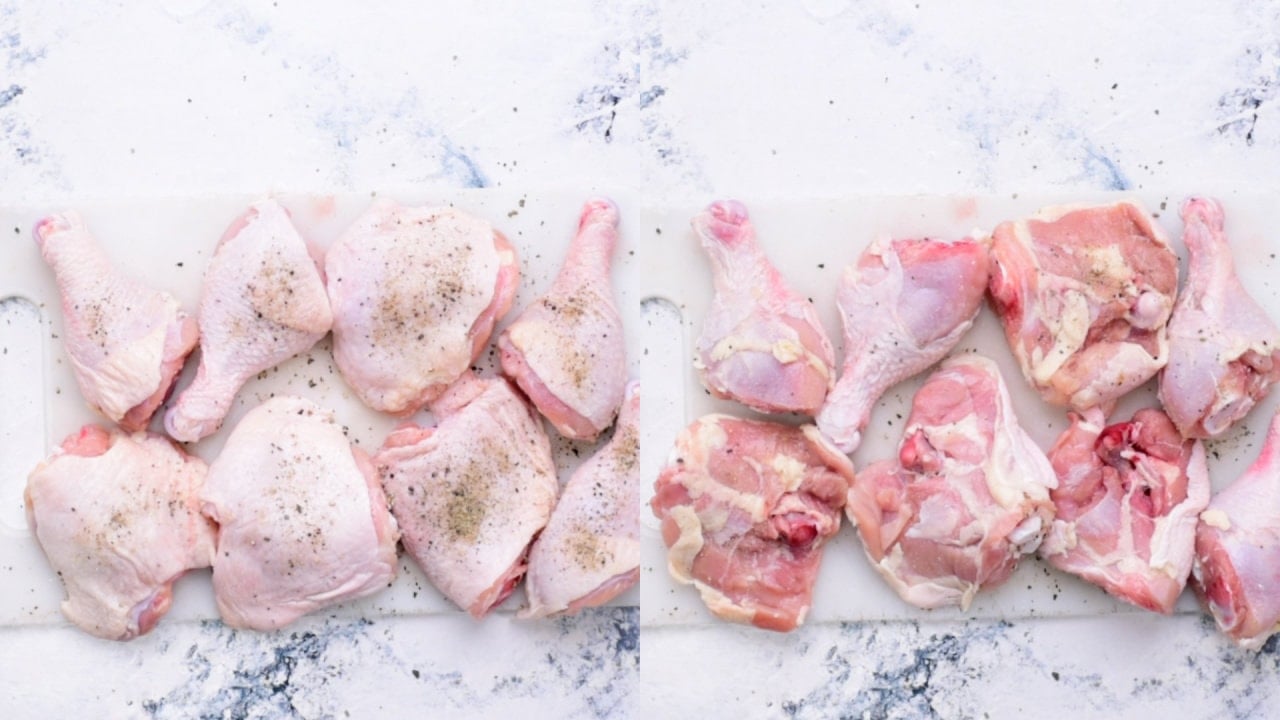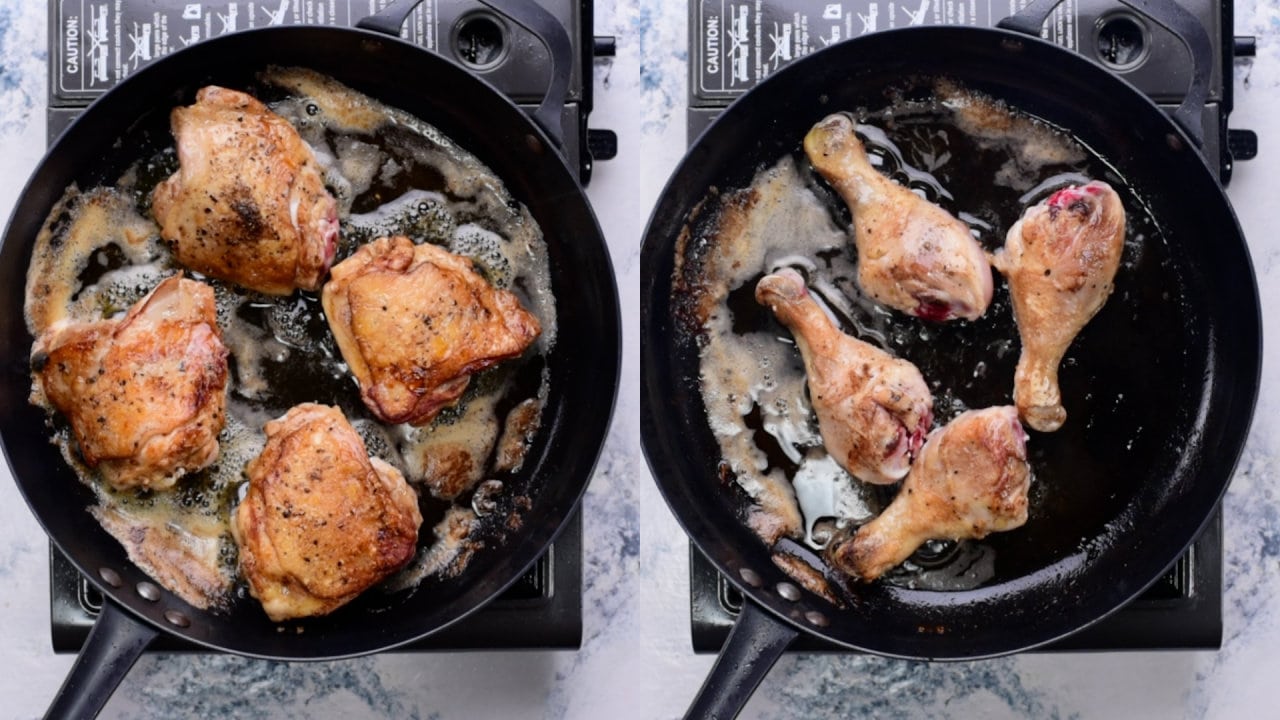 Saute aromatics – In the same skillet with all the golden caramelized bits, saute onion and garlic. The onion should look translucent and softened. Lower heat, add paprika and saute for 30 seconds. Keep a close eye because paprika will burn in no time and ruin the whole dish.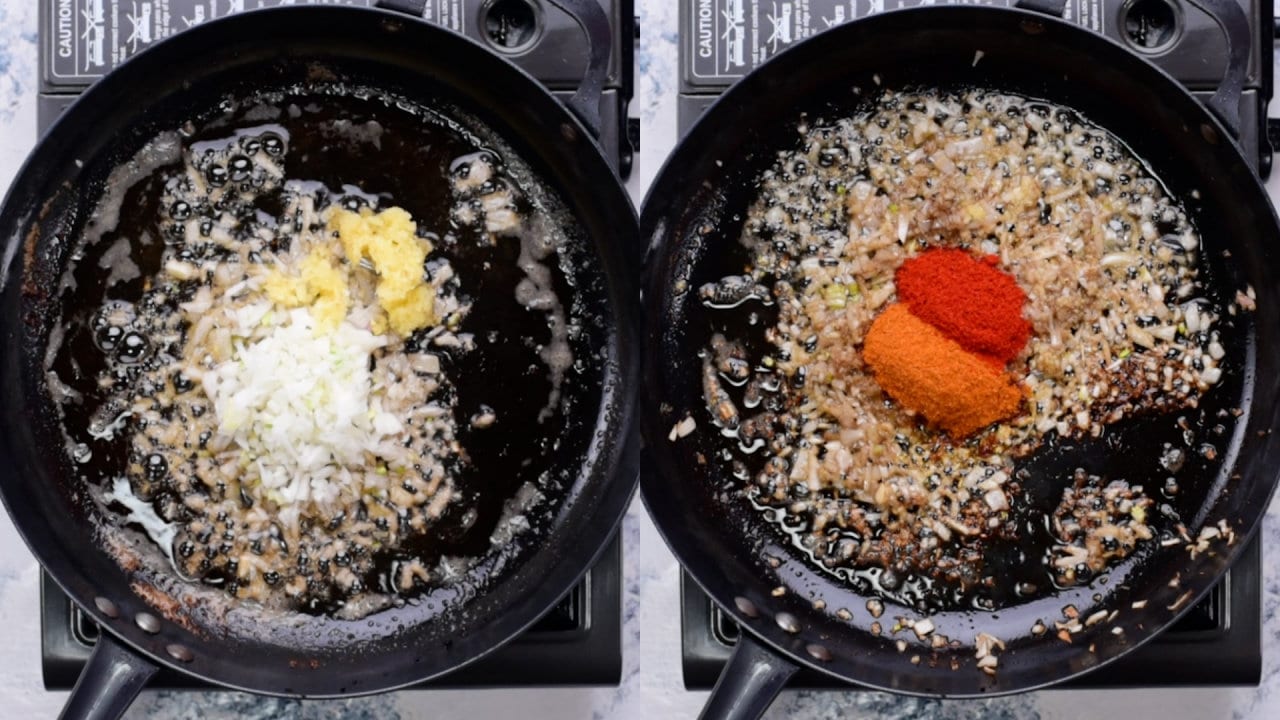 Make Paprika Sauce and braise – Stir in the stock. When it comes to a low boil, add the seared chicken back to the skillet. Cover and cook on low heat for 10 minutes, then uncover and cook for another 15 minutes.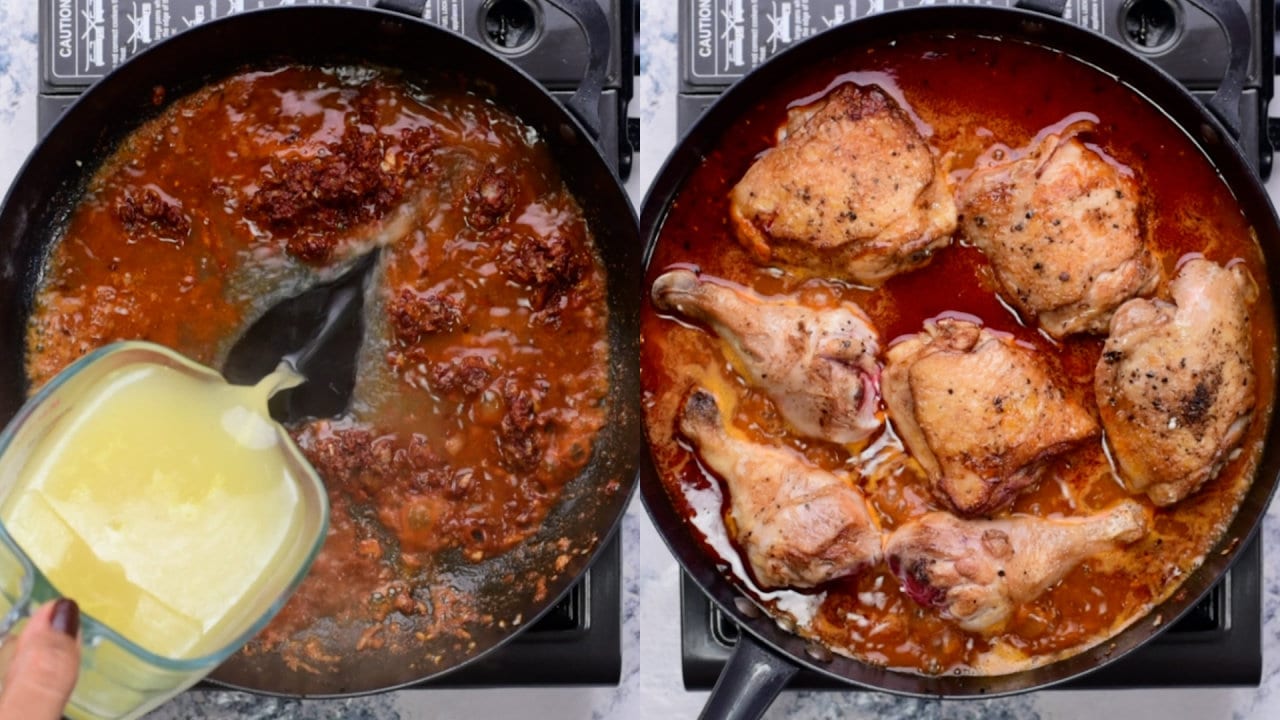 Time to make the creamy rich paprika sauce – When the chicken is cooked through, remove them from the skillet. if you love crispy skin, broil chicken for a couple of minutes while you make the sauce.
Mix sour cream, flour and few drops of water.Lower the heat and stir the sour cream mixture to make a smooth gravy. Simmer for a couple of minutes for the sauce to thicken. Add back the cooked chicken. Pour over the sauce.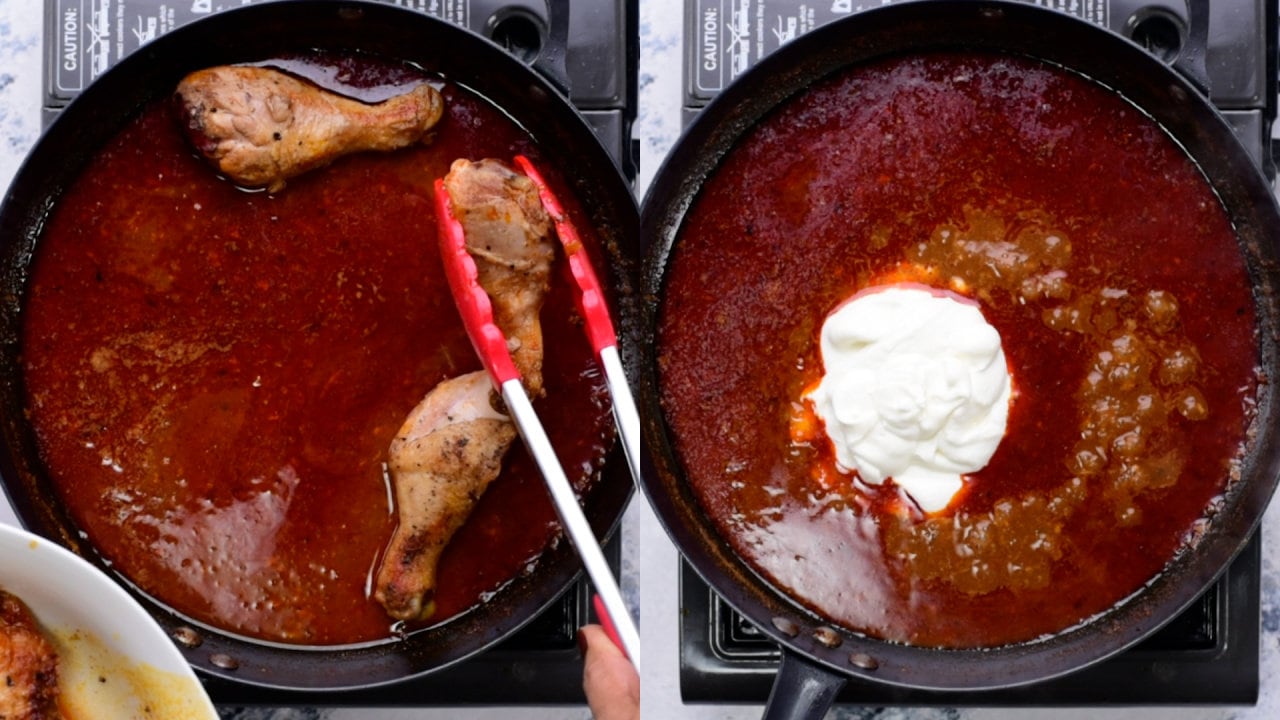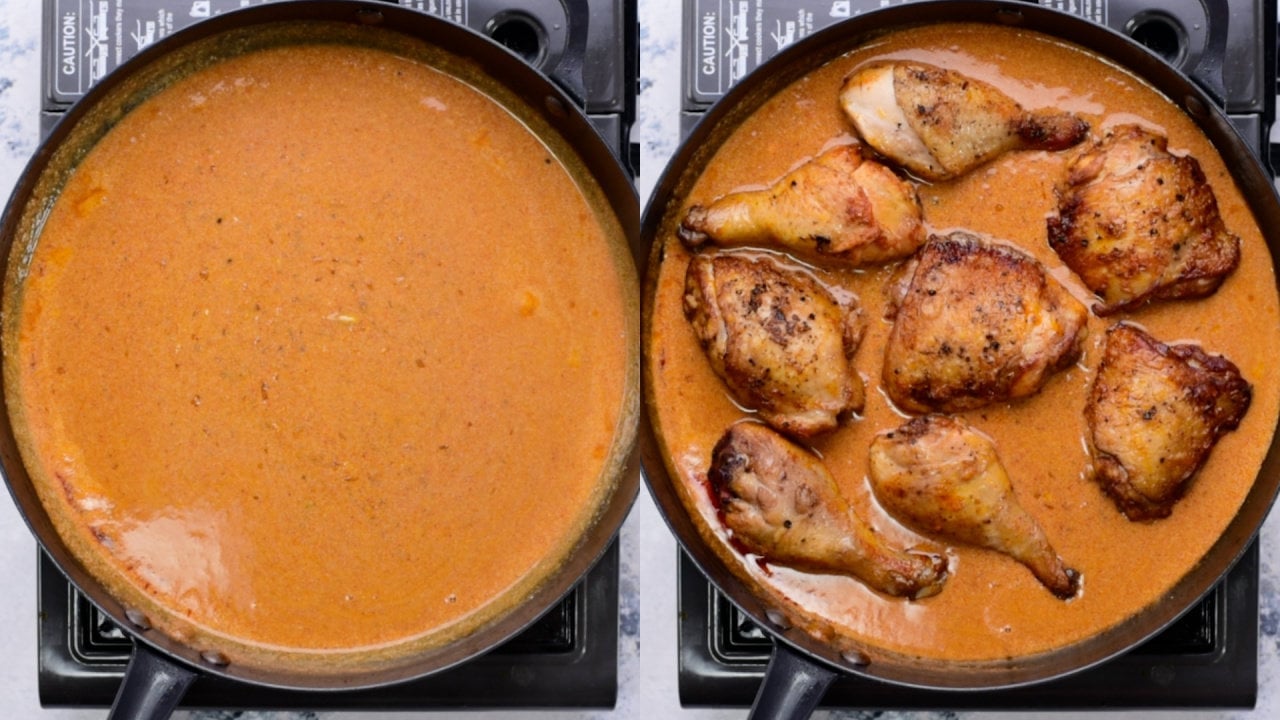 Serve Chicken Paprikash with
Pair chicken paprikash with any starch of your choice. Ideally it is served with buttery egg noodles or homemade dumpling topped with the papriak sauce.
Mashed potatoes also pairs beautifully along with some crusy bread to mop off all the sauce.
To make it a guilt free wholesome meal, add some green beans or salad greens on the side.
Storing leftover
Leftover can be stored upto 4 days in the refrigirator.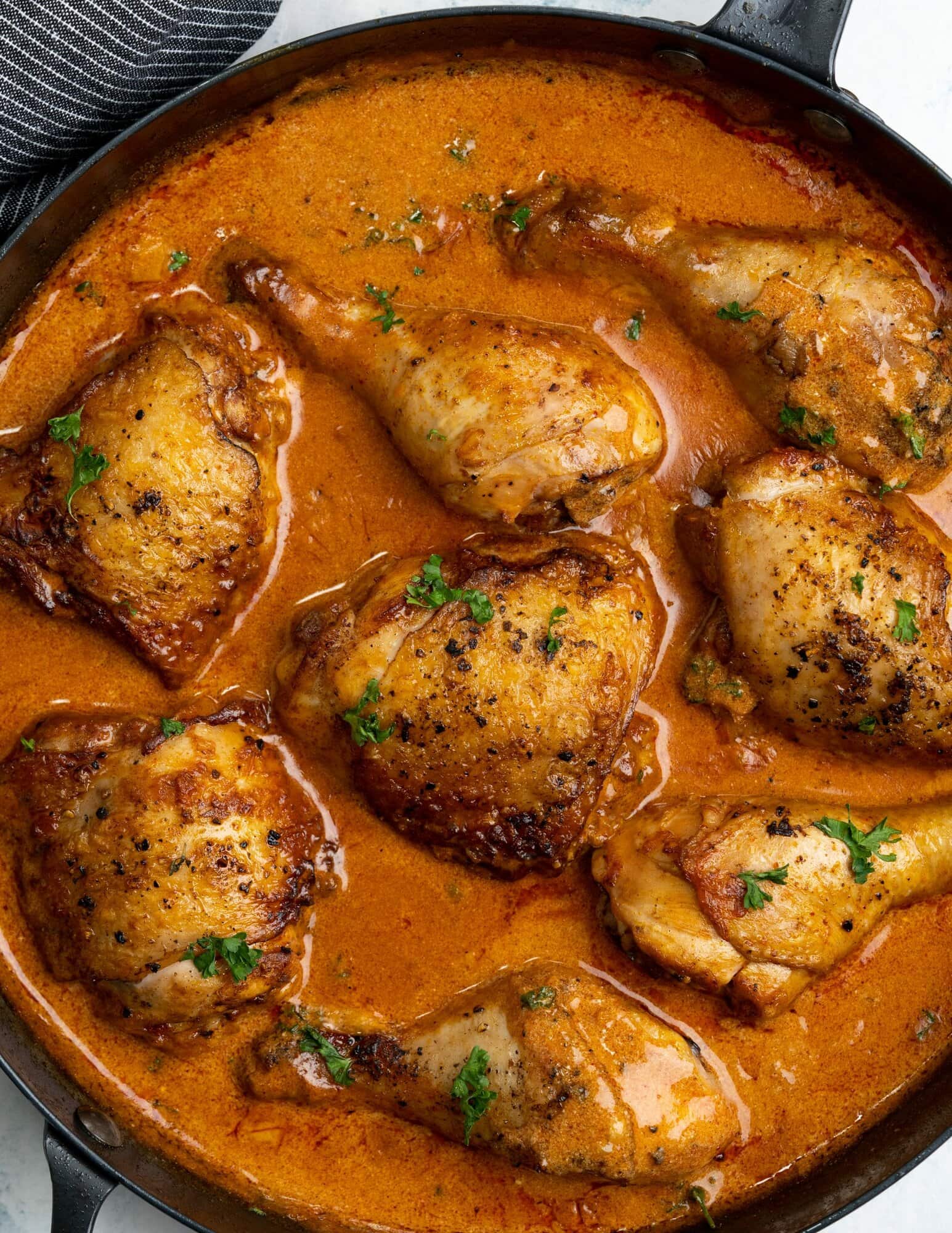 More Chicken Dinner Recipes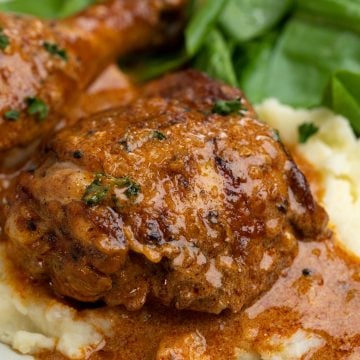 Chicken Paprikash
Chicken Paprikash is a classic Hungarian dish, where chicken is smothered with rich, creamy Paprika based sauce.
Ingredients
1 kg Chicken thighs and drumsticks
2 tablespoon butter
1 medium Onion chopped
3 cloves Garlic minced
3 tablespoon Sweet Hungarian Paprika
½ teaspoon smoked paprika (optional)
2 cups Chicken Broth up to 2.5 cups if you want more sauce
Salt and Pepper to taste
¾ cup Sour Cream
1.5 tablespoon Flour
1 tablespoon of Water
Instructions
Pat dry chicken with a kitchen towel. Season with salt and pepper.

Heat 1 tablespoon butter in a skillet. First place chicken thighs skin side down. Cook for 4-5 minutes. Flip and cook for another 1 minute. Remove and keep in a plate covered.

Then add chicken drumsticks and let it brown for 2 minutes each side. Use a kitchen tong to hold the drumsticks and brown them. Remove from skillet once done.

To the same skillet add rest of the butter. Add diced onion and garlic. Saute for a minute. Lower the heat and add both the paprikas. Give everything a mix.

Add chicken stock to the skillet, stir and place cooked chicken pieces skin side up back to the skillet.

Cover the skillet and cook for 10 minutes on medium-low heat.

Uncover and cook for another 20 minutes. Remove chicken to a plate and keep it covered.

Mix sour cream, flour, and water until smooth. Stir the cream mixture into the sauce, whisking constantly to prevent lumps. Let the sauce cook for 2-3 minutes. For a thicker sauce let the sauce simmer for 10 minutes.

T]Return chicken into the sauce then remove from the stove. Sprinkle with parsley and serve!
Nutrition
Serving: 1serving | Calories: 548kcal | Carbohydrates: 11g | Protein: 35g | Fat: 41g | Saturated Fat: 15g | Polyunsaturated Fat: 6g | Monounsaturated Fat: 14g | Trans Fat: 0.4g | Cholesterol: 170mg | Sodium: 618mg | Potassium: 573mg | Fiber: 2g | Sugar: 4g | Vitamin A: 3332IU | Vitamin C: 6mg | Calcium: 92mg | Iron: 3mg