Lemon Garlic Chicken Thighs
This post may include affiliate links that earn us a small commission.
Deliciously baked chicken thighs with crispy skin and hints of rosemary are served with a generous garlic lemon butter sauce for drizzling. This easy and flavorful recipe is a perfect addition to your midweek dinner menu.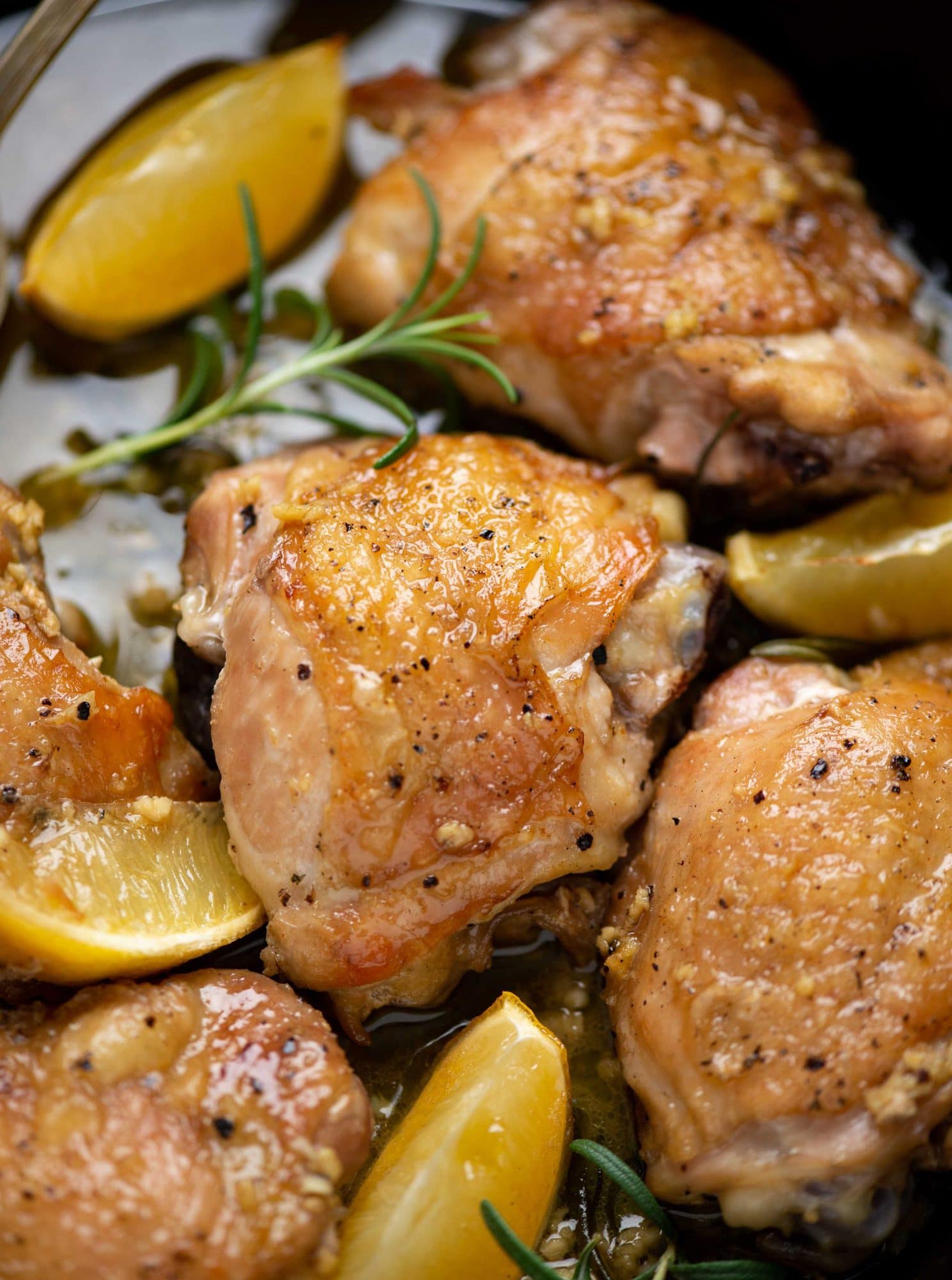 Lemon garlic chicken thighs are an easy-to-put-together recipe that needs only a handful of ingredients. Another easy chicken recipe, that is worth repeating on your dinner menu. It has no fancy ingredients, yet such a refreshing flavor. And the perfectly seasoned, crispy skin is to die for. Serve it with some roasted potatoes or a salad for a complete meal.
Lemon Butter sauce with lots of garlic and the freshness of rosemary is absolutely drool-worthy. The chicken gets baked in the sauce, so it absorbs a lot of flavors. And there is also plenty of sauce in the pan to drizzle on the crispy chicken thighs.
This is a one-pot dish using a skillet but is made in two steps – chicken is seared on the stovetop and later the dish is moved to and finished in the oven.
I love the flavor of lemon – it's refreshing and brings zest to many dishes that I add it to. It is versatile and goes with a wide variety of sweeteners, herbs, and spices. You can make a creamy dish, hot dish, one with herby flavors, or use it as part of a salad dressing.
Creamy Lemon Chicken is a classic lemony dish but with added creaminess. You can also pair the sourness of lemon with the sweetness of honey, like in Lemon Honey Glazed Salmon and Honey Lemon Chicken.
To have a sour and hot pairing, there is Roasted Lemon Pepper Zucchini. Pair it with herbs like rosemary (in this recipe), with cilantro in Cilantro Lime Chicken, or thyme like in this Lemon & Thyme Roast Chicken. Up the tanginess with capers by making Tilapia in Lemon Caper Sauce.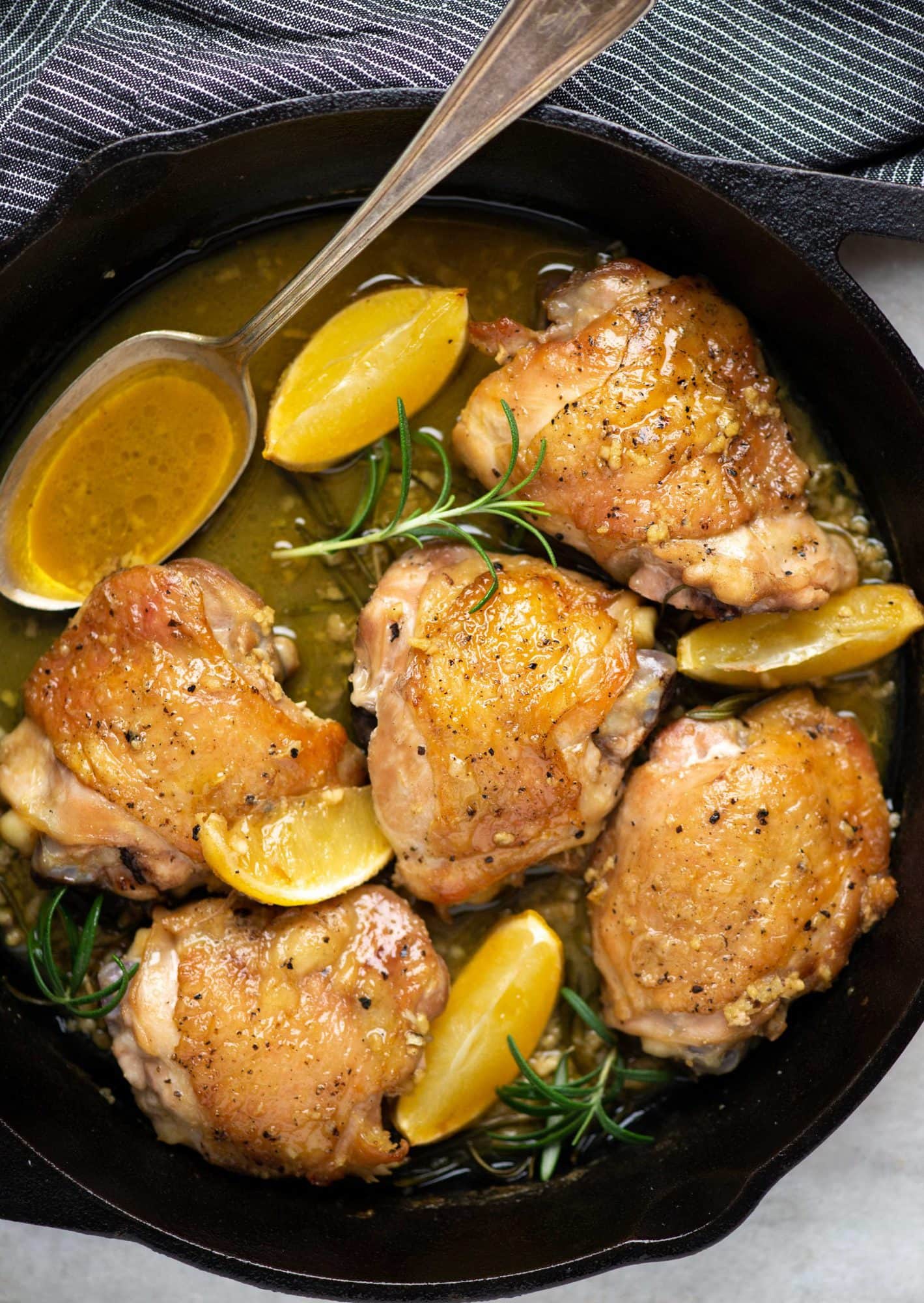 Ingredients
The list of ingredients you need for this recipe is quite short, and I am sure you must have all the stuff in your pantry right now.
Bone-in chicken thighs with skin – Always use thighs with the bone for recipes like this, which have more flavor, and get cooked in their own juice. Juicy thighs with super crispy skin are something you would definitely love.
Butter – For the rich sauce, butter is a must.
Lemon – Fresh lemon juice and lemon wedges.
Garlic – Well, lots of fresh minced garlic.
Rosemary – This herb pairs so well with butter, lemon, and garlic. You could also use thyme.
Chicken Stock – Provides the flavor base of the dish.
Salt and pepper – Salt brings all the flavors together, and pepper gives flavor and heat.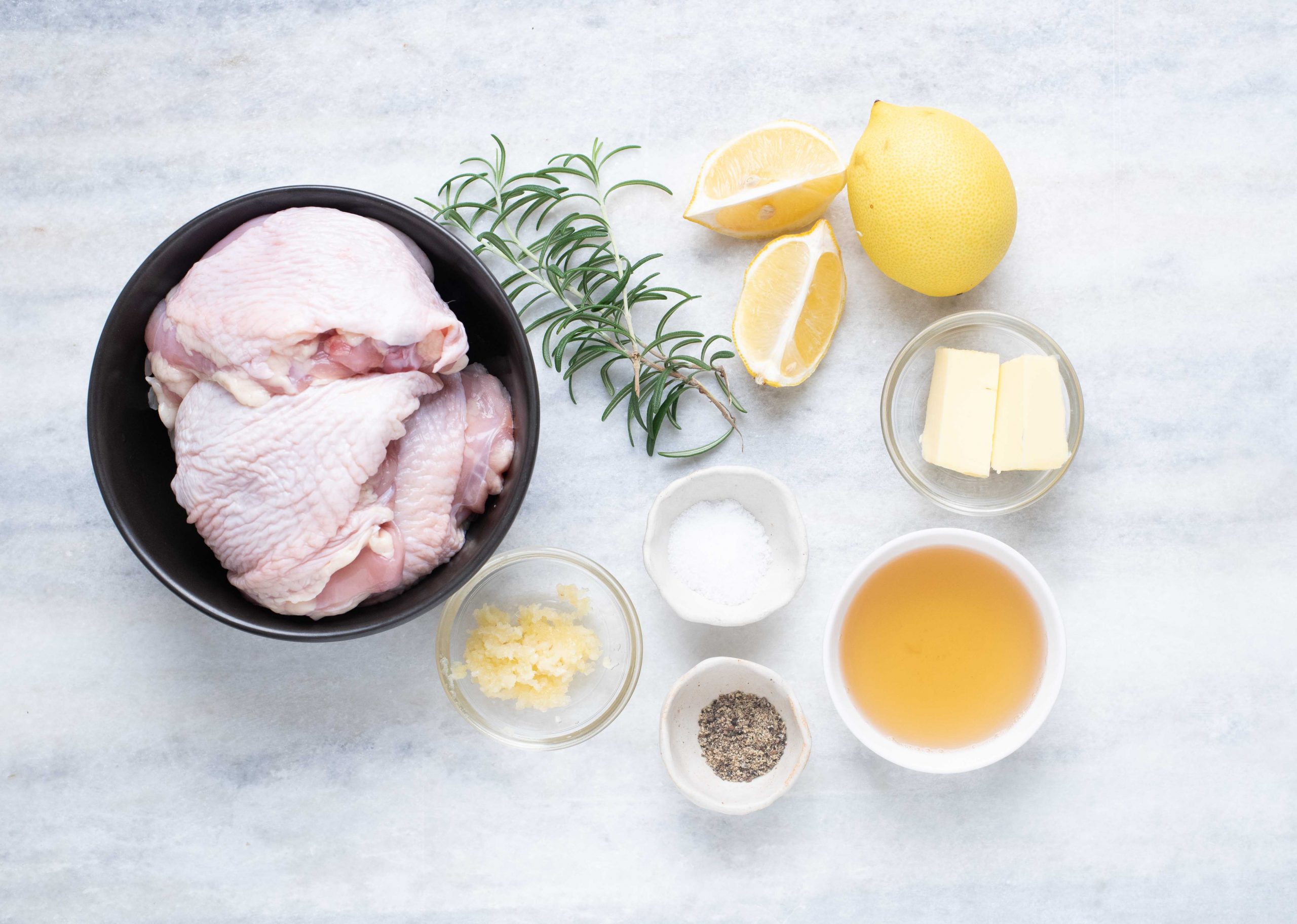 Steps to Making Baked Lemon Chicken Thighs
Preheat the oven to 400°F (205°C). A preheated oven helps get the chicken skin crispy.
Start by patting the chicken thighs dry. It is important to pat them dry for super-crispy skin. If the thighs are frozen, then make sure to bring them to room temperature.
Generously season both sides with salt and pepper.
Use a cast-iron pan or a heavy-bottom oven-safe skillet for crispy skin.
Heat the skillet, and when the skillet is really hot, place the chicken thigh skin side down in a single layer. Cook it undisturbed for 4-5 minutes.
Flip chicken thighs, add butter, garlic, lemon juice, chicken stock, lemon wedges, and rosemary sprigs.
Bake in the oven for 25–30 minutes, or until the internal temperature reaches 165 F.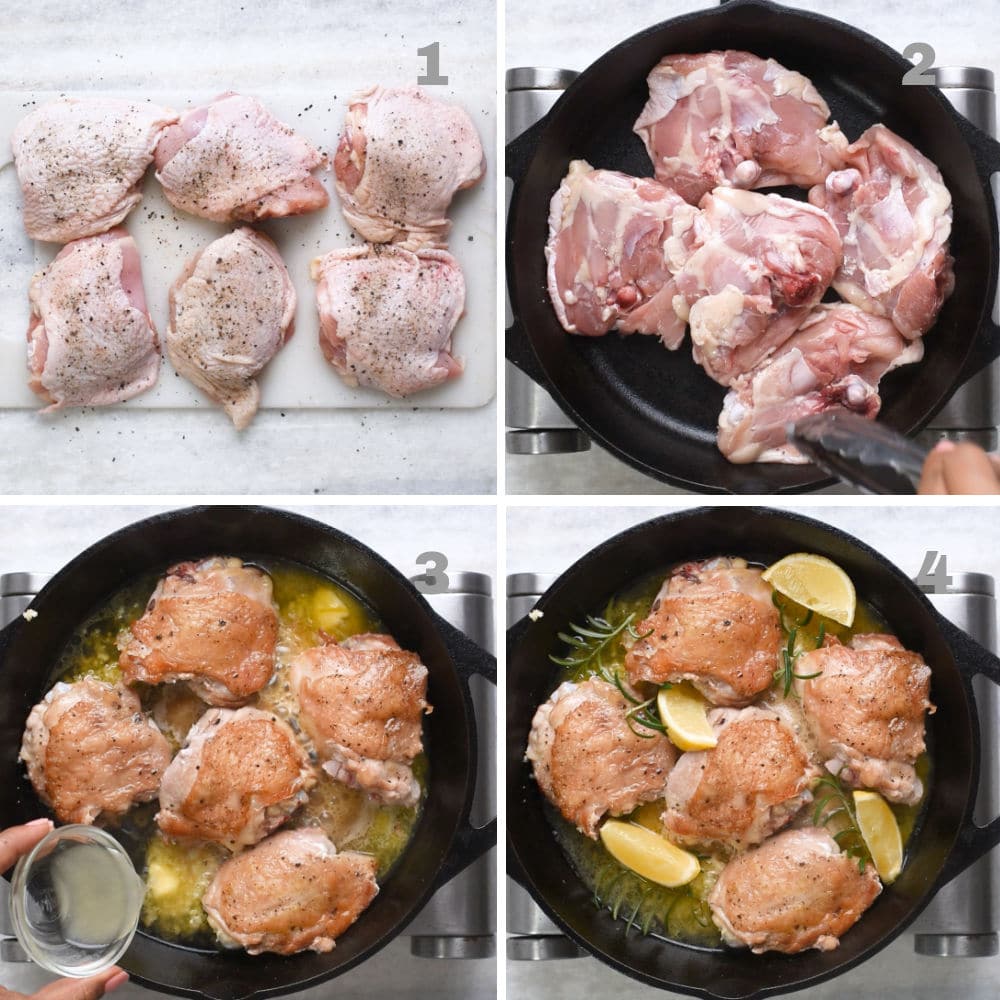 Tips
The baking time might vary depending on the size of the chicken thighs. For larger thighs, bake for 10 minutes more.
It is important for the chicken to be at room temperature for even cooking.
Use bone-in, skin-on chicken thighs. Bone-in chicken has a lot of flavor and is what I prefer. The skin on the thighs prevents the underlying chicken from drying out and bakes into a golden, crispy skin.
The seasoning can be altered based on your preference. You can add garlic powder and dried rosemary to the seasoning for added flavor.
After seasoning the chicken thighs, allow them to rest for 20 minutes. This allows the flavors to infuse into the chicken and the salt to tenderize it through osmosis.
This is a great recipe for meal prep. You can even shred the chicken and use it in different recipes.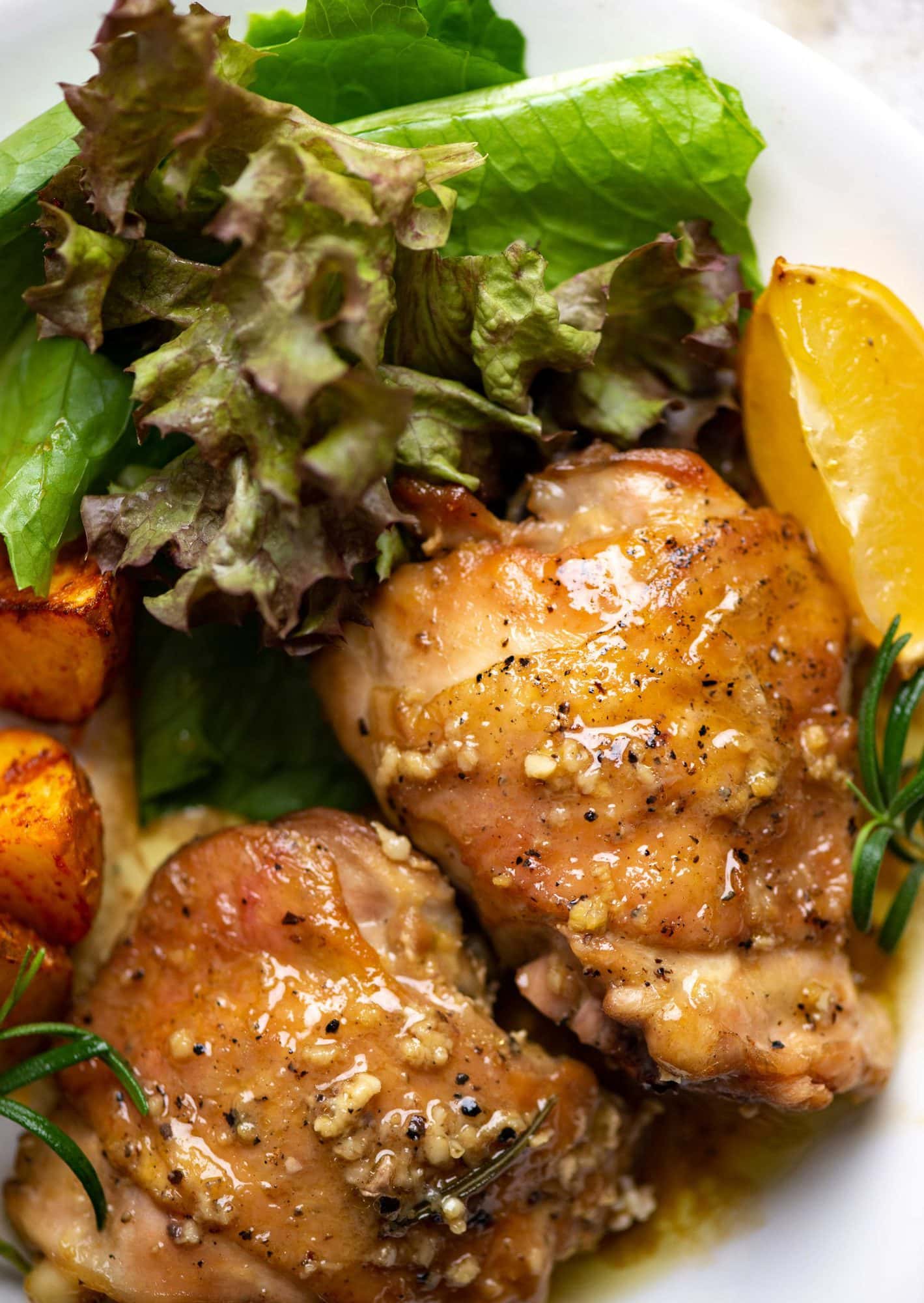 Storage instructions
You can refrigerate or freeze baked chicken thighs with a lemon-garlic sauce. After the thighs are baked, allow them to rest and cool down before storing.
For refrigeration, wrap them with plastic wrap or put them in an airtight container. You can store them in the refrigerator for up to 4 days.
Flavours In Your Inbox
Subscribe for recipes straight to your inbox
You may also freeze them for a much longer duration. Make sure to wrap individual pieces with foil and then add them to a freezer-safe container.
For frozen chicken thighs, allow them to thaw by shifting them to the refrigerator for 24 hours, or at least overnight, before you reheat them.
Reheating the chicken thighs involves heating them in the microwave or oven at a lower temperature. You may also use a splash of chicken stock or water to prevent them from drying out during reheating.
What to serve with
Pair these chicken thighs with pasta, and there is also enough sauce to pour over it. Or serve it with other delicious side dishes like roasted veggies or mashed potatoes.
Mashed potatoes: Creamy mashed potatoes are the perfect side to soak up the sauce. You may also serve it with roasted potatoes or potato pancakes to elevate the comfort factor.
Rice, quinoa, or pasta: Serve the chicken thighs and flavorful sauce over a bed of fluffy white or brown rice, mushroom rice, al dente pasta, or even quinoa for a satisfying meal.
Roasted vegetables: Add a pop of color and a healthy touch with a side of roasted vegetables, such as Airfryer Roasted Broccoli, Oven Roasted Carrots With Parmesan, or Brussels sprouts.
Crusty bread: Don't forget a crusty loaf of bread to sop up that delicious sauce. Make this Cheesy Garlic Bread, or No-Knead Rustic White Bread at home.
Green salads – Cucumber Strawberry Salad, Summer Cherry Tomato Salad, Pesto Pasta Salad, or Creamy Broccoli Salad are some refreshing salads to compliment the saucy chicken dish.
More Chicken Thigh Recipes
Have a look at some of the awesome dishes that you can make with chicken thighs –
Sweet and Spicy Boneless Chicken Thighs – Chicken thighs made on the stovetop with a delectable sweet-spicy dry rub featuring brown sugar and aromatic spices.
Honey Garlic Chicken Thighs – A sweet, sticky, and savory honey garlic sauce with seared thighs.
Slow Cooker Creamy Chicken Thighs – Tender, fall-off-the-bone chicken thighs slow-cooked to perfection, topped with a flavorful creamy sundried tomato sauce.
Garlic Butter Chicken Thighs – Deliciously juicy boneless skinless chicken thighs in a buttery garlic sauce – a quick and easy stovetop dinner ready in 30 minutes.
Oven-Baked Creamy Chicken Thighs – Try our oven-baked Crispy Parmesan Chicken Thighs recipe, featuring perfectly seasoned juicy chicken with crispy skin, making it an ideal choice for a quick and satisfying weeknight family dinner.
Chicken Paprikash – Discover the authentic flavors of Chicken Paprikash, a comforting Hungarian stew featuring tender chicken pieces braised in a creamy and flavorful paprika sauce.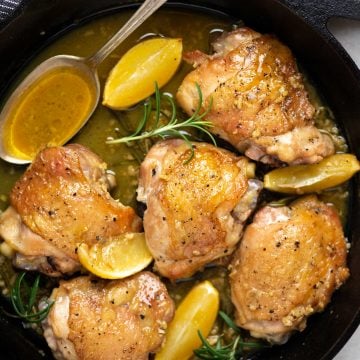 Baked Lemon chicken thighs
Perfectly baked chicken thighs with crispy skin and lots of lemon butter sauce to drizzle on. Making this Lemon Chicken thighs recipe is really simple and fit perfectly in your mid-week dinner menu.
Ingredients
5-6 Chicken thighs with bone and skin
Salt & Pepper
2 tablespoon Butter
1 tablespoon minced garlic
⅓ cup Chicken Stock (ref note 1)
2 tablespoons Fresh Lemon Juice
2-3 sprigs Rosemary
4-5 Lemon wedges
dash of honey (optional)
Instructions
Preheat oven to 400°F.

Pat dry the chicken thighs with a kitchen towel. Season both sides generously with salt and pepper.

Heat a cast-iron or a heavy bottom skillet.

Arrange chicken thighs skin side down. Cook it undisturbed for 5 minutes.

Flip chicken thighs. Add minced garlic, butter, lemon juice, chicken stock and rosemary sprigs.

Bake uncovered for 35-45 minutes (35 min for smaller thighs and 45 for larger). Insert an instant-read thermometer to confirm a 165°F minimum internal temperature near the bone.
Notes
Use can use water or vegetable stock instead. If using water, you need to add more salt. 
Nutrition
Serving: 1serving | Calories: 400kcal | Carbohydrates: 12g | Protein: 25g | Fat: 30g | Saturated Fat: 10g | Polyunsaturated Fat: 5g | Monounsaturated Fat: 11g | Trans Fat: 1g | Cholesterol: 154mg | Sodium: 190mg | Potassium: 469mg | Fiber: 3g | Sugar: 3g | Vitamin A: 311IU | Vitamin C: 60mg | Calcium: 43mg | Iron: 2mg