Honey Garlic Chicken Thighs
This post may include affiliate links that earn us a small commission.
Chicken thighs in a sweet, sticky, and savory Honey Garlic Sauce, are made in under 20 minutes. Seasoned thighs are first seared in a skillet and then cooked with the sauce, which turns out to be juicy and tender.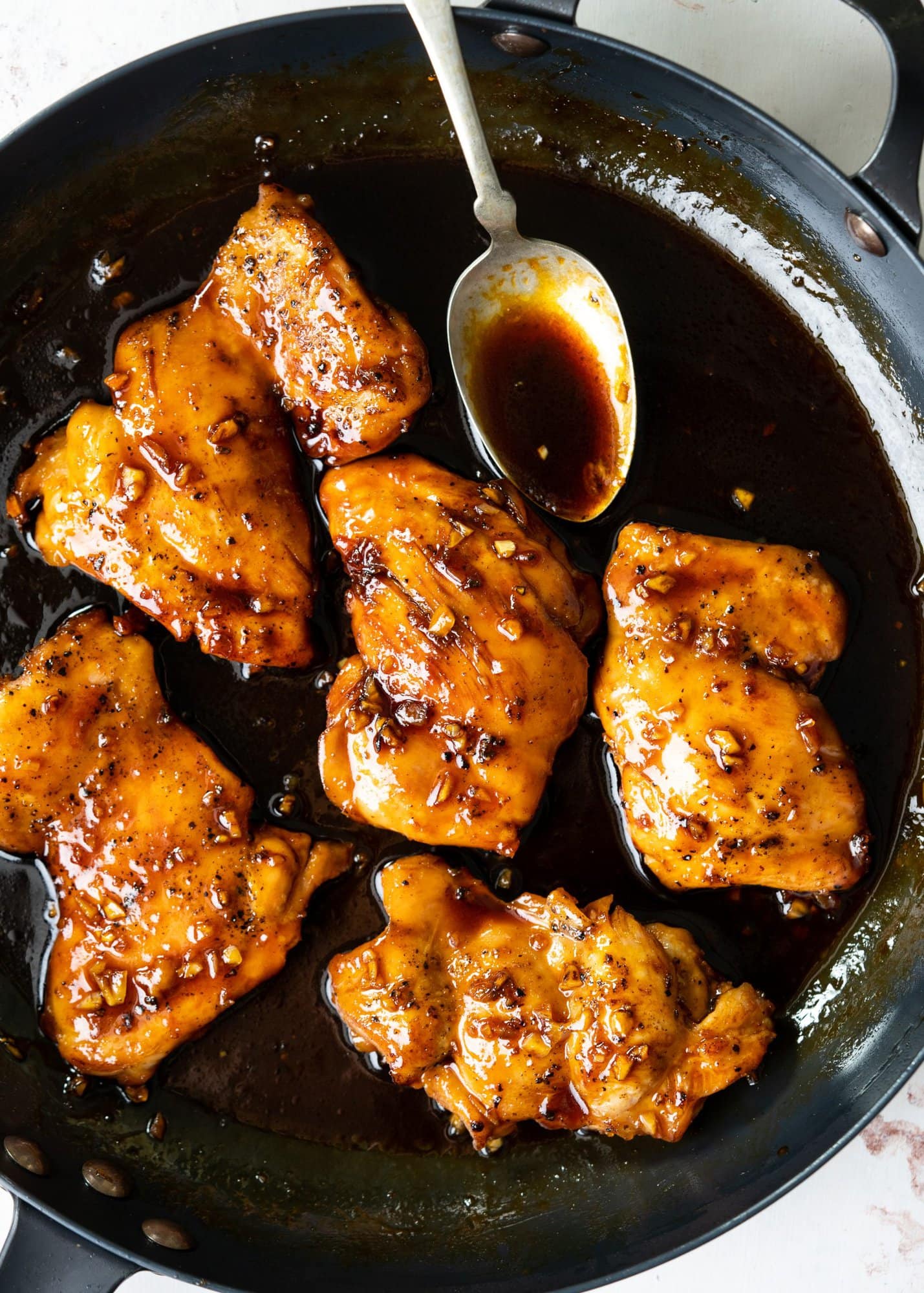 This honey garlic chicken recipe has saved many a busy night. I had chicken thighs or breasts and little time to put something on the table for the family. This sticky garlic sauce on the chicken tastes excellent with rice and has been cleaned up by everyone each time. This recipe is a keeper, and I am sure you will love this as it has so much flavor.
In this dish, the chicken thighs are cooked in a pan, searing them to get that beautiful crust on the top. Many recipes which ask to bake the chicken still instruct to sear the chicken in a skillet first. You do not have to bake them in the oven in my recipe, as the chicken is first seared and then cooked with the sauce later.
Flavours In Your Inbox
Subscribe for recipes straight to your inbox
A few of the reader's favorites with a honey garlic sauce – are Baked Honey Garlic Chicken Wings and Instant Pot Honey Garlic Chicken. Readers looking out for a lustrous glaze on top can check out my – Lemon Honey Glazed Salmon, Honey Soy Baked Chicken Drumsticks, and Sweet and Spicy Boneless Chicken Thighs.
Honey garlic sauce
You think of sauces, and many come to mind, but this delicious honey garlic sauce is a keeper and on top of my favorite list. You may not find another sauce that is quick and easy to make with few ingredients. The best part is that there's a good chance you will already have these ingredients in your pantry.
This sticky, glazy, delicious sauce is an excellent tool in every home cook's arsenal. It goes well with other meats, like pork, beef, and fish. The sauce tastes great with a bowl of rice or noodles.
Soy sauce and sriracha are the ingredients that give this sauce its sweet and spicy Asian origins. Soy sauce is the ubiquitous Asian sauce used as a substitute for salt and gives that deep color and flavor. Sriracha to add some heat, giving that delicate spiciness.
Chicken stock gives body to the sauce plus adds a depth of flavor. Honey balances the sauce with its sweetness and lemon juice with its sourness and adds citrusy notes. This sauce is lick-worthy!!
Chicken thighs or chicken breast?
Chicken thighs or breasts? The answer is simple – both work well in this recipe without significantly affecting the taste.
I prefer chicken thighs for two reasons: they are more flavorful and do well with searing due to the extra fat content. The thighs absorb the flavors of the sauce better when cooked for longer.
Chicken breast is a time-saving option and still delicious. Since the recipe calls for just 15 minutes of cook time, using chicken breast saves about 3 minutes.
However, with chicken breast, you must be careful not to overcook it. Slicing the breast horizontally into thin fillets or pounding them helps achieve even cooking and avoids dryness.
In summary, both chicken thighs and breasts can be used in this recipe, and the choice depends on your preference and available time.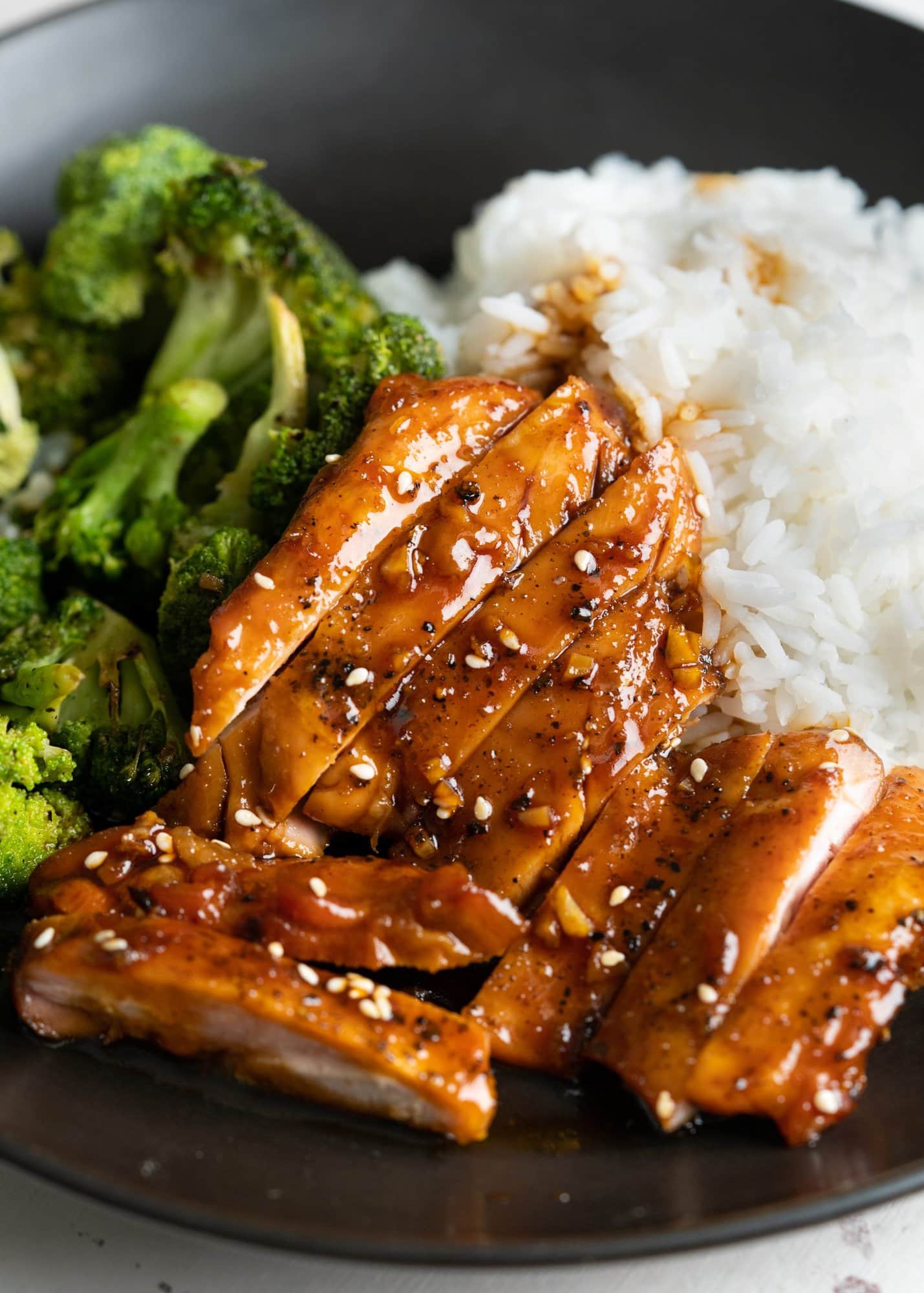 Boneless or bone-in, skinless or skin-on
You can go for bone-in chicken thighs, which might be better for flavor but require more cooking time. The thigh bone secretes some juices and adds flavor, but it is more effective with longer cooking methods to make stock, soup, or broth. With a quick recipe like this one, not that much.
I would not recommend leaving the skin on because the chicken thighs are cooked with the sauce, and the skin tends to become soggy over time. Soggy skin isn't what you would want. The skin on the meat becomes crispy during the first part when you sear it in the pan. But the latter part is the problem when you cook it with the sauce.
If it is skin-on chicken breast, you may go ahead as the cooking time is short, and the crispiness will remain.
It would be best to serve it immediately when you cook with skin-on parts to enjoy the crispiness. It is not for storing and reheating, for you will surely get soggy skin all this time.
Ingredients
This honey garlic chicken requires few ingredients for such a sweet and delicious recipe. All you need is everyday pantry staples to make this Asian-inspired saucy chicken.
To prep chicken
Skinless, boneless chicken thighs – the best part of the chicken, which has a lot of flavors, is the thighs. Bone-in or boneless are both ok. It is better to get ones without the skin.
Butter – searing the chicken for a few minutes helps in browning.
Salt & Pepper – used to season the chicken thighs
For making sauce
Chicken stock – forms the base of the sauce. Make sure to get a good brand, preferably from the traditional long simmering process.
Soy sauce – A good quality soy sauce gives you that rich, deep color and depth of flavor. Opt for a low-sodium variety of soy sauce.
Sriracha – with its mildly spicy taste, sriracha brings some fire to the sauce and is quite versatile.
Honey – brings a level of sweetness to the sauce.
Lemon juice – sourness balances the other flavors and enhances the overall taste profile.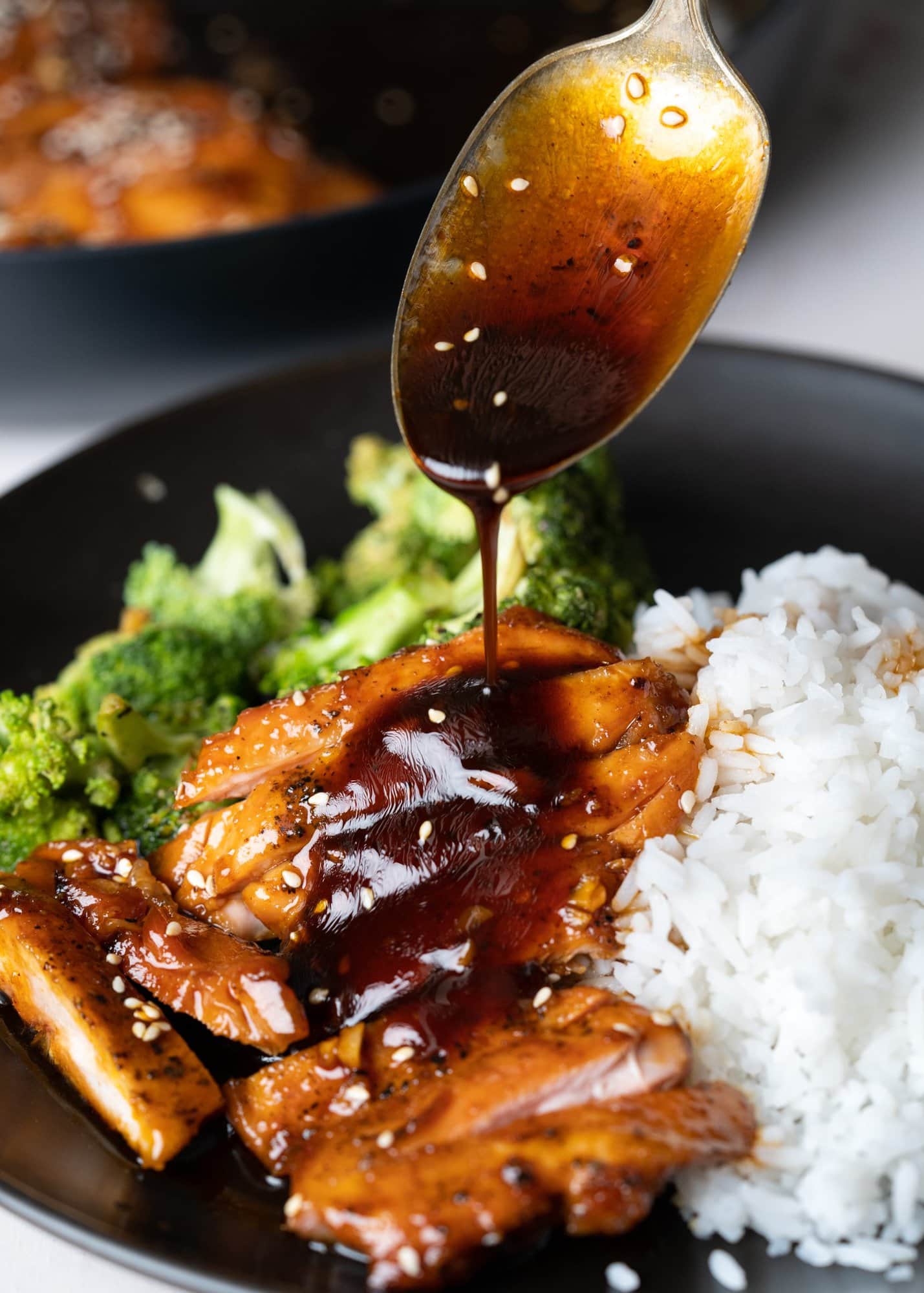 How to make – Instructions
Season the chicken
First, pat the chicken thighs with a kitchen towel or paper towel. Next, rub the chicken thighs with salt and pepper.
Allow it to rest for a while. If you can, leave the rub overnight to get more tender and seasoned chicken.
Mix ingredients of the sauce
Mix all the sauce ingredients in a bowl, including the chicken stock, soy sauce, sriracha, honey, and lemon juice well, and keep it aside. This has to go to the pan later after the chicken is seared.
Sear the chicken
Add butter to a hot wide pan on medium flame. Since butter has a low smoking point, we need the pan just medium-hot, and we will be searing it for a short while, like 3 minutes. This helps us in browning the chicken before the butter starts to burn.
Flip the chicken thighs and leave for a minute. While flipping the thighs, you can push them to the edge of the pan. This leaves room in the middle where you can sauté the garlic for a good half-minute.
Cook the sauce
After a minute, add the sauce. Add the sauce in the middle rather than pouring it over the seared chicken thighs.
Let it simmer, stir it once in a while and allow the sauce to reduce by half. The sauce will bubble and become thick.
While the sauce simmers, flip the thigh pieces again. Take a spoon and pour the sauce over the chicken thigh pieces.
Allow it to be further reduced. Stop when you think the consistency is right. You need it a bit thick; by then, it would also develop a nice glaze and look deep.
Serve it over rice & enjoy !!!
Frequently Asked Questions
How do you make glazed chicken?
Reducing sauce with chicken or other meat is the secret behind producing a glaze. Reducing the sauce over heat evaporates most of the water, and the volume of the sauce reduces, making it thick. It also caramelizes the sugar in it, honey, in this case, thus making it look glazy.

Such reductions are often made at the end when the chicken is almost but not entirely cooked. Keeping it too long over heat might burn the sauce and make it taste bitter.
How to thicken honey garlic sauce?
To thicken garlic sauce, there are two methods: heat and thickening agents. Commonly used agents like cornstarch or flour should be added gradually, mixing and checking consistency after each spoonful. Adding too much may require adding more liquid and repeating the process.
Alternatively, reducing the sauce by simmering it longer on low heat can also thicken it to desired consistency.
How to make the sauce spicy?
I have used Sriracha to provide some heat to the sauce. Sriracha is a hot sauce made from the paste of chili peppers and is mildly spicy. It is commonly used in Southeast Asian cuisines (Thai & Vietnamese) and has the consistency of ketchup. With garlic flavors, Sriracha has a tangy, hot, and sweet taste.

Add as much as you can tolerate. After adding and mixing the sauce, you can taste it and add more.
Can you make this recipe gluten-free?
Yes, you can. You can substitute soy sauce in this recipe. Most soy sauces are made from wheat, soybeans, salt, and water and contain gluten. Soy sauces made from rice are gluten-free.
Other alternatives are Tamari sauces not made from wheat and coconut amino sauce, a dark-colored sauce made from the sap of the coconut plant that tastes like soy sauce but is slightly sweeter.
Storage & prep ahead
You can store it in the refrigerator using an air-tight container or zip-lock bag. You can refrigerate this honey garlic chicken for up to 4 days as it is.
Before serving, you can take them out and reheat them in the microwave. You can also reheat it in a pan, allowing the sauce to bubble. Do not reduce the sauce a lot before you refrigerate it; if it thickens a lot, you can add a splash of water to thin it down and let it simmer for a minute.
The benefit of not using skinless chicken thighs is that reheating does not make the skin soggy. The skinless chicken will taste just as well the second time too.
Serve with
Sticky chicken thighs with a savory honey garlic sauce can be best enjoyed with a bowl of rice or noodles. You may serve some greens with it to up the fiber, making it a complete meal.
Other Chicken Recipes
Have a look at some of the awesome dishes that you can make with chicken thighs –
Slow Cooker Creamy Chicken Thighs – Tender, fall-off-the-bone chicken thighs slow-cooked to perfection, topped with a flavorful creamy sundried tomato sauce.
Sweet and Spicy Boneless Chicken Thighs – Chicken thighs made on the stovetop with a delectable sweet-spicy dry rub featuring brown sugar and aromatic spices.
Rosemary Lemon Chicken Thighs – Indulge in tender, flavorful chicken thighs with crispy skin and a delightful garlic lemon butter sauce.
Garlic Butter Chicken Thighs – Deliciously juicy boneless skinless chicken thighs in a buttery garlic sauce – a quick and easy stovetop dinner ready in 30 minutes.
Oven-Baked Creamy Chicken Thighs – Try our oven-baked Crispy Parmesan Chicken Thighs recipe, featuring perfectly seasoned juicy chicken with crispy skin, making it an ideal choice for a quick and satisfying weeknight family dinner.
Cilantro Lime Chicken – Grilled chicken thighs marinated in zesty cilantro, cumin, lime, and garlic marinade for a flavorful summer meal or anytime delight.
Chicken Paprikash – Discover the authentic flavors of Chicken Paprikash, a comforting Hungarian stew featuring tender chicken pieces braised in a creamy and flavorful paprika sauce.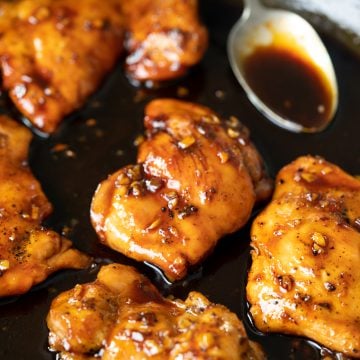 Honey Garlic Chicken Thighs
Chicken thighs in a sweet sticky and savory Honey Garlic Sauce made in skillet in under 20 minutes. Seasoned thighs first seared then cooked with the sauce turns out to be juicy and moist.
Ingredients
500 grams Boneless skinless Chicken Thighs
1 tablespoon Butter
1 tablespoon Garlic Minced
Salt & Pepper
For Honey Garlic Sauce
1.5 tablespoon Soy Sauce
⅓ cup Honey
1 tablespoon Chicken Stock
1.5 tablespoon Lemon Juice
1 teaspoon Sriracha
Instructions
Pat dry chicken thighs using a kitchen towel. Season with salt and pepper.

Mix all the ingredients for the sauce.

Heat a skillet. Melt butter.

Sear chicken thigh top side (skin side) down for 2-3 minutes.

Flip the chicken and move it towards the edge of the pan making little space in the middle.

Add minced garlic at the center and saute for 30 seconds.

Pour the sauce into the pan ( avoid pouring it over the chicken, or else it will wash off the caramelized bits).

Simmer and let the sauce reduce by almost half. The sauce will be slightly sticky and just thick enough to pour over some rice.
Nutrition
Serving: 1chicken thigh | Calories: 216kcal | Carbohydrates: 20g | Protein: 20g | Fat: 6g | Saturated Fat: 2g | Polyunsaturated Fat: 1g | Monounsaturated Fat: 2g | Trans Fat: 0.1g | Cholesterol: 101mg | Sodium: 435mg | Potassium: 284mg | Fiber: 0.1g | Sugar: 19g | Vitamin A: 96IU | Vitamin C: 3mg | Calcium: 15mg | Iron: 1mg