Baked Honey Garlic Chicken Wings
This post may include affiliate links that earn us a small commission.
These Honey Garlic Chicken wings are tossed in a sweet-savoury sauce and baked until crispy. Sticky, sweet baked chicken wings are absolutely addictive and the perfect appetizer on every occasion.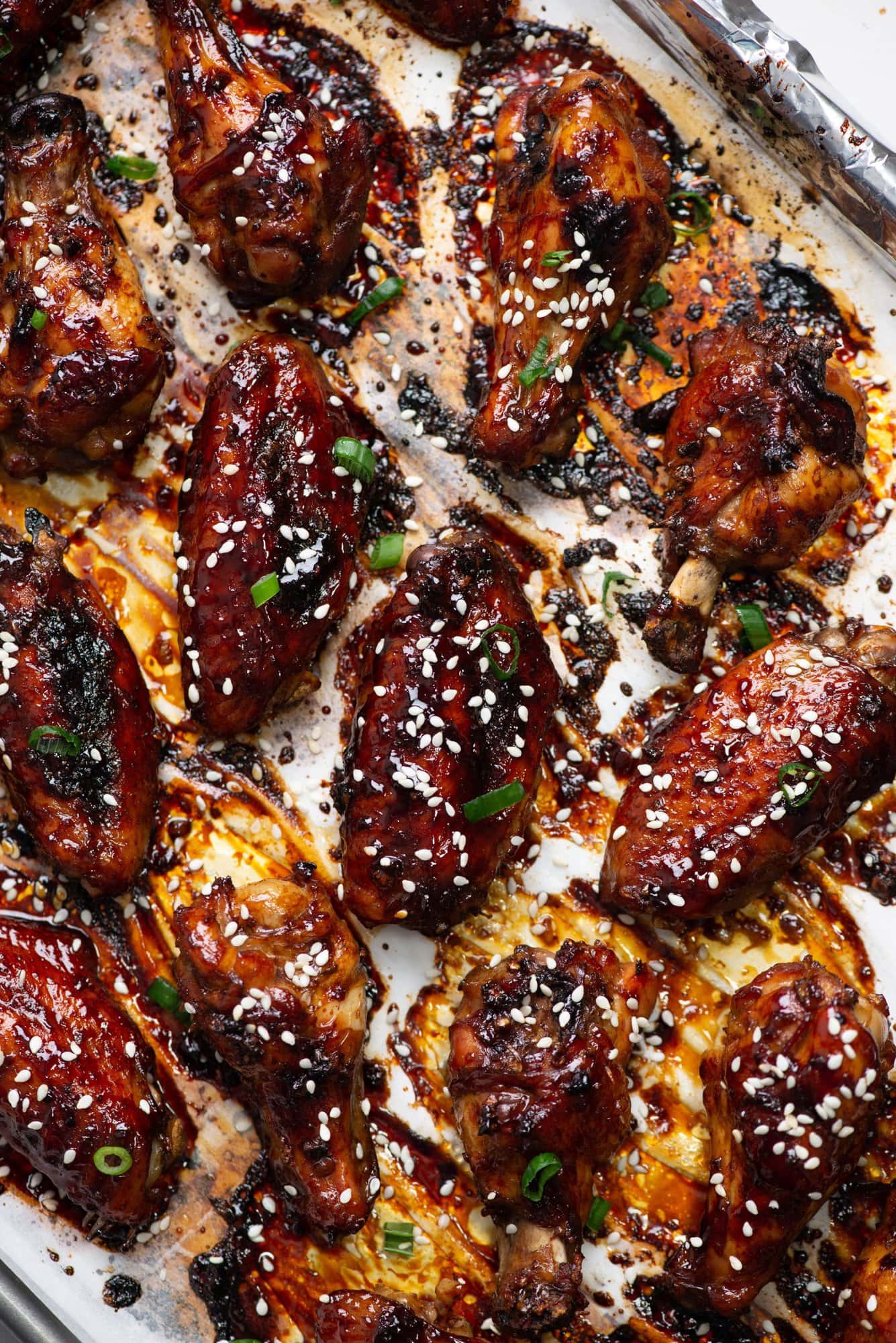 While I am a little partial about Air fryer Chicken wings, these oven-baked sticky Honey garlic Chicken Wings are equally good and addictive. The Asian inspired Honey garlic sauce is sweet, savoury and with a hint of heat to it. Perfect appetizer for a party or games night.
Flavours In Your Inbox
Subscribe for recipes straight to your inbox
Instead of baking the wings until crispy and then tossing them in the sauce, this recipe calls for tossing the wings first in the sauce and then baking them. The sauce gets cooked along with the wings and turns into a beautiful sticky sauce. And that is not all, once baked the wings are again brushed with the remaining marinade.
Honey Garlic Chicken Wings in the Oven
Get pre-cut chicken wings, which most supermarkets sell. If getting uncut(the whole ones), cut into drummettes and winglets as shown below in the picture. You can save the wingtips to make stock.

Steps to make
Make the marinade – Mix all the ingredients for the sauce. I have used sambal Oleke ( chilli garlic paste) here, you can substitute with sriracha. Use all-purpose Soy sauce for the recipe ( not light or dark soy sauce).
Marinate Chicken Wings– We are not marinating these for a long time, 10 -15 minutes is fine. Meanwhile, you can pre-heat the oven.
While wings are resting in the sauce, prepare the pan with two layers of foil and top it with a layer of parchment paper. This is for easier cleanup. Because we are baking the wings along with the marinade, the sauce gets really sticky once baked.
Bake in a pre-heated oven for 20 minutes, then bast with the leftover marinade. Bake again for 20-25 minutes.
I am sure there must be enough marinade left in the bowl at the end. No, We are not throwing away the marinade, instead, bowl it down and make a sauce. It is important to cook the marinade, as it was used to marinate raw chicken.
Once the wings are baked, brush it with the remaining sauce.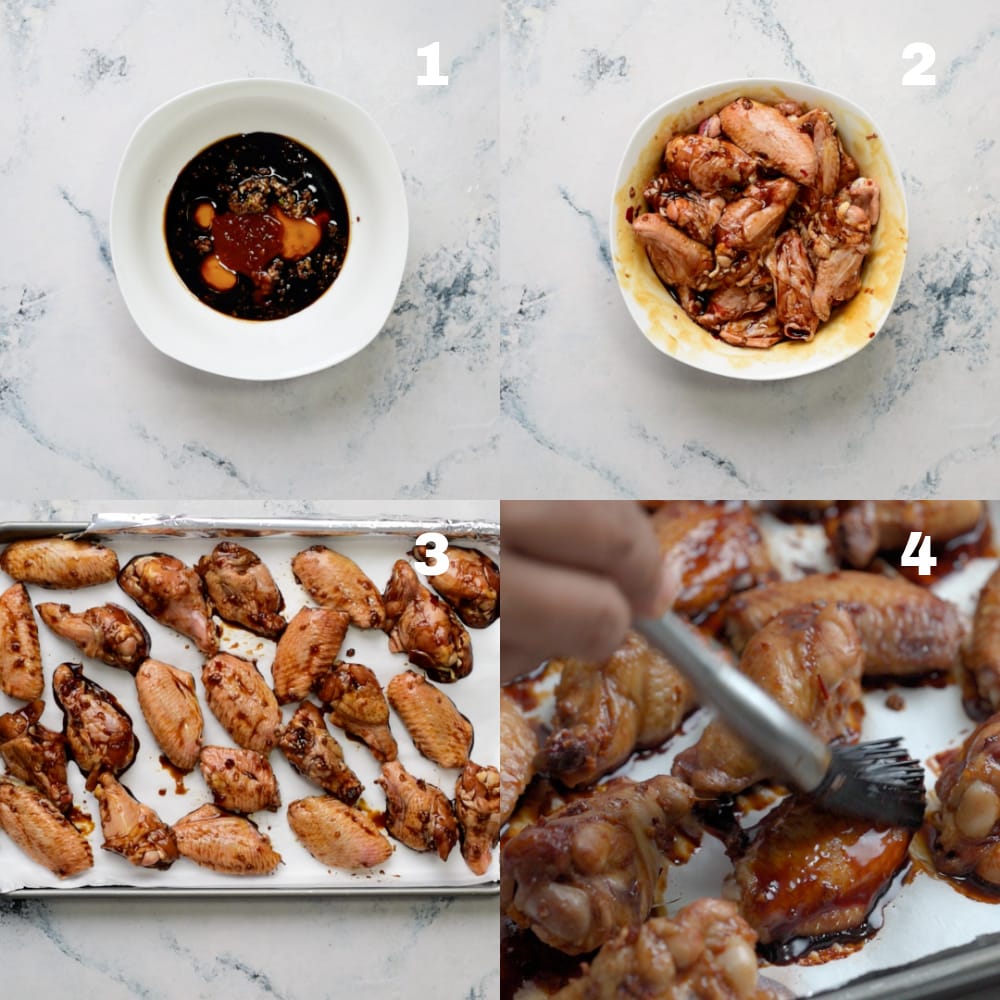 Serving Suggetsiton for Baked Chicken wings
These are so finger-licking good, you wouldn't even bother what's on the side. Maybe some beer or a glass of wine to wash it all down. This Asian Cucumber Salad works great on the sides too.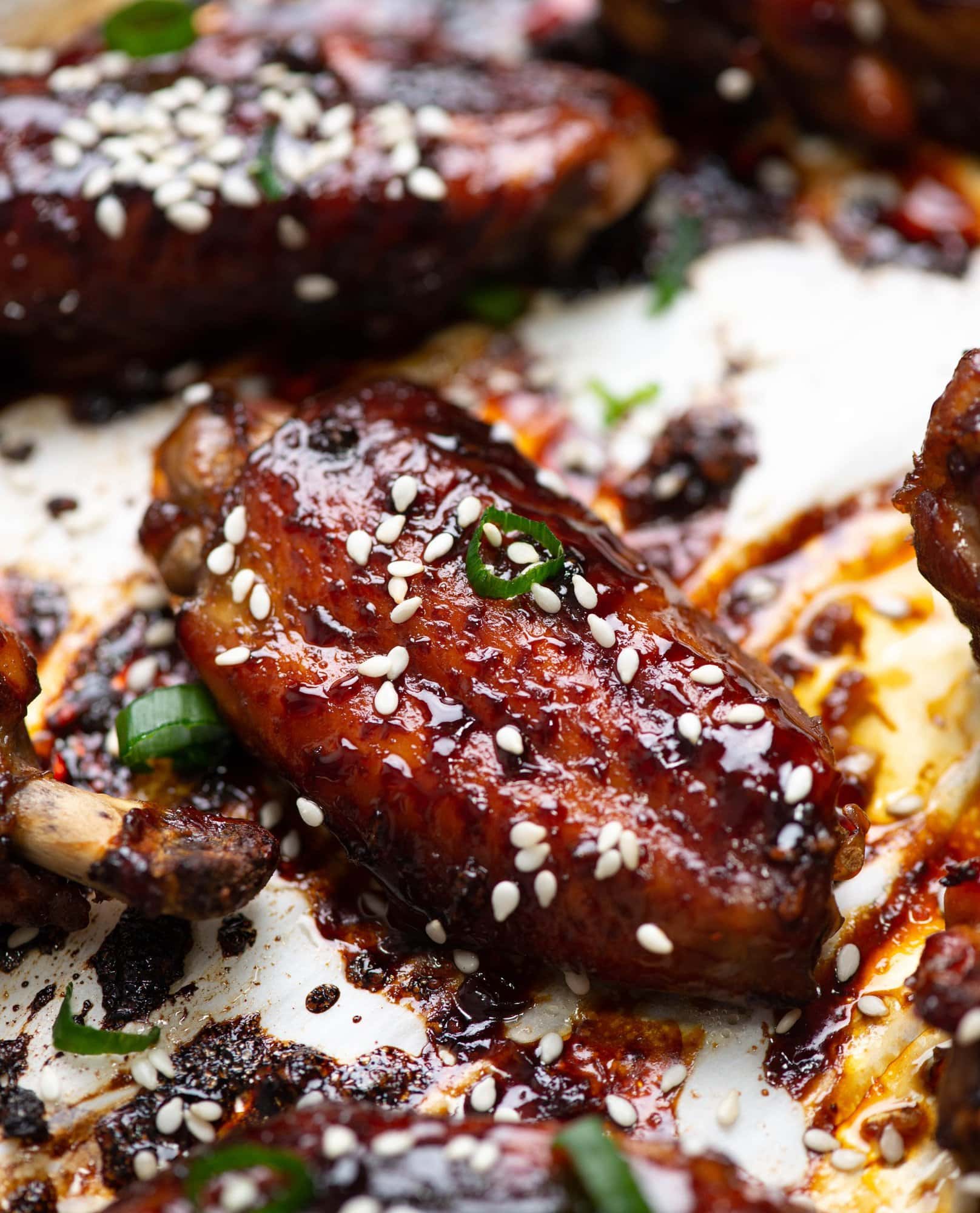 More Appetizer recipes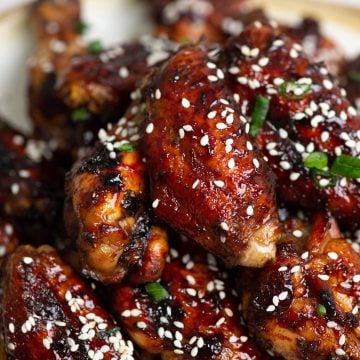 Baked Honey Garlic Chicken wings
Crispy baked chicken wings in honey garlic sauce are the best kind of appetizer. The sticky sweet and savoury sauce is delicious and addictive.
Ingredients
1 kg Chicken wings (2 pound)
2 tablespoons All purpose Soy Sauce
4 tablespoons Honey
1 teaspoon Hot Sauce (adjust per taste)
1 tablespoon Rice wine Vinegar
1 tablespoon Minced Garlic
1 teaspoon Sesame Oil
Instructions
Preheat oven to 425°F. (400 F for Fan Forced Oven)

Line a baking tray with a double layer of foil. Then top with parchment paper.

In a big bowl, mix all the sauce ingredients. Toss wings into the sauce and coat it well.

Shake off excess marinade, arrange wings in a single layer, leaving a little space in between. (Use two trays, if it is too crowded in on pan)

Bake for 20 minutes. Take the baking tray out, bast the wings with marinade. Bake again for 25-30 minutes.

Towards the end of the baking, Cook the remaining chicken marinade in a small pan. Once it comes to a boil, reduce the heat and cook for 1 more minute until the sauce has thickened.

Take the wings from the oven. Brush the thickened sauce on the wings.

Sprinkle some sesame seeds and green onion and serve.
Nutrition
Serving: 1serving | Calories: 305kcal | Carbohydrates: 15g | Protein: 21g | Fat: 18g | Saturated Fat: 5g | Polyunsaturated Fat: 4g | Monounsaturated Fat: 7g | Trans Fat: 1g | Cholesterol: 83mg | Sodium: 503mg | Potassium: 200mg | Fiber: 1g | Sugar: 14g | Vitamin A: 160IU | Vitamin C: 2mg | Calcium: 19mg | Iron: 1mg