This post may include affiliate links that earn us a small commission.
This cheesy hot Shrimp Dip with Bacon with juicy shrimp and three types of cheese is a showstopper on your party appetizer menu. Hot Bubbly shrimp dip is also Keto and low carb.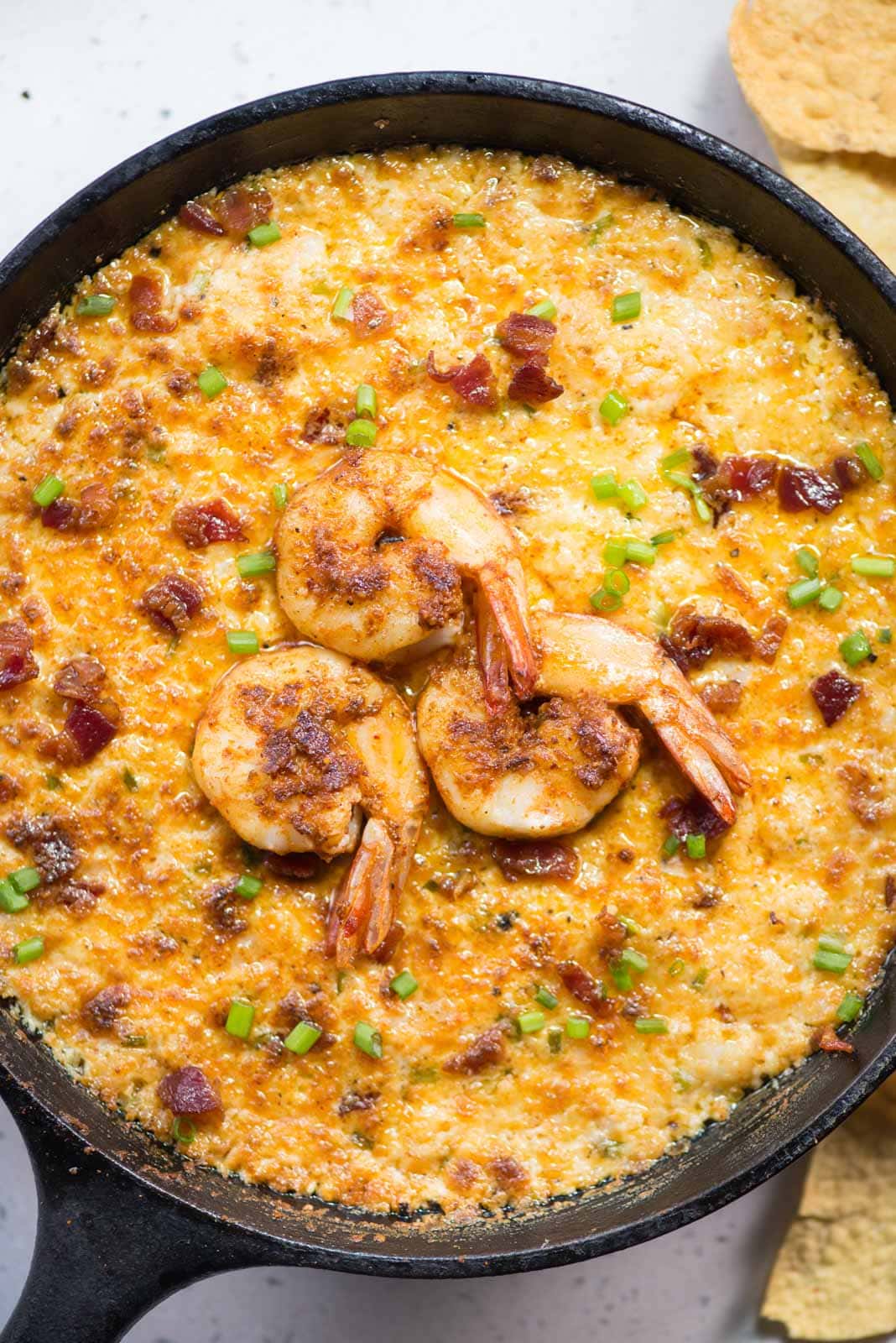 Dips are the perfect appetizer to serve to a large crowd with minimal effort on holiday parties or game days. This baked Shrimp dip is really easy and quick to make.
Flavours In Your Inbox
Subscribe for recipes straight to your inbox
Juicy chunks of shrimp and crispy bacon in every bite you take are so so good.
Baked Shrimp Dip Recipe and Variations
Shrimp and bacon work together like a charm. This dip has tons of flavor from the cheese, chives, garlic, and a hint of heat from cayenne pepper.
For the dip, Shrimp is first seasoned and sautéed, which enhances the overall flavor so much.
This baked shrimp dip recipe is also versatile and you will have different variations every time you make it. Toss Shrimp with some old bay seasoning or Cajun seasoning instead.
Add some finely chopped red pepper and onion to it. If adding Onion or red pepper, add to the pan after 2 minutes of adding shrimp.
Swap Chive with green onion or parsley for a change.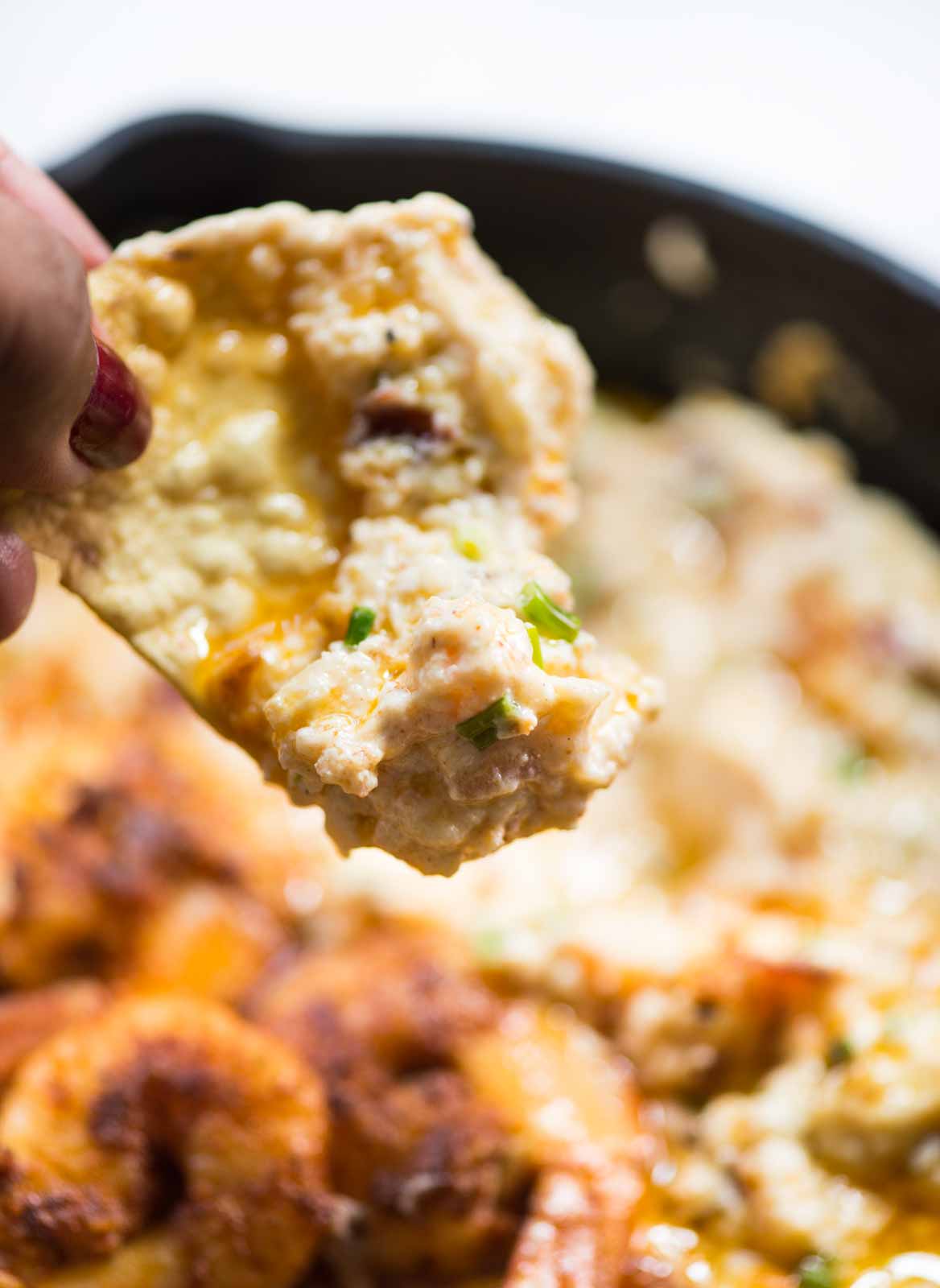 Steps To Make Shrimp Dip
Use a small ovenproof cast Iron skillet for minimal cleaning. You can also serve as it is in the pan. Or use a serving baking dish.
Start with sautéing the shrimp. You could use frozen shrimp but fresh shrimp is even better. Shrimps have to be cleaned and deveined. Saute until it is completely cooked.
Once cooled down, roughly chop the cooked shrimps. The bite-sized pieces are absolutely delightful in the shrimp Dip.
Make sure the sour cream, cream cheese, and cheddar are at room temperature.
Mix all the ingredients, chopped shrimps along with its juices if any in a bowl.
Spread the shrimp mixture in the skillet or prepared baking dish and bake until bubbly. And you Dip is ready.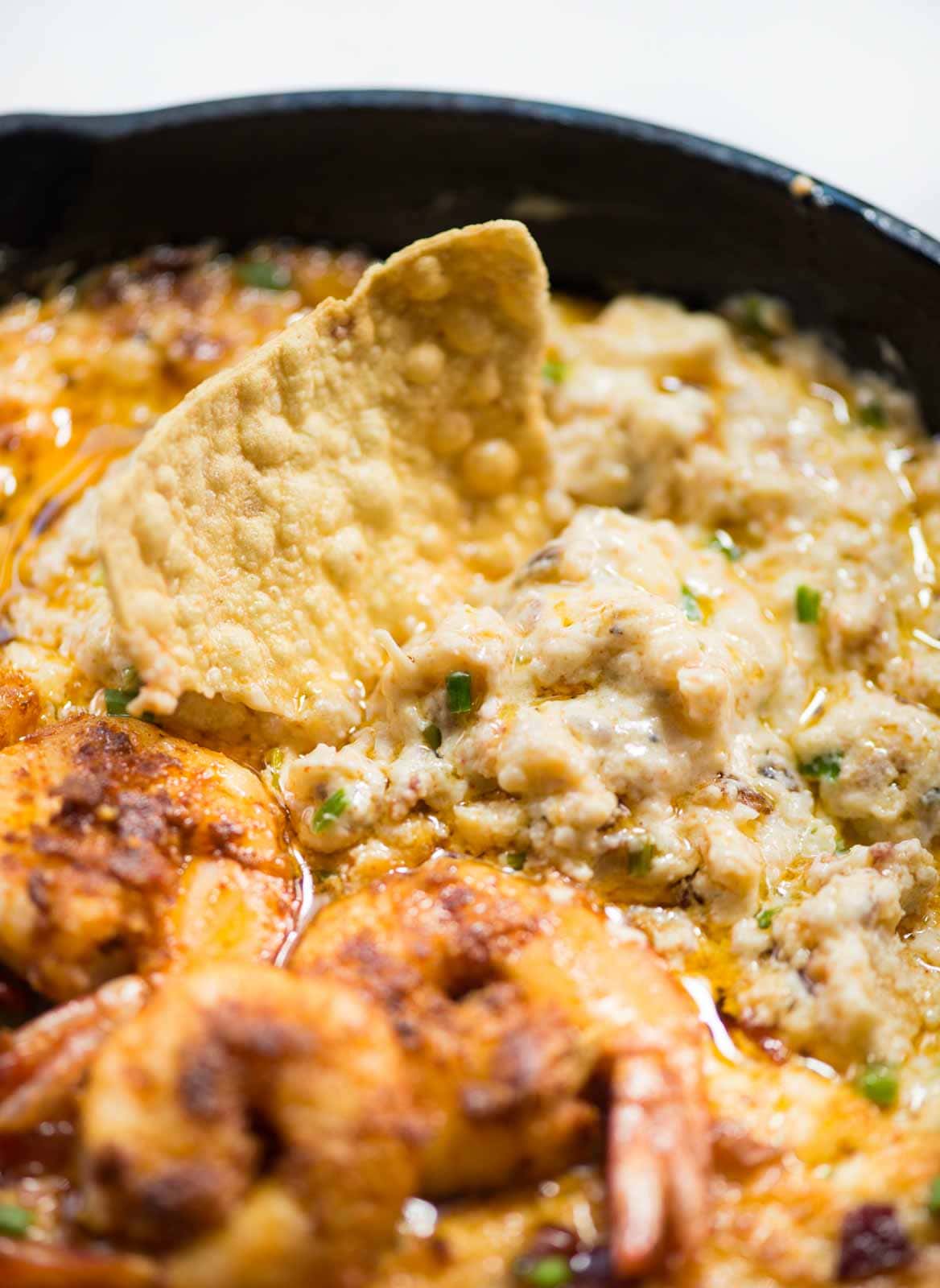 Storage Suggestion
Any leftover once cooled down can be stored in the refrigerator for 3 days. Freezing and reheating the shrimp dip might make the cheese mixture curdle.
Serve with
This cheesy dip is best served with toasted bread, crackers, nachos, all kinds of chips, mozzarella sticks, grilled meat, or pita bites.
This also goes well with sliced veggies like carrots and cucumber which I like a lot as a healthy snack.
More Party Dips…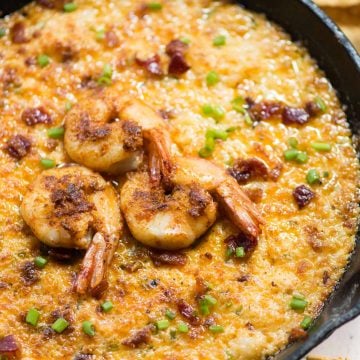 Hot Shrimp Dip
This cheesy hot Shrimp Dip with Bacon with juicy shrimp and three types of cheese is a showstopper on your party appetizer menu.
Ingredients
1 pound Shrimp (weighed after cleaning and deveining)
1 tablespoon Butter
¼ teaspoon Cayenne pepper
½ teaspoon Pepper (or adjust as per taste)
½ teaspoon Salt (or adjust as per taste)
6 ounce Sour Cream (at room temperature)
6 ounce Cream Cheese (at room temperature)
2 cups Sharp Cheddar Cheese
3 tablespoon chopped Chive
3-4 bacon strips
Instructions
Preheat the oven to 400 degrees F. Coat a small cast iron skillet or heatproof dish with non-stick spray.

Cut bacon strips into small pieces and cook until crispy. Discard the fat and keep the bacon bits aside.

Heat butter in a small ovenproof cast iron skillet pan. Add cleaned and drained shrimps. Season with Cayenne pepper, black pepper, and salt.

Cook shrimp for 3-4 minutes or until shrimp are pink and opaque.

Remove the shrimps from the pan place on a chopping board. and let it cool.

Once cool enough to handle, using a sharp knife roughly chop into bite-sized pieces.

In a bowl add the rest of the ingredients, chopped shrimp. Mix everything well.

Use the same Iron skillet used above or a baking dish with cooking spray.

Spread the shrimp mixture into the prepared pan and sprinkle with a pinch of Cayenne pepper (optional).

Bake in a pre-heated oven for 10-12 minutes until bubbly around the edges. For extra colour, broil on the top rack for another 1 minute.

Serve with crackers, chips, or veggies.