This post may include affiliate links that earn us a small commission.
A sweet and spicy super easy salsa recipe that has two yum fruits – pineapple and mango. Pineapple Apple Salsa makes for the perfect summer treat with chips.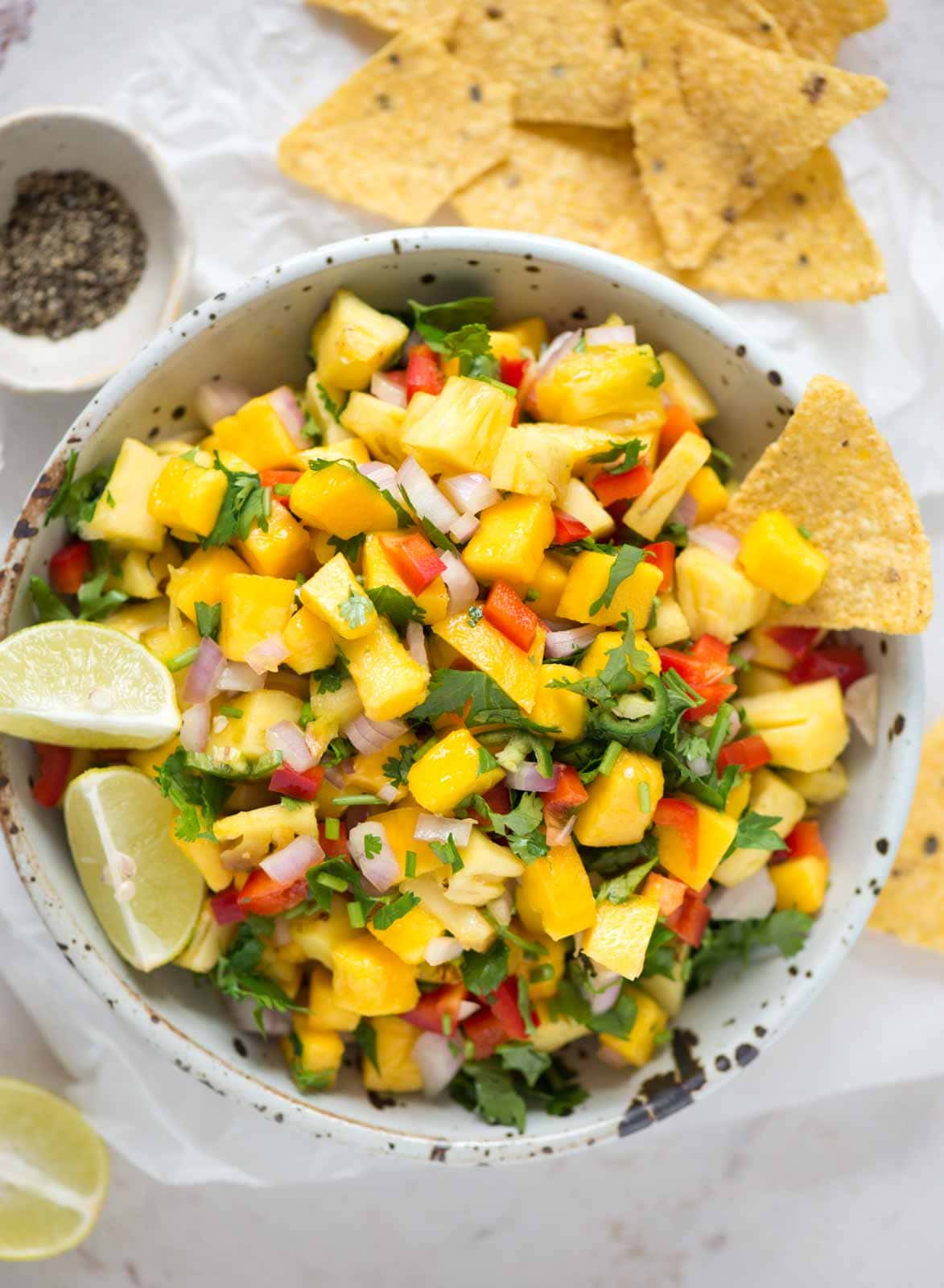 This salsa has fruity flavors, a hint of spice to offset the sweetness of these two fruits offering a balanced palette. Pineapple and mango are some of the sweetest and juiciest fruits so to balance it out this recipe has some spice added from the bell pepper and onions.
Flavours In Your Inbox
Subscribe for recipes straight to your inbox
It is seriously one of the easiest and quickest things you can make without any cooking for a get-together party.
Everyone would enjoy the freshness and lightness of the mango and pineapple and the slight heat in the salsa would give a kick.
Check out some such fresh and zesty popular recipes – Roasted Tomato Salsa, Baked Salsa Chicken, and Easy and Zesty Quinoa Salad. I have more fruit-based recipes like this Apple Kale Salad With Apple Cider Vinaigrette.
Ingredients
Pineapple
Mango
Red bell pepper
Onion
Green onion
Jalapeno
Coriander leaves
This is optional but you can add some beans to it if you like.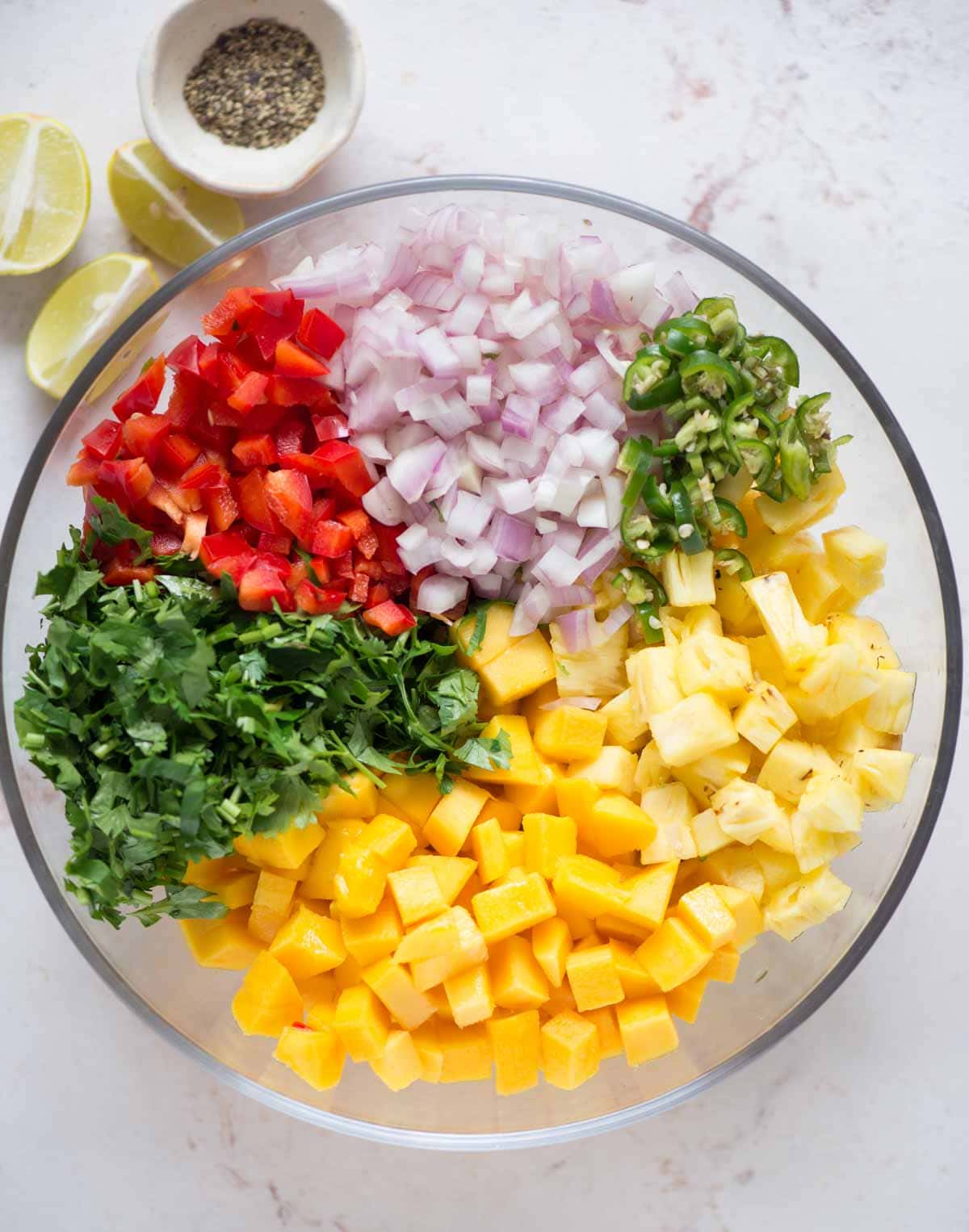 How to make Pineapple Mango Salsa
Cut Pineapple and mango into small chunks.
Cut the onions, bell pepper and coriander leaves to even smaller bits than the fruits.
Toss them all together in a bowl.
Freeze It
Recipes with fruits are not ideal for refrigeration as they tend to lose the freshness that we crave in such recipes. That applies to this salsa as well. Making this is so easy with so few ingredients I would suggest spending 15 mins to make it ready right before serving.
If you must have to refrigerate, use an air-tight container or cling wrap to do so. You can store it for up to 5 days.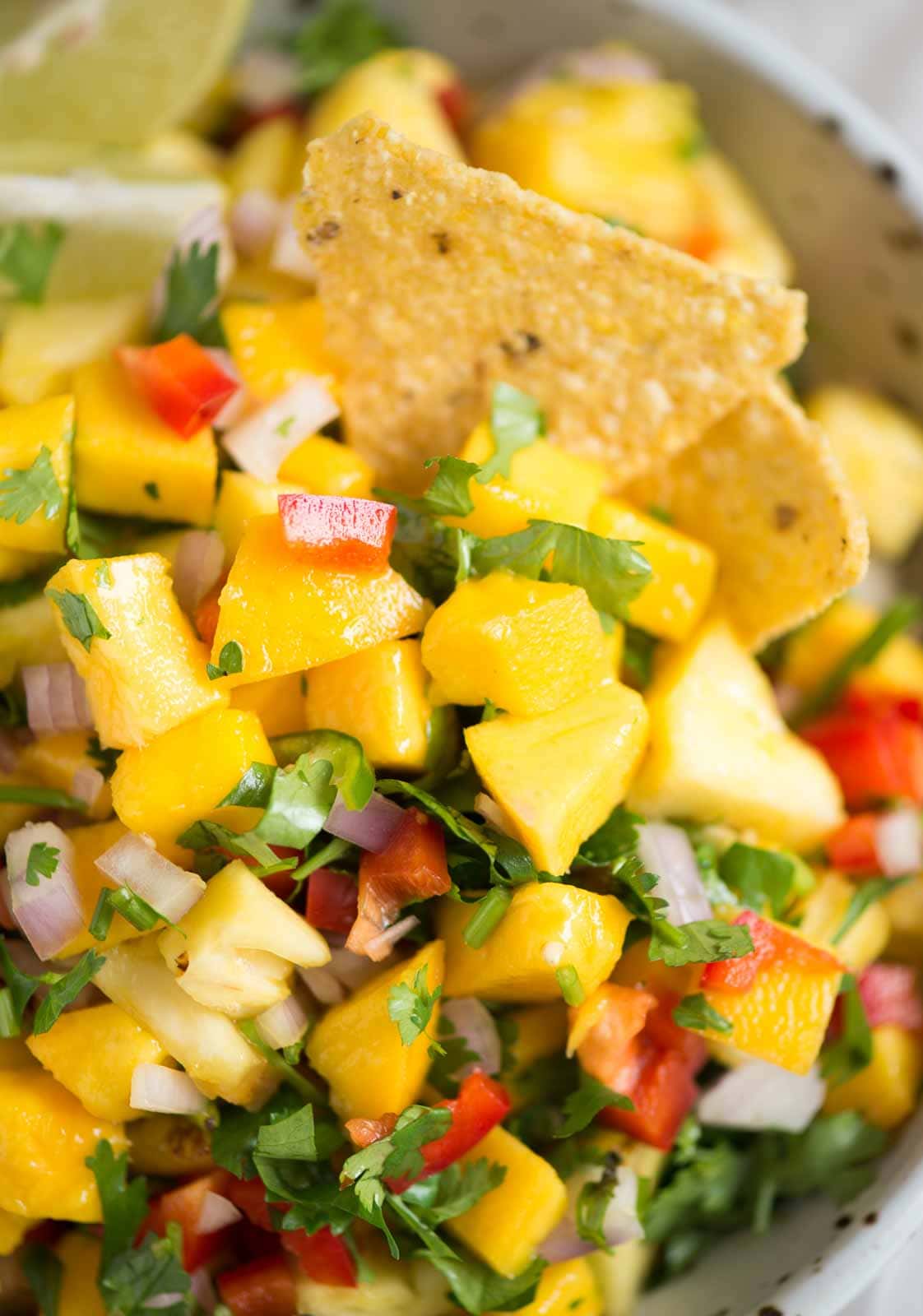 Serve Pineapple Mango Salsa With
Serve this pineapple mango salsa with some tortilla chips to make a fun and flavourful summer treat. The crunchiness of the chips compliments the hot and sweet salsa and together they bring a variety of bites and flavors.
This can be accompanied or followed by some grilled or baked meat. Here are a few ideas – Grilled Teriyaki Chicken, Thai Grilled Chicken, Baked Greek Potato Wedges or Sweet and Spicy Boneless Chicken Thighs.
More Party Dips…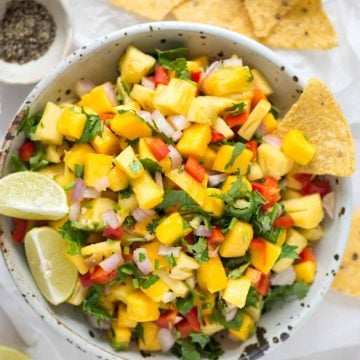 Pineapple Mango Salsa
A sweet and spicy super easy salsa recipe that has two yum fruits – pineapple and mango. Makes for the perfect summer treat with chips.
Ingredients
1 pineapple
2 medium Mangoes
½ Onion
1 Red Bell Pepper
1 Jalapeno
½ cup Cilantro
½ Lemon
Salt and pepper
Instructions
Peel and dice pineapple.

Peel Mango and dice. Chop onion and red bell pepper.

Deseed Jalapeno Peppers and chop. Chop Coriander leaves.

In a big bowl add all the ingredients. Squeeze lemon, season with salt and pepper.

Toss everything well. Serve with nachos/chips.
Nutrition
Serving: 1serving | Calories: 130kcal | Carbohydrates: 33g | Protein: 2g | Fat: 1g | Saturated Fat: 1g | Polyunsaturated Fat: 1g | Monounsaturated Fat: 1g | Sodium: 4mg | Potassium: 361mg | Fiber: 4g | Sugar: 26g | Vitamin A: 1572IU | Vitamin C: 131mg | Calcium: 34mg | Iron: 1mg