This post may include affiliate links that earn us a small commission.
Homemade hummus is luxuriously creamy, smooth, and rich. Use it as a spread, dip, or maze, and it is very easy to make. It deserves its reputation as a versatile, clean and healthy food.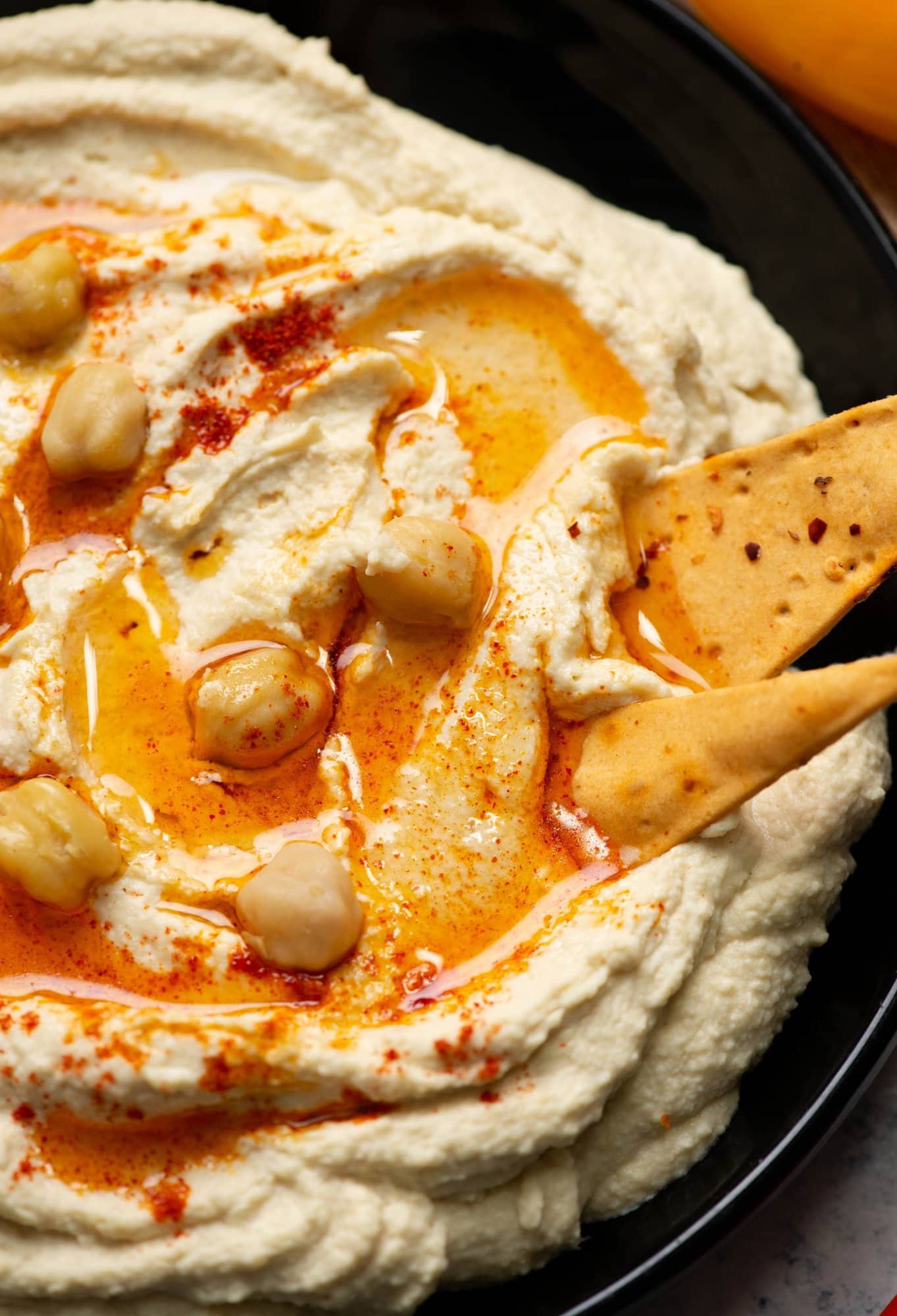 What is Hummus
Hummus is a versatile middle eastern dish that can be had as a spread, dip, or savory dish. For a long time, hummus has been consumed as a staple food and made from readily available everyday ingredients. Its ease of making and nutritional profile has made it a household dish in every breakfast, lunch, and dinner.
Flavours In Your Inbox
Subscribe for recipes straight to your inbox
Hummus tastes creamy, savory, and garlicky. The name of hummus comes from the fuller name 'Chickpeas with tahini.' It is made with chickpeas, tahini, lemon juice, and garlic. Paprika and parsley are used as a garnish in this recipe.
Hummus is commonly eaten with pita bread. It can also be used as a spread to make shawarma like in this recipe of mine – Street-style Chicken Shawarma.
Tahini is again another middle eastern condiment. Ground sesame paste is used as a dip, spread, or a significant ingredient in other dishes like hummus, baba ghanoush, or halva.
Hummus is really good for you. Hummus has a good proportion of fiber, proteins, and nutrients from chickpeas. A good amount of healthy fat in hummus comes from tahini and olive oil. Care for a healthy spread; hummus would be your best choice.
As a healthy substitute, nutritionists recommend hummus instead of other spreads since chickpeas are packed with protein and it has so many nutritional benefits. It also has fewer calories than other dip options. It keeps you full for a long time and avoids unnecessary snacking.
Checkout my other hummus recipe with a twist here – Roasted Sweet Potato Hummus.
Hummus made from scratch
There are many brands selling hummus in stores. While few store-bought ones taste good, I would go for homemade hummus. Not only do I control the quality and freshness of the ingredients, but I can also modify them to my taste.
Why go for store-bought ones with preservatives when something is so easy to make at home? Hummus can be easily made from a few simple ingredients using a food processor. What's better is hummus can also store in the refrigerator without adding any additives or preservatives.
Follow this recipe for the best and easy homemade hummus and you will have it ready in no time.
People may prefer to get store-bought tahini, but this too is a straightforward paste to make at home. Tahini is just a ground paste of sesame seeds.
The flavor that hits you while you make tahini and hummus at home will make you happy, and the texture comes out so wonderfully creamy and soft.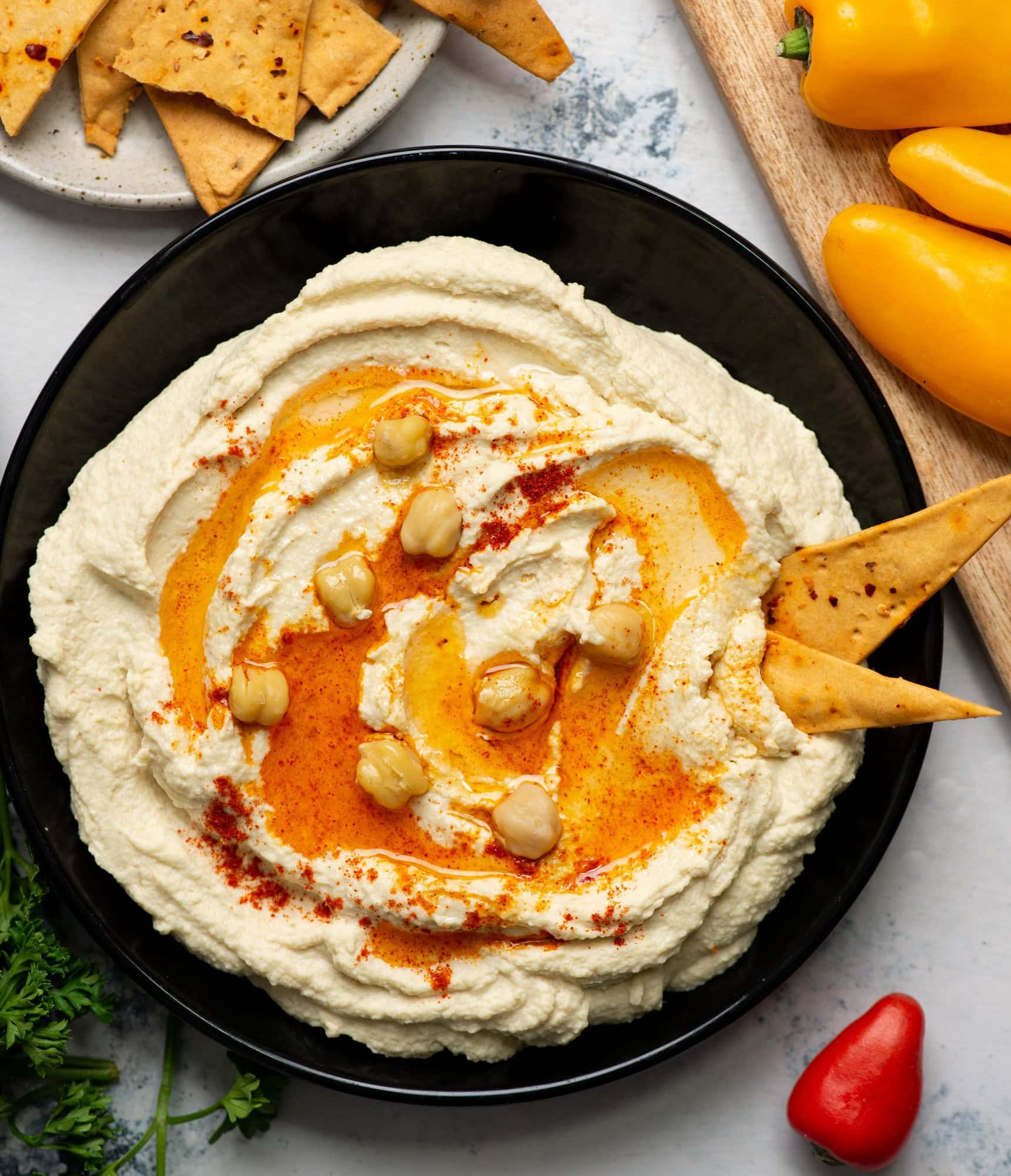 Ingredients
Hummus is made from local and everyday ingredients. These ingredients were available in every garden, farm, shop, or market in the Middle East and Mediterranean region. These are also readily available in most nearby stores in most parts of the world. You can make tahini at home or buy packed tahini from the market.
Chickpeas – A rich source of proteins, chickpeas have been a key ingredient in Mediterranean and middle eastern cuisines for thousands of years.
Tahini – Rich in calcium from sesame seeds, tahini is made by grounding sesame seeds into a paste.
Lemon juice – Fresh lemon juice gives the zest and acidity to the creamy dish. Moreover the acid in the lemon helps break the protein in chickpeas to make a soft and creamy texture.
Garlic – Used to add flavor to the spread. You can roast garlic before adding it.
Paprika – Used as spices especially as garnish. Gives a nice red color to the dish.
Parsley – A herb used to garnish and enhance flavor.
Olive oil – Another source of healthy fat used to garnish over hummus.
Ice cubes – Help in improving the texture to keep it fluffy.
How to make
The method is quite simple. Use a food processor or grinder by taking the correct measurements of the above ingredients.
It would be best if you used boiled chickpeas. You may cook the chickpeas first and keep them aside while making tahini yourself. If you are using store-bought chickpeas or tahini, these steps do not matter.
Do not discard the cooking water from the chickpeas. It may be helpful if you want to water down the hummus. You can chill the cooking water and use it instead of ice cubes later.
The next step is to add the chickpeas, tahini, garlic, and ice cubes to a food processor. Process it for a couple of minutes. Scoop the paste properly in the jar.
Add the lemon juice now. Check the consistency of the paste now. If you feel it is too thick, add the cooking water from the chickpeas. Make sure to add a little, process it, and add some more cooking water if needed.
After adding the lemon juice, you need to process it for two more minutes.
I would recommend using ice cubes as while you make them in the food processor, the processor will generate heat to ground the chickpeas. Ice cubes help maintain the temperature cool, making the hummus light and fluffy.
Instead of ice cubes, you may use chilled water or cooking water, which should work well.
In the end, put out the hummus in a bowl and garnish it with Olive oil, whole chickpeas, paprika, and parsley.
Store
Hummus has garlic and oil content from tahini and has to be used within 4-5 days if stored in the refrigerator. It has to be maintained at a chilled temperature at all times, and you should not keep it out in the open for long. Take as much as required from the refrigerator.
You may also keep them in separate small containers so it would be quick to freeze and thaw them.
You can freeze Hummus up to 3 months. Store them in air-tight containers and remove the entire container to thaw before using.
Serve With
Hummus can be had with a variety of things. It is commonly used as a dip with pita bread or pita chips; you may have it with crackers, biscuits, etc.
You can also use Hummus as a spread in Chicken Shawarma Rolls, instead of Garlic sauce.
Some may prefer fruits or cut veggies like carrots or cucumber to eat with this dip. You may use hummus as a spread in sandwiches or salad dressings.
Dips & more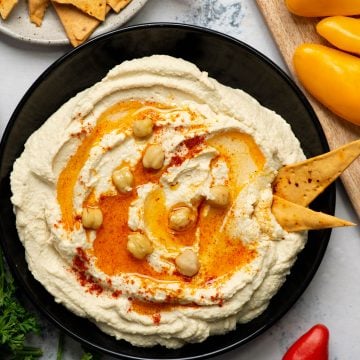 Creamy Hummus Recipe
Homemade hummus is luxuriously creamy, smooth, and rich. Use it as a spread, dip, or maze, and it is very easy to make. It deserves its reputation as a versatile, clean and healthy food.
Ingredients
120 grams Dried Chickpea (Ref note 1)
¼ cup Chickpea Cooking Liquid
⅓ cups Tahini
2 cloves Garlic chopped
½ teaspoon Cumin
2 tablespoon Olive Oil
2 tablespoon Lemon Juice
Salt to taste
2 cubes Ice
Olive Oil to drizzle on top
Paprika to sprinkle on top
Instructions
If using dried Chickpeas
Soak dried chickpeas 8 hours or preferably overnight.

In Instant Pot – Cover soaked chickpeas with enough water ( at least 2 inches above chickpeas). Seal the valve and cook on 'high pressure' for 15 minutes followed by a natural release for 10 minutes.

In a pressure cooker (on the stovetop) – Add enough water to the pressure cooker so that chickpeas are completely covered. Pressure cook for 5-6 whistle. Then let the pressure release naturally.

Cooked Chickpeas should be really soft yet holds the shape.

Reserve 1/2 cup of cooking liquid
If using Canned Chickpeas
Drain the chickpeas well. Reserve 1/2 cup of liquid.

Cook drained chickpeas in enough water on the stovetop (in an open pot) on high heat for 10 minutes. This is to ensure the chickpeas become extra soft. Drain and keep aside.
Making Hummus
Reserve a few cooked chickpeas for garnishing.

For extra smooth hummus, Peel the skin of chickpeas. If you are short of time skip this step.

In a high power blender/ Food Processor r add cooked chickpeas, Tahini, chopped Garlic, Cumin powder, olive oil, 1/4 cup Chickpea Cooking Liquid and ice cubes. Blend it for 2 minutes.

Scrap the sides with a spatula. Check salt and add more if required. Add lemon juice and blend again for 2 minutes until it is really smooth.

Serve in a bowl. Drizzle more olive oil on top, sprinkle paprika and a few cooked chickpeas. You can also sprinkle chopped parsley on top.
Notes
Use 1 14oz can of Chickpeas instead of dry chickpeas.
Nutrition
Serving: 1cup | Calories: 392kcal | Carbohydrates: 31g | Protein: 13g | Fat: 26g | Saturated Fat: 4g | Polyunsaturated Fat: 8g | Monounsaturated Fat: 13g | Sodium: 21mg | Potassium: 497mg | Fiber: 8g | Sugar: 5g | Vitamin A: 50IU | Vitamin C: 7mg | Calcium: 87mg | Iron: 4mg