This post may include affiliate links that earn us a small commission.
Asian Cucumber Salad, made with fresh crunchy cucumbers, onion, and an Asian dressing, is a refreshing and easy-to-make option for a light lunch or dinner. The versatile dressing is tangy, sweet, and has a little heat.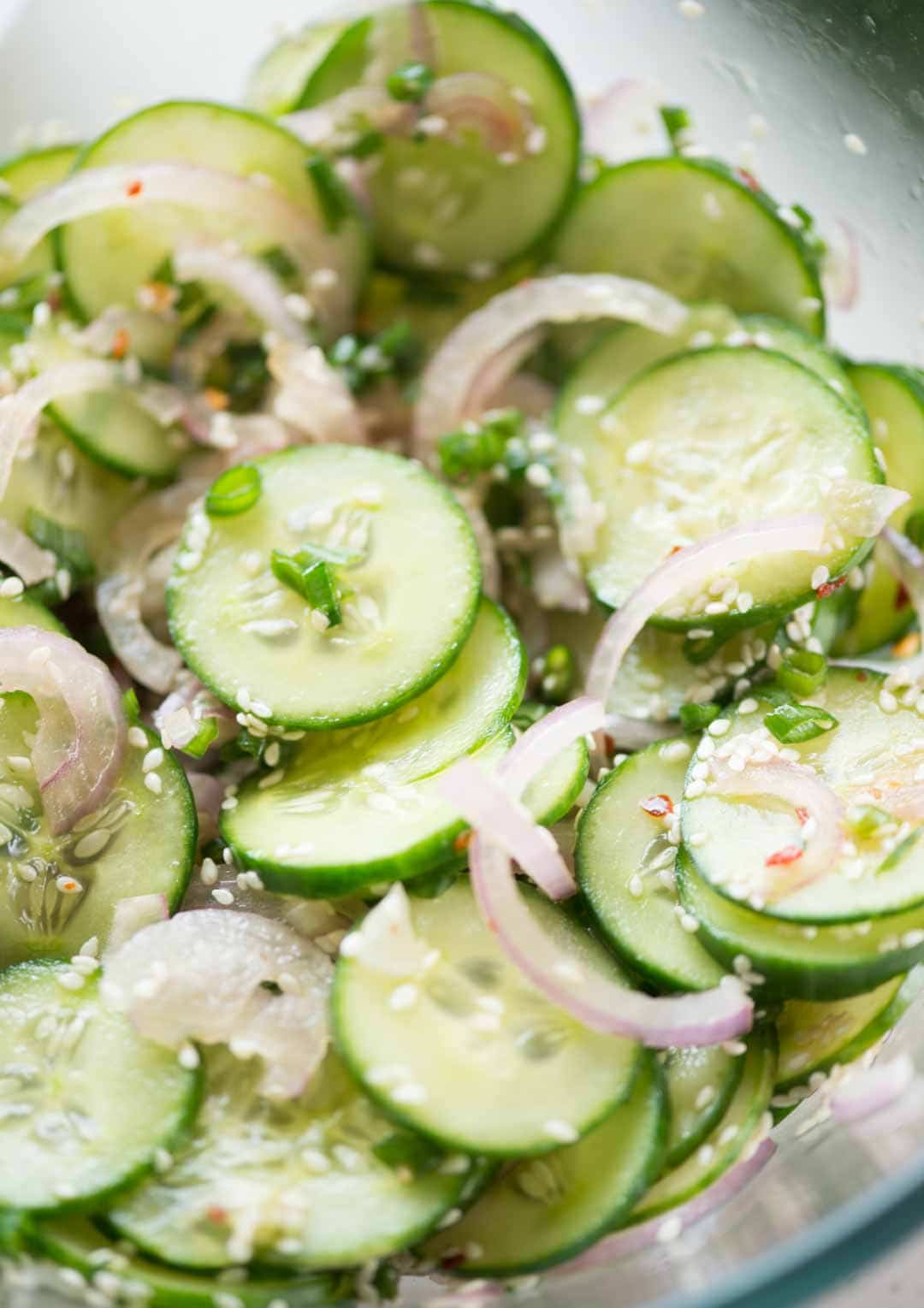 This Asian cucumber salad recipe is a delightful combination of flavors and textures. Crispiness of fresh cucumber, the sweetness of onion slices, the freshness of green onions, and the nutty aroma of toasted sesame seeds – everything tossed in a tantalizing Asian salad dressing.
This salad is refreshing and simple to make. The Asian dressing is packed with flavor; it is tangy, sweet, and with just a hint of heat from red chili flakes—an excellent summer dish when served cold.
This recipe was created to take advantage of seasonally abundant cucumber in China and is now widespread throughout the Asian continent, with Japanese, Korean, and Thai variations the most popular.
It was time we took a break from creamy Cucumber salad and tried this version. I was unsure how the family would like this salad because we are so used to the regular creamy version. In India, yogurt-based cucumber raita is part of an everyday meal. Surprisingly, it was received well.
This salad is a refreshing side dish for a barbeque or a potluck. During summer, it is great because of the cucumber's cooling properties. You can make this salad any time because the ingredients are easily available all year.
Come summer, and we have some great dishes to help with your lunch/dinner ideas using cucumber. Try these Cucumber sandwiches on your next picnic or for high tea. Cucumber Strawberry Salad has cucumber paired with the sweetness of strawberry.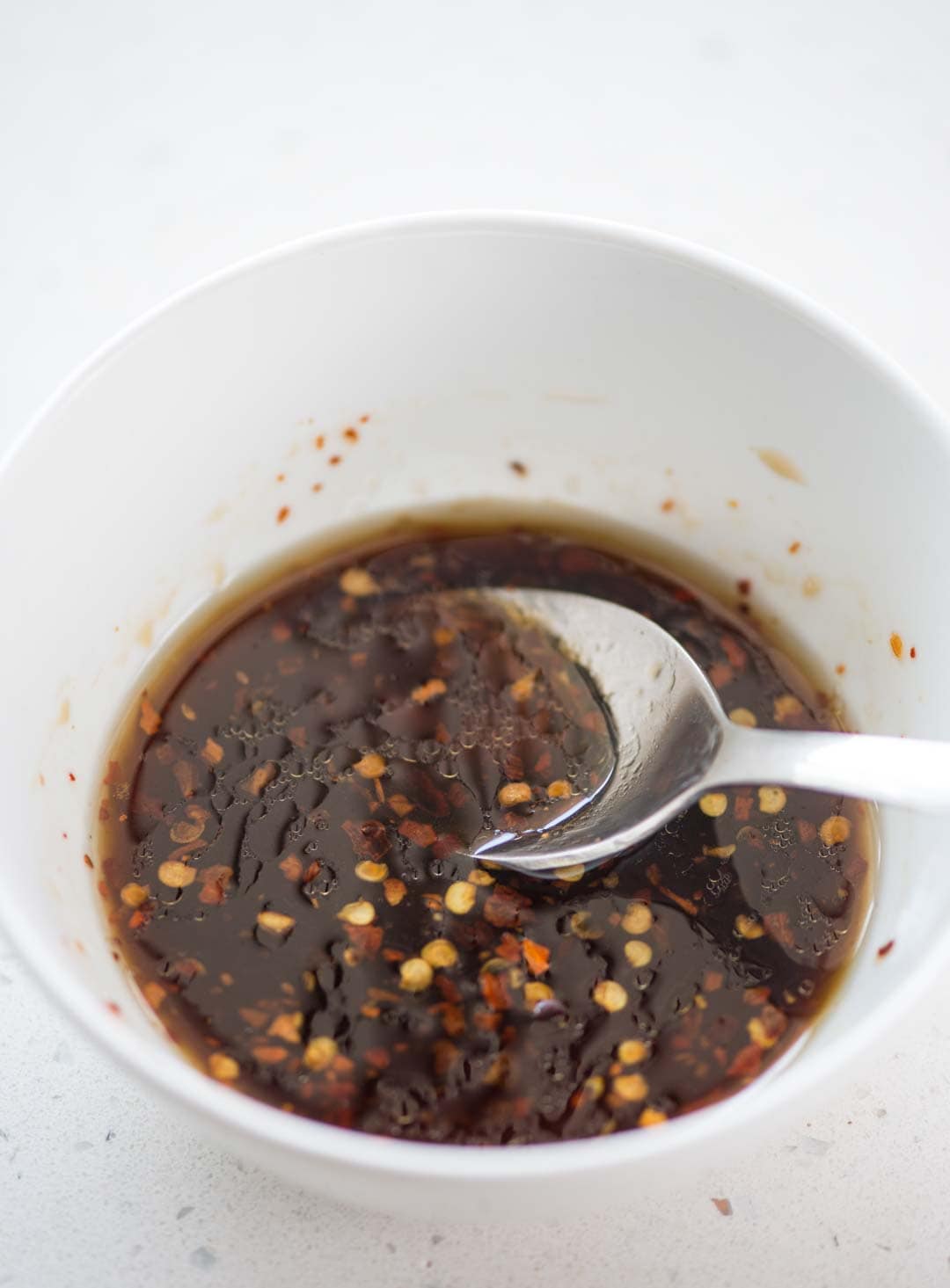 Five ingredients Asian salad dressing
The Asian dressing is the heart and soul of the dish and is a great way to add a touch of Asian flavor to your salads. Cucumber, as such, doesn't have much taste or flavor. This dressing gives life to the salad yet doesn't overpower the natural taste of the veggies. You need just five ingredients for the dressing,
Rice wine Vinegar – For the tang. You can also substitute with White wine vinegar.
Sesame Oil – I prefer toasted Sesame Oil. It gives a nutty flavor
Soy Sauce – Asian flavor is incomplete without soy sauce. You get the umami from Soy sauce.
Sugar – To balance the sauce with some sweetness. I would not recommend honey as it has a strong taste.
Chilli flakes – For that extra heat. You can certainly skip it if you don't like spicy.
You can add cilantro for a little herby flavor.
This dressing can be used on various salads, including cucumber salad, cabbage salad, and mixed greens salad. It can also be a dipping sauce for spring rolls, dumplings, or gyoza.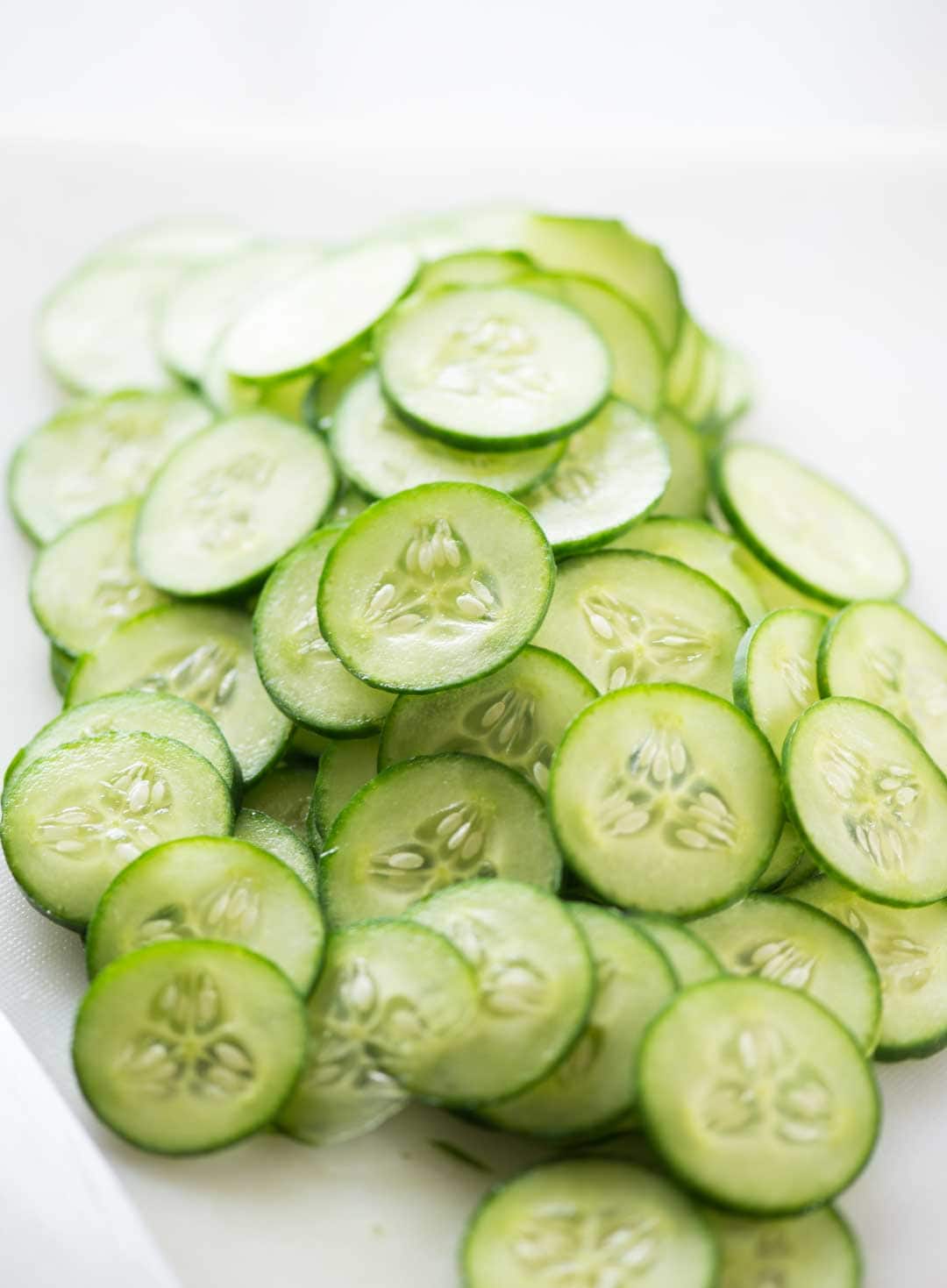 Ingredients and variations
This salad has the simplest of ingredients.
English/Lebanese Cucumber – Fresh crunchy ones for the best texture and least bitterness. You may use Persian cucumbers, Japanese cucumbers, or mini cucumbers instead.
Onion– thinly sliced. I prefer red onion.
Spring Onions – adds freshness and a crunch and zing to a salad.
Toasted sesame seeds – give a crunch and a nutty taste.
Apart from these, you can add thinly sliced red pepper, chopped fresh cilantro, etc. Keep it simple and let the fresh veggies sign through.
Here are some variations on the recipe:
For a spicier dressing, add more chili flakes.
For a sweeter dressing, add more sugar.
For a more savory dressing, add more soy sauce.
For a more nutty dressing, add more sesame oil.
For a more refreshing and crunchy, add more cucumber and onion.
For a more herbal dressing, add more cilantro.
For a Korean version, add gochujang, ginger, and garlic.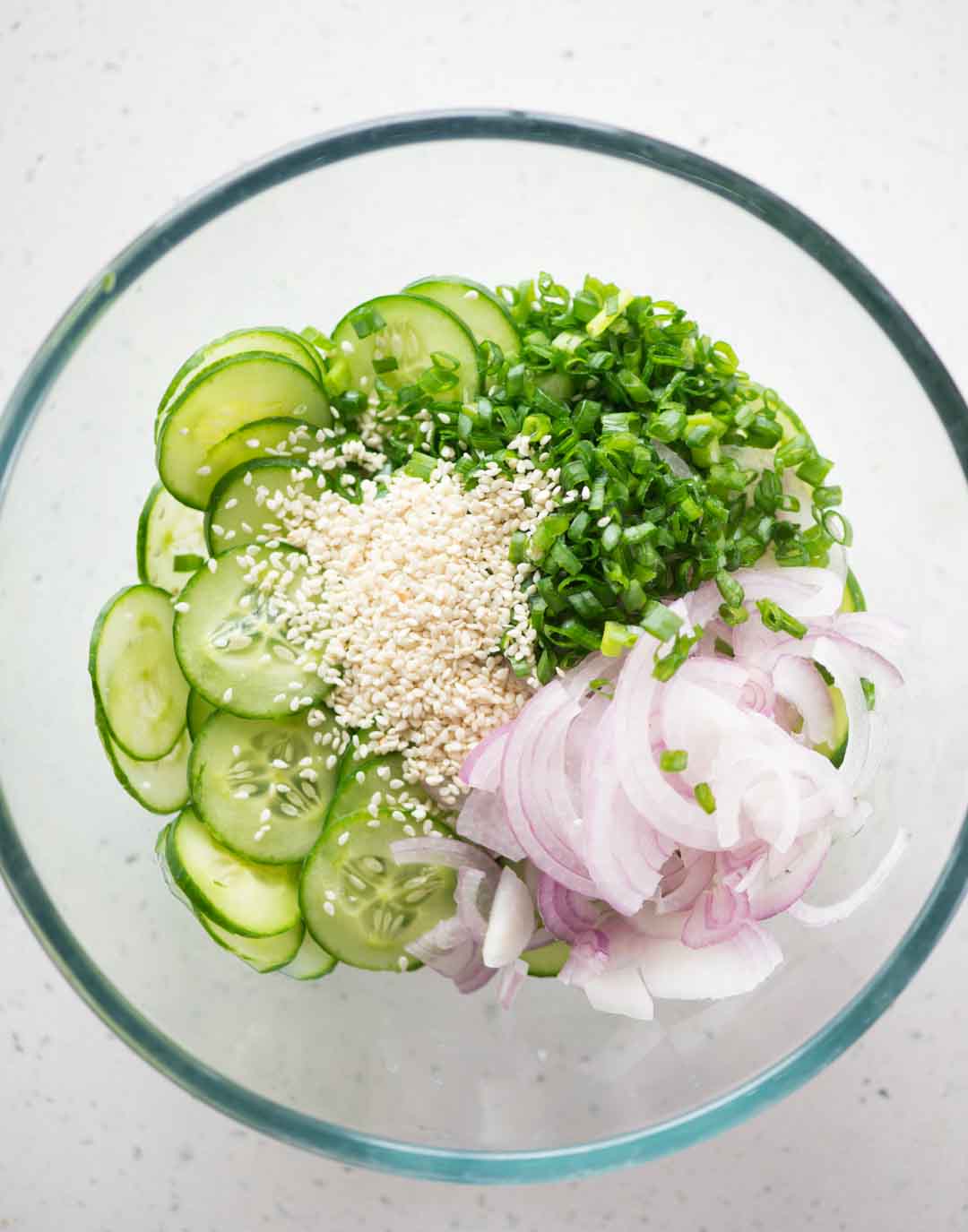 How to make
Chop and assemble – the two things you must do in this recipe. It takes ten minutes to prep the cucumbers, onions, green onions, and toasted sesame seeds and assemble everything to make the salad. That's how quick and easy this cucumber salad recipe is.
Prep
Using a kitchen knife or Mandoline slicer, chop the cucumber. Gather the sliced cucumber in a bowl and sprinkle a pinch of salt on them. Toss them a few times to ensure the slices get uniformly salted. Let it rest for half an hour, during which the cucumber secretes water. Drain the slices using a colander and rinse them under running water to wash off excess salt on the surface. Tab them dry using a napkin or kitchen towel.
While the cucumber rests, you can chop the onions into thin slices and the green onions into small rounds. Also, in a dry, hot pan, toast the sesame seeds. When the seeds turn light brown and fragrant, please turn off the heat, remove the sesame seeds, and keep them aside.
In a small bowl, add the ingredients for the salad dressing. Whisk all until it blends. Taste the dressing and add more sugar; if the dressing is more salty and sour.
Assemble and toss
Add the chopped cucumber, sliced red, and green onions in a big bowl. Sprinkle the toasted sesame seeds all over. Toss everything until the seeds are distributed evenly.
Drizzle the salad dressing over them and toss again well, ensuring the dressing coats everything.
Set this in the refrigerator for 30 minutes and serve it cold.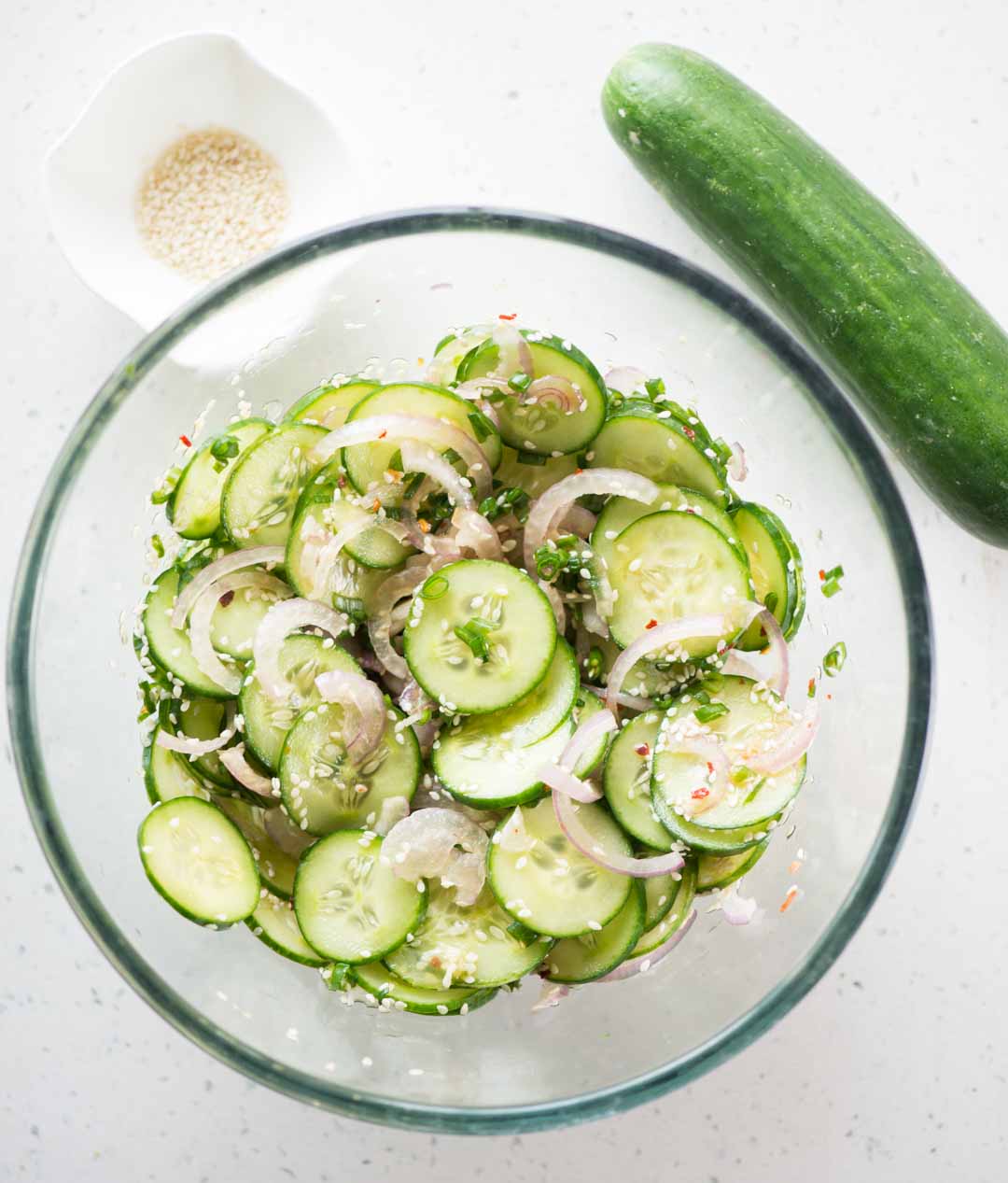 Frequently asked questions
How To Cut Cucumber For Salad?
What we want is thinly sliced Cucumber. I use my trusted knife to cut thin slices because I am too lazy to get the Mandoline slicer. Show off your knife skill or take the easy way out and use a mandoline slicer. Try not to make the slices too thick
Can we make this salad ahead?
It can be made a day ahead.  Cut all the veggies and store them in an airtight container. In a separate container, you can store the dressing. If the sliced veggies are kept longer in the refrigerator, they will lose their freshness. So I prefer making this salad a few hours before it is consumed.
I like the cucumber and onion crispy in my salad. The salt in the dressing will extract the water from the veggies making it soggy. That's why I keep the vegetable and the dressing separately.
Can we freeze Cucumber Salad?
Because of the high water content, cucumber doesn't freeze well. So, no, this salad can't be frozen. But the dressing stays fresh for up to a week. So a bottle of salad dressing in the refrigerator comes in handy.
Store leftovers
I don't like soggy veggies in my salad. After adding the dressing, the veggies release water and become soft after a few hours. If you are fine with the texture, you can store the leftovers for up to 2 days in an airtight container.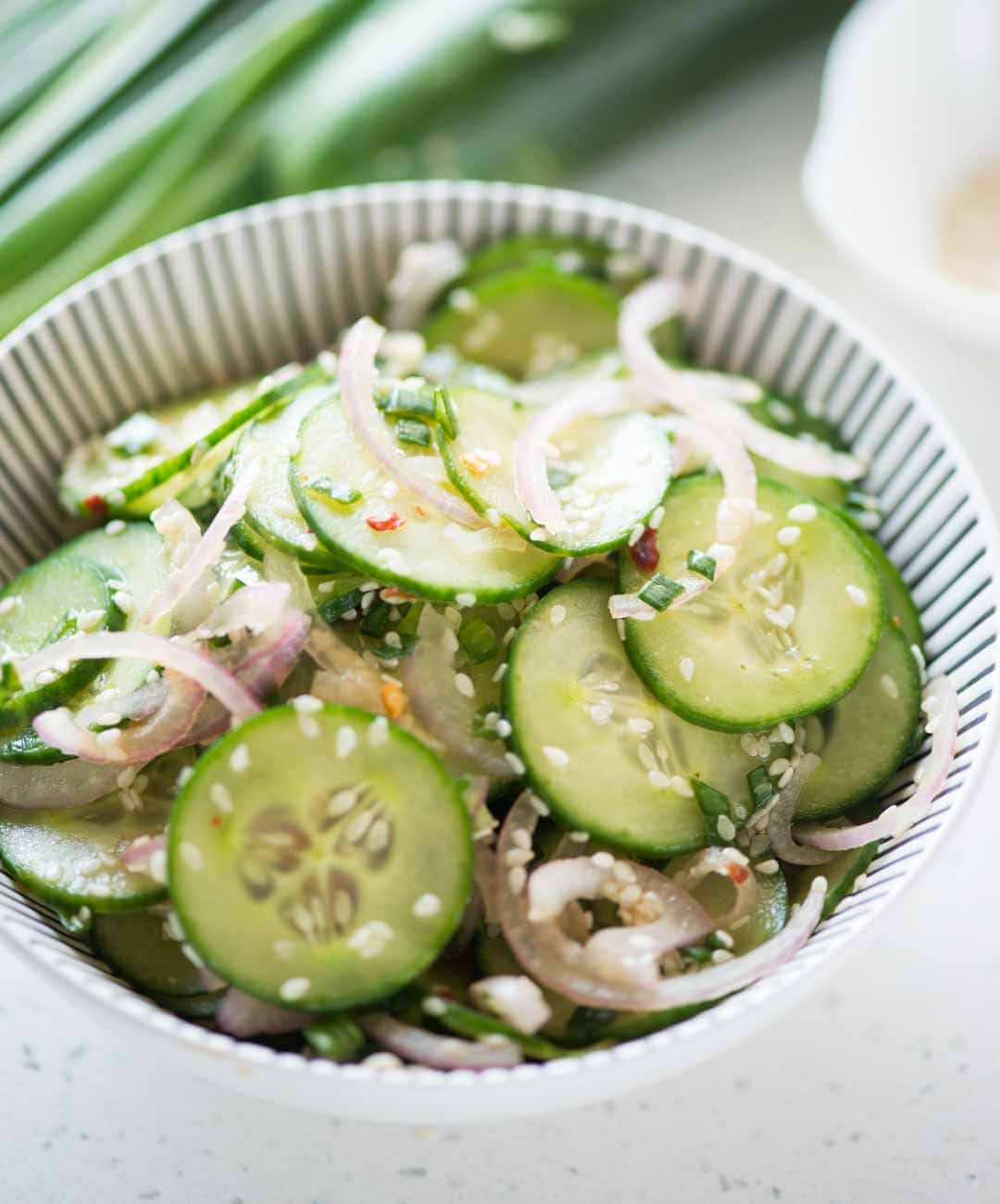 Serve with
Asian cucumber salad serves as light lunch or dinner. It also is a refreshing side dish to a variety of main courses.
More Summer Salad Recipes…
Roasted Corn Salad – Charring adds flavor to sweet corn and pairs well with a lemony, savory dressing.
Flavours In Your Inbox
Subscribe for recipes straight to your inbox
Italian Chopped Salad – Authentic Italian salad with fresh greens, tomatoes, and onions tossed in a light vinaigrette.
Chinese Chicken Salad – Asian flavors from crispy noodles and chicken stir-fried in a sesame dressing.
Chicken Pasta Salad – Grilled chicken is tossed with pasta and veggies in a lemon-herb dressing.
Vegan Macaroni Salad – A creamy salad recipe with pasta and crisp vegetables.
Pesto Pasta Salad – Classic Italian salad made with homemade pesto tossed with pasta, veggies, and greens.
Easy and Zesty Quinoa Salad – Quinoa, vegetables, and feta cheese with an olive oil vinaigrette.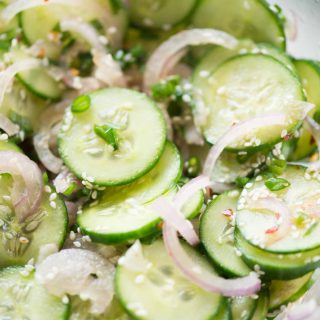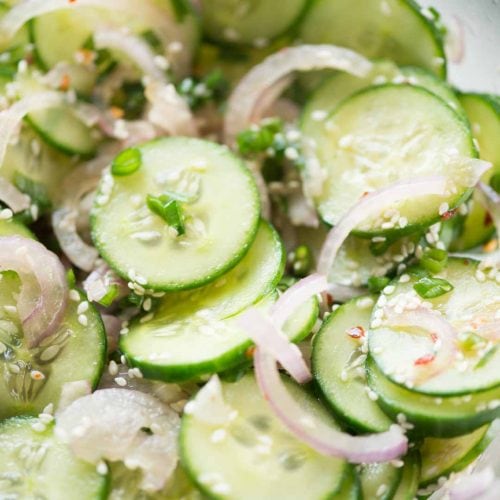 Asian Cucumber Salad
Asian Cucumber Salad with fresh crunchy Cucumber, Onion and an Asian dressing is a great summer side dish for any meal. Sweet and tangy salad dressing is packed with punch and delicious.
Equipment
1 Small bowl To whisk the dressing ingredients
1 Big bowl Put together all salad ingredients and toss
1 Whisk/spoon To make the dressing ingredients blend
1 Knife Or Mandolin slicer to chop and slice the cucumber and onions
Ingredients
2 English CucumberS sliced
1 Red onion sliced
⅓ cup Green Onion chopped
2 tablespoon Toasted Sesame Seeds
For Asian Salad Dressing
2 tablespoon Rice Vinegar
½ teaspoon Toasted Sesame Oil
1 tablespoon Soy Sauce
2 tablespoon Sugar
¼ teaspoon Red Chilli Flakes
Instructions
Prep
Using a knife, chop the cucumber into thin slices and put them in a bowl. Sprinkle a pinch of salt and rub it on the slices. Let it rest for 30 minutes, then drain the secreted water using a colander. Rinse them under running water to wash off excess salt on the surface. Tab the cucumber slices dry with a kitchen towel.

Slice the onion into thin rings, and, the green onions into small rounds.

In a dry, hot pan, roast the sesame seeds until they turn light brown and become fragrant.

Whisk all the ingredients for salad dressing in a bowl. Check the seasoning. If it is too sour or salty, add little more sugar.
Assemble and toss
In a big salad bowl add cucumber, onion, chopped green onion. and sesame seeds.

Drizzle with the dressing. Toss everything well and serve.
Nutrition
Serving: 1serving | Calories: 55kcal | Carbohydrates: 12g | Protein: 2g | Fat: 1g | Saturated Fat: 1g | Sodium: 133mg | Potassium: 284mg | Fiber: 1g | Sugar: 7g | Vitamin A: 278IU | Vitamin C: 8mg | Calcium: 36mg | Iron: 1mg