Baked BBQ Pork Tenderloin
This post may include affiliate links that earn us a small commission.
Baked pork tenderloin is seasoned with a flavorful spicy rub, baked in the oven to perfection, and glazed with a barbecue sauce. It has a nice crust on the outside and is juicy and tender inside. BBQ pork tenderloin baked in 30 minutes is the easiest way to make it for a party, get-together, or sumptuous dinner.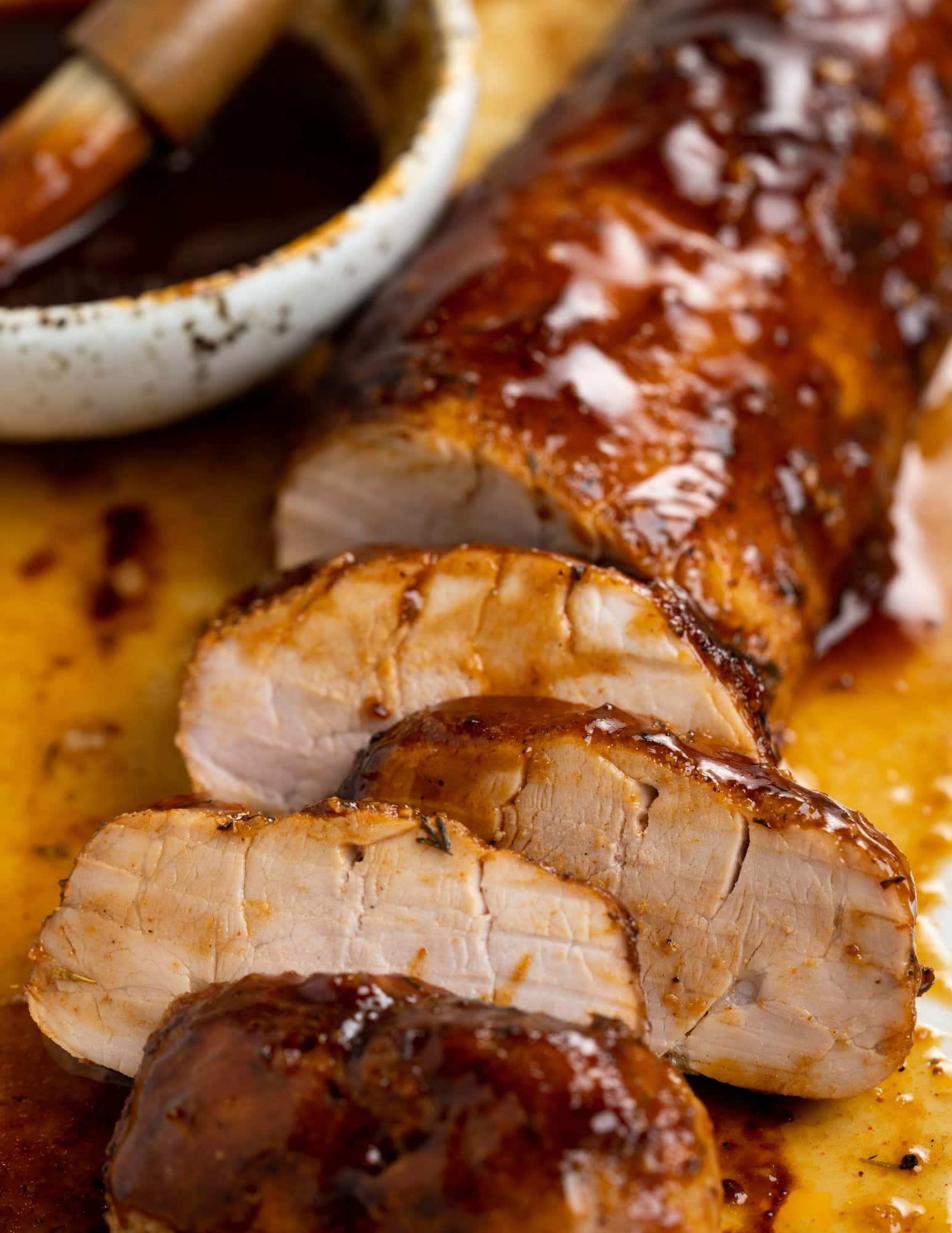 You need a flavorful dry rub and a glorious BBQ glaze to enhance the taste of an excellent cut like the tenderloin. The dry rub blends flavors from different spices and herbs, like thyme.
The shiny glaze is a mix of various sauces, giving it slightly tangy, salty, and sweet tastes while enhancing the umami. This delicious glaze also makes the tenderloin look great.
Flavours In Your Inbox
Subscribe for recipes straight to your inbox
This baked pork tenderloin recipe makes the juiciest and most tender tenderloin in minimal steps and time because:
The tenderloin is thin, lean meat that cooks fast. It is baked in the oven and does not require searing, unlike many recipes suggest. This prevents overcooking and results in dry meat.
The entire cooking time takes less than 30 minutes. You make a perfectly seasoned and tender melt-in tenderloin for a quick dinner.
The dry rub we use is a spice mix that makes up for the lack of flavor from fat in the tenderloin.
The barbecue glaze used has a cocktail of flavors from different sauces and is lick-worthy.
This recipe uses a baking dish and no skillet, thus reducing cleanup.
The BBQ glaze
A good glaze helps give life to the pork tenderloin. It increases flavor, improves the moisture in the meat, and adds a sticky layer on top, while the sugar in it helps caramelize the crust.
To do all that, we need a balanced flavor and taste in the glaze and cannot rely on BBQ sauce alone. It needs sweetness, acidity, savory notes, heat, and saltiness. The glaze is provided with a blend of flavors from the sauces, like soy and Worcestershire, with aromatics like garlic and heat from cayenne and pepper.
We use soy sauce and Worcestershire sauce for their savory and umami flavors. Aromatic ingredients like garlic taste savory, while cayenne and pepper add heat. Acid wine vinegar, with its tangy taste, adds acidity to the glaze.
Brown sugar is added for sweetness, and it is the sugar that helps caramelize the crust. Finally, there is salt to balance and bring out all the other flavors.
For other recipes boasting a glaze, check out – Lemon Honey Glazed Salmon or Strawberry Rosemary Focaccia with Maple Glaze or Apple Turnovers with Coffee Glaze.
Dry rub seasoning
The pork tenderloin needs a good flavor rub before you cook it in the oven. The dry rub used in this recipe provides a spice blend with savory notes, hints of sweetness, a little heat, and salt.
We use powdered forms of our two favorite aromatics – garlic and onion. The powdered form of garlic and onion is more intense in flavor and aroma. The fleshy bodies are dried first and then powdered. Garlic and onion powders are common pantry ingredients because they offer convenience and stay safe longer.
Paprika is a common spice that offers flavor, color, and a hint of sweetness. It is again made from dried red peppers (and sometimes a mix of peppers). Thyme brings herby flavors to the spice mix.
Black pepper offers spiciness and heat, while salt balances the flavors and helps them pop out.
This spice blend is not just for tenderloin and can be used to dry rub other meats like beef, lamb, and chicken. The ingredients are common and provide a classic flavor profile that suits most roasts, grills, and barbequed meats.
This spice mix is so potent that you do not need searing or marinating for the pork tenderloin.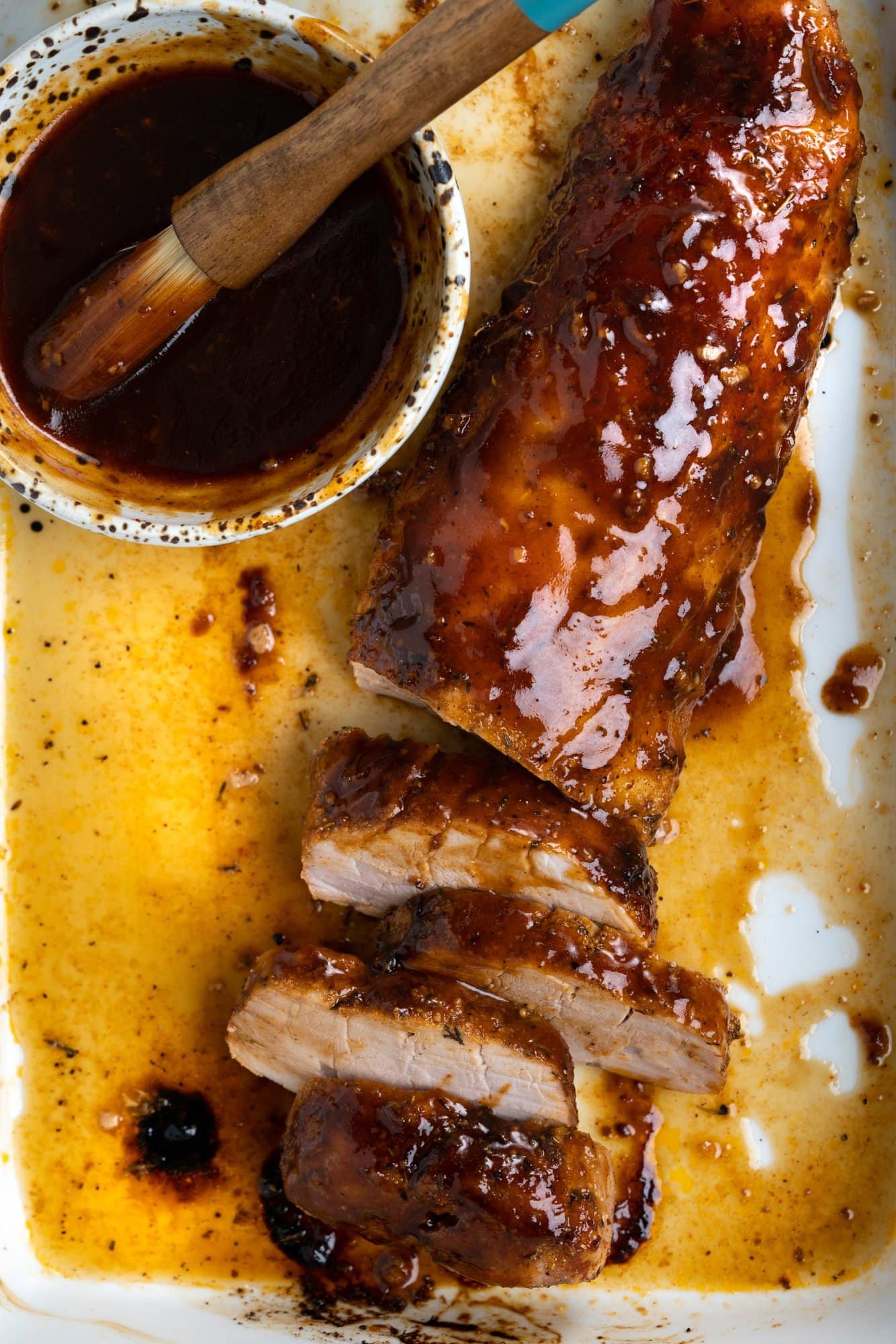 Tenderloin cuts
The tenderloin cuts lie along the spine and is vertical to the vertebrae. They are placed from the ribs to the pelvis. These are long, boneless cuts of meat that are thin. These intramuscular cuts are very lean since they do not have much fat and thus little marbling, which you would desire in other meaty cuts.
Since these are often postural muscles not used for movement, they are quite tender and prized. This cut will not have many flavors; hence, it is often cooked with other flavorful ingredients or cuts like bacon.
Pork tenderloin is often used as a substitute for beef tenderloin since they are equally tender.
A tenderloin is different from a pork loin, as the latter is a much larger cut and comes from the back of the animal. Loins also have more fat and greater marbling and flavor. Portions of the boneless parts of the loin are cut to make chops.
Tenderloins, one of the most tender cuts, are given high heat and a short cooking time, while loin cuts can be slowly cooked under low heat.
I have another comforting pork recipe – Spicy Pork Ramen– spicy pork with ramen noodles in a flavorful broth.
Ingredients
Pork tenderloin: You can go to the local butcher to get the cuts of your choice. Get a tenderloin that looks light pink. It should not have any dark or brown spots. Also, ensure that the cuts do not have a lot of fat. This cooks for a short time under high heat.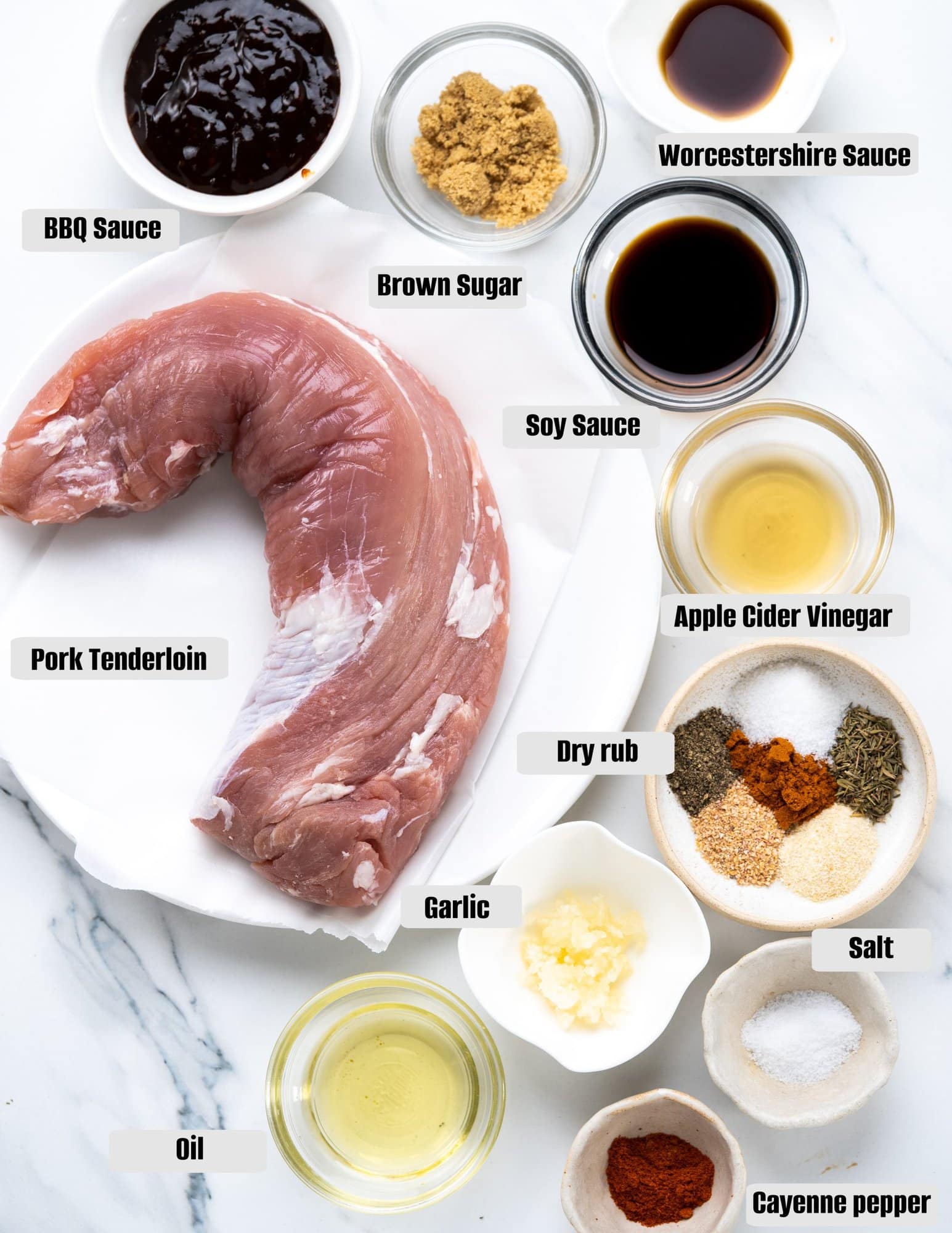 For a dry rub
Garlic powder – Use garlic powder with a more intense garlic flavor.
Onion powder – is another aromatic often paired with garlic in spice mixes and marinades. The powder is in a more intense form and is grounded from the dried onion.
Paprika – a spice that is made from ground and dried red peppers. It is a mellow spice that gives color and a hint of sweetness.
Black pepper – provides heat and is used to add spice to marinades and various other dishes.
Salt – the saltiness to balance all the other flavors.
Thyme – used to provide a herby profile to the dry spice rub.
For the BBQ glaze
BBQ sauce – a ubiquitous sauce that gives the characteristic smoky, tangy, and sweet flavors associated with every barbecue.
Low-sodium soy sauce – salty and savory flavors that add layers to barbecue sauce.
Worcestershire sauce – a fermented liquid used for its spicy and umami flavors.
Apple cider vinegar – the sourness and acidity brighten the flavors in the sauce mix.
Brown sugar – balances the sauce's sourness and the vinegar's acidity.
Cayenne pepper – adds heat and spiciness to the glaze.
Olive oil – helps by preventing the meat from sticking.
Minced garlic – a flavor bomb that elevates the glaze.
Salt – balances flavors and helps them pop out.
How to bake a pork tenderloin
Prep
Preheat the oven to 400°F. Move the rack to the middle layer.
Remove any excess fat from the tenderloin cuts. Pat the tenderloin with a paper towel to keep it dry. This helps the dry rub apply evenly and stick to the surface. Place the tenderloin on a baking dish or tray.
Apply the dry rub and bake
Mix all the ingredients for the dry rub in a small bowl. Rub it on both sides of the pork tenderloin evenly.
Place the baking tray on the oven rack and let it bake for 10-12 minutes.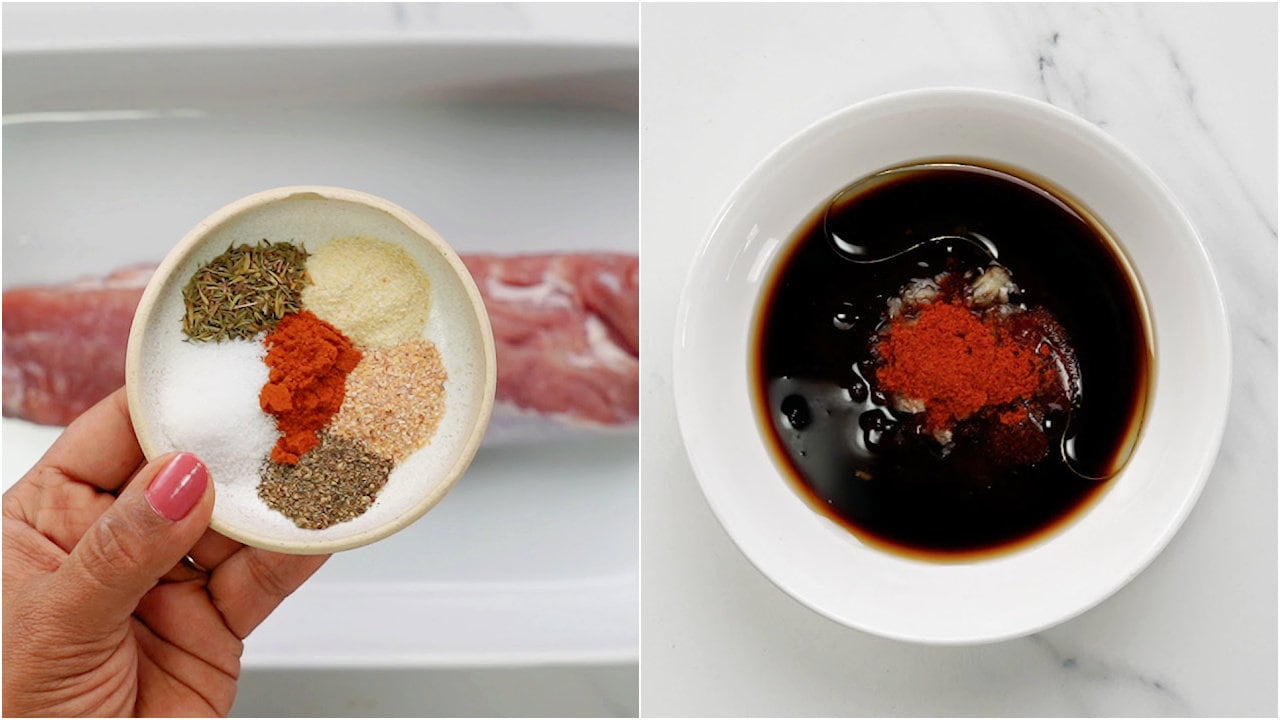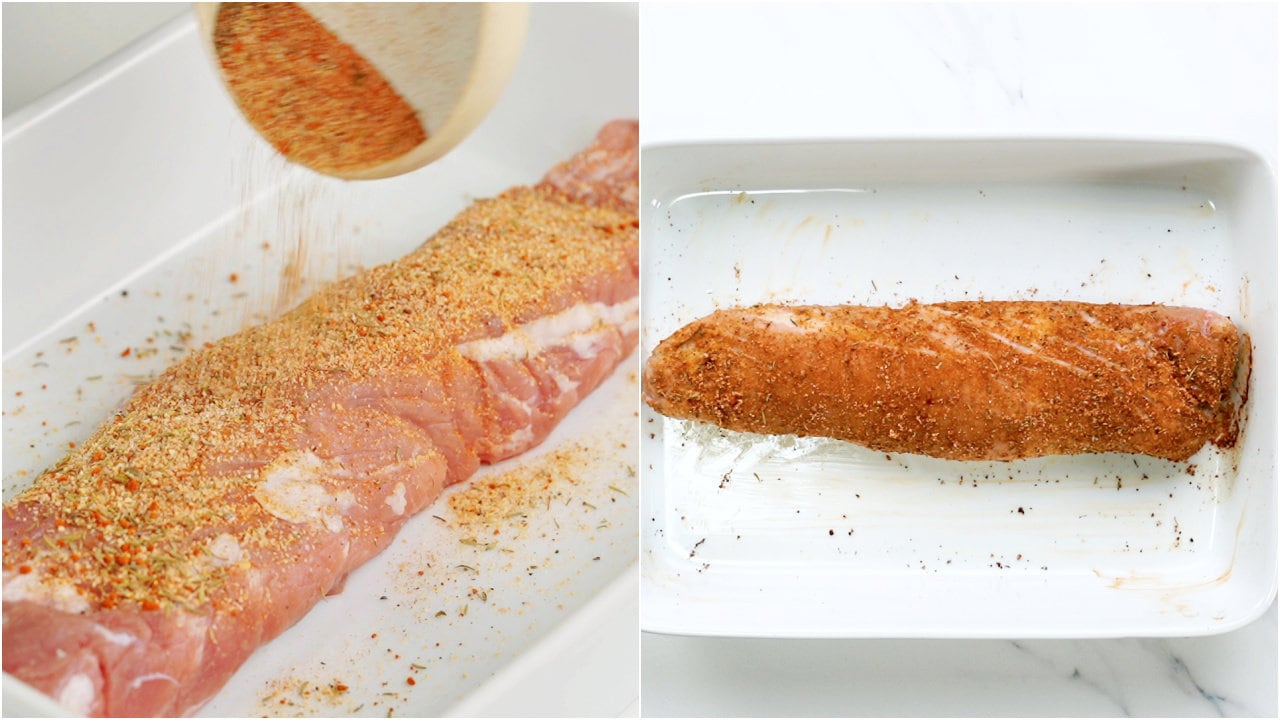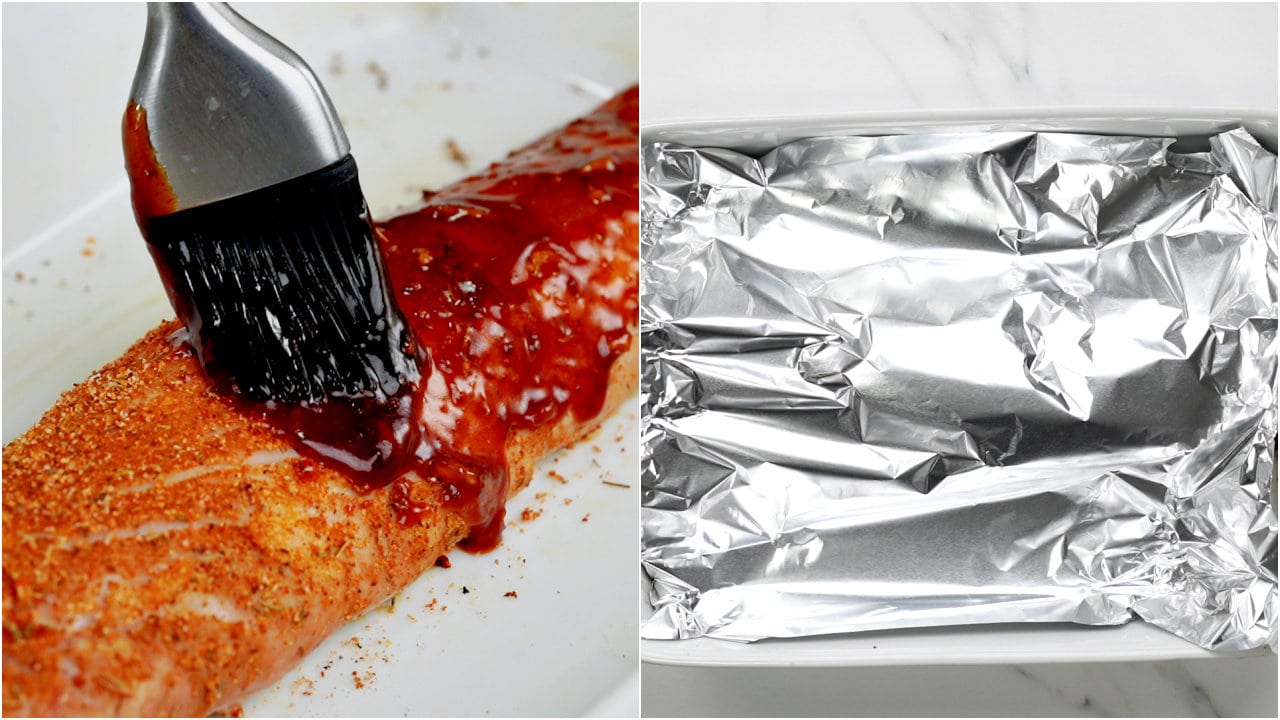 Make the BBQ glaze and bake again.
While the tenderloin bakes, in another bowl, mix all the ingredients for the glaze and keep it ready. When the 15 minutes are over, take the baking tray out and brush the glaze generously over the tenderloin.
Move the rack to the upper third and place the baking tray there. Bake it for another 10 minutes. You can also check the tenderloin's internal temperature using a kitchen or meat thermometer, which should read around 145-150 °F.
Rest and apply the glaze.
Take the baking tray out, cover the tenderloin with aluminum foil, and let it rest for 10 minutes.
Meanwhile, heat the glaze in the microwave for a minute. After resting, remove the foil and brush the glaze all over the tenderloin. Serve with a glass of wine and some great sides.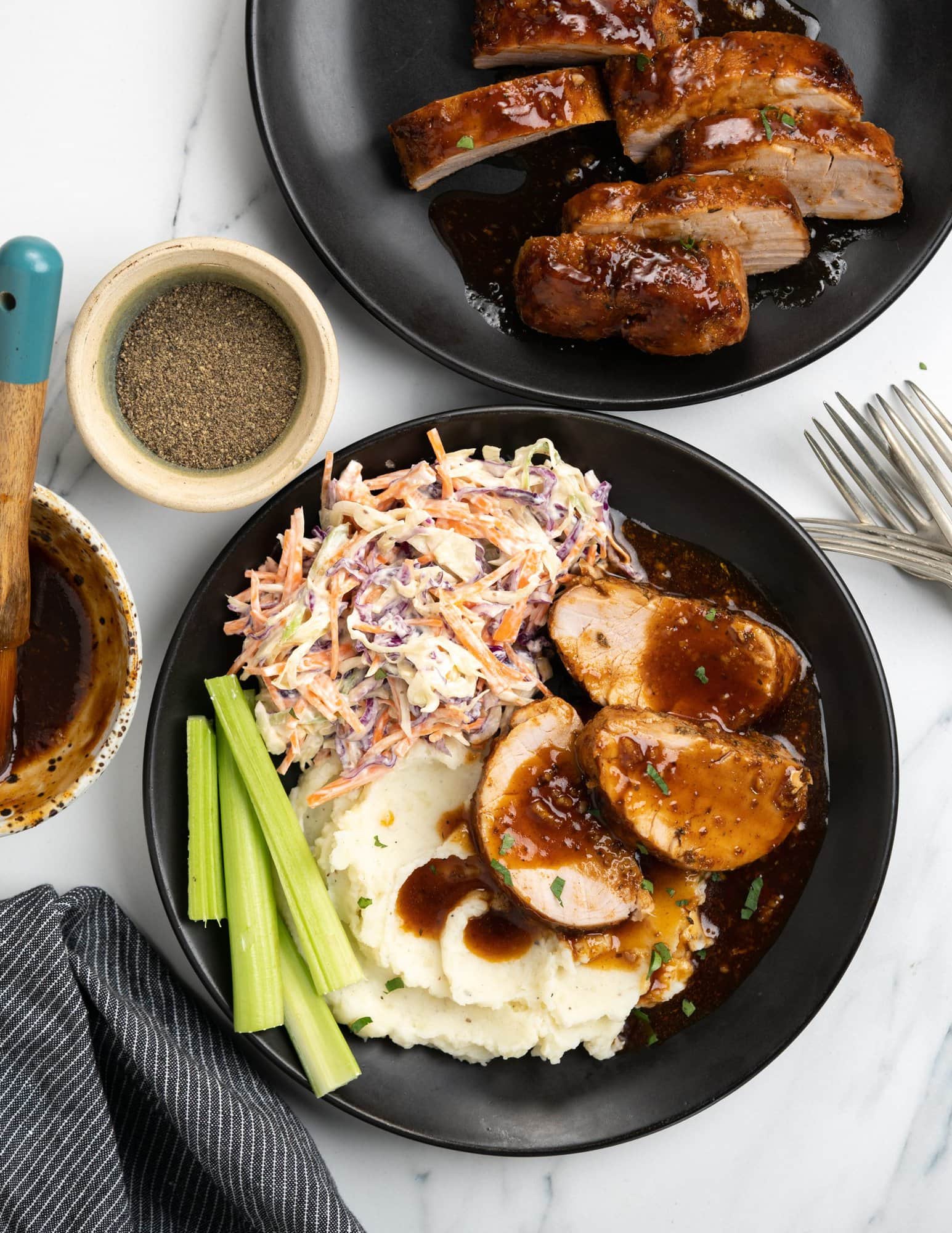 Store
For something as heavenly as a perfectly cooked pork tenderloin, the chances of having leftovers are slim if a few hands are at the table.
Yet, if you have leftovers, you can freeze them as a whole or by slicing them for up to 3 months. Do so by wrapping them in foil to make them freeze-safe and prevent freezer burns. You should thaw them overnight by shifting them to the refrigerator before you reheat them the next day.
You may also refrigerate in an airtight container for up to 4 days. Reheat the tenderloin in the microwave until it becomes warm. Do so in bursts of 20 seconds, and check. You do not want to overcook while reheating, which is highly likely.
Serve with
With a tender, juicy, and melt-in-your-mouth meaty dish like this pork tenderloin, you should serve it with healthy greens and appetizing side dishes.
Here are some great ideas to pair with –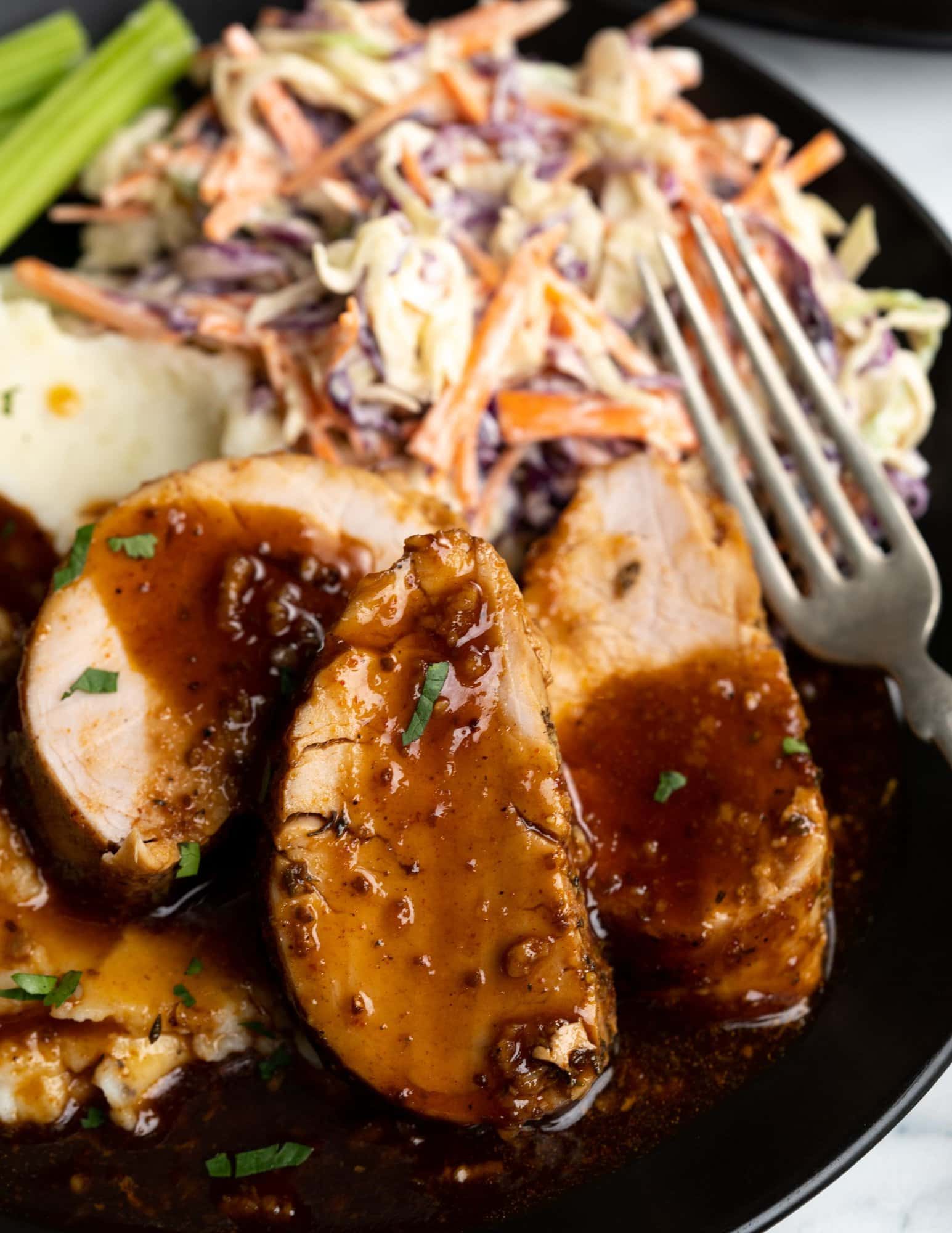 Other pork recipes
Skillet Pork Chops With Sour Creamy Gravy – Pork chops, cut from the loin, are made in a skillet with a rich gravy of sour cream.
Cream Pork Chops In Creamy Mushroom Sauce – Juicy and tender pork chops smothered in a velvety and creamy mushroom sauce.
Spicy Pork Ramen – Spicy minced pork with ramen noodles in a super flavorful broth is comfort in a bowl.
Yaki Udon Noodles Stir Fry – Popular street food dish has a flavorful sauce complimenting the thick, chewy udon noodles and minced pork.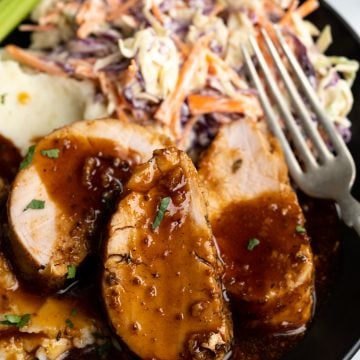 Baked BBQ Pork Tenderloin
Pork tenderloin is baked in a sweet, smokey glaze made of BBQ and other savory sauces. An easy recipe is done in 40 minutes flat out.
Equipment
Oven To bake the pork tenderloin
1 Small bowl For mixing the ingredients to make the spicy rub
1 Medium bowl For mixing ingredients and sauces to make the bbq glaze
Ingredients
1.5 pound pork tenderloin
¼ cup Bbq sauce
2 tablespoons low-sodium soy sauce
1 tablespoon olive oil
3 teaspoons brown sugar
2 teaspoons apple cider vinegar
1 teaspoon Worcestershire Sauce
1 teaspoon minced garlic
¼ teaspoon salt
⅛ teaspoon cayenne pepper optional
Dry rub for pork
½ teaspoon garlic powder
½ teaspoon onion powder
½ teaspoon smoked paprika
½ teaspoon salt
¼ teaspoon cracked black pepper
½ teaspoon thyme
Instructions
Prep
Preheat your oven to 400F and move the rack to the middle position.

Prep the tenderloins by cutting off any excess fat and the tough white skin. Pat the tenderloins dry with a kitchen towel. Place it in a baking tray or baking dish.
Apply Dry Rub and Bake
Mix all the ingredients mentioned for the dry rub. Rub the mixture all over the tenderloin ( on both sides).

Place the baking dish in the preheated oven and bake for 10-12 minutes.
Make BBQ glaze and Bake again
While the pork is in the oven, make BBQ glaze. mix bbq sauce, soy sauce, vinegar, olive oil, brown sugar, Worcestershire Sauce, garlic, salt, and cayenne (if using).

When the 15 minutes are done, remove the pork. Brush the bbq glaze generously. Bake in upper third of the oven and bake for another 10 minutes or until the pork has reached 145.
Let Pork Rest
Once done, remove the baking dish. Loosely cover the dish with aluminum foil and let it rest for 8-10 minutes.
Brush the glaze and Serve
Place the remaining BBQ sauce in a microwave-safe bowl or a saucepan. Add a tablespoon of water. Microwave it for 1 minute in a 30-second burst. Or if using a saucepan, let it some to a low simmer and then remove from heat.

Brush the above glaze on the tenderloin before serving.

Slice and serve with your favourite side.
Nutrition
Serving: 1serving | Calories: 281kcal | Carbohydrates: 10g | Protein: 37g | Fat: 10g | Saturated Fat: 2g | Polyunsaturated Fat: 1g | Monounsaturated Fat: 5g | Trans Fat: 0.1g | Cholesterol: 111mg | Sodium: 822mg | Potassium: 738mg | Fiber: 0.2g | Sugar: 7g | Vitamin A: 104IU | Vitamin C: 1mg | Calcium: 21mg | Iron: 2mg