This post may include affiliate links that earn us a small commission.
Spicy Pork Ramen takes less than 20 minutes to make. A flavourful broth with a secret ingredient for extra depth of flavor, ramen noodles and spicy pork are comfortable in a bowl, especially for cold winter days.

Another amazing ramen recipe for you guys. While we love this Chicken Ramen Noodles, for days you are craving a bowl of warm soup, this Spicy Pork ramen is just perfect. It is easy to make and takes less than 20 minutes from stove to table.
Throw away those packaged seasoning that comes with the ramen; the broth is made with the real stuff. It is hearty and delicious.
The weather is gloomy, and it has been raining endlessly. And a perfect way to handle this kind of weather is to cozy up on the couch and have a big bowl of this Pork Ramen.
Flavours In Your Inbox
Subscribe for recipes straight to your inbox
If you are interested in serving pork dishes, look at two favorite ways to cook pork chops – Pork Chops in Creamy Mushroom Sauce and Skillet Pork Chops With Sour Cream. Both can be done in the skillet and have a yummy sauce.
For a more tender cut from the animal – pork tenderloin, you can bake it in the oven with a spicy rub and a flavorful BBQ glaze, all in 30 minutes – Baked BBQ Pork Tenderloin.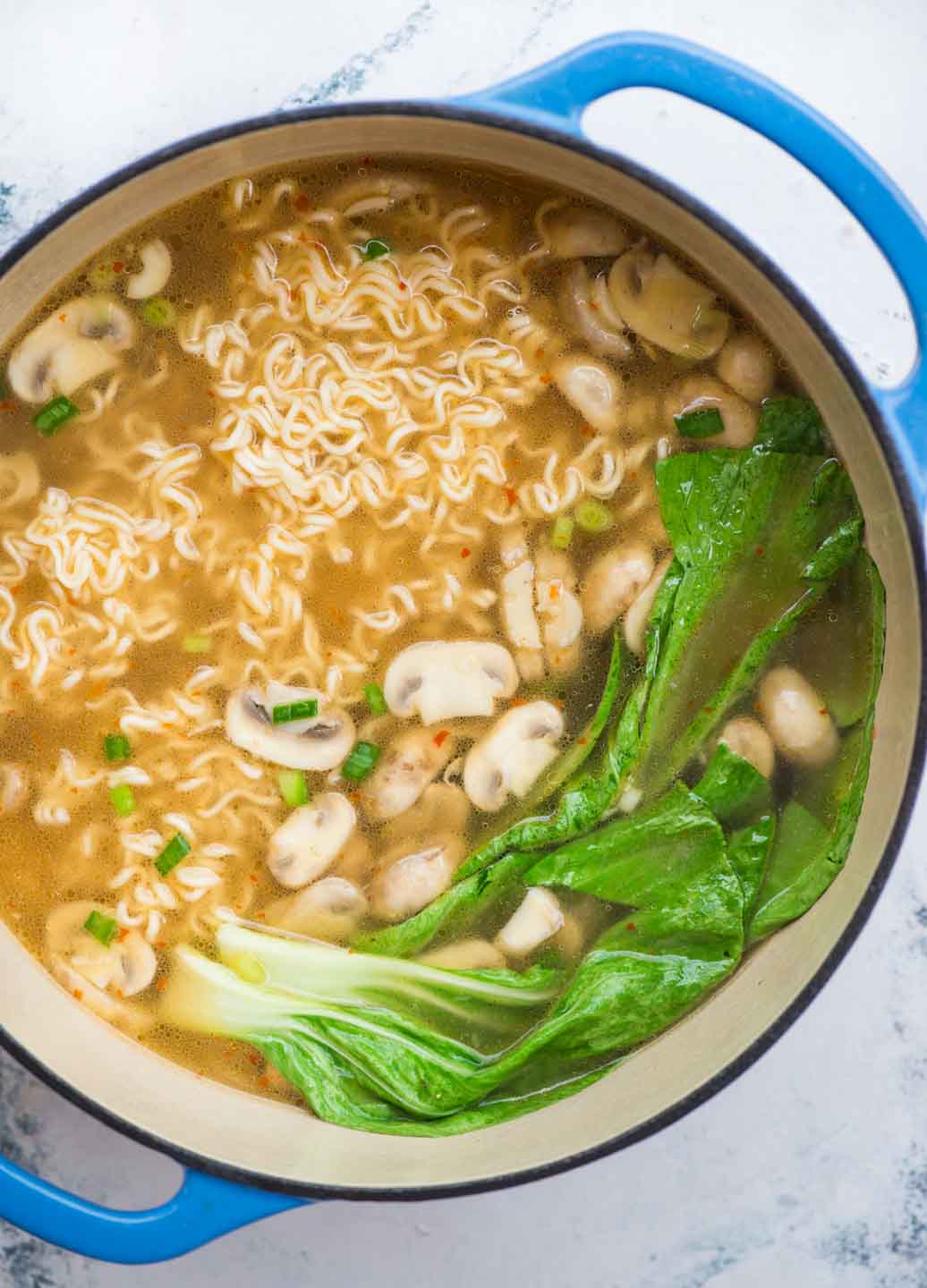 To Make The Ramen Noodles Broth
Unlike authentic ramen recipes, the broth doesn't take hours to make, but the broth base has enough aromatics to give it a real depth of flavor.
For making the broth, use good quality low-sodium chicken stock. I make mine at home, so I have control over the flavor and amount of salt.
Sauteing ginger and garlic in oil releases the flavor of the oil. Other ingredients like fish sauce, soy sauce, and miso bring that umami flavor to the broth.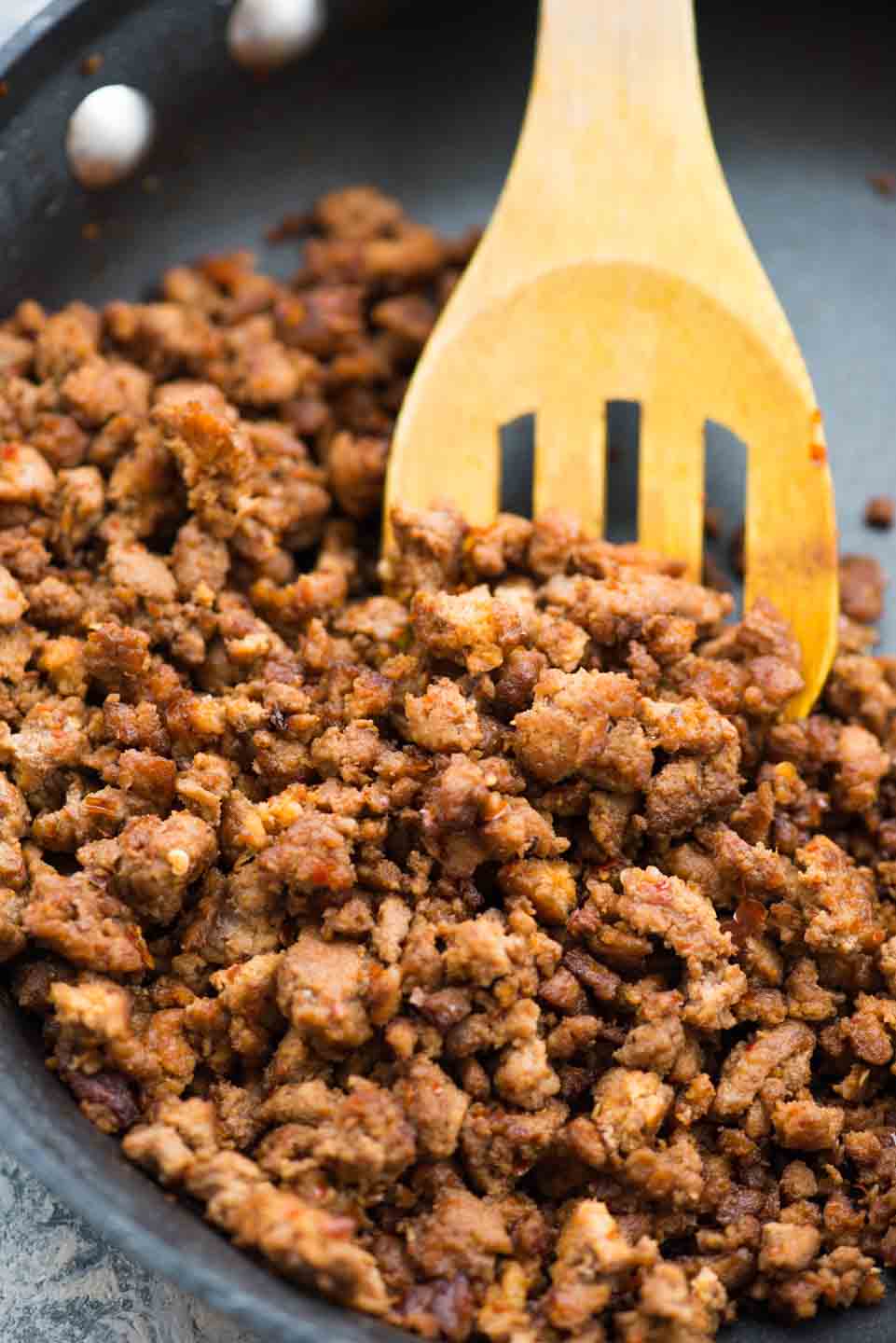 Most ramen recipes use pork shoulder or pork belly, which usually need a longer cooking. I liked the idea of using spicy minced pork in the soup. it is super quick to make and adds texture to the soup.
What kind of noodles to use in Pork Ramen?
Instant ramen noodles are always the best because it gets cooked in almost no time. My daughter also loves ramen and happily eats anything made with it.
You can also use fresh yakisoba noodles if available. If using fresh noodles, I would suggest cooking the noodles separately. Fresh noodles are tossed in lots of starch to prevent sticking. So if cooked with the broth, all the starch gets into it, making it starchy and thick.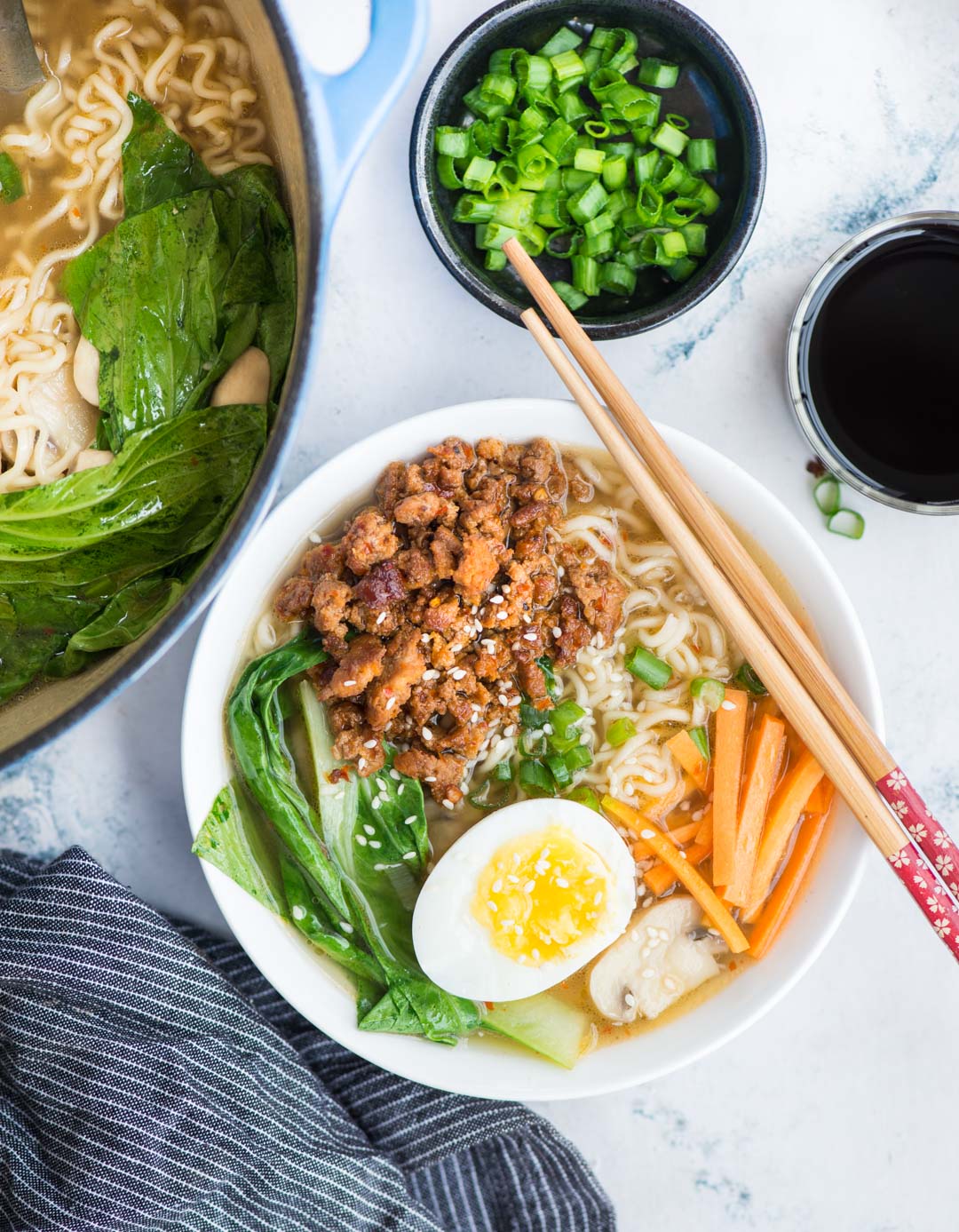 More comforting soup recipes…
More Ramen Recipes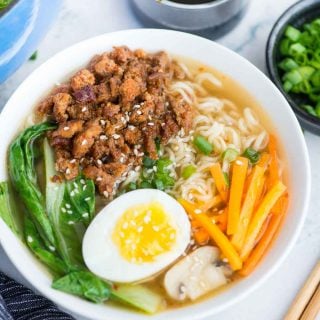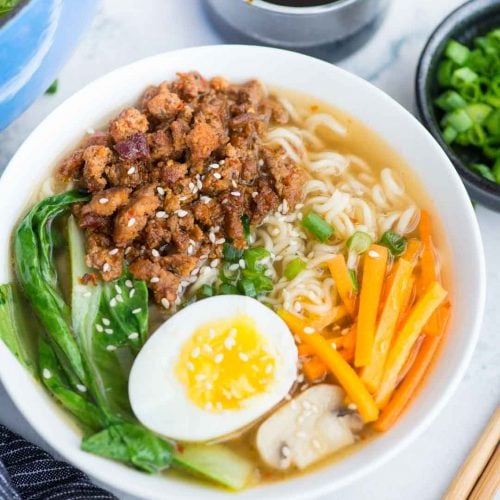 Spicy Pork Ramen
Spicy Pork Ramen takes less than 20 minutes to make. A flavourful broth with a secret ingredient for extra depth of flavour, ramen noodles, spicy pork is comfort in a bowl, especially for cold winter days.
Ingredients
For Soup
2 teaspoon oil
½ tablespoon garlic
½ tablespoon ginger
200 grams Button Mushroom sliced
6 cups Low Sodium Chicken Stock
1 cup Water
½ tablespoon Fish Sauce
½ tablespoon Soy Sauce
2 teaspoon White Miso Paste (ref note 1)
2 packages Instant Ramen Noodles
4 Scallion Sliced, white and green part separated.
3-4 baby bok choy sliced lengthwise
For Spicy Pork
200 grams Minced Pork
1 tablespoon Oil
1 tablespoon Soy Sauce
1 tablespoon Chinese Cooking Wine
1 teaspoon Sugar
1 teaspoon Chilli Garlic Paste (ref note 2)
For Serving
egg
toasted sesame seeds
carrot cut into match sticks
green onion
Instructions
Start with making the broth. In a deep soup pan/dutch oven, add oil.

When the oil is hot, add minced ginger and garlic. Saute until aromatic, for about 30 seconds.

Add sliced mushroom to the pan and cook it until it has softened.

Add stock and water to the pan.

Add soy sauce, fish sauce, miso. Mix well. Check the seasoning and add salt if required.

Simmer the broth and let it simmer for 5 minutes.

While the broth is simmering, start making spicy pork.

In a small bowl mix all the ingredients for Spicy pork, except pork.

Heat 2 teaspoons of oil in a pan. once hot add minced pork. Cook for 2 minutes.

Stir in the sauce to the pork. Cook for another 4-5 minutes until the sauce has reduced and the pork is cooked through.

Now switch to the soup broth. When it comes to a slow rolling boil add ramen noodles blocks and sliced bok choy.

Cook the ramen for 3 minutes. It is ok if the ramen is not cooked fully. The ramen will continue to cook even after the flame is off and will be fully cooked while serving.
Serving
To make 6 minutes egg, boil water in a pot. When the water comes to a boil slowly lower eggs to boiling water. Boil for 6 minutes. Remove and dip it in ice-cold water. Peel and slice.

Serve soup in the soup bowl. Top it with Spicy minced pork, sliced soft boiled egg, carrots match sticks, sprinkle toasted sesame seeds and green onion.
Notes
Miso paste gives a depth of flavour and umami to the soup broth. If you can't get hold of miso paste, add 1/2 tablespoon more of each fish sauce and soy sauce. 
Chilli garlic sauce is a very common condiment in Asian cusine. It varies in spice level, so adjust the quantity as per taste.  If you don't have Chilli garlic paste, you can add any hot sauce like Sriracha and 1/4 teaspoon of garlic powder to the sauce mixture. 
Nutrition
Serving: 100g | Calories: 311kcal | Carbohydrates: 26g | Protein: 16g | Fat: 17g | Saturated Fat: 6g | Cholesterol: 24mg | Sodium: 1193mg | Potassium: 484mg | Fiber: 2g | Sugar: 3g | Vitamin A: 2594IU | Vitamin C: 28mg | Calcium: 90mg | Iron: 3mg