Instant Pot Curried Chicken and Rice
This post may include affiliate links that earn us a small commission.
Instant Pot Chicken breast and rice – curried chicken and rice made in the Instant Pot and flavored with garlic, ginger, and curry powder. With fluffy basmati rice, chicken, carrot, and peas, this wholesome meal will impress you.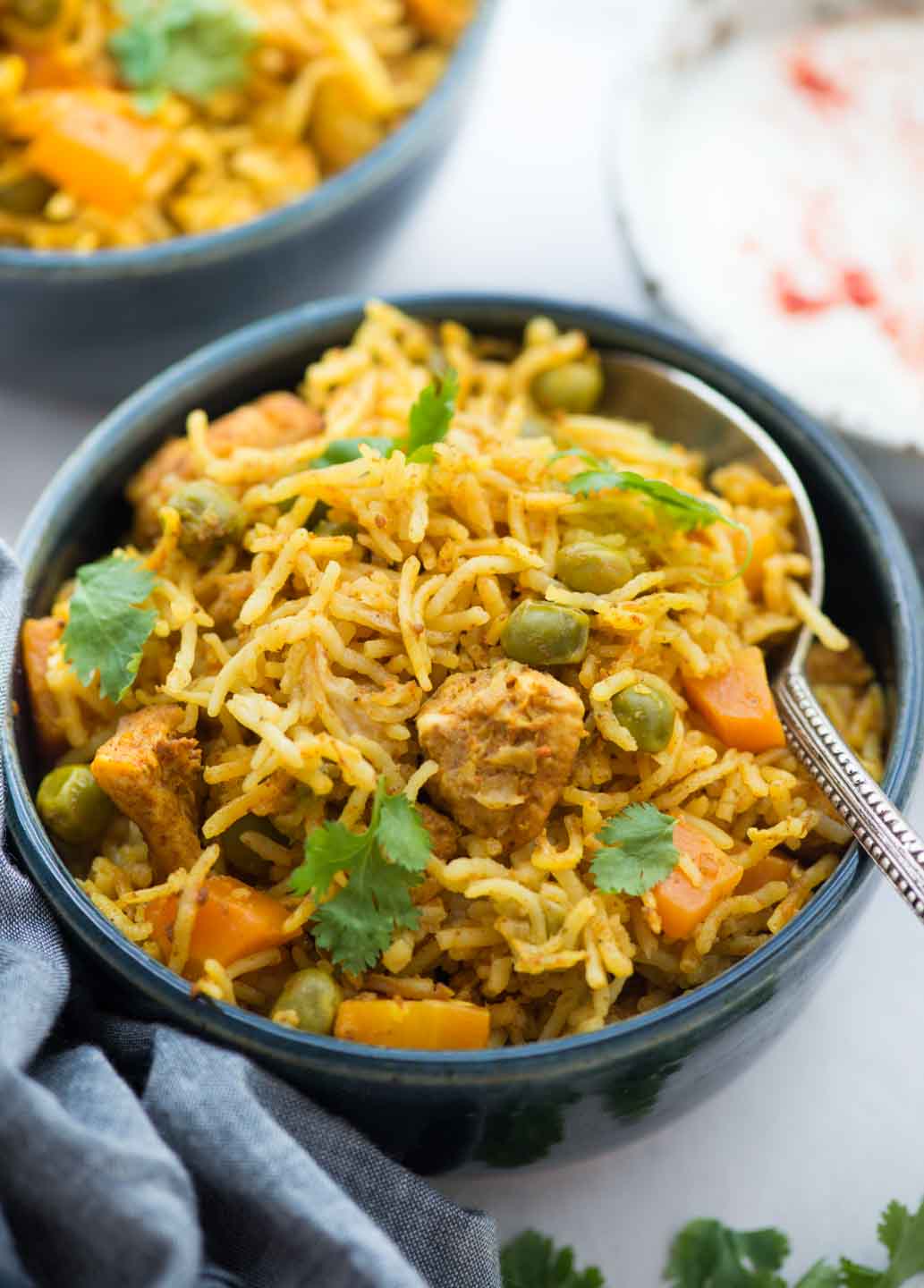 Flavours In Your Inbox
Subscribe for recipes straight to your inbox
Instant pot chicken breast and Rice flavored with curry powder will satisfy your rice and curry craving. This Instant Pot Garlic Herb Chicken and Rice is one of the most popular recipes on the blog for all the good reasons. So I thought would share another equally delicious chicken and rice recipe here.
This recipe doesn't call for tons of spices, yet the rice is so flavourful and delicious. If you are like me, who finds comfort in a bowl of rice and curry but doesn't want to spend hours in the kitchen, then this one-pot Chicken and rice recipe is definitely for you.
I love rice and have been sharing some wonderful rice recipes over the years. Check out the others with chicken in them – Stovetop Chicken Broccoli Rice Casserole and Instant Pot Ranch Chicken And Rice. I have a few flavorful vegetarian rice recipes like Rice Pilaf With Dried Fruit and Nuts, One Pot Mushroom Rice, and Herbed Garlic Butter Rice.
How To Cook Fluffy Rice In The Instant Pot?
Cooking rice in the Instant Pot is easy. Rice to water ratio and the right timing is the key to perfect fluffy rice.
I cook rice in a pressure cooker or using the cook and drain method. When cooking rice in an open pot and draining the extra liquid, you don't need to worry about rice to water ratio. Because once the rice is cooked, you drain excess water. On the other hand, cooking rice in a pressure cooker needs an exact rice-water ratio.
TO COOK PERFECT RICE, BELOW ARE A FEW TIPS
Wash rice under a running tap until the water runs clear. This step is necessary to remove any extra starch from the outer layer.
Measure water. As a general rule, for every part of rice, you need two parts of water(1:2). But while cooking in Instant Pot, because there is no water evaporation, the amount of water you would need is less. For 1.5 cups of soaked basmati rice, 2 cups of liquid work the best.
Always add warm water to the rice.
Soak rice for 10 – 15 minutes. Soaking rice helps to get fluffier separate grains.
These tips are for regular white rice and long grain Basmati rice. But rice varieties are not only limited to this. With my 15-20 years of experience in cooking rice, these few tips have always worked for me.
Cooking rice perfectly also depends on its quality. If the rice is starchy, you will have to adjust the quantity of water and time. The age of the rice grain also determines the end result. The older/aged grain, the better, fluffier rice you will get.
What do You need For Curried Chicken breast and Rice?
The recipe calls for fewer spices than any regular curry would need, yet the flavors are just spot on. A good flavourful curry powder, along with turmeric powder and chili powder, is all you need. To enhance the flavor, whole bay leaf and cinnamon are added to the butter and sauteed.
Generally, I use ghee(clarified butter) when I make it at home, but butter also works well.
For maximum flavor
Use aged Basmati rice if available. Long grain basmati rice is aromatic and enhances the flavor.
Use a good quality Mild Curry Powder. Packed spices lose the aroma if left open for a long time. So make sure to keep opened spice packets in an airtight container.
Saute Onion, garlic, and ginger until the aromatic, and raw smell is completely disappeared.
The most important step is to saute spices in the onion, ginger, and garlic mixture until aromatic. Cooking spices before adding liquid help to develop flavor.
I prefer to add carrots and peas to make this dish more wholesome.
How To Avoid Burn Notification in Instant Pot?
Getting burn notice while cooking on an instant pot is quite annoying, especially while you have a hungry family to feed.
First, every time the pot is given a burn notice doesn't mean something has burned. It might indicate that the bottom layer of the pot has some brown bits stuck. So it is very important to deglaze the pot to release any brown patches from the bottom. Like in the above recipe, Stock is added to deglaze the pot.
Another reason for the burn notice could be less liquid in the pot. In the recipe, the amount of stock is just enough. Any more liquid, the rice will turn mushy.
The last reason could be the Inner pot is very hot while setting it to manual high-pressure mode. If you tend to get burn notifications frequently, in this recipe, after cooking the spices, switch off the instant pot and let it cool. Once it has cooled down a bit, switch to saute mode and follow the rest of the steps.
Store
Curried chicken and rice can be easily stored in the refrigerator for up to 4 days. Keep them in an air-tight container or zip-lock bag.
You can reheat it in the microwave for a minute, and it's ready to eat.
Serve With
This serves as a great family dinner or even for a large gathering if you scale up the quantity. Since this is a whole dinner by itself and has chicken as protein in it, you may only need to add some fresh yogurt or a light salad like Cucumber Strawberry Salad, Lemon Dill Potato Salad( No Mayo), or Apple Kale Salad With Apple Cider Vinaigrette with a great dressing and a superfood like kale.
More Instant Pot Recipes
Chicken In Creamy Tomato Sauce
Instant Pot Honey Garlic Chicken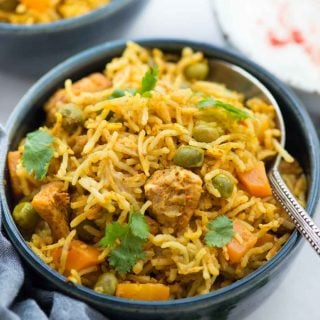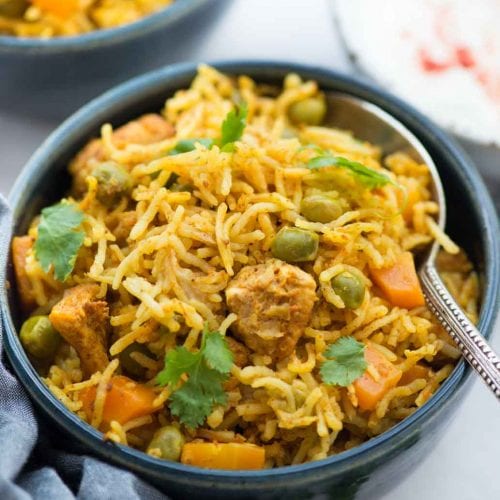 Instant Pot Curried Chicken and rice
Instant Pot Curried Chicken and rice are flavored with garlic, ginger, and curry powder. Fluffy basmati rice, chicken, carrot, and peas, this wholesome meal is going to impress you.
Ingredients
1.5 cup Basmati Rice (Ref Note 1)
2 Chicken Breast Cut into pieces
2.5 tablespoons Butter
1 bay leaf
1 inch Cinnamon Stick
1 large Onion Chopped
1 tablespoon Garlic Minced
½ tablespoon Ginger grated
2 tablespoon Curry Powder (Ref Note 2)
½ teaspoon Turmeric Powder
½ teaspoon Chilli Powder
1 teaspoon Paprika
2 small Carrots Chopped
1 cup Frozen Peas
2 cups Chicken Stock or water
Salt to taste
Fresh Coriander leaves to garnish
Instructions
Set Instant Pot to Saute mode. When the pot is hot, add butter. Let the butter melt.

Add bay leaf and cinnamon stick. Saute for 30 seconds.

Add chopped onion. Cook for 1-2 minutes until the onion has softened and started to brown.

Add minced ginger and garlic. Cook for a minute until the raw smell has disappeared.

Add Curry powder, turmeric powder, chili powder, and paprika. Mix well and cook for another 30 seconds.

Add Chicken pieces. Mix everything well and saute for a minute along with the spice mixture.

Then stir in basmati rice, carrot, and peas. Mix everything well and cook for 1-2 minutes to toast the rice a little bit. (Ref Note 3)

Add Chicken Stock/Water to the pot.

Add salt. Check the seasoning and add more salt if required.

Close the instant pot lid. Cook on Manual mode( High Pressure) for 7 minutes.

After the cooking time is complete, let the pressure release naturally for 10 minutes, then do a quick release.

After opening the lid, let it sit for another 10 minutes. Then using a spatula, gently fluff the rice.

Sprinkle fresh celery/coriander leaves.

Serve with some yogurt or Cucumber raita.
Notes
After cleaning Basmati rice under a running tap until the water runs clean, soak rice for 10-15 minutes in water. Then drain in a colander and keep aside. Make sure water is completely drained before adding rice to the pot. 
The overall flavor of the side depends on the intensity of Curry powder. 2 tablespoons of any good quality mild curry powder works just fine. If the curry powder is hot and intense or is mild, adjust the quantity accordingly. If you are using Hot curry powder, you might have to skip the chili powder to adjust the spiciness. 
In step 7, after adding rice to the Chicken and spice mixture, I prefer to toast the rice for a couple of minutes. Toasting rice ensures separate and fluffy grains. If you are toasting rice, be careful while mixing it, as it might break the grains. This step is optional. Directly add stock/water to the pot along with rice, carrot, and peas. 
After adding stock/water to the pan, it is really important to scratch the bottom of the pan to release any stuck brown bits and deglaze the pot. 
Try to use low sodium Chicken stock. As Chicken stock already has slat, before adding any extra salt, check the seasoning first. 
If you don't have curry powder on hand, Use 1 teaspoon garam masala + 1 teaspoon Coriander powder+1 teaspoon cumin Powder.
While serving, pick a bay leaf and the stick of cinnamon from the rice. 
Nutrition
Serving: 100g | Calories: 560kcal | Carbohydrates: 74g | Protein: 35g | Fat: 13g | Saturated Fat: 6g | Cholesterol: 95mg | Sodium: 396mg | Potassium: 905mg | Fiber: 5g | Sugar: 7g | Vitamin A: 5056IU | Vitamin C: 21mg | Calcium: 73mg | Iron: 3mg