This post may include affiliate links that earn us a small commission.
A flavourful and tasty rice dish for mushroom lovers that can be done in 30 minutes. This meal has well-browned mushrooms with herbs like thyme and pepper cooked with rice in stock.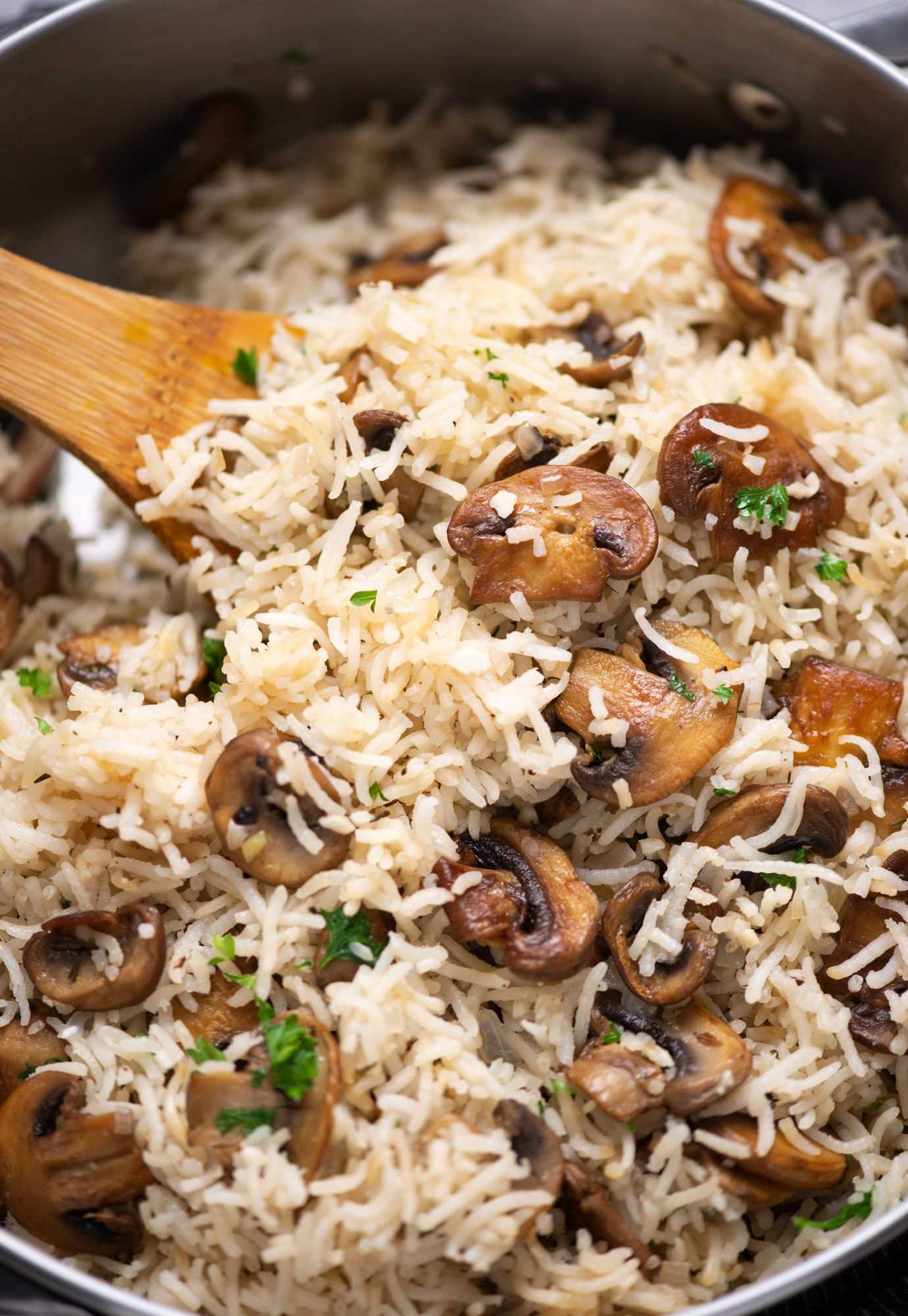 I love rice recipes, which would be natural because of my affinity for rice. So any chance I get to try a variation involving rice, I jump at it. This recipe was a hit with the family as we all like mushrooms, and mixing them with fried rice was a nice idea.
Flavours In Your Inbox
Subscribe for recipes straight to your inbox
Thyme and fresh parsley brought the herby flavour to the dish. A bit of black pepper adds the much-required heat but does not overdo it. Browned and crispy mushrooms on top of flavoured rice bring this to another level.
This is very similar to the Indian mushroom pulao/pulav. The preparation is not very different, although the herb used like thyme gives it a more European flavour and appeal. Mushroom pulao will have other spices added to it.
Why is this mushroom rice so flavourful
This is different from many rice and mushrooms recipes, where cooked rice is added with sauteed mushrooms. Here, the rice is cooked in vegetable stock, and each grain absorbs the flavour from the stock.
Rice also gets sauteed and cooked in the same pan with residue stuck to the bottom after sautéing and browning mushrooms. The rice grains are sauteed for a minute to give them a brown color.
Adding the stock and deglazing the residues creates a fond that gives a flavour to the stock and rice. These grains are infused with the taste and flavour of browned and sauteed mushrooms in them too.
Vegan & other variations
Butter is the only diary ingredient used here. You can easily make a vegan variation of this recipe by substituting butter with olive oil or any other oil of your choice.
Non-vegetarians can also use chicken stock instead of vegetable stock. Rice cooked in chicken stock makes it very flavourful, salty and coats it with the secreted oils and juices present in the stock. You may refer to my recipe Creamy Chicken and Rice With Mushroom, which has similar flavours and added chicken.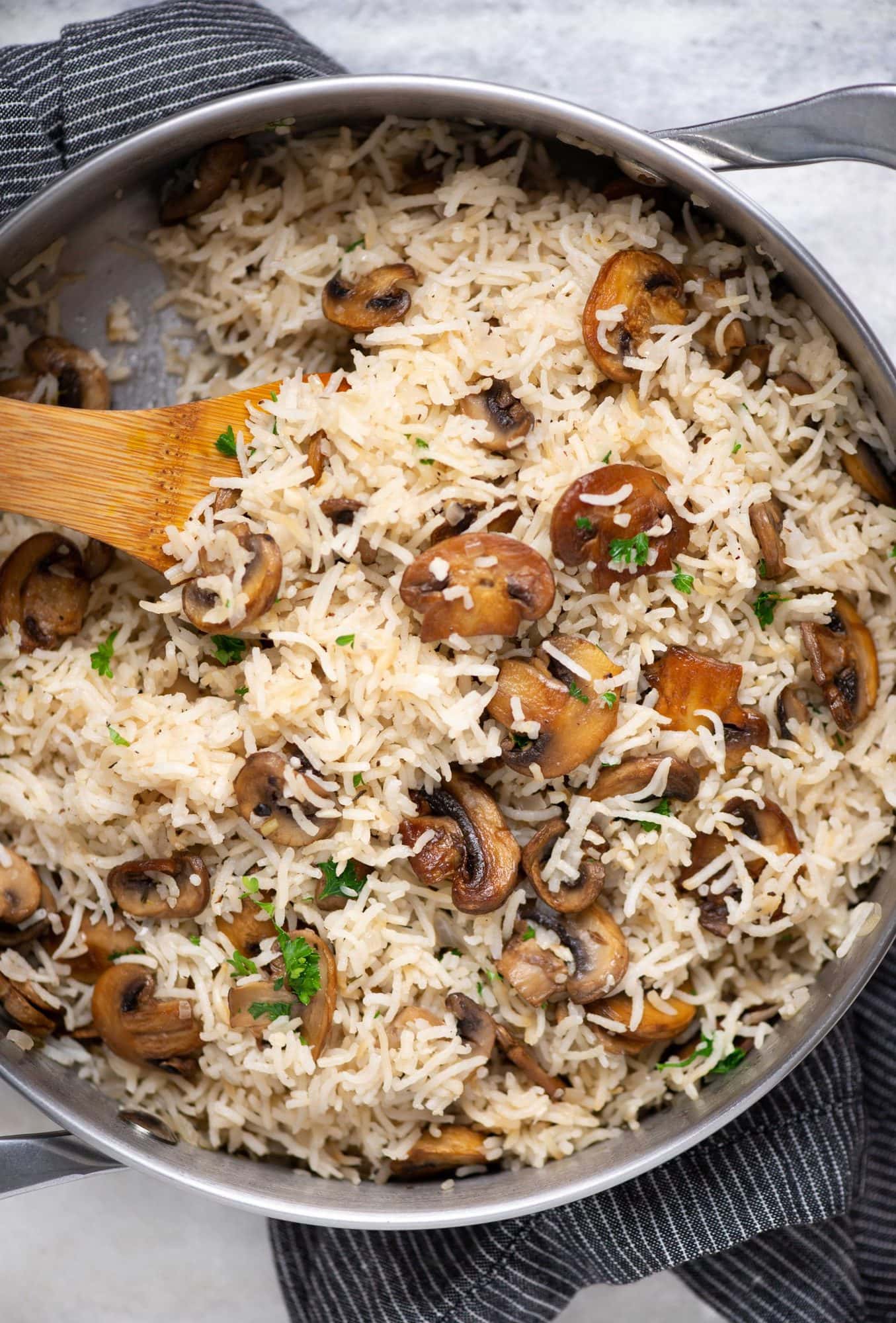 Ingredients
Basmati rice – Recommend using long-grained basmati rice. These long grains are perfect for recipes where rice is cooked with something
Mushroom – Have used Button mushrooms in this recipe. You can use a single variety of mushrooms like I did with white button mushrooms or else mix them up. Just be mindful of cooking times if they differ with each variety.
Minced garlic – Flavour bomb that I use in most of my recipes.
Diced onion – Long diced onions once caremalized give a sweet taste and enhance the look of the dish.
Thyme & Parsley – My choice of herbs for this recipe. I have added dried thyme while adding rice and pepper. Have used fresh parsley for garnishing. You may also use rosemary instead of thyme.
Black pepper powder – For that heat required for this rice. This is spicy enough for a rice recipe.
Vegetable stock – Get an easily available vegetable stock from the nearby store or make your own.
Oil
Butter
Salt to taste
How to make Mushroom Rice
Clean and saute mushrooms – Clean the mushrooms and cut them to thick slices. Refer to the 'Tips' section about washing and cleaning them. In a wide pan, heat the oil/butter. When the oil is hot, add mushrooms and sauté them until they are brown.
Onion & Garlic – In the same pan, add some butter and sauté the onion and garlic until they lose the raw smell.
Add rice & stock – Add rice and other spices like thyme and pepper. Toss the rice till the grains are coated with butter. Add the vegetable stock to the mix and boil it. Lower heat and let it simmer for 5 minutes.
Mushrooms – Add cooked mushrooms to rice and let it cook for 10 minutes.
Add parsley and gently mix the rice and mushrooms.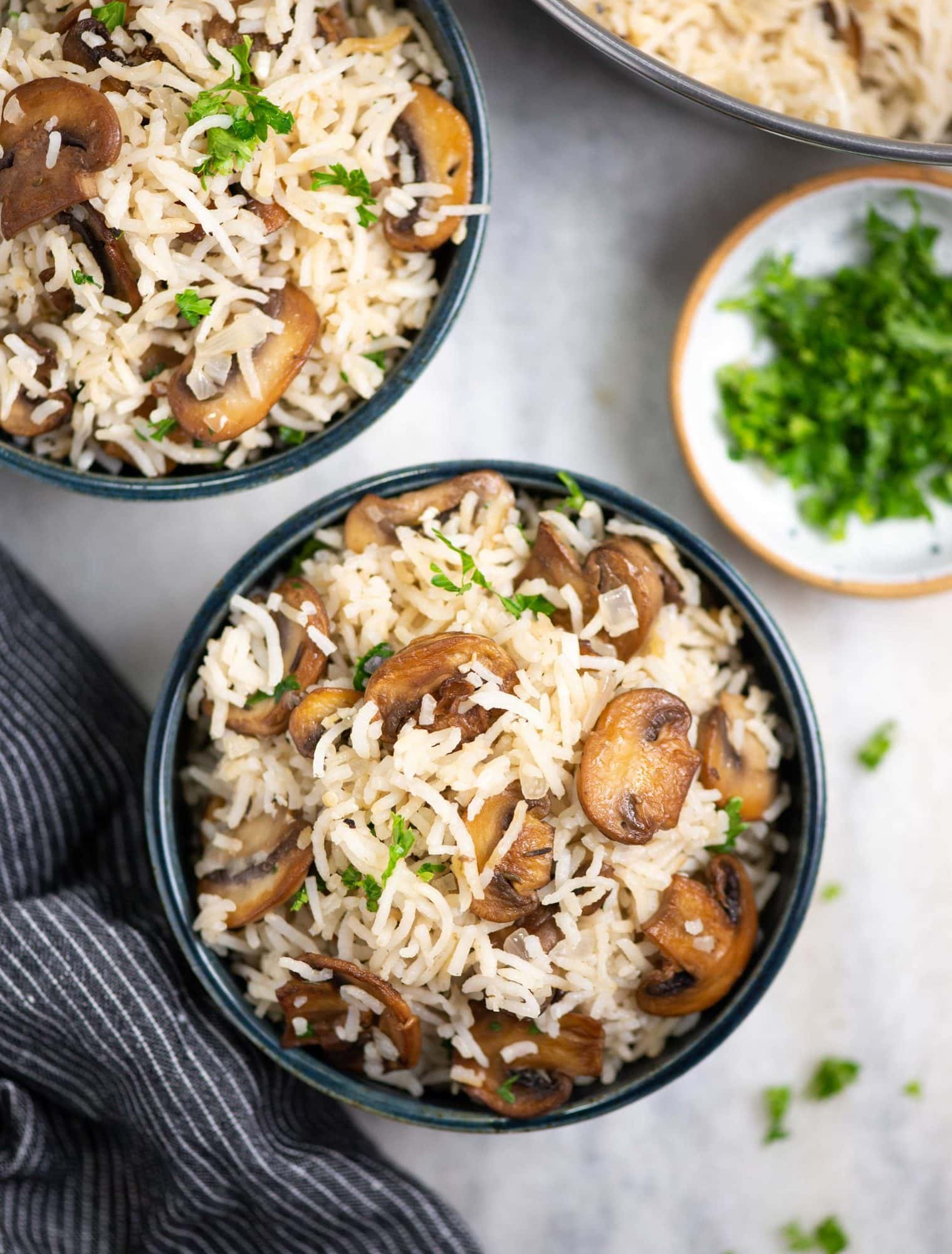 Tips
This dish needs the mushrooms to be taken care of while storing and cooking. The nice brown colour on the mushrooms enhances the look and taste of mushroom rice. The below tips shall help you get the best version of mushroom rice –
Mushrooms turn black when they stay wet. So pat them with a paper towel to keep them dry.
If your mushrooms do not look dirty, you can just brush the dirt away rather than wash them. You may also use a wet kitchen towel to wipe and clean them. Wild mushrooms should be definitely washed but cultivated mushrooms can be just wiped or brushed.
Keep mushrooms in a container or bag where they can breathe. Mushrooms can get moldy or slimy if kept in a air-tight container.
For proper browning of mushrooms, you need high heat. Mushrooms are 92% water so they would release a lot of water. High heat helps evaporate all that water and help the mushrooms get browned properly.
Being high on water-content, mushrooms need some space to help evaporate all that extra moisture. Spread them apart and keep some space between them to get a better brown. Keeping them close with all that released moisture will only make them steam and not sauté.
Sautéing mushrooms with a good fat like butter shall help better. So instead of plain vegetable oil, you can also use butter or olive oil. Mushrooms lose water and soak up the high fatty oil and absorb the flavour as well.
Salt, as we all know, helps release water from anything it comes in contact with. With all that water, it is difficult to brown the mushrooms. Therefore, add salt towards the end when the excess water has already evaporated.
Serve with
This can be a meal by itself. Every morsel is full of flavour and umami plus you have sautéed mushrooms as a vegetable.
To serve this dish, please look at some wonderful ideas here – Baked Rosemary Lemon Chicken Thighs, Air Fryer Chicken breast and Potatoes, or Baked Chicken Legs And Vegetables.
Store
You can store Mushroom rice can in the refrigerator in an air-tight container for up to 4 days. Any recipe with cooked onions and garlic tends to go bad over time and should be consumed soon.
Other rice recipes
Easy Herbed Garlic Butter Rice
Instant Pot Ranch Chicken And Rice
Instant Pot Garlic Herb Chicken and Rice
Vegetable and Chicken Brown Rice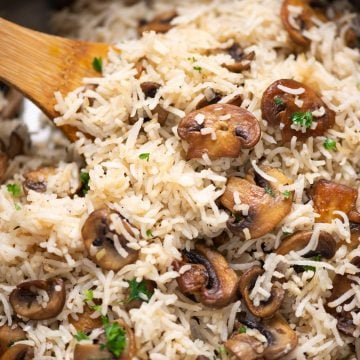 One pot Mushroom Rice
Ingredients
1 cup long-grain basmati rice (ref note 1)
600 gram Mushroom (ref note 2)
2 tablespoon oil
2 tablespoon butter
1 medium Onion diced
1 tablespoon minced garlic
1 teaspoon thyme
½ teaspoon pepper
2 ½ cup water/vegetable stock
salt to taste
parsely.
Instructions
Clean mushrooms to remove all the dirt. If you are cutting mushrooms in advance, then make sure to dry them well with a paper towel before cutting, else the mushrooms will turn black.

Cut mushrooms into thick slices.

In a wide dutch oven or a skillet deep enough, add a tablespoon of oil. when hot, add half of the mushroom (make sure not to overcrowd the pan) . Cook for 5-6 minutes undisturbed. lightly season with salt and pepper. Flip and cook for another 5 minutes until mushroom is nicely browned.

Remove the browned mushroom, keep aside. Add remaining oil to the pan. Repeat the above process with remaining mushrooms. Keep aside.

In the same pan melt butter, add chopped onion and garlic. Saute for 2-3 minutes until it is aromatic.

Add rice, thyme and pepper. Mix it and toss the well so that rice gets coated with butter. Toss rice for 2-3 minutes. We don't have to brown the rice here. ( ref note 3).

Add warm vegetable stock/ water. Add salt per taste. (ref note 4). When it comes to a boil, lower(simmer) the heat, cover and cook for 5 minutes.

After 5 minutes, add cooked mushroom. Cover and cook for another 10 minutes on low heat until there is no residual liquid in the pot. (ref note 5)

Remove the lid, sdd chopped parsley. Gently mix rice and mushroom. Cover and let it rest for 10 minutes.

Fluff the rice and serve.
Notes
 You can use regular long grain or Jasmin rice as well. If you are using Brown rice, would recommend soaking the rice for 30 minutes. And also add 1/2-3/4 cup more liquid to the pan. 
Regular white button mushroom or brown mushroom works best. Make sure you don't cut the mushroom not too thin, because they shrink once cooked. 
Tossing rice in fat(in this case butter) ensures rice doesn't disintegrate while cooking and each grain stays separate and fluffy. 
It is always recommended to add warm liquid to the rice. It fastens the cooking process and also keeps the grain fluffy. 
You can add all the mushrooms to the rice after adding water and cook mushroom and rice together. I prefer adding mushrooms towards the end. 
Nutrition
Serving: 1serving | Calories: 326kcal | Carbohydrates: 45g | Protein: 8g | Fat: 14g | Saturated Fat: 4g | Polyunsaturated Fat: 3g | Monounsaturated Fat: 6g | Trans Fat: 1g | Cholesterol: 15mg | Sodium: 61mg | Potassium: 578mg | Fiber: 3g | Sugar: 4g | Vitamin A: 201IU | Vitamin C: 6mg | Calcium: 29mg | Iron: 1mg