Baked Chicken Legs And Vegetables
This post may include affiliate links that earn us a small commission.
This baked Chicken legs with vegetables is a delicious one-pan dinner with minimal effort. Chicken and vegetables tossed in a ranch marinade and cooked until tender and juicy.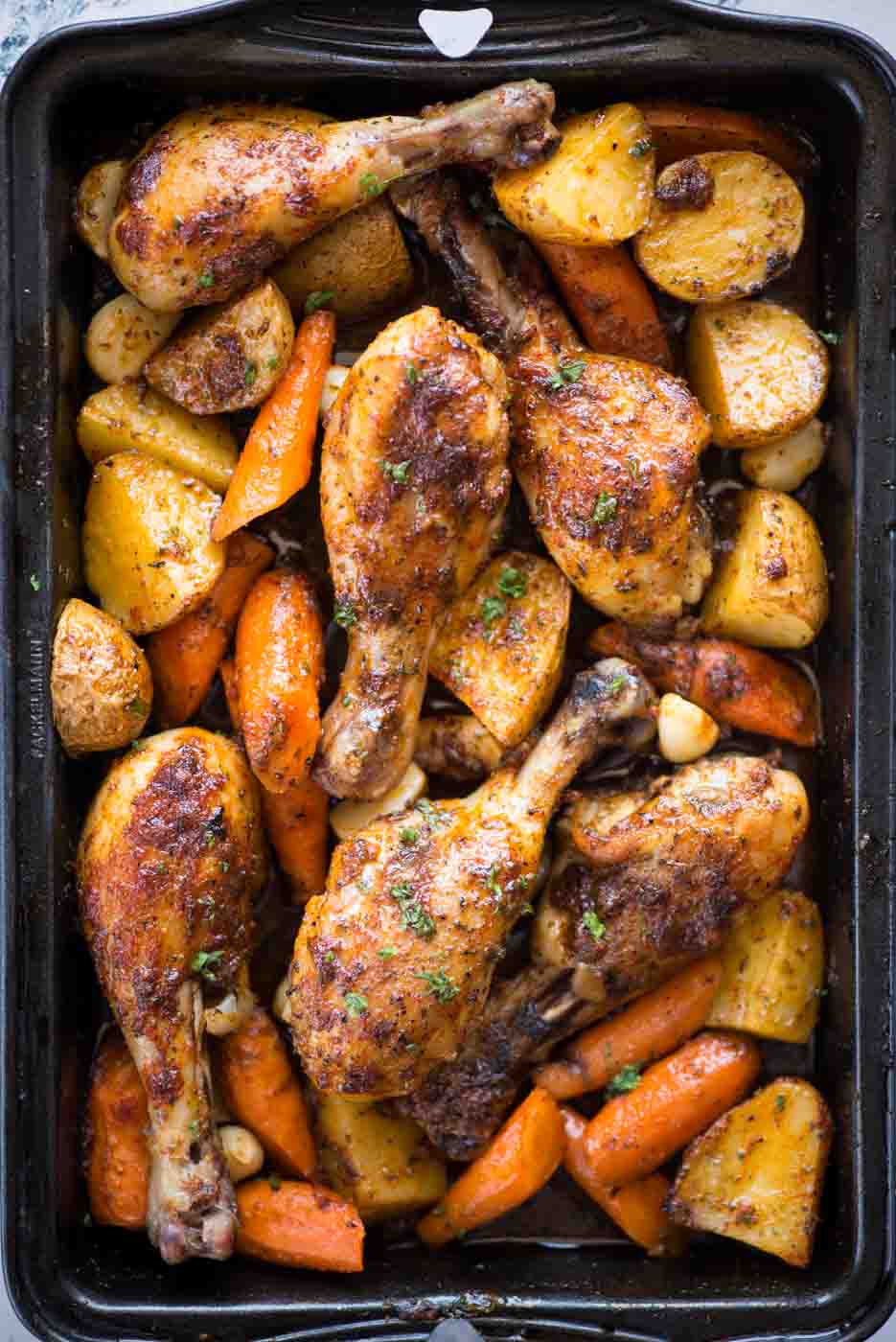 Baked Chicken legs with Vegetables
Baked Chicken legs along with vegetables in a delicious ranch marinade, is the kind of dinner we love on any day. Butter, ranch seasoning, paprika for a little extra kick, salt, and pepper, are all you need for this recipe. No more boring vegetables here, because the veggies are cooked along with Chicken and suck up all the flavor.
Flavours In Your Inbox
Subscribe for recipes straight to your inbox
And it creates this amazing pan sauce, which is packed with flavor and perfect to drizzle over. Check out these Air fryer Chicken Drumsticks with a spicy dry rub for a healthier alternative.
Ingredients you need for Oven Baked Chicken legs
Chicken: I have used bone-in Chicken legs for maximum flavour. You can also use Bone-in Chicken thighs or Chicken leg quarters. Bone-in Chicken thigh takes a little longer to cook than boneless, so the vegetables also get enough time to get cooked.
Vegetable: I have used potato and Carrot here. You can also use Zucchini, pepper etc. Add hard root vegetables along with chicken, but throw in softer veggies midway, to avoid overcooking.
Garlic: Well I am a little obsessed with garlic, the more the better. Add some whole cloves of garlic that will add more flavor to the pan juice.
Wine: Again for a flavourful pan sauce. You can substitute with chicken stock.
Butter: Love rich buttery pan sauce??? Butter keeps the meat moist and flavourful. You can also swap butter with Olive oil for a healthier version.
Ranch Seasoning: You don't need dozens of spices, use good quality ranch seasoning or a homemade one here.
Paprika: For an extra kick, I like to add paprika. You can skip it if you want.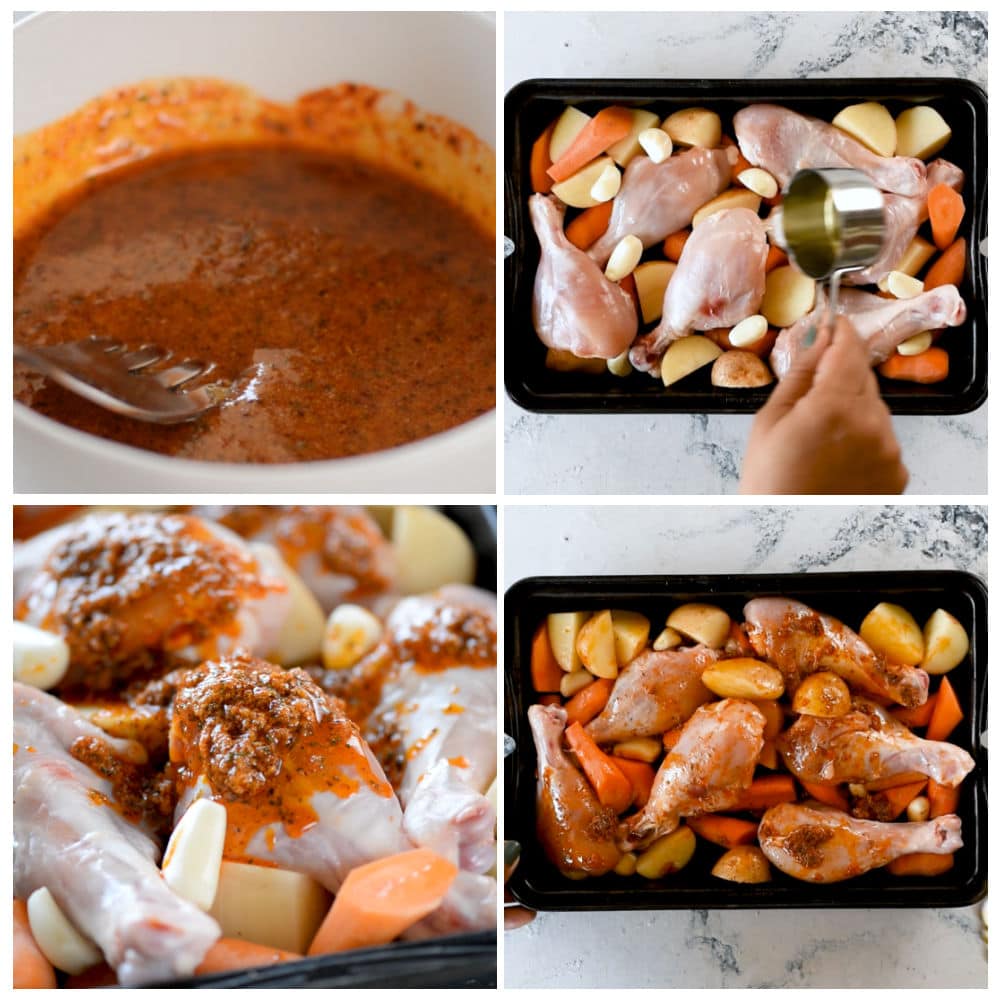 How Long To Bake Chicken legs/Chicken Drumsticks in Oven?
Chicken drumsticks when baked remain really moist and juicy. There is no fear of the meat getting dry and chewy. How long to cook chicken legs in the oven depends on its size.
It takes 40-45 minutes for the chicken drumsticks to cook in an oven preheated at 425 degrees F.

More Easy One-Pan Chicken Recipes…
Sweet & Spicy Boneless Chicken Thighs
Honey Soy Baked Chicken Drumsticks
Other baked chicken recipes
Honey Soy Baked Chicken Drumsticks – Delicious drumsticks baked in the oven resulting in a caramelized color and dark brown glaze.
Baked BBQ Chicken – Bone-in chicken with skin baked with a flavorful spice rub and BBQ sauce, giving summer grilling vibes.
Baked Honey Garlic Chicken Wings – wings tossed in a sweet and savory sauce and baked until crispy.
Oven Baked Creamy Chicken Thighs – baked chicken thighs slathered with creamy parmesan sauce.
Baked Garlic Parmesan Chicken & Potatoes – classic chicken and potato combination in a butter garlic herb sauce.
Baked Cilantro Lime Chicken – fresh flavors from cilantro highlight in this sheet pan recipe where chicken thighs are baked with potato and pepper.
Chicken stuffed baked chili peppers – a baked version of stuffed chili pepper is delicious, with chicken stuffing and cheese.
Crispy Baked Sweet and Sour Chicken Wings – crispy wings baked with a glossy sweet and sour sauce. A party hit!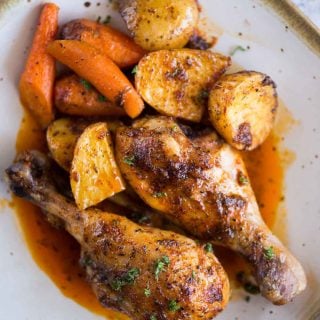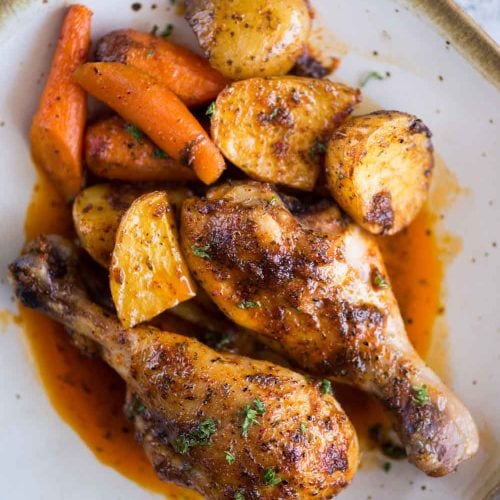 Baked Chicken leg and vegetables
Chicken legs, vegetables baked in a delicious ranch marinade has an amazing pan sauce too. Just the kind of dinner you need on your busy days. Watch step by step video at the end to see how easy this recipe is.
Ingredients
6-7 Chicken Legs (2 Pounds) (ref note 1)
2 large Potatoes Quartered
2-3 Carrots Cut into big chunks
4-5 Garlic Cloves
½ cup White Wine or substitute with Chicken Stock
½ cup chicken stock
Ranch Marinade
⅓ cup Melted Butter (unsalted)
4 tablespoon Ranch Seasoning
1 teaspoon Paprika
½ teaspoon Pepper
½ teaspoon Salt
Instructions
Mix all the ingredients for Ranch Marinade

In an Ovenproof pan add Chicken legs, halved Potatoes, Carrots, and Garlic Cloves. Drizzle ranch marinade on top and toss everything well.

Pour wine and stock into the pan.

Loosely cover with foil and bake at 425 degrees F for 20 minutes. Take out the pan, brush chicken drumsticks with the pan drippings, and bake uncovered for another 30-35 minutes.

Serve with a side of green salad or with rice.
Notes
 Use skinless drumsticks in this recipe. Vegetables when baked tend to lose moisture. Chicken with the skin doesn't really get crispy when there is a lot of moisture. 
Nutrition
Serving: 1g | Calories: 477kcal | Carbohydrates: 17g | Protein: 20g | Fat: 34g | Saturated Fat: 15g | Cholesterol: 147mg | Sodium: 1692mg | Potassium: 465mg | Fiber: 2g | Sugar: 3g | Vitamin C: 5mg | Calcium: 44mg | Iron: 1mg