Double Chocolate Banana Bread
This post may include affiliate links that earn us a small commission.
This chocolate banana bread is moist and fudgy and has the right balance of chocolate and banana flavor. With double the chocolate, every bite of this bread is a treat.
I am sure all of us have our favourite banana bread recipe that we make every time there is brown ripe bananas at home. This Chocolate Banana Bread is an upgrade of my goto banana bread recipe. It is Chocolatey, slightly dense, fudgy. This recipe is really easy and forgiving.
I am also going to share a secret Ingredient that I have used in this recipe and that makes a big difference in the taste. Every bite of this banana bread is so delicious.
Flavours In Your Inbox
Subscribe for recipes straight to your inbox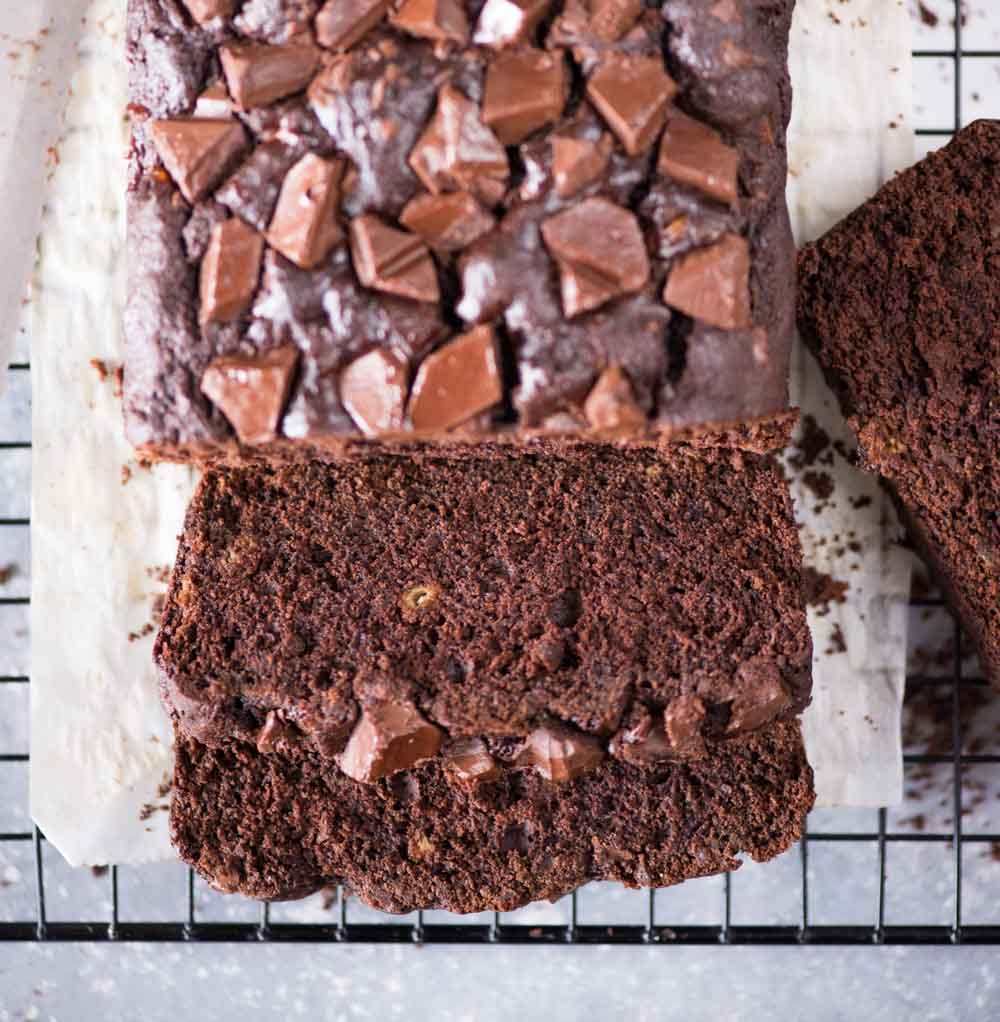 To Make The Best Chocolate Banana Bread
After a few tries, I have the best combination and ratio of ingredients for the Banana Bread
All-Purpose Flour: This recipe calls for regular white flour.
Banana: Overripe banana which has brown spots and is soft gives maximum sweetness and flavour to the bread.
Butter:  Many recipes call for oil or a mix of oil and butter. What I have found is that chocolate banana bread butter works the best. It gives that rich flavour and also makes it slightly fudgy.  But if you prefer substitute half of the butter with oil.
Brown Sugar: Brown sugar because of its molasses content, makes the bread extra moist.
Egg: One large egg for that rich fudgy texture
Baking Soda
Sea Salt: Do you know a pinch of salt in sweet bakes makes a lot of difference? Skip the salt and I always feel there is something missing.
Strong Brewed Coffee: This is the secret ingredient I was talking about. Coffee in Banana Bread?? Trust me it is there to make everything better. Coffee compliments Chocolate and helps to enhance its taste. You will not taste coffee in the bread.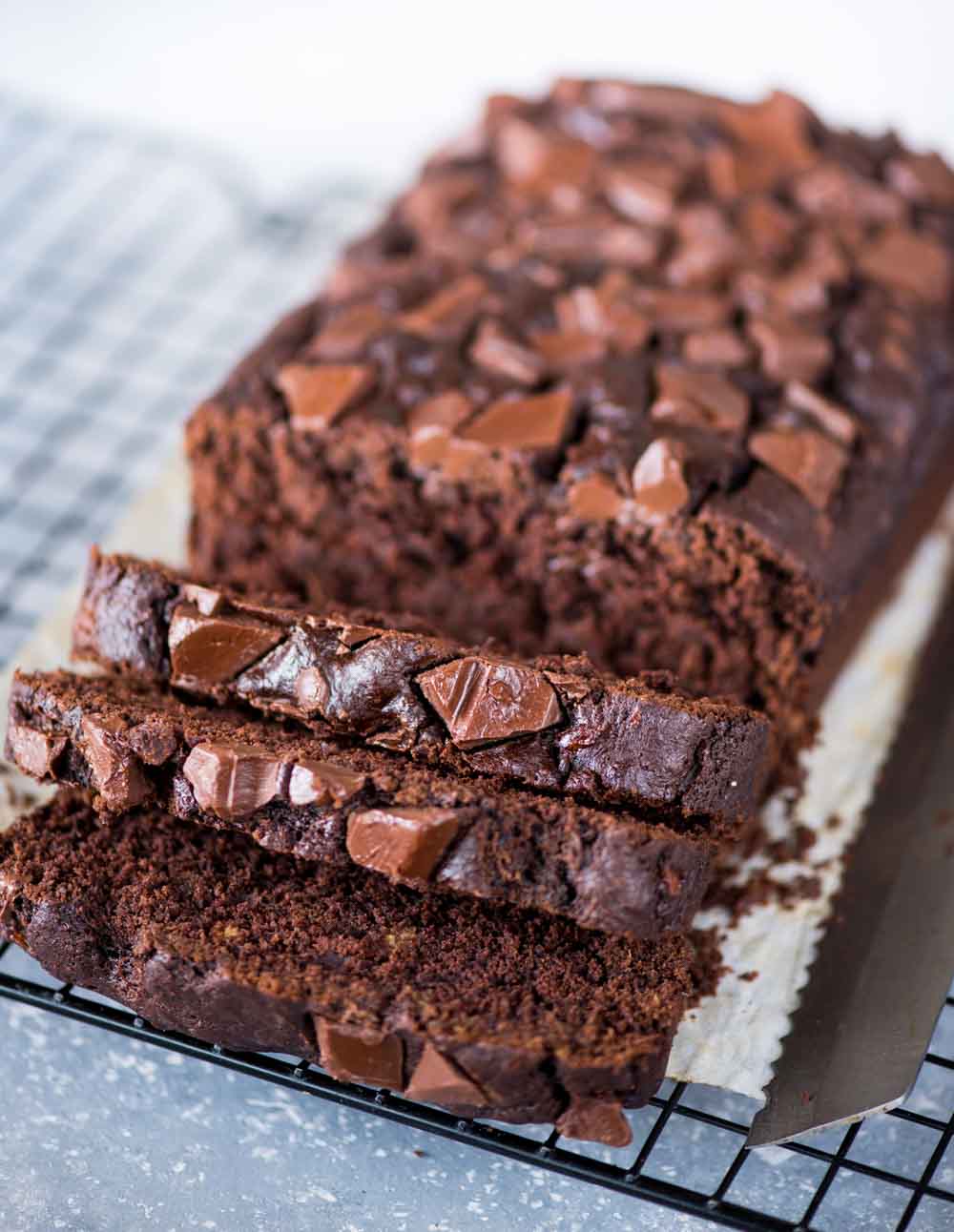 Helpful Tips…
Use overripe bananas for maximum Sweetness. Use a fork to mash the banana. Adding sugar to whole bananas helps to mash bananas well.
Use good quality Cocoa powder.
Measure the dry ingredients using a spoon and level method.
Make sure the baking soda is fresh. The bread doesn't rise much like other cakes, yet it is really moist and melts in the mouth.
Adding chopped chocolate is optional. You can substitute it with chocolate chips instead.
Let it cool down for at least 30 minutes before slicing it.
For freezing the bread, let it cool completely and then slice it. Wrap each slice with cling wrap and freeze.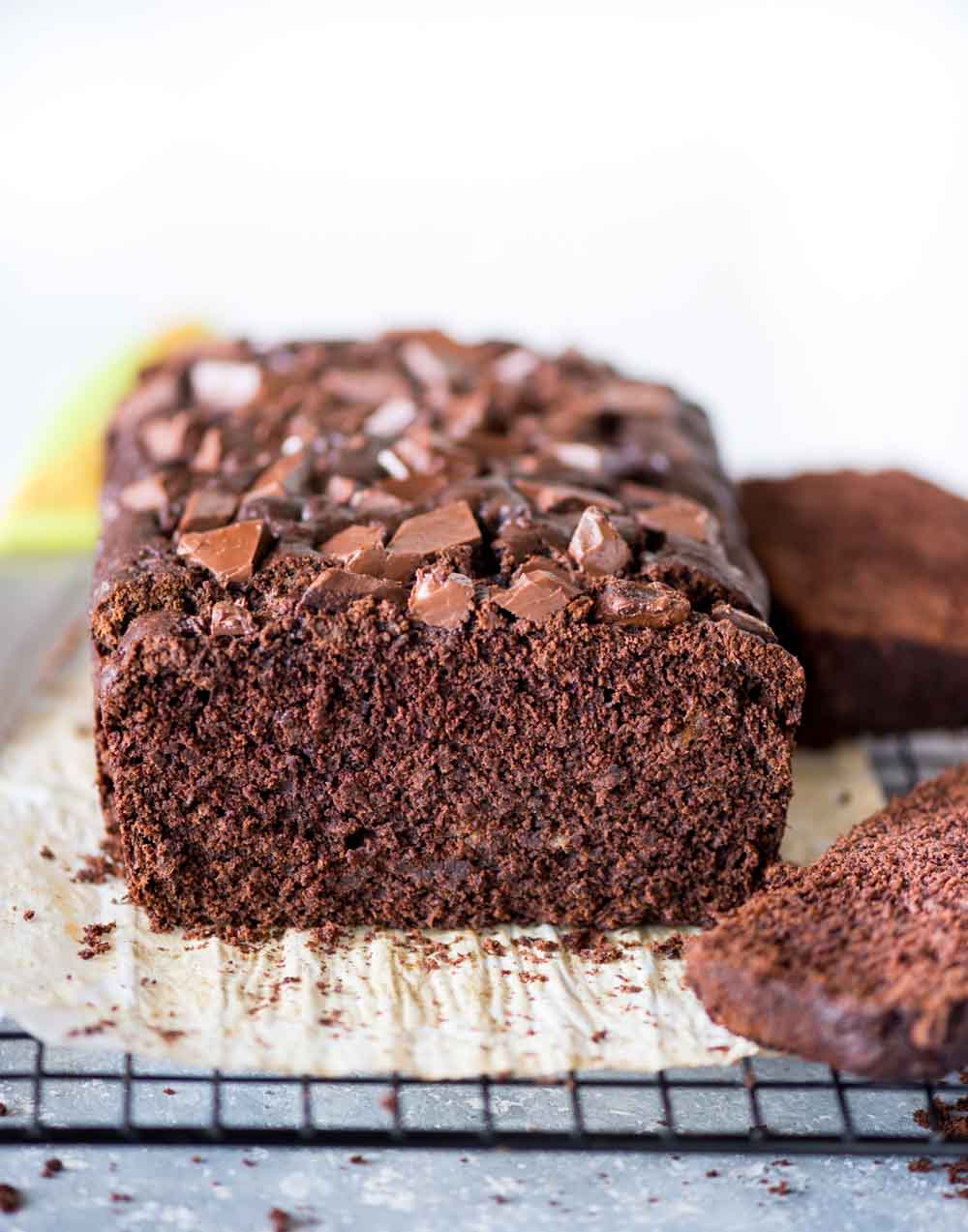 Here Are A Few Possible Variations
This Chocolate banana bread is rich and delicious as it is. If you ask me, I wouldn't add anything to it. Chopped walnut, pecan or a swirl of peanut butter will work with rest of the flavours.
I love to add banana in my baked stuff. Because of the natural sweetness of the banana, you need very less amount of other sweeteners in the recipe. Here are a few recipes using banana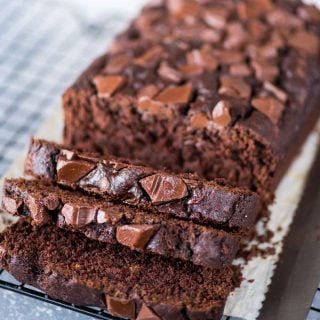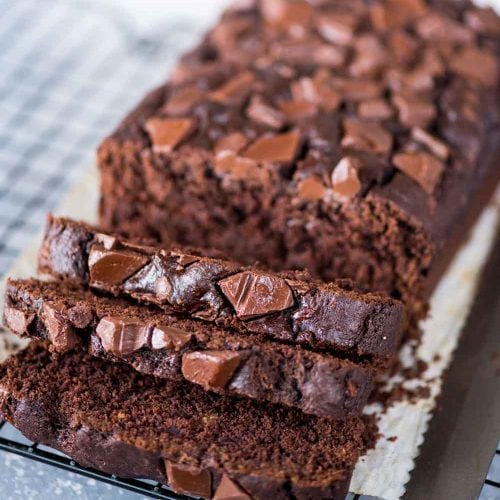 Double Chocolate Banana Bread
Super moist and loaded with chocolate, this Chocolate Banana Bread is a one-bowl recipe. It is fudgy because of the butter instead of Oil, Strong brewed coffee enhances the chocolate flavour. RECIPE VIDEO with detailed Instruction.
Ingredients
1 + ¼ cup Flour
½ cup Cocoa Powder Unsweetened
1 teaspoon Baking Soda
½ teaspoon Baking Powder
¾ teaspoon Sea Salt
3 large Banana (1.5 cup 2 cups Mashed banana)
1 cup light Brown Sugar (tightly Packed)
2 Eggs
½ Cup Melted Unsalted Butter
2 tablespoon Strong brewed Coffee
1.5 teaspoon Vanilla Extract
1 cup Chopped Chocolate (Or Chocolate Chips)
Instructions
Pre heat oven to 350°F (175°C). Grease and line a 9X5 inch loaf pan with parchment paper.

Sift Flour, Cocoa Powder, Baking soda and salt. Keep aside.

In a big mixing bowl mash ripe banana and brown sugar using a fork until no big lumps are there.

Add melted butter, vanilla extract, brewed Coffee, Egg. Whisk well.

Add dry ingredients mixture in two batches. Mix just until everything is combined.

Pour batter to the prepared pan. Arrange chopped chocolate on top.

Bake in the preheated oven for 40-45 minutes or until toothpick run clear.

Rest the loaf for 10 minutes in the pan, then run a knife around the edges to loosen.

Remove the loaf from the pan and let it cool on a wired rack for another 30 minutes before slicing it.
Nutrition
Serving: 1g | Calories: 338kcal | Carbohydrates: 43g | Protein: 5g | Fat: 18g | Saturated Fat: 11g | Cholesterol: 46mg | Sodium: 245mg | Potassium: 331mg | Fiber: 4g | Sugar: 24g | Vitamin A: 338IU | Vitamin C: 2mg | Calcium: 41mg | Iron: 4mg