This post may include affiliate links that earn us a small commission.
Air fryer chicken legs coated with a sweet and spicy dry rub are really juicy and as good as any deep-fried version. It takes only  20 minutes to make these succulent chicken leg recipes.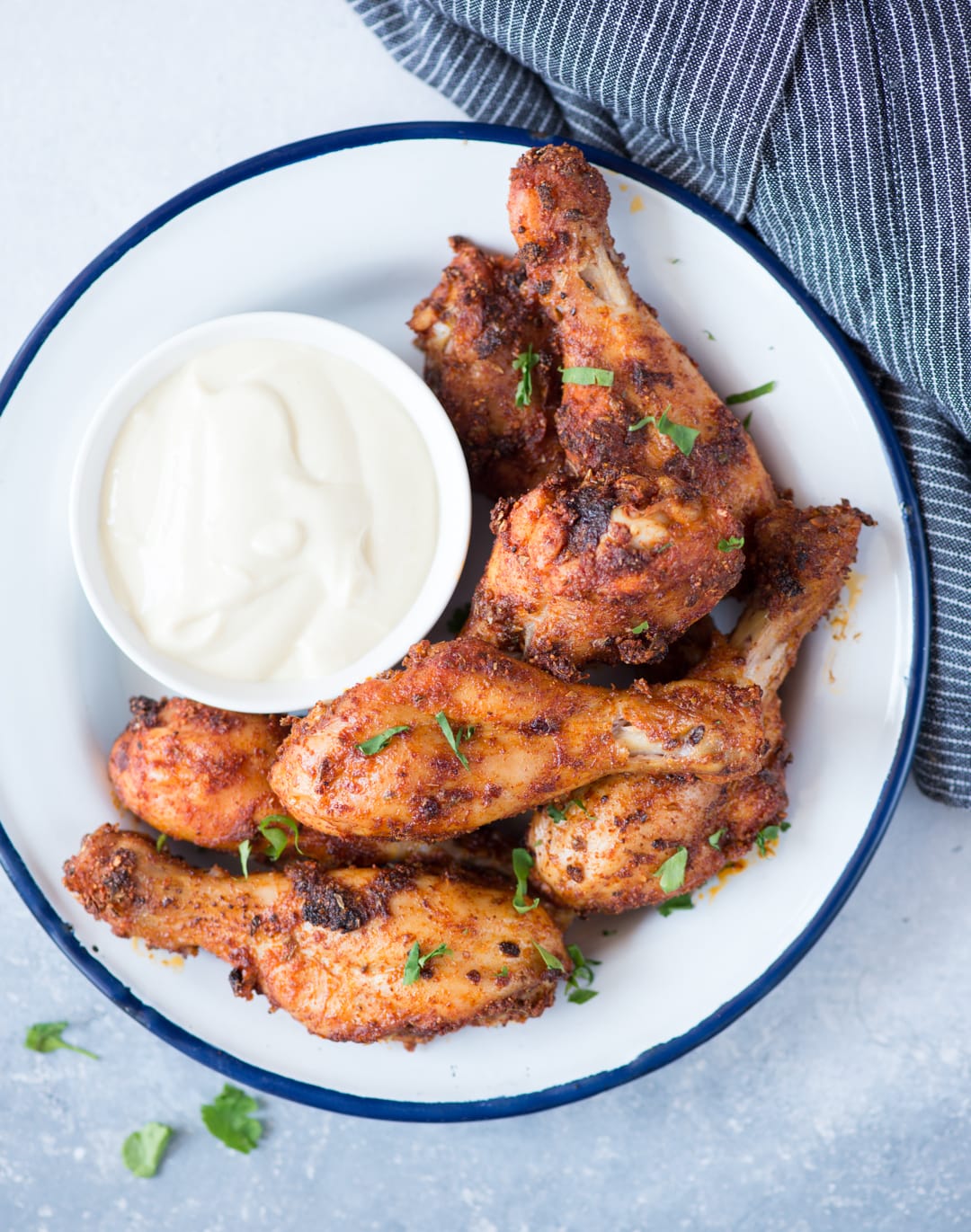 How about some juicy Air fryer Chicken leg tossed in an epic dry rub?? These Air fryer Chicken legs are not the only finger-licking good but also are the healthiest.  You need just a teaspoon of oil for these.
Flavours In Your Inbox
Subscribe for recipes straight to your inbox
You can make these with both varieties of chicken – with Skin or W/O skin. Which one is more popular? w/o skin one. Which one tastes better (to me)? With Skin. This recipe has instructions and tips on how to work with both 😊
The dry rub is smoky, spicy, and very easy to make. I served this with Honey mustard Mayo dipping sauce. You may prefer to serve a light salad or a coleslaw like this Apple Coleslaw along with it.
An air fryer is a magical gadget you can have in your kitchen. It's small, handy, and can be easily carried around. It uses a hot air circulation technique to cook food.  So you can use an air fryer instead of an oven for many recipes. I love to make french fries, potato wedges, chicken kebab, and this dry-rubbed Chicken.
Are Air Fryer Chicken legs Keto?
Absolutely! This skinless chicken recipe variation uses so few ingredients and the end result is a bucket of healthy food. Traditionally, fried chicken is deep-fried in gallops of oil. That gives it a crispy and fried exterior.
In this air-fryer recipe, you just need a teaspoon of oil to coat all the skinless chicken in the mix. That is all! The convection oven kinda working of the air-fryer does the rest of the magic.
For the drumsticks with skin, the oil in the skin oozes out during frying. This makes the skin dry and perfectly roasted or crispy. This adds a nice crispy element to the drumsticks. I absolutely love it this way.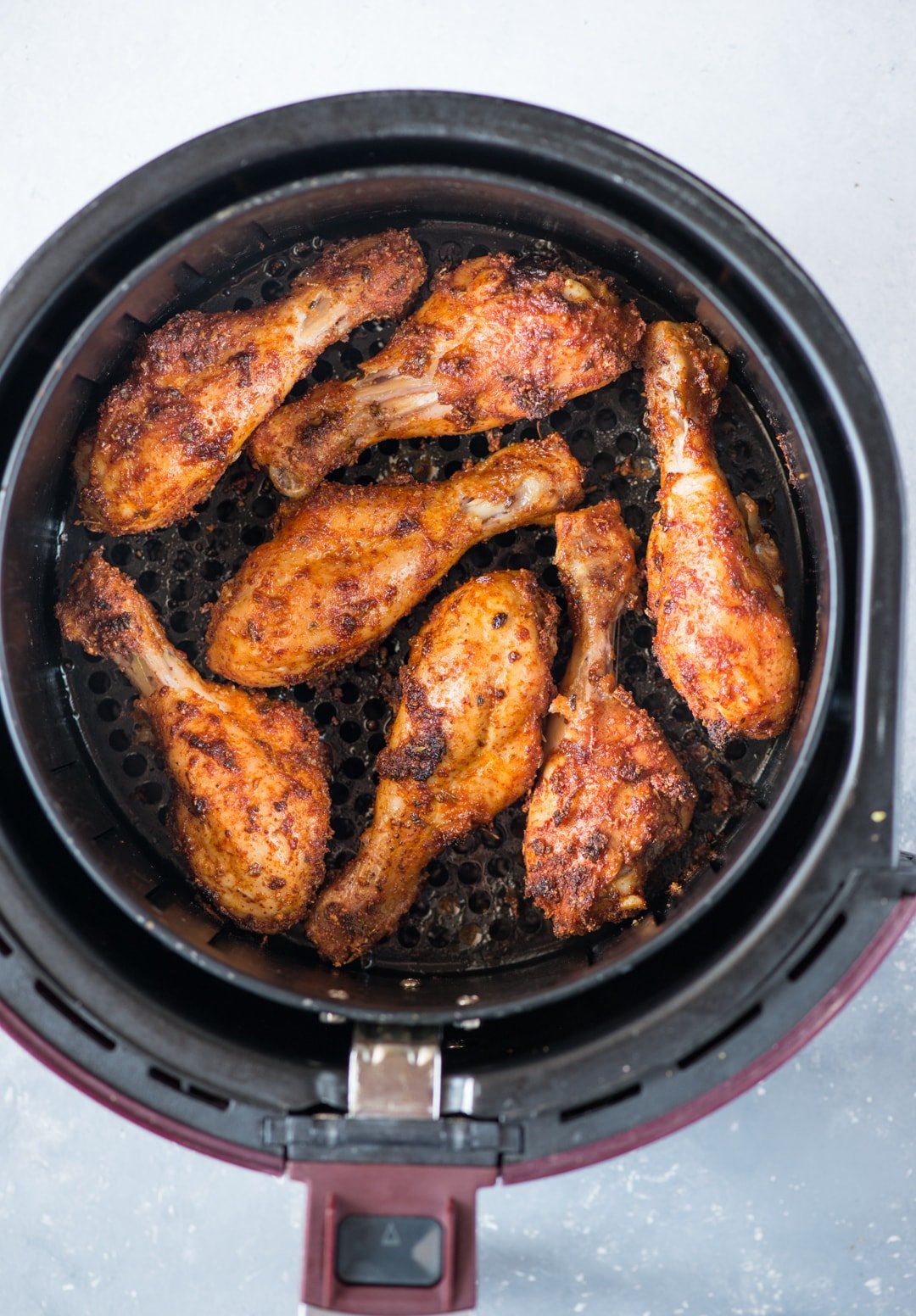 Tips for Perfect Air Fryer Chicken leg
Know Your Air Fryer
Every Air Fryer is different and comes with slightly different controls and settings. Basic ones come with a temperature controller and a timer. The controls are really simple and user-friendly.
Preheat the Air Fryer
2 minutes of pre-heating the Fryer is enough to make the container hot. This gives justice to the entire cooking period of 20 minutes since the Fryer is already warmed up. It is quite similar to pre-heating your Oven.
How long to Air Fry Chicken?
Well, this depends on a number of factors. What kind of chicken cut are you using? With or without bone? How big are the pieces?
The cooking time also depends on the kind of marinade used. In this case, because I have used Dry marinade it takes about 15-20 minutes to fry. For wet marinade, it takes a little more time ~ around 10 minutes more.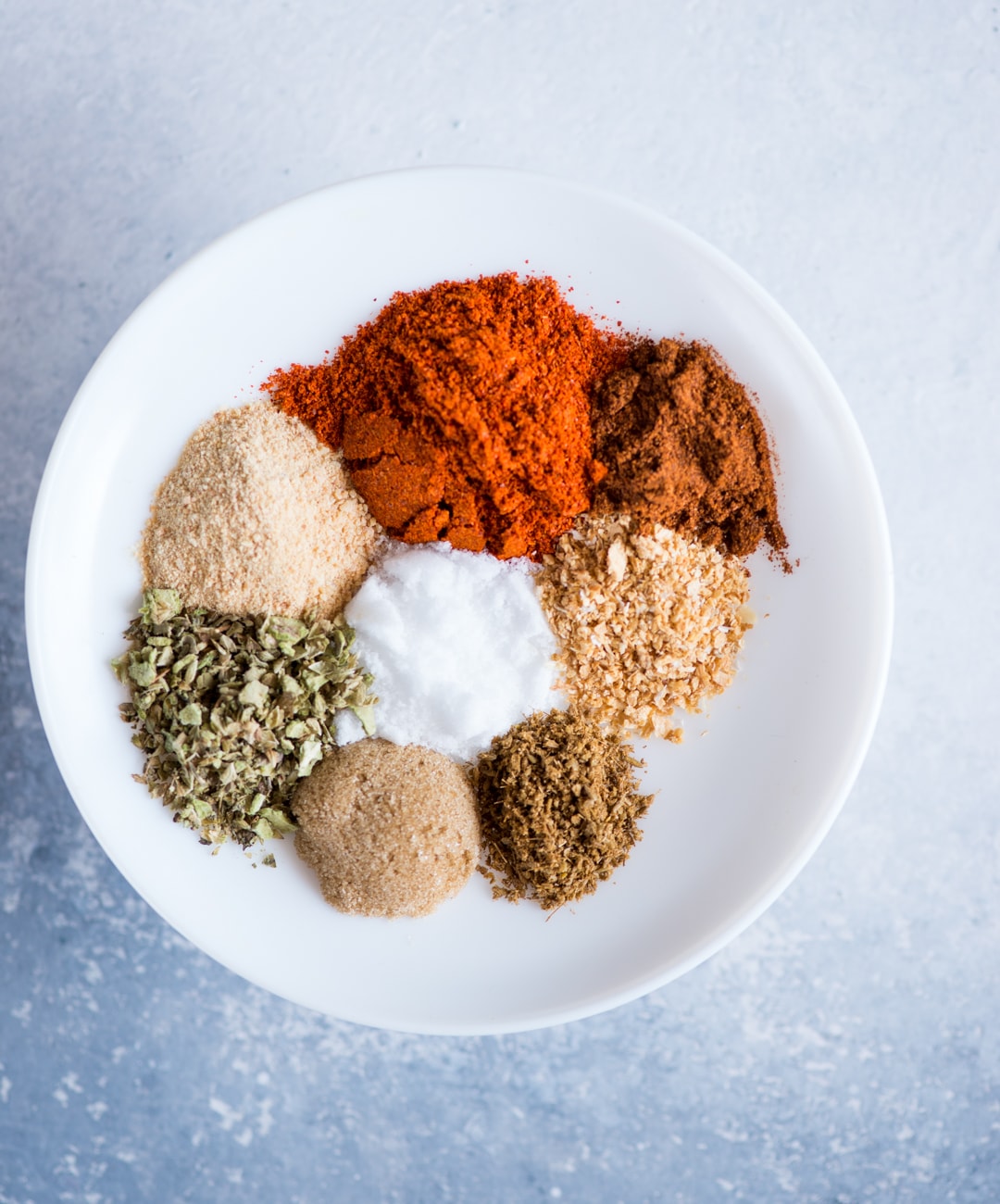 Prep for Perfectly Cooked Chicken
Hot air circulation technology in the Air fryer cooks the chicken evenly and keeps it juicy. But here are a few points to keep in mind.
Make sure the chicken is at room temperature. If using frozen chicken, thaw it before cooking.

Air-frying frozen chicken is a strict No-No. It would not cook the chicken evenly. At best the outer part would have cooked a bit leaving the middle raw.

Before applying the spice rub, pat the chicken dry with a kitchen towel. This would remove any water or moisture from the skin. So that the dry rub would stick to the chicken evenly and while air frying the outside is crispy.
This preparation stays the same for chicken drumsticks with Skin too.
Tips for Chicken leg with Skin
Frying chicken drumsticks with skin will have all the oil in the skin ooze out and result in more crispy drumsticks. You can collect the oil below in the pan and stash it away.
Do Not Overcrowd Chicken in Air Fryer Basket
Air Fryer comes with a smaller capacity. So cook in batches. If you overcrowd the container, the hot air will not be distributed well.
So make sure chicken is kept in a single layer with some space in between. This will also avoid the chicken sticking together.
Flip the chicken legs in between.
For even cooking flip the chicken in between, after around ~10-12 minutes. Though some of the heat in the Fryer gets released, doing this will make sure that all sides of the chicken get fried evenly.
And we are doing it mid-way through the frying time so it leaves enough time to build up the heat again and cook the turned-up parts.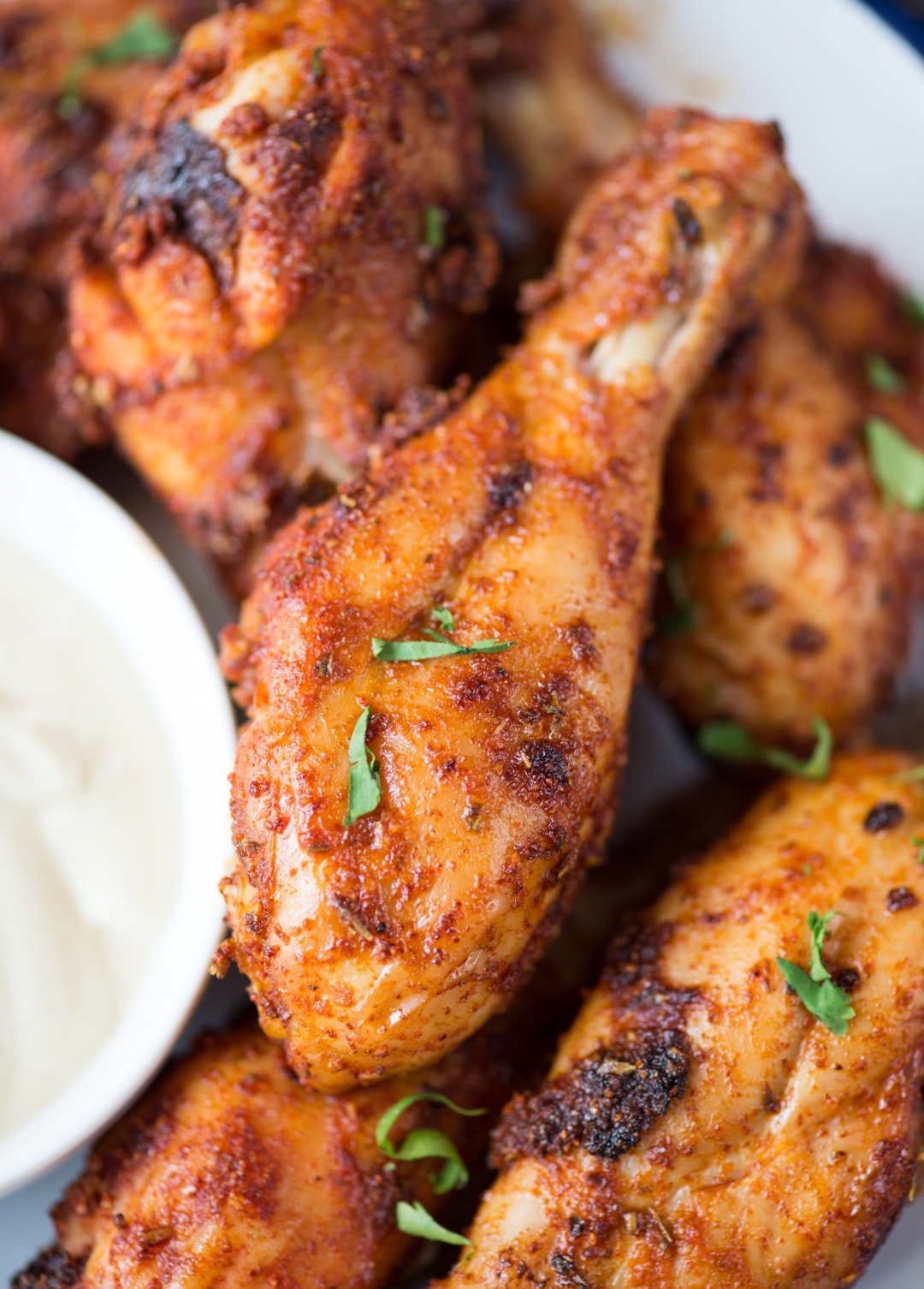 More Air Fryer Recipes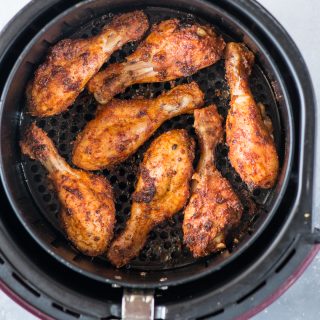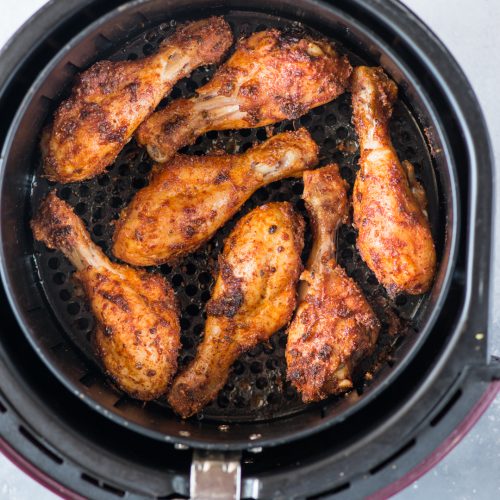 Air Fryer Chicken
Air Fryer Chicken drumsticks with an easy dry rub.
Ingredients
1 tablespoon Paprika
1 teaspoon Smoked paprika
½ teaspoon Cayenne pepper
½ tablespoon light brown Sugar
½ teaspoon Onion Powder
1 teaspoon Garlic Powder
½ teaspoon Oregano
½ teaspoon Cumin Powder
8-10 Chicken Drumsticks
1 tablespoon Oil (to brush)
Instructions
Pat dry chicken and remove any extra moisture from the chicken. 

Mix all the dry seasoning ingredients.

In a Ziplock bag add Chicken and the Seasoning mix. Shake well to coat chicken with seasoning. Let it rest for 30 minutes. 

Meanwhile, preheat the Air-fryer for 10 mins at 200-degree Celsius. ( set the temperature to 200 degrees Celsius and set the timer to 10 mins).

Arrange spice-rubbed drumsticks in a single layer spacing little apart from each other in the air fryer pan. 

Cook for 10 mins, flip and lightly brush with oil. Air fry again for another 10 minutes. The chicken legs look roasted from all the sides. 

Repeat the same with the rest of the chicken. 
Nutrition
Serving: 100g | Calories: 289kcal | Carbohydrates: 4g | Protein: 27g | Fat: 17g | Saturated Fat: 4g | Cholesterol: 139mg | Sodium: 160mg | Potassium: 397mg | Fiber: 1g | Sugar: 1g | Vitamin A: 1280IU | Calcium: 23mg | Iron: 1.7mg