Instant Pot Crack chicken filled with juicy Chicken, Ranch, cream cheese, Cheddar, and crispy bacon is incredibly delicious. This low carb, Keto chicken takes only 15 minutes to make.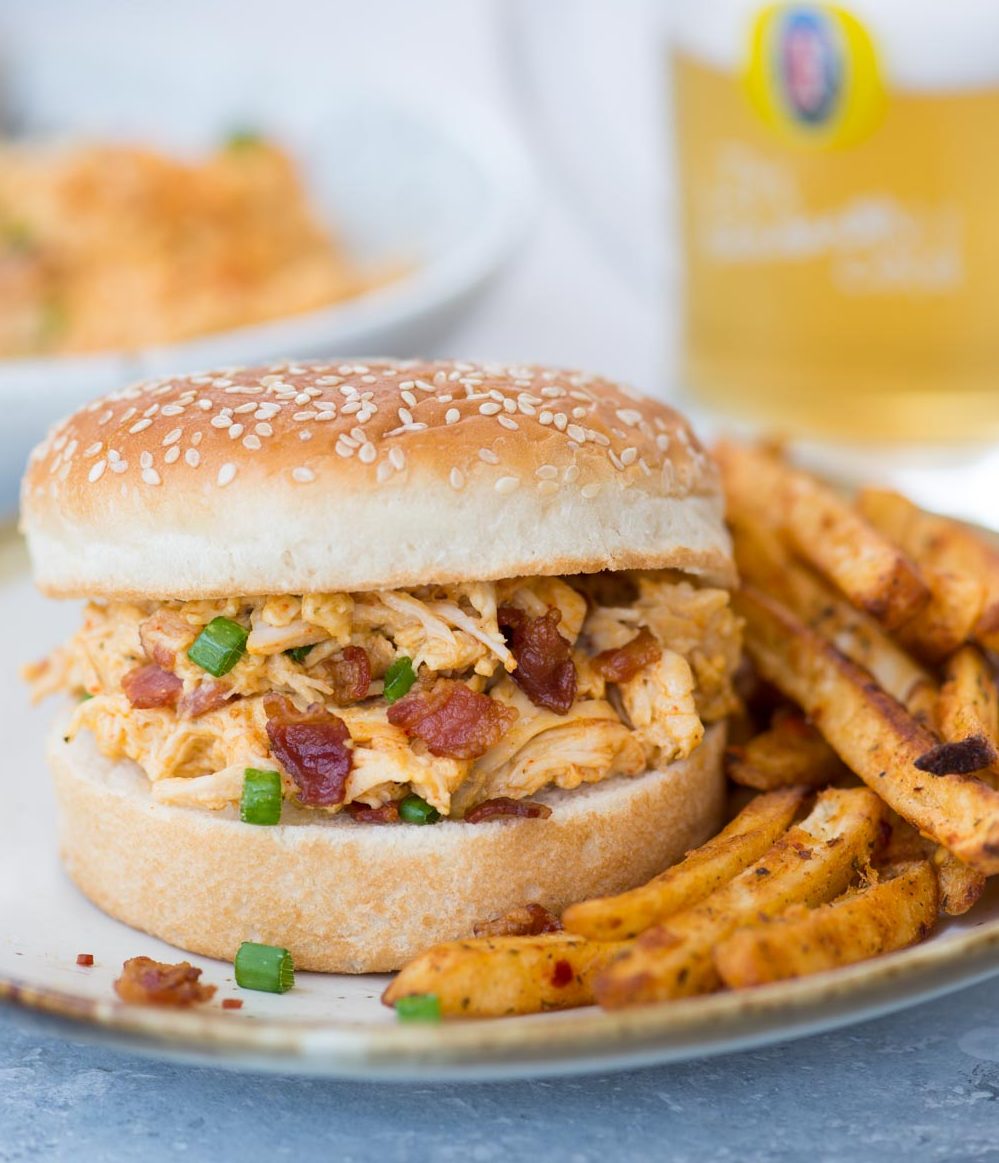 What is Crack Chicken?
Crack Chicken sounds like an unusual name and I don't have any idea how it got its name. Delicious chicken bites are just referred to as crack chicken. In some states like Michigan, delicious chicken wings done in secret spices are referred to as crack chicken.
This instant pot chicken recipe is a keeper. Six ingredients and 15 minutes are what you need to make this Instant Pot crack chicken.
It is creamy, cheesy, and with crispy bacon in every bite(yum..). You can have this in so many ways. Pile it onto a sandwich, serve it over pasta, or make a wrap, this makes an awesome meal.
Crack chicken is Keto-friendly
And did I tell you these are absolutely gluten-free, low carb, and can be made keto-friendly?
This keto chicken instant pot recipe has nothing fried in it. Chicken and bacon have loads of protein which is your principal component of the keto diet. The carbs are very limited to what the chicken and cheese have.
Cream cheese and cheddar provide healthy fat in this recipe. All you need is some greens to go with this.

Crack Chicken recipe ingredients
Chicken
Ranch Seasoning
Cream Cheese
Cheddar Cheese
Bacon
Chicken Stock / Water
Garlic ( Optional)
Sriracha ( Optional but I would recommend for that extra kick)
Green Onions for serving
Most of the recipes call for the first 6 ingredients. I have tried the recipe with/without garlic and sriracha. But adding garlic adds a lot of flavours. For little extra heat, I love to add Sriracha but you can skip it.
How to use the Instant Pot for crack chicken?
If you are new to an Instant Pot, just follow the next instructions carefully. Do not be intimidated by the controls and buttons on the instant pot.
It works just like a pressure cooker but gives you along with a timer some additional convenient controls.
To cook this crack chicken recipe in the pot-
Plugin the Pot to 'ON'.
After adding the chicken breast to the pot, close the lid to the SEALED position.
Set the mode to 'MANUAL'. Now it's time to set the timer. Use the ( + ) button to increase the time to 7 minutes.
The countdown starts the pressure cooker starts building pressure.
At the end of the countdown, you will hear a beep. It automatically goes to the 'Reheat' mode and keeps the content warm.
Leave it sealed for another 10 minutes.
Turn the handle to the VENTING position. This will release all the pressure inside and you can open the lid.
HOW TO MAKE CRACK CHICKEN IN INSTANT POT?
Cooking Chicken in an Instant pot is so convenient. It takes less than 15 minutes (including the time to come to full pressure) to bring the meal to the table. The chicken turns out juicy and tender every single time.
Making crack Chicken in an Instant pot is really easy. Starting from cooking bacon and till the end, everything can be done in the Instant Pot itself.
You could cook bacon separately on the stovetop. But when cooked in the IP itself, all those brown bits at the bottom will add lots of flavours. I prefer doing it this way and have found those caramelized bits on the bottom imparting some deliciousness to the stock.
Most of the recipes call for adding cream cheese and cheese along with the chicken to cook. But cooking cream cheese and cheddar for so long kills the subtle flavours and gives a wired taste. So first cook chicken, along with seasoning. Then to the end add cream cheese and cheese.
Another best thing about making Crack Chicken in the instant pot is you can use frozen chicken as well. I will provide detailed instructions in the recipe for using frozen chicken.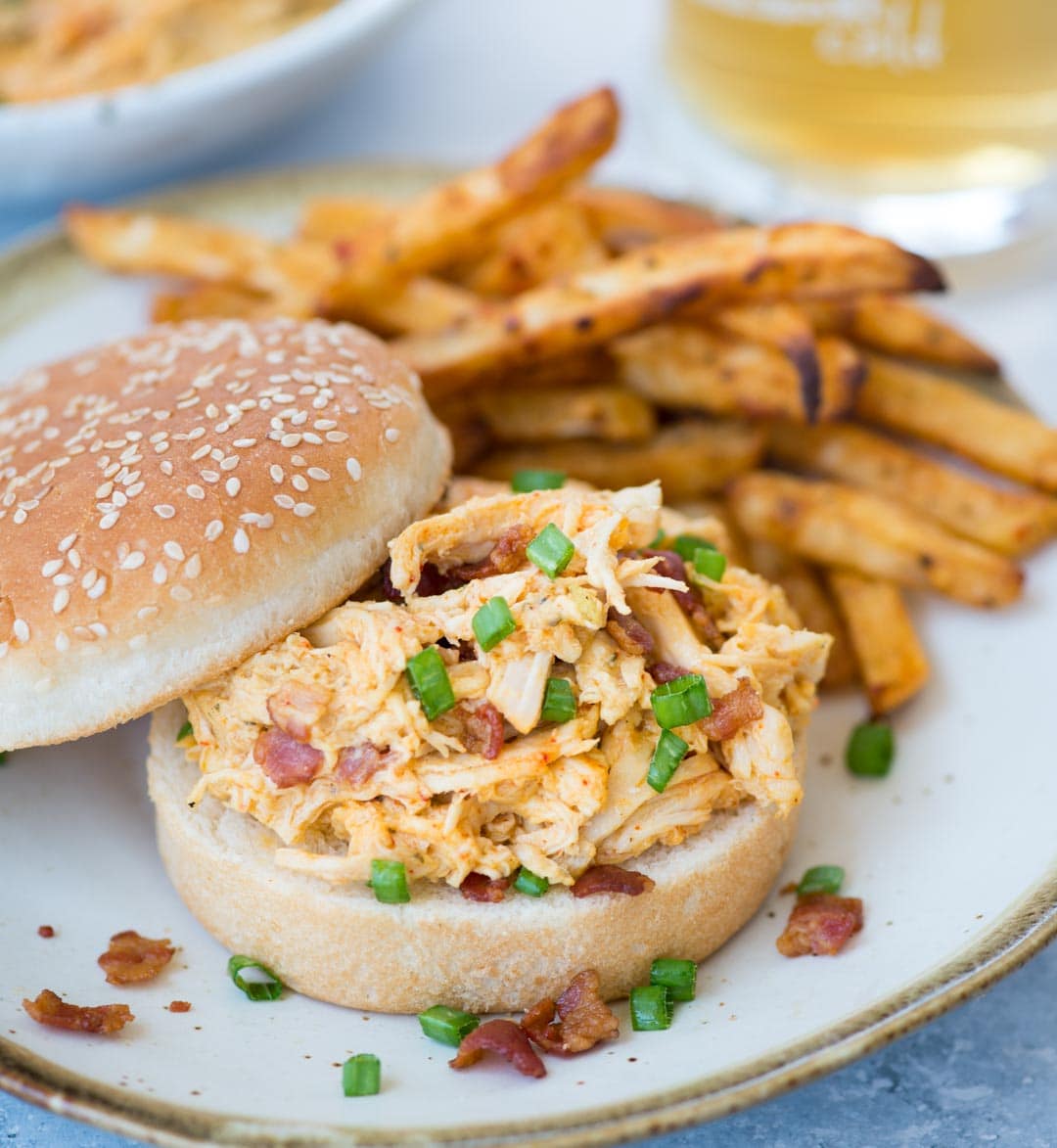 Make crack chicken in a slow cooker
Another easy way of making crack chicken is to cook slowly in a crockpot.
Dump Chicken, Ranch Seasoning, Cream Cheese, and cheese in the crockpot and let it cook on high for 3-4 hours.
Cook bacon separately and add it to the end.
You won't be needing chicken stock when cooking in the slow cooker.
Can you do it with frozen chicken?
When it comes to any other recipe not using an instant pot, cooking with frozen chicken is always more cumbersome and difficult.
You will need to thaw it and carefully watch it to make sure the chicken is cooked properly.
Thanks to the guy who invented the Instant pot. It just made cooking with frozen chicken so easy. The only adjustment needed is to allow a little more time. You do not have to do anything else.
Just add frozen chicken straight from the freezer to the pot and close the lid. Set the timer to 10 minutes (i.e. three additional minutes) and lo behold your frozen chicken is cooked as well as that of room temperature.
What to serve the crack chicken with
Such creamy and juicy shredded chicken allows you to get creative. Since it acts as a great filler for a bun, sandwich, or wrap, you can just layer this on a bun and add some toppings. Having it with just Garlic bread also makes this a great combo.
This also is a hit on a plate of white rice. Tastes like a million bucks. Substitute with brown rice if you are nutrient conscious.
What about noodles or pasta? I suppose that will be good too. I haven't tried it out yet. Let me know if you make it.
If you are into Keto, just serve this crack chicken with some greens and you have your perfect combination of protein, fat, and minimal carbohydrates.
OTHER INSTANT POT CHICKEN RECIPE YOU MIGHT LIKE
If you are in the mood for some juicy and saucy hot and sweet chicken, then try out my Instant Pot Honey Garlic Chicken recipe. It goes very well on a plate of rice. Another delicious meal option is Instant Pot Balsamic Chicken and Potatoes recipe. It works out a wholesome meal by itself.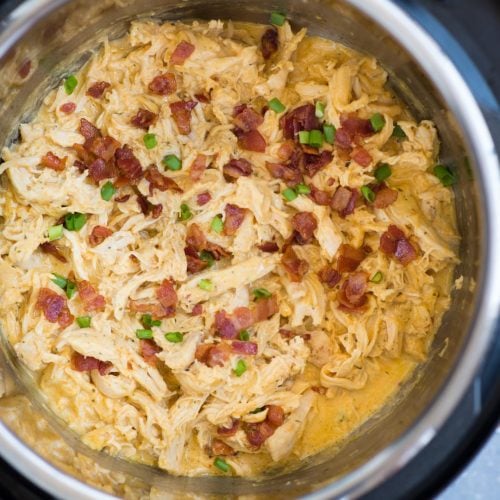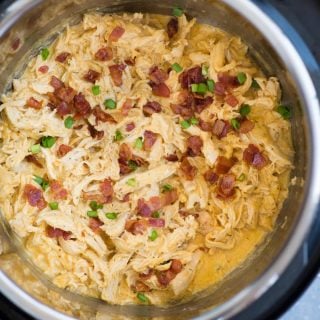 Crack Chicken
Crack chicken made with Chicken, Ranch Seasoning, cream cheese, Cheddar cheese, and crispy bacon is incredibly delicious. This low carb, Keto chicken takes only 10 minutes to make.
Print
Pin
Rate
Ingredients
3

Chicken Breast

500 grams / 1 pound

1

package

Ranch Seasoning

1

cup

Cheddar Cheese

250

grams

Cream Cheese

1/2

cup

Chicken Stock

6-8

slices

Bacon

1/2

tbsp

Garlic

(optional)

1

tspn

Sriracha

(optional)

green onion

to garnish
Instructions
Bring Instant pot to Saute mode. When it turns hot, add chopped bacon. Cook bacon until crisp and brown. 

Remove bacon and any extra fat. 

Add chicken, chicken stock, ranch seasoning, garlic, and Sriracha(if using).

Set IP to manual mode. Set time to 7 minutes and cook on high. Then do natural pressure release for 10 minutes followed by a quick release. 

Once the pressure is completely released, take out the chicken breast. Using two forks shred it.

If you feel the amount of liquid is more, then reserve 1/2 cup of liquid from the pot and keep aside.

Switch IP to saute mode again. Stir in cream cheese, cheddar until mixed well.

Add shredded chicken back to the pot. Mix well. If the chicken looks too dry, then add back the reserved liquid in the previous step as required.

Top crack chicken with crispy bacon and green onion while serving.
Notes
As I have mentioned in the post, garlic and sriracha are optional here. I like to add it for the extra flavor and a bit of heat. You can skip these.
If you are using frozen chicken breast instead, then the steps would be the same. Instead of 7 minutes, cook chicken for 10 minutes on high pressure. But frozen chicken breast when cooked releases considerably more liquid. So once the chicken is cooked, scoop out extra liquid and keep aside. If you feel the chicken looks too thick, then add back the reserved liquid. 
Chicken thighs can be used instead of breast. While cooking chicken thighs, do it for 10 minutes. 
Nutrition
Calories:
457
kcal
|
Carbohydrates:
2
g
|
Protein:
48
g
|
Fat:
27
g
|
Saturated Fat:
11
g
|
Cholesterol:
160
mg
|
Sodium:
658
mg
|
Potassium:
751
mg
|
Vitamin A:
335
IU
|
Vitamin C:
2.3
mg
|
Calcium:
212
mg
|
Iron:
1
mg