This post may include affiliate links that earn us a small commission.
Baked Ranch potatoes in a cheesy creamy sauce is a delicious side dish made with 5 ingredients and in just 30 minutes.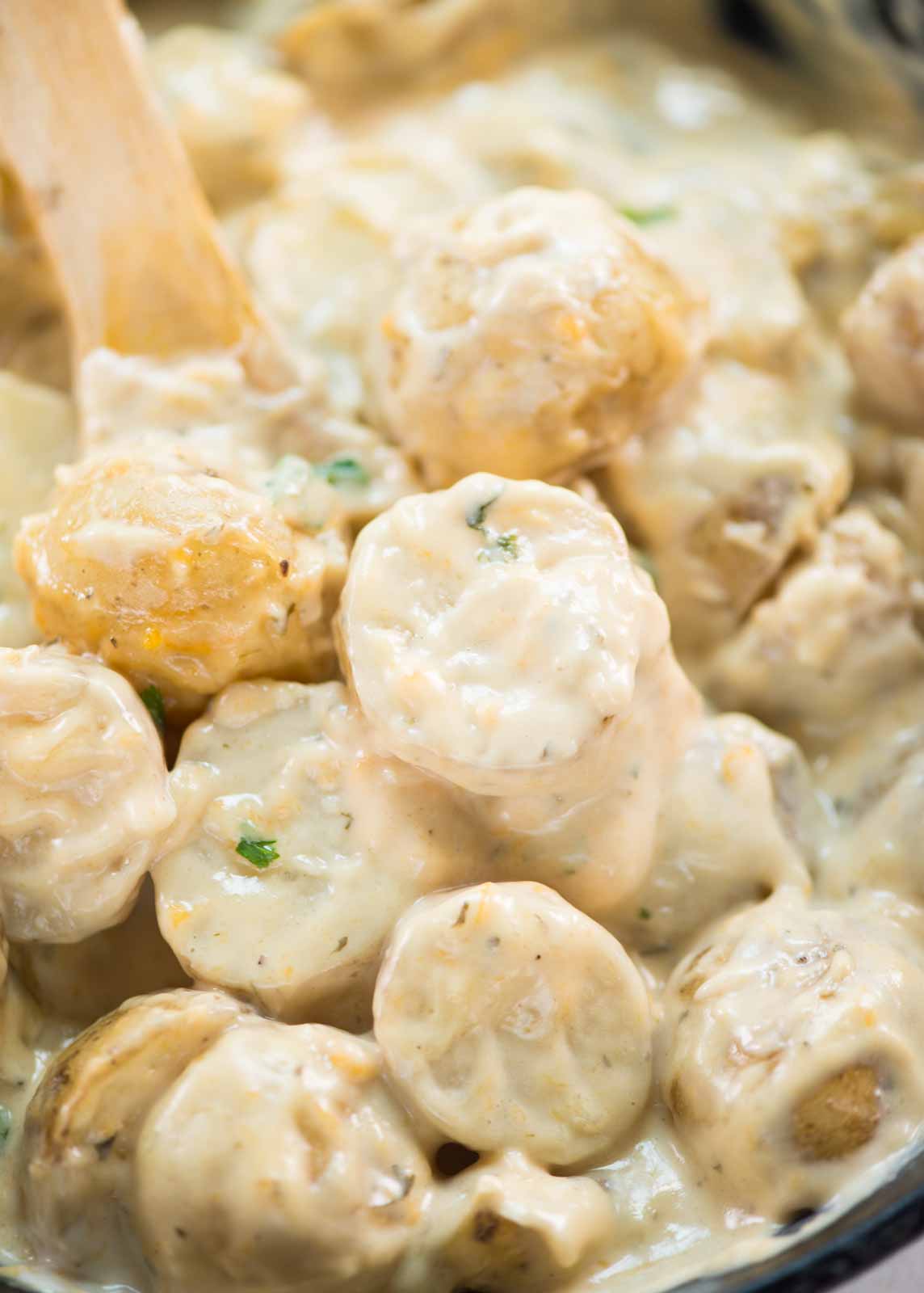 This baked ranch potato is really easy to make with a handful of ingredients. The Potatoes are tender, and perfectly seasoned inside out. Cheesy creamy potatoes can be served as a side dish alongside any meal. It would be an apt side dish on your holiday dinner table.
Flavours In Your Inbox
Subscribe for recipes straight to your inbox
Potatoes and cheese, a combination hard to beat and definitely a crowd pleasure.
Why we love Cheesy Ranch Potatoes
Potatoes are tender and perfectly seasoned.
Made with 5 ingredients
Cooked in a skillet, no need to wash multiple washes.
You can easily double the recipe to make for a crowd. And also can be made ahead.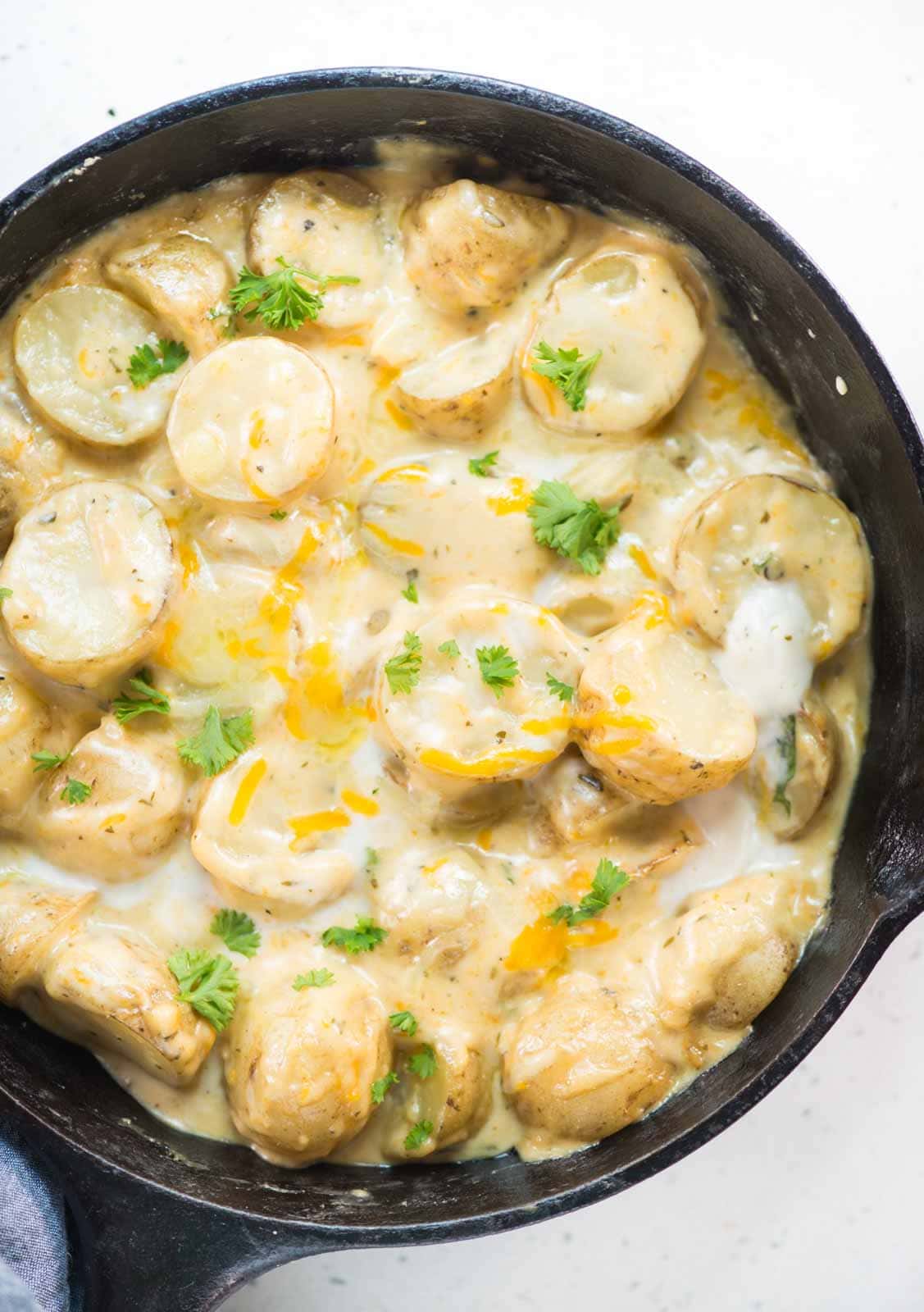 Ingredients
Potatoes– Baby Potatoes. You can also use regular big potatoes and cut into 1- 1.5 inch.
Chicken Stock
Ranch Seasoning: Your favorite brand of creamy ranch dressing. You can also use a homemade ranch dressing.
Cheese: Sharp cheddar cheese or Mexican Cheese blend.
Garnishing: Chopped green onion or parsley. Crispy bacon also is a great topping.
Steps to make Ranch Potatoes in the oven
It is very easy and simple to make these roasted potatoes. We are going to cook and bake the potatoes in the same skillet.
Step 1– We will first cook the potatoes. Instead of cooking in salted water, cook it in chicken stock, so that the potato absorbs the flavor.

Step 2- When the potatoes are just cooked through, add ranch dressing, cheese. Mix well, Sprinkle more cheese on top, bake until you the cheese starts to bubble around the edges.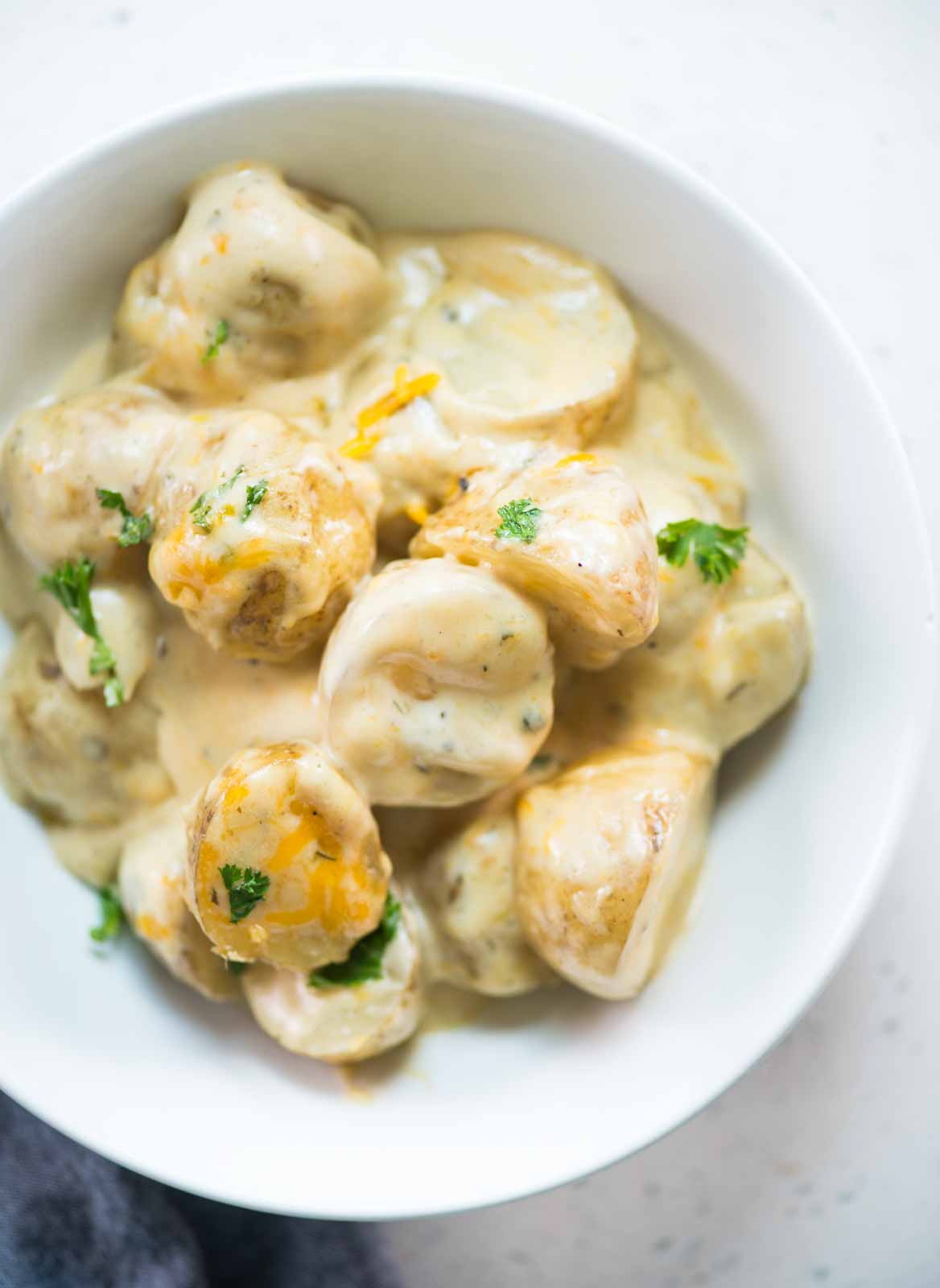 More Side dishes…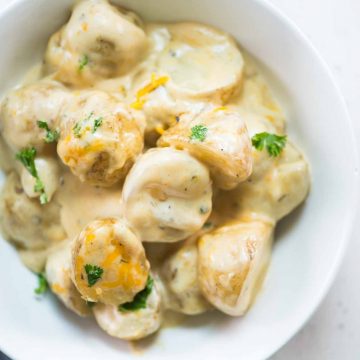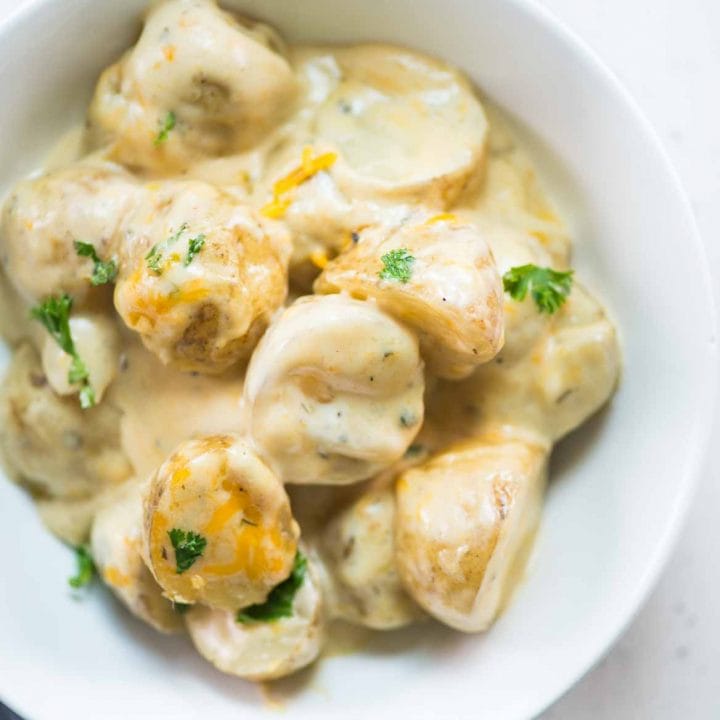 Cheesy Ranch Potatoes
Cheesy ranch potatoes baked in the oven have tender potatoes tossed in creamy ranch dressing and cheese. An amazing side dish to serve for dinner.
Ingredients
2 pound Baby potatoes
1 tablespoon oil
¼ teaspoon pepper
1 cup chicken stock
1 cup creamy Ranch dressing
1 cup shredded Mexican cheese
Instructions
Clean and cut baby potatoes into half. If the potatoes are big cut into quarters.

Heat oil in an ovenproof skillet / cast iron skillet. Add potatoes. Season with pepper. Add stock to it and cover.

Cover and let the potatoes cook until it is nearly done. It should take 8-10 minutes. Switch of the gas. It is ok if there is some stock left in the skillet.

Add ranch dressing and half of the cheese to the skillet. Mix well.

Sprinkle the rest of the cheese and bake for 20 minutes.

Garnish with parsley or chopped chives.
Nutrition
Serving: 1g | Calories: 587kcal | Carbohydrates: 46g | Protein: 13g | Fat: 40g | Saturated Fat: 10g | Cholesterol: 48mg | Sodium: 951mg | Potassium: 1079mg | Fiber: 5g | Sugar: 5g | Vitamin A: 207IU | Vitamin C: 47mg | Calcium: 230mg | Iron: 2mg