Creamy Apple Slaw With Cranberries
This post may include affiliate links that earn us a small commission.
This Apple slaw with Crunchy apples, Cabbage, carrot, Tart Cranberries in a creamy yogurt dressing, is healthy and easy to make. Apple Slaw is a perfect side dish to serve and can be made in just 10 minutes.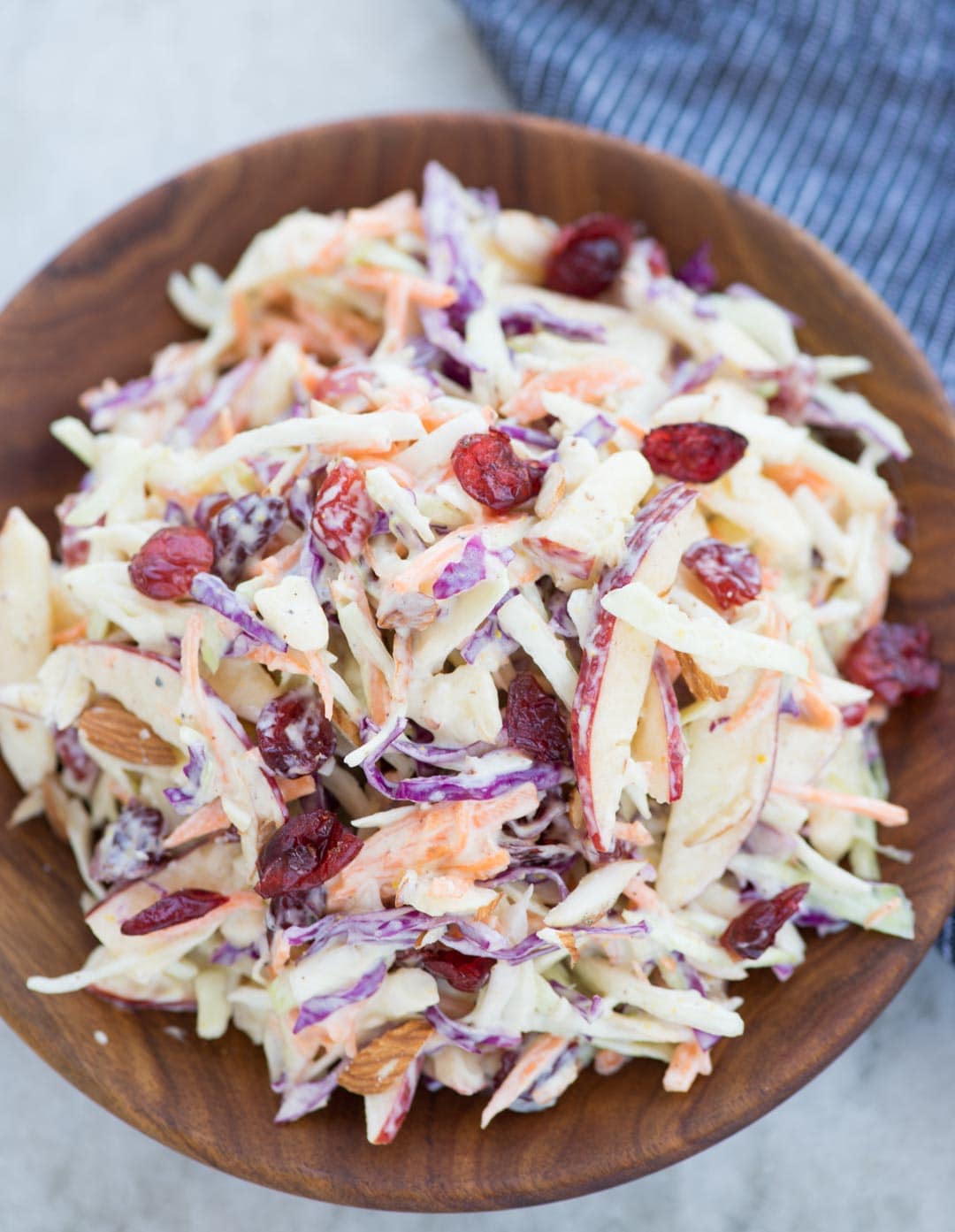 Flavours In Your Inbox
Subscribe for recipes straight to your inbox
Perfectly creamy and light, this Apple slaw is an amazing side dish for this holiday season. A great way to put the seasonal apples into use. The dressing is healthy, light yet creamy. Unlike regular coleslaws, the dressing is not loaded with mayo. But worry not, you are not going to miss the creaminess of the mayo.
If you are planning a Thanksgiving Party this time, this creamy apple cabbage slaw would pair so well with the roast or any other meaty main dish.
I prefer to serve something light and refreshing along with grilled chicken or meat. While the chicken is in the oven, I mostly ended up making a light salad to serve with it. This Cranberry Apple Slaw is one of our favourites. It is sweet, creamy with a little bit of tang in every bite.
Ingredients For Making Apple Slaw
All you need is fresh and crunchy veggies and apples to make this cabbage and Apple Slaw. I love how colourful this salad looks.
Apples: Fresh and crispy apples for the slaw. I have used fuji apple in this recipe. Feel free to use mix of sweet and tart apples.
Veggies: You need finely shredded cabbage and carrot. Store brought coleslaw mix is such a time saver. Or use a shredder or food processor attachment to shred the veggies.
Add ons: There are tart cranberries, thinly sliced celery and almond for some crunch.
Other options: You can also add red bell peppers to it. Substitute almond with walnut or pistachio.
Healthy Cabage and Apple coleslaw Dressing
The best thing about this Apple Slaw is the super creamy dressing. Homemade dressing is way healthier than bottled ones. A Mayo based dressing is definitely creamy and richer, but the calorie count also rises.
This salad dressing is a mix of greek yoghurt and Mayo. Perfectly creamy with a hint of sweetness. Apple cider vinegar gives a fruity punch to it.
The salad dressing is really yum and creamy. And works like charm to bring the salad together. If you prefer, you can completely avoid the mayo in this dressing.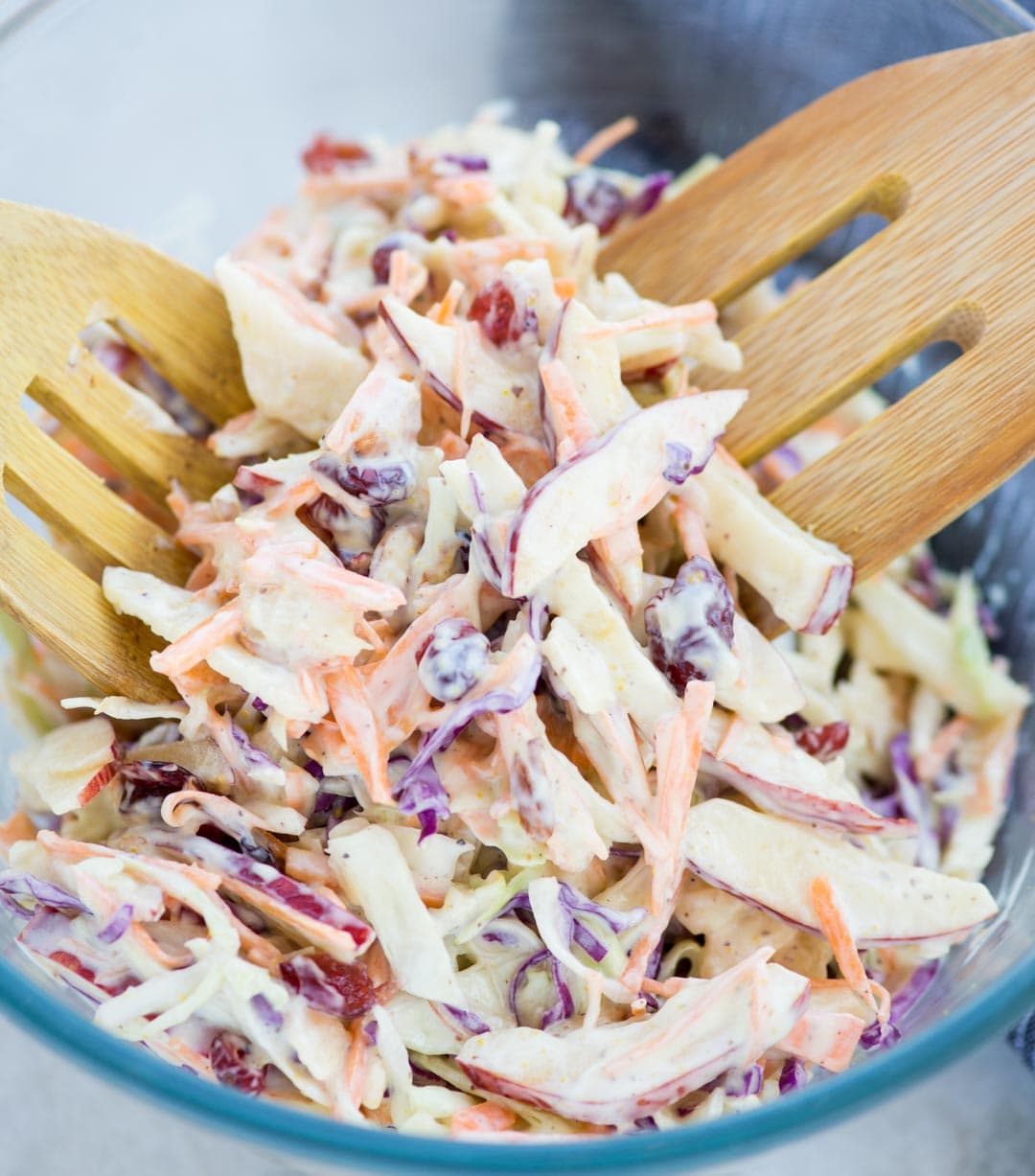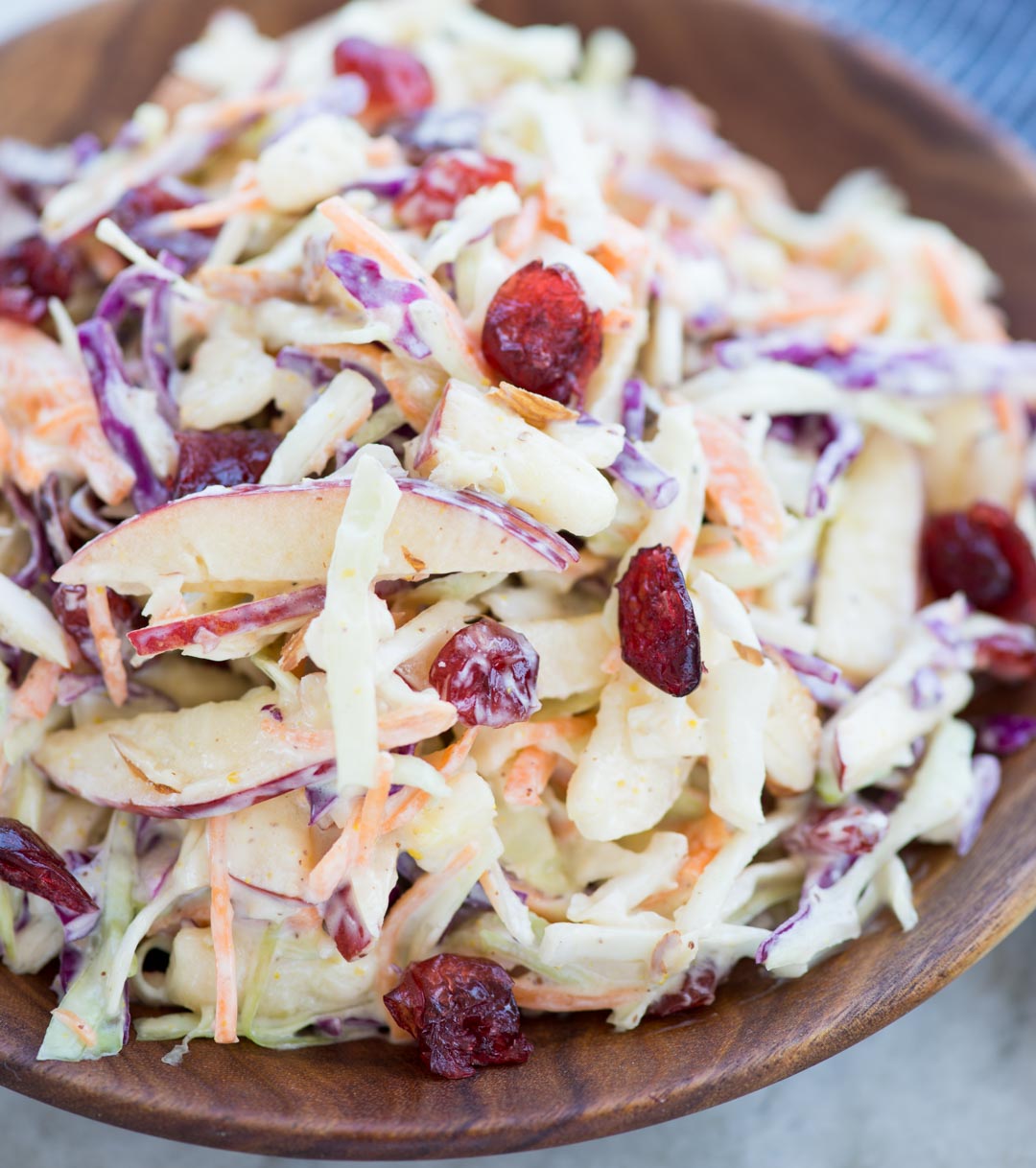 Serve this creamy apple Coleslaw with Grilled Chicken or Oven Baked BBQ Chicken for a quick dinner.
More side dishes…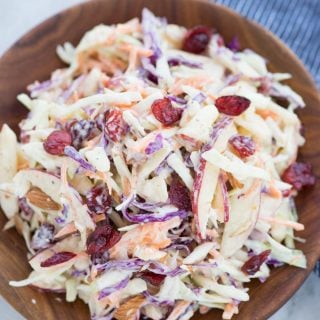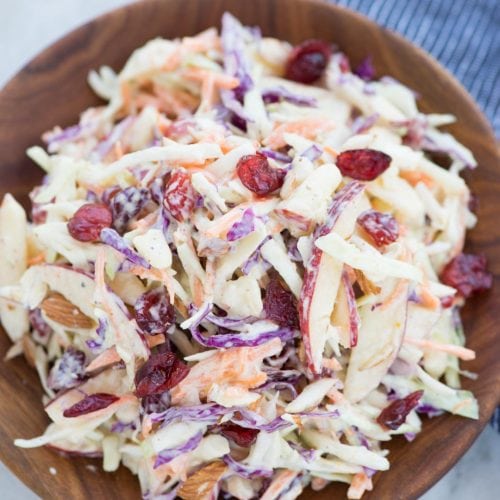 Apple Slaw With Cranberry
Crunchy apples, Cabbage, carrot, Tart Cranberries in a creamy dressing, this Apple Slaw is healthy and easy to make. A perfect side dish to serve and can be made in just 10 minutes.
Ingredients
For Apple Slaw Mix
2 Apple Red and Firm
2 cups Cabbage Shredded
1 cup Carrot Shredded
⅓ cup Celery Thinly Sliced
⅓ cup dried Cranberries
⅓ cup Almond sliced
For Slaw Dressing
½ cup Greek yoghurt
¼ cup Mayo
1 tablespoon Apple Cider Vinegar
2 tablespoon Honey
1 teaspoon Dijon mustard
Salt to taste
Black pepper to taste Freshly ground
Instructions
To make the coleslaw dressing, mix all the ingredients in a jar or a bowl. Mix well until everything is incorporated well. Keep aside.

In a big salad bowl add all the ingredients for the slaw. Pour the dressing. Mix everything well.

Serve as a side dish. Enjoy!
Nutrition
Serving: 100g | Calories: 224kcal | Carbohydrates: 31g | Protein: 5g | Fat: 10g | Saturated Fat: 1g | Cholesterol: 4mg | Sodium: 76mg | Potassium: 313mg | Fiber: 5g | Sugar: 23g | Vitamin A: 3090IU | Vitamin C: 18.1mg | Calcium: 77mg | Iron: 0.7mg