Cheesy Garlic Green Beans
This post may include affiliate links that earn us a small commission.
Crunchy green beans oven roasted with garlic and a combination of mozzarella and parmesan cheese make an excellent side dish.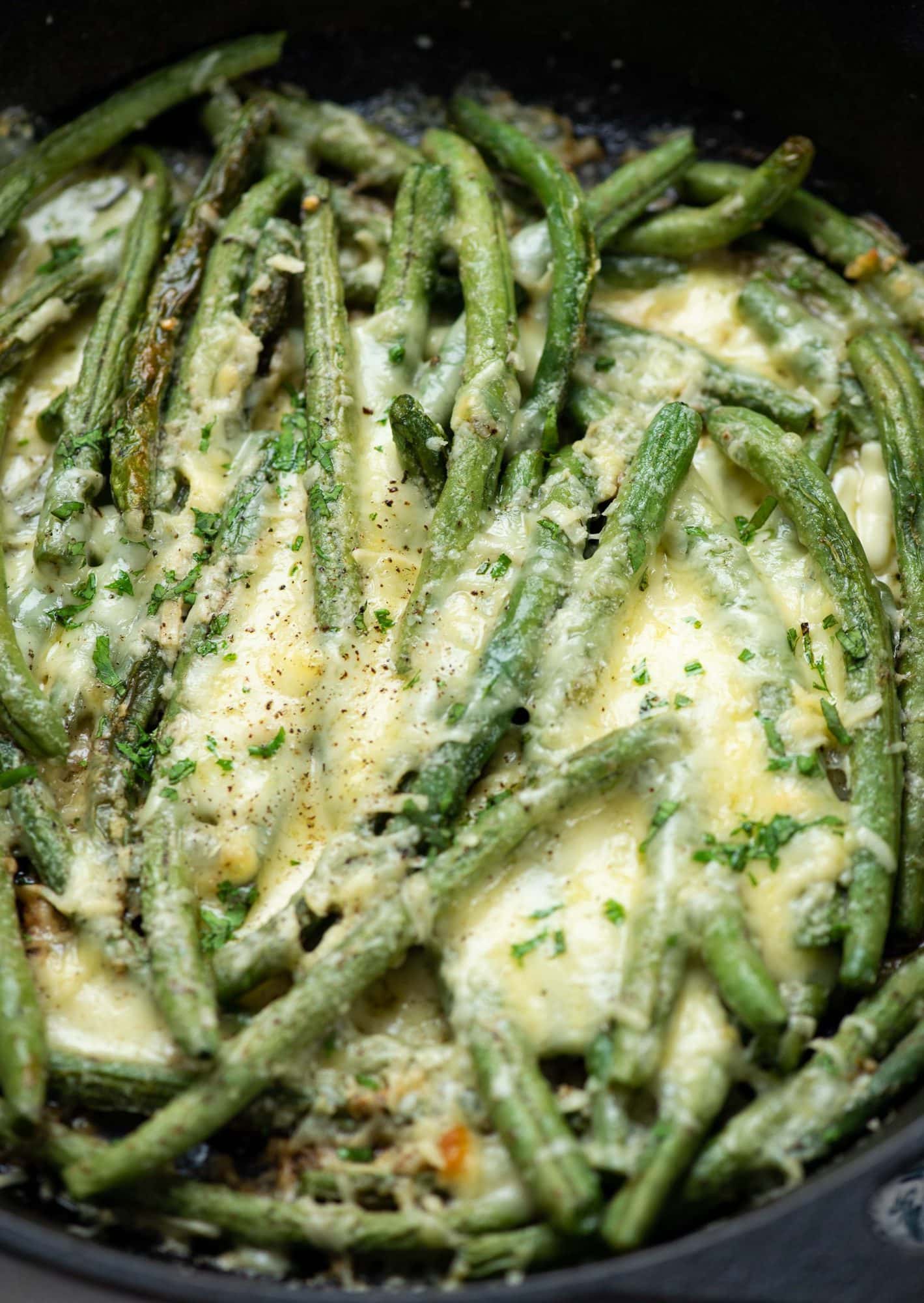 We have green beans, then roasted green beans. How do we get it to have more flavor? Try this cheesy garlic roasted green beans and you will not be disappointed. Want a vegetarian side dish on your plates, this recipe gives you cheesy plus garlicky flavors.
If you do not like simple veggie sides, the cheese in them takes the beans to another level. Not to say anything about the excellent cheese pull when you pick the beans from the plate.
Flavours In Your Inbox
Subscribe for recipes straight to your inbox
Garlic adds an oomph of flavor and the beans are sauteed with garlic. They are then roasted in the oven with a combination of two awesome popular kinds of cheese – mozzarella and parmesan. The cheese melts around the beans and wraps them together.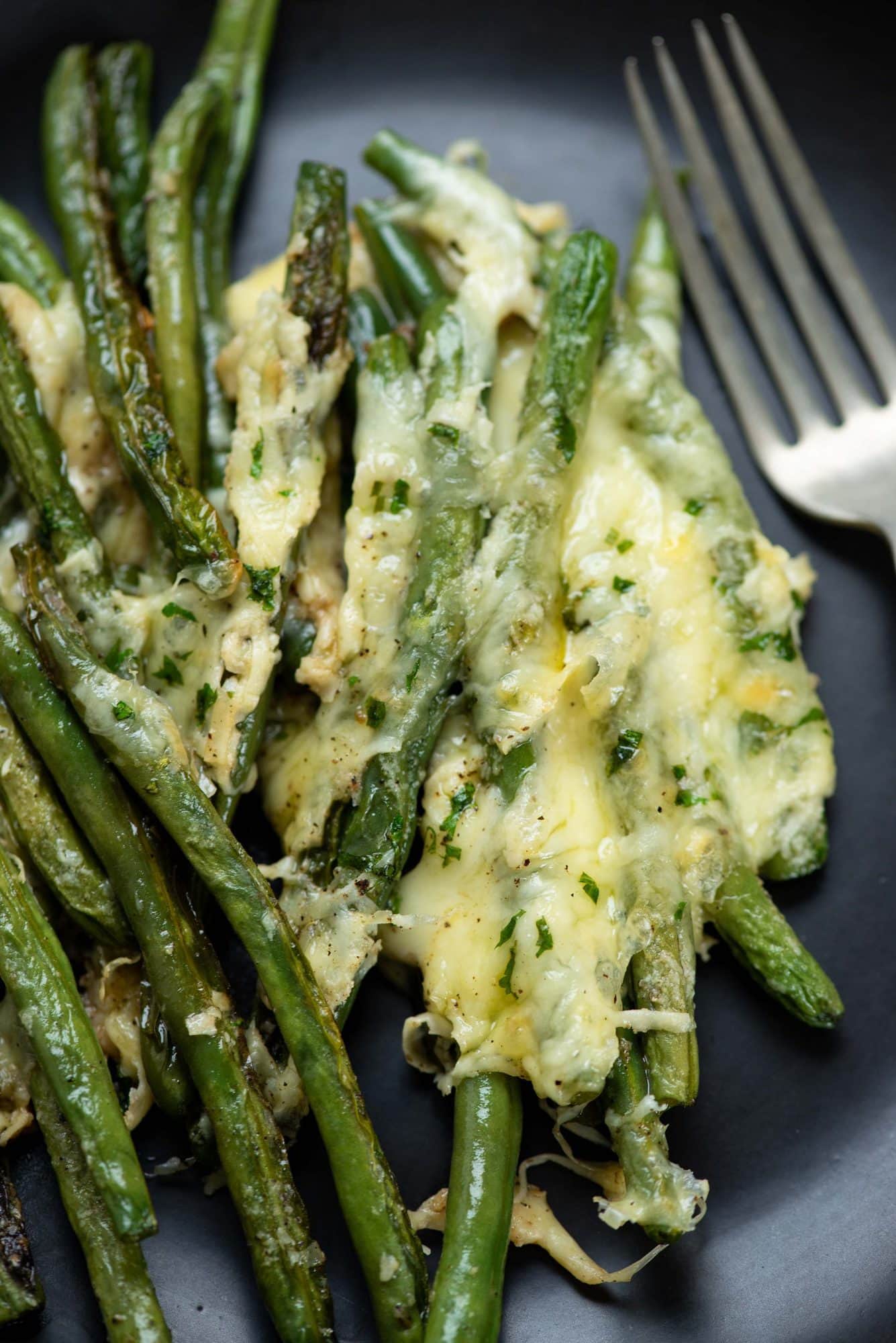 Ingredients
Fresh green beans
Minced garlic
Cheese – Parmesan & Mozzarella
Butter
Olive Oil
Parsley
How to make
Roasting green beans is a very simple recipe and takes no more than 20 minutes. Get a bunch of fresh green beans, wash with cold water and trim them, Sauté' them in butter and oil and then season with salt and pepper. The beans should be coated with garlic and oil.
When the beans look crunchy and cooked, roast them in the oven until the cheese bubbles. Since the cheese is salty, taste this before adding more salt and pepper.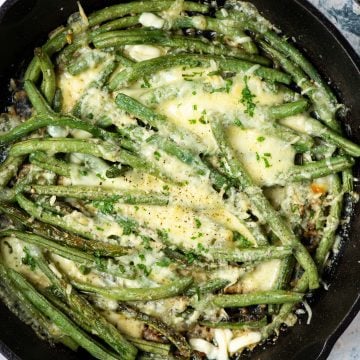 Cheesy Garlic Green Beans Recipe
Ingredients
250 grams Fresh Green beans
1 tablespoon Butter
1 tablespoon Olive Oil
Salt & Pepper
1 teaspoon Garlic minced
⅓ cup Parmesan Cheese
⅓ cup Mozzarella Cheese
Parsley to garnish
Instructions
Trim both the ends of green beans. If can also cut the beans in half instead of keeping it full.

Heat butter and oil in an oven-safe skillet (preferably cast-iron skillet).

Add green beans to the hot skillet. Season it with salt and pepper. Mix well.

Cover and cook on medium heat for 5 minutes.

Remove the lid. Add minced garlic and toss well. Cook for another 30 seconds until the garlic has browned.

Switch off the flame. Sprinkle parmesan cheese and mozzarella cheese. Broil @200 C for 2-3 minutes until the cheese start to bubble.
Notes
Use a cast-iron skillet for a nice charred effect on green beans. 
Keep an eye on salt, as the cheese has salt in it.