This post may include affiliate links that earn us a small commission.
Lemon Chicken Orzo Soup – A light, refreshing and flavorful soup for any season. Chicken and orzo make it filling to eat and the lemony broth has loads of umami to be a delicious slurp.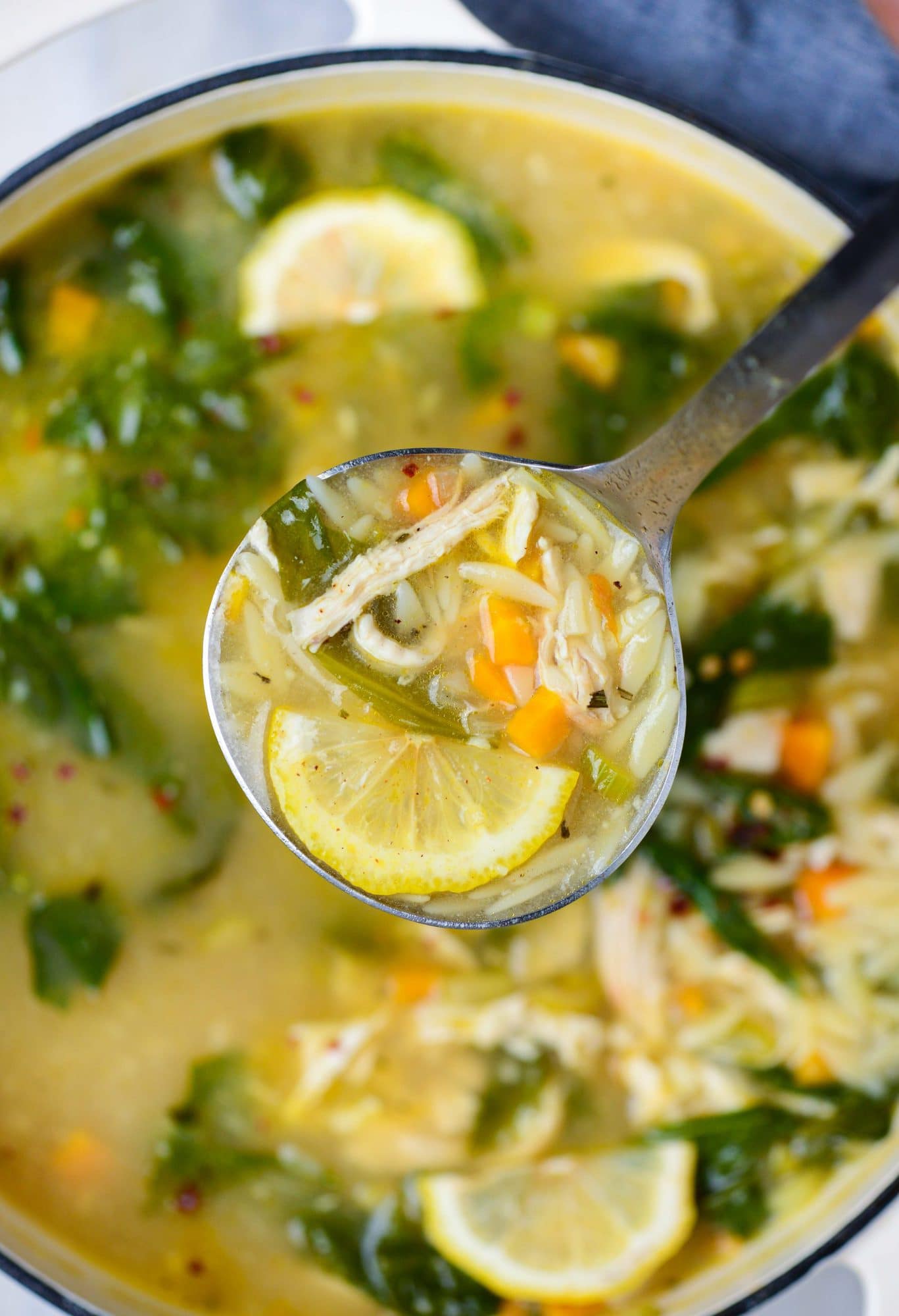 Lemon chicken orzo soup has
Flavours In Your Inbox
Subscribe for recipes straight to your inbox
Refreshing lemony flavor,
a heavy bodied flavor from the chicken and stock
soft texture of the orzo. It gets the umami flavor from sauteed onions and garlic along with celery and bay leaf.
Baby spinach, celery and other ingredients make this a very healthy soup with a host of nutritional benefits.
Moreover this soup has no cream.
When you are in the mood to get something healthy and refreshing, this serves up as an excellent dinner.
Orzo is a very popular and convenient pasta that can be used in a variety of soups. Orzo is a tiny rice-shaped pasta that is healthy, easy to quickly, and goes well in soups. It looks like rice, cooks faster than rice, and is softer. Whole wheat orzo is popular and is preferred as a health-conscious choice.
I like orzo very much and a reason why you will find quite a few orzo dishes especially soups that I have shared earlier. You can check out a few orzo dishes like –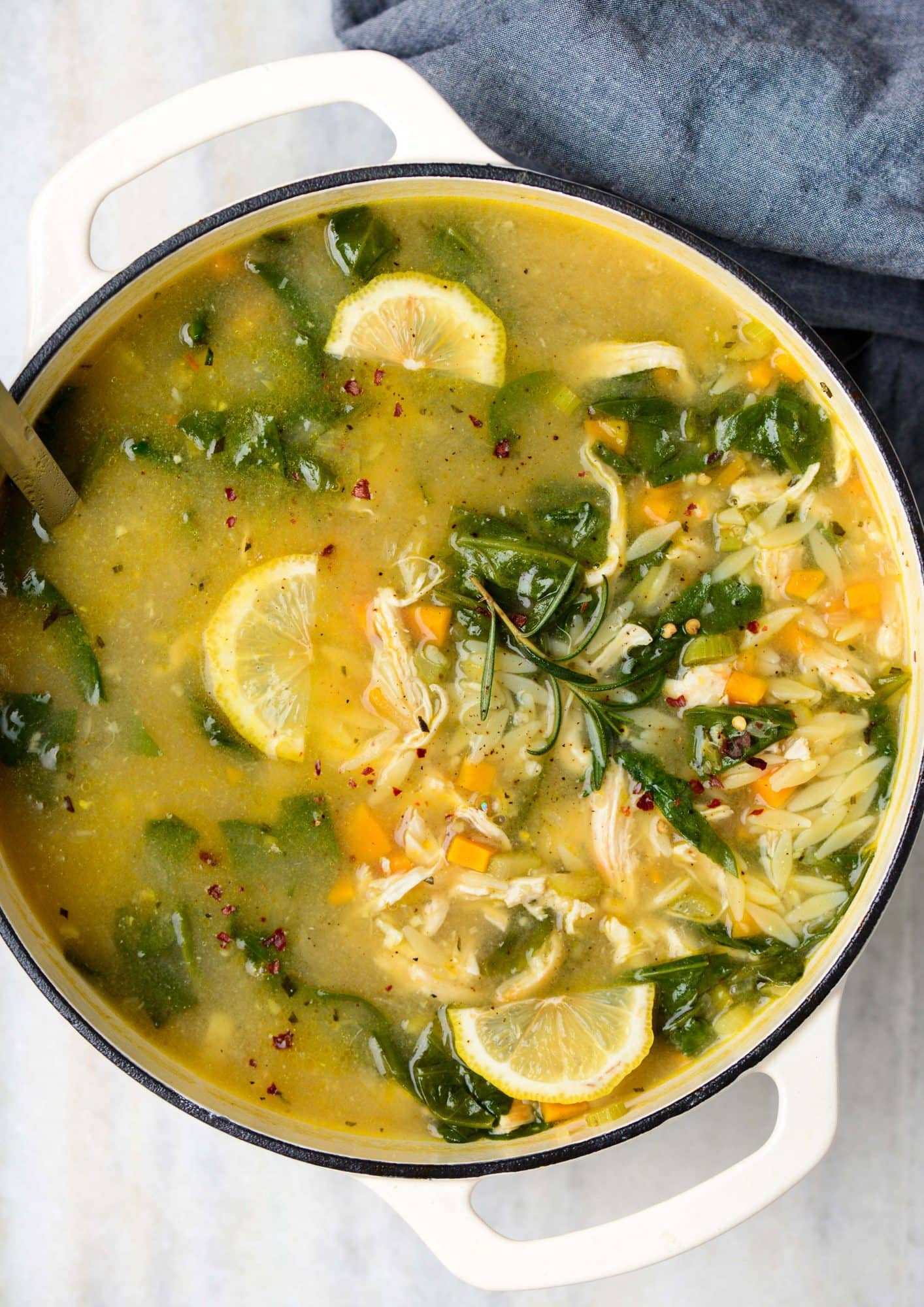 Ingredients
Boneless Chicken Breast – Chicken breast is easy and fast to cook in about 5 minutes.
Dry Orzo – Its rice-like look and soft texture make it ideal for soups. It cooks within 10 minutes and complements the chicken well. You can use whole wheat orzo if you are health conscious.
Chicken stock – adds body to the stock along with flavor and volume. You can use homemade stock or buy a good one from the stores.
Butter – Onions, garlic, carrots, bay leaf, and celery are sauteed in butter. Gives that extra flavor to cooked vegetables.
Baby Spinach – Wash spinach in running water and add to have something green and improve the flavor and health benefits of the soup.
Others – Diced onion, minced garlic for that umami flavor. Used fresh herbs like celery for a slightly peppery taste. Have added carrots as a vegetable since it becomes soft after cooking and give a sweet taste. Bay leaf is used as a spice.
Lemon Juice – To provide the lemony and citrus flavor and taste to the soup. You may add more or less depending on how lemony do you want to make it.
Oil – To cook the chicken breast before making the soup.
Seasoning mix – Used salt, black pepper, rosemary, and red chili flakes to create a seasoning for the chicken.
How to make Lemon Chicken Orzo Soup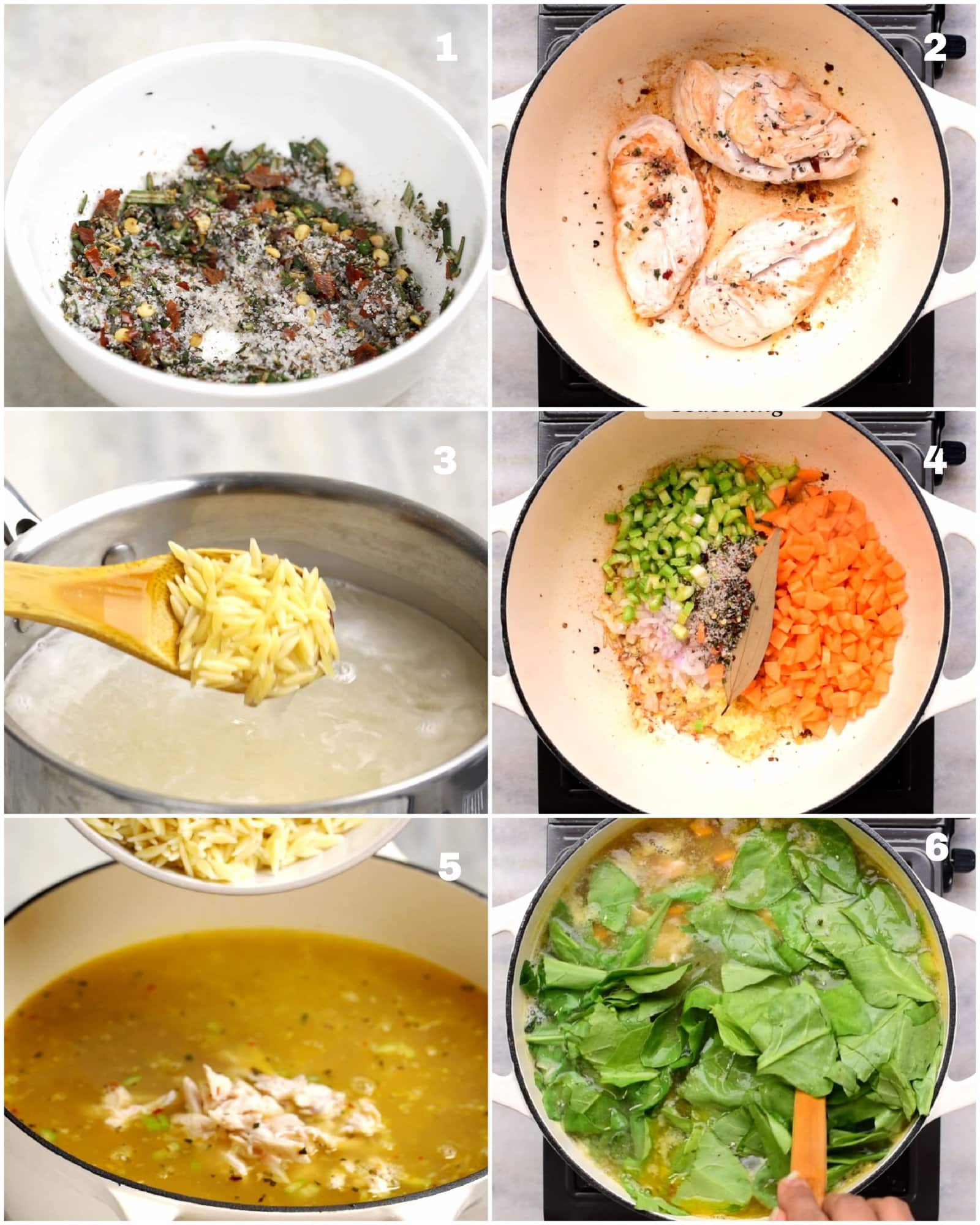 Make seasoning – As a first step, mix the ingredients to make the seasoning. Apply it on the chicken breast. As it is a dry seasoning, you need not keep it on for long aside and just cook the chicken breast soon.
Cook chicken breast – Next cook the chicken breast in oil in a Dutch oven. It takes just 3 minutes. Midway flip the breast. Shred the chicken breast and keep it aside to be added later to the soup.
Cook Orzo – Cook the orzo as per the package instructions. Strain the liquid and allow the orzo to cool.
Sauté vegetables and spices – Sauté the onion, garlic, celery and spices in butter in the same Dutch oven.
Add stock and orzo – Add chicken stock and cooked orzo to the Dutch oven and stir it with the cooked veggies and spices. Let is simmer for 5 minutes. You will need to stir it to not let the orzo settle down.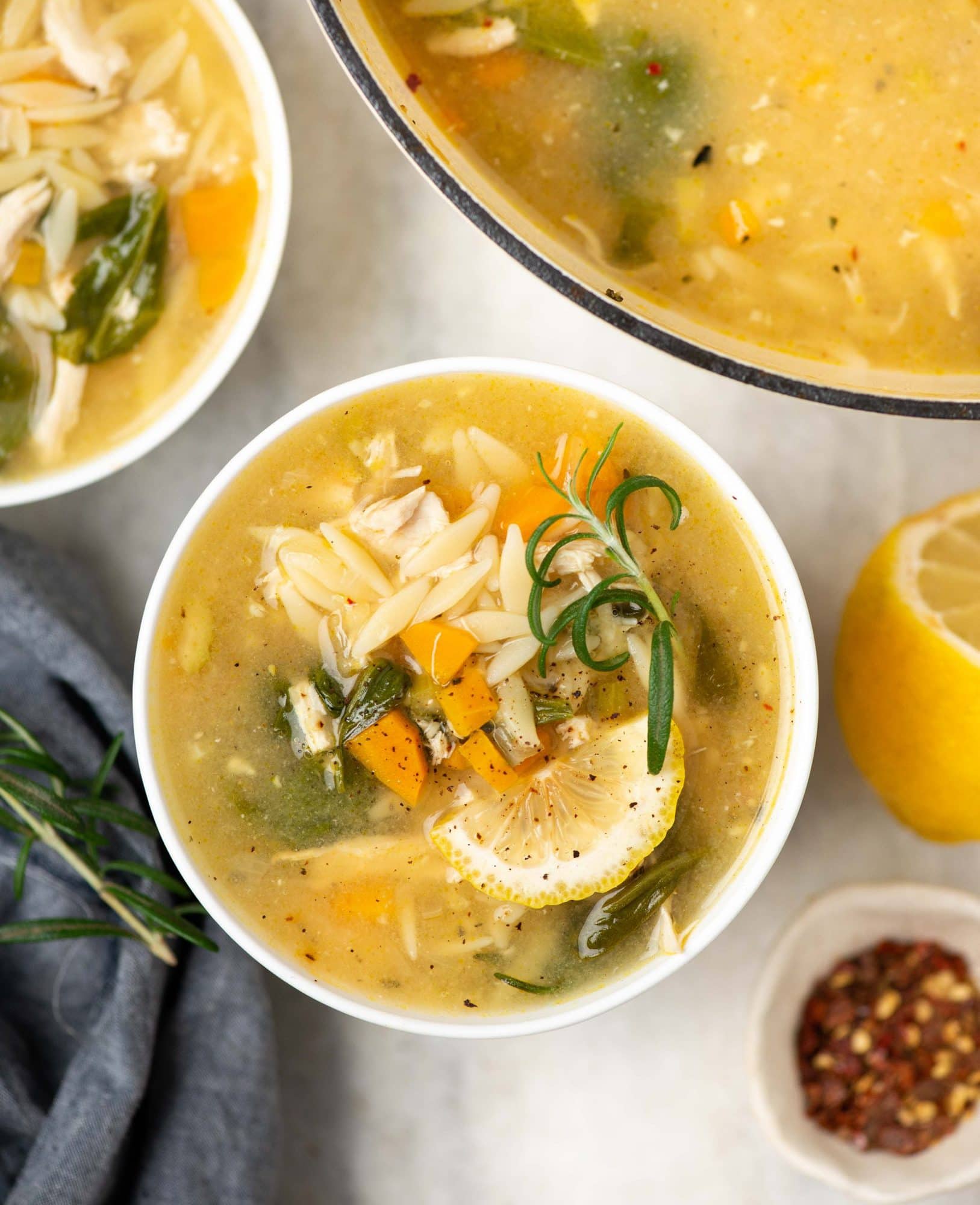 Tips & FAQ's
Do not overcook chicken breast – Chicken breast being a very tender and boneless part of the chicken tends to overcook very easily. It should take not more than 6 minutes and each side cooked for 3 minutes. A visual indicator to know when the breast is cooked each side it to check if it turns out. When it does, you should know that the chicken is cooked. Moreover it will also continue to cook a bit more when the soup is simmered.
Use leftover chicken – You may also use some leftover chicken from earlier and in that case, it need not be cooked at all and just needs to be added to the soup.
Can you use chicken thighs? – Yes, you can surely add boneless chicken thighs. It will need some extra time to cook than breasts as it is more tougher part of the bird.
More creamy? – To make the soup more creamy, you can add all-purpose flour to make it thick and creamy. Another option is to add some real cream.
Vegetarian? – To make this soup vegetarian, add tofu or paneer (cottage cheese) or white beans. These options are all super healthy and make a delicious veg soup.
Orzo – Prefereably cook Orzo separately and add it to the broth later. Cooking Orzo directly in the soup will require more stock. Another benifit of cooking Orzo separately is , you can make the soup in bulk and freeze it. Just before serving, heat the broth and add cooked Orzo to it.
Store
Lemon chicken orzo soup is best served immediately. If you still have to store it, do not worry. Orzo soup does well in the refrigerator for up to 4 days.
You should store the orzo separately and add it to the soup later while serving. Orzo tends to soak up the liquid in the soup swells and becomes mushy. Cook orzo and keep it separately in a zip-lock bag.
Store the soup separately in an air-tight container and refrigerate it. While taking out from the refrigerator, the soup would have become a lot denser and you will need to add some more chicken stock and stir it while reheating.
Serve With
While this itself is a full meal, you can serve it with rustic bread or a simple green salad.
Other Soup Recipes
Thai Chicken Coconut Soup (Tom Kha soup)
Slow Cooker Mexican Chicken Soup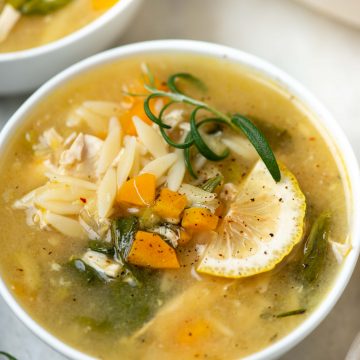 Lemon Chicken Orzo Soup
A light, refreshing and flavorful soup for any season. Chicken and orzo make it filling to eat and the lemony broth has loads of umami to be a delicious slurp.
Ingredients
2 medium Boneless Chicken Breast (roughly 1 pound)
1 cup Dry Orzo
2 tablespoon Butter
1 tablespoon Oil
1 small Onion diced
1 tablespoon Garlic minced
1 bayleaf
2 Carrots chopped
2 stalks Celery
7- 8 cups Chicken Stock
3-4 tablespoon Fresh Lemon Juice (adjust as per taste)
2-3 cups Fresh Baby Spinach
Seasoning
1 teaspoon Salt
1 teaspoon Black pepper
2 sprigs Rosemary leaves removed and finely chopped
pinch of red chili flakes adjust per taste
Instructions
Cook Orzo as per package instructions. Keep aside.

In a bowl add salt, black pepper, Rosemary and red chili flakes. Mix everything well.

In a dutch oven/ heavy bottom soup pot, add oil.

Arrange chicken breast in a single layer. Sprinkle little seasoning mix (made in step 2). Cook for 3 minutes.

Flip chicken and sprinkle a little more seasoning. Cook for another 3-4 minutes.

Remove chicken from the pot. Keep aside covered. After 10 minutes, using a fork, shred the cooked chicken breast.

To the same pot, add butter. Chopped onion, garlic, celery, carrot, bay leaf and rest of the seasoning(made in step 2). Saute for 2-3 minutes.

Add stock, shredded Chicken breast, cooked orzo. Give it a good mix. Simmer for 5 minutes. Stir it once in between, as the orzo might settle down at the bottom.

Stir in the spinach. Add lemon juice (start by adding 3 tablespoons lemon juice. You can always add more later if needed). Switch off the flame.

Serve.
Nutrition
Serving: 1serving | Calories: 471kcal | Carbohydrates: 45g | Protein: 35g | Fat: 16g | Saturated Fat: 5g | Polyunsaturated Fat: 3g | Monounsaturated Fat: 7g | Trans Fat: 1g | Cholesterol: 76mg | Sodium: 1401mg | Potassium: 1156mg | Fiber: 2g | Sugar: 12g | Vitamin A: 4555IU | Vitamin C: 11mg | Calcium: 58mg | Iron: 2mg