This post may include affiliate links that earn us a small commission.
There is something so satisfying about this Italian Chopped Salad. Fresh greens, tomatoes, and onions tossed in a light vinaigrette. A Simple salad that you can serve with any meal.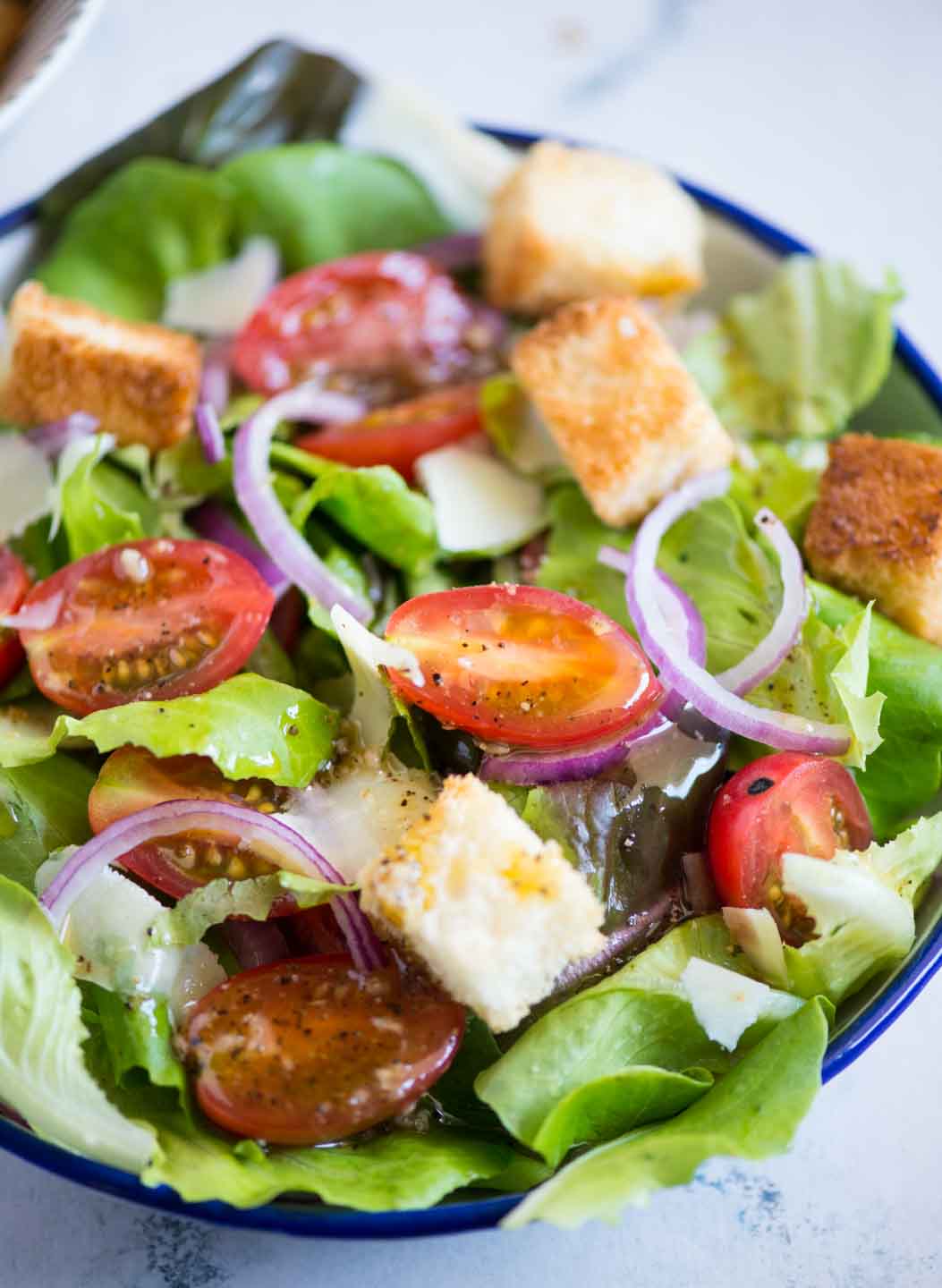 Italian Chopped Salad is easy to make and very versatile. You can serve it as a light lunch or a great dish with meat or fish. This salad is refreshing and loaded with fresh crunchy greens.
For instance, you can upgrade this simple chopped salad by adding whatever ingredients you fancy to your salad. This is one of the best and close to authentic Italian chopped salad recipes you can make.
Flavours In Your Inbox
Subscribe for recipes straight to your inbox
You would find the chopped salad in almost every restaurant in Italy. We ensured we were not limited to pizzas and pasta during our Italy trip. We explored a lot of local delicacies, including some amazing Italian salads.
A few of our memorable meals were Onion and beef stew, Ribollita, Bistecca Fiorentina (Florentine steak) in Florence, Risotto al Nero di seppia in Venice, and Risotto Alla Milanese in Milan. And with almost every meal, we had ordered a chopped salad or a Caprese Salad as a side. We loved it so much and wanted to make it at home and write a recipe on it on our return.
Check out these authentic dishes for recipes with Italian flavors – Italian Sausage & Orzo Soup, Pesto Pasta Salad, or Pasta Alla Norma (Eggplant pasta).
Regular vs. Chopped Salad
Regular and chopped salads are equally delicious and nutritious and do not vary in ingredients. They differ in preparation methods, presentation style, texture, and, most importantly, eating experience. Let's get into a few differences between them.
Preparation method – Chopped salads have ingredients that are chopped to even sizes and tossed around, so you get a taste of many ingredients in each spoonful. Regular salads follow a layering or composition approach where ingredients in their whole form are either layered or tossed together.
Texture – The small bite-sized pieces of the ingredients, mixed well, gives a homogeneous texture to the salad where you can fork multiple ingredients and get a feel of a bit of crunch, soft bites, and creaminess in a mouthful.
Taste – While you pick and sample one or more ingredients each time from a regular salad bowl, which changes the taste and contrasting flavors in each picking, chopped salads can get you the same flavors in each picking. This is because you can pick up bits of everything each time.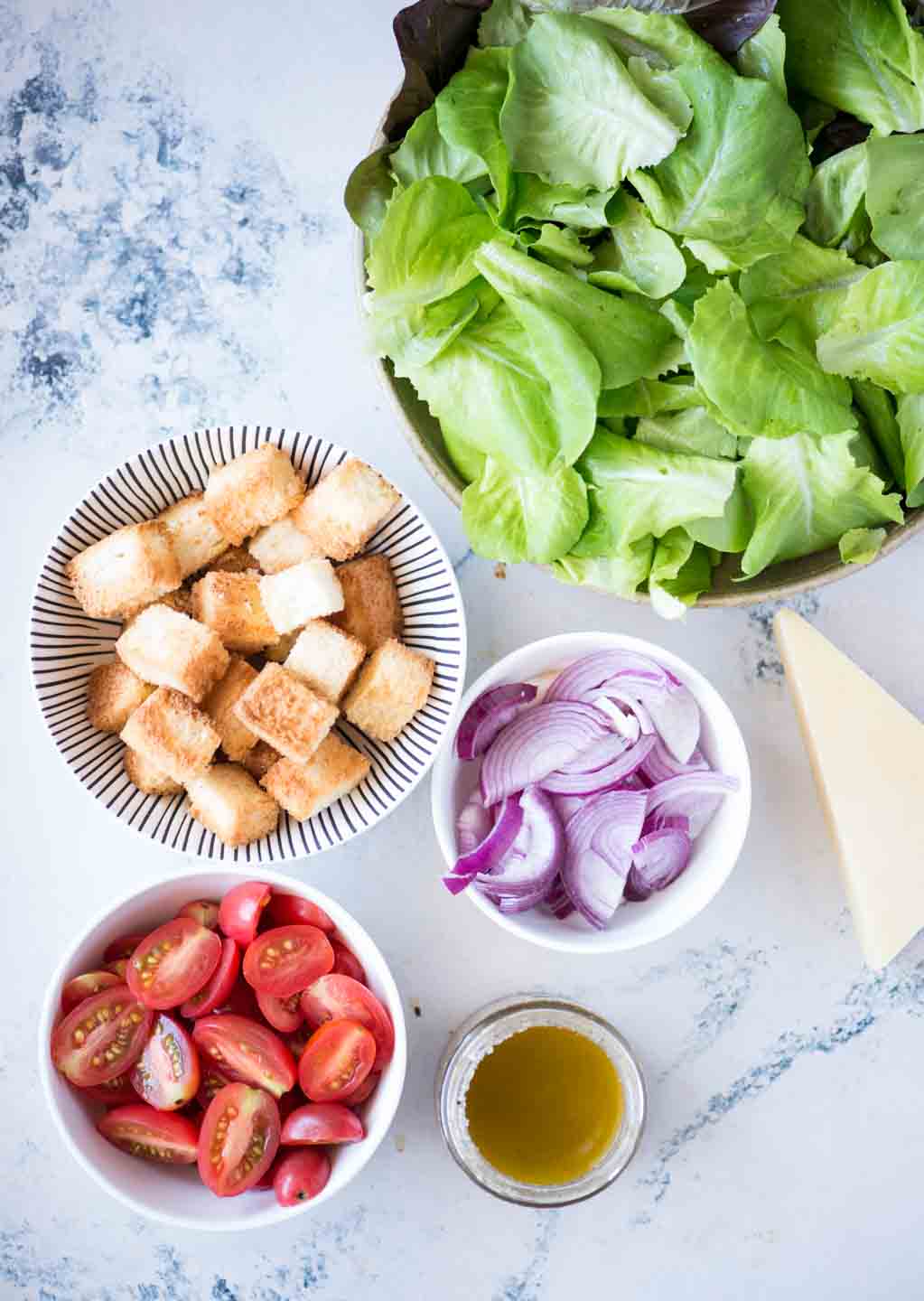 Ingredients needed For Italian Chopped Salad
Unlike the Italian salad recipes you would find online, a chopped salad recipe in Italy is really simple. It is just roughly torn greens like lettuce, arugula, and chunks of ripe pulpy tomatoes without any dressing. You can make at home a chopped salad as good as any that you will find in a restaurant.
Romaine – A variety of lettuce with narrow leaves that province a crisp bite.
Ripe cherry tomatoes – Ripe cherry tomatoes burst with flavor and add vibrant color and texture to the salad.
Onions – I prefer red onions for salads like this. You may also use white onions for more sweetness.
Cheese – Parmesan is my preferred choice for its saltiness and flavor.
But you can add many other ingredients and make it more filling. Here are a few ingredients you can add to your salad.
Olives – Give that Mediterranean flavor with its sourness.
Bread Crouton – For extra crunch in the salad
Peperoncini – Add heat to the salad.
Cucumber – For its freshness and crispness that also adds hydration.
For Italian Dressing
We will make a chopped salad here by making a flavorful Mediterranean dressing at home.
Olive oil – Use Extra-virgin olive oil, which tastes better and has higher quality. It serves as a rich and smooth base for the salad dressing.
Red wine vinegar – Adds a depth of flavor with its acidic and tangy notes.
Clove – Minced or sliced clove adds aroma and a savory taste.
Oregano – Key Italian herb for that characteristic taste of the region.
Dried basil – Brings herby notes to the dressing.
Pepper – For flavor and a bit of heat.
Sugar – To counteract all the acidity and tangy tastes in the dressing.
Salt – Balances and helps other flavors pop out.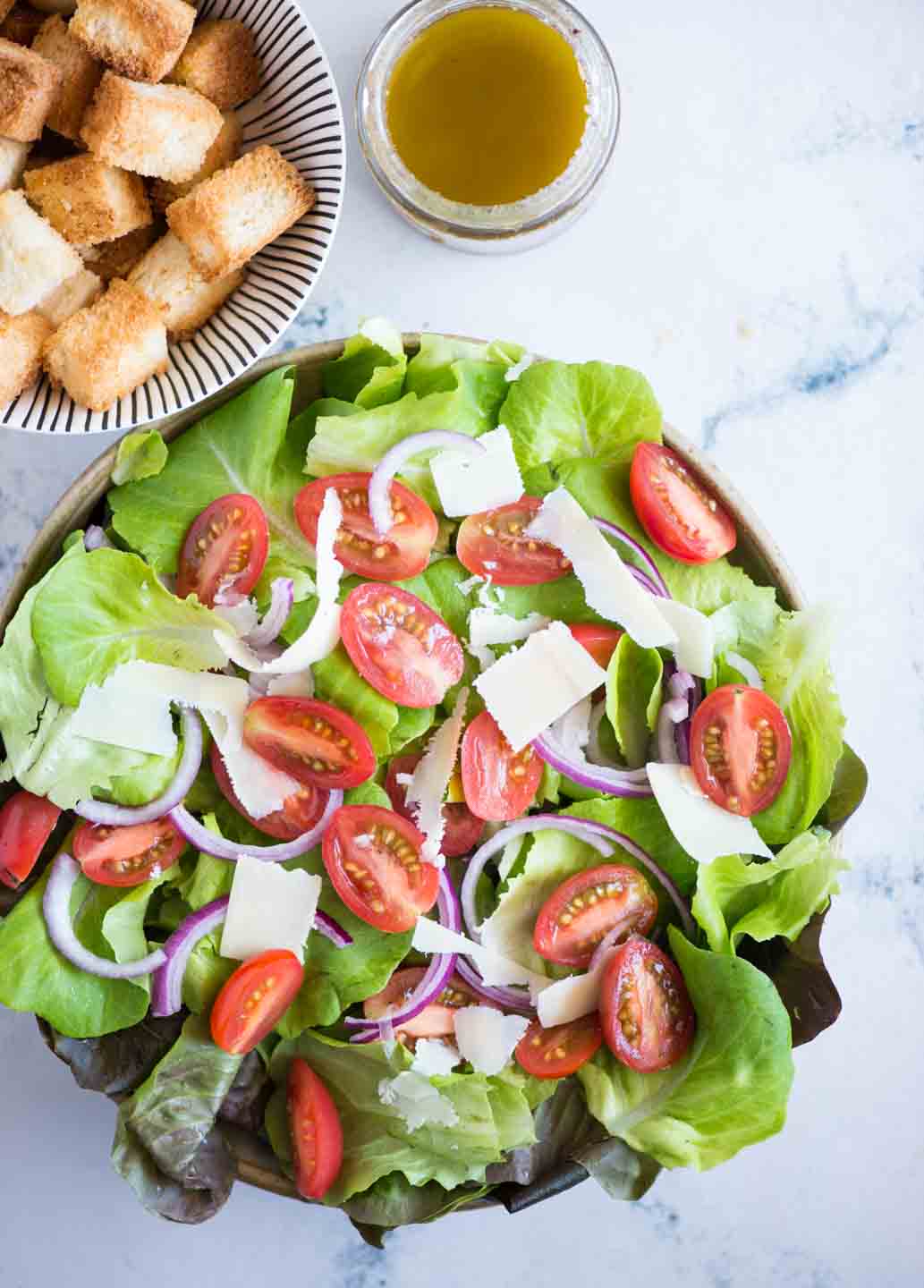 How to make
Salad Dressing
Add the Olive oil, red wine vinegar, clove, oregano, and dried basil in a small bowl. Sprinkle the pepper, sugar, and salt. Mix everything well with a whisk. You can change the amounts of the ingredients based on your taste preferences.
Chop and toss
You may choose to chop the romaine lettuce or roughly tear them up with your fingers. Chop the cherry tomatoes into halves or quarters, if you prefer. Slice the onions.
You can break parmesan cheese into small, rough-sized pieces or grate them and sprinkle them over the salad.
Assemble everything into a large bowl. Drizzle the salad dressing and sprinkle the parmesan. Toss it well and serve.
Storage instructions
You can refrigerate the salad for up to 3 days. It is recommended to store the dressing separately and add it to the salad before serving.
Cover the chopped ingredients of the salad with plastic wrap or shift them to an air-tight container. You can store the salad dressing in a jar. Before serving, shake the ingredients of the jar to allow the oil and vinegar to combine if they would have separated.
Serve with
Let this chopped Italian salad's fresh and vibrant flavors shine along with other mains.
More Salad Recipes
If you prefer eating salad for lunch, try my chicken or pasta salads which are very fulfilling – Avocado Chicken Salad, Za'atar Spiced Chicken Salad, or Greek Tortellini Pasta Salad.
Easy and Zesty Quinoa Salad – Quinoa, vegetables, and feta cheese with an olive oil vinaigrette.
Fall Roasted Sweet Potato Salad – A pecan and soft feta sprinkled over the garlic and Dijon mustard dressing.
Cucumber Strawberry Salad – The freshness of cucumber and the sweet juiciness of strawberry make a great combo.
Lemon Dill Potato Salad( No Mayo) – Dill leaves sprinkled over another toss of herby, lemony dressing, and potatoes.
Cold Tuna Pasta Salad – an easy summer salad that is healthy with the goodness of tuna, macaroni, olive oil, and veggies.
Arugula Salad with Roasted Beetroots – A delicious balsamic dressing makes the fresh arugula and roasted beetroot shine.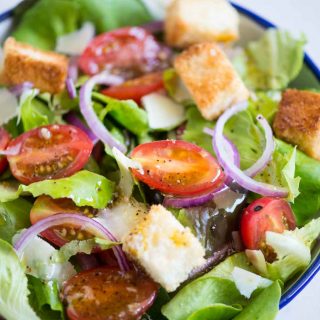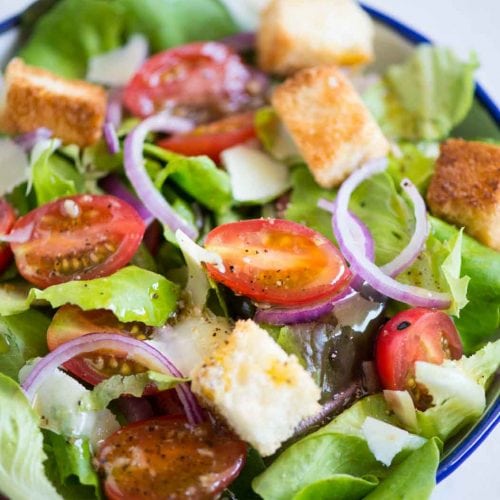 Italian Chopped Salad
This Italian Chopped Salad is refreshing and a perfect side dish for any meal. With very basic ingredients this is my favourite salad at any time of the year.
Ingredients
4 cups Romaine
1 cup Ripe Cherry Tomatoes cut into halves
½ cup Sliced red onion
1 cup Homemade Croutons (optional)
Parmesan Cheese to serve
For Italian Dressing
2 tablespoon Olive Oil
1 tablespoon Red wine Vinegar
1 Garlic Clove
½ teaspoon dried Oregano
½ teaspoon dried basil
¼ teaspoon Pepper
1 teaspoon Sugar
Salt to taste
Instructions
In a glass container add all the ingredients mentioned under salad dressing. Close the lid and shake well until everything is mixed well.

Toss Romaine, tomatoes and onions in a salad bowl along with the desired amount of dressing.

While serving top it up with freshly grated parmesan cheese and croutons(if using)
Nutrition
Serving: 1g | Calories: 183kcal | Carbohydrates: 13g | Protein: 3g | Fat: 14g | Saturated Fat: 2g | Sodium: 19mg | Potassium: 453mg | Fiber: 3g | Sugar: 7g | Vitamin A: 8552IU | Vitamin C: 24mg | Calcium: 62mg | Iron: 2mg