Avocado Chicken Salad with a refreshing herb vinaigrette is loaded with fresh veggies, roasted chicken, and creamy Avocado. It is crunchy, creamy, and a really filling salad.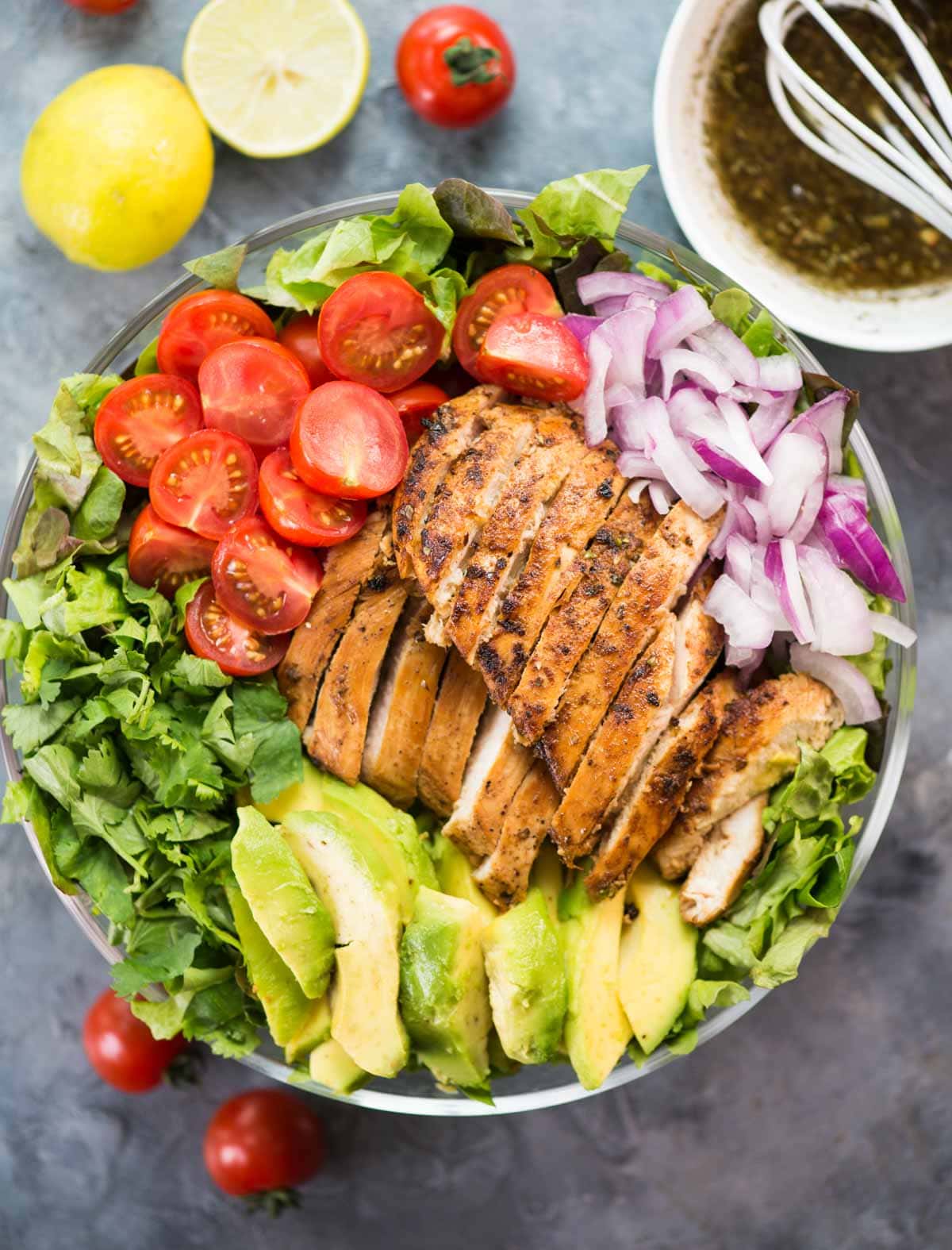 With Crunchy, creamy and full of fresh ingredients, this Avocado Chicken salad is anything but boring. The zippy Lemon herb dressing brings the the salad together. This salads works very well as a side and also a meal in itself.
Fresh seasonal tomatoes, onion, greens, creamy avocado, fresh cilantro, and grilled chicken, make this salad really filling and healthy.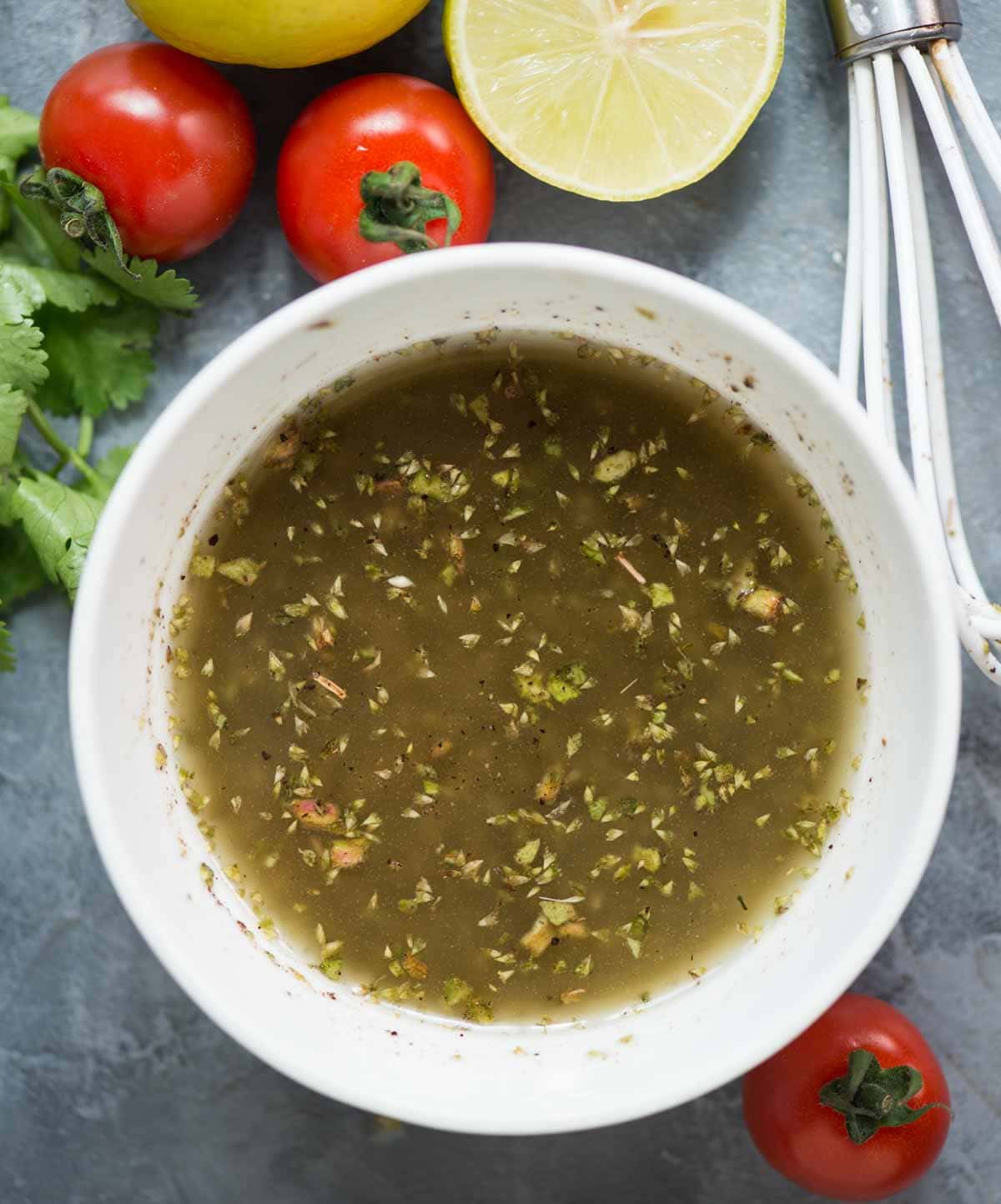 2 in 1 Lemon-Herb Dressing
If there is one thing that brings life to a salad, then it is the dressing. A well-balanced dressing is something that binds all the components of the salad. The dressing is very easy to make with a handful of ingredients. It is tangy with a refreshing note to it.
For the dressing you need
Olive Oil
Red wine vinegar
Lemon Juice
Minced Garlic
Oregano
Salt and pepper
Sugar
This vinaigrette work both as a dressing and to marinate the chicken.
This stay well for days in the refrigerator.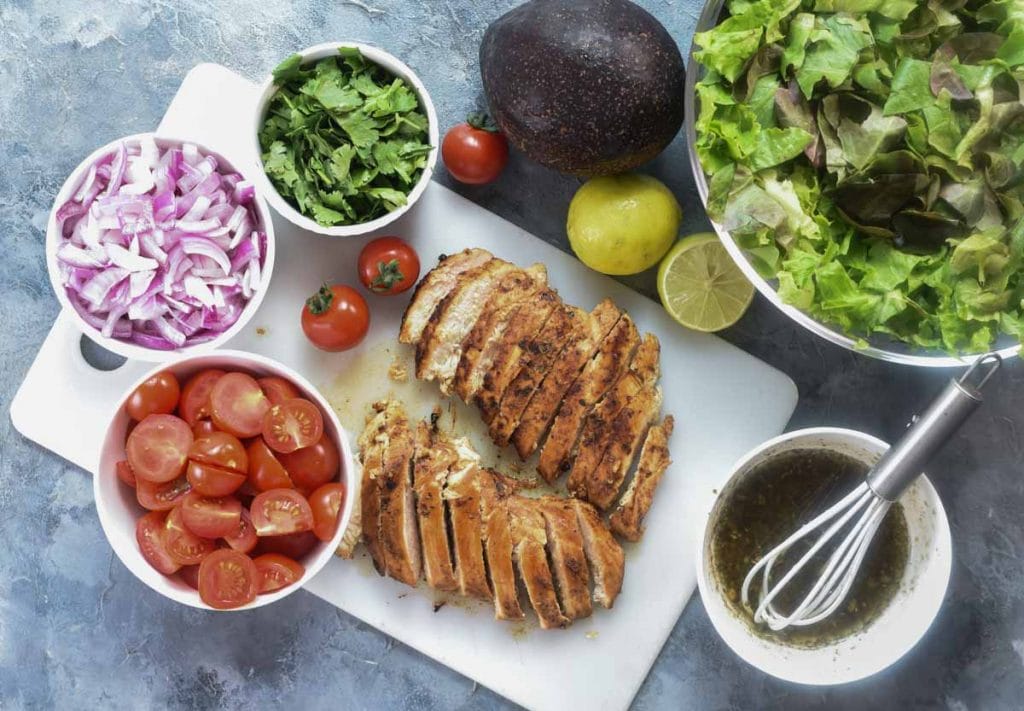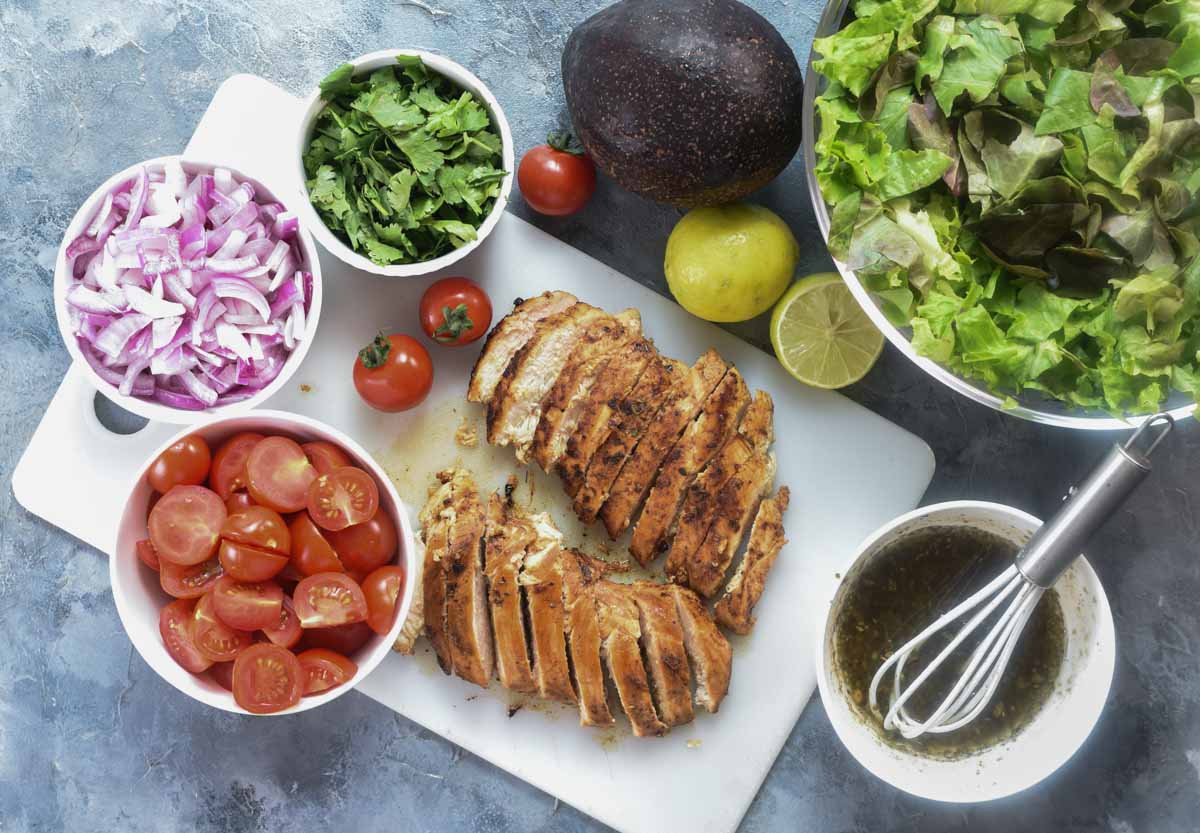 Tips To Make a Good Avocado Chicken Salad
Salads actually taste amazing when it is done the right way. Keep in mind a few things when you are making a salad next time and you will see the difference.
Salad Dressing - This herbed vinaigrette is really good and refreshing.
Salad greens - Greens give body to a salad.

If you have been adding iceberg lettuce to the salad and blaming the salad to be tasteless, then it is not. The last thing you want is your salad to taste watery.
Use a variety of greens like Romanian, lollo rosso, Batavia, Oak lettuce, Spinach, arugula. A mix of greens adds more texture and taste to a salad. Tear them into bite-size pieces.
If you are washing your greens before use, make sure you drain all the water, else the salad would turn watery. I rinse the greens under the running tap and then spread it on a clean kitchen towel for air drying.

Veggies - Always garden-fresh crunchy veggies for a salad, else your salad is going to be lifeless.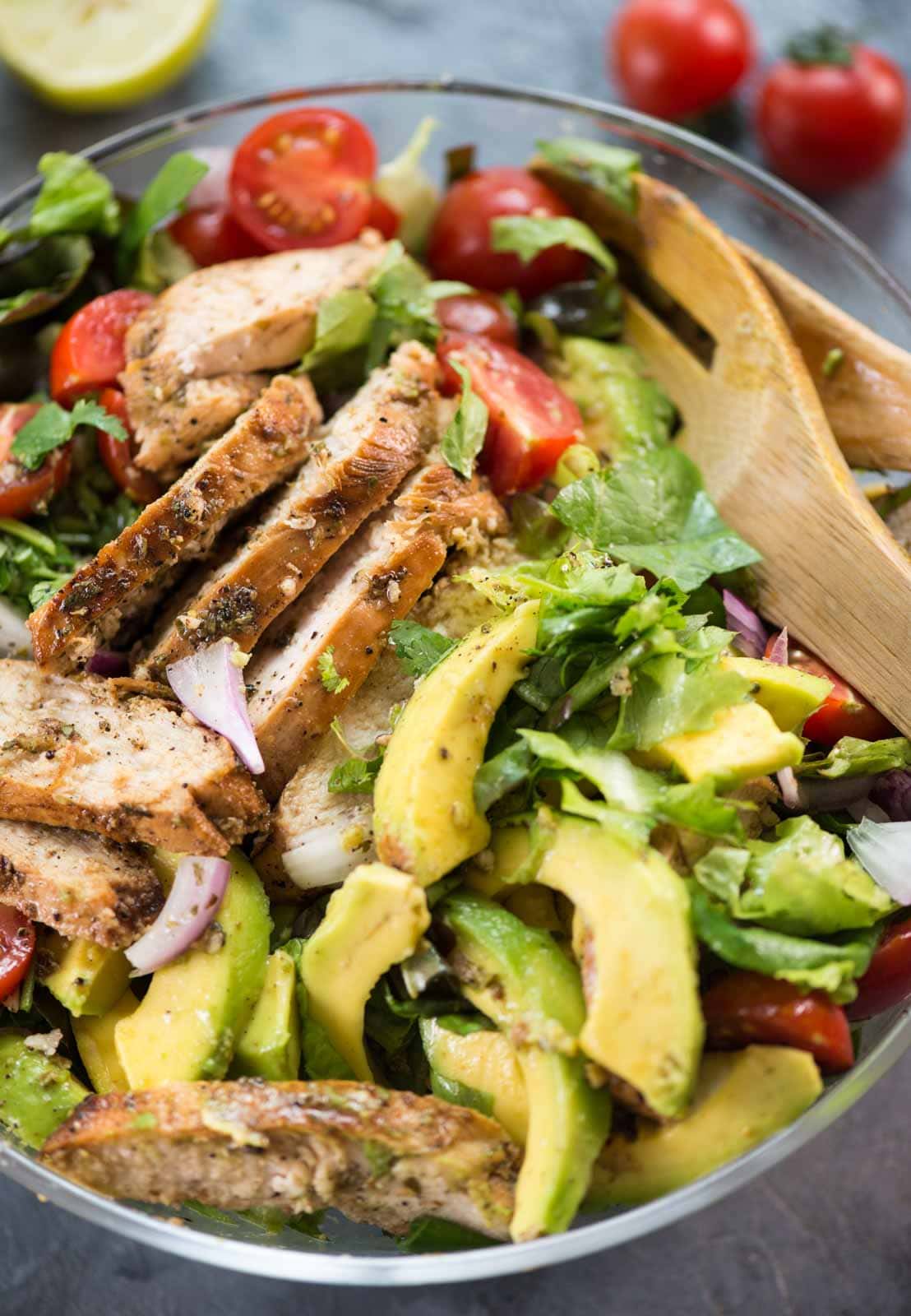 Advance Prepping and Storage of Chicken Salad with Avocado
The good thing about salad is they can be prep ahead. This Avocado Chicken Salad is no different.
I store the components in separate containers. Prep all the veggies and cut. In an airtight container place a kitchen towel at the bottom and keep the greens, cilantro, and tomatoes. Chop the onions and avocado just before servings. Store cooked chicken and dressing in different containers as well.
Once you add the dressing the salad stay well for 30-45 minutes max, then the greens will start to wilt and gets soggy.
More Salad Recipes...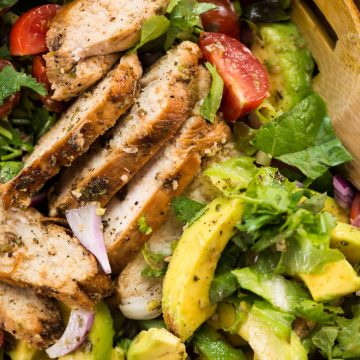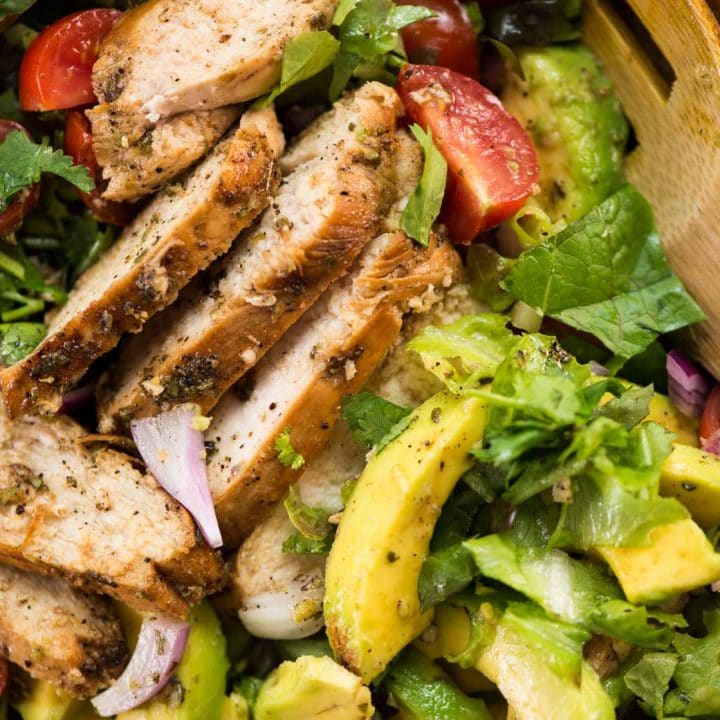 Ingredients
4

cups

Assorted salad greens

2

medium

Boneless chicken breast

250

grams

Cherry Tomatoes

1

medium

Onion

chopped

⅓

cup

Cilantro leaves

chopped

2

Avocado

1

teaspoon

Smoked paprika
For Salad Dressing
⅓

cup

olive oil

2

tablespoon

Red wine vinegar

1

tablespoon

lemon juice

1

teaspoon

dried oregano

½

teaspoon

dried basil

½

teaspoon

black pepper

1

teaspoon

salt

2

teaspoon

Sugar

1

clove

garlic

minced ( about 1 teaspoon of minced garlic)
Instructions
Make the salad dressing
In a jar add all the ingredients mentioned under dressing. Close the lid and shake well.
Grill Chicken
Add 2 tablespoon of dressing, smoked paprika to the chicken. Let it rest for 10-15 minutes.

Then heat a cast-iron skillet, cook chicken until done. It should take 4-5 minutes on each side depending on the thickness.

Take out the chicken when done, keep it on a plate and cover with a foil. Let it rest while you do the rest of the steps.
Assembling Salad
In a big salad bowl add the chopped greens, halved cherry tomatoes, Onion, sliced avocado, and cilantro.

Cut chicken add it to the salad. Drizzle the dressing and toss everything well.
Notes
You can also add veggies like cucumber, red bell pepper to the salad. 
Nutrition
Serving:
1
serving
|
Calories:
322
kcal
|
Carbohydrates:
16
g
|
Protein:
27
g
|
Fat:
18
g
|
Saturated Fat:
3
g
|
Trans Fat:
1
g
|
Cholesterol:
72
mg
|
Sodium:
733
mg
|
Potassium:
1056
mg
|
Fiber:
8
g
|
Sugar:
4
g
|
Vitamin A:
983
IU
|
Vitamin C:
25
mg
|
Calcium:
46
mg
|
Iron:
2
mg