This post may include affiliate links that earn us a small commission.
This Red Velvet Mug Cake is airy, ultra moist, and tastes just like the regular oven-baked red velvet cake. Topped with cream cheese frosting, this eggless microwave mug cake is ready in less than 10 minutes.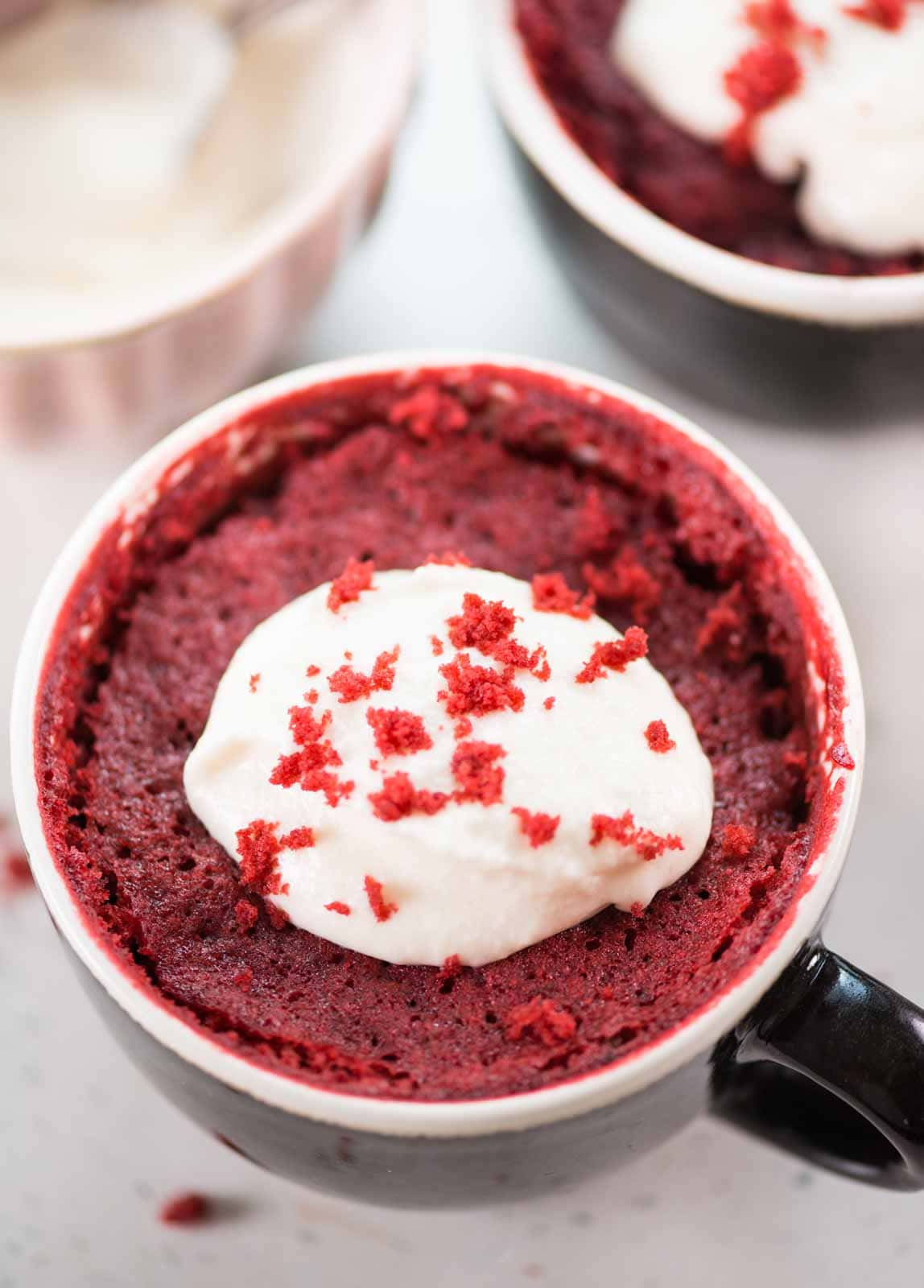 Everyone's favorite Red velvet cake in a mug, and made in a microwave in 90 seconds. And not to forget the quick cream cheese frosting, which makes this red velvet mug cake complete.
Flavours In Your Inbox
Subscribe for recipes straight to your inbox
Trust me, after tasting this version, I might not even go back to the oven-baked one, because who has the time and patience to make a full cake. The crumb is really moist, light, and tastes exactly like red velvet cake.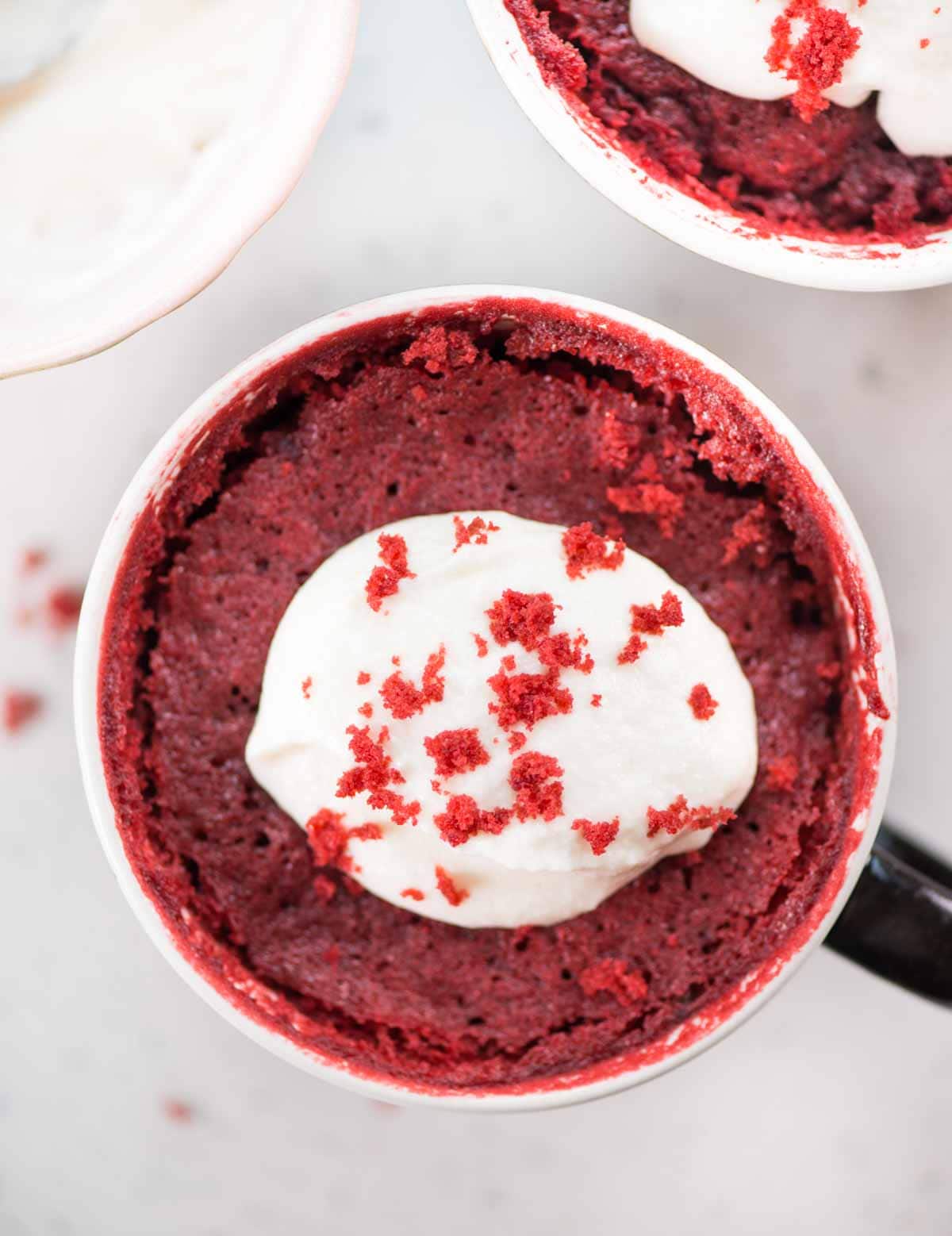 What do you need for Red Velvet Mug Cake?
This recipes calls for all the ingredients that a red velvet calls for except the egg. It is eggless and can also be made as vegan.
Dry ingredients
Flour
Cocoa Powder
Sugar
Baking Powder
Baking Soda
pinch of salt
Wet Ingredients
Buttermilk ( Substitute available in the recipe)
Butter ( For vegan version replace any neutral Oil)
Vanilla extract
Red food coloring
Making Red velvet Mug cake In The Microwave
Like any cake recipe, we will make it in 2 steps.
Add all the dry ingredients first. Mix it until lump free.
Next add all the wet ingredients. Mix everything until you get a smooth batter.
Microwave the mug cake for the specified time. Let it cool down a little bit and meanwhile make the cheesecake frosting.

Few helpful tips for Microwave Mug cake
Keep all the ingredients at room temperature.
Measure the dry ingredients properly. Loosely fill the measuring cup/spoon. If you are scooping out directly from the container, make sure you don't fill the measuring spoon/cup tightly, else the amount of dry ingredients would be too much and the batter would turn out dry.
Make sure the cup is just half-filled with the batter. When microwaved the batter will rise considerably, so if the cup is filled more than half, it might spill. If the cup seems small, then divide the batter into two containers and microwave.
Make sure you use a food-grade color. I know most of us want to avoid artificial color, but a few drops of color once in a while wouldn't do any harm.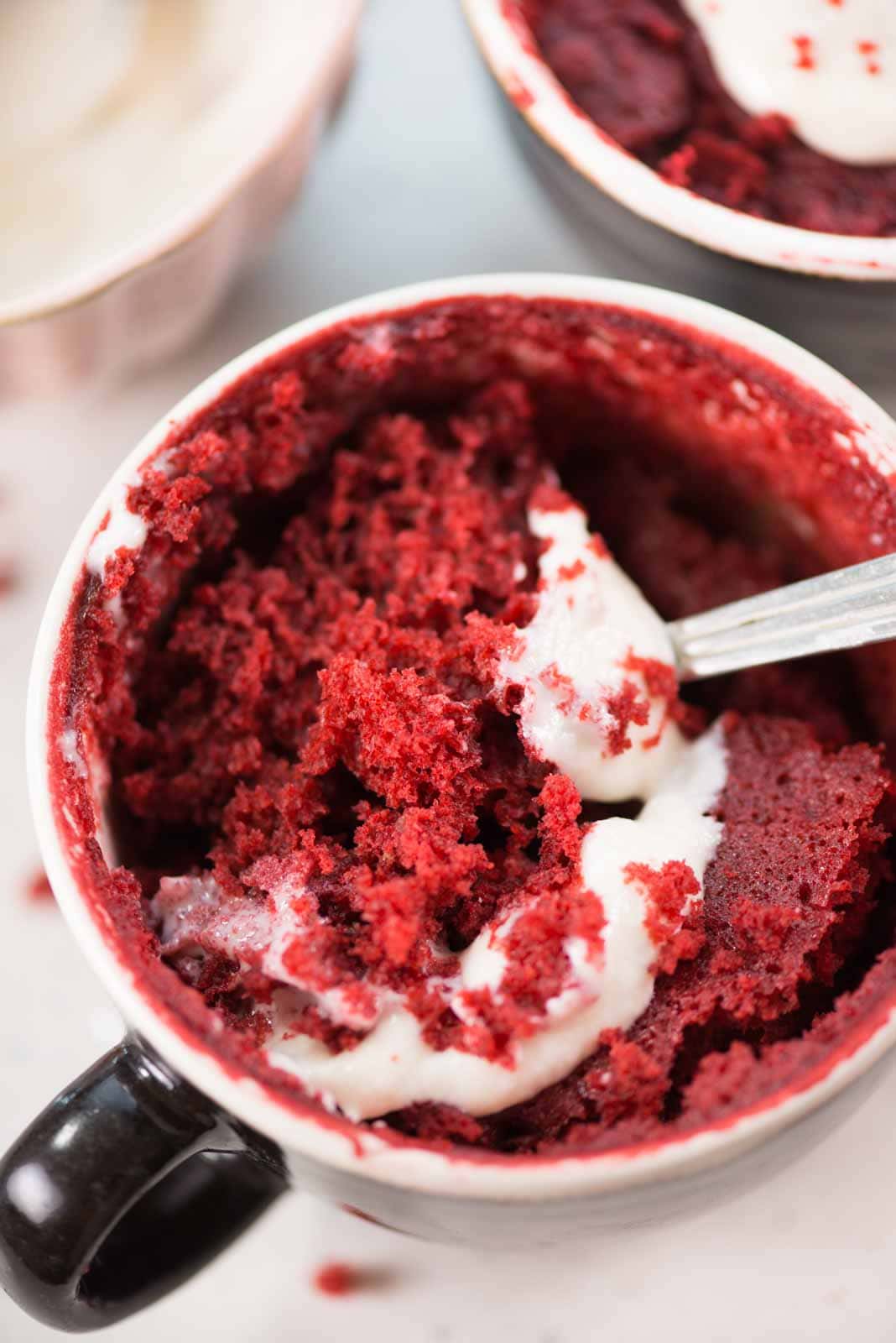 More easy Microwave Mug cake Recipes…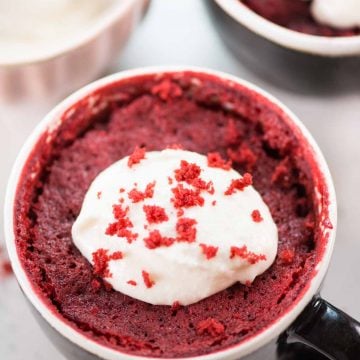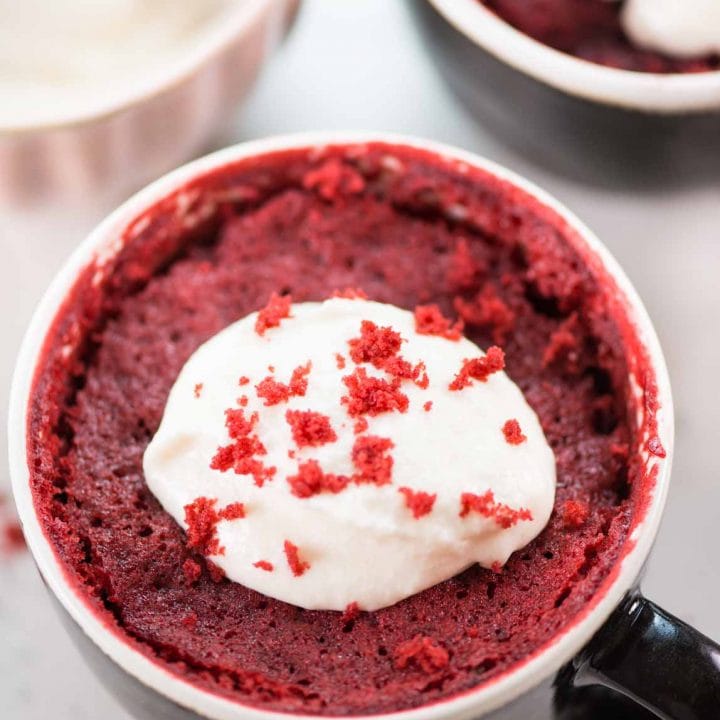 Red velvet mug cake
Moist and airy red velvet mug cake made in 90 seconds in the microwave. It is topped with a quick cream cheese frosting.
Ingredients
⅓ cup All-purpose flour
1 teaspoon Cocoa Powder
2 tablespoon Sugar
½ teaspoon Baking powder
¼ teaspoon Baking Soda
pinch of salt
¼ cup Buttermilk (ref note 1)
2 tablespoon Melted butter (ref note 2)
¼ teaspoon Vanilla extract
⅛ teaspoon red food color (ref note 3)
Creamcheese Frosting
1 tablespoon cream cheese (heaping tablespoon) at room temperature
1 teaspoon heavy cream
1 teaspoon castor sugar
Instructions
In a microwave-safe mug, add all the dry ingrdeints. Whisk with a fork and mix well.

Add all the wet ingredients to the dry mix. Make a lump-free batter. (ref note4)

Microwave for 90 seconds at full power. (ref note 5)

Let the mug cake cool down a bit.

While the cake is cooling down, whisk cream cheese, heavy cream, and sugar until light and fluffy.

Once the cake has cooled down a bit top it with cream cheese frosting.
Notes
If you don't have buttermilk, to 1/4 cup of milk add 3/4  teaspoon of vinegar. Let it sit for 5-8 mins. The milk will curdle. 
For a vegan version, replace butter with oil.
 The amount of food colour depends on the type. If you are using gel colour a very small quantity would be enough. In the case of liquid food colour, you would need about 1/8 teaspoon. 
Make sure the cup is only half-filled with the batter, else it might spill while baking. If you don't have a big enough cup, divide the batter into two cups. 
Every microwave is different. Cook it in Microwave mode. After 1 minute check the mug, if you see the batter is pulled away from the sides and top looks firm, then it is done.  Else bake for 10-15 seconds more. 
Nutrition
Serving: 1g | Calories: 572kcal | Carbohydrates: 65g | Protein: 8g | Fat: 32g | Saturated Fat: 20g | Trans Fat: 1g | Cholesterol: 90mg | Sodium: 588mg | Potassium: 375mg | Fiber: 1g | Sugar: 32g | Vitamin A: 1067IU | Vitamin C: 1mg | Calcium: 188mg | Iron: 2mg