Greek Tortellini Pasta Salad
This post may include affiliate links that earn us a small commission.
Hearty cheese-filled tortellini pasta and tons of fresh veggies are tossed in a Greek-inspired salad dressing. This fresh Tortellini Pasta salad will be your favorite meal/side dish all summer.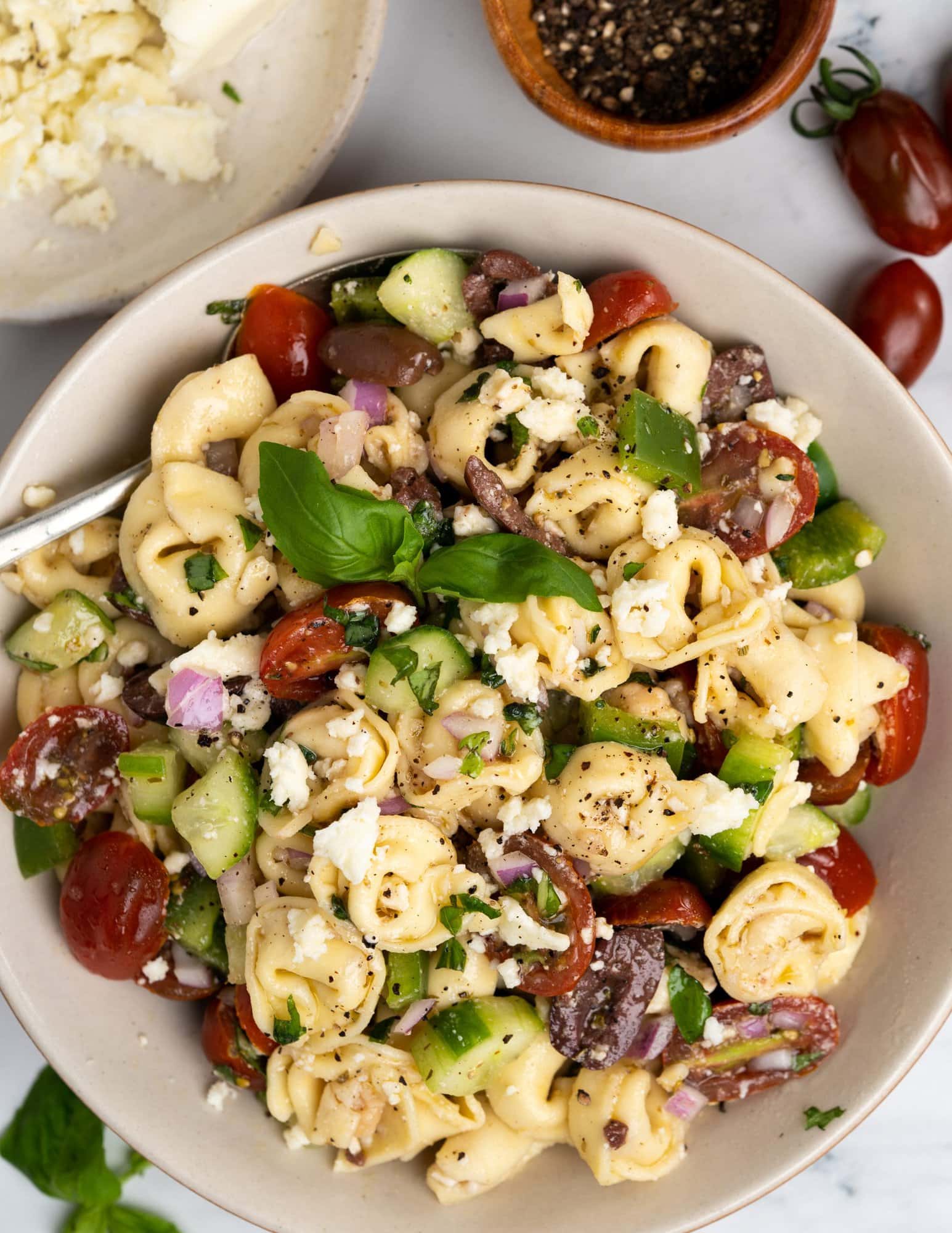 What's not to love about this Greek Tortellini Pasta Salad? Cheesy-filled pockets of tortellini pasta, plenty of fresh veggies, Kalamata olives, salty, creamy feta, everything tossed in a zesty Greek vinaigrette. Every bite is a burst of freshness. Take it to BBQ parties or summer cookouts, or make it for yourself when it's too hot to cook an elaborate meal.
The Greek-inspired salad dressing has tangy and Mediterranean flavors that perfectly complement tortellini and vegetables. The usual ingredients in the dressing are Olive oil, red wine vinegar, lemon juice, garlic, dried oregano, sugar, and a dash of salt and pepper. These combine to form a zesty, herbaceous dressing that unites the entire salad.
Flavours In Your Inbox
Subscribe for recipes straight to your inbox
It is super easy to make this salad, and the best part is you can make/ prep it well ahead of time. The flavors will only get better with time. You can double/triple the quantity if you plan to make it for a crowd. Add some grilled chicken to make it a more filling and complete meal.
For more Greek-inspired recipes, check out Baked Greek Potato Wedges, and Artos: Greek Celebration Bread.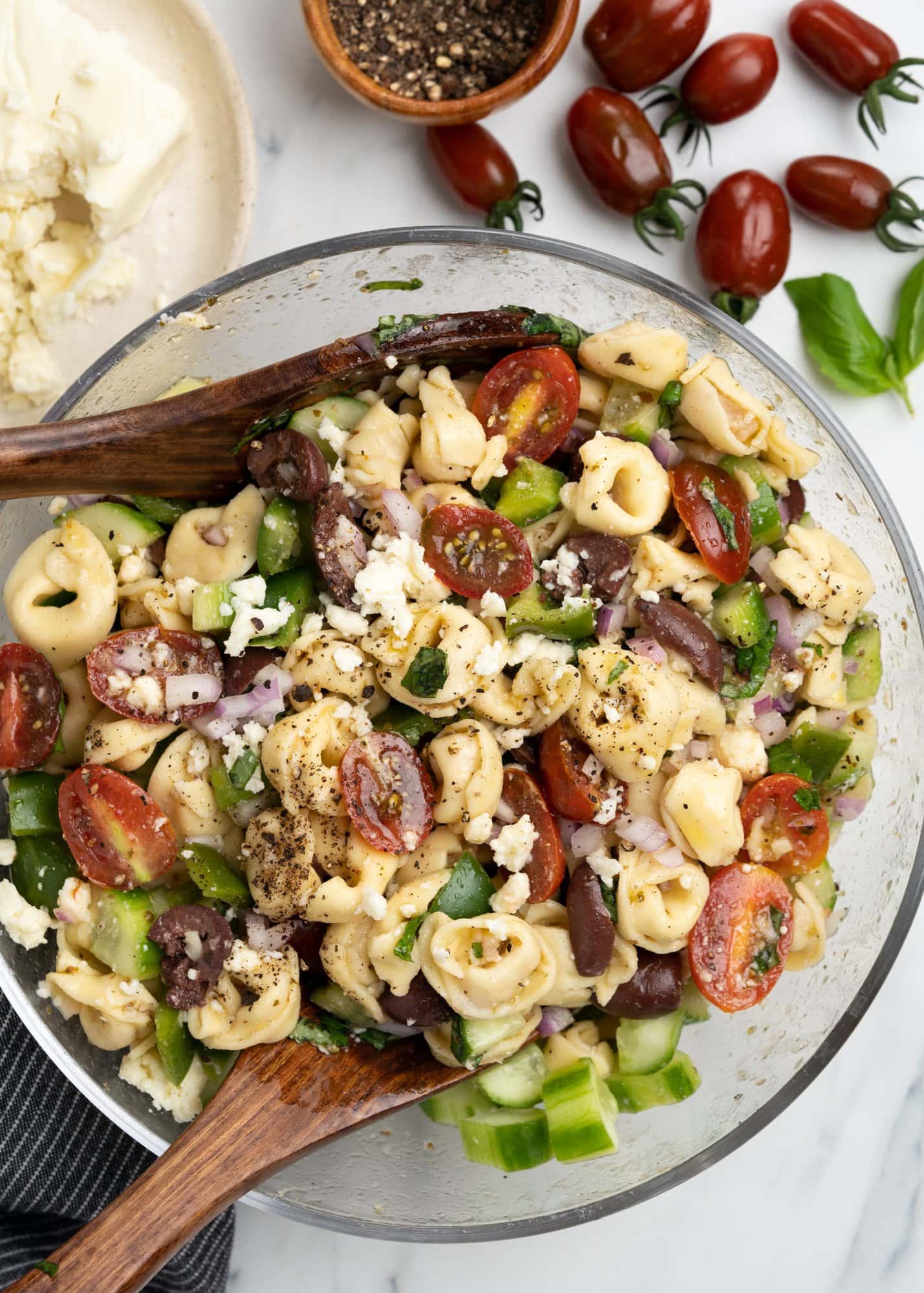 What tortellini is best for pasta salad?
Tortellini is a kind of stuffed pasta. Think of these as ravioli, but they are smaller and different shapes. Tortellini comes in various stuffings like a mix of meat and cheese (e.g., prosciutto, mortadella, parmesan) or filled with only cheese and egg mix.
These soft pillowy pasta can be made fresh. You can also find them in the refrigerator section, freezer, or get dried ones.
If you prefer eating pasta salad for lunch, I have a Ricotta Pasta Salad with a mild, sweet ricotta cheese that's healthier than other cheeses. You can try my other pasta salads, which are very fulfilling – Corn Pasta Salad with pasta and corn, Creamy Tuna Pasta Salad – a summer salad with the goodness of tuna, or Pesto Pasta Salad with the characteristic herby flavor of pesto.
Ingredients For Greek Tortellini Pasta Salad
Tortellini– The delicate tortellini provides a soft bite, and any kind will do. You can use fresh ones from the refrigerator section or even dried ones. Just cook as per the package instruction and use.
Veggies- I have used cucumber, green bell pepper, cherry tomatoes & red onions. Artichokes, red bell peppers, or fresh seasonal veggies like summer squash will also do. The mix of vegetables provides a mix of color and texture.
Basil – For herbaceous, fresh flavor. Flat-leaf parsley is another great option.
Olives- Pitted Kalamata olives for this Greek Salad. We love the briny notes of the olives. Green or black olives can also be used here.
Feta- Creamy, salty feta gives a touch of richness when sprinkled on top.
For Greek dressing
The Greek vinegarette is what brings life to the salad. It is tangy, herby, and relatively easy to make. Olive oil gives a flavorful body to the dressing. Red wine vinegar gives that distinct tangy Mediterranean flavor. Shake together all dressing ingredients in a jar until it looks creamy.
Sugar in the dressing balances the seasoning, but you can't taste it.
The vinegarette can be made in advance and refrigerated.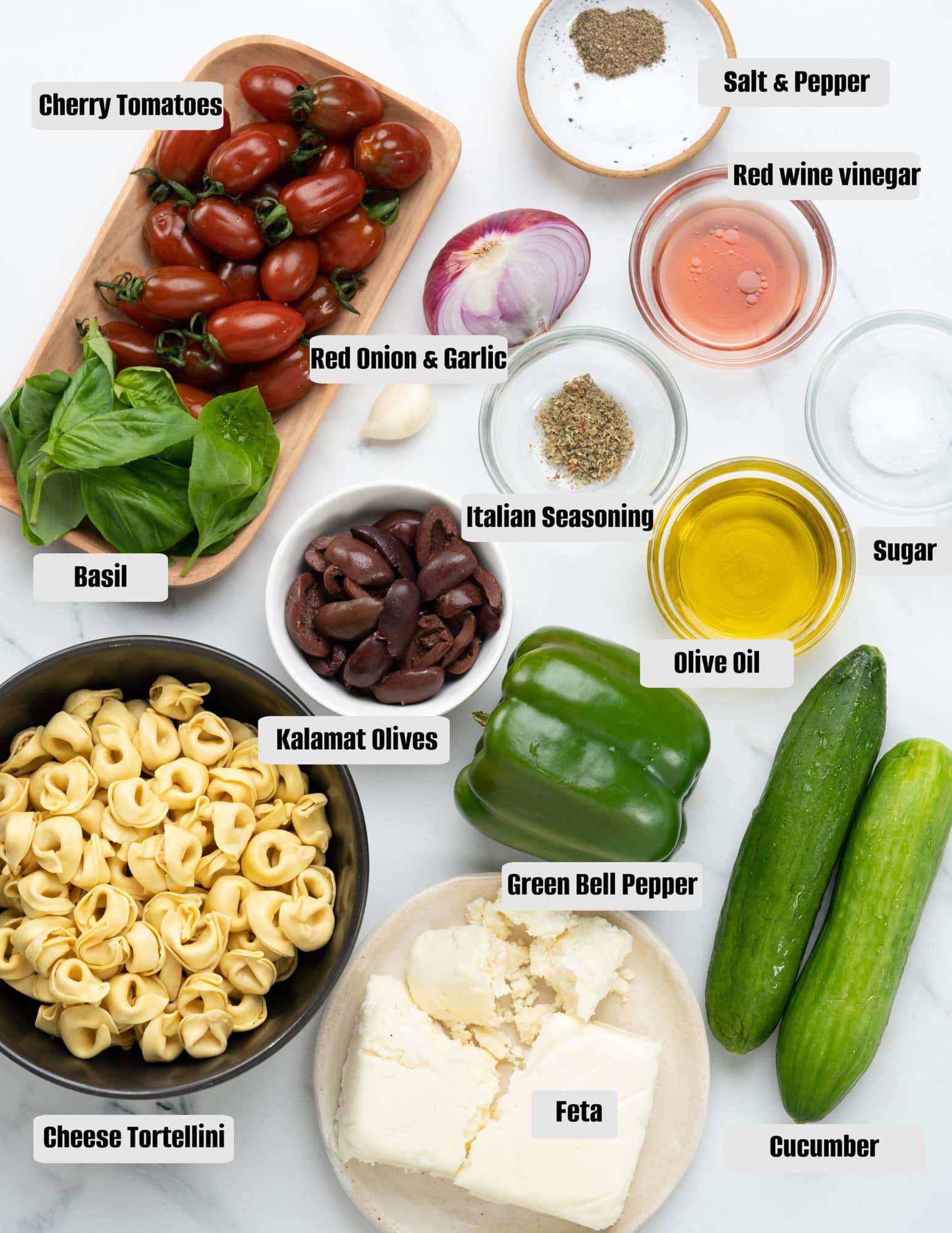 How to make
Making the salad is quite easy.
Dressing – Make the dressing. Add all ingredients to a jar with a lid and shake well until it looks creamy.
Cook pasta – Cook tortellini as per package instructions. Cooking dried/ frozen ones will take a little longer to cook. Rinse the pasta in cold water to remove starch so it doesn't stick once cooled down. The pasta must be at room temperature before adding the veggies to it. If you add veggies to hot pasta, it will steam and lose its crispiness.
Chop veggies – While the pasta is cooling down, chop the veggies into bite-sized pieces. It not only looks visually appealing but also is easy to eat.
Assemble – Mix everything except feta in a salad bowl. Drizzle the Greek dressing and toss everything well. Sprinkle feta and serve.
Can this salad be made ahead?
Like any other pasta salad, this Tortellini pasta salad can also be made in advance. If you are making a big batch in advance, here is what I would do. Make the dressing, cook the tortellini, and let it cool down completely, prep the veggies. Store everything separately in the refrigerator. A couple of hours before serving, drizzle the dressing and mix.
Storage instructions
In case of any leftovers, it can be stored for up to 2-3 days in the refrigerator. But here is a thing, veggies in the salad tend to lose water when they come in contact with salt in the dressing and will not remain crispy.
Storing the chopped veggies and the dressing in separate containers is always recommended to maintain the crispness after a day or two. Mix and toss them before serving the next day or so.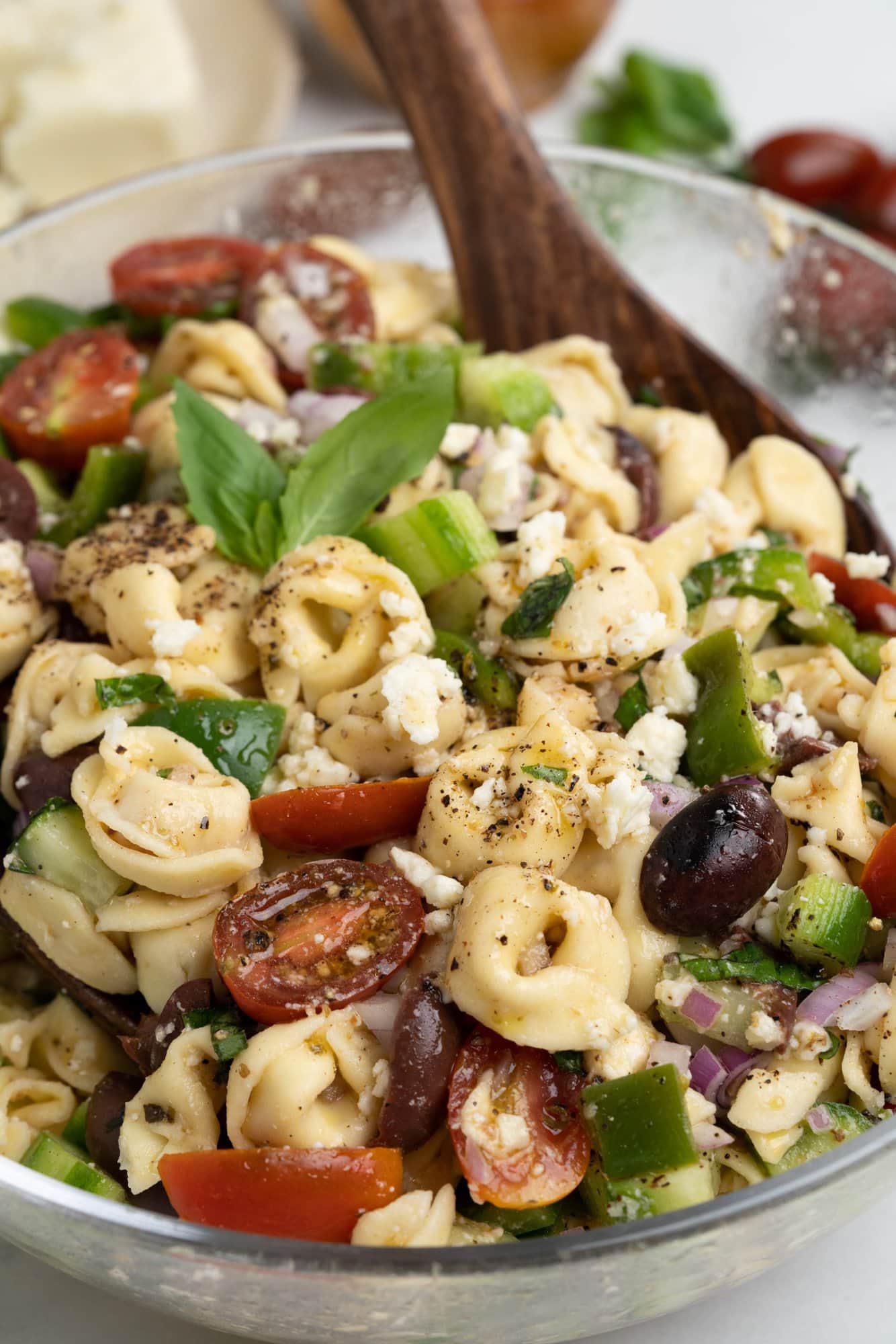 Serve with
This cheesy and vibrant pasta salad suits summer gatherings and a light lunch. To make a full meal, you can serve it with grilled meats, chicken, fish, and bread.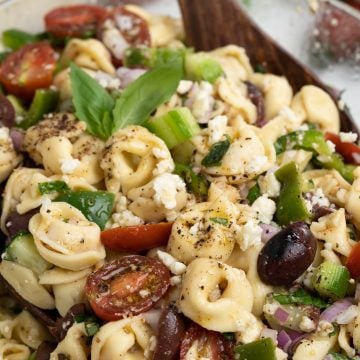 Greek Tortellini Pasta Salad
Cheese-filled Tortellini Pasta, fresh veggies, and kalamata olives are tossed in a zesty Greek dressing. Creamy feta sprinkled on top brings together this Mediterranean salad.
Ingredients
20 ounce refrigirated tortellini pasta
½ Red onion
1 Green bell pepper
2 Lebanese cucumber
200 grams Cherry tomatoes
½ cup Kalamata olives – pitted and halved
½ cup Feta cheese crumbled
½ cup Fresh basil leaves
Greek Dressing
½ cup extra virgin olive oil
¼ cup red wine vinegar
½ tablespoon minced garlic
2 teaspoon dried oregano
1 teaspoon kosher salt
1 teaspoon freshly ground black pepper
1 teaspoon sugar
Instructions
Cook tortellini as per package instructions. Drain and rinse under cold water( prevents the pasta from cooking further and getting lumped). Again drain it well.

In a jar with lid, add all the dressing ingredients and shake well until it looks creamy.

Chop bell pepper and cucumber into bite-sized pieces. Slice cherry tomatoes to half. Dice red onion.

Once the tortellini comes to room temperature, add it to a big salad mixing bowl. Add all the chopped veggies, kalamata olives, and chopped fresh basil to the bowl.

Drizzle prepared Greek dressing all over and toss well to coat the pasta. Sprinkle crumbled feta on top and serve.
Nutrition
Serving: 1serving | Calories: 539kcal | Carbohydrates: 50g | Protein: 18g | Fat: 31g | Saturated Fat: 7g | Polyunsaturated Fat: 2g | Monounsaturated Fat: 15g | Cholesterol: 47mg | Sodium: 1124mg | Potassium: 301mg | Fiber: 6g | Sugar: 7g | Vitamin A: 555IU | Vitamin C: 28mg | Calcium: 241mg | Iron: 4mg