Artos: Greek Celebration Bread
This post may include affiliate links that earn us a small commission.
Artos – greek celebration bread baked with some nuts and dry fruits, comes with very soft slices and a beautiful texture.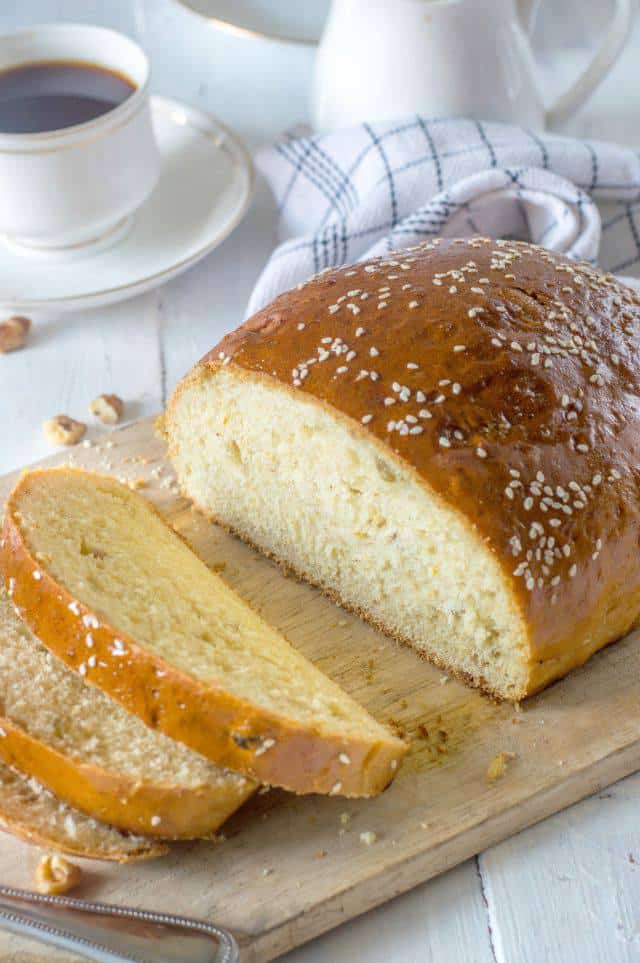 Baking bread is always therapeutic. For a few, it might seem to be a cumbersome process but it is always a matter of patience for me.
Flavours In Your Inbox
Subscribe for recipes straight to your inbox
I recently got my copy of The Bread Bakers Apprentice By Peter Reinhart. If you are into baking bread, then this book is a must I would say. Though I don't have any idea why it took so long to get one. This book has all sorts of required information related to bread baking.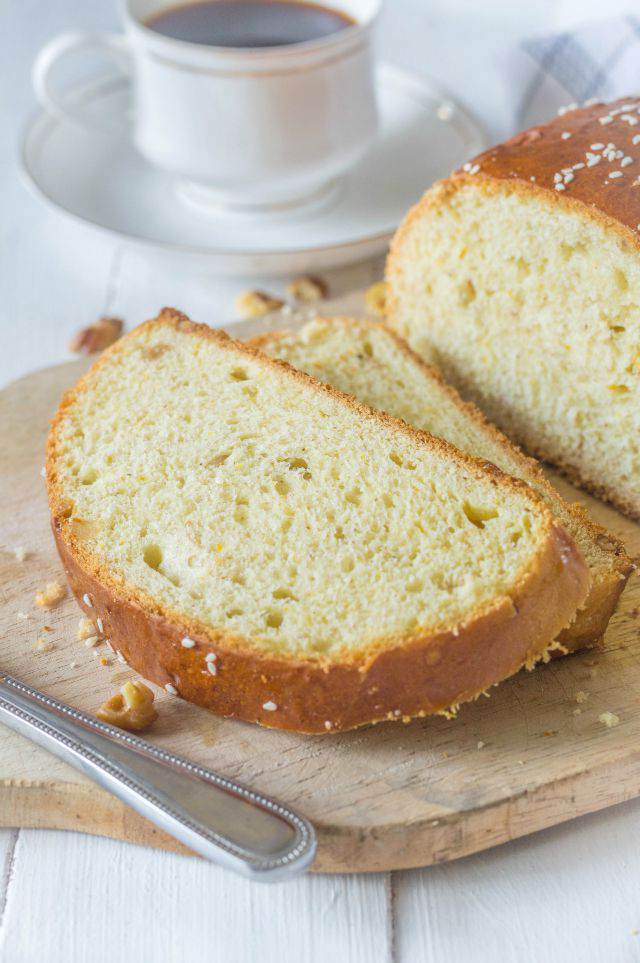 Each bread is very well described along with its history, variations, and formula. I am so glad that I got this and now I have a list of bread to do.
Bread has its own significance when it comes to festivals and holidays. Artos is a general name for Greek Celebration bread, but the name and shape vary depending on the specific festival. For example, Christopsomos bread is Artos with bread dough cross-laminated on top of a round loaf.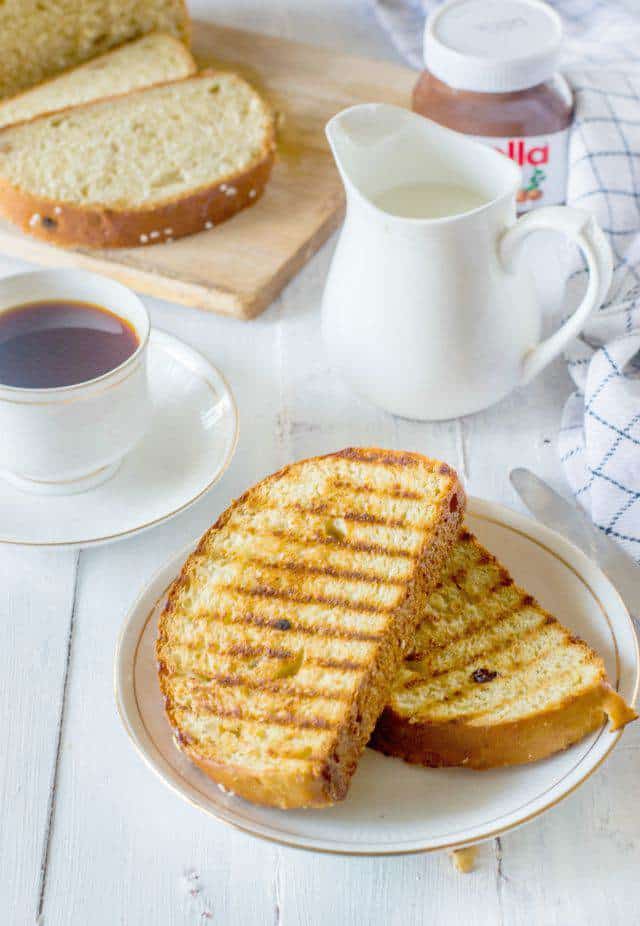 I did Artos with some added dry fruits and nuts to it. The bread came out really nice with soft crumbs.
Toast a slice and slather it with Nutella, you are all set for a beautiful breakfast.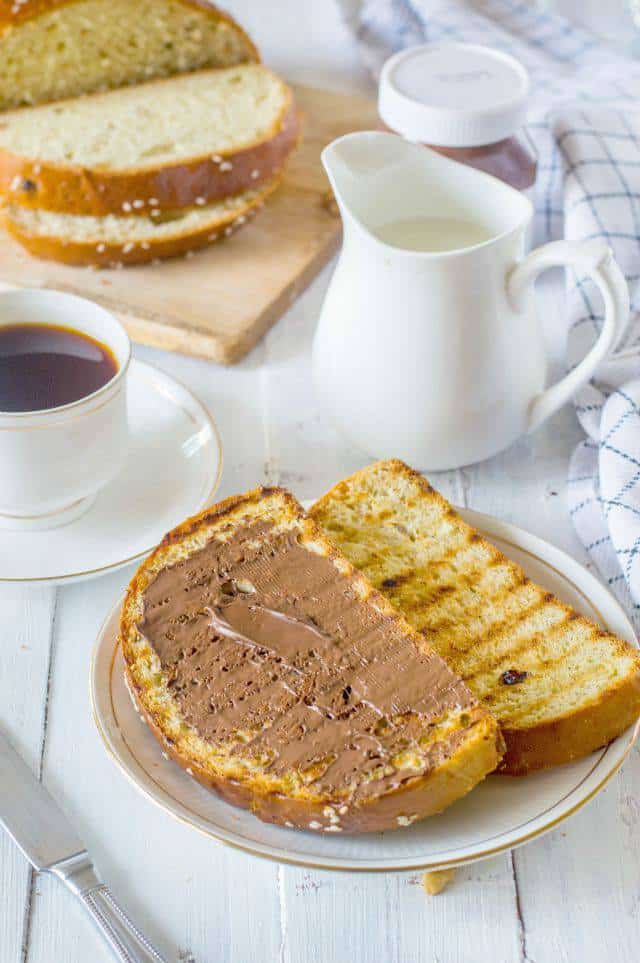 Other Baking Recipes
Orange and Cranberry quick bread
ARTOS: Greek Celebration Bread
Baking bread is always therapeutic. For few it might seems to a cumbersome process but it is always a matter of patience for me. I recently got my copy of The Bread Bakers Apprentice By Peter Reinhart. If you are in to baking bread, then this book is a must I would say. Though I don't have any idea
Ingredients
For Polish(starter)
2xbd cups bread flour (I used 1 cup)
1xbd cups water , at room temperature ( I used xbd cup+1tbsp)
xbc tsp yeast instant (I used u215b tsp)
For Bread
3xbd cups bread flour
1 tsp Salt
1xbd Yeast instant
1 tsp cinnamon ground
xbc tsp nutmeg ground
xbc tsp all spice ground (I skipped it)
xbc tsp cloves ground
1 tsp Orange Lemon zest fresh zest / or Extract
1 tsp almond extract (I used Vanilla)
2 eggs large , lightly beaten
xbc cups honey
xbc cups olive Oil
xbe cups milk lukewarm .
xbc cups raisins (optional)
xbc walnut cus chopped (optional)
Glaze:(Optional)
2 tbsps water
2 tbsps sugar
2 tbsps honey
1 tsp orange lemon / extract
1 tsp sesame seed
Instructions
To prepare the polish or starter – Stir together the flour,water and yeast. in a mixing bowl until all of the flour in hydrated. The dough should be sticky and look like thick pancake batter. Cover the bowl and let it ferment at room temperature for 3-4 hours. The sponge should look foamy and bubbly. At this stage either you can use or you can refrigerate overnight to let the flavours mature ( I kept overnight) . This can be kept up to 3 days in refrigerator.

Bring the starter/Polish to room temperature. Stir together flour,salt,yeast, cinnamon,nutmeg, allspice, cloves and orange zest(if using instead of extracts) in a large mixing bowl. Mix all the dry ingredients well.

Add polish,the extracts,eggs,honey,oil and milk. Stir together all the ingredients until the dough forms a ball.

Sprinkle flour on a kitchen counter,transfer the dough to the counter and knead (mix on medium speed with dough hook). Add more milk or flour ( 1 tsp each time)(I had to add roughly 1 tbsp extra flour) till you get a soft but not sticky dough ball.Knead for 10 minutes. The dough should pass windowpan test.

Add the raisins and nuts(if using) to the dough and fold multiple times so that it is distributed evenly.

Transfer dough to a lightly oiled bowl.Coat the dough with oil by rolling.Cover with plastic wrap and let it rise in room temperature for about 90 minutes or till it doubles in size.

Prepare a baking pan with parchment paper.Knead the risen dough for about 5 minutes to release any trapped air and from to a boule( Round shape).Transfer it to the prepared pan and loosely cover with a plastic wrap.

Proof at room temperature for about 60-90 minutes or until nearly double in size.

At the end of the rising period,pre-heat the oven to 350 degree.

Bake the loaf for about 35-40 minutes ,rotating the pan in between. Bake until the loaf is golden brown and registers 190 degree.It should make hollow sound when thumped on the bottom.

To make the glaze, combine water and sugar in a pan and bring to a boil.Add honey and extract and turn off the heat. Brush the loaves with glaze and sprinkle sesame seed on top.

Transfer bread to a rack and cool for at least 1 hour before slicing.