This post may include affiliate links that earn us a small commission.
Creamy Potato salad made with red-skinned potatoes, mayo-based dressing, and topped with bacon is one of the best side dishes for BBQs, potlucks etc.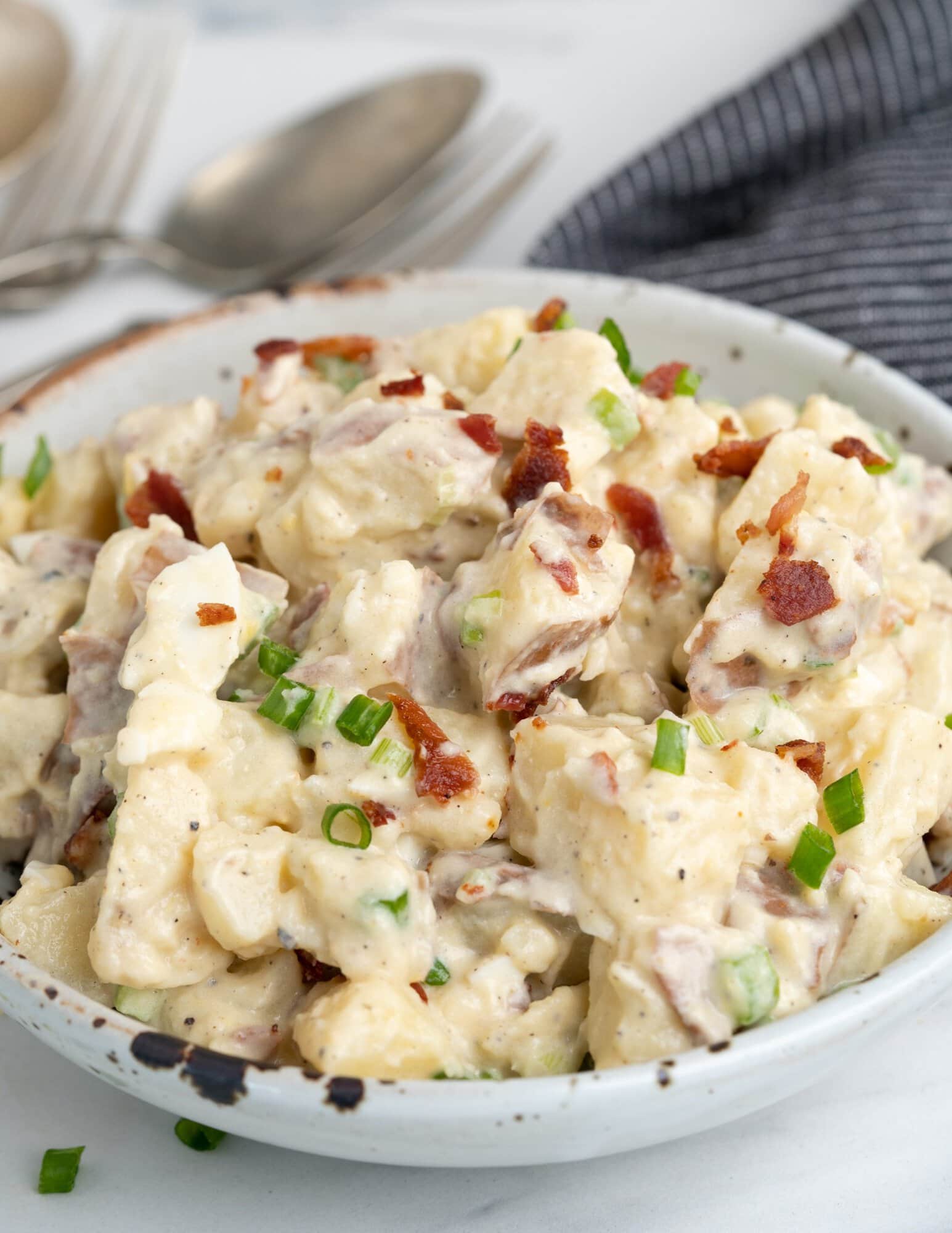 Who doesn't love a good potato salad? This red potato salad has tender red potatoes, celery, green onion, hard-boiled eggs, and crispy bacon all tossed in a creamy, tangy mayo dressing. A perfect side dish to serve along with any meal. You can serve them right away or make it ahead
Flavours In Your Inbox
Subscribe for recipes straight to your inbox
Unlike other versions of potato salad, the potatoes are not bland and flavorless in this recipe. Tossing potatoes with some seasoning while still hot, helps them absorb all the flavors.
If you are not in the mood to have creamy salad, check out the lightened-up Dill Potato Salad with refreshing herb dressing. To take potato salad up a notch in flavor, give this Roasted Potato Salad a try.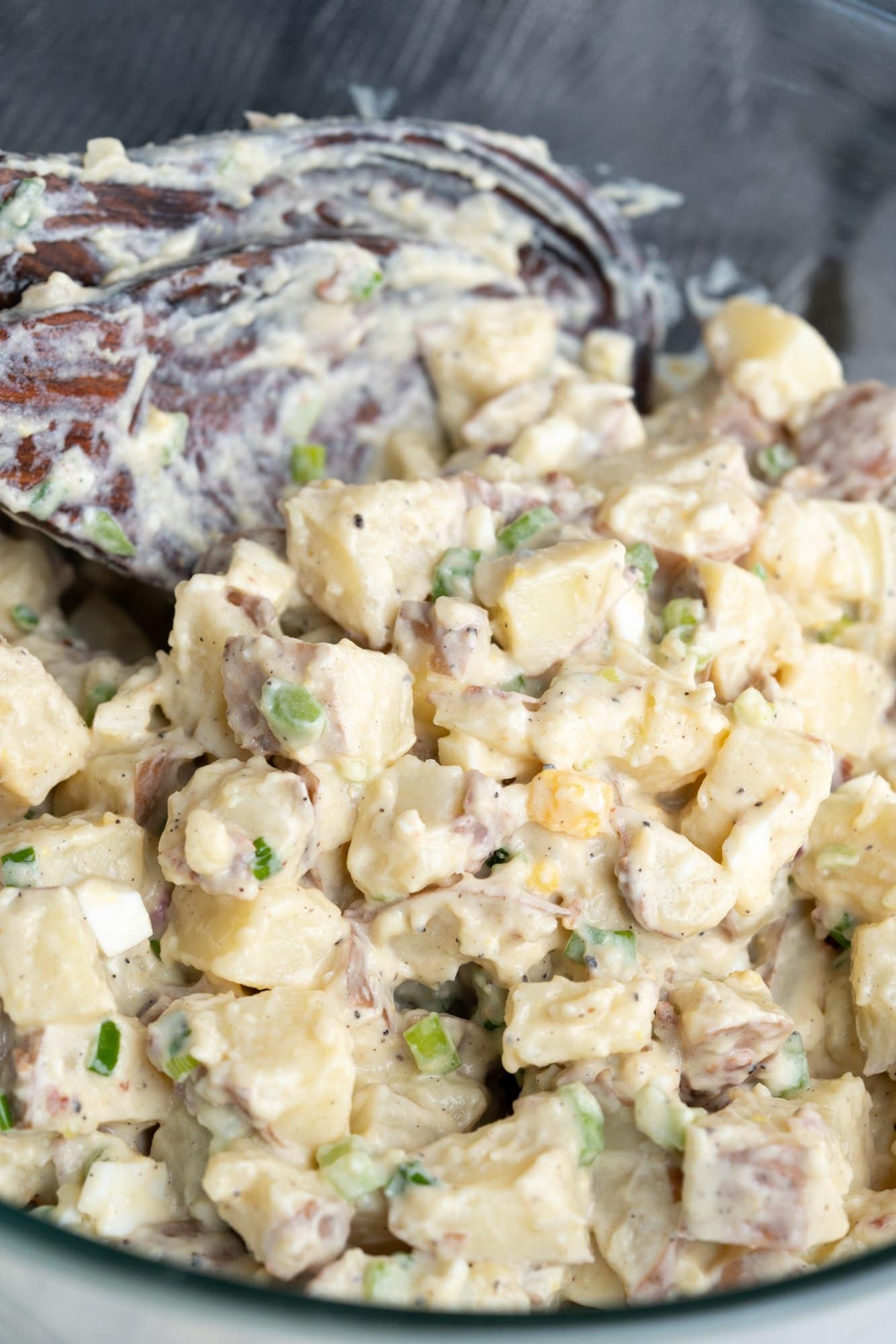 What goes in Red Potato Salad?
Following is the list of ingredients for Red Skin Potato Salad.
Red Potatoes – Baby red potatoes or regular red potatoes. If using baby potatoes, try to use of same size, so that they cook evenly. The same is for large potatoes, cut them into 1 – 1.5 inch pieces.
Red potatoes are waxy varieties. They retain their shape even after cooking, making them perfect for salads. The skin is really thin, so you can keep the skin on for some texture in the salad.
If you can't get hold of red potatoes, this recipe will absolutely work with any other varieties. I would avoid starchy ones though.
Celery, green onion – For crunch and fresh flavors in the salad. Dill also adds a burst of freshness.
Garlic powder – I am not a fan of raw garlic in salad. Garlic powder is a better option as it blends in well.
Hard-boiled egg- Hard-boiled egg makes the salad more filling. The yolk when mixed with the rest of the ingredients, adds to the creaminess of the salad. You can add up to 3 eggs.
Bacon – Is it even a BBQ-worthy salad if there is no bacon? Use kitchen scissors to cut the bacon and then cook until crispy. Drain well in a paper towel and keep aside.
Seasoning & Dressing- While the potatoes are still hot season them with salt, pepper, ACV, and olive oil. Hot potatoes absorb the seasoning well. Then once the potatoes have cooled down, add the rest of the ingredients. You can use Greek yogurt instead of sour cream.
Milk is to thin down the dressing but without diluting the flavor.
For extra zing, you can also add chopped dill pickle.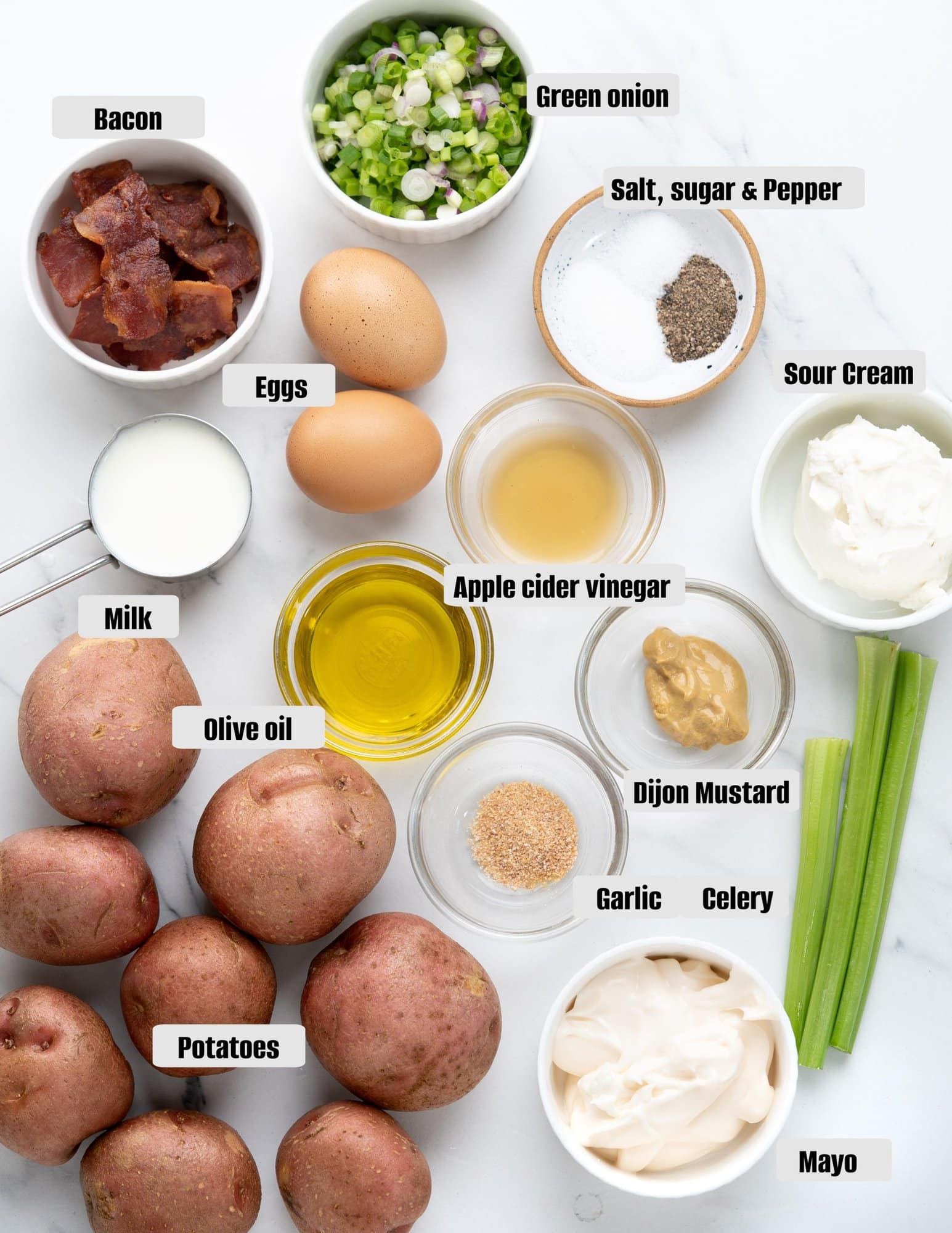 Steps to Make Red Potato Salad
Cook red Potatoes – Add enough water to a pot, so that the potatoes remain fully submerged. Season the water with salt. It should take 20-25 minutes for the potatoes to become fork-tender. Once you can easily poke a fork, the potatoes are done. Drain immediately in a colander. Overcooked potatoes when tossed in a dressing will turn into a gloopy mess. Also, once the potatoes are cooked, don't let them sit in water for longer, as they will absorb water in turn, the salad will also taste watery.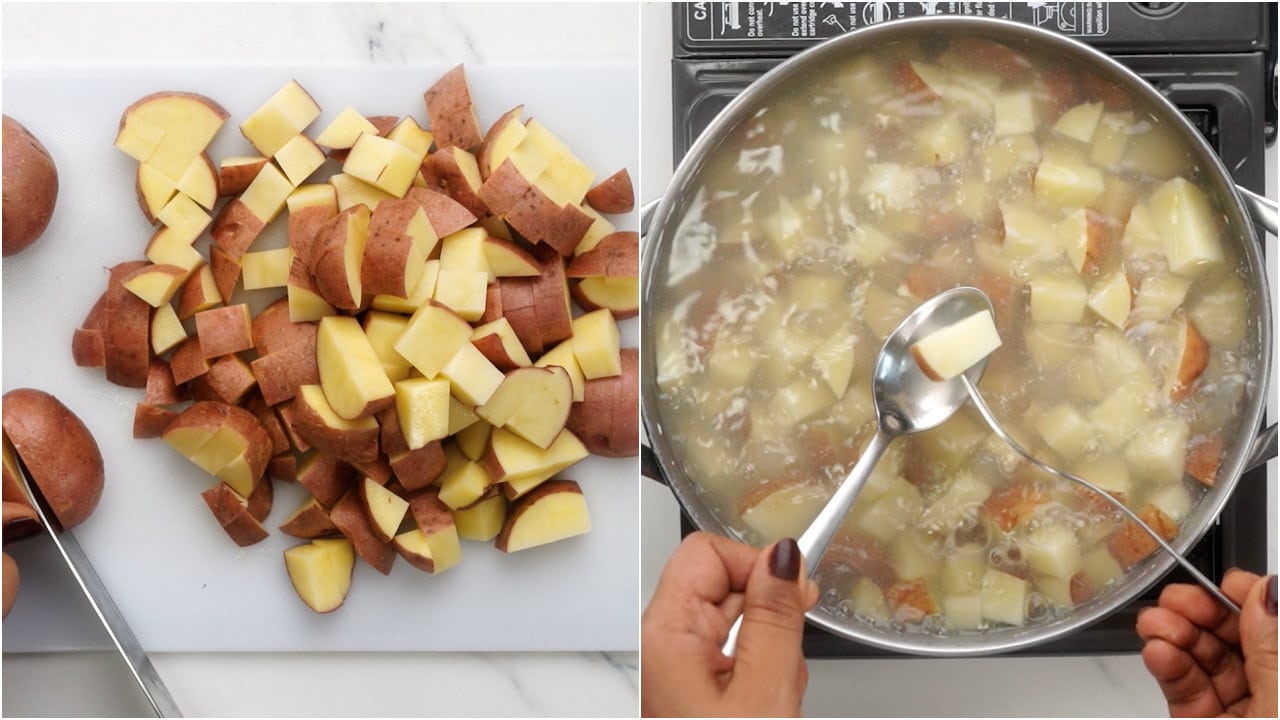 Season Hot Potatoes – Time to season the potatoes. We have already seasoned the potatoes while cooking it. Next is to toss it in olive oil, ACV/white wine vinegar, salt, pepper & sugar. Shake & toss it well. The smudged edges of the potatoes will add to the creaminess of the salad.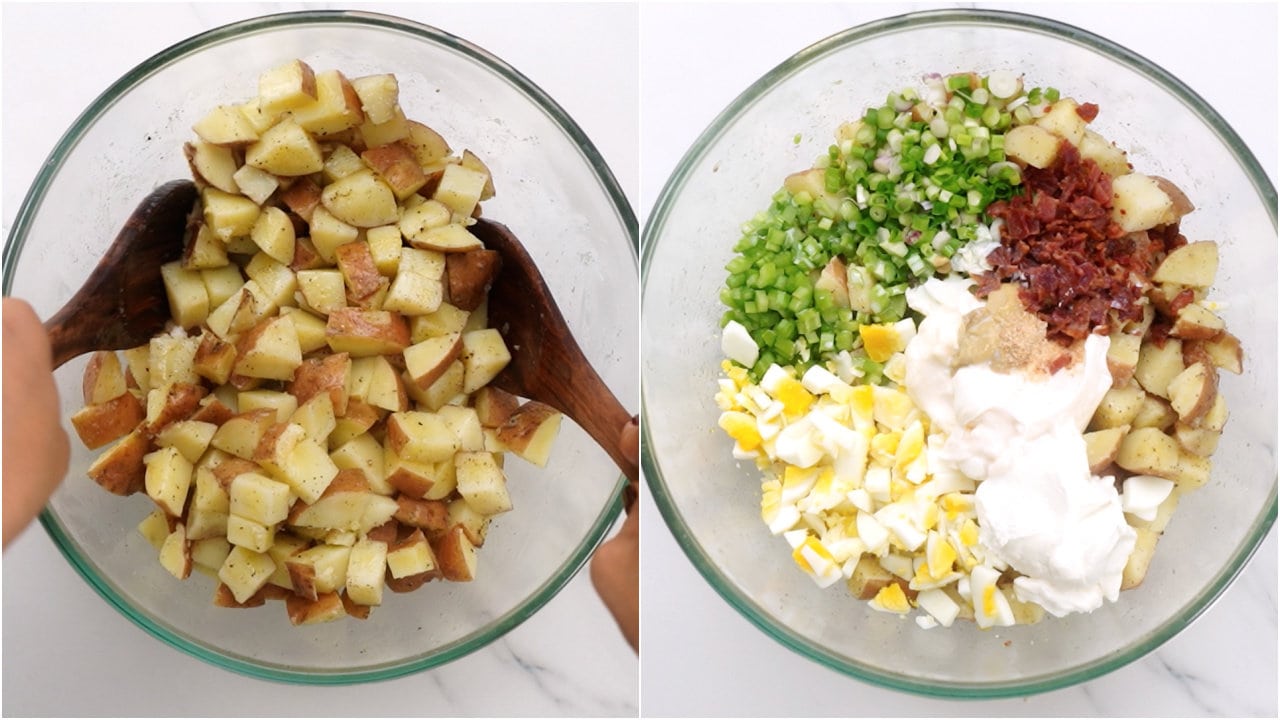 Final dressing – After it comes to room temperature, add the rest of the ingredients. I didn't see any need of whisking mayo, sour cream, dijon, and milk separately. You can always mix the dressing separately and pour it over other ingredients.
Make sure the potatoes have completely cooled down before adding dressing, or else the mayo on hot potatoes will make it greasy.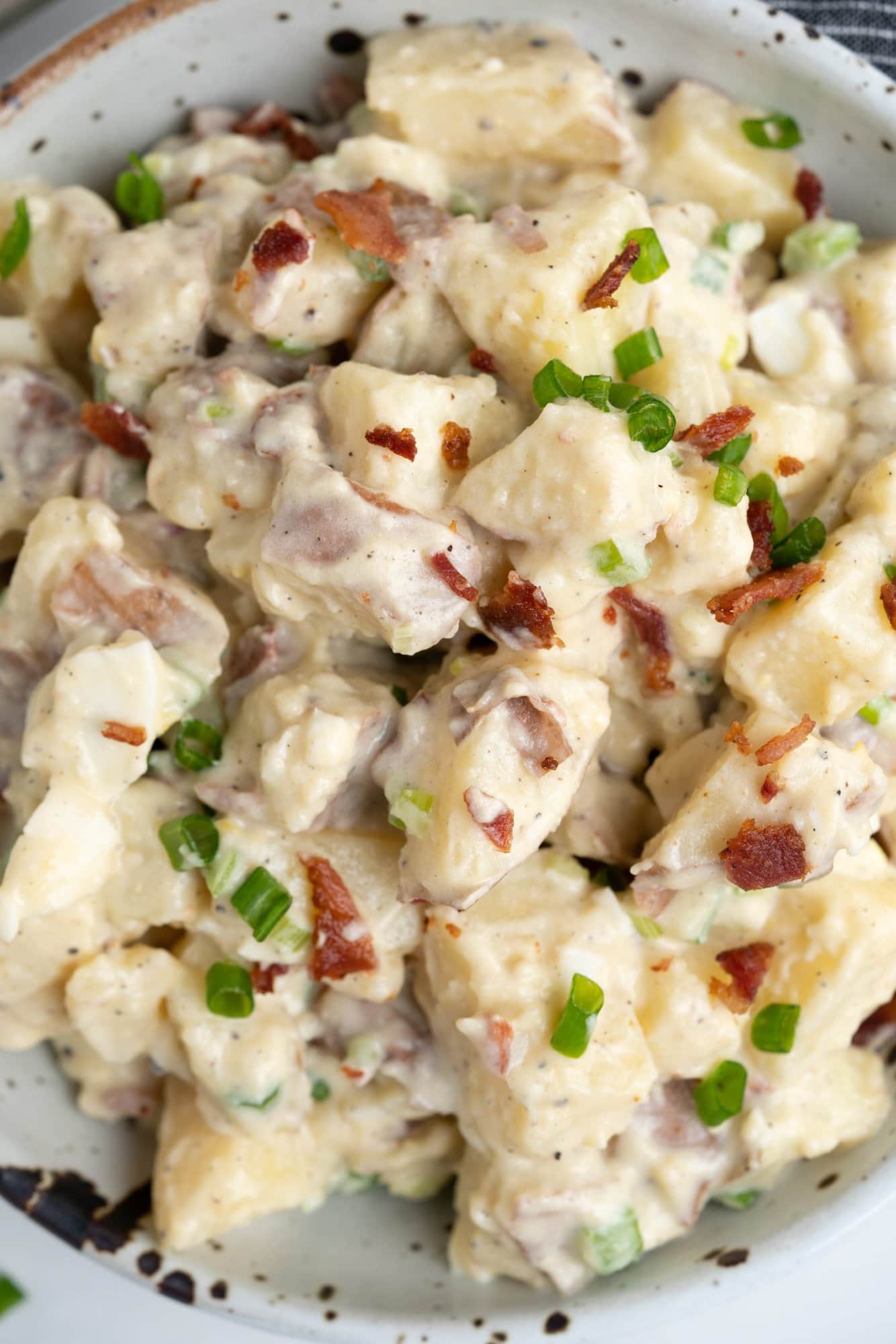 This salad can be made upto 2 days ahead of time. In fact I would suggest to chill it for a couple of hours for the flavours to blend in.
In case there is any leftovers, can be stored upto 3 days in an air tight container.
What to serve with Creamy Potato Salad
You can pair this with any kind of protien. A great alternative to mashed potatoes or rice. Serve it as a side dish Baked BBQ Chicken , Crispy Air fryer Chicken Breast , Grilled chicken breast .
Serve it along with BBQ pork Tenderloin, Pork chops for a complet meal.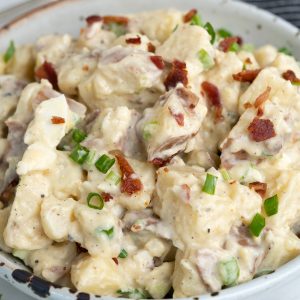 Creamy Red Potato Salad
Creamy Potato salad made with red-skinned potatoes, mayo-based dressing, and topped with bacon is one of the best side dishes for BBQs, potlucks etc.
Ingredients
2 pounds red potato
½ cup green onion
2 stalks celery chopped small
3 hard boiled egg
2 teaspoon white wine vinegar
½ teaspoon salt
¼ teaspoon pepper
2 tablespoon oil
⅓ cup Mayo –
¼ cup Sour cream
1 teaspoon dijon mustard
½ teaspoon sugar
½ teaspoon garlic powder
¼ cup milk
5 Bacon strips
Instructions
Clean Red potatoes. If the potatoes are dirty, soaking them water for a while followed by a gentle scrub will make cleaning easy.

Cut potatoes into 1-inch cubes. Keep the skin on, as they are full of fiber, and also add some texture to the salad.

Bring a large pot of water to a boil and add season with salt( the water should taste a little salty) Add cubed potatoes. Cover and cook on medium heat potatoes until fork-tender.

When the potatoes are cooked, drain and add to a big mixing/salad bowl.

While still hot, add olive oil, salt, pepper, and apple cider vinegar to the potatoes. Mix everything well by tossing the bowl vigorously. Edges of the potato cubes will smudge a bit and will make the salad extra creamy.

While potatoes are cooling down, chop celery, green onion, and hard-boiled eggs. Cut bacon strips into bite-size pieces using a kitchen scissor and cook until crispy.

Once the potatoes are completely cooled down, to it add chopped green onion, celery, eggs, mayo, sour cream, dijon mustard, garlic powder, crispy bacon, and milk.

Mix everything well. check for seasoning and add more salt or pepper if required. If the salad still appears dry, add a few more tablespoons of milk or buttermilk.

Serve with more crispy bacon on top.
Nutrition
Serving: 1serving | Calories: 303kcal | Carbohydrates: 27g | Protein: 7g | Fat: 19g | Saturated Fat: 4g | Polyunsaturated Fat: 7g | Monounsaturated Fat: 7g | Trans Fat: 0.04g | Cholesterol: 105mg | Sodium: 366mg | Potassium: 782mg | Fiber: 3g | Sugar: 4g | Vitamin A: 315IU | Vitamin C: 15mg | Calcium: 59mg | Iron: 2mg