This post may include affiliate links that earn us a small commission.
Roasted Potato Salad has Crunchy Roasted Potatoes, crispy Bacon, Onion, herb and a light creamy dressing. One of the best side dish to serve summer potluck or BBQ parties.
This Roasted Potato Salad is the best of both the worlds. You get to it your good old creamy potato salad but the boiled potato is substituted with crispy roasted Potatoes. Roasted potato is then tossed with chopped onion, crispy bacon, chives. I have kept the dressing light and used sour cream and English mustard.
Though this salad sounds so different from the old classic, you can add your favourite ingredients and make it your own. Next time when you are taking a side dish to BBQ party or picnic than for a change give this roasted Potato Salad a try.
Flavours In Your Inbox
Subscribe for recipes straight to your inbox
What Are The Best Potatoes For Potato Salad?
This question is a little controversial. It really doesn't make a big difference, which kind of potatoes are being used in this recipe. Because we are baking the potatoes, instead of boiling it.
Personally, I like to use new baby potatoes in this recipe. But You can use any variety of potatoes here.
How To Cook Potatoes?
For roasted potato salad, Bake potatoes until it is crispy outside and tender within.
Cut potatoes into small cubes. I like to keep the skin on as when it crisps up, tastes amazing. Cut potatoes into uniform
There is nothing worst then underseasoned potatoes. Season it well. I have kept the seasoning simple, there is Olive oil, Salt and pepper. You can add a dash of garlic powder and onion powder if you wish.
Give the potatoes a toss in the middle of the baking for uniform roasting.

Ingredients For The Salad
In this recipe, there is potatoes, Chopped Onions, Crispy Bacon(Lots of it), Chive. I have kept the dressing light and low on calorie. The dressing has Sour Cream and English mustard.
What else you can add to it?? You can add boiled eggs, Chopped pickle, celery etc.

How To Make The Best Potato Salad?
For the roasted potato salad, start with cleaning and cutting potatoes into small cubes. Preferably keep the skin on.
Season generously with oil, salt and pepper. Roast it until it is golden brown in colour and feels crispy.
While the potato is being baked, prep rest of the ingredients ( it is all about time management, right?). Cook bacon until crispy. The easiest way to cut bacon is to use a kitchen scissor.
Let the potato get cool down a little bit, before adding other ingredients and dressing.
For a rich version, substitute half of the sour cream with Mayo.

More amazing Summer Side Dishes…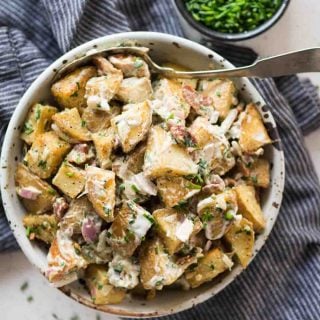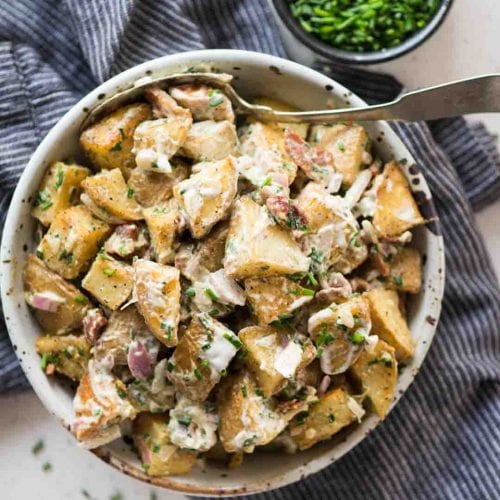 Roasted Potato Salad
Crispy Roasted potatoes, onion, bacon, chive tossed in a Creamy Sour cream dressing is a twist to classic old potato salad. It is perfect to serve as a side dish in BBQ or to take to a picnic.
Ingredients
500 grams Potato Cut into cubes
2 tablespoon Olive Oil
salt and pepper to taste.
1 Onion Chopped
1 cup Cooked Bacon
¼ cup Chive
½ cup Sour Cream
1 teaspoon English Mustard
Instructions
Pre-heat oven to 400 degrees F.

Toss cubed potatoes in olive oil, salt and pepper. Bake at 400F for 20-23 minutes. The potatoes should be nice and tender with a crispy outside.

Let the baked potatoes cool down a bit.

In a big bowl add roasted potatoes, chopped onion, bacon, chive, sour cream, English mustard. salt and pepper to taste.

Toss everything well. Let it sit for a couple of hours before serving.

** Refer notes for variations.
Notes
For more rich version, substitute half of the sour cream with Mayo. 
You can also add 2 chopped boiled egg to the salad.
Nutrition
Serving: 100grams | Calories: 262kcal | Carbohydrates: 4g | Protein: 11g | Fat: 23g | Saturated Fat: 8g | Cholesterol: 43mg | Sodium: 509mg | Potassium: 223mg | Fiber: 1g | Sugar: 2g | Vitamin A: 288IU | Vitamin C: 4mg | Calcium: 41mg | Iron: 1mg