This post may include affiliate links that earn us a small commission.
Juicy Chicken patties are easy and quick to make. Mildy spicy, flavourful and perfect to use in burgers, wraps, sandwich or serve as a snack as it is.
These juicy chicken burgers are a favourite among kids and adults. You need a few basic pantry ingredients and a food processor to make these. I am not talking about any boring dry flavourless chicken burger patties here.
I know many don't prefer ground Chicken patties because they are lack flavour or turns out to be really dry. Well, I was one of them. But this Chicken patties recipe changed my perception completely.
Flavours In Your Inbox
Subscribe for recipes straight to your inbox
JUICY CHICKEN BURGER PATTIES
You can't know how juicy these patties are until you make them. One of the most common fears I had was, chicken turning out dry upon cooking. But I found out a couple of techniques, that helps to keep the patties soft and juicy.
It all depends on the temperature and how long you are cooking. Because Chicken breast cooks very fast, you need to really watch the timing while making these. Make sure the oil is hot (not smoking hot ) enough.                                                                                                         Cook the patties on medium-high heat for a total of 4 minutes.  Once you put the mixture to the pan, let it cook undisturbed for 2 minutes, then flip and cook for another 2 minutes.  4 minutes might seems less, but once you take the patties of the pan, it still gets cooked. By cooking a medium-high temperature you would also get that nice caramelized crust.
Adding a bread soaked in milk to the mixture adds moisture to the patties. You can use any bread on hand it will not make a difference.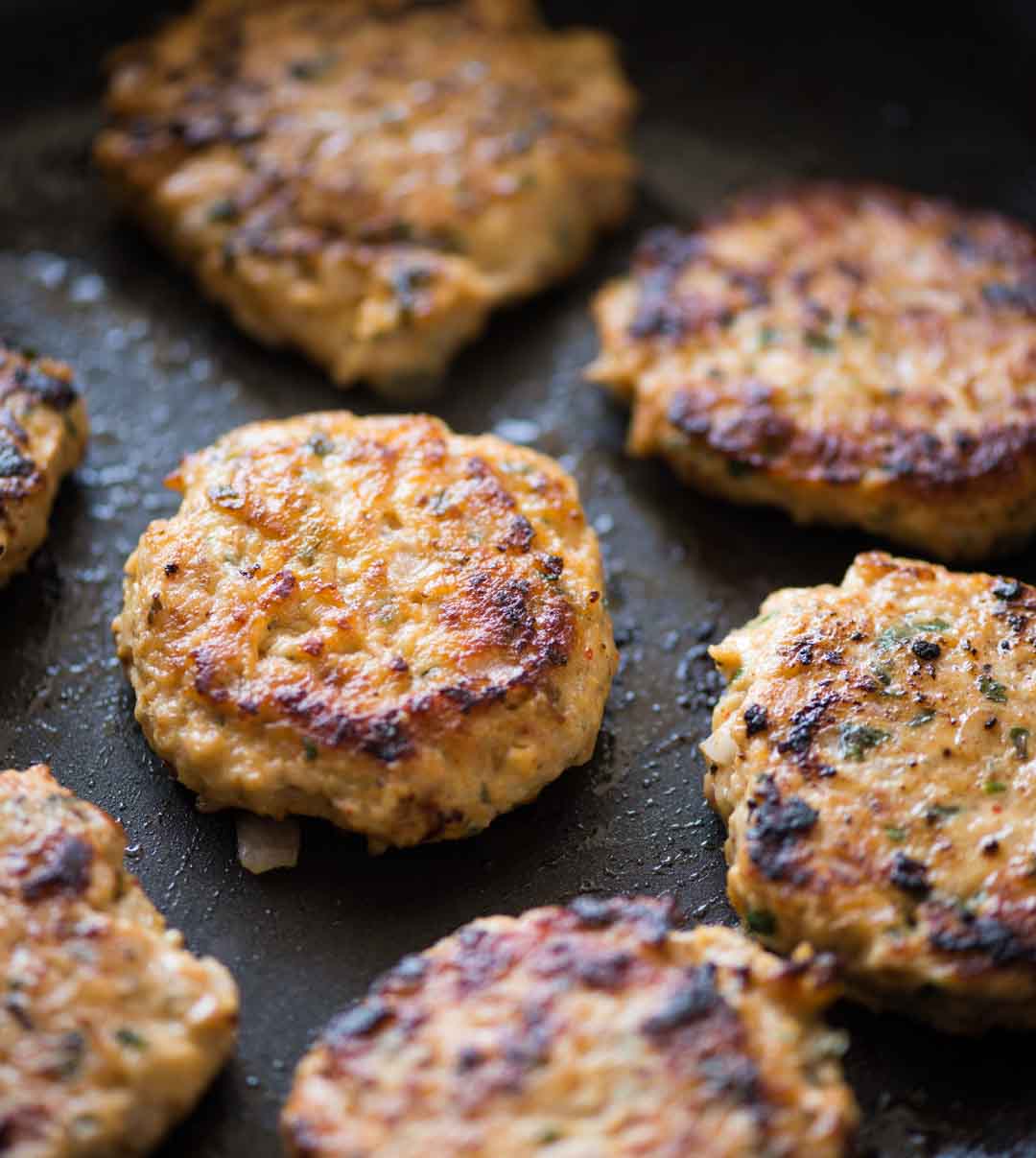 How To Make Chicken Patties?
We are using roughly chopped boneless chicken breast instead of chicken mince here. We will be adding all the ingredients in a processor to make the patty mixture. So using minced chicken and further processing it makes the mixture too pasty. However, if you have chicken mince, then finely chop all the ingredients and add everything to chicken mince.
Adding soaked bread makes the patties moist and keep it crispy on the outside. Soak it for 10 minutes, while you prep other things.
There is nothing like fresh herbs in a dish. I have added a handful of chopped parsley and also 2 teaspoons of Italian seasoning. There is also onion and garlic as aromatic. If you prefer, you can substitute raw garlic with some garlic powder.
There is one egg, which acts as a binding and also contributes to the moistness.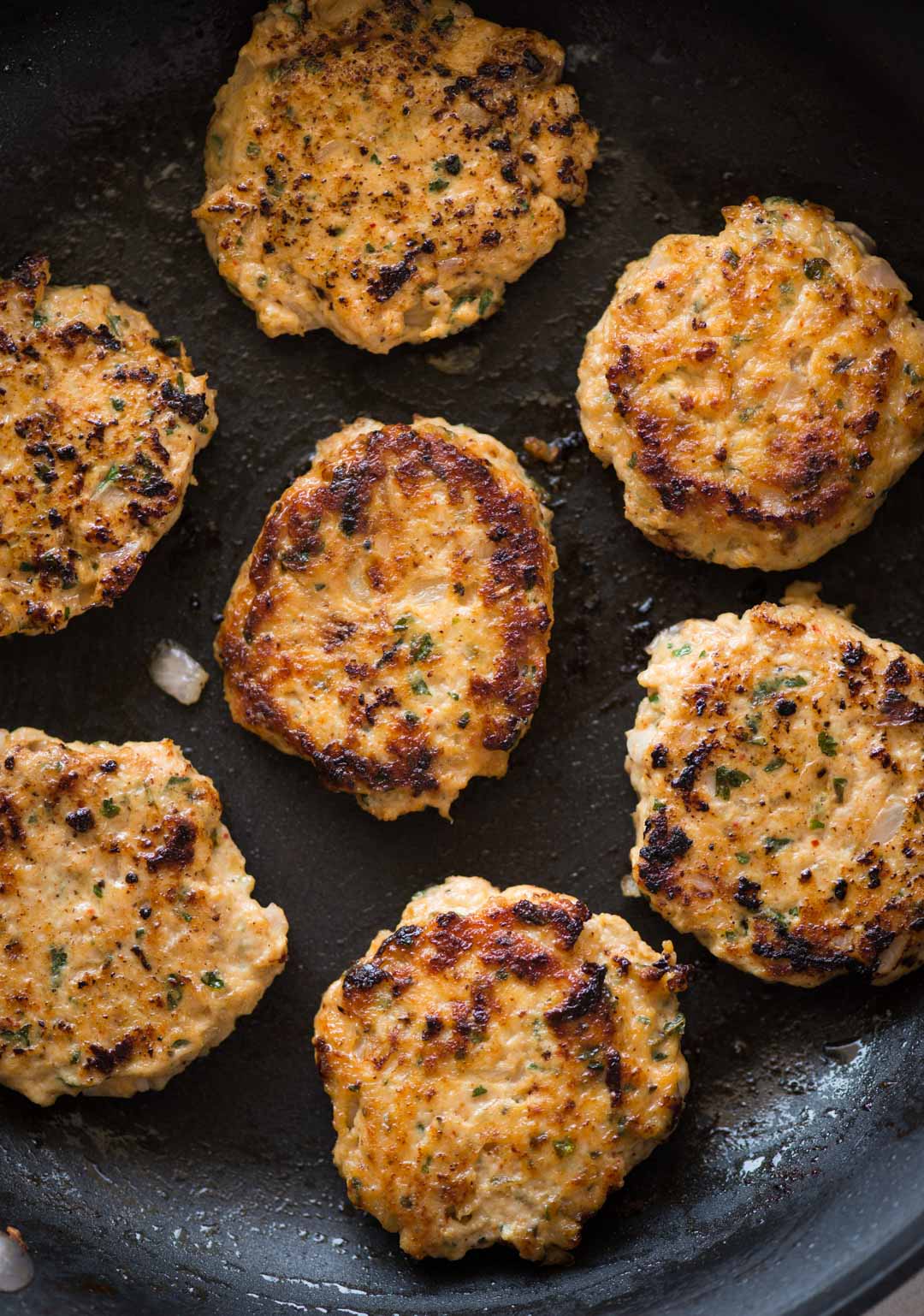 Possible Flavour Variations
These Chicken Patties are delicious of its own. You can add some variations if you prefer.
Add 1/2 cup of grated cheese like sharp cheddar or parmesan.
You can also veggies like pepper, mushroom, Zucchini etc. If using zucchini, grate them and squeeze out extra liquid and then add it to the mixture.
You can also substitute fresh parsley with rosemary or any other fresh herbs.
Can we freeze Chicken Patties?
These chicken patties are great for freezing. For freezing, line a tray with parchment paper. Using an ice cream scoop take out a portion, place it on the tray and shape them, then keep it in the freezer. Once they are frozen, remove and store in a ziplock bag.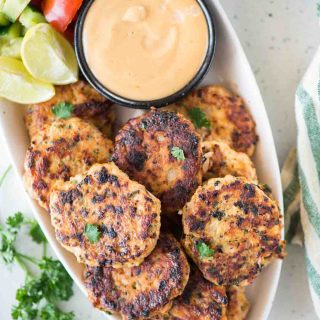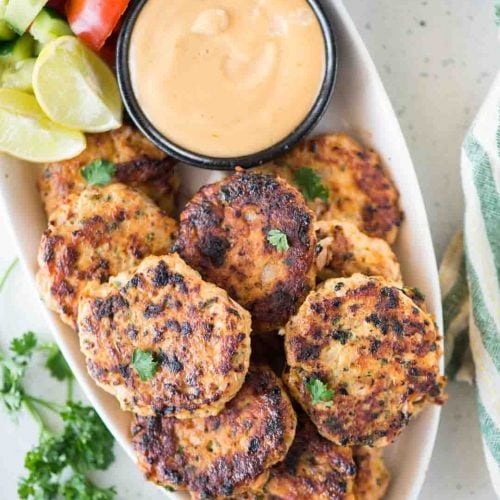 Juicy Chicken Patties
Ground Chicken patties made with onion, garlic, fresh herbs are incredibly juicy and flavourful. Burgers, wraps or sandwiches are not going to be boring anymore with this patties.
Ingredients
500 grams boneless Chicken breast cubes
1 medium Onion Quartered
2 cloves Garlic
1 slice bread
¼ cup milk
½ teaspoon paprika
1 teaspoon Italian seasoning (or dried mixed herbs)
1 egg
¼ cup Fresh Parsely
salt and pepper to taste
Instructions
Soak bread in milk for about 10 minutes.

To a food processor add boneless chicken cubes, Onion, soaked bread, parsley, garlic, seasoning, paprika, egg, salt and pepper.

Pulse, until everything is incorporated and mixed.

Heat 1 tablespoon of oil in a pan.

Scoop out the mixture using an ice cream scoop, and put it on the pan. Flatten it slightly with the back of a spatula or ice cream scoop.
Nutrition
Serving: 1serving | Calories: 67kcal | Carbohydrates: 3g | Protein: 10g | Fat: 2g | Saturated Fat: 1g | Cholesterol: 41mg | Sodium: 68mg | Potassium: 184mg | Fiber: 1g | Sugar: 1g | Vitamin A: 82IU | Vitamin C: 1mg | Calcium: 19mg | Iron: 1mg