Summer Cherry Tomato Salad
This post may include affiliate links that earn us a small commission.
I bet you will be making this Cherry tomato salad all summer long. This salad is quite easy to make with basic ingredients and it instantly adds a burst of freshness to any meal.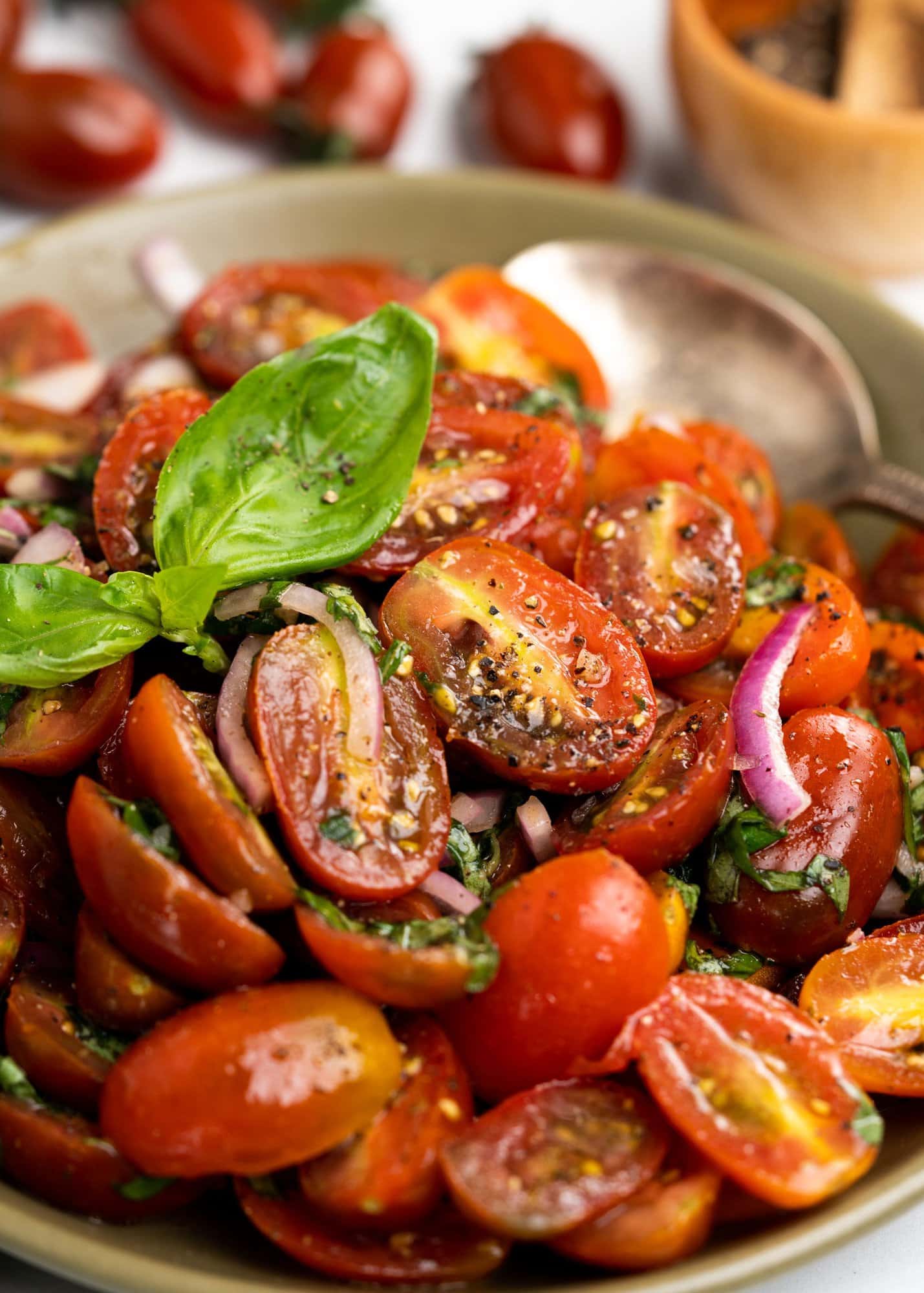 Cherry tomato salad
You don't need a ton of ingredients and a fancy dressing for a great salad. It can be as simple as this cherry tomato salad, yet could taste delicious. Made with fresh seasonal cherry tomatoes, red onion, fresh basil, and a simple olive oil dressing, this salad can be a summer staple.
Flavours In Your Inbox
Subscribe for recipes straight to your inbox
Salads are one of the best ways to put fresh seasonal produce to use. Keep the list of ingredients short and let the veggies shine through just like in this corn salad or Cucumber strawberry salad. And off- course you can add you are favorite add-ons to make the salad more filling and interesting.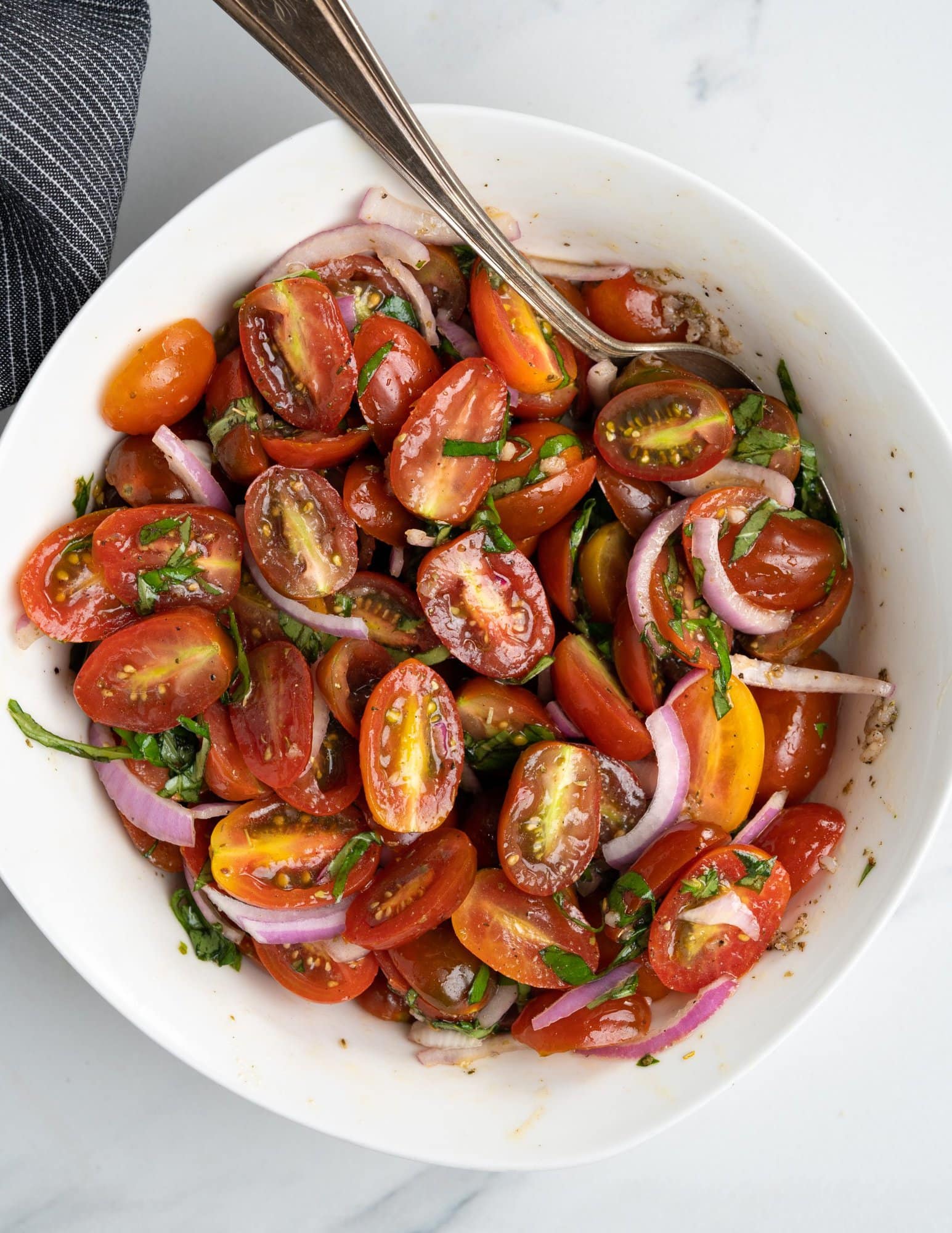 Ingredients for Cherry Tomato Salad
Cherry tomatoes- fresh ripe cherry tomatoes. Using assorted colorful cherry tomatoes or even grape tomatoes will do.
Red onions- Just half a red onion for a good punch. If you would like to mellow down the onions, soak sliced onions in a bowl of ice-cold water for about 15 minutes.
Basil – Italian basil and tomatoes just go together well. Alternatively, you can use parsley.
For the dressing – Dressing is a simple vinaigrette made with olive oil, red wine vinegar, garlic, dry herb seasoning, salt, pepper, and sugar. The fruity flavor of red wine vinegar goes well with tomatoes. Sugar is to balance the tartness of the tomatoes.
Variations
Add baby mozzarella balls cut into haves.
You can add avocado, or cucumber to it.
A good drizzle of balsamic glaze.
For a Mediterranean twist add chopped olives and some feta.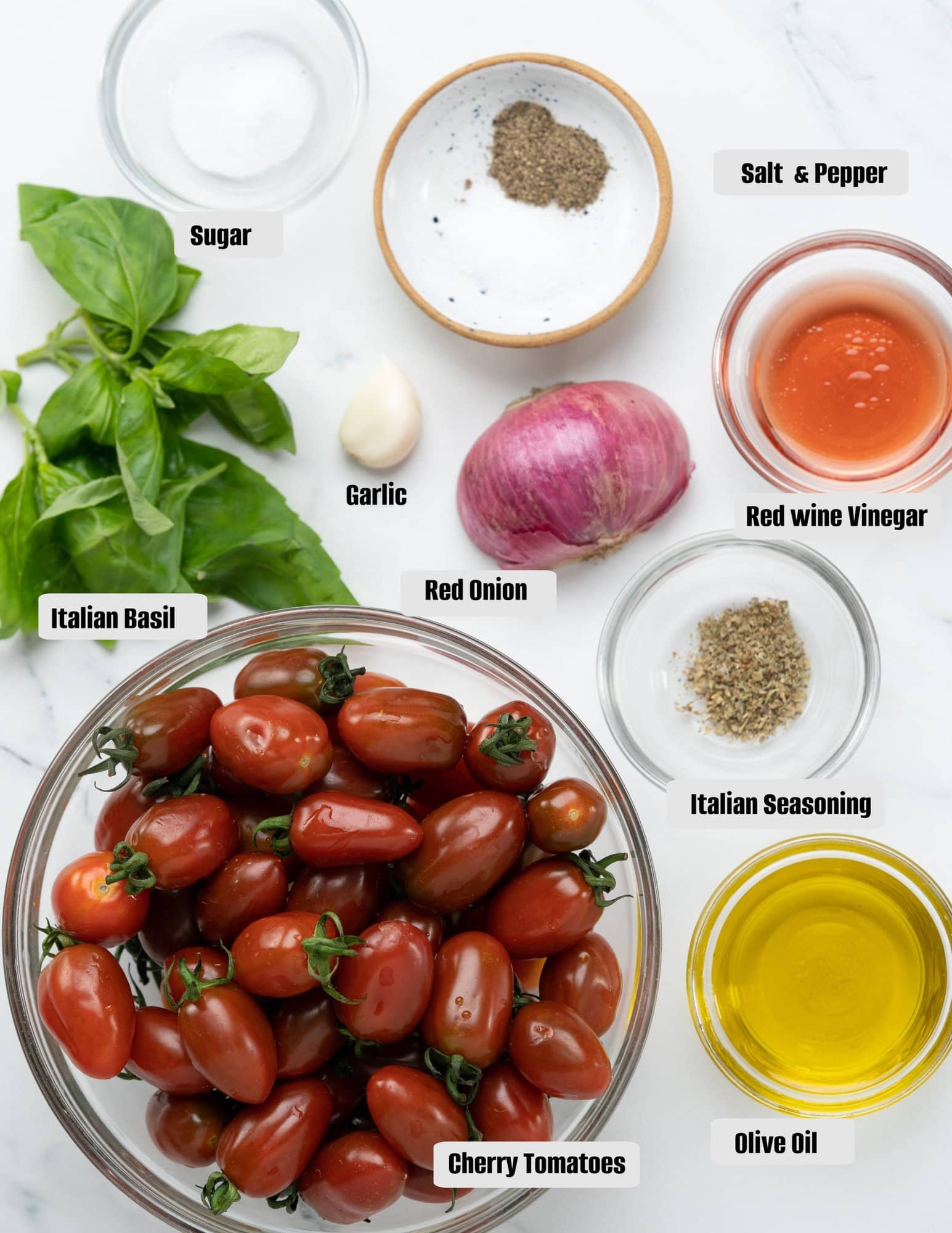 Making Cherry Tomato Salad
The process involves just chopping and tossing.
Clean and cut cherry tomatoes in half. You can keep half of them full if you wish.
Cut basil leaves and keep sliced red onion ready.
In a mixing bowl or small bottle, add olive oil, red wine vinegar, dry herbs, minced garlic, salt, pepper, and sugar. Shake it well until creamy.
Drizzle dressing over chopped tomatoes, onion and basil. Mix well.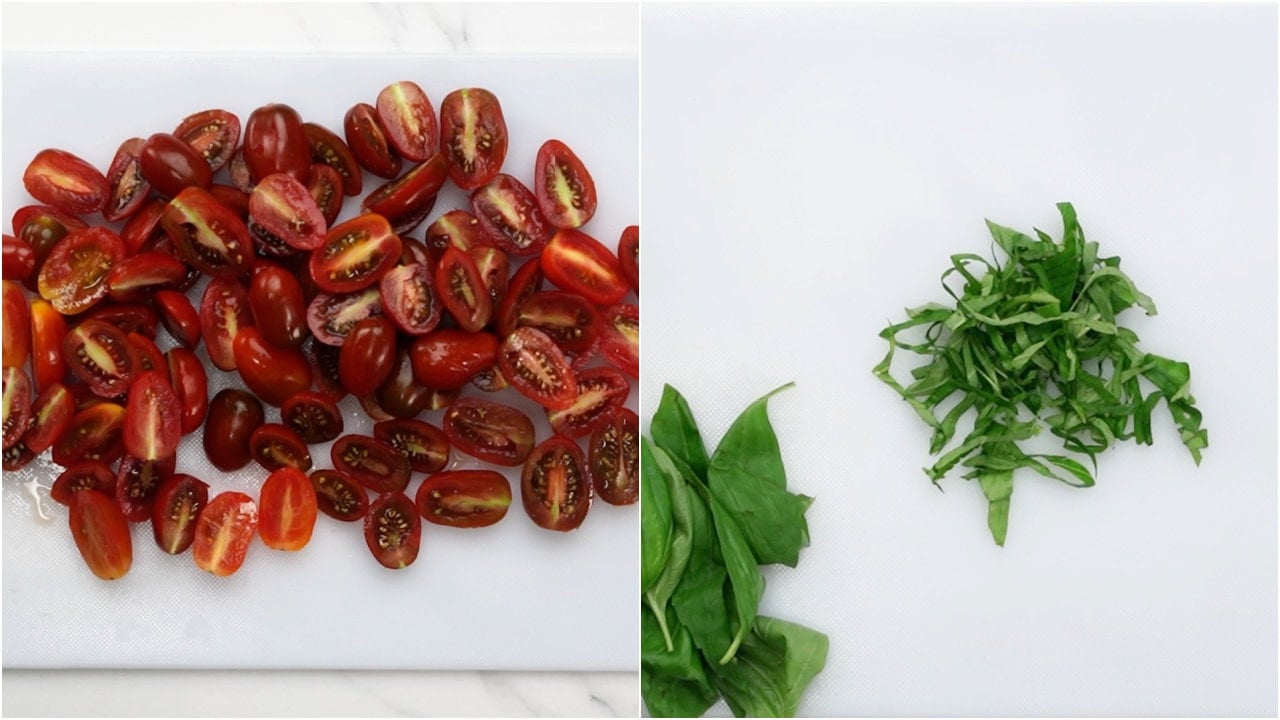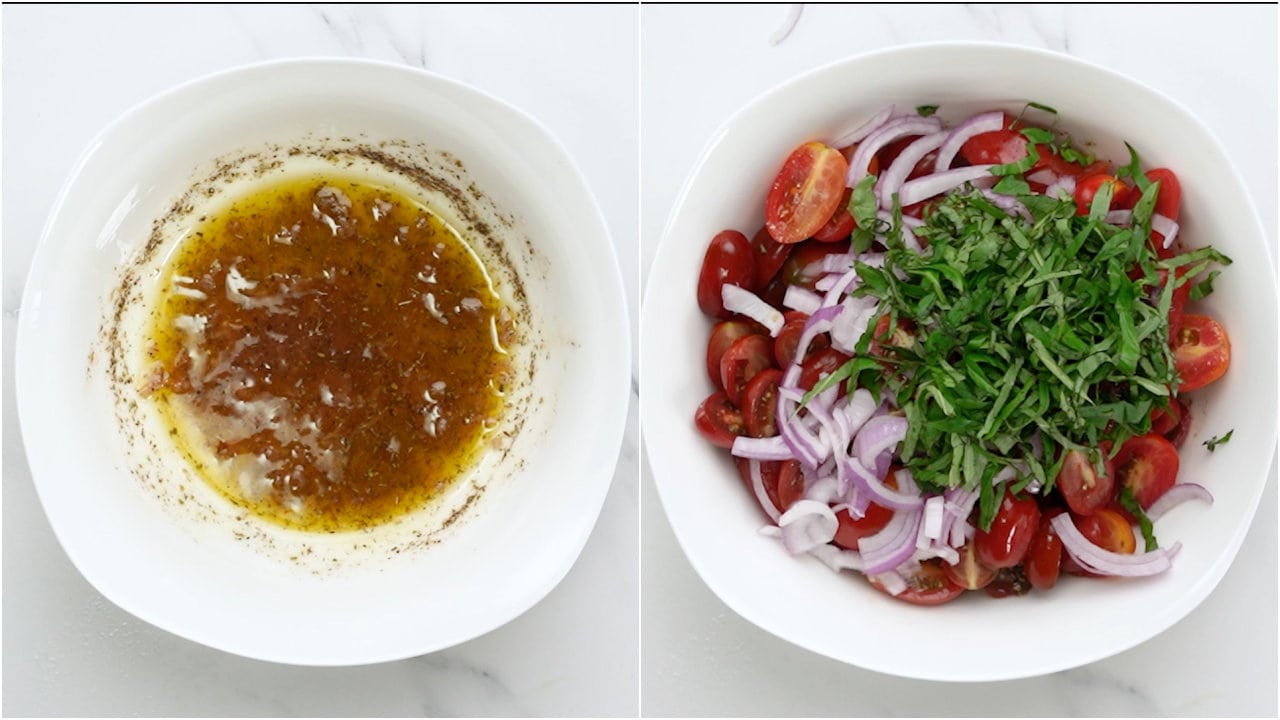 Making ahead & storage instruction
Unlike pasta salads or potato salads, this salad is not ideal to make ahead, or atleast i don't like to make it ahead of time. Because the tomatoes looses its crispyness and leaves a lot of water to the salad.
One way to make it ahead, is cut the toamtoes, onions and basil. In a separate jar keep the dressing ready. 10-15 minutes before serving, drizzle the dressing all over tomatoes and mix.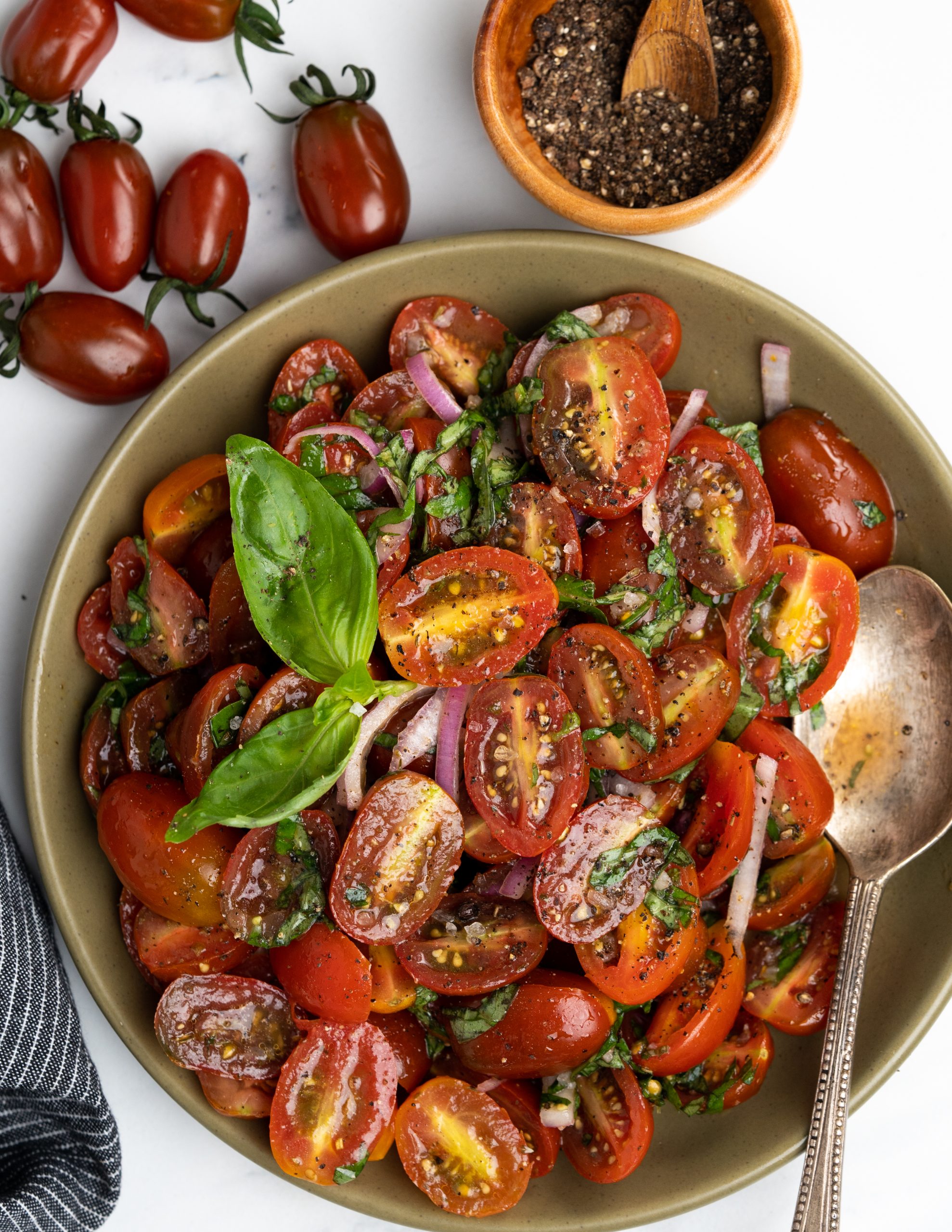 How to serve cherry tomatoe salad
Cherry tomato salads is an excellent side dish with grilled chicken, steak or other meat main dishes. During summer when you are looking a light and refreshing side dish, this salad would be a perfect pairing.
Top this cherry tomaot salad on toasted baguette to make bruschetta. Add some mozzarella and serve with toasted bread for a light brunch.
More light summer salad ideas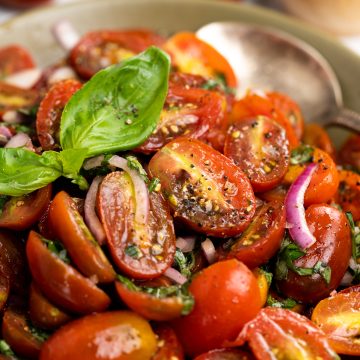 Cherry Tomato Salad
best way to use those fresh, sweet and tart summer cherry tomatoes. Drizzle a simple dressing of olive oil and red wine vinegar on halved tomatoes, red onion and basil leaves.
Ingredients
4 cups halved cherry or grape tomatoes
½ red onion
½ cup chopped basil
3 tbsp extra virgin olive oil
2 tablespoons red wine vinegar
½ teaspoons Italian seasoning
1 clove of garlic minced
½ teaspoon salt
¼ teaspoon pepper
½ teaspoons sugar
Instructions
In a glass jar with a lid or in a bif salad mixing bowl add all ingredients for the salad dressing. Shake or whisk it well, until it looks slightly creamy.

Pour the prepared dressing over the mixture of cherry tomatoes, basil and sliced red onion.

Let it rest not more than 10 minutes before serving.
Nutrition
Serving: 1serving | Calories: 129kcal | Carbohydrates: 8g | Protein: 2g | Fat: 11g | Saturated Fat: 1g | Polyunsaturated Fat: 1g | Monounsaturated Fat: 8g | Sodium: 308mg | Potassium: 350mg | Fiber: 1g | Sugar: 5g | Vitamin A: 730IU | Vitamin C: 35mg | Calcium: 21mg | Iron: 1mg