Mediterranean Chickpea Salad
This post may include affiliate links that earn us a small commission.
Chickpea Salad with Mediterranean flavors is super fresh and easy to make. This make-ahead salad is protein-packed and can be served as lunch or a side dish.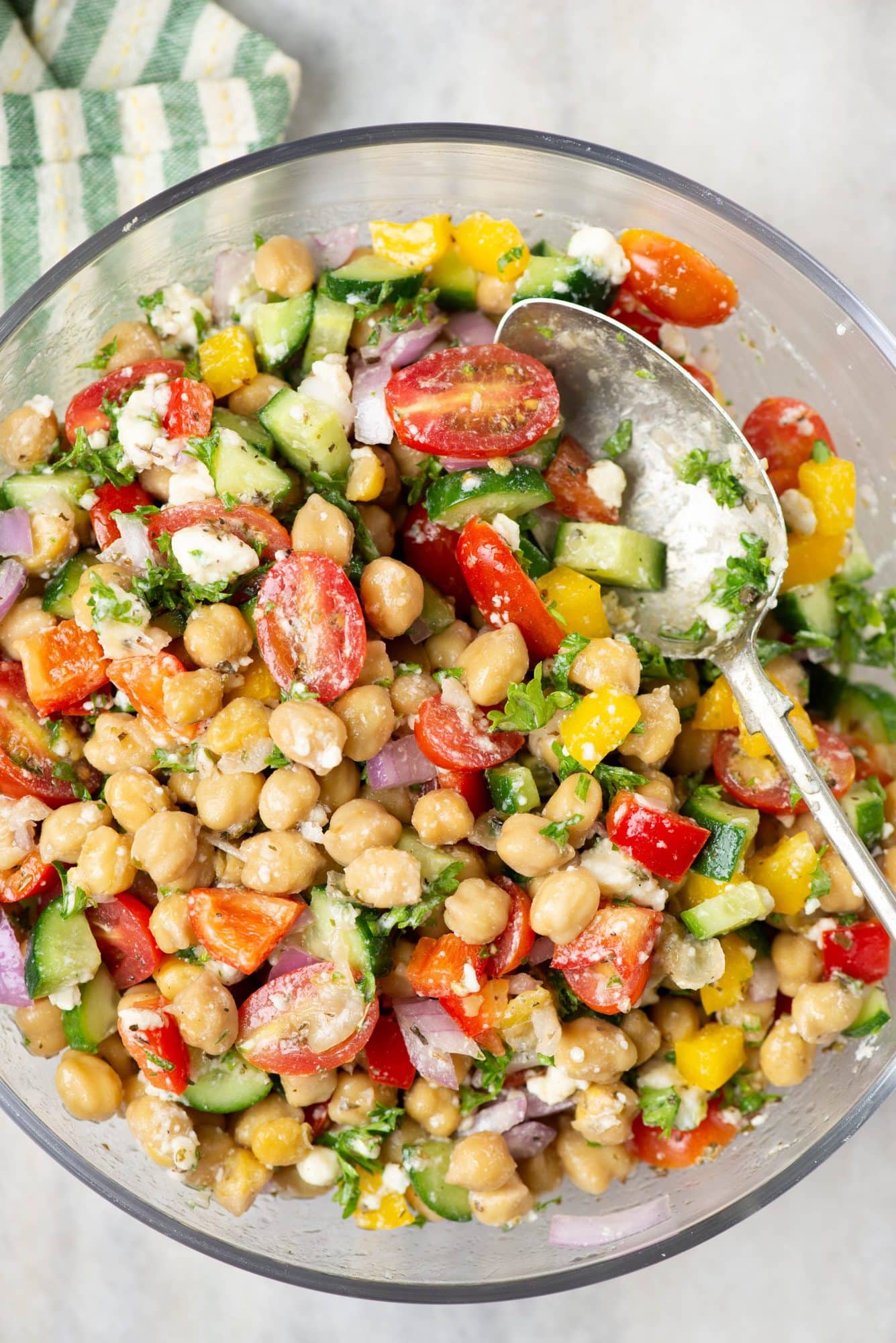 Chickpea salad is easy to make and comes together quickly. Loaded with chickpeas, crunchy cucumber, tomatoes, onion, fresh herbs, and feta cheese. The tangy red wine vinegar herb dressing has a Mediterranean flavor.
Flavours In Your Inbox
Subscribe for recipes straight to your inbox
This Garbanzo Beans salad is packed with protein and is hearty enough to serve as a meal on its own or can also be a great side dish for your barbeque. Especially best salad to have during summer, because this barely needs any cooking.
Chickpeas are considered healthy and a excellent source of protein for vegeterians. It is also high on fiber and is nutrient rich. We love chickpeas in different forms like this chickpea curry with potatoes, Instant pot Sweet potato chickpea curry, sausage chickpea stew and all time favourite hummus.
Canned Chickpeas to save time
The reason I told putting this salad is super quick is because you barely need any cooking and very minimal chopping. The best way to save time is to use canned chickpeas. Just rinse and drain the canned chickpeas and it is ready to use.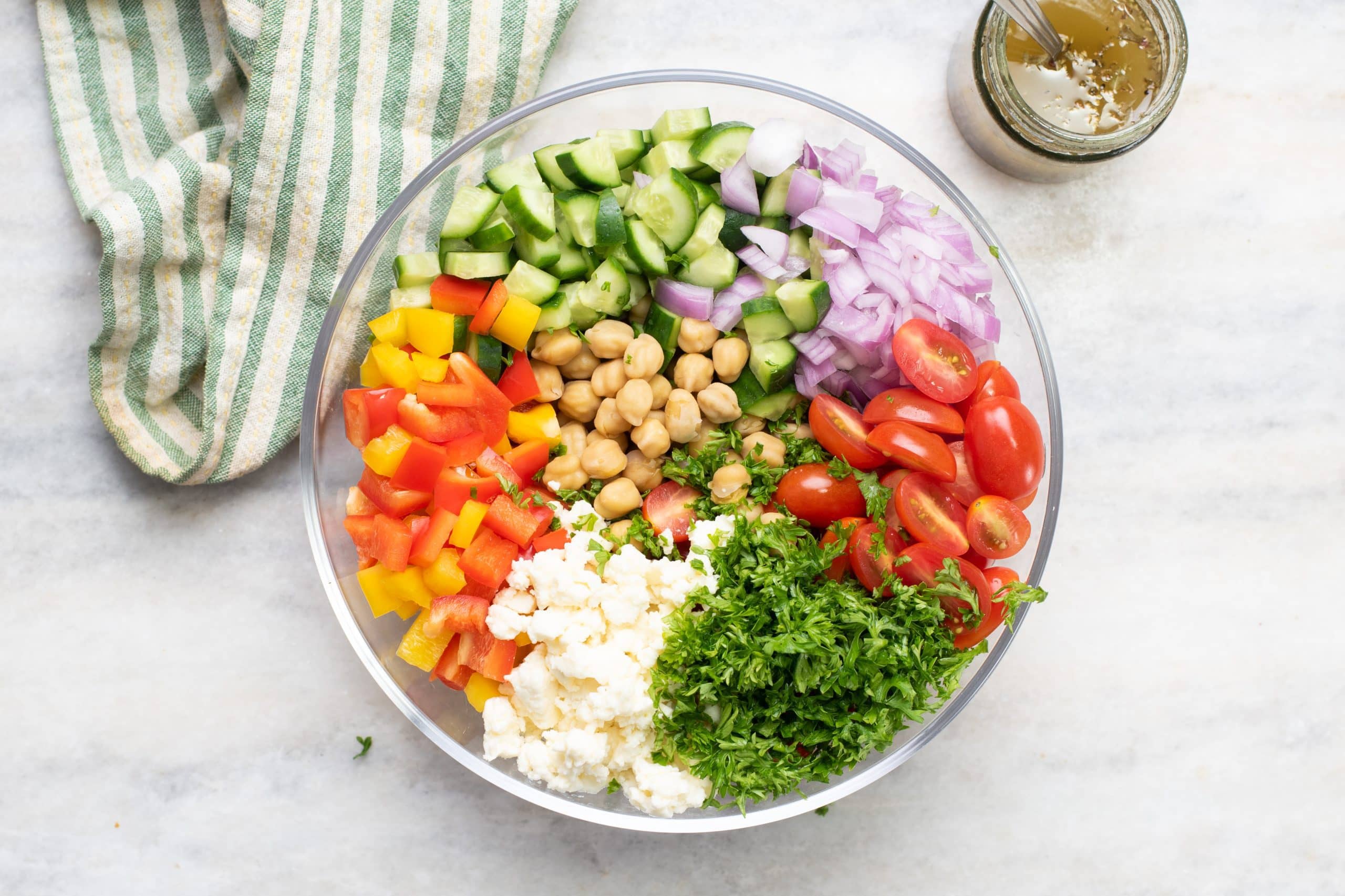 Healthy Mediterranean Chickpea Salad Ingredients
Chickpeas / Garbanzo beans – Use canned ones to save time. You can also use dried chickpeas. For that, you need to plan ahead and soak the chickpeas overnight. Then cook in a pressure cooker until tender but still holding the shape. Let it cool completely before using.
Vegetables – Cucumber, peppers, tomatoes, and onions. Use fresh veggies for the extra crunch. You could also add chopped celery. You can also use assorted colored peppers like a mix of yellow, green, and red.
Herbs– Lots of fresh flat-leaf parsley.
Cheese – For a creamy touch to the salad. Feta works the best.
A few variations that I can think of for this salad are to add kalamata olives and avocado for extra creaminess.
The dressing is a simple fresh lemon olive oil vinaigrette.
Make it ahead
Chickpea salad is great for picnics or meal preps as it lasts in the refrigerator for a couple of days.
If you are meal prepping or making a big batch for the picnic, then here is a trick that works for me. I add the vinaigrette just 10-15 minutes before serving the salad. Veggies tend to lose water when mixed with salt(from the vinaigrette), thus losing their crispiness. By adding the dressing towards the end, you will have fresh crunchy veggies instead of soggy ones.
To store leftovers, keep it in airtight container and it stays well for 2-3 days. The veggies will release water and will become soggy.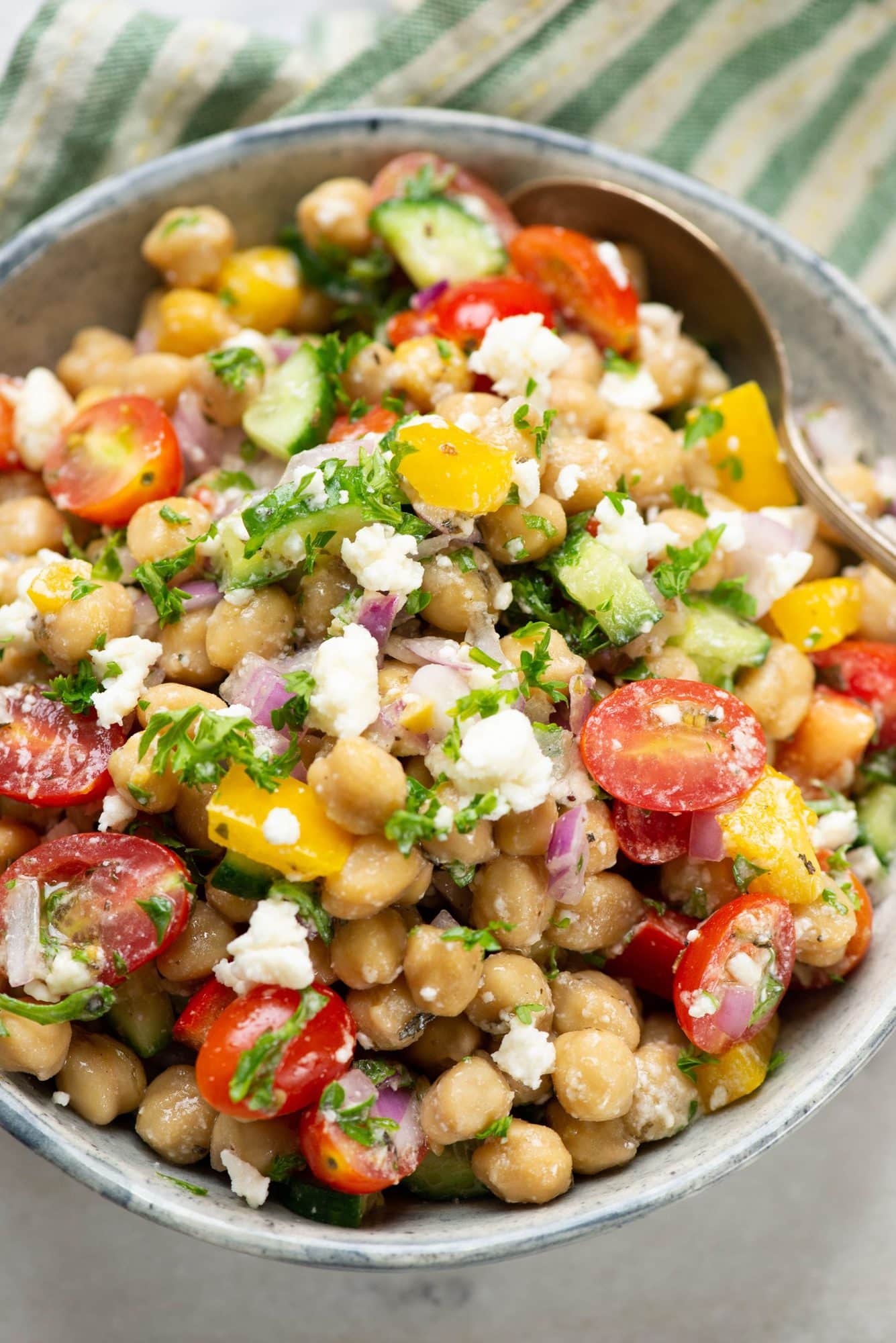 More Summer Salad Recipes…
Ramen Noodle Salad With Peanut Dressing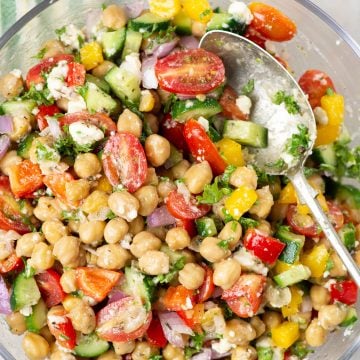 Mediterranean Chickpea Salad
Protein-rich chickpeas, cucumber, tomatoes, peppers, onion, herbs and feta cheese is tossed in a tangy lemon olive oil vinaigrette. Classic Mediterranean flavours in a sald
Ingredients
15 oz canned chickpea
½ medium red onion sliced
1 English cucumber
8 oz cherry tomatoes
1 red bell pepper, chopped
½ cup feta
½ cup flat-leaf parsley
For Vinaigrette
¼ cup olive oil
2 tablespoon Red wine vinegar
1 teaspoon minced garlic
½ teaspoon dried oregano
½ teaspoon dried basil
1 teaspoon salt
½ teaspoon sugar
Instructions
Make dressing
In a glass jar with a lid, add all the ingredients for the dressing. Close the lid and shake well to mix.
To make Chickpea salad
Drain the canned chickpea and rinse it well.

In a big salad bowl, mix all the ingredients for the salad. Add dressing to taste. Toss well to coat.
Nutrition
Serving: 1serving | Calories: 204kcal | Carbohydrates: 16g | Protein: 6g | Fat: 13g | Saturated Fat: 3g | Polyunsaturated Fat: 2g | Monounsaturated Fat: 7g | Cholesterol: 11mg | Sodium: 737mg | Potassium: 357mg | Fiber: 4g | Sugar: 3g | Vitamin A: 1347IU | Vitamin C: 43mg | Calcium: 115mg | Iron: 2mg