This post may include affiliate links that earn us a small commission.
Punjabi-style rajma masala is super comforting, nutritious, and close to many an Indian heart. This curry made with Red kidney beans is rich and the gravy has a creamy texture and is flavorful.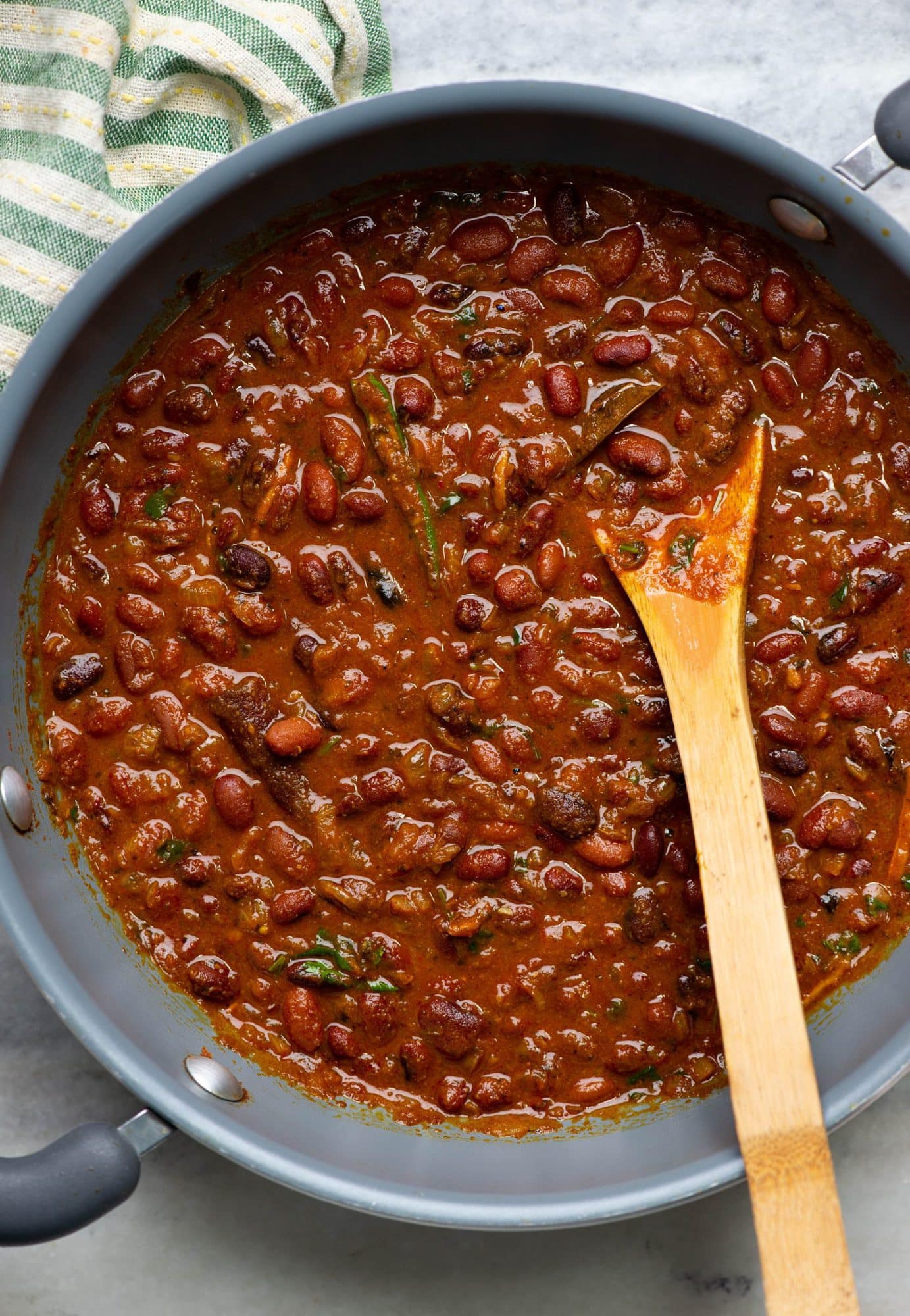 Few things are as comforting as Rajma Chawal (translates to Rajma masala and boiled white Rice). It's a homely and comfortable meal that the north of India swears by.
Flavours In Your Inbox
Subscribe for recipes straight to your inbox
Rajma masala is tasty and delicious no matter how you make it. It goes to the popularity and taste of red kidney beans that everyone loves. If you make it the way I have learned to make it, it will look like restaurant-style rajma masala and win hearts with its delicious taste.
My Punjabi rajma masala recipe evolved from all the experiences I had in north Indian restaurants and dinners hosted by my Punjabi friends. I have since then made it umpteen times and served it to family and friends. Everybody has loved this version and remarked that it is better than many restaurant versions.
Rajma masala is made up of primarily rajma i.e. Red kidney beans which are packed with nutrition. It has been a choice of nutrition in households as every mom would promote the health benefits and nutrition of Rajma.
Rajma has been brought by sailors to Asia via central Europe. It has since then retained a special place in the kitchen of the Indian subcontinent. You can find rajma masala throughout India in restaurants and households. Rajma masala has got the best deal of health benefits and taste.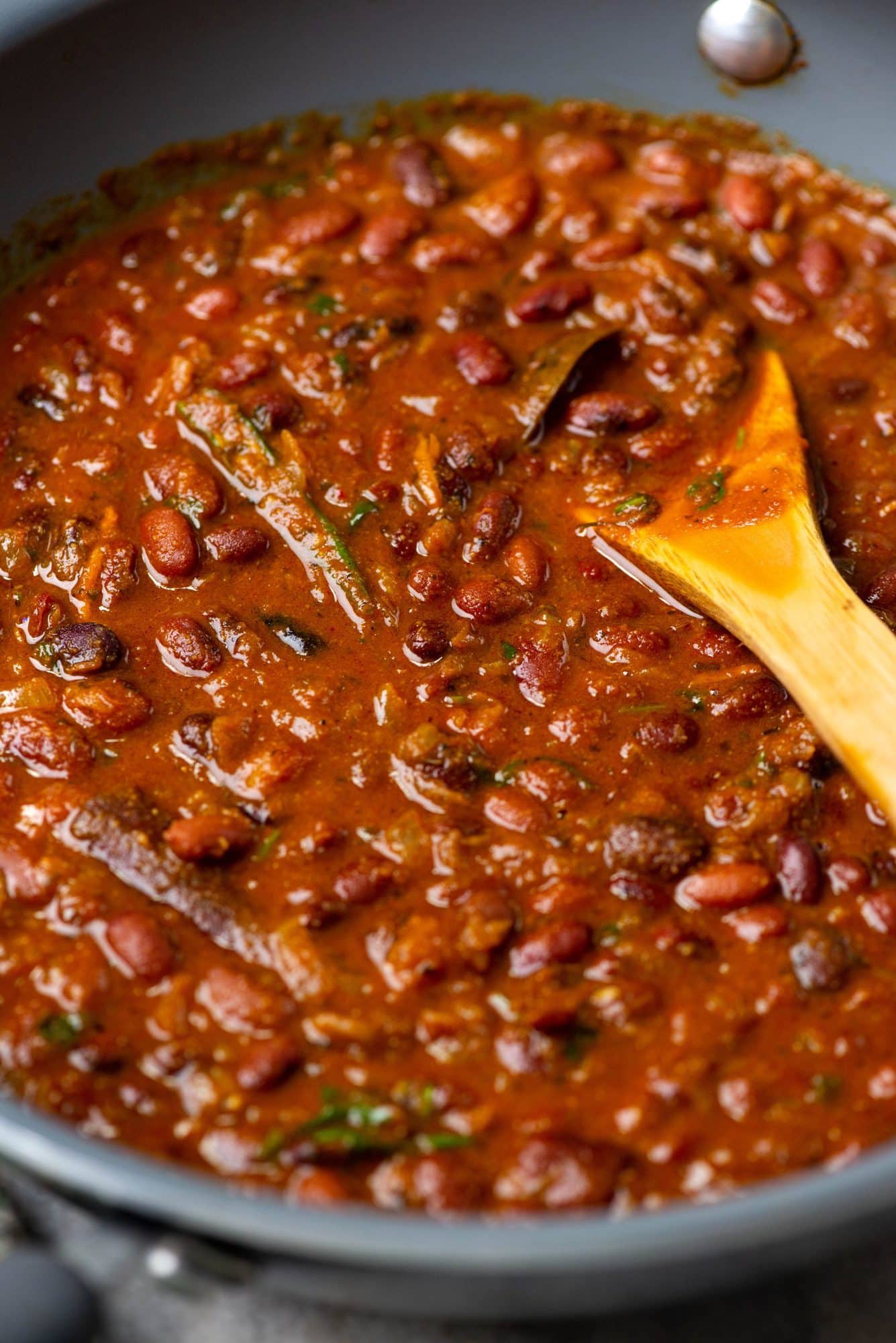 Ingredients
For soaking the rajma
Rajma or Red Kidney beans – Get the rajma. I have used small Kashmiri rajma in this recipe but ideally, it should be the long ones.
Black Cardamom – to add flavor to the boiled rajma.
Salt
For Cooking
Mustard Oil – Mustard oil has a lot of flavors and has been traditionally used in Indian kitchens.
Onion
Tomatoes – Need to make a puree of the tomato.
Ginger Garlic paste – I prefer fresh homemade ginger garlic paste. Store-bought pastes are fine too.
Bay leaf
Cumin
Cinnamon
Hing or Asafoetida – used to enhance savory and as a digestive aid while eating beans.
Turmeric powder
Coriander powder
Chat masala
Garam masala
Kasturi methi
For tempering
Mustard Oil – You will need this for cooking the beans and tempering at the end.
Kashmiri red chili powder – to add color but not much heat
Ginger – It has to be cut into juliennes.
How to make
Tomato puree
You may buy a pureed tomato can from the store or make it at home using a blender.
Soak and cook Rajma
It is very important to soak Rajma before you cook them. Soak them in water preferably overnight or at least for 6 – 8 hours.
After discarding the soaking liquid, put the rajma in a pressure cooker with black cardamom and a little salt. Cover and cook for 4 whistles.
Switch off the flame and let the pressure release naturally in a few minutes. Check the rajma – it should be soft yet hold shape.
Bhuna the masala
Bhuna means to Saute something very well. In a skillet, heat mustard oil and then add bay leaf, cinnamon, cumin, and Hing (asafoetida) and stir a few times.
Add chopped onions and saute until they turn slightly brown. Next, add the ginger-garlic paste, turmeric powder, chili powder, and coriander powder, and saute it again. Add tomato puree and sauté it well until it dries and forms a paste. This step is called bhuna and is important to get the flavors.
Add the soaked rajma beans along with garam masala and chat powder. Mix them well as leave to simmer for some time.
Tempering and garnish
In a small pan, heat mustard oil or ghee and ginger juliennes and saute. Then add Kashmiri red chili powder which gives a bright red color to the tempered oil mix.
Add the tempered oil mix to the rajma masala along with green chili and Kasturi methi. Take Kasturi methi in your palm and rub them to crumble it further and add it to the masala.
Mix it well and at the end garnish with chopped coriander leaves.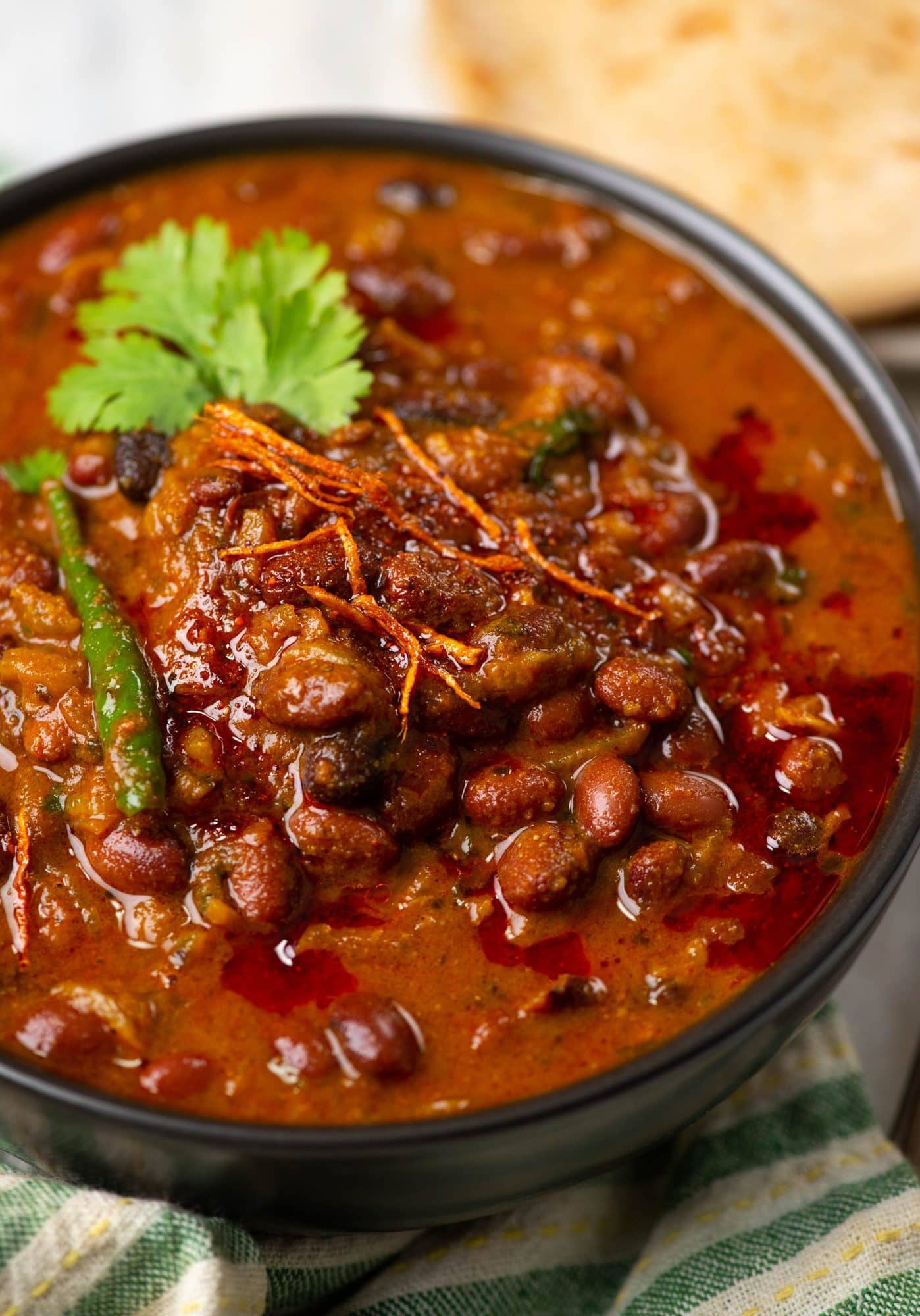 Tips
Soaking the kidney beans overnight helps in breaking down Lectin – a toxin, and makes it easy for our gut to digest it. People with sensitive guts should definitely use soaked rajma.
Soaking them in hot water helps to soften rajma early and helps if you are in short of time.
Adding black cardamom while soaking the rajma gets a nice flavor to the soaked beans.
The onions and tomato base need to be sauteed (bhuna) well to get the best flavors.
For tempering, instead of mustard oil, you may opt for ghee too. Tastes so much better.
The pinch of Kasturi methi powder added towards the end enhances the taste of rajma masala.
If the rajma masala appears a bit watery, you can crush some of the rajma beans and mix them well. It helps in thickening the gravy.
I would recommend not skipping the chopped coriander leaves. Adds a nice flavor to the rajma masala.
Store
You may soak and cook rajma and then store it in the refrigerator for up to 3 days. Or you may cook the whole dish and store it for up to 4 days in the refrigerator.
No freezing for rajma masala. When you need to plate it, take it out from the refrigerator, and heat it for a minute.
Serve With
Rajma masala is famously had with rice and hence the common combination is called 'Rajma chawal' (Rajma and rice). It is comforting, fulfilling, and tasty.
Also, it goes well with white, brown, or red rice (common rice in Kerala) and also Jeera pulao or vegetable pulav. To make a whole north Indian meal, serve it with raita, pickled or sliced onions, and papad.
Have it with your regular Indian bread like Roti or paratha and you will not complain. This compliments other Indian dishes and curries too.
More Indian Curry Recipes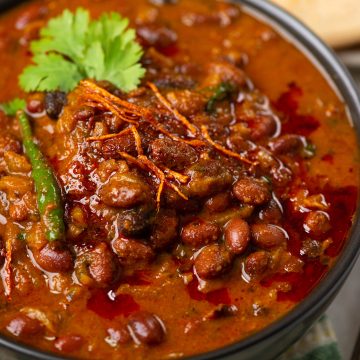 Rajma Masala
One of the most popular curries is made with red kidney beans, onion, tomatoes, and spices. A tangy flavourful curry that pairs well with rice (rajma chawal as it is called popularly).
Ingredients
¾ cup Dry Rajma about 180 grams
1 Black Cardamom
½ teaspoon Salt
For Curry
3 tablespoon Mustard Oil
1 Bay leaf
½ inch Cinnamon
½ teaspoon Cumin
Large pinch of Hing
1 Onion (large) finely chopped
1 tablespoon Ginger Garlic Paste
½ teaspoon Turmeric Powder
1 teaspoon Red Chili Powder
2 teaspoon Coriander Powder
1 Medium tomatoes Pureed
1 teaspoon Garam Masala
1 teaspoon Chat Masala
2 teaspoon Kasoori Methi
1 Green Chili (slitted)
For Tempering
2 teaspoon Mustard Oil
½ inch Ginger Julliened
1 teasppon Kashmiri Red Chili Powder
Instructions
Prepare Rajma
Soak rajma in enough water for 8 hours or overnight.

Discard the soaking liquid. Add the rajma to a pressure cooker. Add enough water to cover rajma(5-6 cups), salt, and black cardamom. Cover and cook for 3-4 whistles.

Let the pressure release naturally. The rajma should be cooked soft but also holds its shape.

Heat mustard oil in a pan until smokey. Let the oil cool down a bit.

Add bay leaf, cinnamon, cumin, and asafoetida. Cook for 30 seconds until it is aromatic.

Cook onion until it is softened and starts to brown in colour.

Add ginger-garlic paste. Cook for a minute until it is aromatic.

Add turmeric, red chili powder, and coriander powder. cook for 30 seconds until it is aromatic. Take care the spices don't stick to the bottom. Sprinkle little water if the paste sticks to the bottom.

Time to add the pureed tomatoes. Cook everything until tomatoes are cooked thoroughly. The mixture should come together and leave oil around the edge.

Add cooked rajma along with the liquid. , Garam masala and chat masala. Cover and let it simmer for 10-12 minutes.

Towards the end, heat mustard oil in another pan. Add ginger and cook it for 30 seconds. Switch off the flame. Add Kashmiri red chili powder and give it a stir.

Add the tempering, crushed Kasuri methi, and fresh coriander leaves.
Notes
I have used the small rajma known as Kashmiri rajma but ideally, the long rajma is used. 
Use good quality homemade garam masala (not curry powder). 
Lightly toasting Kasuri methi in a dry pan makes it more flavourful. 
Nutrition
Serving: 1serving | Calories: 121kcal | Carbohydrates: 8g | Protein: 3g | Fat: 9g | Saturated Fat: 1g | Polyunsaturated Fat: 2g | Monounsaturated Fat: 5g | Sodium: 203mg | Potassium: 186mg | Fiber: 3g | Sugar: 1g | Vitamin A: 275IU | Vitamin C: 5mg | Calcium: 18mg | Iron: 1mg