This post may include affiliate links that earn us a small commission.
This oven roasted Harissa Chicken  is quick and easy to make. Chicken marinated in fiery hot harissa along with very few other ingredients and baked to perfection. This one pan dish is flavorful and very delicious. If you have a good spice tolerance than I am sure you are going to bake this more often.
Flavours In Your Inbox
Subscribe for recipes straight to your inbox
This spicy aromatic condiment is widely used in North African and Moroccan cuisine. It is basically a paste of assorted hot chili peppers,coriander ,caraway,Cumin,garlic and Olive Oil. Sometime Bell peppers,mint or tomatoes are also added. It acts as an excellent marinade for meats. You can add a dollop of this on top of stews or soups too. I mostly use this to marinate meat or fish. I also add this to roasted veggies and mix the veggies to Couscous.
I have added some boiled chickpeas and garlic(I love garlic and never get enough of it) to the roast too. You can also add some Onions,bell peppers, Zucchini to it while roasting too.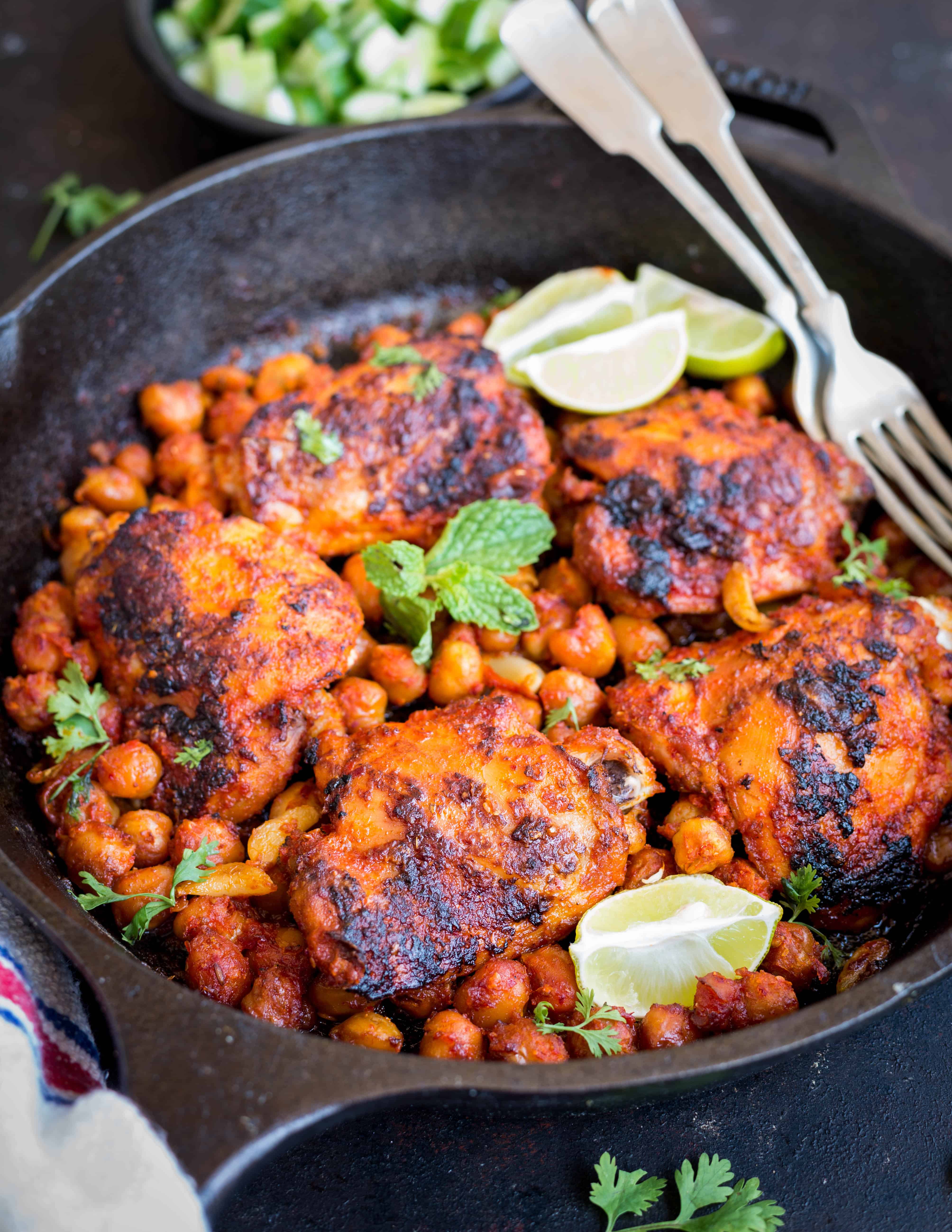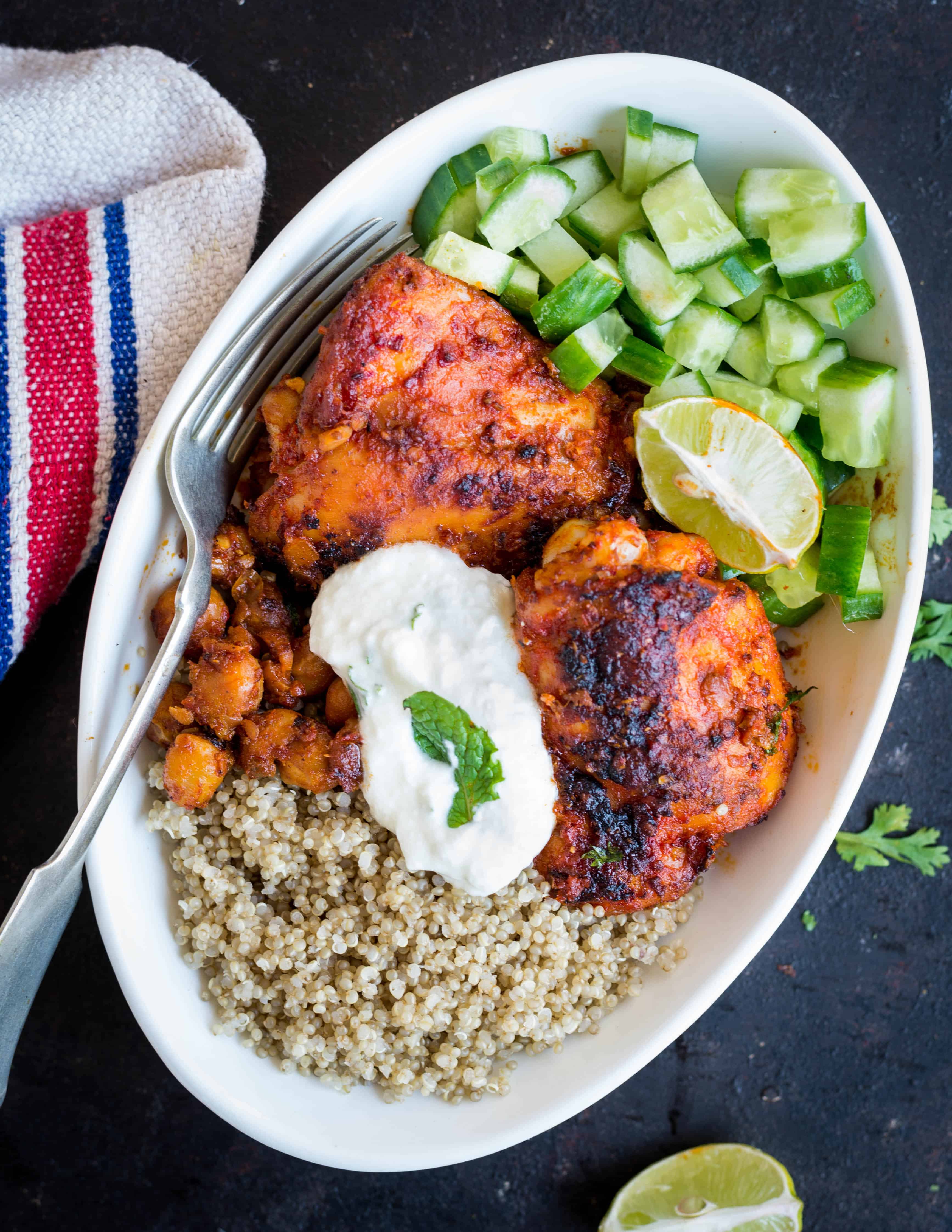 You can have this as a meal by itself of serve on a bed of couscous. If you like one bowl meal like us then here is one of our favorite. In a bowl add cooked quinoa,roasted harissa chicken  along with chickpeas and veggies, chopped cucumber and some garlic mint yogurt.
Else serve this harissa roasted chicken with some refreshing
https://theflavoursofkitchen.com/couscous-salad-with-orange-vinaigrette-recipe/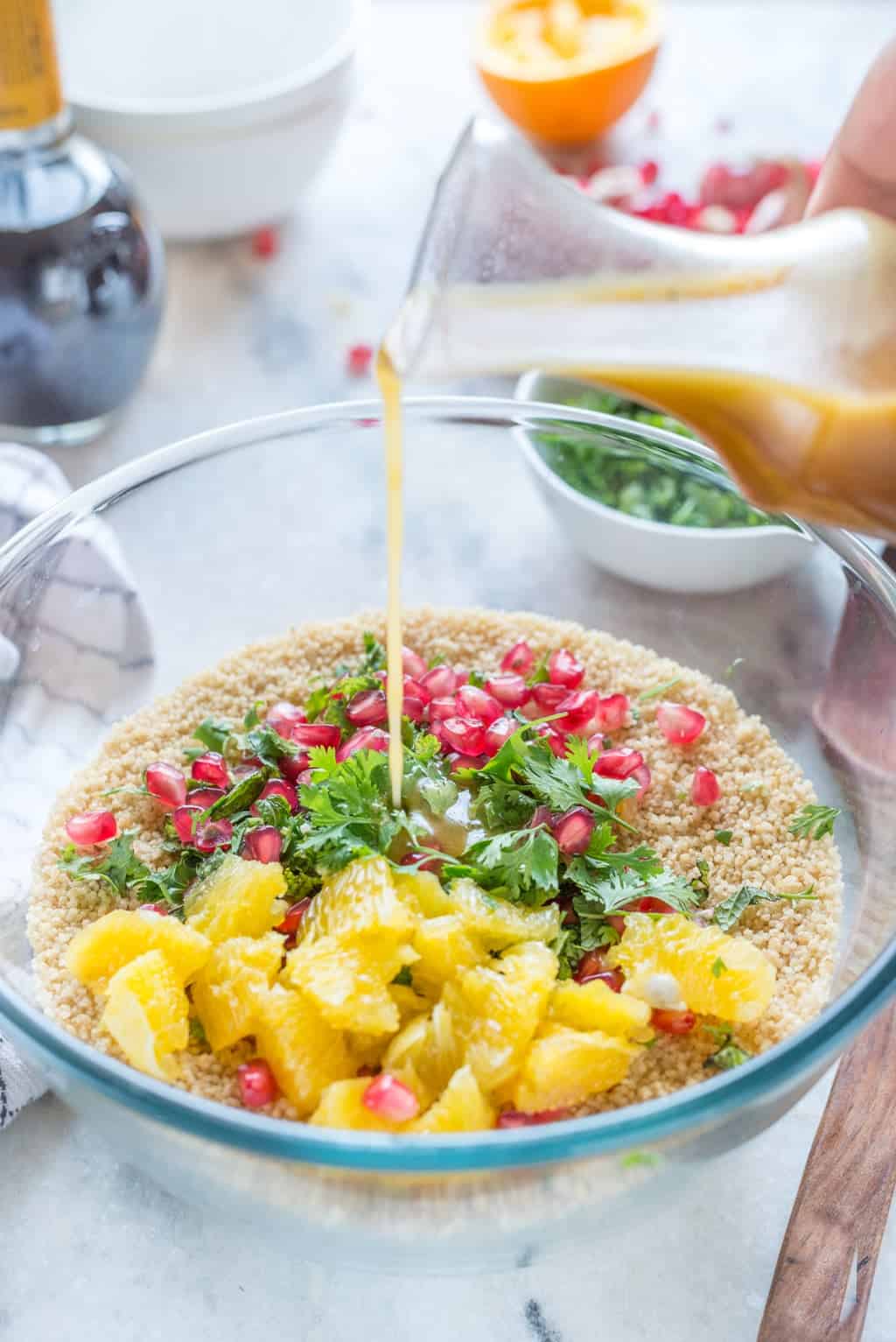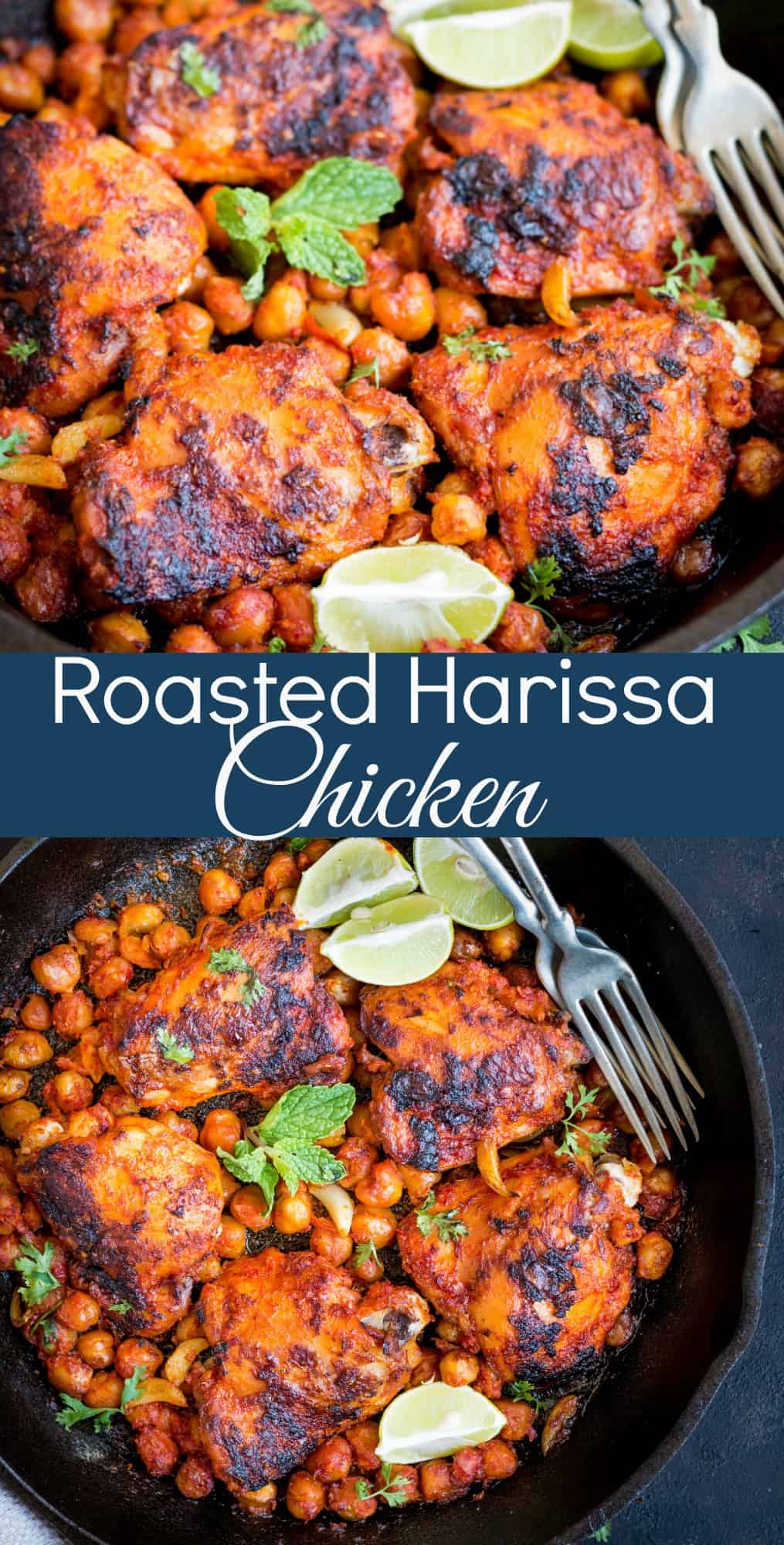 Save
Save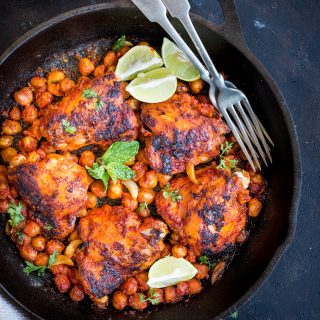 Roasted Harissa Chicken
This oven roasted Harissa Chicken is quick and easy to make
Ingredients
5 - 6 chicken thigh with bone and skin on
1 tbsp extra virgin olive oil
1 cup Chickpeas cooked
7 - 8 cloves garlic of
1 tsp honey
one lemon Juice of a
½ cup chicken stock
For Harissa
20 chillies variety or assorted ) dry red (any
1 tbsp Coriander Seeds
1 tbsp Cumin Seeds
½ tbsp Caraway seeds
6 cloves garlic of
¼ cup olive
Instructions
Harissa Paste
Place the chiles in a heatproof bowl and cover with boiling water. Let stand for 30 minutes.

Roast coriander,cumin and caraway seeds till aromatic. let it cool down. Grind the spices in a coffee or Spice grinder and make a fine powder.

Drain water from chilies and reserve some liquid for later use. stem and deseed the chilies.

Grind together the chillies,salt,spice powder. While the food processor is still running slowly add olive oil. if the paste is too thick add some water reserved in step 3.

Store in a clean jar to be used later.
For Chicken Roast
In a bowl add 2-3 tbsp harissa paste,honey,lemon juice.Mix well. Add Chicken thighs . Rub the spice paste evenly and marinate for at least 6 hours or overnight in the refrigerator.

Remove the marinated chicken from the refrigerator 30 minute before cooking.

Pre-heat oven to 180.

Heat a pan(preferably ovenproof cast iron pan and wide enough to hold all the chicken)When hot add 1 tbsp oil. Place the chicken thighs and cook on high heat for 2 minutes each side.(This step is basically to sear the meat). They should look golden brown in color.

Put any remaining marinade from the bowl to the same pan. Add cooked chickpeas and crushed garlic(you can add any veggies if using at this point of time). Toss everything for 5 minutes.

If not using the same pan for baking then shift everything to a oven proof dish.

Add stock and bake for 25 - 30 minutes.

Let it rest for 10 minutes before serving.