This post may include affiliate links that earn us a small commission.
Chilli paneer is one of the most popular Indo-Chinese appetizers. Paneer cubes are coated in batter, deep-fried until crispy, and then tossed in a savory and spicy sauce.
Paneer chilli is the vegetarian answer to chilli chicken. One would come across this dish on every restaurant menu. Well, what's not to love in Chilli paneer, it is amazingly delicious. Paneer cubes are coated in batter and fried till the outside is crispy. Then tossed in a spicy, sweet Indo-Chinese-inspired sauce along with garlic, cubes of onion, and capsicum.
Flavours In Your Inbox
Subscribe for recipes straight to your inbox
Chilli Paneer though is generally served dry as an appetizer, you can easily make a gravy version and serve it with fried rice or noodles.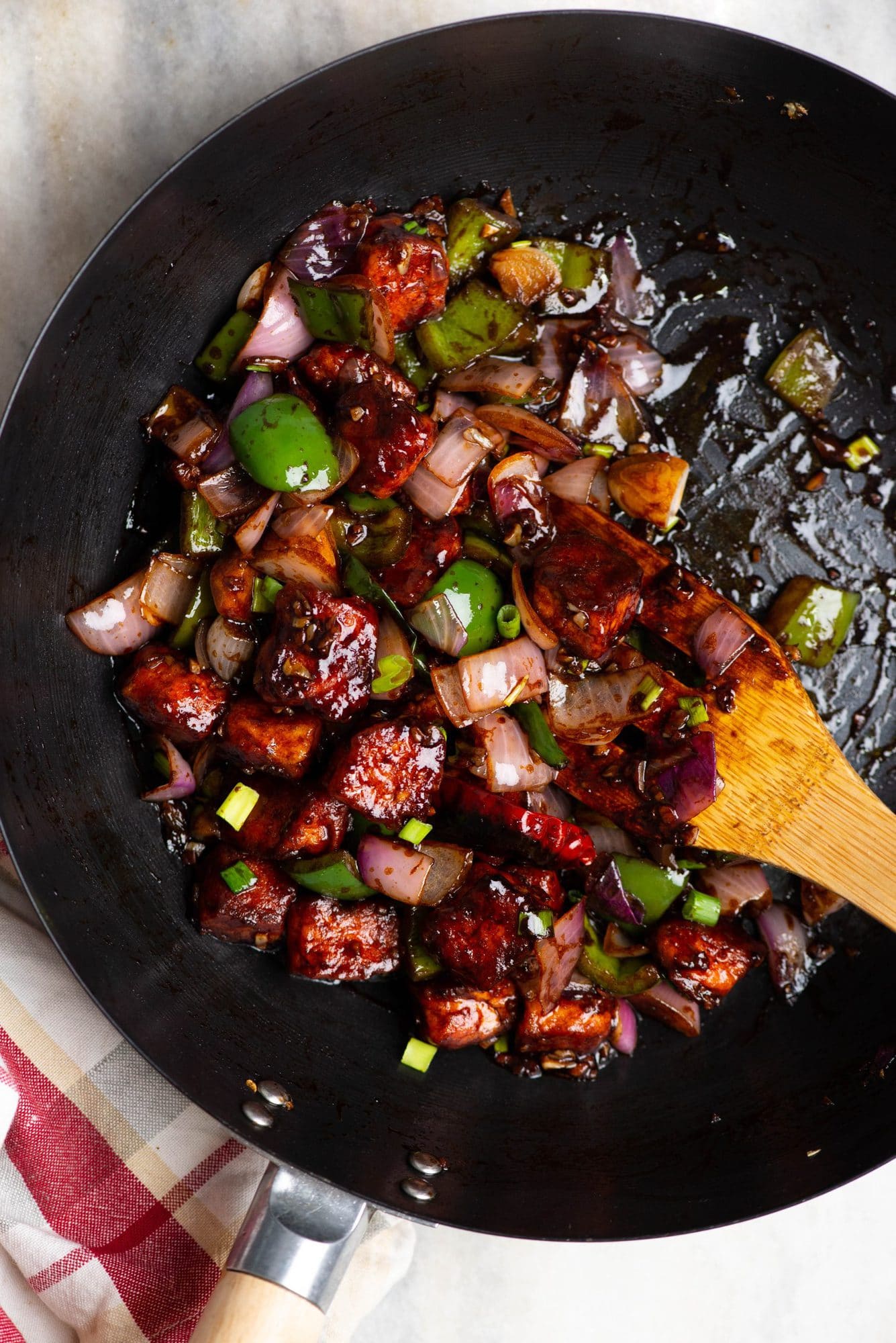 Making Chilli paneer at home is quite easy and can be as good as in restaurants.I am going to share a few tips to get chili paneer perfect every single time.
Good Quality Paneer
Chewy or hard paneer will ruin the entire dish, so make sure you use paneer that's fresh, soft, and holds shape. If using frozen paneer, you can soak it in slightly salted warm water for 10 mins.
Frying Paneer for Chilli Paneer
Next important thing is to fry paneer right. Paneer coating should not be too thick, else it will either remain undercooked or it will come off while tossing it in the sauce. If the batter is too thin, it just won't stick to paneer. After coating the paneer with the dry mixture, start adding water little by little (a few splashes at a time). Watch the video to understand the batter consistency.
For deep drying – Golden crispy fried paneers, the frying oil temperature is also important. Too hot oil and the coating will burn. If the oil is not hot enough, the batter will soak up a lot of oil. To check the temperature put a small drop of batter into the oil, if the batter rises in 10-20 seconds to the top, the oil is ready. Another way is to insert a wooden skewer into the oil, if small bubbles appear around the skewer then it the oil is hot enough to fry.
To Shallow Fry – I prefer shallow frying coated paneer and it always turns out as good as deep fried ones. Trick is not to disturb the paneer until it is cooked on one side, then flip.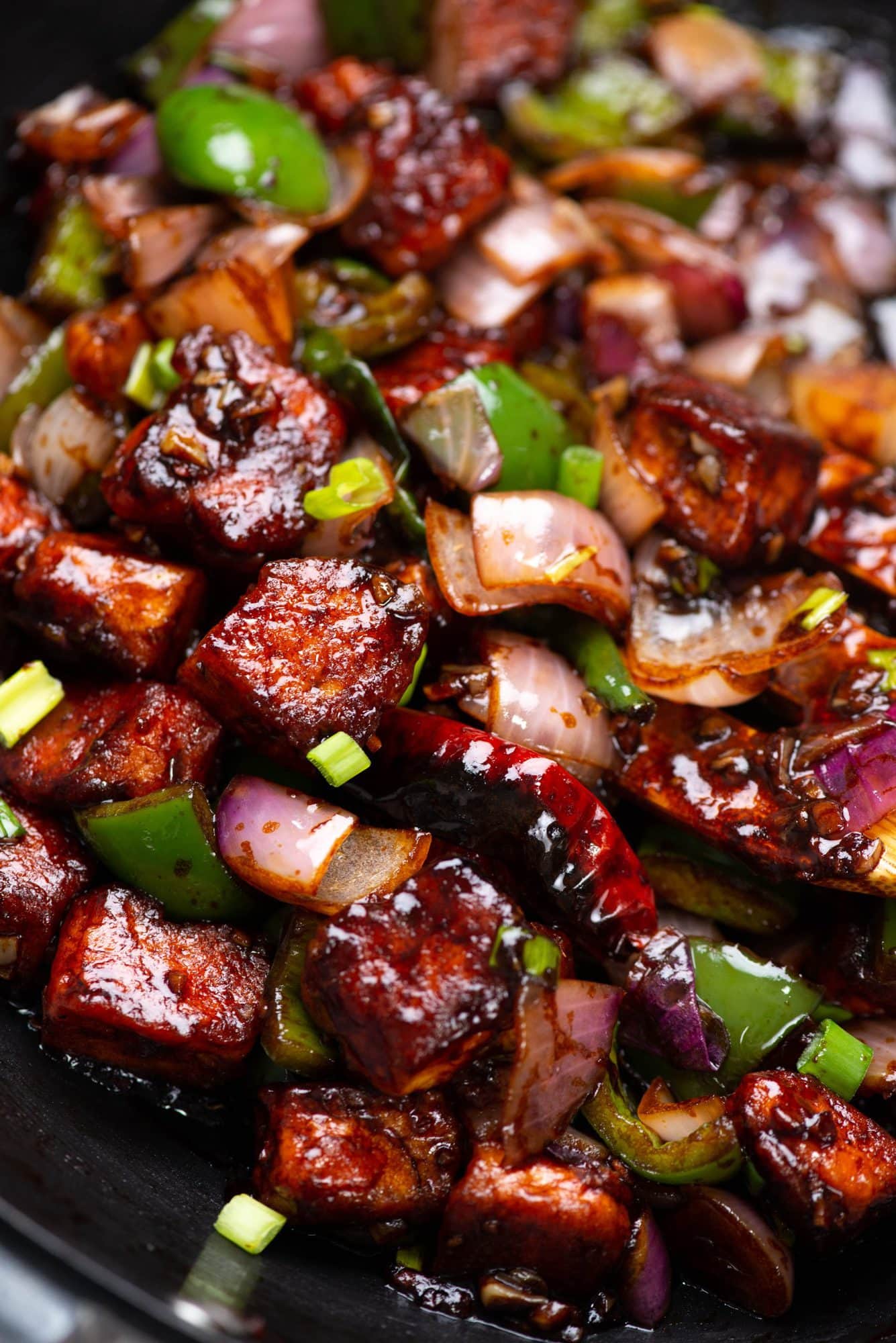 Keep Veggies Crispy
Not only the fried paneer, I also love the crunchy onion and capsicum coated in the sauce. After frying the paneer, keep all the ingredients ready for the fry. The recipe will move faster, so keeping the ingredients ready is really helpful. The veggies will need to be tossed on high heat for a nice smokey flavor and it will also keep the veggies crunchy.
I love to use a wok or this for my stir-fries. You can also use a skillet. It is easy to toss everything in a wok on high heat.
Steps to make Chilli Paneer
Mix all the ingrdiets for sauce in a bowl and keep aside.
Cut paneer into approxmiately 1 inch square. Coat with the flour and spice mixture and sprinkle water for the batter to stick to the paneer.
Shallow fry the coated paneer in little oil. Make sure the pan is hot for crispy paneer.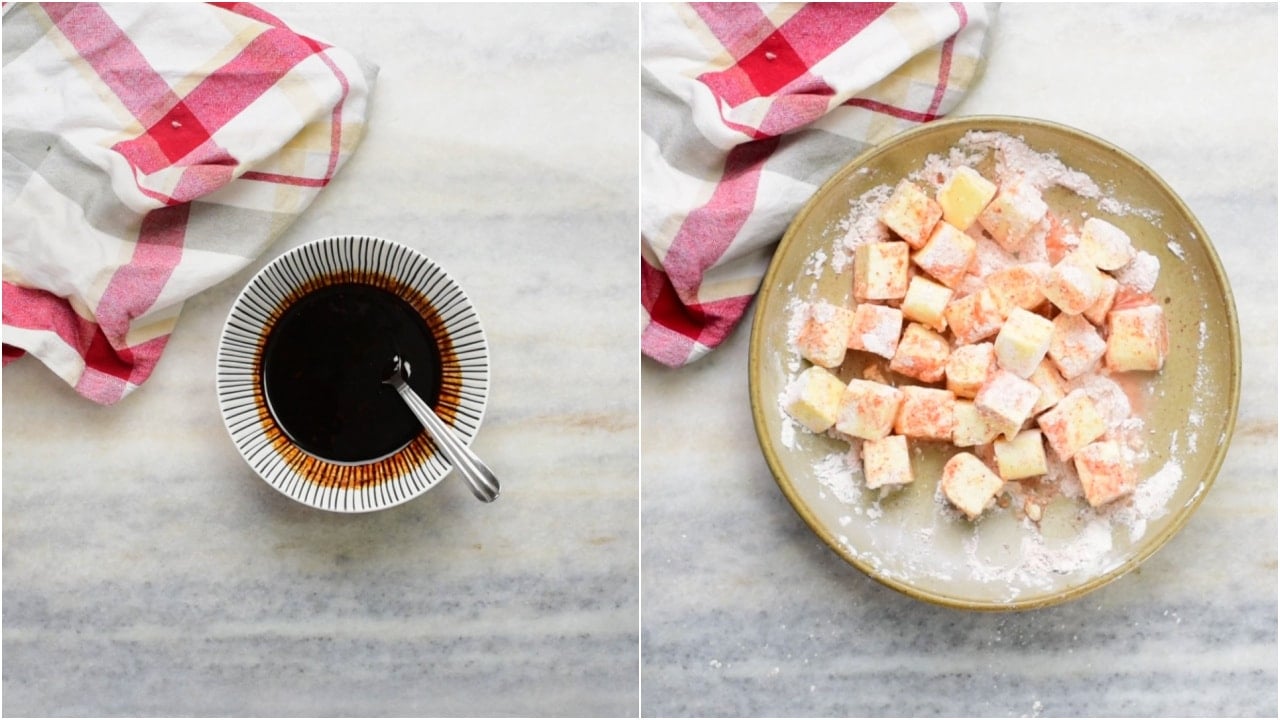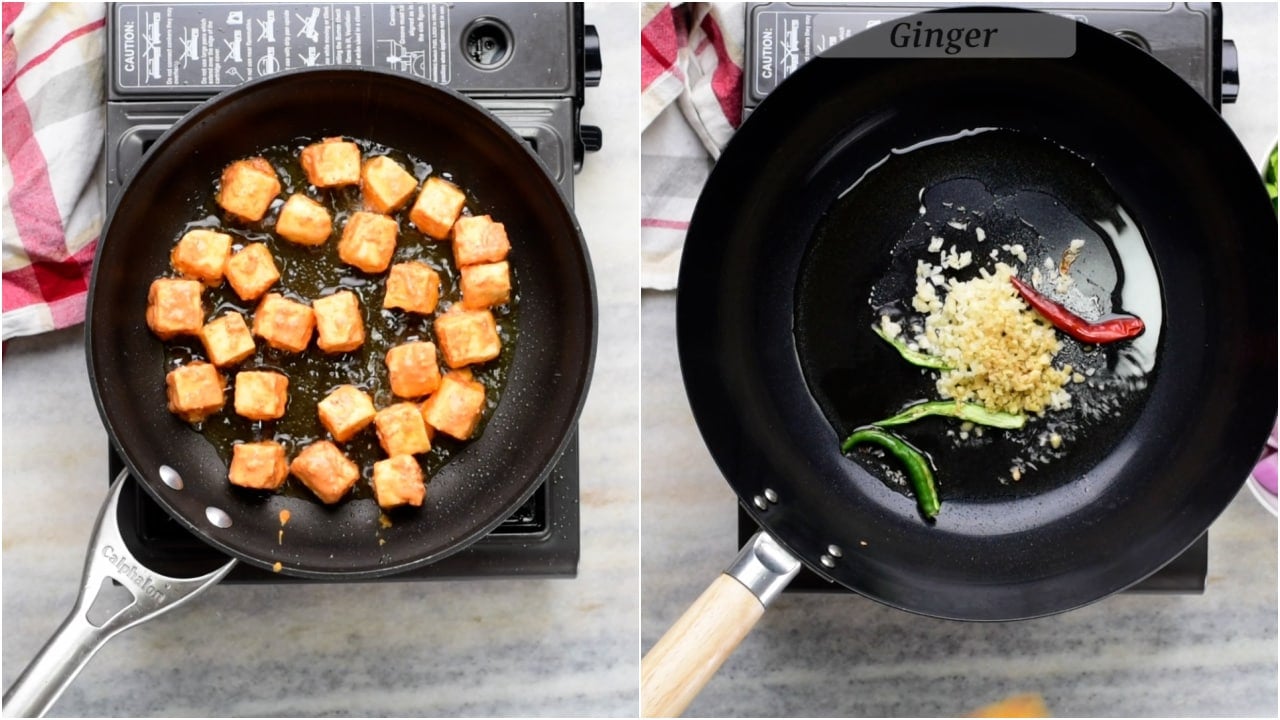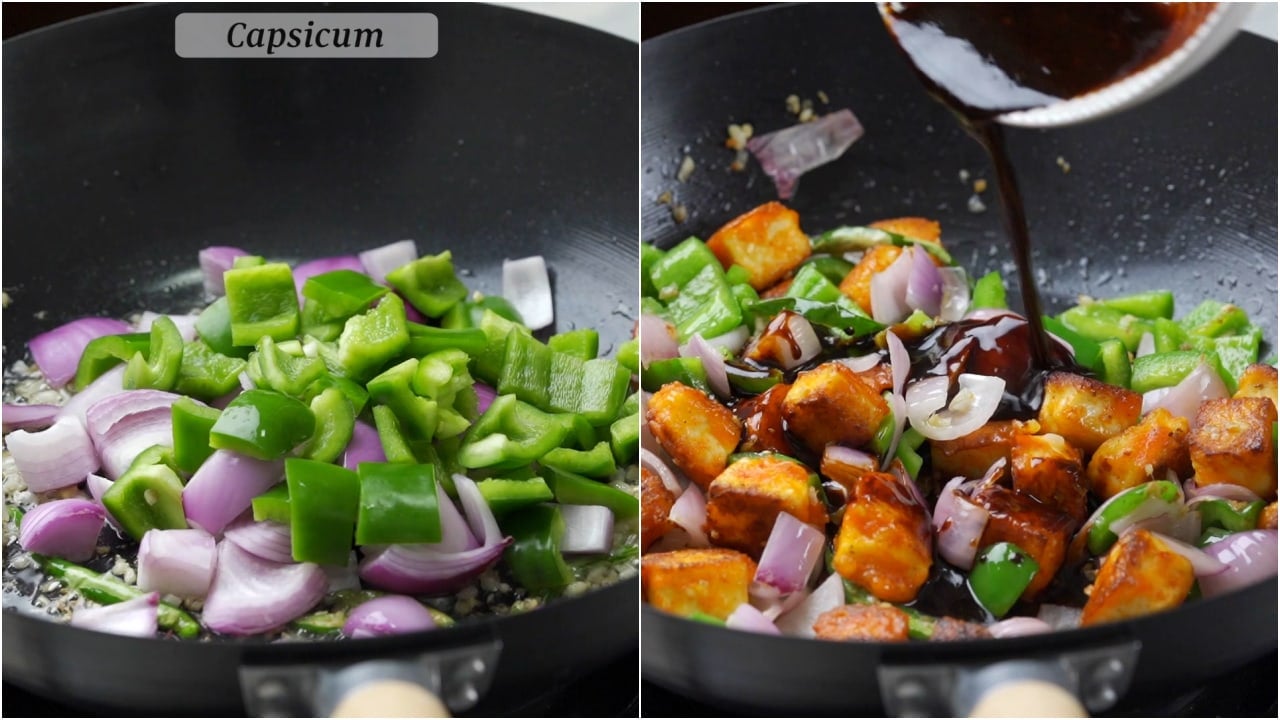 To the same pan, add ginger, garlic followed by other veggies. Stir fry on high heat.
Add fried paneer to the wok along with the sauce. Toss until everything is coated well with the sauce. Add chopped green onion, mix and serve.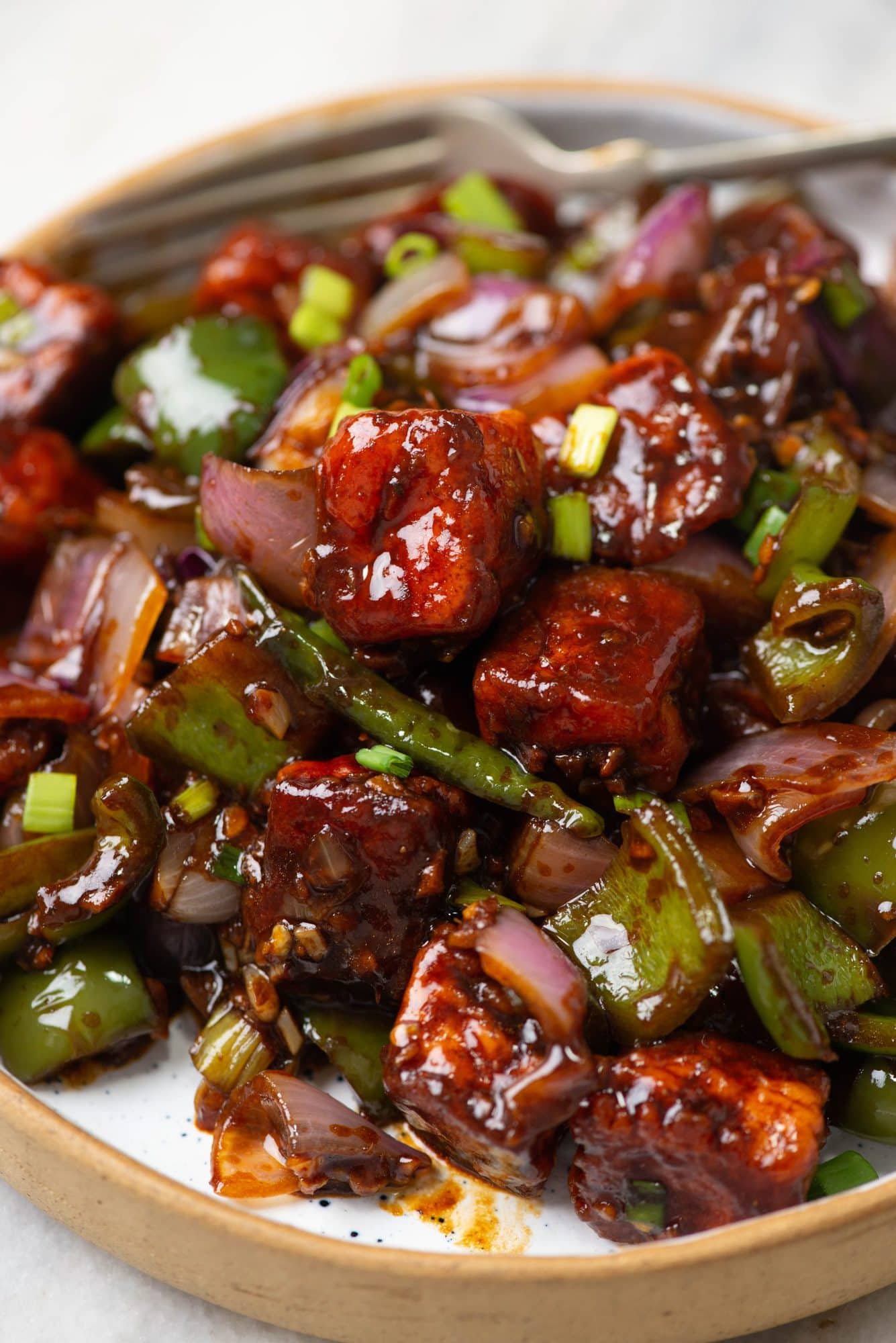 More Paneer Recipes
More Appetizer Recipes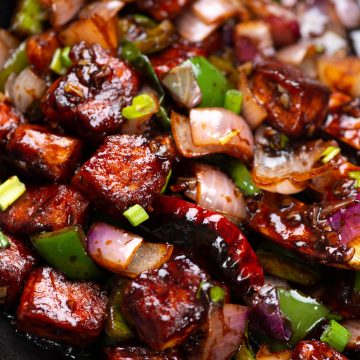 Chilli Paneer Recipe
Paneer pieces coated in a batter, deep-fried until crispy, and then tossed along with ginger, garlic, onion and capsicum in an Indo-Chinese savory sauce.
Ingredients
250 grams Paneer Cubed
2 tablespoon Cornflour
1 tablespoon flour (maida)
½ teaspoon Kashmiri chili powder
½ teaspoon Salt
4-5 tablespoons Oil
1 tablespoon Garlic minced
1 tablespoon Ginger minced
1 large Onion cubed
1 large Capsicum cubed
1 Dry red chilli
2 Green Chilli
For Stir fry Suace
2 tabslpoon Soy sauce
1 tablespoon Tomato Ketchup
1 teaspoon Red chilli Sauce
½ teaspoon Vinegar
½ teaspoon Sugar
4 tablespoon Water
Instructions
Make Stir-fry Sauce
Add all the ingredients mentioned under sauce to a bowl, mix and keep aside.
To make Chilli Paneer
In a big mixing bowl mix cornflour, flour, Kashmiri chilli powder and salt. Add cubed paneer pieces and toss.

Sprinkle few drops of water and mix gently by hand to coat the paneer. The mixture should just stick to the paneer.

In a wok of flat skillet add 2-3 tablespoons of oil. Once hot, arrange paneer cubes in a single layer. Keeping it apart preventing them sticking to each other. if the pan is small, shallow fry paneer in 2 batches.

Cook undisturbed for 2-3 minutes in medium-high heat. Then flip and cook until it is golden from all the sides.

Remove fried paneer cubes, drain excess oil and keep in plate.

To the same pan/wok add another 1 tablespoon of oil. When hot, add dry red chilli, green chilli, minced ginger and garlic. Saute for a minute until everything is aromatic.

Add in cubed onion and capsicum. Stir fry on high heat for about a minute.

Add fried cubed paneer pieces and prepared sauce. Toss on high heat for about 2 minutes until the sauce has thicken and sticks to the paneer cubes.

Garnish with spring onion while serving.
Notes
To make Chilli Paneer Gravy – Add 1/4 cup more water(total would be 4 tablespoon+ 1/4 cup)  and 1/2 teaspoon of corn flour to the sauce mixture. 
Use good quality soy sauce for a more flavour. Kikkoman Soy sauce or Lee kum Kee
Adjust the amount of chilli as per your taste. 
Nutrition
Serving: 1serving | Calories: 370kcal | Carbohydrates: 17g | Protein: 10g | Fat: 30g | Saturated Fat: 10g | Polyunsaturated Fat: 4g | Monounsaturated Fat: 9g | Trans Fat: 1g | Cholesterol: 41mg | Sodium: 465mg | Potassium: 175mg | Fiber: 2g | Sugar: 6g | Vitamin A: 1312IU | Vitamin C: 59mg | Calcium: 317mg | Iron: 1mg