This post may include affiliate links that earn us a small commission.
Seriously addictive Chicken pakora is a crowd-pleaser at any party. Chicken coated in a thick spicy batter, fried until crispy, and tastes exactly like street style.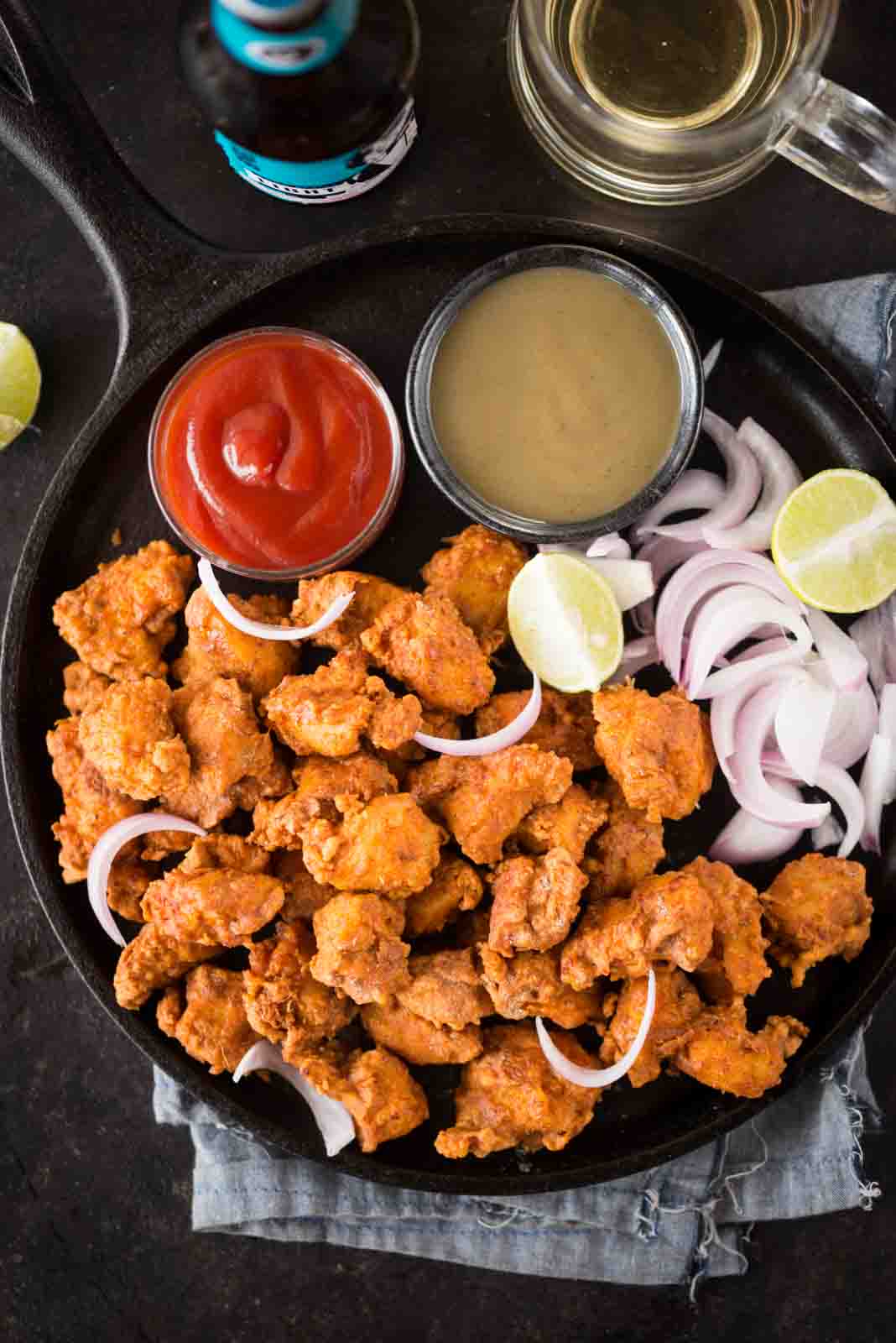 Flavours In Your Inbox
Subscribe for recipes straight to your inbox
This crispy Juicy Chicken pakora is famous street food and I am sure many of us love it. Bone-in chicken pieces are marinated in spices, coated in a thick batter, and fried until crispy.
Sprinkle generously with chat masala and a good squeeze of fresh lemon juice while serving. These are great as an appetizer and can be made in a big batch for a crowd.
I don't shy away from indulging in fried food. When the craving kicks in, I do eat fried stuff but in moderation. It is better than expressing your craving than to later overindulge.
If the food is homemade, that is even better because you can control the portions that you make. Chicken pakora is very famous street food and you might find it on street side carts.
The recipe I am going to share here is the one I used to eat growing up. Of course, there will be variations in different parts of India and I will also mention a few here.

How To Make Crispy Chicken Pakora?
Start with your preferred cut of Chicken. I love bone-in chicken pieces here. The bone soaks up all the flavour and keep the chicken moist and juicy. It's fun to eat bone-in pakoras and suck in all the juices. Well, it is a personal favourite, but you can definitely use boneless chicken thighs or breast. My 7 year old daughter is still fussy while eating bone-in chicken, so in this recipe, I have used boneless chicken thighs.
Spices used in the marination is mostly kitchen staple. I use turmeric powder, coriander powder, red chilli powder for heat, Kashmiri red chilli powder for colour (instead of food colour), Chicken masala ( I used Everest Brand) and Chat masala for an extra kick. Fresh Lemon juice ( can also use vinegar).

Marinating chicken tenderises the chicken and helps to absorb all the flavours.
Next important thing is the batter. Combination of Chickpea flour, Cornflour makes it crispy. The magic ingredient is the egg. It not only helps to make the pakoras crispy but also helps to bind the batter so that it sticks to the chicken pieces.
I love to add 1-2 finely chopped green chillies to the batter. You can also add chopped curry leaves or coriander if you wish.
Other Appetizers
Crispy and Cheesy Corn Fritters
Nadia Chenna Bhaja ( Coconut and Cottage Cheese fritters )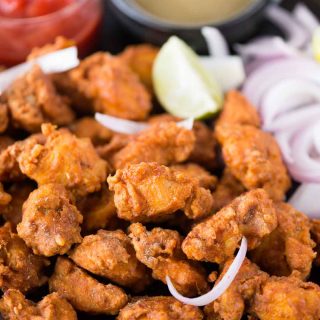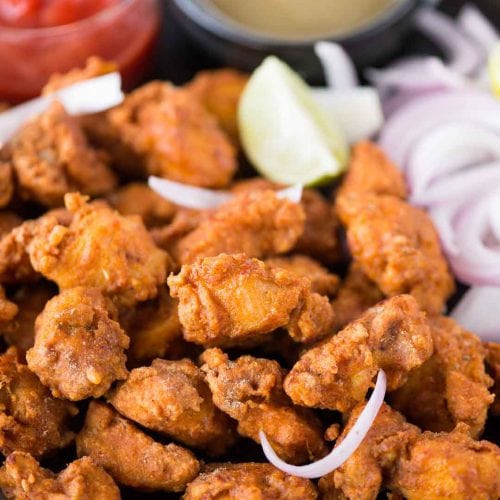 Chicken Pakora
Chicken marinated in spices, coated in thick flour batter and fried until crispy. This street style chicken pakora is a great appetizer and is perfect to serve for a crowd.
Ingredients
500 grams Boneless Chicken Breast Cut into Cubes
¾ tablespoon Ginger Garlic Paste
1 teaspoon Chilli Powder
1 teaspoon Kashmiri Red Chilli Powder
½ teaspoon Coriander Powder
2 teaspoon Chicken masala (I used Everest Chicken Masala)
1 teaspoon Chat masala
¾ teaspoon Salt (adjust to taste)
2 tablespoon Fresh Lemon Juice
For Coating
¼ cup Chickepea flour
¼ cup Cornstarch / Cornflour
1 egg
Other
Oil For deep Frying
Chat masala To sprinkle on top
Fresh lemon wedges and Onion Slices to serve
Instructions
Mix Chicken cubes and rest of the spices mentioned above. Cover and let it marinate for 30 minutes up to 24 hours.

At the end of marination, add chickpea flour, Cornflour and egg. Mix well, so that the chicken is well coated with batter.

Heat enough oil in a deep frying pan.

Once the oil is medium hot, add a few pieces of chicken pieces to the oil without crowding the pan.

Let it cook for about 2 minutes and then flip the chicken and let it cook for another 2 minutes.

Remove the chicken with a slotted spoon, drain excess oil and keep in a plate.

While serving sprinkle more chat masala. Serve with lemon wedges, sliced onion and ketchup.

In the post above, I have shared alternative, different variations and useful info.
Nutrition
Serving: 1serving | Calories: 148kcal | Carbohydrates: 8g | Protein: 20g | Fat: 3g | Saturated Fat: 1g | Cholesterol: 81mg | Sodium: 408mg | Potassium: 367mg | Fiber: 1g | Sugar: 1g | Vitamin A: 163IU | Vitamin C: 3mg | Calcium: 11mg | Iron: 1mg