Crispy and Cheesy Corn Fritters
This post may include affiliate links that earn us a small commission.
These crispy cheesy Corn Fritters are loaded with fresh summer corn, jalapenos, green onions and have a gooey surprise in the middle. These can be served as appetizers, snacks or as a side dish along with your favorite dips on the side.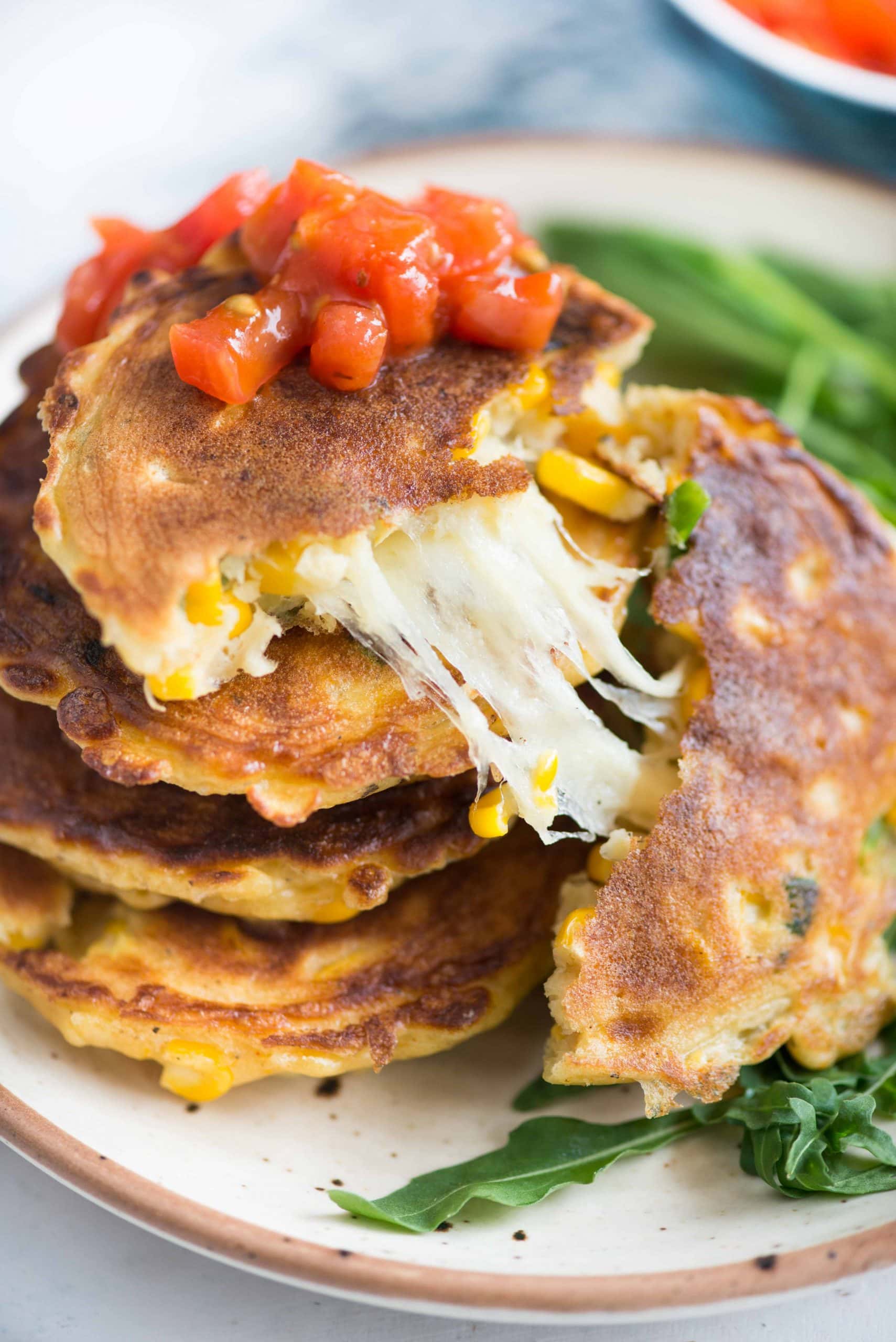 Flavours In Your Inbox
Subscribe for recipes straight to your inbox
One of the best ways to use fresh summer corn is to make these Corn fritters. These little corn cakes have a hint of sweetness from fresh corn, with a surprise gooey cheese pocket in the middle. These corn fritters are easy to make, addictive, and all you need is your favorite dipping sauce to dip in.
Continue reading below for a surprisingly Easy Trick to put cheese into your fritters in the video. It will take less than 30 minutes for you if you follow the corn fritter recipe below.
What are corn fritters?
Corn fritters are round or oval-shaped fried cakes made of dough that has fresh or frozen corn. These crispy corn cakes usually have common vegetables from the pantry with corn tossed into the mix. The crispness results from frying them. They can be shallow-fried in a pan or deep-fried in a fryer.
Popular among native American cuisine as well as in Indonesia, they have been made for thousands of years. In both regions, they are served as appetizers or snacks.
Are corn fritters the same as Corn Cakes or Corn Nuggets?
From fresh or frozen corn, you can make Fritters, Cakes, or Nuggets. They are different in a lot of aspects though.
Corn fritters can be talked about as corn cakes and vice versa. It is different though because corn cakes conventionally are baked and can be sweet or savory.
Corn fritters are very different from corn nuggets.  Corn Nuggets or Balls are always deep-fried and have a denser dough with breadcrumbs added to make the crusty coating around the balls. They are also popular as Hushpuppy. They have cheese in the middle to result in gooey cheese oozing out in a bite.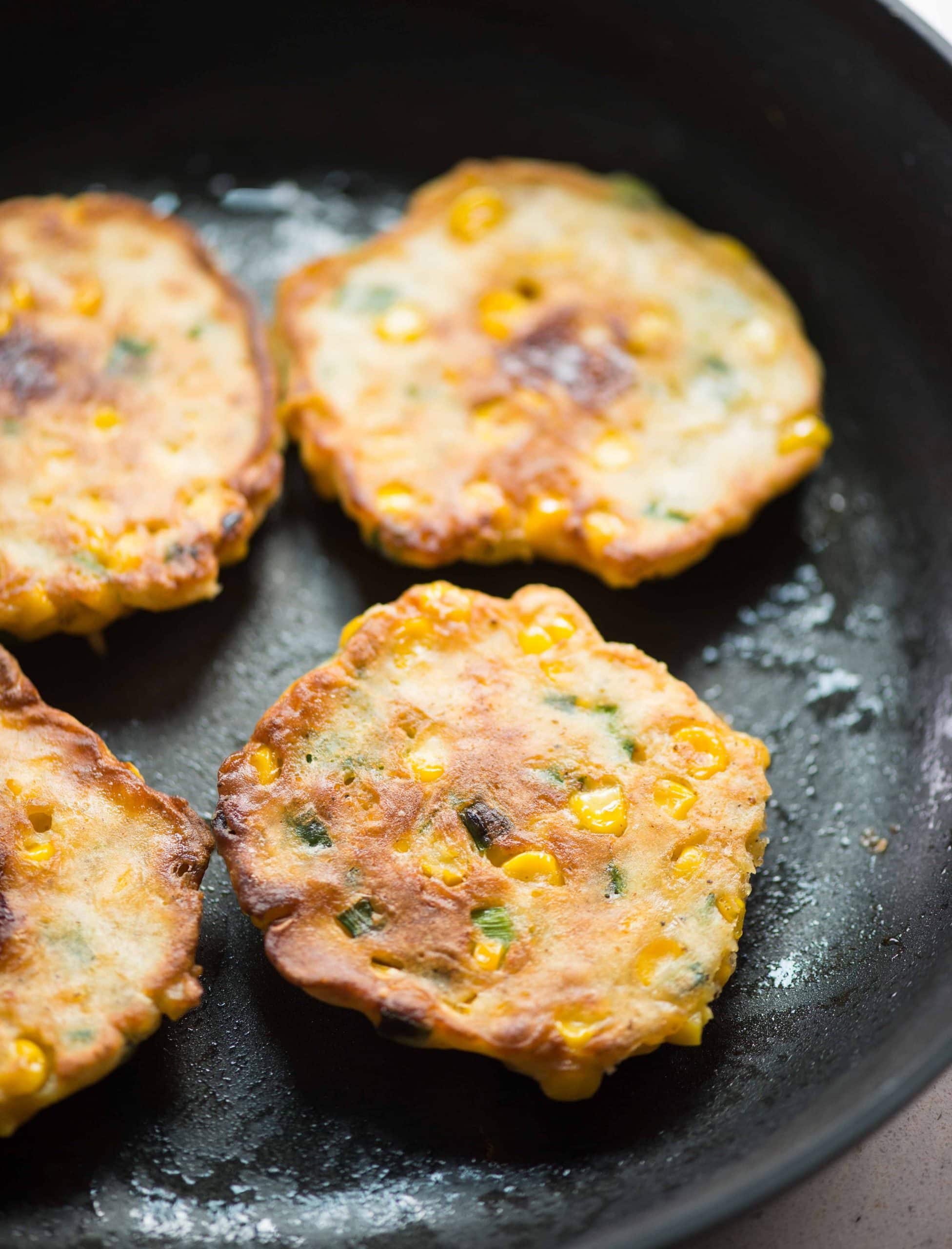 Are Corn Fritters healthy?
Like other starchy cereals, Corn has a high carbohydrate and fiber content which aids digestion. Its nutrient profile also includes vitamins and minerals which is good for general well-being.
Apart from the nutrient profile, corn fritters if shallow-fried are not very oily and bring the goodness of corn, veggies, and eggs in them.
Heard the saying "Too much of anything is bad". This holds for corn too. Corn also has a few disadvantages and is not suitable for people with blood sugar issues as it spikes blood sugar.
It has also been proven in preventing weight loss, so if you have set some weight-loss goals, Corn Fritters are not your friend right now !!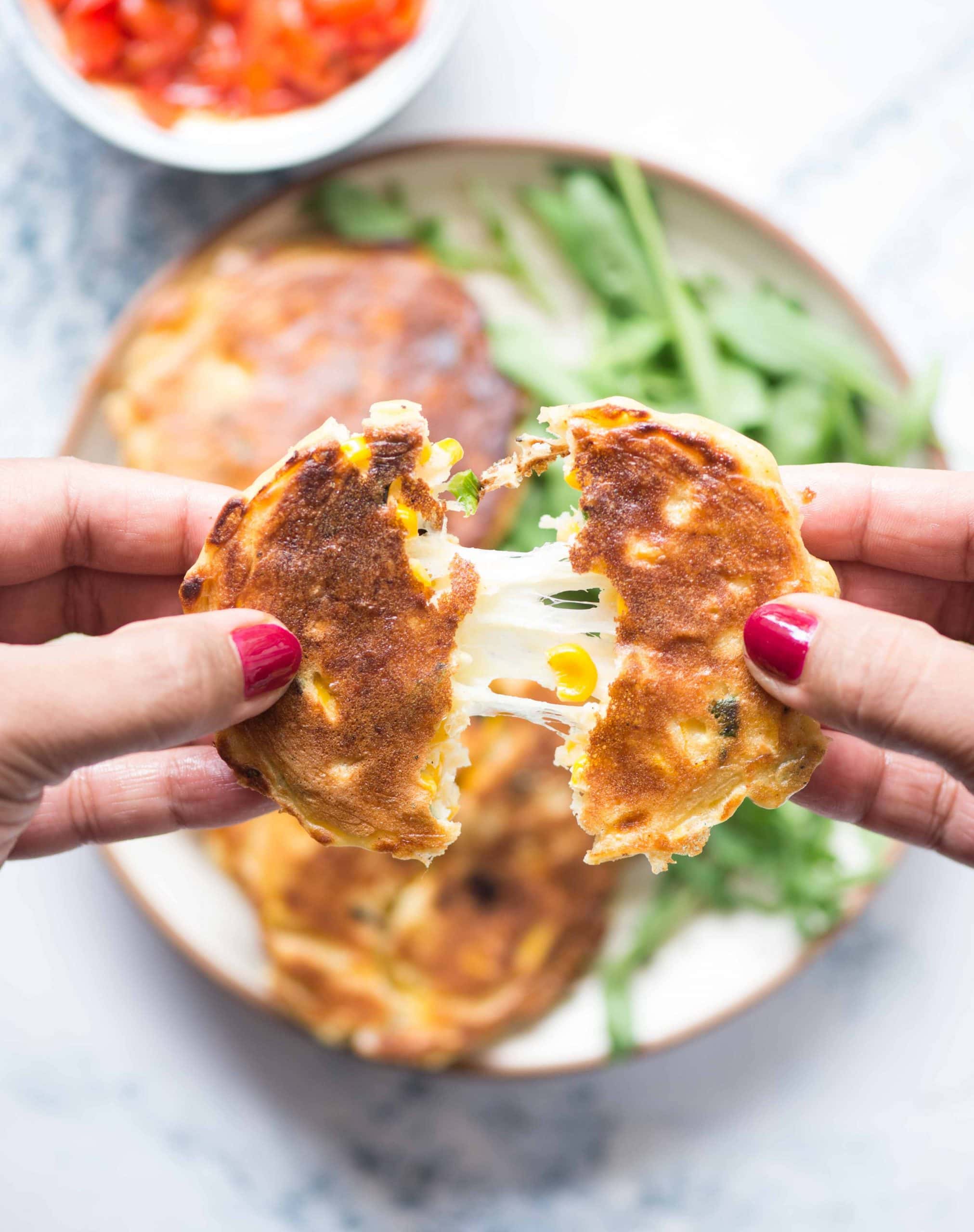 Ingredients
This corn fritter recipe can be completed in its entirety within 30 minutes including the frying. Making corn fritters is just super easy and you can make damn good fritters just by following the recipe outlined below.
This corn fritter recipe also calls for very few ingredients:
All-purpose flour – The important thing to take care of here is the ratio of flour to water. Nothing very difficult about this. Just follow the measurements in the below recipe.
Corn – You can use fresh or frozen corn. It depends on what you have available and the choice hardly matters except the cooking time. If frozen corn is what you decide, then let it thaw and come to room temperature. We do not want the corn to be undercooked on frying.
Paprika – For the spice.
Baking powder – Baking powder is your everyday arsenal for anything frying or baking. On frying in oil, it releases carbon dioxide that helps in creating bubbles that open up the surface of the fritters. This brings crispiness and lightness to the fried items.
Veggies – You can be flexible with veggies here. I would recommend Zucchini, grated carrot, or chopped bell peppers. While adding Zucchini, after grating,  squeeze out as much liquid as possible. This way you shall avoid making the batter runny.
Cheese – This is the WOW factor in the fritters. We have all had boring one-dimensional fritters earlier. The cheesiness of these fritters is what sets them apart. Watch the video for a super-easy way to add cheese while frying. I have used mozzarella cheese though cheddar or other stretch cheese will be fine too.
How to make from scratch?
The entire cook can be broken down into three steps. Yes, three! That's, how easy it is to get delicious corn fritters.
Fresh, canned, or frozen corn – If you are using canned or frozen corn, pat the corn with a paper napkin to absorb as much of the extra water as possible. We do not want to dilute the batter with water from the corn.
Work the dough – Mix flour, water, baking powder, and your veggies.
Add cheese to your patties – I will show an easy way to do that in the video.
Shallow fry them in the pan – Cook either side for a few minutes until you see a brown crust appearing on the surface.
Tips to avoid soggy fritters
If you are shallow-frying fritters as per this recipe, you can make crispy fritters by following the tips below.
Add two tablespoons of Corn Starch

This is the secret ingredient for super crispy corn fritters. Add this to the dough mixture and when you are frying them, it will add a golden crispy coating to the fritters.

Avoid runny dough

Keep the ratio of flour to water right and the fritters will be fine. A runny dough will have a lot of moisture and an outer crust that we desire will not be possible.

Serve it HOT!

Fritters should be eaten Hot. If you would like your fritters in their best form, eat them right away. Fritters tend to get soggy with time and nothing much that you can do about it.
What to serve with Corn Fritters?
These cheesy fritters are best as appetizers. Have them as part of your morning breakfast or evening snacks. Hell, I can have them as a light lunch too.
Serve these with some fresh tomato salsa or sour cream.
You may add them to a plate for lunch along with a salad.
Can you freeze fritters and eat them cold?
You already know my say on this. Eat them HOT and straight out of the pan. If you still prefer to eat them cold, just let them thaw to a bite-able temperature and have it with dips.
Pack fritters in a tight container or zip-locked bag and stored them in the freezer. You can freeze these for up to 3 months.
While serving fritters, which has been frozen for some time, follow the below steps:
Take the frozen fritters and let them thaw to room temperature. This takes about an hour.
Do not microwave, as it will give you hot but soggy fritters.
The best way is to heat some oil in a pan and fry them for about 3 minutes on either side to get a crispy crust. It will taste as good as the fresh ones.
More Corn Recipes…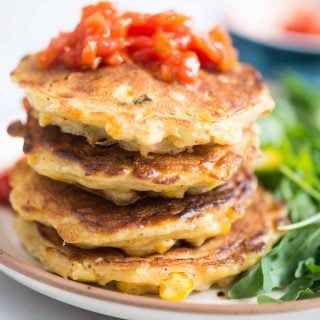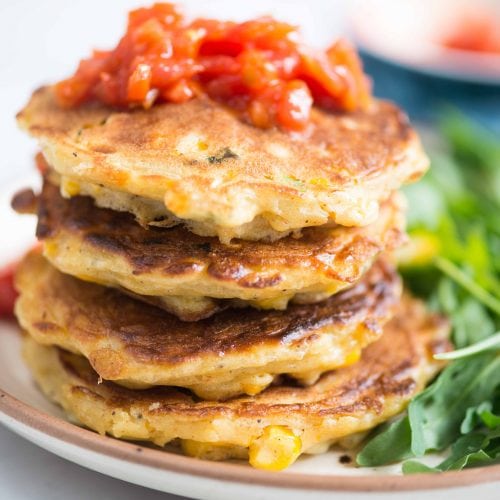 Cheesy Corn Fritters Recipe
These crispy Corn Fritters are loaded with fresh summer corn, jalapenos, green onions have a gooey cheesy surprise in the middle. These delicious appetizers can be served as snacks or as a side dish along with your favorite dips on the side. 
Ingredients
3.5 cups Corn
1 cup all-purpose flour
¼ teaspoon paprika
1 teaspoon Baking Powder
½ teaspoon Black pepper
¾ teaspoon salt
2 eggs
½ cup full cream milk
½ cup green onion
1 Jalapeno chopped
100 grams Mozzarella Cheese cut into 1-inch cubes
Oil for frying
Instructions
In a big mixing bowl, add flour, paprika, baking powder, salt, pepper. Mix well.

Stir in milk and egg. Whisk until the batter is lump-free and no dry patches of flour in it. At this point adjust the seasoning and add more salt if required.

Add corn kernels, chopped green onion, and chopped jalapeno. Mix everything well.

Heat 2 tablespoons of oil in a pan.

Scoop the batter using an ice cream scoop. Place a cube of cheese in the middle and press gently.

Scoop the corn batter into the pan. spreading it lightly into a flat, circular shape.

Alternatively ( to above two steps), spoon 2 tablespoons of the batter to the pan. Place a cheese cube in the middle. Top it with another 1/2 tablespoon of the batter.

Cook for 3-4 minutes in medium-high heat and then flip. Cook for another 3 minutes until it is brown, crispy and cooked through.

Transfer the fritters to a paper towel.

Repeat the above step until the batter is over. (add more oil as required).

Serve with fresh tomato salsa or sour cream.
Nutrition
Serving: 1g | Calories: 133kcal | Carbohydrates: 15g | Protein: 5g | Fat: 7g | Saturated Fat: 2g | Cholesterol: 28mg | Sodium: 133mg | Potassium: 147mg | Fiber: 1g | Sugar: 2g | Vitamin A: 244IU | Vitamin C: 4mg | Calcium: 62mg | Iron: 1mg