Loaded Breakfast Quesadillas
This post may include affiliate links that earn us a small commission.
Crispy Tortilla filled with soft scrambled eggs, cheese, breakfast sausage, and bacon, Breakfast quesadilla is easy and quick to make. These quesadillas are perfect for breakfast, brunch, or even dinner.
Flavours In Your Inbox
Subscribe for recipes straight to your inbox
These Breakfast Quesadilla are delicious and super satisfying. These are easy to put together, can be made in bulk and frozen. So not for another day you would skip your breakfast.
Soft scrambled eggs, breakfast sausage, cheese, bacon, and green onion, these quesadillas are quite filling. We love these a lot and I make it quite frequently with variations in filling. Serve these with some sour cream,fresh salsa, or with avocados dip.
What is a breakfast quesadilla?
This has got its name from the Breakfast Quesadilla at TacoBell. This is in size similar to the regular quesadilla.
What gives it the moniker of 'breakfast' is the choice of fillings like sausage, egg, and cheese. These filings are associated with morning breakfast staple ingredients. Hence the name.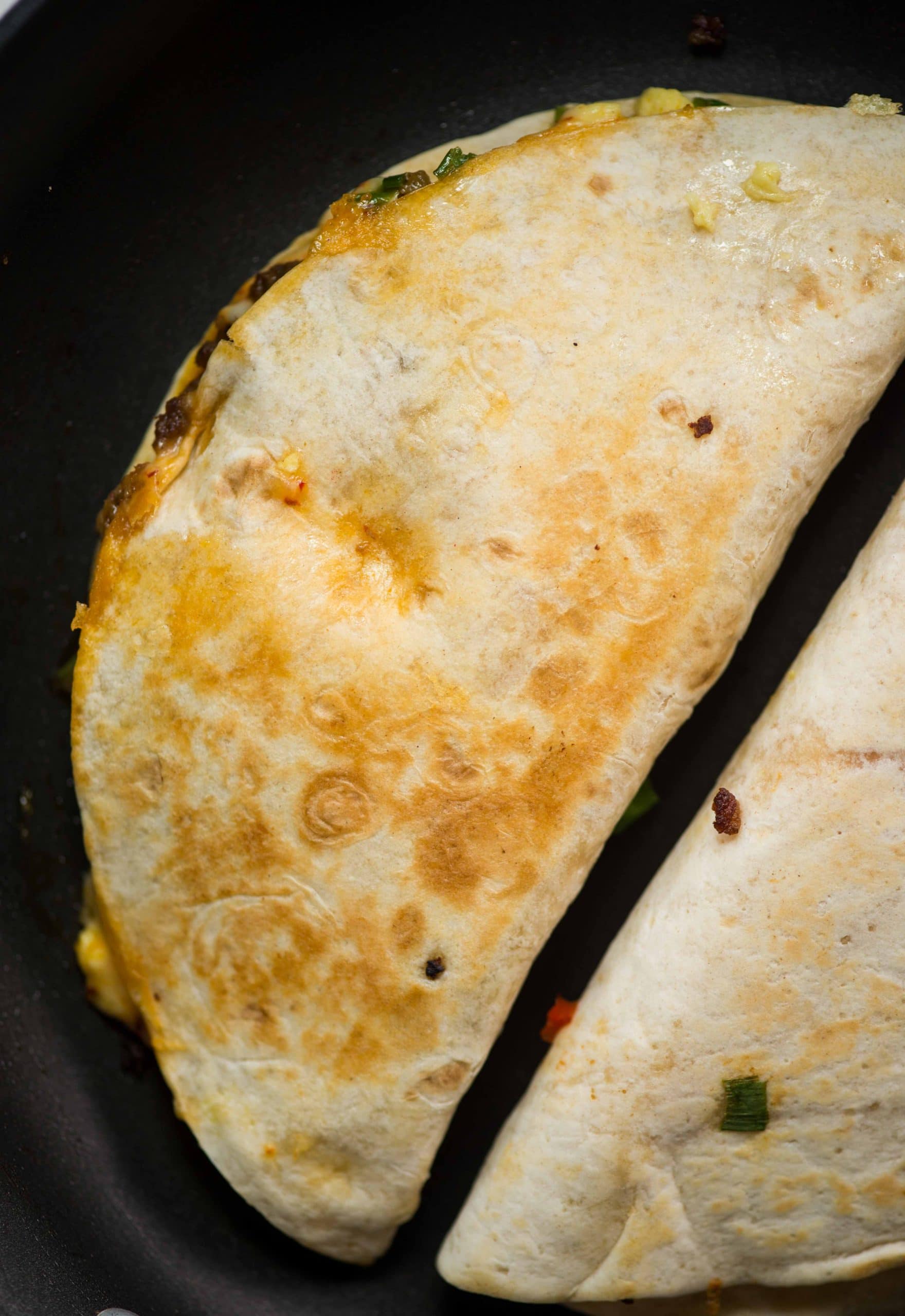 What goes good on Breakfast Quesadillas
The filling for the breakfast quesadilla can be as simple as just egg and cheese or you can load it up with lots of different things.
For the basic version, you need tortillas, eggs, and cheese. But I generally add breakfast sausage to increase the protein content.
eggs, cheese, bacon
Breakfast sausage with Onion and red bell pepper
Cooked Mushrooms
Cooked Spinach
Chopped Avocado
How To Cook Breakfast Quesadilla?
The first step is to decide on the filling and do the prep. Once the filling is ready, putting it together and cooking takes less than 10 mins. While chopping, make sure to do it finely and to an even size. There should be no big chunks.
Start with cooking chopped bacon until crispy. Discard bacon grease and melt some butter in it.
Beat egg with salt, pepper, and a splash of full-fat milk. Adding milk to eggs keeps them soft and fluffy. Cook egg just until is done.
Eggs cook fast and in no time they get overcooked. So the trick to cooking creamy soft eggs is to cook it on medium-low heat. After pouring the beaten egg into the pan, it starts to set on the sides. The moment it starts to set break it using a spatula and keep stirring continuously.
When the egg looks just set and still creamy take the pan out.
The next step is to cook the sausage along with onion and peppers. In an empty pan cook sausage, onion, and peppers until the onion has softened and sausage is cooked through.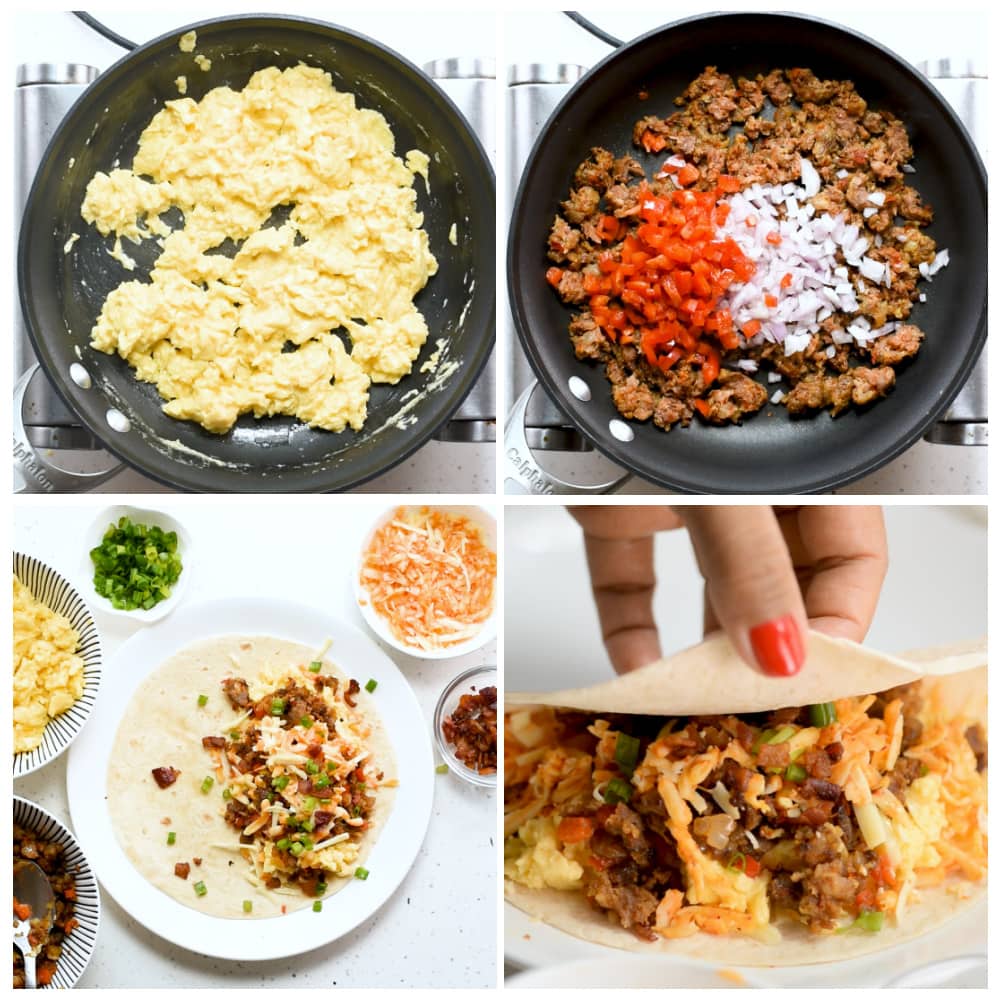 Which cheese is good on Quesadilla?
I would recommend cheddar or similar cheese. It melts well and does not have an overpowering flavour and taste. The other ingredients in the filing should come through the cheese. A cheese like cheddor or Mexican blend cheese is perfect for quesadilla.
Grated, crumbled or sliced cheese works well. Cheese by itself provides enough flavour and this is why just cheesy quesadillas are popular. Sprinkle enough of them and you will love those cheese strands when you pull apart those quesadillas.
Tips to avoid a soggy Quesadilla
A common reason why people get a soggy quesadilla is that they overdo the butter or oil bit.
Lightly butter or oil your skillet – this is the key behind crispy quesadillas.
If you go heavy on butter/oil, initially you might see a cooked and crispy exterior. Eventually, during the cook, they will ooze out. This extra oil tends to soften and make the outsides of the quesadilla soggy.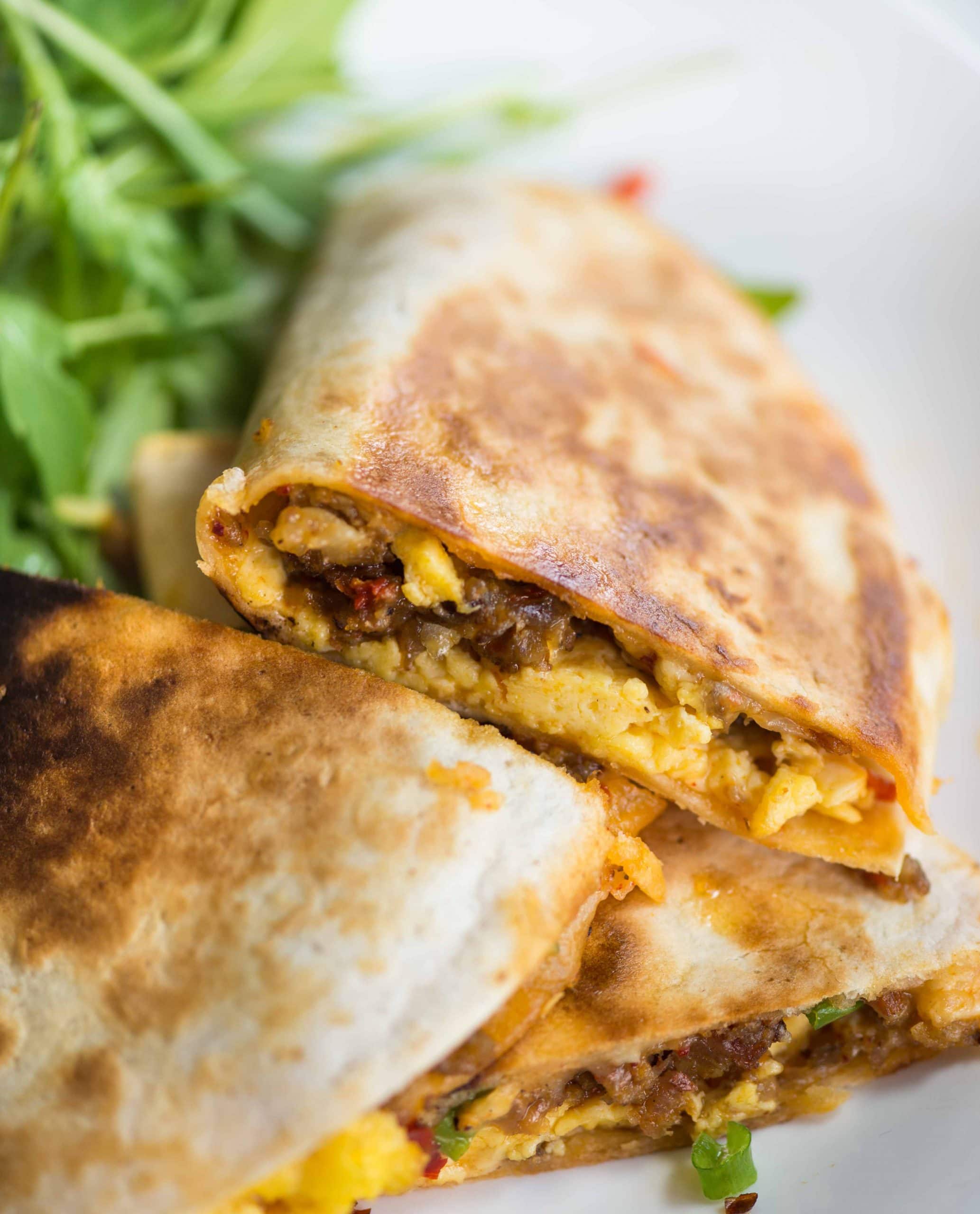 Can you pre-make quesadilla and keep them warm and crispy?
You can also make them an hour or half an hour ahead and leave them on a hot pan which keeps the outside hot and crispy.
You can also choose to keep them warm in a crockpot though I prefer leaving them on a hot pan.
Can you make and freeze quesadilla?
Make them ahead and cut into wedges and store them in an airtight container. Quesadillas can be frozen for up to 3 months.
You can also refrigerate them up to a week.
When it is time to serve frozen/refrigerated quesadillas, follow the below steps:
Reheat them in a microwave or pan.
Reheating them in a pan gives a crispy finish to the quesadilla.
You have to lightly butter a pan or griddle and heat the quesadilla on it. Turn it once by allowing 5-6 minutes on each side.
This allows the cheese inside them to melt enough to get a cheesy bite.
Doing it in a microwave will not make it crispy.