HOW TO MAKE CREAM STYLE CORN ? I am sharing a very basic recipe this time. We mostly go for readily available canned products because of its convenience, even though it is very easy to make at home. But anything that is prepared fresh is always way better than canned products. The taste is always superior when it is homemade.
Two of the most common soups that we used order while growing up was tomato soup or sweet corn vegetable soup. For some sweet corn vegetable soup seems bland but when it is prepared well and you add a good dose of black pepper , it tastes pretty comforting. I prepare sweet corn soup often at home too with a good amount of veggies and shredded chicken. And whenever I make this soup, I always reach out to canned cream style corn.
But when I got to know how easy it is to make cream style corn at home and it only adds 10 mins extra to the entire process, I had to try this. And believe me, this was so yummy and far better than the canned version. In fact, I couldn't resist and had a couple of spoons right from the pan.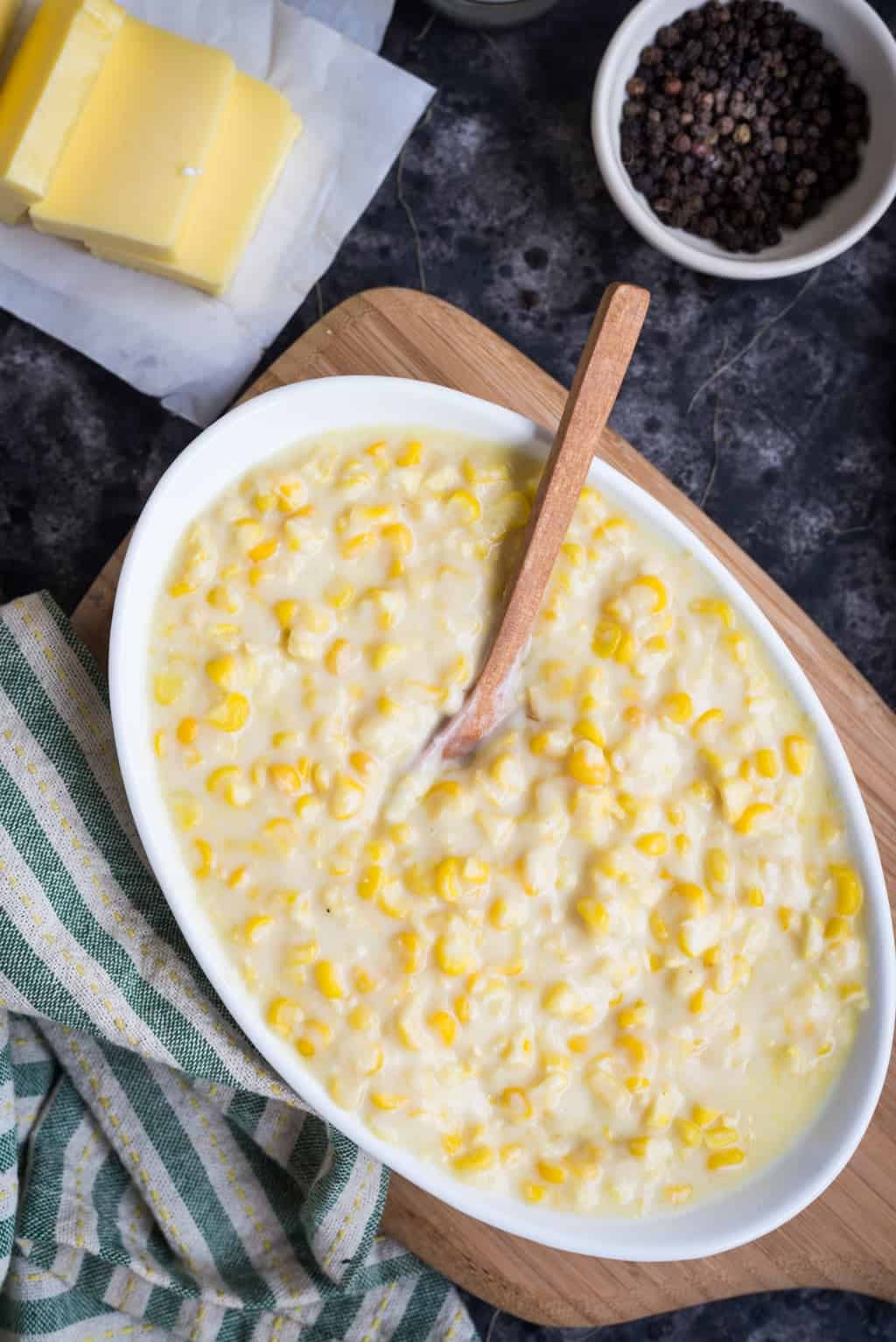 And after I made this at home, my mind flooded with ideas to use this creamy thing. The sweet crunch from the corns and the creamy base, top a toasted bread with this sprinkle with some cheese. You can also add some cream cheese and italian herb to it when it is still warm, serve beside roasted meat. I am going to share some interesting recipe using this creamy corn as a base in upcoming posts.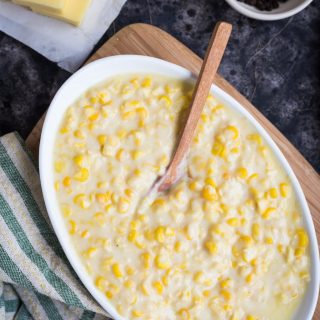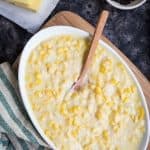 Print Recipe
HOW TO MAKE CREAM STYLE CORN ?
Ingredients
2

Corn

on the cob (OR Roughly 1.5 cups fresh/frozen corn)

1

cup

water

1

tbsp

Cornstarch

1/2

tbsp

sugar

2 half and half

tbsps

milk

or (See Note)

to taste

salt pepper

and
Instructions
If using Corn on the cob, clean the corn. Using a sharp knife reamove the kernels.

In a pan add butter. Once it starts to bubble add 3/4 of the corn kernels. Saute for 3-4 minutes.

Mean while roughly chop the reamining corn kernels using a sharp knife or in a vegetable chopper.

After sauteing the corn kernels, add chopped kernels along with its juice.Season with salt and sugar.

Add water. Let it cook covered on low heat for 8-10 minutes

Once the corn is tender and the entire mixture looks creamy, Mix 1 tbsp of cornstartch to 3 tbsp water. Stir slowly to the corn mixture.

Cook 2-3 minutes further till the mixture looks creamy and has thicken a bit. Switch off the gas.

If you are using right away then add 2 tbsp of half and half(I used Amul cream) or milk after adding conrstartch mixture. ( If your recipe calls for adding milk or cream then adjust accordingly as the cream style corn already has milk in it).

If you are freezing it for later use then skip adding milk and add it while using in the recipe.