This post may include affiliate links that earn us a small commission.
This Easy Paneer Pulao is aromatic, mildly spiced and loaded with dry fruits. Perfect to pair with any rich Indian Curry.
Pulao is one of our favourites and I make it at least once every two weeks. It doesn't always have to be some special occasion to make pulao in my home. Husband loves flavoured rice in any form and he is always up for it. In a way, it makes my life also easier. So it is always a win-win for us.
Flavours In Your Inbox
Subscribe for recipes straight to your inbox
Both of us have fond memories of childhood related to pulao. Back in those days pulao used to be a must during winters. With all the fresh seasonal vegetables like cauliflower, peas, and carrots, the pulao used to be so special. I used to wait for the winter so that mom would make pulao.
My Mom makes fresh masala paste for the pulao, unlike dry spice powder. It gives altogether a different rustic flavour to the dish.
Do you want me to share my Mom's pulao recipe ??? Leave a comment here and I would love to share with you all. I make my Mom's Pulao when I really feel nostalgic and miss my Mom's food. Things are a little bit different now. With those winter vegetables being available all through the year, the excitement of having seasonal vegetables has subsided. The taste is also not the same because of all those pesticides and artificial technologies used in growing vegetables today.  But the love for Pulao is still intact. Being a lazy me, I sometimes go for shortcuts and use readymade masala powder.
Now coming down to this recipe, this recipe works really well when you don't want a rich and heavy dish yet something different and festive.  I haven't used any biryani powder or masala. All I have used is whole garam masala. Ghee, Dry fruits, Kewra Water and rose water gives this pulao its aroma and makes it different. I am making this for the Diwali party, because its light, aromatic and festive enough for the occasion.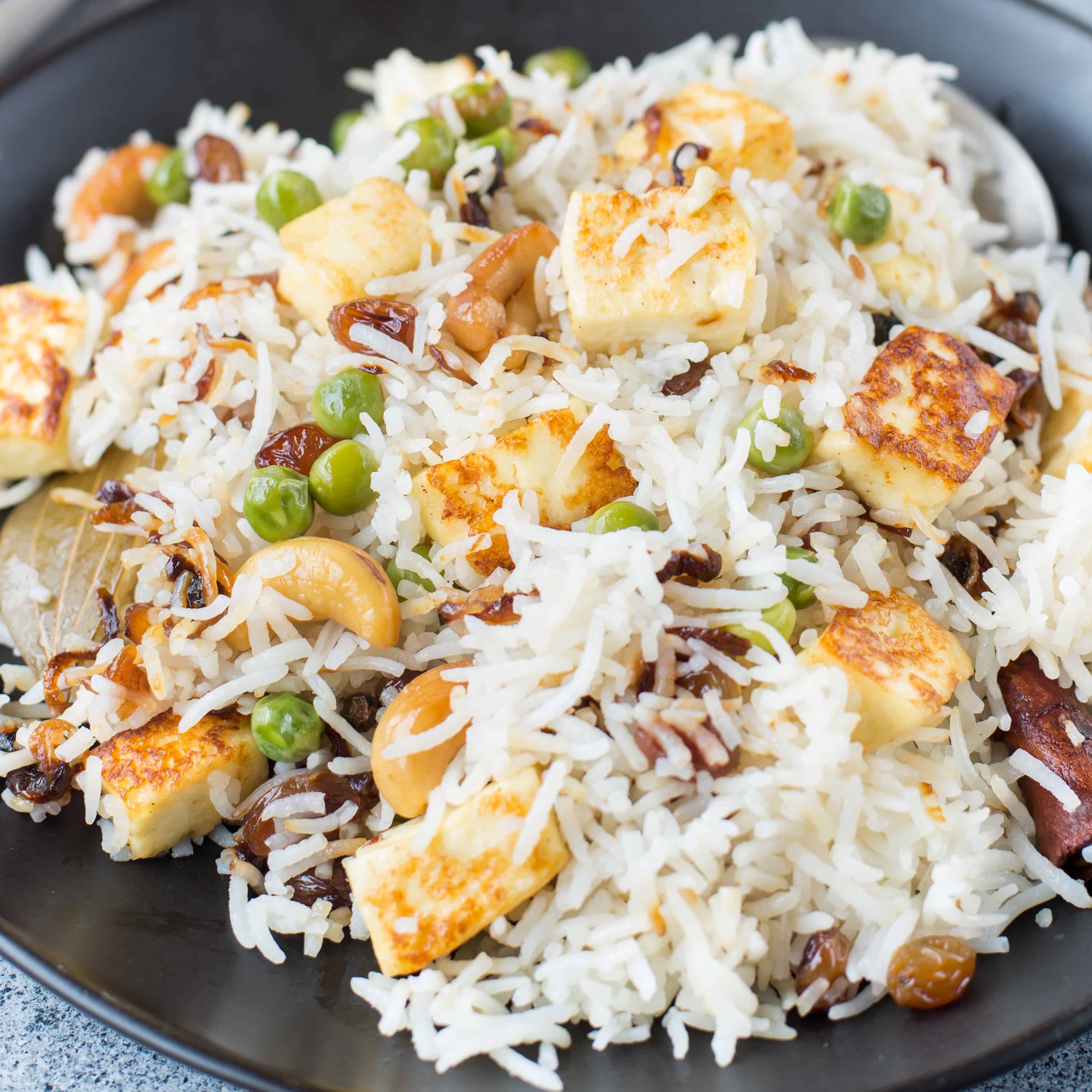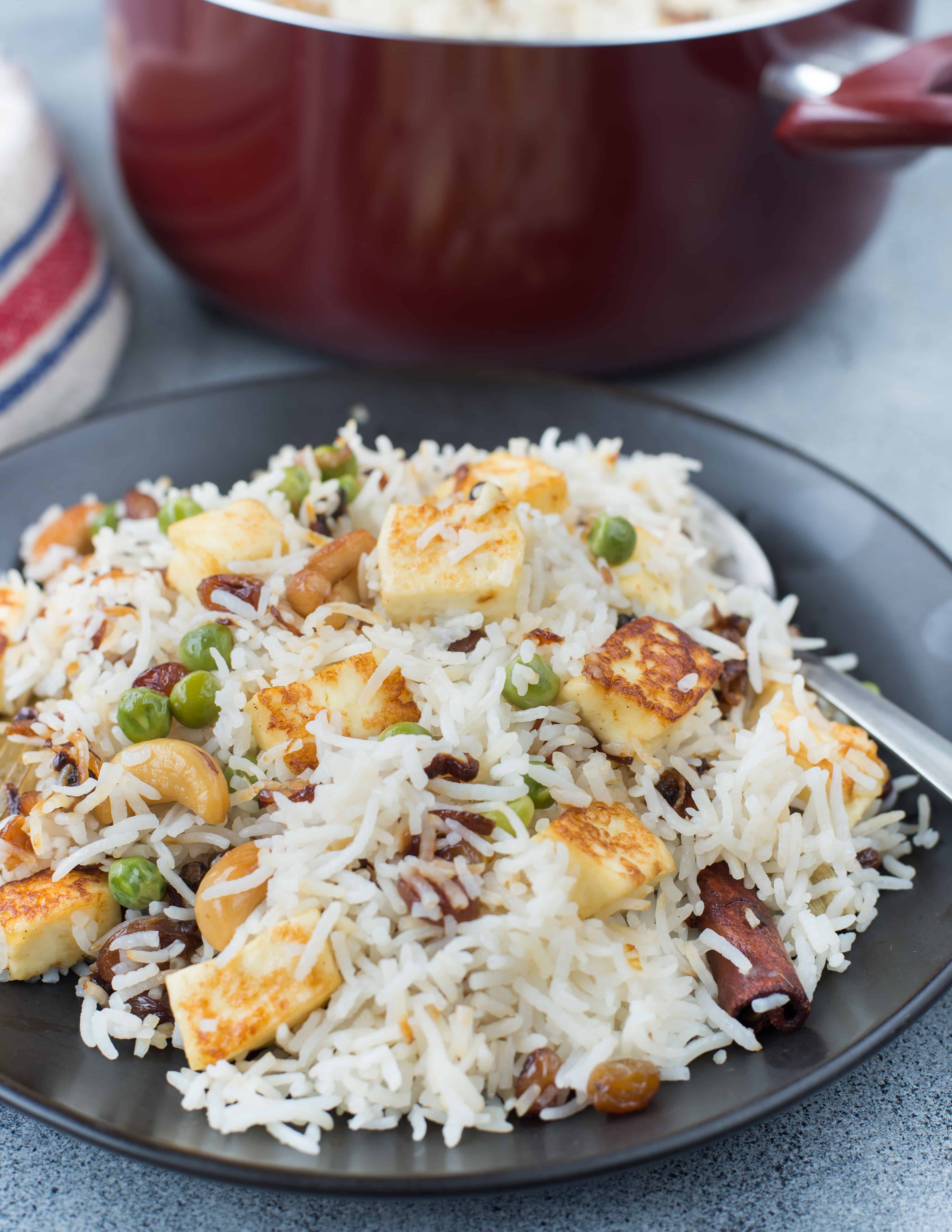 https://www.youtube.com/watch?v=AzrOC9wAnfw&feature=youtu.be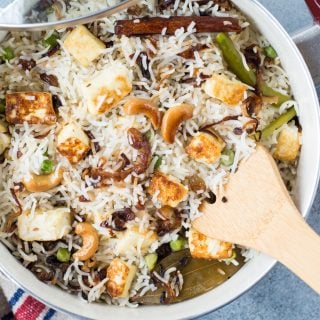 Easy Paneer Pulao
This Easy Paneer Pulao is aromatic, mildly spiced and loaded with dry fruits. Perfect to pair with any rich Indian Curry.
Ingredients
1.5 cups Long Grain Basmati rice
250 gms Fresh paneer
3 tbsp ghee
¼ cup whole cashew
¼ cup raisin
2 leaves
2 inch Cinammon stick
5 green cardamom
5-6 cloves
1 tsp whole black pepper
1 tsp Cumin Seeds
½ cup fresh/frozen green peas
1-2 Green chili cut lengthwise
3 cups warm water
Salt to taste
½ cups golden fried onion
1 tsp rose water
1 tsp kewra water
Instructions
Wash rice under tap water till the water runs clear. Soak in enough water for 30 minutes. Then drain the rice in a colander and keep aside.

Heat a pot/pan large enough to hold the quantity of rice. Once hot add ghee.

Add whole cashew. Fry on low heat, stirring in between. When it starts to brown,add raisins.

When cashews are evenly fried and raisins are puffed up, drain the cashew and rasins using a slotted spoon. Keep aside.

To the same pan add paneer cubes. Fry the cubes till they are golden brown on both the sides. Using a slotted spoon remove the cubes from pan and keep aside.

To the same pan in remaining ghee add bay leaves,cinammon stick and other whole spices. Fry till they are aromatic.

Add frozen peas. Cook till the raw smell is gone. Add green chillis followed by basmati rice.

Fry rice on medium heat for 5-6 minutes,carefully stirring inbetween.

Add warm water and salt. Cover the pot with a lid. Once the water starts to boil, reduce the heat and cook further 8-10 minutes.

When almost all the water has been absorbed, remove lid carefully. Add fried paneer cubes, raosted cashew,raisins,kewra water,rose water and fried onion.

Mix everything well, cover the lid and cook on low heat for another 5 minutes.

Switch off the flame. Let the pulao rest undisturbed for another 10 minutes.

Serve hot with curry and raita.
Notes
To make perfectly golden fried onions, cut onions into thin slices. Spread the slices on a plate or board and keep them for 30 minutes. While frying add a pinch of salt, which fastens the cooking process. Cook on medium-high heat till they are softened. Then reduce the flame and fry till they are light golden brown in colour.
The Pulao tastes better if it is left to rest for a couple of hours.
You can also soak few strands of saffron in 1 tablespoon of milk and add to the pulao at the end.
Kewra water has a strong flavour. So add it as per your taste.
The quantity of water and cooking time may vary depending on the variety of rice. So adjust accordingly.