Chinese Five Spice Ginger Chicken
This post may include affiliate links that earn us a small commission.
Quick Chinese Five Spice Ginger Chicken is Sweet and Spicy with perfectly caramelized sauce. Easy, quick and you only need one pan.
The caramelized onion and sauce in this recipe is to die for. I and D literally fought for the residue sauce in the pan. The sticky sweet and spicy sauce coated chicken very well. You can taste the awesome sauce in every bite of yours. It pairs really well with rice.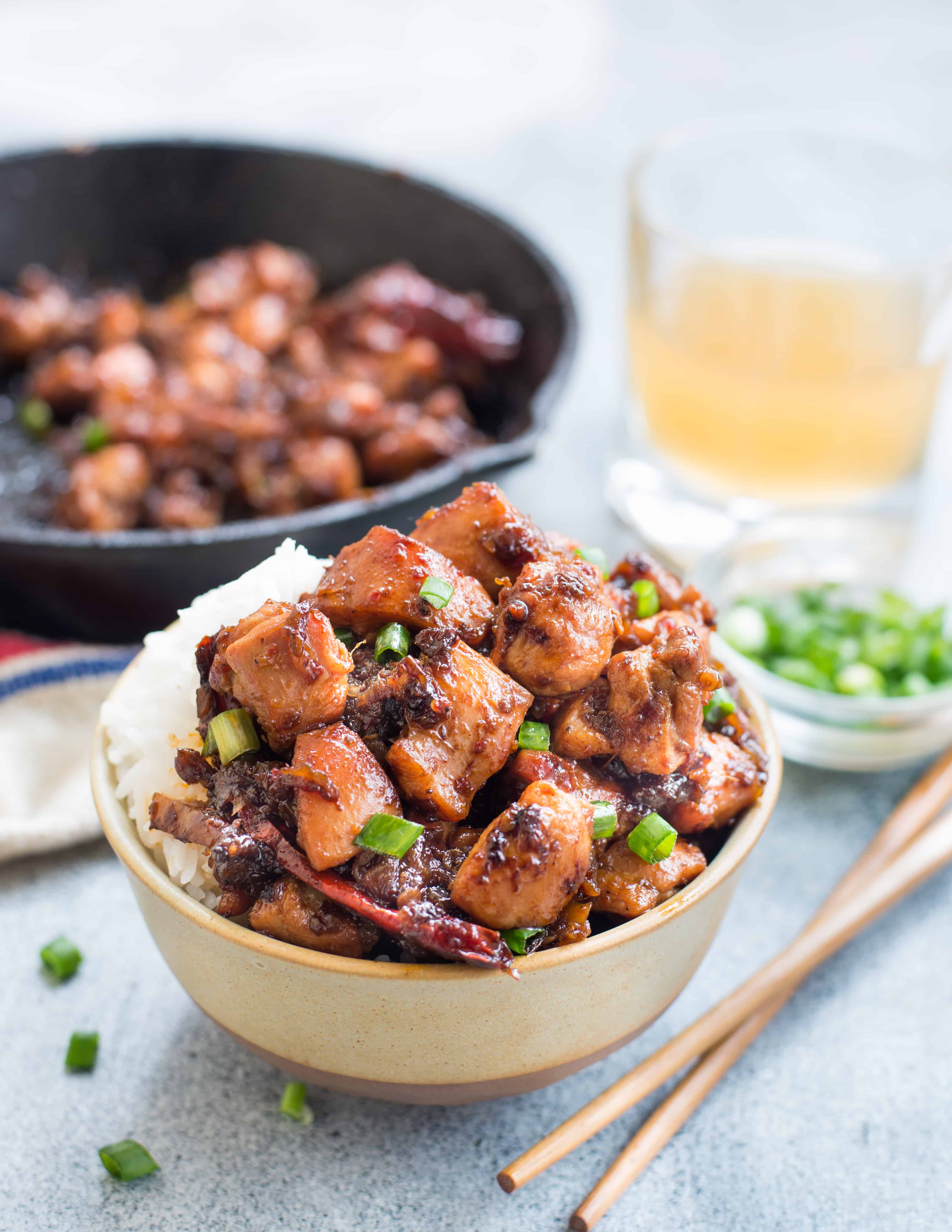 Flavours In Your Inbox
Subscribe for recipes straight to your inbox
I always try quick stir-fry recipes, which would take less time, need one pan and easy to do. I love Asian stir-fries a lot because of the all the aromatics and sauce it uses. You can adjust the seasoning and sauce as per your preference. I have shared quite a few stir fry recipes on my blog. I guess its time to tell you a little about Stir-fry.
What is Stir Fry?
Stir-frying is a cooking technique that originated in China.It involves quickly cooking vegetables, meat, and sauces in a small amount of oil. Traditionally a big wok is used for stir-frying. Cooking on really high temperature quickly makes sure the original flavors and texture of the food is maintained. The vegetables in a stir fry are tender but crisp. Overcooked, mushy vegetables in a stir-fry is a complete no-no.
In restaurants, where they use a wok and stir-fry on a really high flame, lends a smoky flavor to the dish. While practically it is not possible to do the same. Most of the time I use my cast iron pan which gets heated to really high temperature and helps in quick cooking.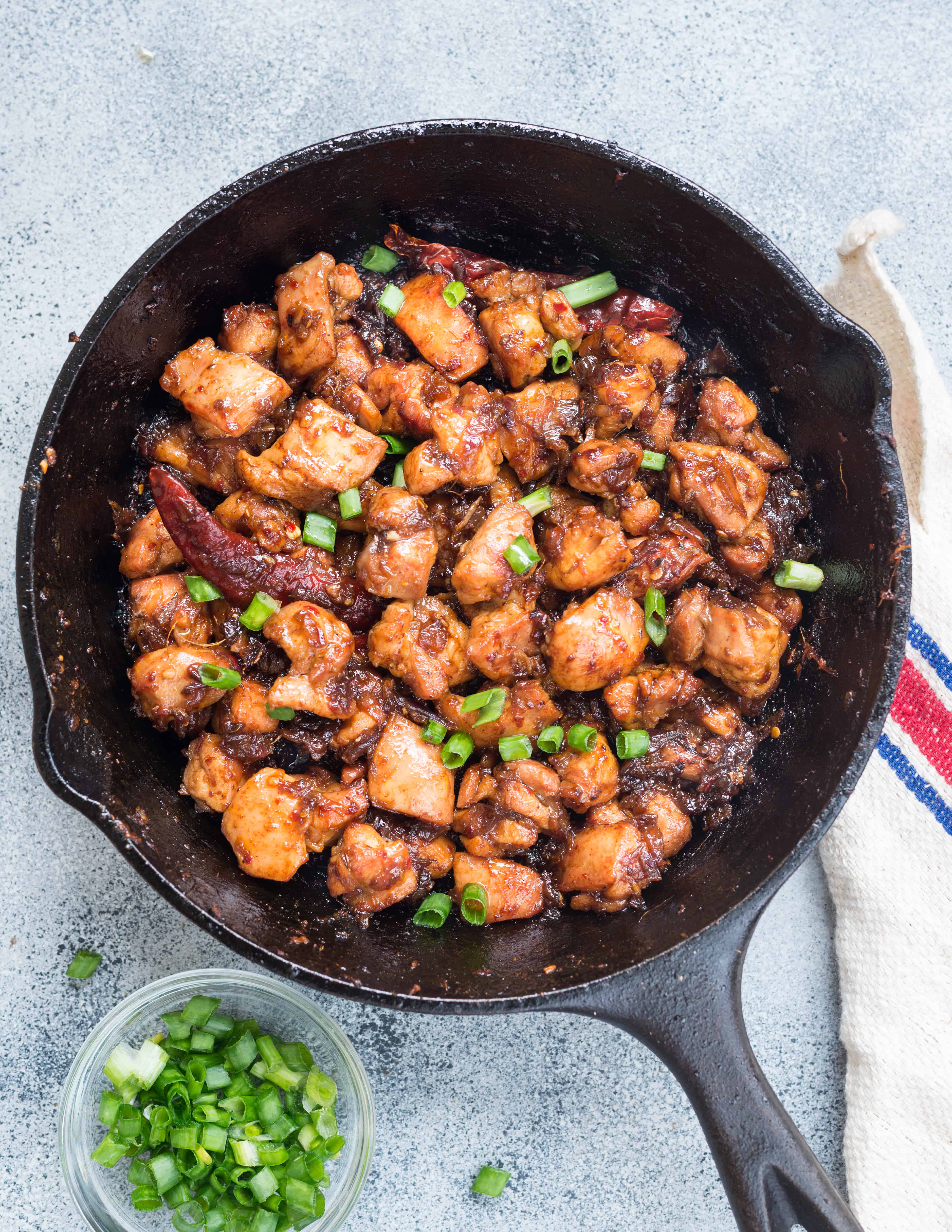 How many of you like 'Chinese Five Spice'? I absolutely love the warmth of the spices and the depth of flavor. As five-spice blend is not readily available where I live, I make my own following this recipe.
I usually have all the ingredients mentioned in the recipe and I make a fresh batch in small quantity in a mortar and pestle. If you get ready-made spice blend then use it. Five-Spice is very strong, so adjust the quantity accordingly.
I have used Chicken thigh in this recipe. I don't have to tell how juicy chicken thighs are. It works really well in this recipe. Because we are going to caramelize onion, sauce and the meat chicken thigh is the best choice.  You can also use chicken breast but need to be careful while cooking.
Few more Chinese Inspired recipes you might like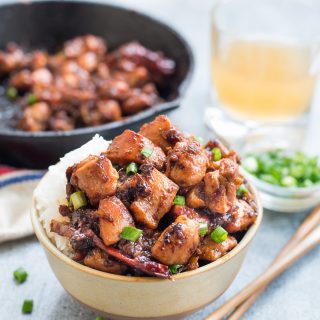 Chinese Five Spice Ginger Chicken
Quick Chinese Five Spice Ginger Chicken is Sweet and Spicy with perfectly caramelized sauce. Easy, quick and you only need one pan.
Ingredients
2 tbsp Oil
2 dry red chillies
1 medium onion Roughly Chopped
6-7 cloves garlic Minced
1 tbsp Grated Ginger
2 tbsp Dark soy sauce
2 tbsp honey
½ tspn Chinese five spice powder (increase if you prefer)
500 gms Boneless Chicken thigh Cut into small cubes
1.5 tbsp fish sauce
Salt and Pepper as per taste
Green Spring onion for garnishing
Instructions
In a wok or large frying pan add Oil. Once the oil is hot add dry red chili followed by chopped onion.

Saute onion in medium heat till they look soft and start to brown.

Add minced Garlic,Grated ginger,honey,Soy sauce,five sauce. Mix and cook for 1-2 minutes.

Add chopped chicken thighs. Mix well. Cook on medium-high heat till the chicken is cooked and well coated with the sauce.

Season with Fish Sauce, Salt, and pepper. Mix everything well and cook for another 30 seconds. By now the sauce must have been nicely caramelized and sticky.

While serving garnish with chopped green onion.