This post may include affiliate links that earn us a small commission.
Crispy fried chicken is tossed in a sweet, savory, and sticky honey sesame sauce. This homemade sesame chicken tastes better than your favorite restaurant takeout and is also quite easy to make.
Honey Sesame Chicken is one of the popular Chinese takeaways. Typically served on a bowl of steamed rice, this makes for a perfect weeknight dinner recipe. This homemade version is better than your favorite Chinese restaurant takeout on any day. Chicken is seasoned, coated with cornstarch mixture, and then deep fried until it is crispy. Then the crispy fried chicken is tossed in a sweet, salty, and savory honey sesame sauce. While serving a generous sprinkle of toasted sesame seeds on top adds nuttiness to the dish.
Reasons this sesame chicken is better than the takeout version
The fried chicken has a light and airy coating. It's not too greasy and stays crispy even after tossing in the sauce. Crispy chicken, all thanks to a mix of cornstarch and baking powder used to coat the chicken.
Honey sesame sauce has the right amount of sweetness. It has a hint of sesame from toasted sesame oil and toasted sesame seeds.
Homemade one always tastes better than takeout because you can customize the sauce as per your taste and you know what goes into the sauce.
If planned a bit ahead of time, you can do this in just 30 minutes.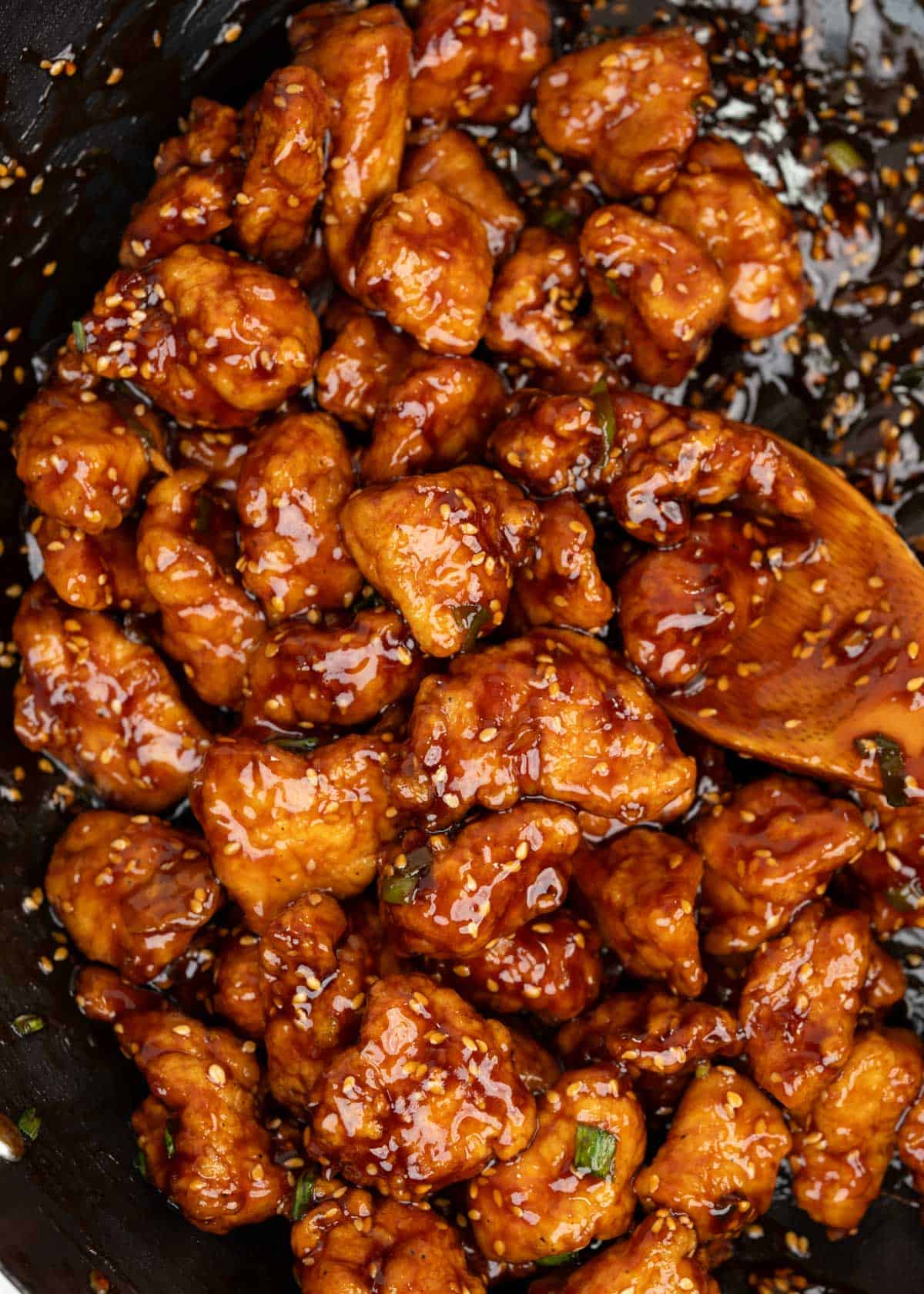 Ingredients you need
The list of ingredients might look long, but if you are into making Asian takeouts at home, then I am sure you will have most of the ingredients already in your pantry.
Flavours In Your Inbox
Subscribe for recipes straight to your inbox
Chicken breast– boneless chicken breast cut into bite-sized pieces. You can also use chicken thighs if that's what you have in hand.
Eggs- I full egg and one egg white. To make a wet marinade for the chicken before dipping them into the cornstarch mix. Egg also helps to moisten the chicken after frying.
Soy sauce- To season the chicken
Cornstarch, flour, baking powder– For dry coating the chicken pieces. A mix of cornstarch and flour makes the coating crispy and light.
Garlic – minced garlic.
Toasted sesame seeds
Honey Sesame sauce
Soy sauce
Tomato ketchup
Honey
Brown sugar
Rice vinegar
Sriracha
It's a versatile recipe and you can easily bulk it up by adding veggies like blanched broccoli, bell pepper, snow peas, etc. The sauce is a perfect balance of sweetness and salt with the right hint of spice. However, you can adjust the sauce as per taste.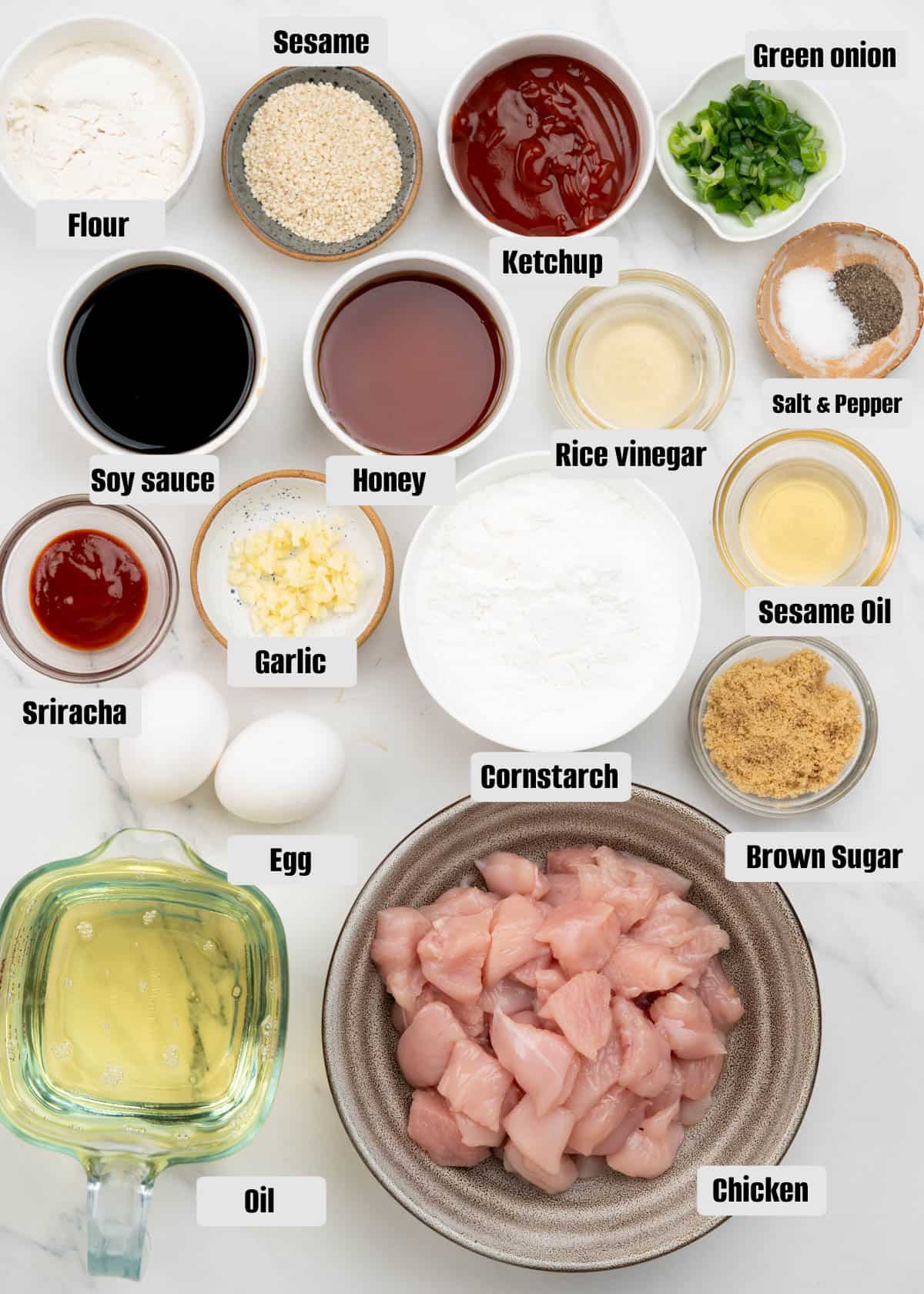 Steps to make Sesame Chicken
Making sesame chicken is not exactly easy, but it's not technically a difficult recipe either. Frying chicken is the only step that takes a bit of time. Rest just mix sauce and toss chicken in it.
If using whole chicken breast, start with cutting the chicken into 1-inch pieces. Then mix it with beaten egg and soy sauce. Soy sauce acts as seasoning and the egg keeps the chicken moist while frying.
Coat wet chicken pieces in a layer dry mix of cornstarch, flour, and baking powder.
Then chicken is fried in a few inches of oil which makes for a crispy outer crust. It's best to use a thermometer to make sure that your frying oil is around 350 degrees F. Else, insert a wooden chopstick, and if you see small bubbles appearing around the edges of the chopstick the oil is hot enough for frying.
Fry coated chicken pieces in 2-3 batches for 4-5 minutes until crispy.
Next, step is to make the sauce in the skillet by sauteing garlic, followed by adding all the sauces. Finish it off by tossing fried chicken in the sauce along with green onions and toasted sesame seeds.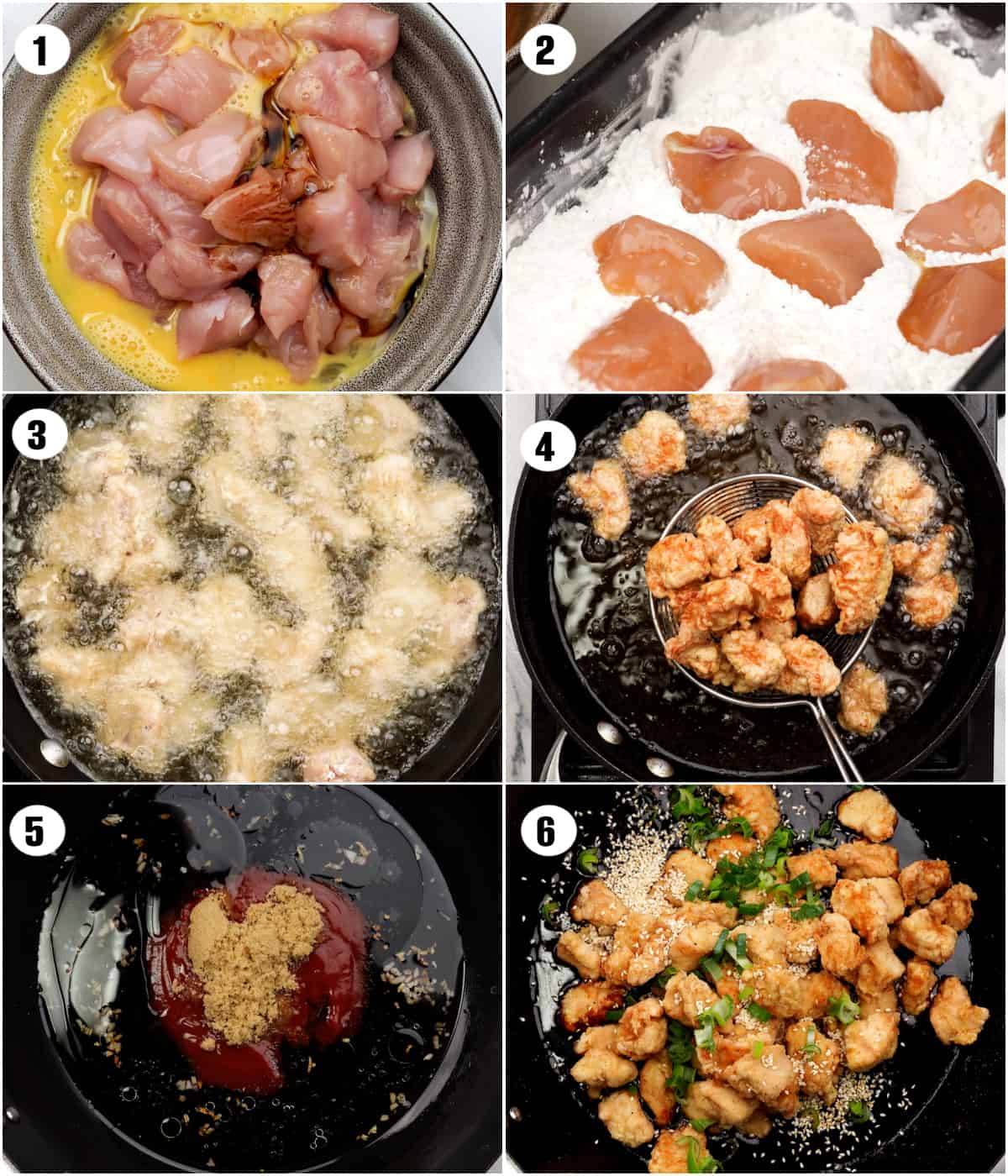 Helpful Tips
Make sure the chicken is at room temperature while frying, or else it will result in uneven cooking.
You don't have to deep fry the chicken. A couple of inches of oil is good enough for shallow frying, but make sure the skillet/pan you are using for frying is either non-stick or well-seasoned to prevent the chicken from getting stuck at the bottom.
Don't skip on the baking powder. It helps to give a nice airy and crispy crust.
While frying chicken, make sure the oil is at the right temperature. Oil not hot enough, the chicken will soak a lot of oil and the crust will be soggy. If the oil is too hot, the crust will brown too soon but chicken will remain undercooked. Either use a kitchen thermometer or wooden chopstick to check if the oil is hot enough.
Toasting sesame seeds gives a nutty taste and this is my favourite ingredient in the recipe.
If you are planning to make it ahead, then make the sauce and fried chicken beforehand. Just assemble it before serving.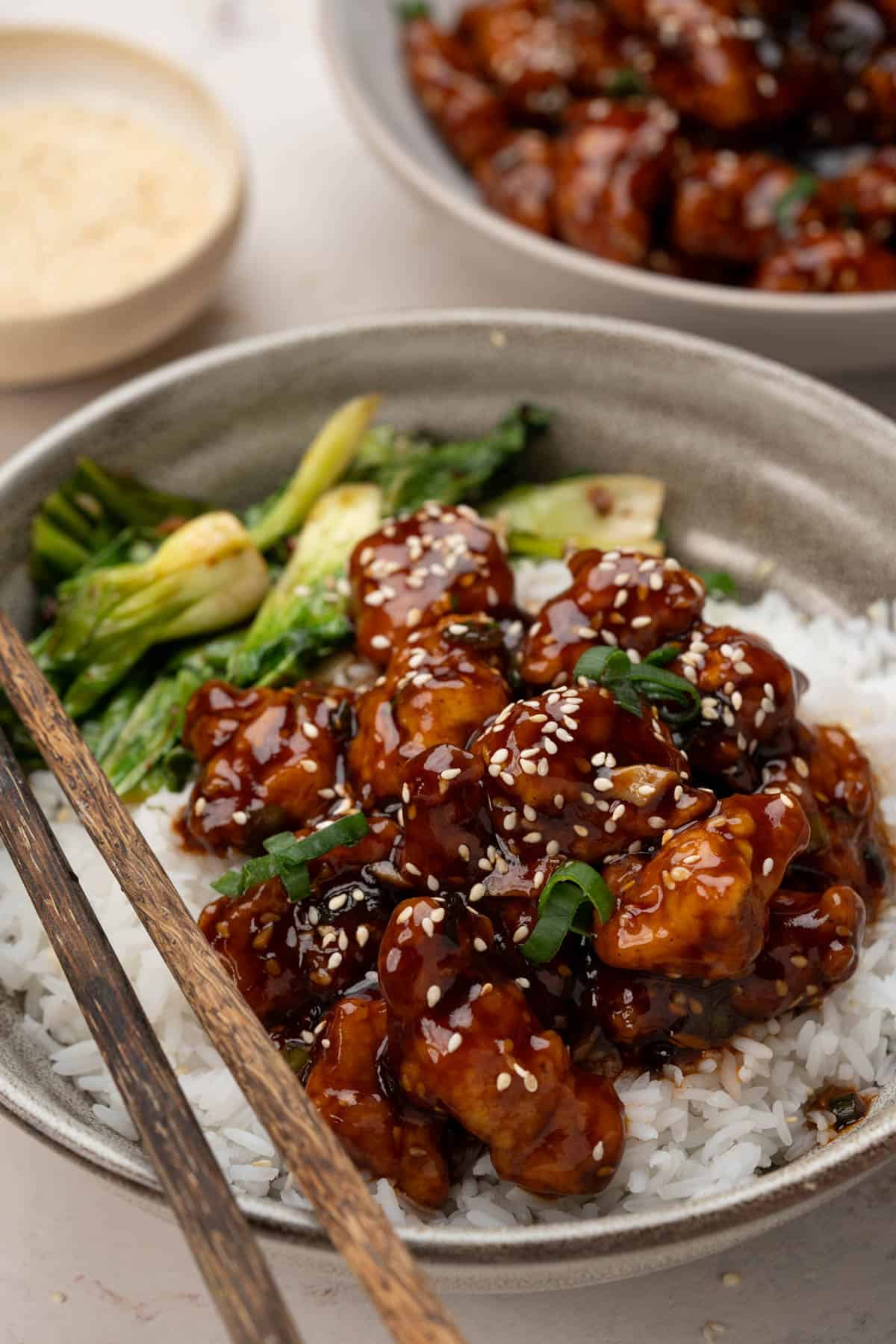 Storing Leftovers
Sesame chicken tastes best when served right after tossing chicken in the sauce. Chicken pieces will still be crunchy while hot. Chicken does lose its crispiness over time. However, in the case of leftovers store them in an airtight container for up to 3 days.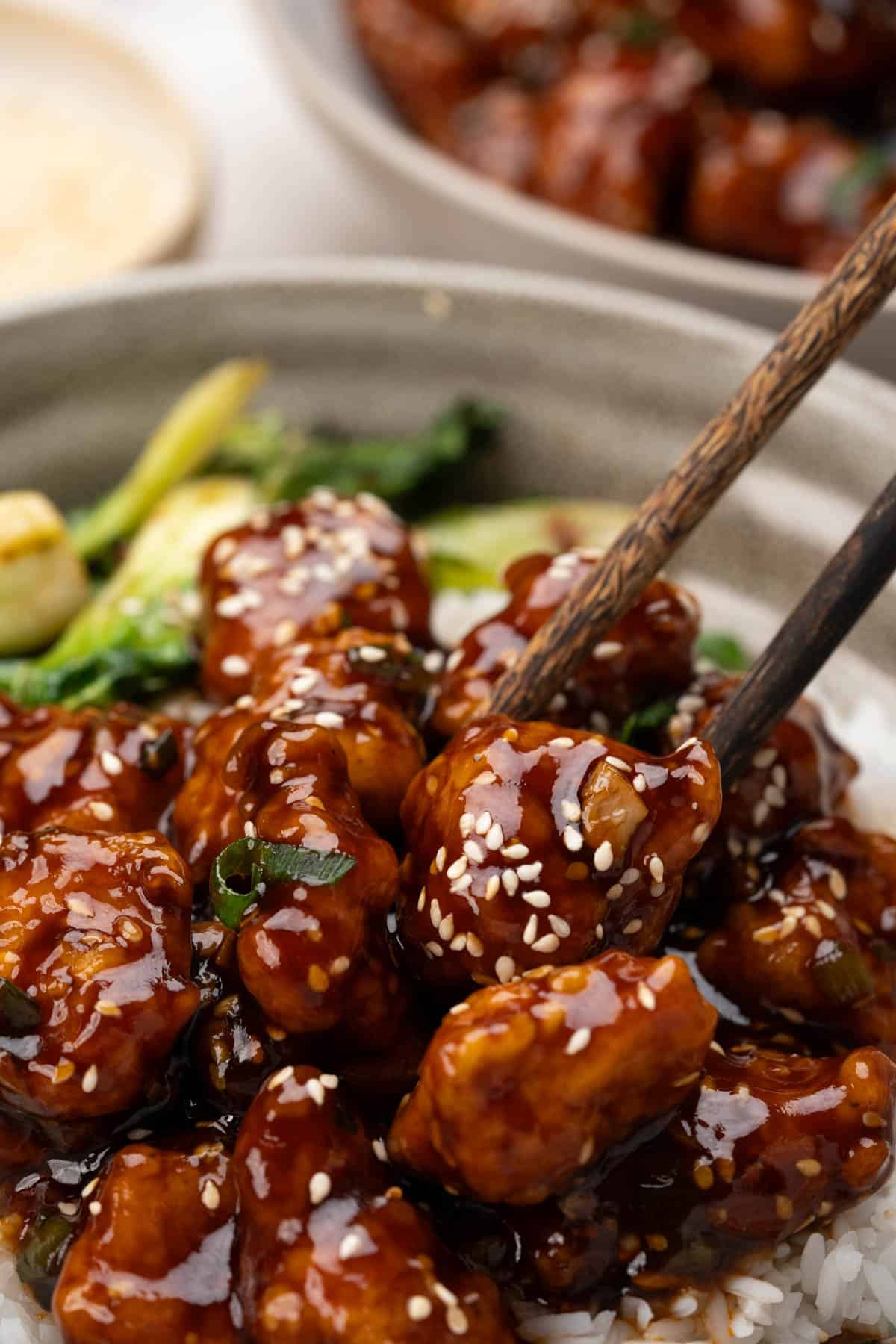 More Asian takeout recipes to try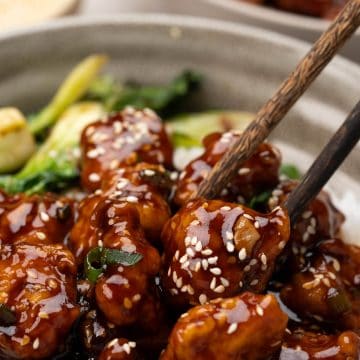 Sesame Chicken
Batter fried crispy chicken bites are tossed in a sweet, salty, and sticky honey sesame sauce. This saucy honey sesame chicken pairs perfectly with a bowl of steamed white rice.
Ingredients
700 grams

boneless skinless chicken breasts 


cut into 1-inch pieces


1 teaspoon

soy sauce


1 eggs
1 egg white
1 cup cornstarch
⅓ cup all purpose flour
¼ teaspoon baking powder
2 cups vegetable oil (for frying)
1 tablespoons minced garlic
2 tablespoons sesame seeds
¼ cup chopped green onion
pepper to taste
For Stir Fry Sauce
⅓ cup low sodium soy sauce
⅓ cup honey
¼ cup ketchup
2 tablespoons rice vinegar
3 tablespoons brown sugar
1 teaspoon sriracha
1 tablespoon toasted sesame oil
2 tablespoons water + 1 tablespoon cornstarch
Instructions
To chicken breast pieces, add soy sauce, and 1 egg + 1 egg white beaten. Mix well to coat.

In another large bowl mix together cornstarch, flour, salt, pepper, and baking powder.

Heat oil in a skillet. Oil should be at least of 2-inch height or else the chicken will get stuck to the pan.

Pick 1 or 2 pieces of chicken each time, shake off the extra marinade, and place it on the cornstarch mix. Gently press the pieces into the dry mixture so that it gets coated evenly. Shake off extra dry mix and carefully add it to the skillet.

Let it cook undisturbed for 2 minutes on medium heat. Then carefully flip and let it cook for another 2 minutes on low heat. Using a slotted spoon to remove the crispy chicken pieces from the pan and place it on a kitchen towel for excess oil to drain.

Depending on the skillet size and amount of oil, you might have to fry the chicken pieces in 2-3 batches. Avoid crowding the skillet or else the chicken pieces will stick to each other and will not cook crispy.

In a wok or a large skillet heat 2 teaspoons oil. Saute chopped garlic for a minute until aromatic. Add all the ingredients for the sauce except cornstarch to the skillet. Give everything a good stir. When it comes to a low boil, make cornstarch slurry and slowly stir into the sauce. The sauce will start to thicken.

Then add crispy fried chicken and toasted sesame seeds. Toss chicken to coat well with the sauce and let it cook for 1 minute on low heat for the sauce consistency to adjust.

Switch off the flame and garnish with chopped green onions.
Nutrition
Serving: 1serving | Calories: 579kcal | Carbohydrates: 76g | Protein: 42g | Fat: 11g | Saturated Fat: 2g | Polyunsaturated Fat: 3g | Monounsaturated Fat: 4g | Trans Fat: 0.03g | Cholesterol: 150mg | Sodium: 1161mg | Potassium: 866mg | Fiber: 1g | Sugar: 35g | Vitamin A: 190IU | Vitamin C: 4mg | Calcium: 89mg | Iron: 3mg