This post may include affiliate links that earn us a small commission.
Indulge in the smoky sweetness of Creamy Roasted Red Bell Pepper Pasta, where charred red peppers meet velvety sauce, creating Italian comfort food at its finest. A vibrant twist on classic pasta!
I'm back with another delicious addition to my pasta recipes! If there's one thing my family adores, it's Italian cuisine, especially pasta. So, I'm always on the lookout for creative ways to jazz up our pasta nights.
Flavours In Your Inbox
Subscribe for recipes straight to your inbox
Today, I'm excited to share my take on creamy red pepper pasta, a dish that's not only bursting with unique flavors but also incredibly simple to make.
This red pepper pasta has all the usual kitchen staple ingredients, with nothing fancy here. While I have followed the classic Mediterranean flavor profile of pasta, this variation stands out with its bold flavors from the red bell pepper. I would never think of adding bell peppers to a pasta-like dish without roasting them.
Red peppers are roasted before being blended into a creamy sauce with a vibrant color. The roasting process gives it a smokiness that compliments the sweetness of the peppers. The smoky flavor makes them different from the zillion other kinds of pasta out there.
I have chosen bucatini as a choice of pasta here. But you may use spaghetti here too. Bucatini are long, straw-like pasta resembling tubes with a hole in the center. It is better than spaghetti or linguine since it can hold creamy sauce inside, which gives it a better bite. But you may go with the former choices too.
With aromatics like onion and garlic to build a base, tomato pasta and parmesan give it a savory depth. I wanted to make this more creamy and luscious, hence the cream cheese. I have sprinkled chopped basil on top for freshness.
When life gives you red bell peppers, make a 'saucy' entrance with this creamy pasta!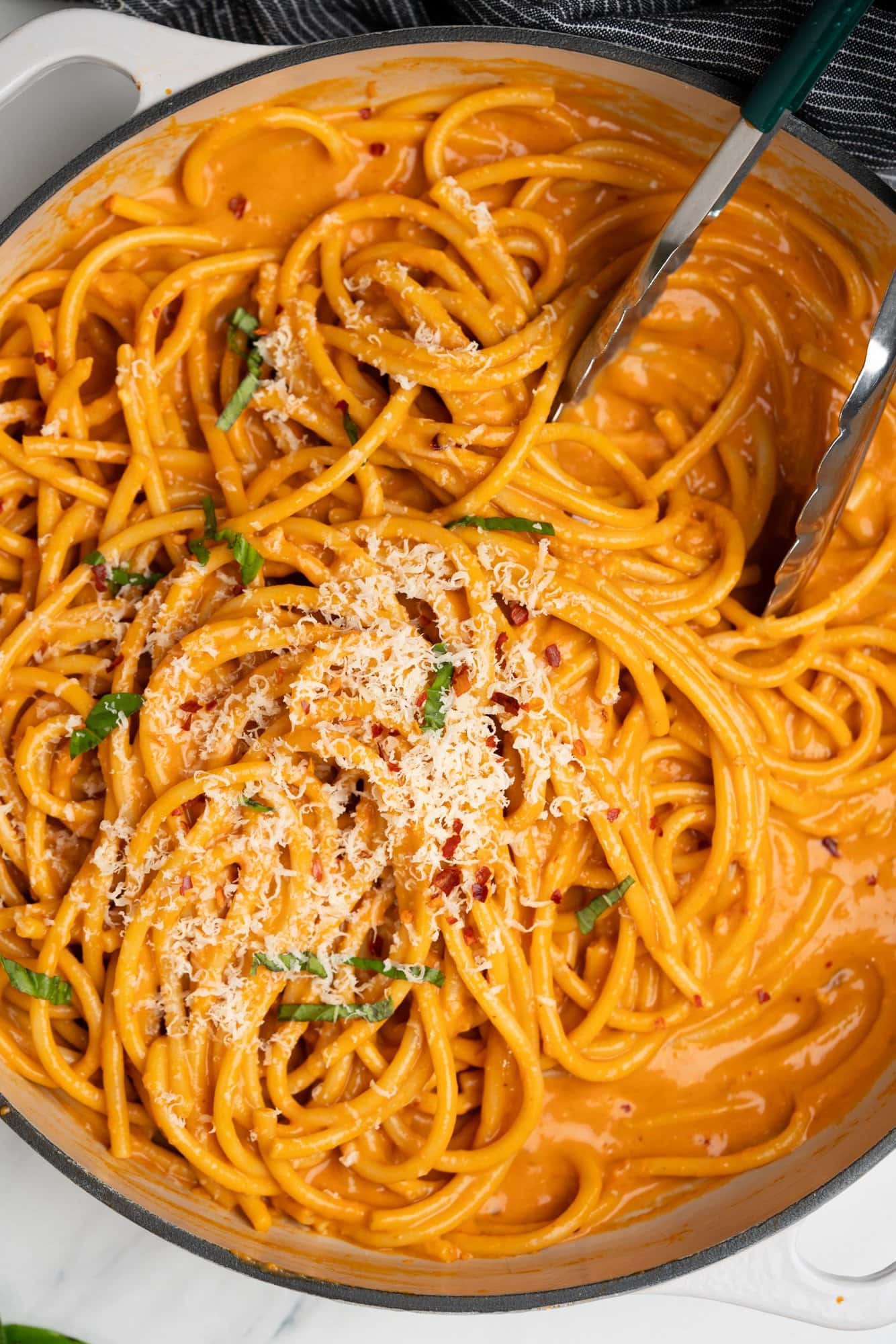 Ingredients
Bucatini: Spaghetti will work well too. Any short pasta will even do if you have just that at home. But there's child-like fun in slurping those long noodles.
Red bell pepper: Preferred over other colored peppers for its sweetness.
Tomato paste: Makes the characteristic flavor body of the pasta sauce.
Aromatics: Garlic and onion help build an aromatic base.
Olive oil and butter: Olive oil by default, but add butter for more flavor.
Cream cheese: Used for that cheesy sauce, and you may substitute with sour cream.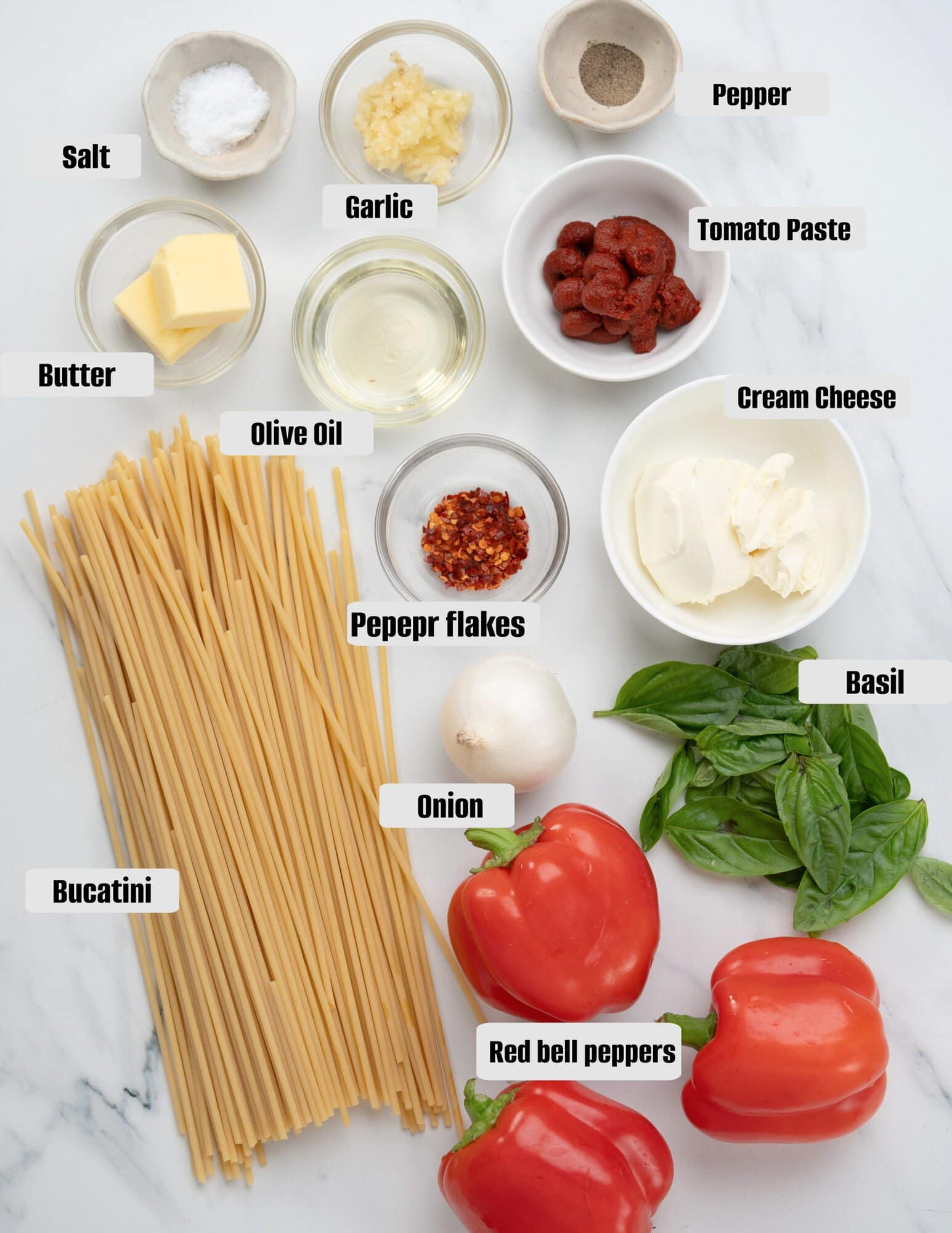 Steps to make it
Cook pasta al dante: Cook the pasta in salted water, following the packet instructions. Allow the pasta to cool down. Do not throw away the pasta water
Roast bell peppers and onions: Cut the bell peppers and onions into quarters. Toss them with olive oil, salt, and pepper. Roast them on the upper rack of the oven for 20 minutes. Take them off and let them cool.
Blend into smooth sauce: Put the roasted peppers, onion, and cream cheese into a blender jar and blend into a smooth sauce.
Cook sauce: on a hot skillet, sauté garlic and chili flakes in butter. Add the tomato paste and the blended sauce, and stir them until they bubble. Add the cooked bucatini and the reserved pasta water to thin down the sauce as per your consistency.
Toss and serve: Toss the pasta in the sauce to coat it well and absorb the flavors. Serve with sprinkles of chopped basil on top.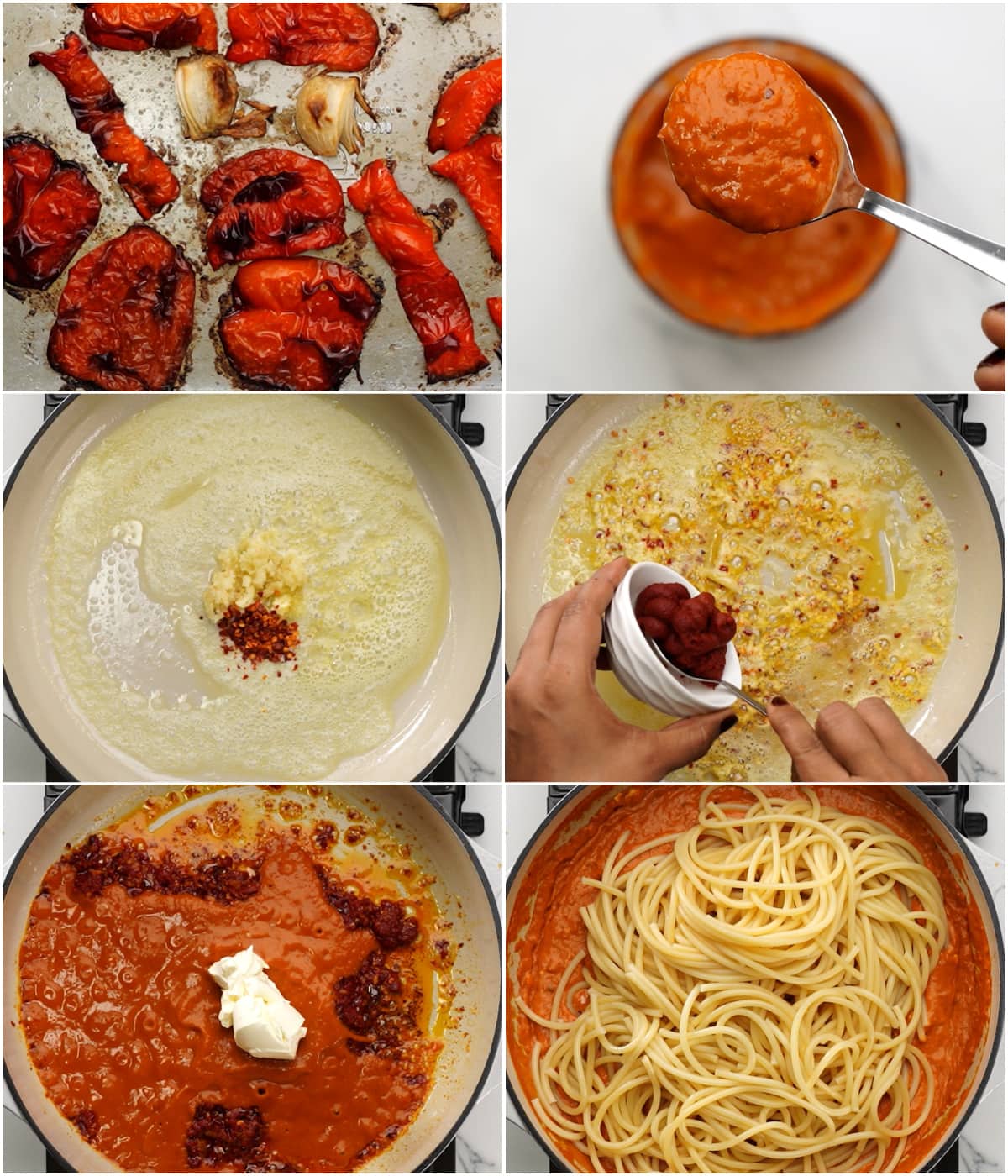 Tips
Char the red bell peppers: The smokiness and the charred taste of the red bell peppers infuse this pasta with complex flavors. Don't rush on the roasting of bell peppers. Allow them to char well.
Do not throw away pasta water: We will use the pasta water later to thin down the sauce to get our desired consistency.
Blend till smooth: The sauce needs to have a creamy consistency to be absorbed or stuck in pasta like bucatini. So blend the bell peppers, onions, and cheese well to get a very smooth and creamy texture for the sauce.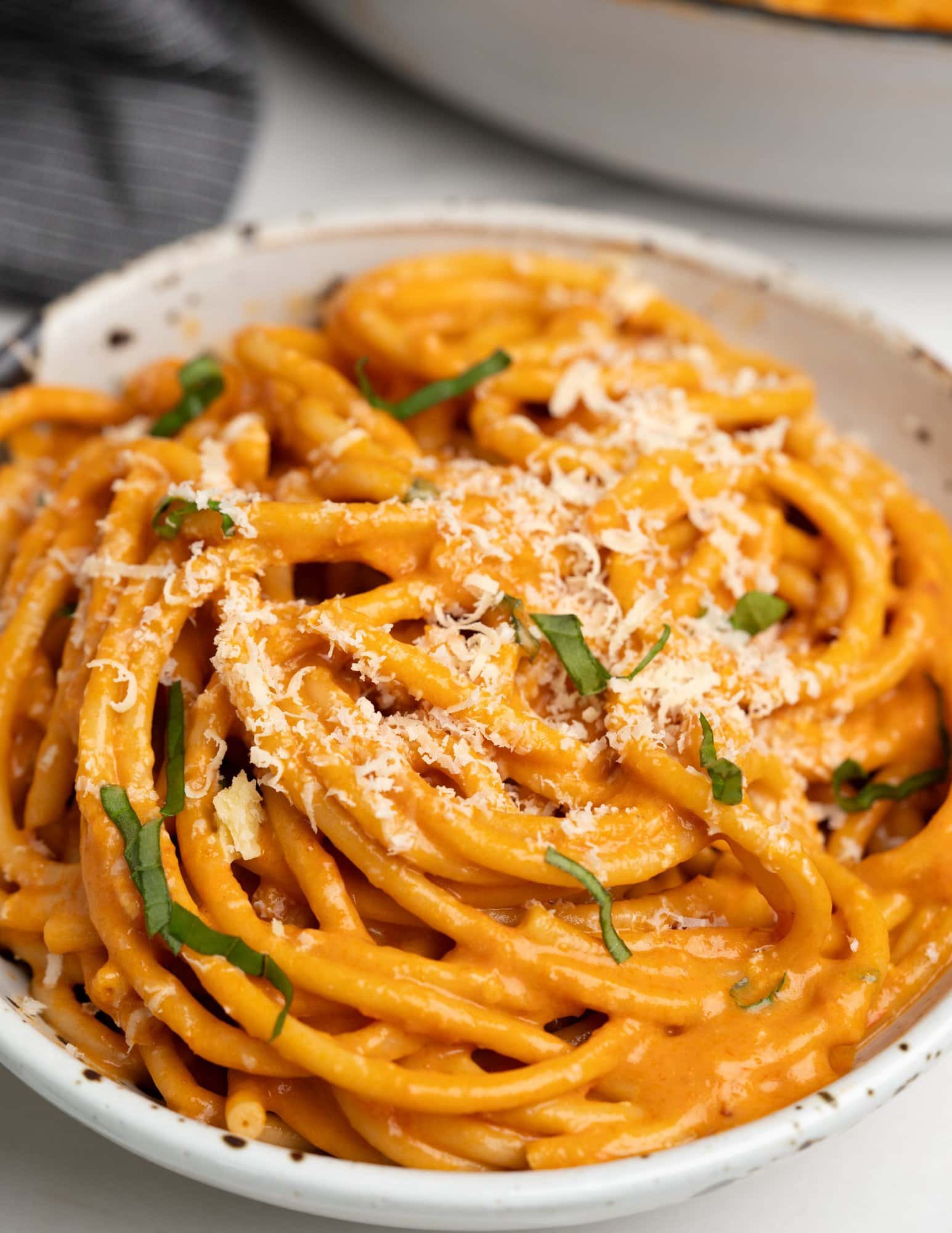 Storage instructions
Allow the cooked pasta to come to room temperature before you store it.
Refrigerate: You can store it in the refrigerator for up to 4 days. Transfer the pasta to an airtight container or zip-lock bag.
Avoid freezing: The texture of pasta like this with a creamy, cheesy sauce changes when frozen and then thawed. It is best to have this freshly cooked or refrigerated.
Reheating: It is best to reheat this over a skillet. You can add a dash of water or vegetable stock and stir together to get the consistency back. Microwaving the pasta after a gentle stir is also an option.
Serve with
A heartwarming pasta like this can be a meal on its own but makes a delightful pairing for a few sides: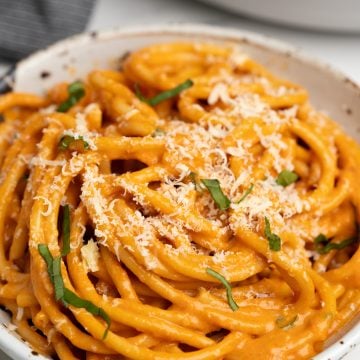 Creamy Roasted Red Pepper pasta
Roasting red bell pepper before blending it into a creamy sauce makes it smokey and delicious. Just with a few substitutions, you can make it completely vegan.
Ingredients
250 grams Bucatini ( or any other pasta of choice)
3 large red bell peppers
½ large onion
2 tablespoons olive oil
2 tablespoons butter
1 tablespoon garlic minced
½ teaspoon chilli flake
2 tablespoon tomato paste
50 grams cream cheese
Salt and pepper to taste
fresh basil and parmesan for serving
Instructions
Preheat oven to 400 F / 200 C.

Clean and cut red bell peppers into quarters. (watch video to see the best way to cut peppers). Cut onion into quarters. Season with 2 tablespoon olive oil, salt and pepper. Toss well to coat and arrange the peppers skin side up.

Bake seasoned peppers and onions in the middle rack for 20-25 minutes, until you see small charred marks on the peppers.

Let the peppers cool down for 10-15 minutes. ( ref note-1)

Add roasted peppers, onion, and cream cheese to a blender jar. Rinse the baking tray with a 1/3 cup of water to release the caramelized brown bits and add it to the blender. Blend everything into a smooth sauce. (ref note -2)

Bring a large pot of water to a boil and salt it well. Cook bucatini as per package instructions.

While the pasta is cooking, melt butter in a large skillet. Saute minced garlic and chilli flakes for 30 seconds.

Add tomato paste and cook on low heat for about 1 minute until it is slightly caramelized.

Stir in the roasted red pepper sauce and cream cheese (if not added to the peppers while blending). Mix everything well and let it simmer for 2-3 minutes.

Add in cooked bucatini and 1/2 cup pasta cooking water to thin out the sauce. season with salt and pepper to taste. Toss to coat the pasta with sauce.

Serve with fresh chopped basil and freshly grated parmesan cheese.
Notes
After roasting the peppers, you can either blend the peppers along with the skin or you can discard the skin.  I like to keep the skin on because the charred bits add a lot of flavour.                                                                                                                              If you prefer without skin, after removing the tray from oven, loosely cover it with an aluminum foil and let the peppers steam for 10-15 minutes. This makes it easy to peel the skin. 
In the recipe video, I have added cream cheese directly to the skillet instead of blending it with peppers. 
Nutrition
Serving: 1serving | Calories: 427kcal | Carbohydrates: 56g | Protein: 11g | Fat: 18g | Saturated Fat: 7g | Polyunsaturated Fat: 2g | Monounsaturated Fat: 8g | Trans Fat: 0.2g | Cholesterol: 28mg | Sodium: 160mg | Potassium: 460mg | Fiber: 5g | Sugar: 7g | Vitamin A: 3334IU | Vitamin C: 118mg | Calcium: 44mg | Iron: 2mg