Fall Roasted Sweet Potato Salad
This post may include affiliate links that earn us a small commission.
Roasted sweet potatoes are tossed with a refreshing sweet-tangy salad dressing, crunchy pecans, and soft feta to create a fall favorite sweet potato salad. The versatile dressing has flavor from garlic and hints of spice from dijon mustard.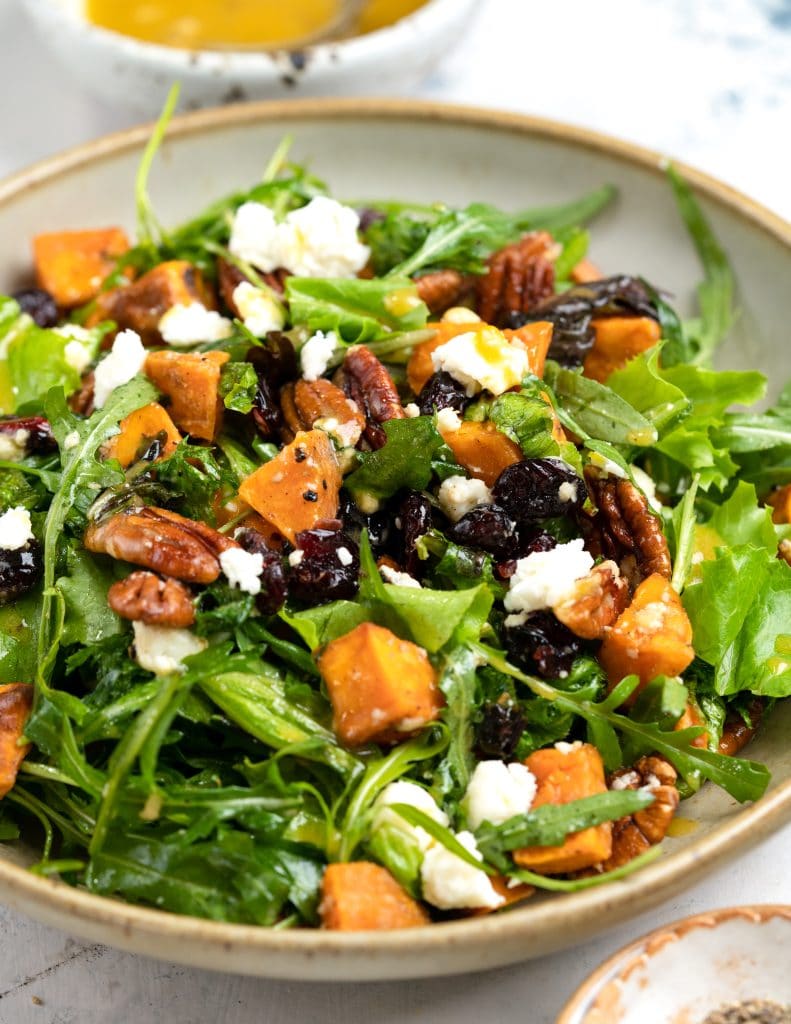 Come the season of fall and I start thinking of all the seasonal produce that I can lay my hands on. Stuff like sweet potatoes, butternut squash, and pumpkins are abundant and inspire me to try out new recipes with these as the hero ingredient.
Flavours In Your Inbox
Subscribe for recipes straight to your inbox
Tried this roasted sweet potato salad with a refreshing maple orange dressing and this turned out a keeper for fall recipes. The fall flavors jump out from this homemade salad. The potato, a mix of greens, berries, and nuts gives it a colorful and appetizing look.
The sweet, tangy, and spicy maple orange dressing with the nutty flavor from the pecans give it a sweet and savory mix. The salad dressing is light and refreshing giving it memories of summer but blended with fall produce. Soft feta cheese adds a sour profile to all the munchy greens and sweet potatoes.
Maple syrup makes it a great vegan salad choice if you omit the feta cheese. The best thing is you can make the dressing ahead and use it with any other salad too
Roasted sweet potatoes
Roasting sweet potatoes taste better and are much safer than steaming them. You may end with undercooked potatoes or mashed potatoes on the other hand. Not so with baking. You can season the potatoes with just salt and pepper or add some other aromatic.
Bake it in the oven for a good 20 minutes and the sweet potatoes come with a nice roasted aroma. Roasted potatoes have a nice crust on top and delicious tenderness inside.
How to check if the sweet potatoes are roasted perfectly? Look for a nice brown color on the potatoes. They should be crispy to look at and touch.
Take a toothpick and insert it into a potato cube. You should feel very little resistance in the middle which would show that the inside isn't raw. The skin will be crispy and the inside should be soft. The toothpick should come out without anything sticking to it which means the potatoes aren't overcooked and turned mushy.
Maple orange salad dressing
The maple orange dressing is a harmonious balance between the sweetness of the maple syrup and the tartness of the orange juice. It goes very well with slightly sweet vegetables like sweet potato or butternut squash.
Where you have notes of sweetness and tang, you cannot leave behind hints of spice. After all, these three flavor notes along with salad bring a balanced flavor palette. Dijon mustard brings hints of spice to the mix.
Minced garlic in the dressing adds a depth of flavor. You are free to balance the flavors with some salt and pepper; as per your taste and preference.
This sweet and tangy dressing works well with this leafy salad. I am sure this will pair well with other types of salads too.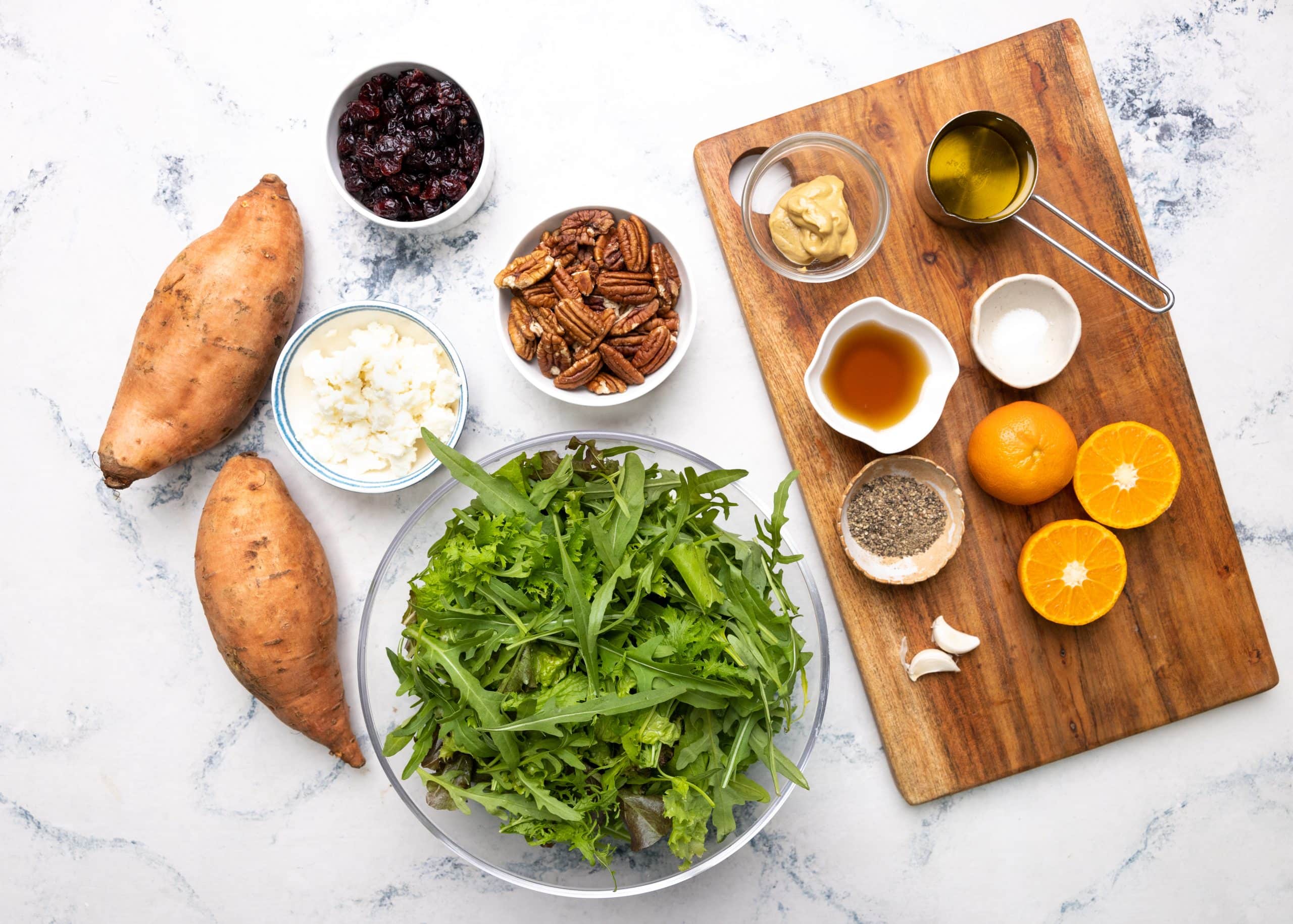 Ingredients
For salad
Sweet potato – buy sweet potatoes with that orange or red color which has more moisture. Select ones that do not have any cracks or bruises and have smooth skin.
Mixed salad greens – can there be a salad without greens? You can make your own blend of green leaves by mixing arugula with baby romaine lettuce.
Cranberry – add the characteristic tartness to the salad giving a berry flavor.
Toasted Pecan – the wooden notes of toasted pecan compliments most salads. You can also use candied pecans or walnuts.
Feta cheese – crumbled soft feta cheese adds a slightly salty and tangy taste. Toss it with the salad at the end and serve.
For Maple Orange Dressing
Maple syrup – is an excellent vegan substitute for honey. It is slightly less sweet than honey and many prefer it for that neutral-sweetness flavor. Did you know that it is healthier than honey? The texture is similar to honey thus making it an ideal substitute.
Dijon Mustard – adds hints of spice to the dressing to balance the sweetness.
Orange Juice – the tanginess of the juice pairs with the sweetness to give the characteristic sweet-sour flavor of the dressing.
Olive Oil – is the source of fat here that holds all the greens and veggies together. The glistening you see in the leaves and potatoes comes from olive oil as it helps coat everything with the dressing. A little goes a long way.
Minced garlic – aromatics used to add flavor and aroma to the dressing.
Salt – to bring all the other flavors to come to life.
Pepper – add some heat to the dressing. Use as per your tolerance.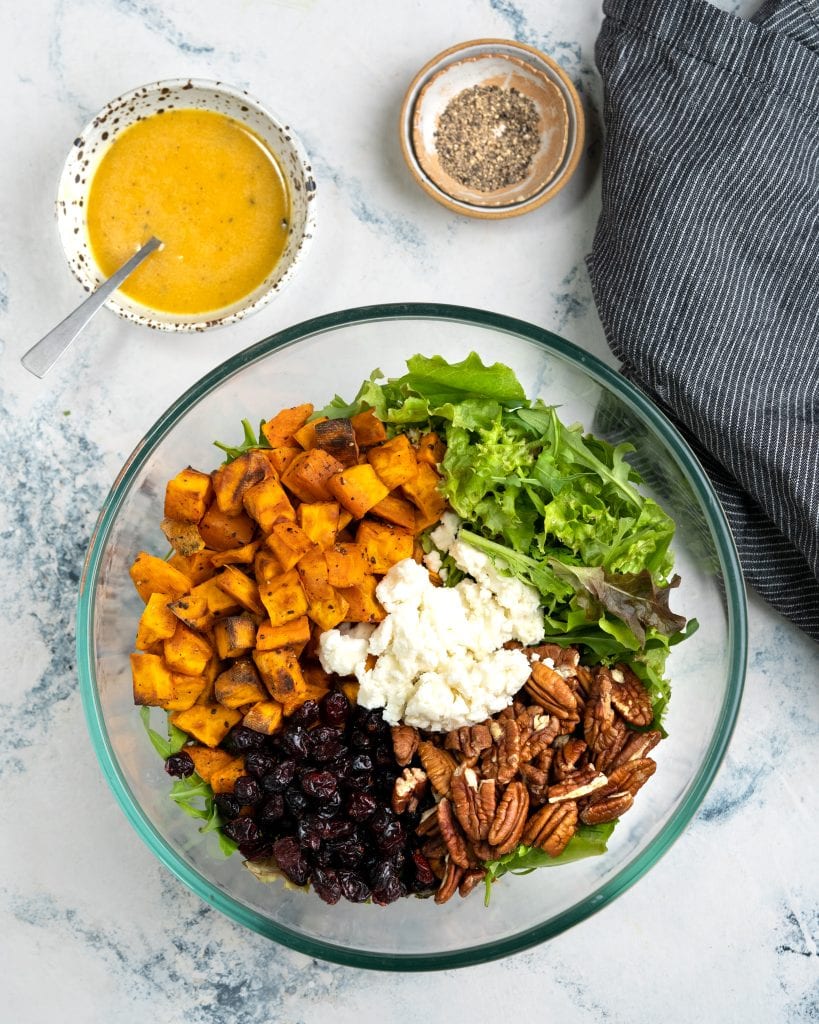 How to make sweet potato salad
I love baked potato salads. Apart from baking which gives flavor to the potatoes and makes them taste great, everything else is a quick 'mix & toss' salad. Yeah, that's what I call these super-easy and quick salads which just need some chopping, mixing stuff in a bowl, and tossing everything around. Really, it is as easy as it sounds.
Roast the sweet potatoes
Preheat oven at 375°F. Chop the sweet potatoes into small cubes an inch wide. You may cut it slightly smaller or bigger as you prefer. what you need to remember is that it is a salad and you need each mouthful of the salad to have some greens, nuts, or berries along with cubes of sweet potato. You get the idea.
Sprinkle some salt and pepper and mix them well. Lay them over a baking tray and roast for 20 minutes at 375°F.
Take the tray out and let the roasted sweet potato cubes cool while you make the rest of the prep.
Prepare the dressing
Mincing the garlic is the only step that might take a little time. Use all the ingredients of the salad dressing and add them to a bowl. Use a spoon and just mix everything. The dressing is ready and this is an easy make-ahead recipe.
Make the salad
Similarly, cut or tear the greens if you have larger leaves. You may just leave them as it is. In a large bowl, add the roasted sweet potatoes, prepped dressing, and green leaves. Add nuts, and shredded feta cheese and sprinkle salt and pepper. Remember the potatoes have been roasted with salt and pepper. So, adjust the salt and pepper accordingly for the rest of the salad.
Toss everything well and ensure the leaves and potatoes have well glistened with the dressing.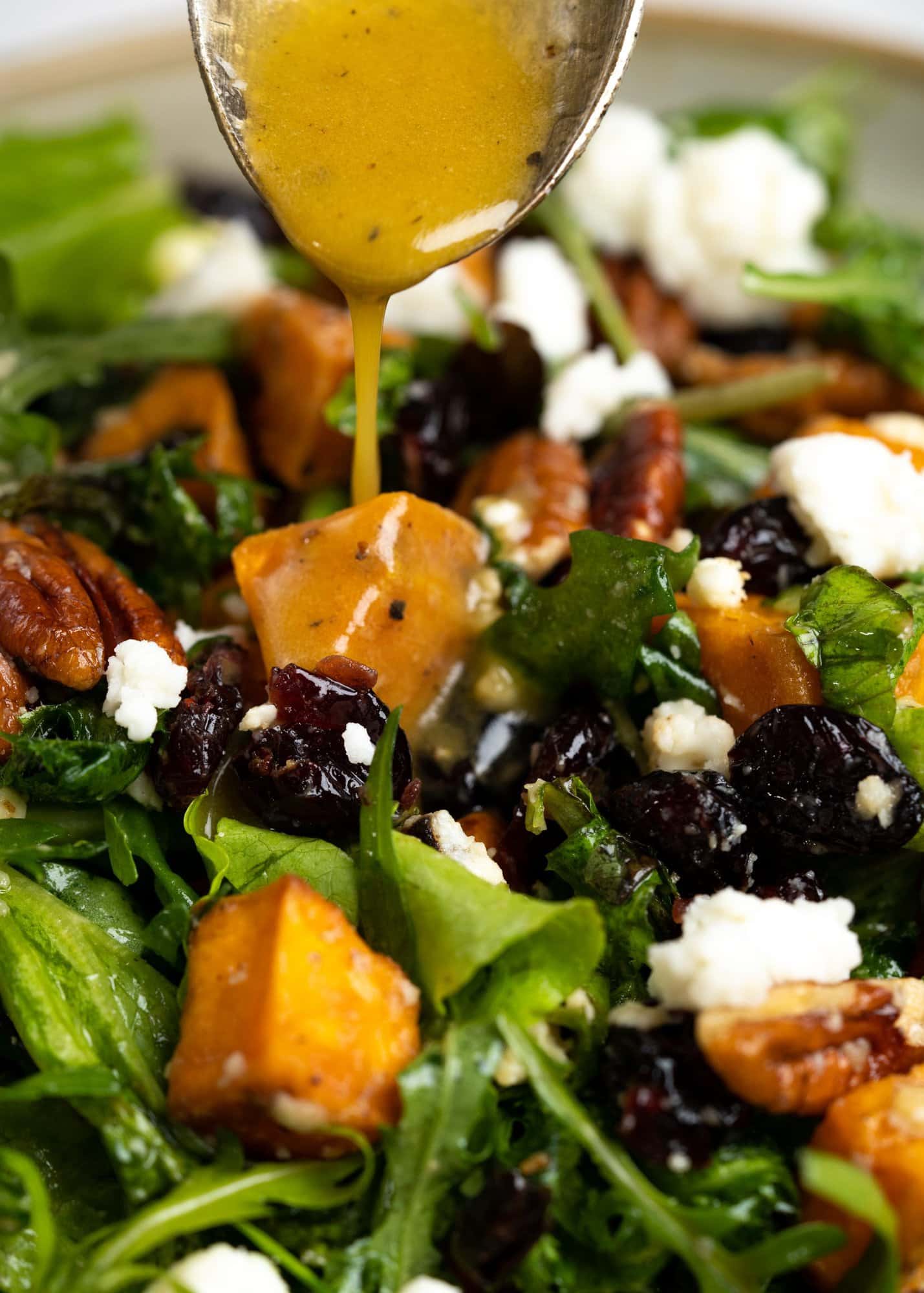 Store salad
The maple orange salad dressing, you can make it ahead? Just take it out of the refrigerator, allowing it to warm up on the counter while you make the rest of the salad.
Another useful tip – roast the sweet potatoes the previous night. You just have to take it out from the refrigerator along with the dressing and allow them to come to room temperature.
I wouldn't recommend storing the salad for more than a couple of hours as the leaves will wilt and it wouldn't appear as fresh. Moreover salt tends to squeeze out moisture from other ingredients thus making it watery.
Serve Roasted Sweet Potato Salad With
Best to serve this sweet potato salad with a protein like seared beef or pork cuts, roasted lamb, or chicken.
More Salad/sides for fall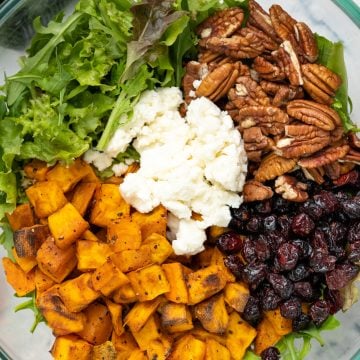 Roasted Sweet Potato Salad
This is a healthy and filling salad. Roasted sweet potatoes, mixed salad green, cranberries for some tartness, crunchy toasted pecan tossed in a citrusy Dijon Maple dressing. Finish the salad by sprinkling some salty feta cheese on top.
Ingredients
2 sweet potato
6 cups mixed salad greens
1 cup cranberry
1 cup Toasted Pecan
⅓ cup Feta cheese
For Maple Orange Dressing
2 tablespoon Maple syrup
1 heaping tablespoon Dijon Mustard
2 tablespoon Orange Juice
¼ cup Olive Oil
1 teaspoon minced garlic
½ teaspoon salt
½ teaspoon pepper
Instructions
Preheat oven to 400 F/ 200 C. Line a baking tray with foil/parchment paper.

Peel and chop sweet potatoes into 1-inch cubes.

Toss cubed sweet potatoes with olive oil, salt, and pepper. Bake it for 20 minutes or until it's tender and looks caramelized.

While the baked sweet potatoes are cooling down, make the dressing. In a glass jar add all the ingredients mentioned under salad dressing above, close the lid and shake well until it looks creamy.

In a big salad bowl, add the greens, baked sweet potatoes, Toasted pecan(roughly chopped), cranberries, and crumbled feta.

Just before serving pour the salad dressing, toss well and serve with more crumbled feta on top.
Nutrition
Serving: 1serving | Calories: 474kcal | Carbohydrates: 40g | Protein: 7g | Fat: 34g | Saturated Fat: 5g | Polyunsaturated Fat: 7g | Monounsaturated Fat: 21g | Cholesterol: 11mg | Sodium: 516mg | Potassium: 660mg | Fiber: 7g | Sugar: 13g | Vitamin A: 16813IU | Vitamin C: 25mg | Calcium: 137mg | Iron: 2mg