Chewy soft Pumpkin Oatmeal Cookies with Chocolate chips loaded with warm pumpkin spices and is a favorite fall dessert. Will share an easy trick to avoid cakey cookies(without bloating the puree with a kitchen towel, it's a messy affair) and to make the pumpkin shine in the cookies.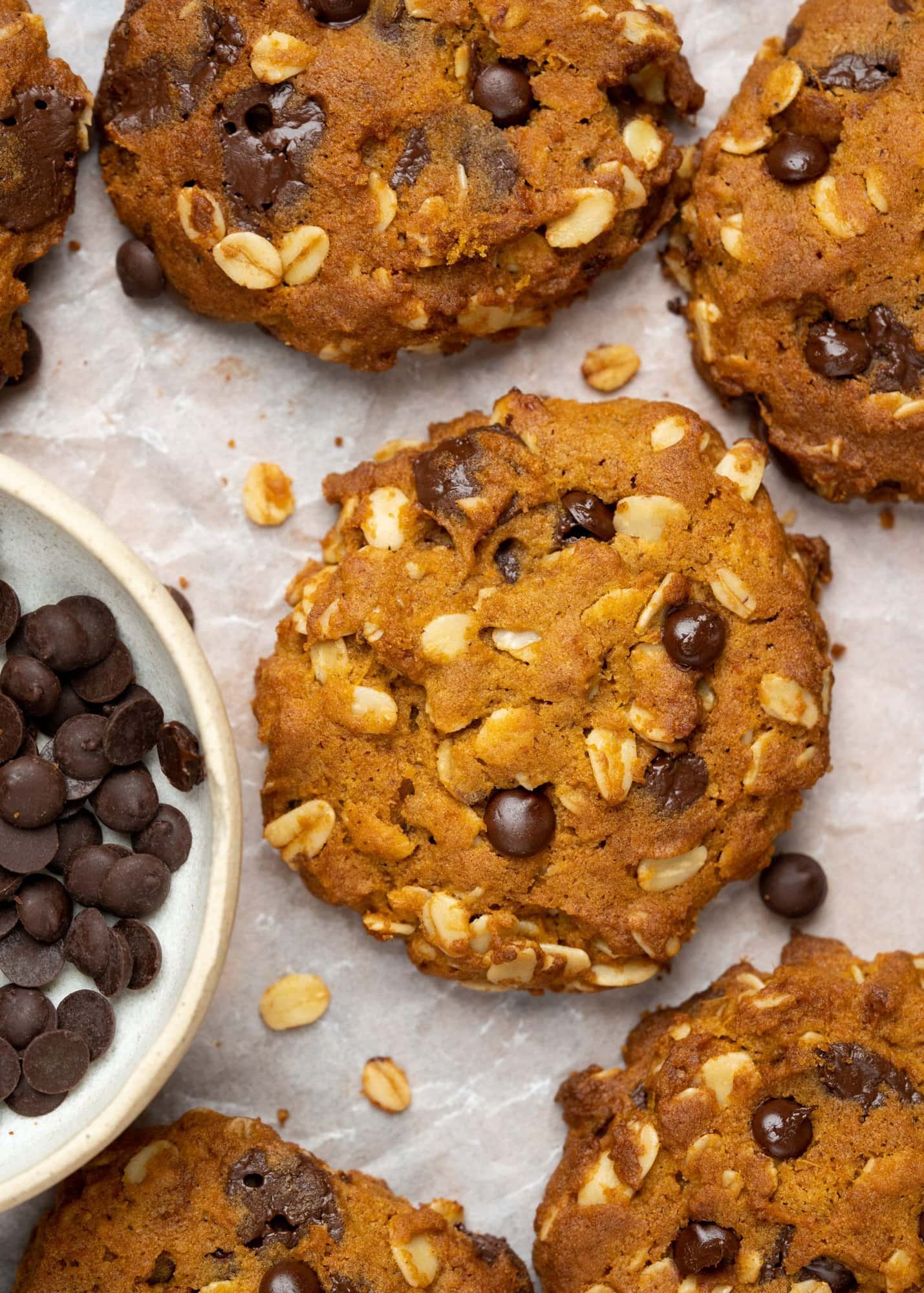 When it is fall, it is also the season of baking. And what better way to kick in the season than baking some soft Pumpkin Oatmeal cookies loaded with warm pumpkin spices and chocolate chips?
These cookies are soft, chewy, and perfectly spiced. Rolled oats give a bite to these cookies and also these don't fall apart when dunked in warm milk(also work as Breakfast cookies). Everyone will fall in love with these pumpkin Oatmeal cookies for sure.
Soft melt-in-the-mouth cookies
No creaming of butter, so a hand whisk or spatula will do the job
The cookie dough doesn't need chilling, just mix, scoop and bake.
Generously flavored with pumpkin spice
Soft and Chewy Pumpkin Oatmeal Cookies- Not Cakey Cookies
Unlike other pumpkin cookies, these are not cakey. Trust me I would rather have a cupcake or muffin than eat a cakey cookie.
Baking is science. The quality and quantity of ingredients used make a big difference. Instead of getting into the details of baking science, let's talk about these cookies. Cookies need to be soft, chewy, and melt in the mouth. To get chewy cookies
Use melted butter instead. No need for creaming butter, just use a hand whisk to mix.
Use a mix of brown sugar and white castor sugar
The proper ratio of flour and butter/other fat.
But when you use fruit or vegetable puree, the recipe needs further adjustment. Fruit/vegetable puree introduces a lot of moisture to the dough, which in turn results in cakey cookies. The cookies will look more like muffin tops.
After numerous tries, I had to give up on Banana cookies because no water how many tweaks I did, the cookies turned out to be cakey. But these pumpkin Oatmeal cookies came out really nice and chewy.
less moisture --> Less cakey, chewy cookies
Canned or homemade, pumpkin puree has lots of moister/water. The best way to remove the moister is to cook the puree down until almost all the water has evaporated. This step not only reduces moisture, but the pumpkin flavor also intensifies.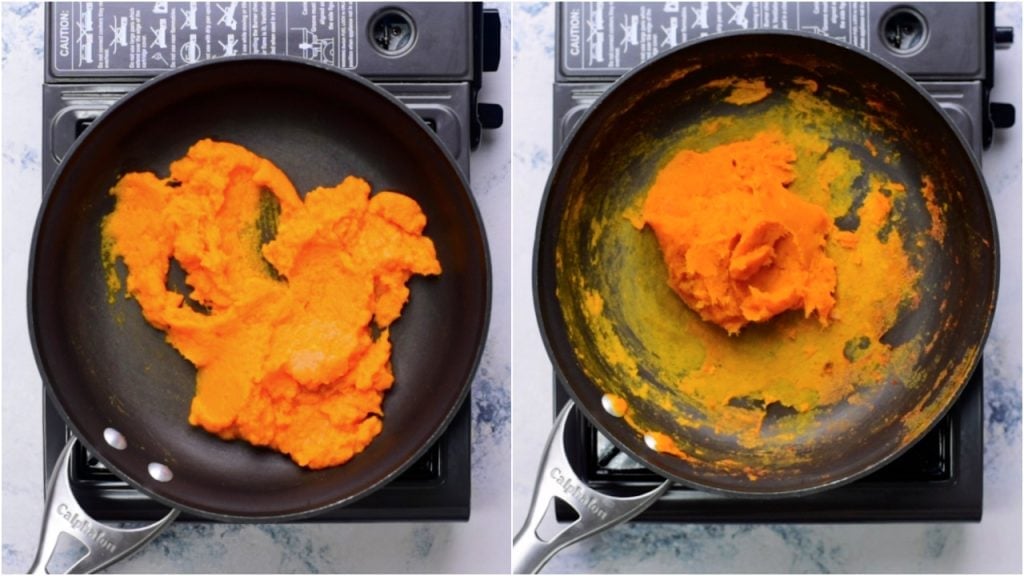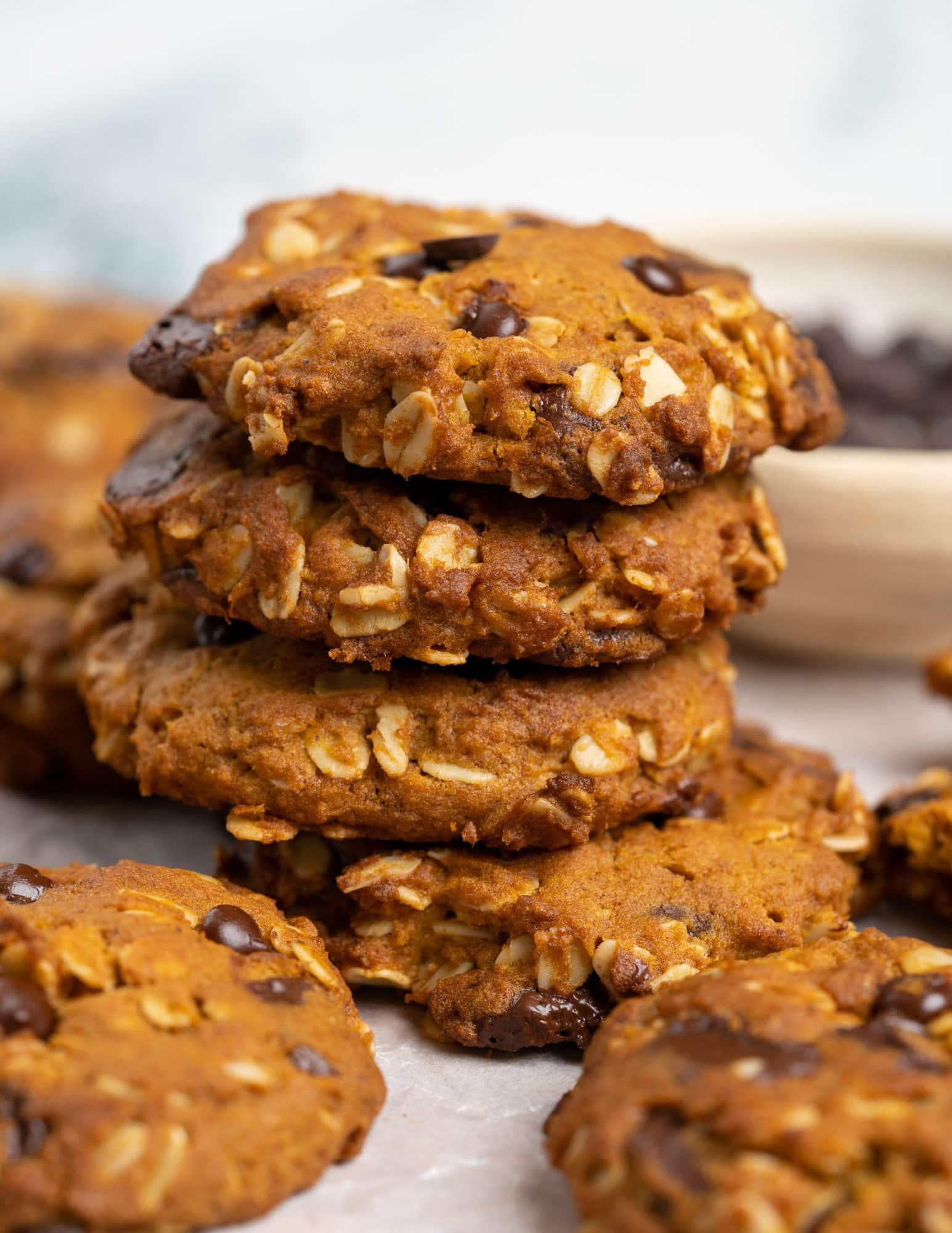 Ingredients you need
Pumpkin Puree - Homemade or canned anything is fine. I find homemade puree has a little less moisture. But because we are reducing the puree, it really doesn't matter much.
Rolled Oats- Roll oats give a nice bite to the cookies. Quick oats or steel-cut oats will not work for this recipe.
Flour - Regular all-purpose flower.
Egg yolk - to give richness to the cookies.
Melted butter at room temperature
Light brown sugar and white granulated sugar
Pumpkin Spice- good quality pumpkin spice, Homemade is the best. Fresh spices has maximum flavour
Cinnamon
Salt
Dark Chocolate chips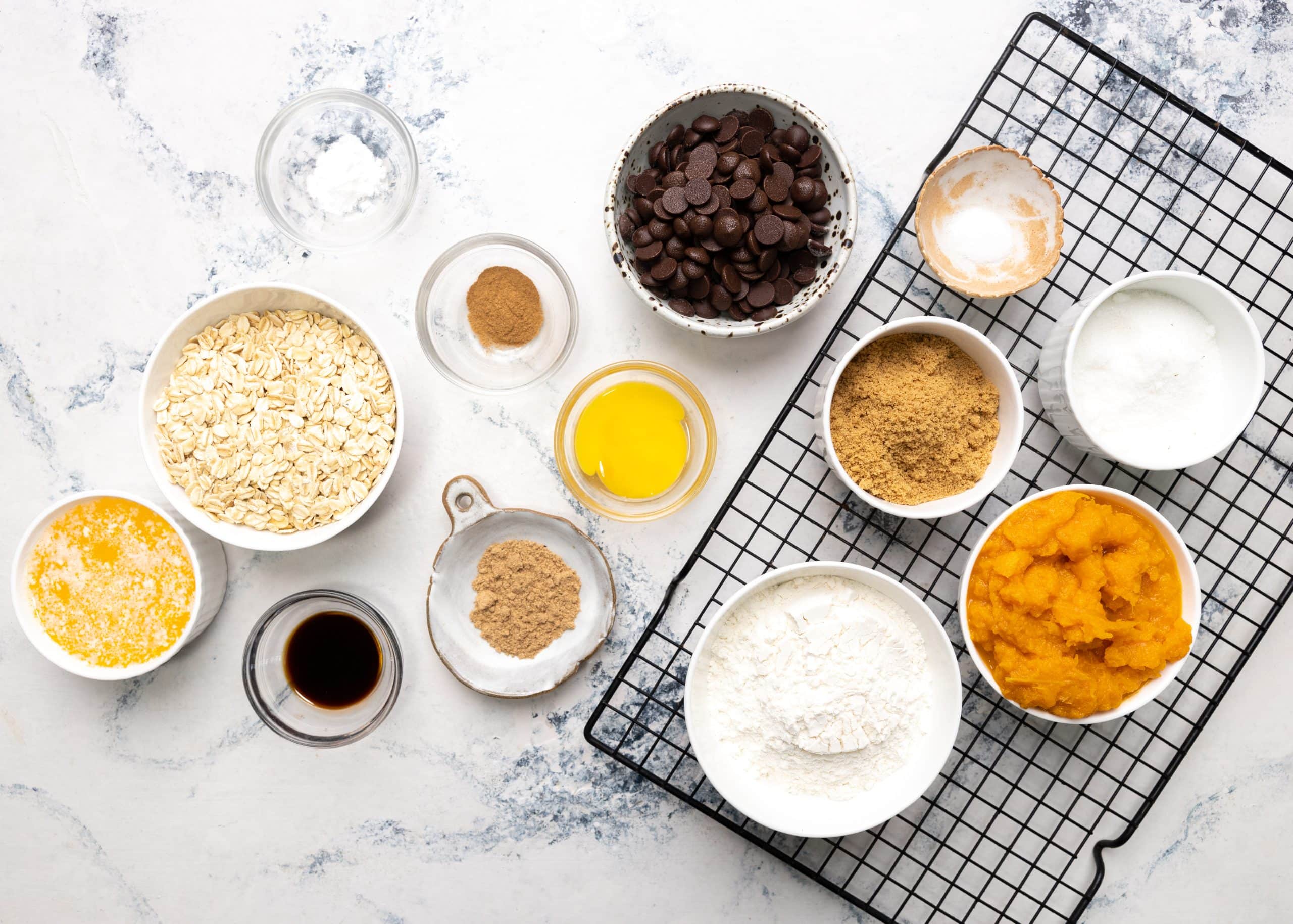 Pumpkin Oatmeal Cookies - Step by Step instruction
Reduce Pumpkin Puree- Measure pumpkin puree. Use a nonstick pan (less messy) to cook down the puree. 1 cup of puree weighs around 230-250 grams. Once reduced it should be around 120 grams- 130 grams. While cooking keeps scraping the bottom of the pan to get as much puree as possible from the pan. Let it cool completely.
Mix Dry Ingredients together - In a small bowl add flour, oats, pumpkin spice, ground cinnamon, salt, and baking soda. Mix well.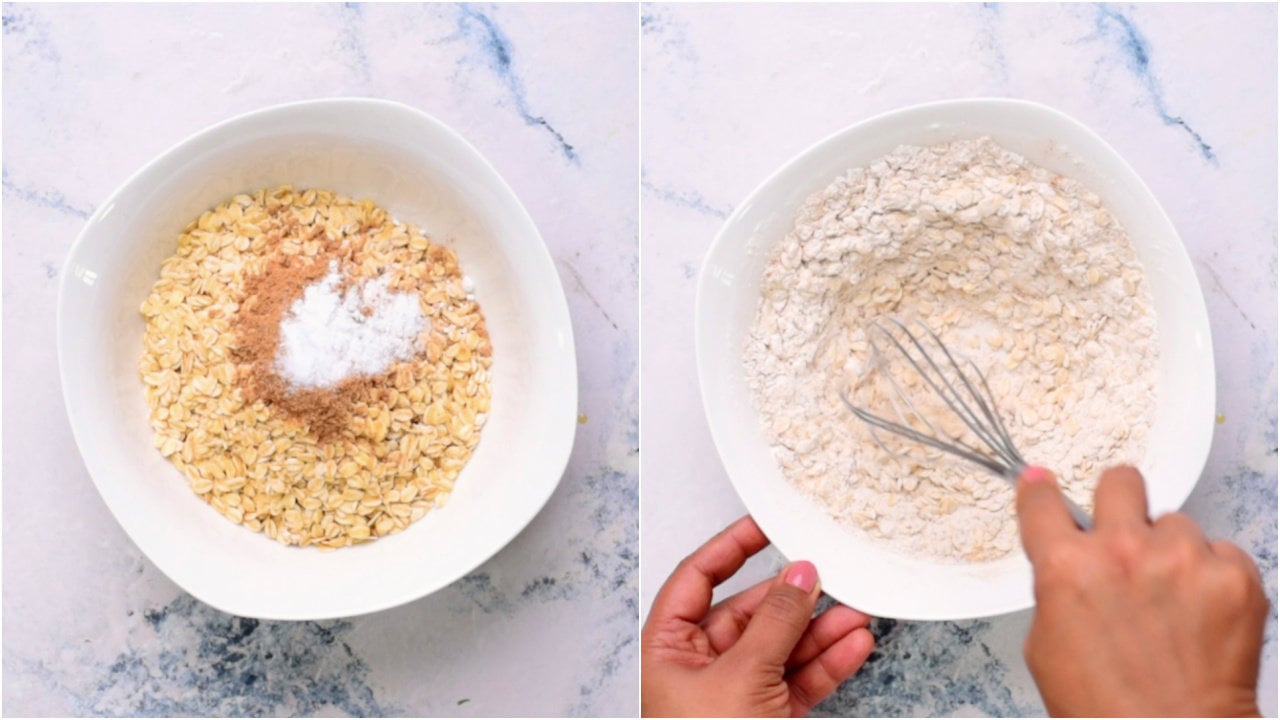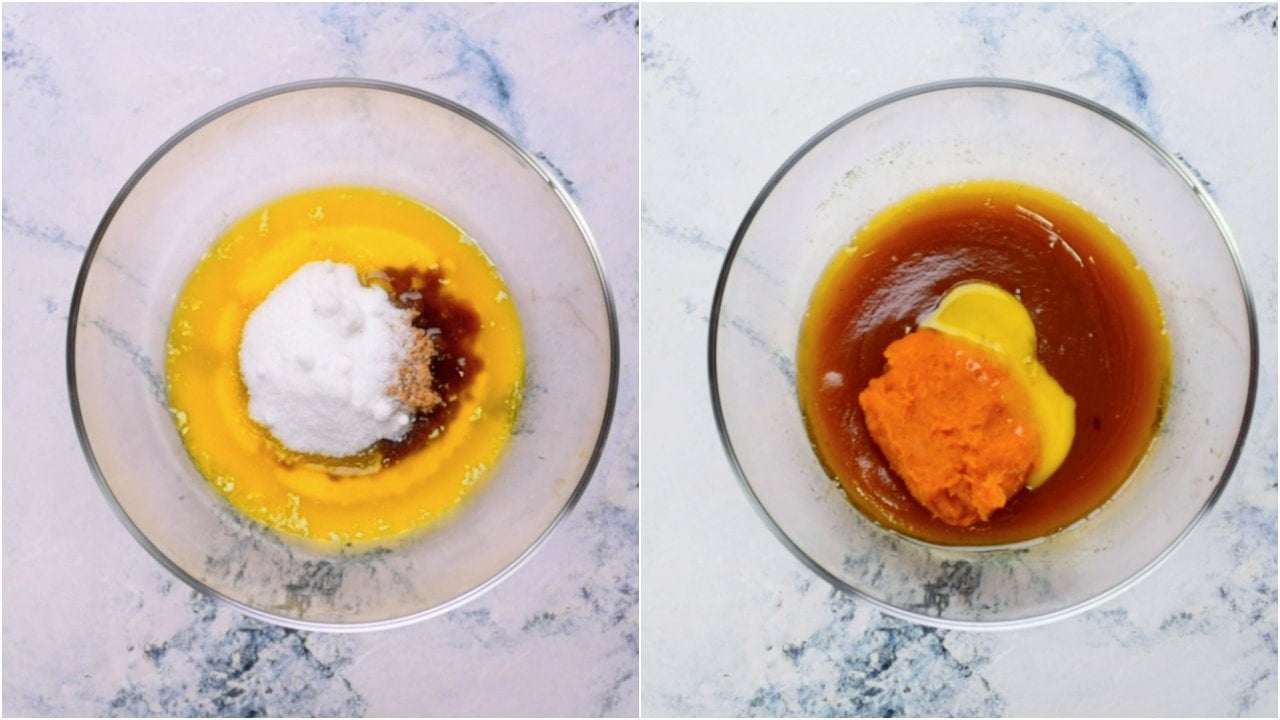 Mixing wet ingredients- In another big mixing bowl, add cooled-down melted butter, brown sugar, and white sugar. Use a hand-held whisk or hand whisk to mix everything well. Add egg yolk, vanilla extract, and reduced pumpkin puree. Whisk well until there are no big lumps of pumpkin puree.
Incorporate Dry ingredients into the wet mixture- Add the dry mixture to the wet mixture in two batches. Use a spatula to mix gently. While adding the last batch of the dry mixture, also throw in the chocolate chip.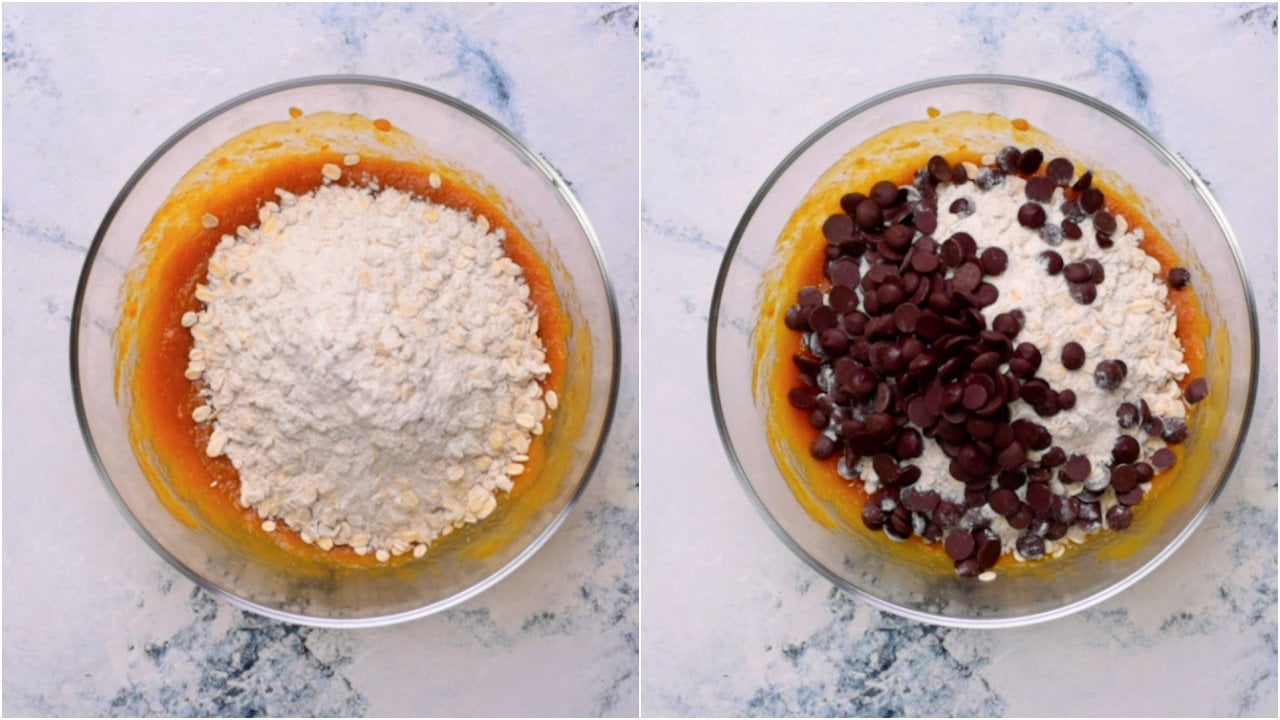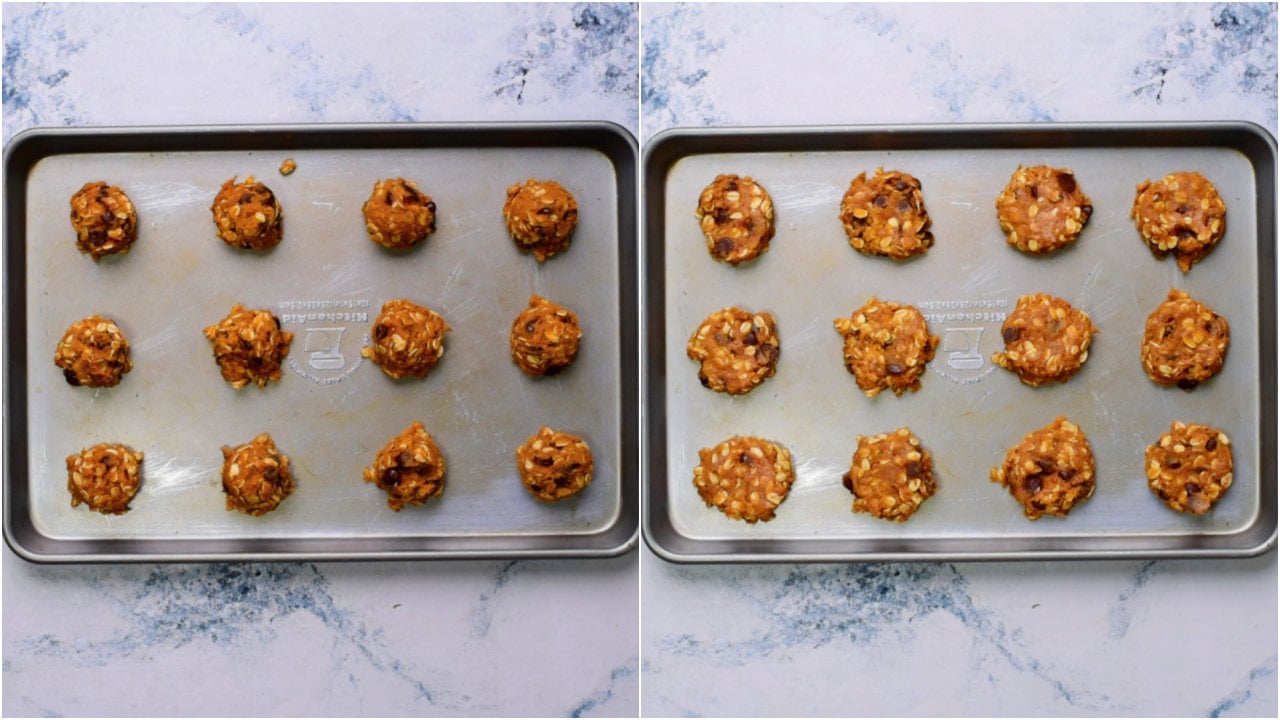 Scoop and bake - Use a medium cookie scoop to scoop out the dough. Place it in a cookie tray 2-3 inches apart. With the back of the spatula slightly flatten the dough balls. Bake it in a preheated oven until the edges have settled.
Let the cookies cool down on the baking tray for 10 minutes before shifting to a cooling rack.
Storage and Freezing Instruction
Store these pumpkin Oatmeal cookies in an air-tight container after it is completely cooled down. You can keep the cookies for up to 3 days in warm weather or up to a week in colder weather.
These cookies reheat really well. So you can freeze the cookies for up to 2 months in zip lock bags.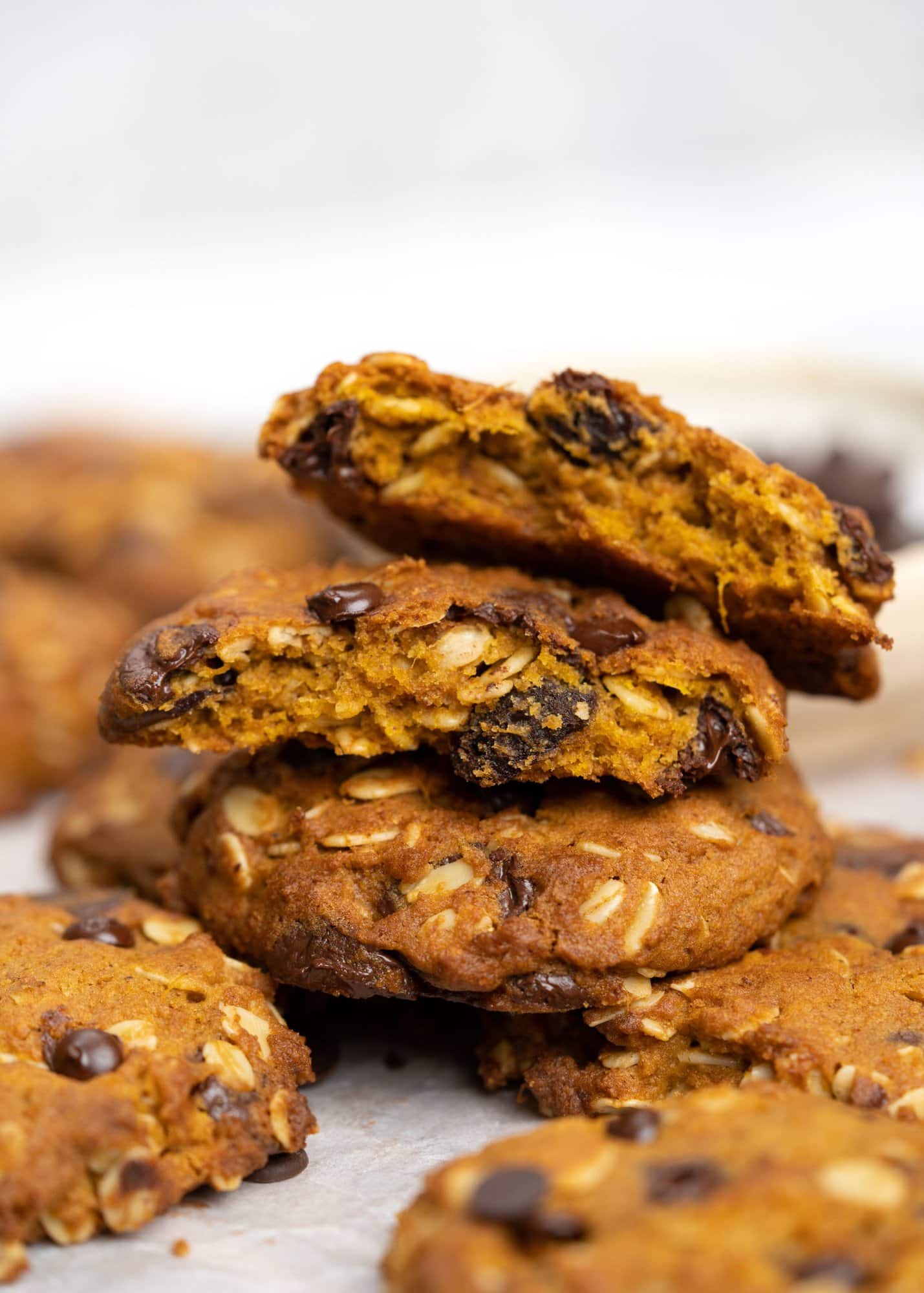 More Pumpkin Recipes
Roasted Butternut Squash Pasta
📖 Recipe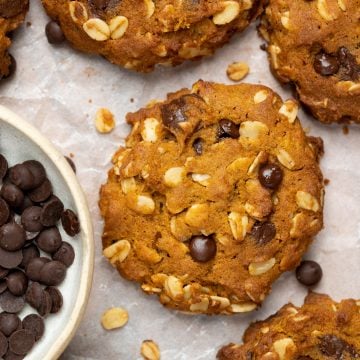 Ingredients
¾

cup

Flour

1

cup

Rolled Oats

½

teaspoon

Baking Soda

1

teaspoon

Cinnamon

1

teaspoon

Pumpkin Spice

¼

teaspoon

Salt

1

heaping cup

Dark Chocolate chips

1 stick

+ 2 tablespoon

Unsalted butter, melted and cooled

⅓

cup

Light brown sugar

¼

cup

White granulated sugar

1

Egg yolk

1

cup

Pumpkin puree

1

teaspoon

Vanilla Extract
Instructions
Preheat oven to 350°F (177°C)

In a nonstick pan add pumpkin puree. Cook the puree on low heat until almost all the moisture has evaporated( around 8-10 mins). At the end, the total weight of the puree should be 115 gms-120 gms. It should be really thick. (ref note 1).

Cool down the pumpkin puree completely.

In a bowl mix flour, oats, baking soda, pumpkin spice, and cinnamon.

In another bowl add melted butter, brown sugar, and white sugar. Whisk it well.

Add vanilla extract, egg yolk, and pumpkin puree. Whisk it well.

Fold in the dry mixture and chocolate chip. Use a spatula to mix everything.

Using a medium cookie scoop, scoop cookie dough into balls (about 2 heaping tablespoon of dough each) and place 3 inches apart on the cookie sheet. Slightly flatten the balls with the back of the spatula.

Bake it for 14-15 mins. Check once at 12 minutes, if the cookies have browned and the edges look firm and settled remove the tray.

Let the cookies rest on the tray for 10 minutes, for the cookies to settle. Then place it on a wired rack to cool completely.