This post may include affiliate links that earn us a small commission.
Pumpkin Soup is velvety smooth and creamy without oodles of cream in it. The taste of pumpkin really shines through this healthy soup.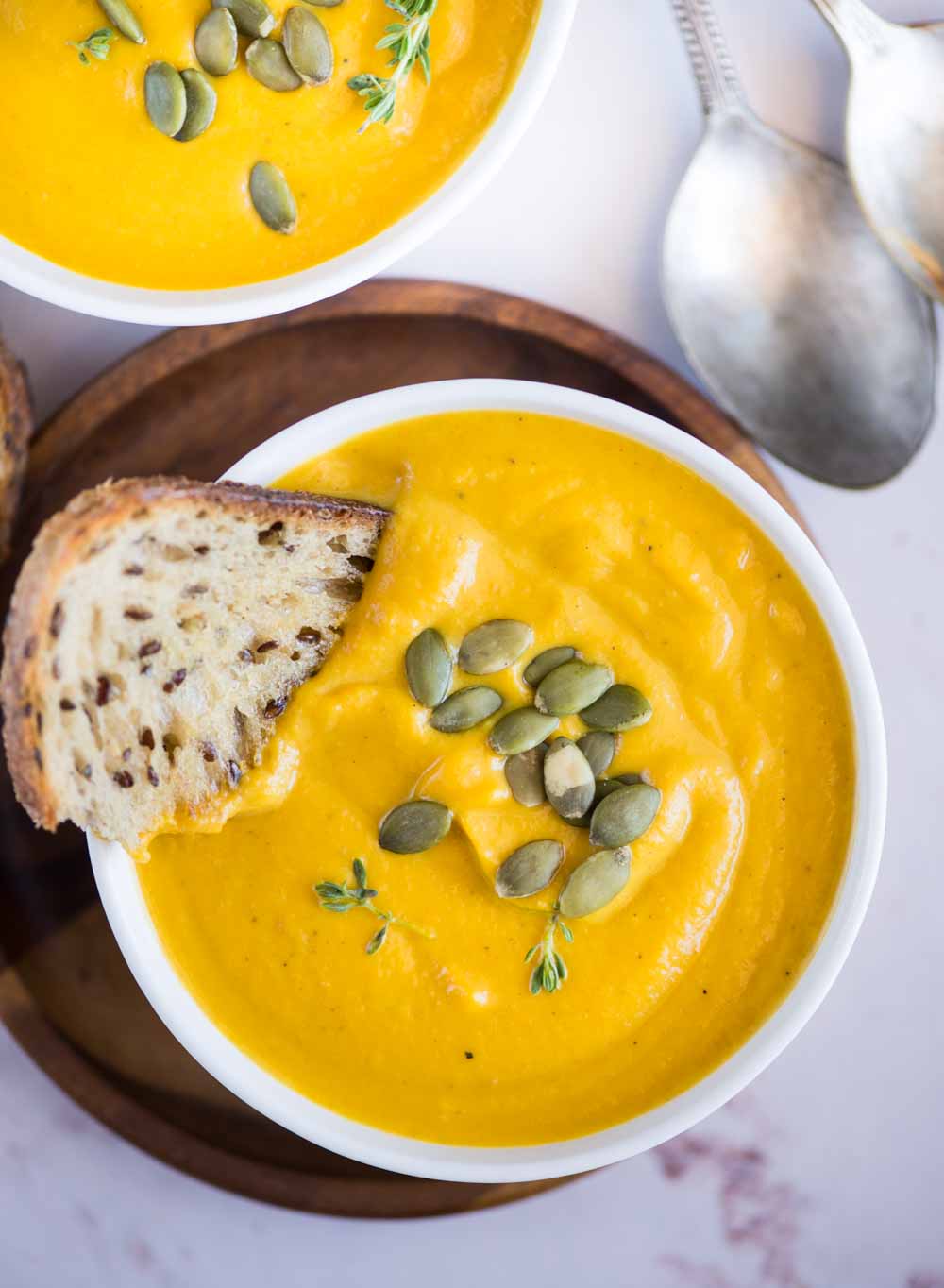 Flavours In Your Inbox
Subscribe for recipes straight to your inbox
Sometimes a simple Pumpkin Soup can also be very comforting.  You don't need any fancy ingredients.
Caramelizing Pumpkin in butter builds the flavour profile here. Pumpkin once cooked and pureed, it naturally gives the creamy texture. So you don't have to load the soup with cream. It is a family favourite and appears on our dinner menu quite often.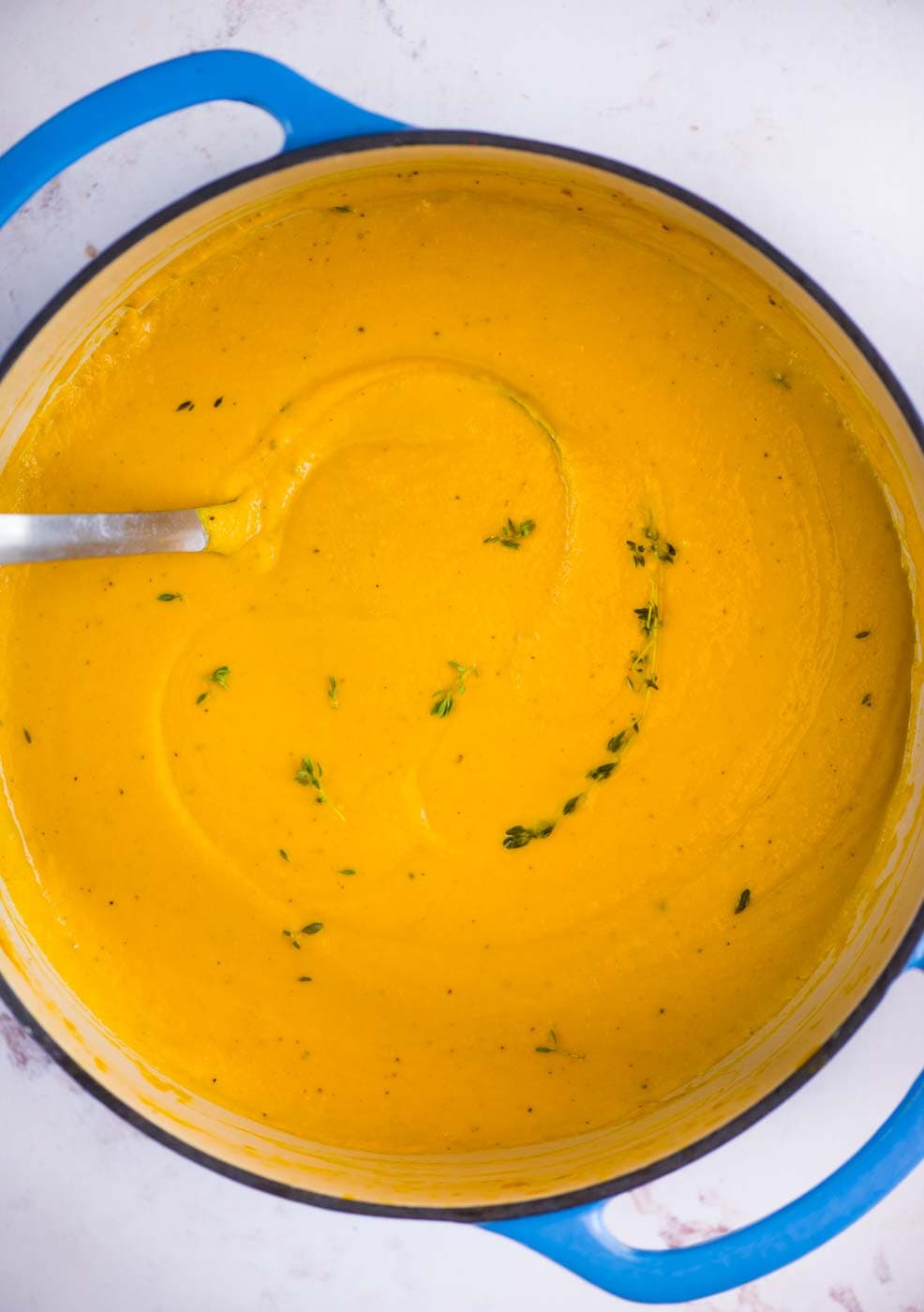 Ingredients You Need for the Soup.
This recipe calls for a handful of ingredients which you might already have in the pantry. There is a little bit of cutting and chopping involved though. But hey, what's cooking without any chopping.
Pumpkin: The hero of the soup. Try to use a ripe, good quality Pumpkin. Peel and roughly chop the pumpkin.
Onion and Garlic: The only aromatics we are using in this recipe. Saute in butter until it softens and just starts to brown.
Carrot: Carrot gives body and texture to the soup. Don't worry you are not going to taste carrot, it blends well with Pumpkin.
Butter: Sauteing anything in butter only makes it better. I wouldn't recommend substituting butter with oil unless you have any dietary restriction.
Fresh Herb: I usually throw in any fresh herb that I have on hand. Thyme, parsley, Rosemary anything would work here.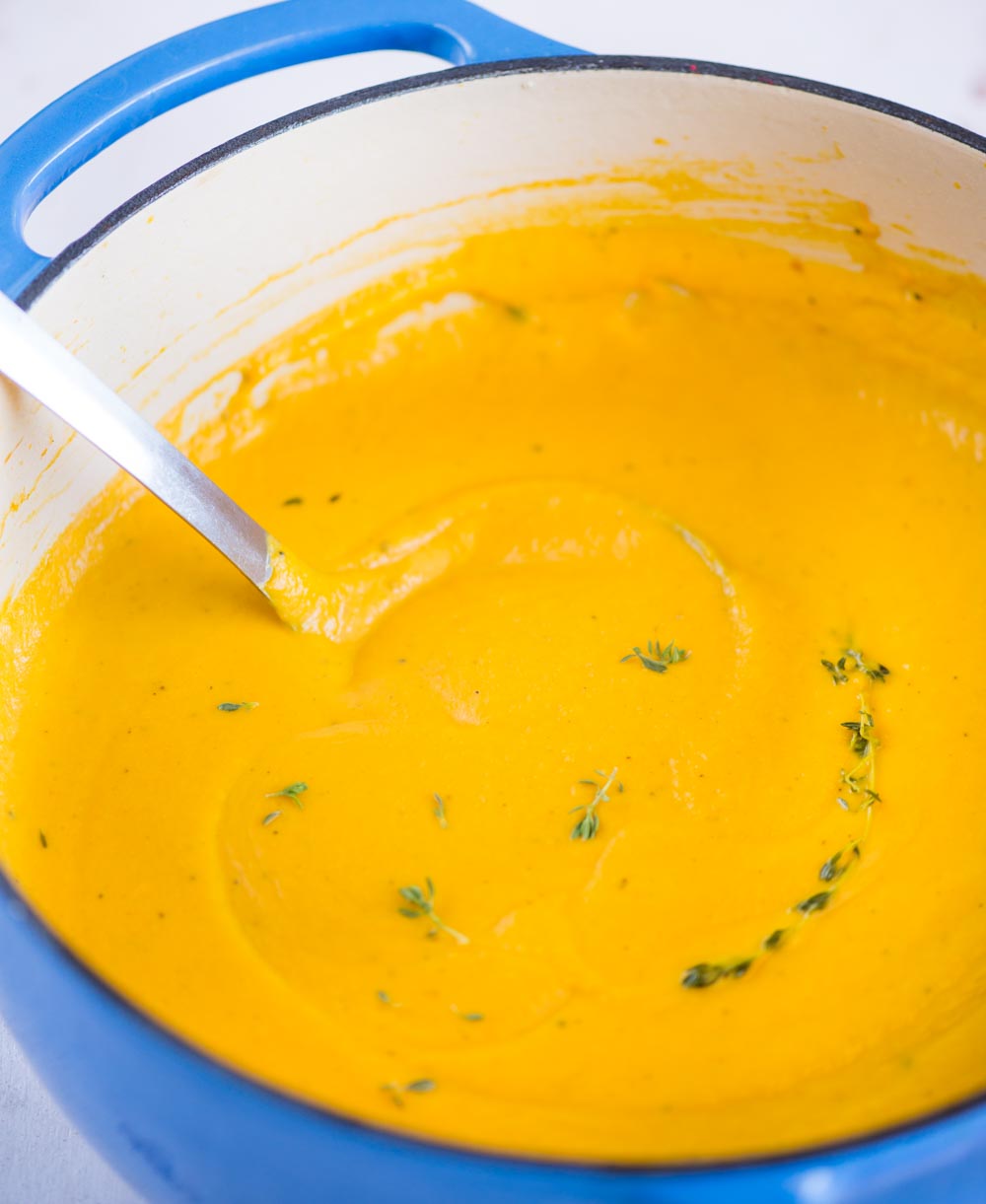 How To Make The Creamiest Pumpkin Soup
The easiest way to make this soup would be to dump all the ingredients and cook. But I love to saute and caramelize first, to develop flavour. The caramelized pumpkin is the only secret, that makes this soup to stand out. The extra 10 minutes of roasting is really worth.
Start with Caramelizing garlic and onion in butter, until aromatic. Then add chopped carrot and pumpkin. Roast it until you see brown spots on the vegetables. Keep stirring in between to prevent it from burning. It will take roughly 10-15 minutes if done on medium-high heat.
Add warm stock to the pot and cook for another 10-15 minutes until the vegetables are cooked. Blend to a smooth consistency. Stir in the cream and switch off the heat. Don't cook for long after you add the cream.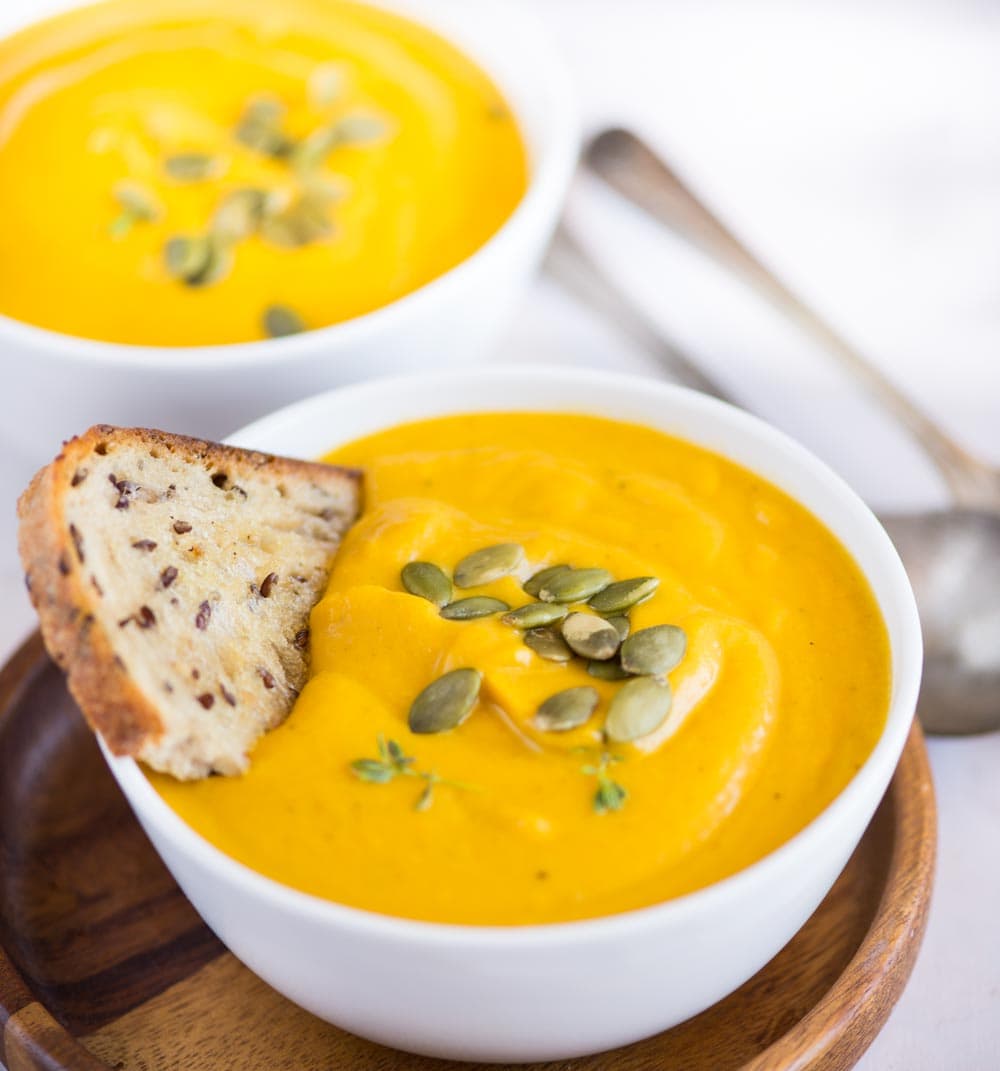 More Creamy Soup Recipes For You…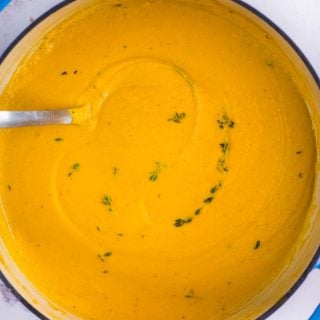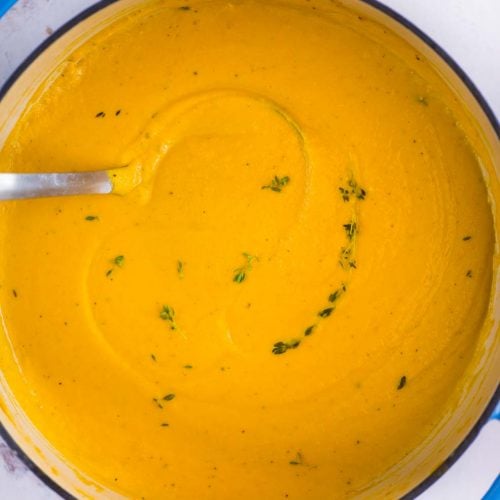 Pumpkin Soup
Pumpkin Soup is velvety smooth and creamy without oodles of cream in it. The taste of pumpkin really shines through this healthy soup.
Ingredients
1 kg Fresh Pumpkin (2 pounds) ripe and sweet
2 medium Carrots Chopped
2 tablespoon butter
1 teaspoon Oil
1 medium Onion Chopped
1 tablespoon Garlic Minced
4 cups Stock Vegetable or Chicken
2 sprigs Thyme (ref note 1)
½ cup Cream
salt and pepper to taste
Instructions
Start with skinning and deseeding pumpkin. Roughly chop it to small cubes.

In a heavy bottom pan, melt butter and oil. When hot add sliced onion and minced garlic.

When the onion has softened and garlic is aromatic, add chopped carrot and pumpkin.

Roast vegetables for about 10-15 minutes, stirring in between.

When you see small brown spots appearing on the pumpkin, Stir in the stock.

Season with thyme, salt and pepper.

Cover and cook until the veggies are cooked through and tender. Switch off the flame. Remove the sprig of thyme.

Using a hand blender, blend until it is smooth.

Put back the flame and let it cook for a couple of minutes.

Stir in cream and switch off the flame.
Notes
If you don't have fresh thyme, add 1/4 teaspoon of dried thyme. You can also add a sprig of rosemary.
Adding warm stock (in step 5) to cooked vegetables will quicken the cooking process. 
Nutrition
Serving: 1g | Calories: 257kcal | Carbohydrates: 26g | Protein: 4g | Fat: 17g | Saturated Fat: 11g | Cholesterol: 56mg | Sodium: 1026mg | Potassium: 1010mg | Fiber: 3g | Sugar: 12g | Vitamin A: 27514IU | Vitamin C: 28mg | Calcium: 92mg | Iron: 2mg