Red Lentil Soup With Spinach
This post may include affiliate links that earn us a small commission.
A comforting bowl of Red Lentil Soup made with Spinach, Red Lentil, Carrot and warm Spice is full of amazing flavors. This red lentil soup is rich in protein, fibers and is gluten-free.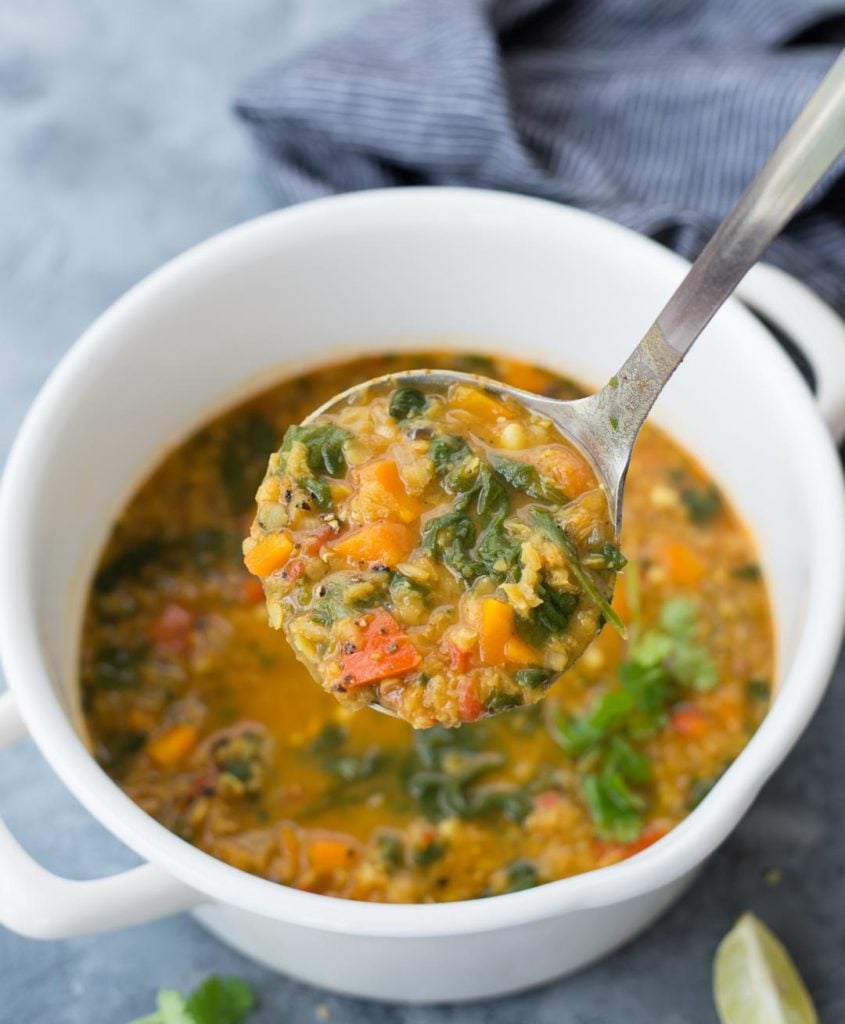 The ultimate one-pot Lentil Soup you would be needing this winter is right here. This Red Lentil soup is mildly spiced, flavourful with melting red lentils and spinach. It is rich in protein and fiber.  This filling and the really satisfying soup take only 30 minutes to make.
Flavours In Your Inbox
Subscribe for recipes straight to your inbox
We are approaching the soup season. It is time to bring in all those warm cozy soups and stews on the table.  You can never have enough soup recipes, right?  I mean who doesn't love a pot of soup simmering away in a pot and getting ready just in time for dinner.
Lentil or as we call it 'Dal' is an integral part of Indian Cuisine. Usually, we serve dal alongside rice or Indian bread. Saying that usage of dal is not limited to making stew.  There are various recipes using lentils. I might end up writing a whole new post on that. But for now, let's talk about this amazing Spinach Lentil Soup.
Spinach is a super-food that is added to this dal making it very nutritious and healthy. it is packed with nutrients and vitamins. It is also low in calories.
There are so many ways you can use spinach. I have used it in pasta – Creamy Spinach Pasta, another soup – Healthy Spinach Soup Recipe, used it as a stuffing in chicken – Mushroom Spinach Stuffed Chicken Breast, as a wonderful filling in Spinach Corn Sandwich – Video recipe, a delicious appetizer – Creamy spinach stuffed portobello mushrooms and there is a very popular Indian curry – Palak Matar Curry ( Spinach and Green Peas Curry).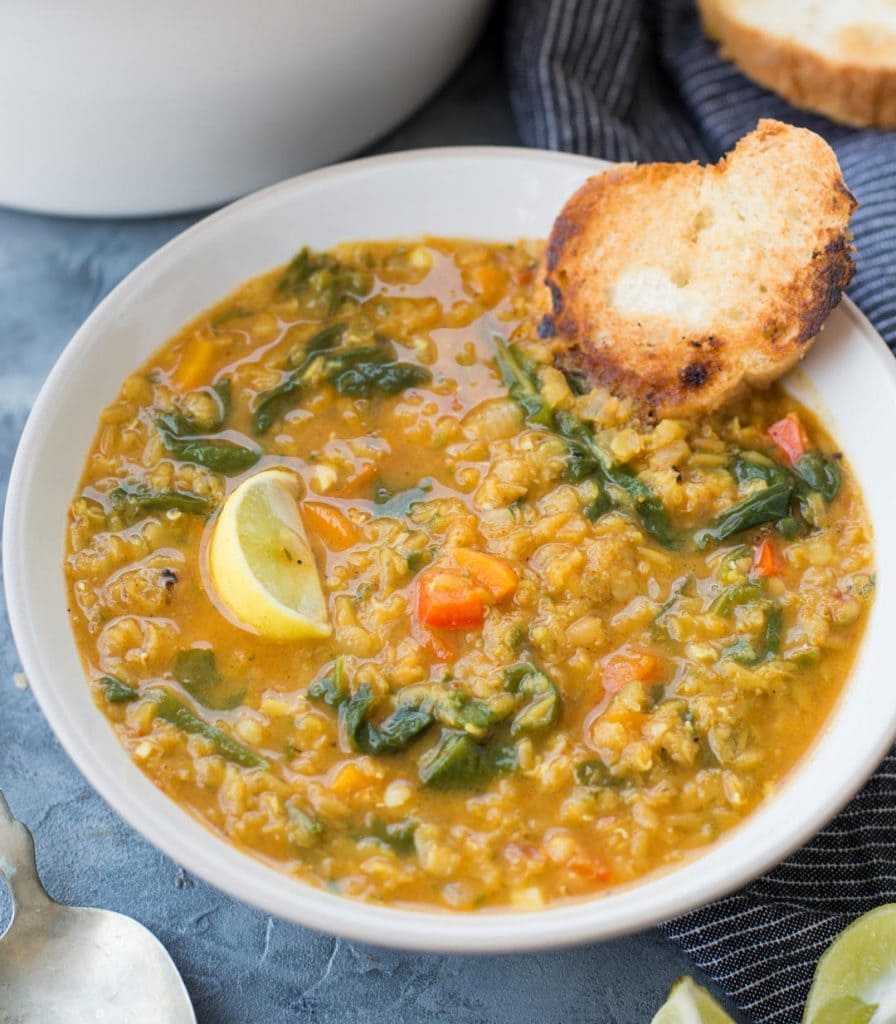 HOW TO MAKE RED LENTIL SOUP?
Making Spinach Lentil Soup is quite easy as you don't need any special ingredients. All you need is Red lentil, fresh or frozen Spinach, carrot, and a handful of spices.
I prefer using red lentil for soup because it cooks fast. You don't have to cook on low for long hours, nor do you need to soak it. The orange-looking lentil turns golden yellow once cooked. By cooking in a pot, it is easy to avoid overcooking the lentils.  I like the little texture in the soup, so I don't blend it once it is cooked. For the smoother soup base, you can blend it at the end.
Start by caramelizing onion and garlic in oil. Caramelizing onions and garlic add a depth of flavor. After that, it is pretty much like dumping the rest of the ingredients into the pot and letting it cook until vegetables are tender and Lentil is cooked.
For extra flavor, I have used Vegetable stock here but water can also be used.
To the end, add spinach and let it cook for a couple of minutes.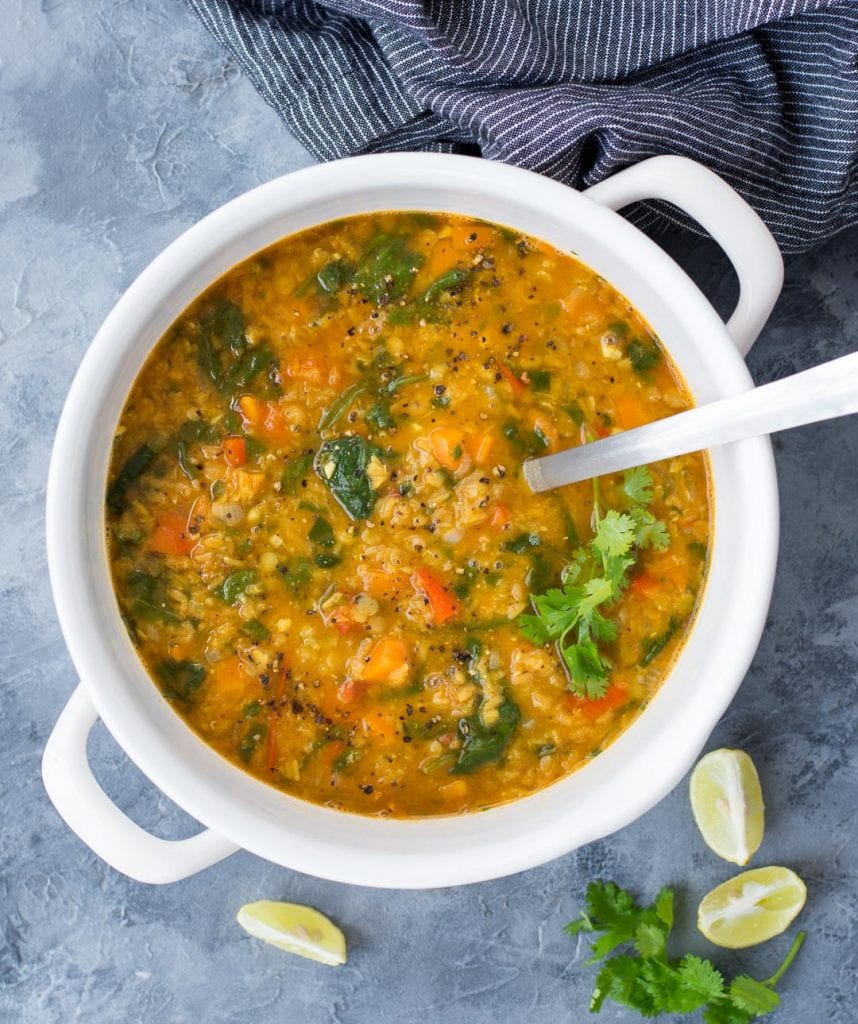 Frequently Asked Questions
IS THIS RED LENTIL SOUP VEGAN?
This red lentil soup is vegan and also gluten-free. It is completely a plant-based soup. This is a filling and satisfying vegetarian dinner that you can make in no time. If you want a break from indulgent eating, then this soup surely is the perfect one.
Can you make this soup in Crockpot?
You can absolutely make this Red Lentil Soup in a Crockpot. If sauteing onion and garlic seems like too much work, just dump all the ingredients into the crockpot and cook on low for 6 hours.
Can you freeze this soup?
This Lentil Soup can be frozen easily. Once it is cold, divide it into small portions and store it in food-safe Zip-lock bags. As there are no dairy products added to the soup, it can be frozen very well.  Before reheating, let it thaw for 30 minutes on the kitchen counter.
STEP BY STEP VIDEO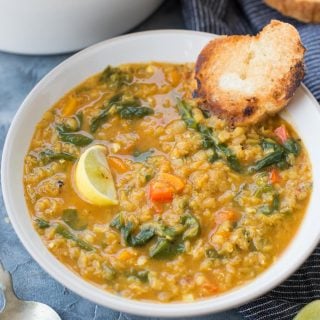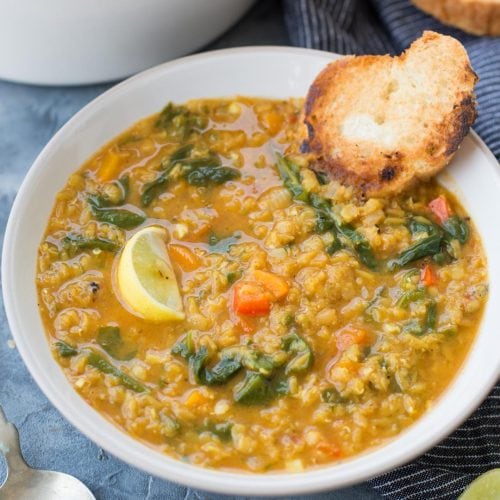 Spinach Lentil Soup
Red Lentil Soup made is Vegan and Gluten-free. With spinach, carrot and lots of warm spices, this soup is really hearty and healthy.
Ingredients
1.5 cup red lentils (Ref Notes 1)
8 cups Vegetable stock/ water
1 tbsp Vegetable oil
1 small Onion
1 tbsp Garlic Minced
1 large tomato Chopped
1 large carrot Chopped
½ tsp turmeric
½ tspn Cumin powder (optional)
1 tbsp Mild Curry Powder
1 tspn Paprika
3 cups spinach Tightly packed
Salt and pepper to taste
half lemon wedge
fresh coriander leaves
Instructions
Heat oil in a heavy bottom pot. When medium hot, add chopped onion followed by garlic. Saute 2-3 minutes. The onion will start to soften and no more raw smell of garlic.

Stir in chopped tomato and Carrots. Saute for a minute and let the veggies soften.

Add all the spices turmeric, cumin, curry powder, paprika. Saute for a minute. This helps to develop the flavour.

Stir in washed lentil and stock/water to the pot. Season with salt. 

Once it comes to a rolling boil, reduce the flame and let it cook covered for another 20 minutes.

When the lentil is almost cooked and carrot is tender, add Spinach to the pot.

Mix well and let it simmer for 5 more minutes.

Stir in fresh lemon juice. Adjust the seasoning and add more salt and pepper if required.

Garnish with fresh coriander leaves when serving.
Notes
To cook lentil faster, soak the lentils for 10-15 mins. Then drain and add to the pan.
Nutrition
Serving: 200g | Calories: 320kcal | Carbohydrates: 52g | Protein: 18g | Fat: 4g | Saturated Fat: 2g | Sodium: 1915mg | Potassium: 884mg | Fiber: 22g | Sugar: 7g | Vitamin A: 5880IU | Vitamin C: 13mg | Calcium: 80mg | Iron: 6.5mg
'PIN LATER'