This post may include affiliate links that earn us a small commission.
This delicious Spinach Pasta has creamy parmesan sauce and is a perfect dinner for any occasion. Cream cheese in the sauce makes it extra creamy and rich. A super easy and quick recipe that everyone is going to love.
If you love pasta like everyone in my family (Yes, we dig in pasta big time), I have got some wonderful pasta recipes for you to check out – Summer Cherry Tomato Pasta with Shrimp, Loaded Vegetable Pasta Bake, Roasted Corn Pasta Salad, or Cold Tuna Pasta Salad.
Flavours In Your Inbox
Subscribe for recipes straight to your inbox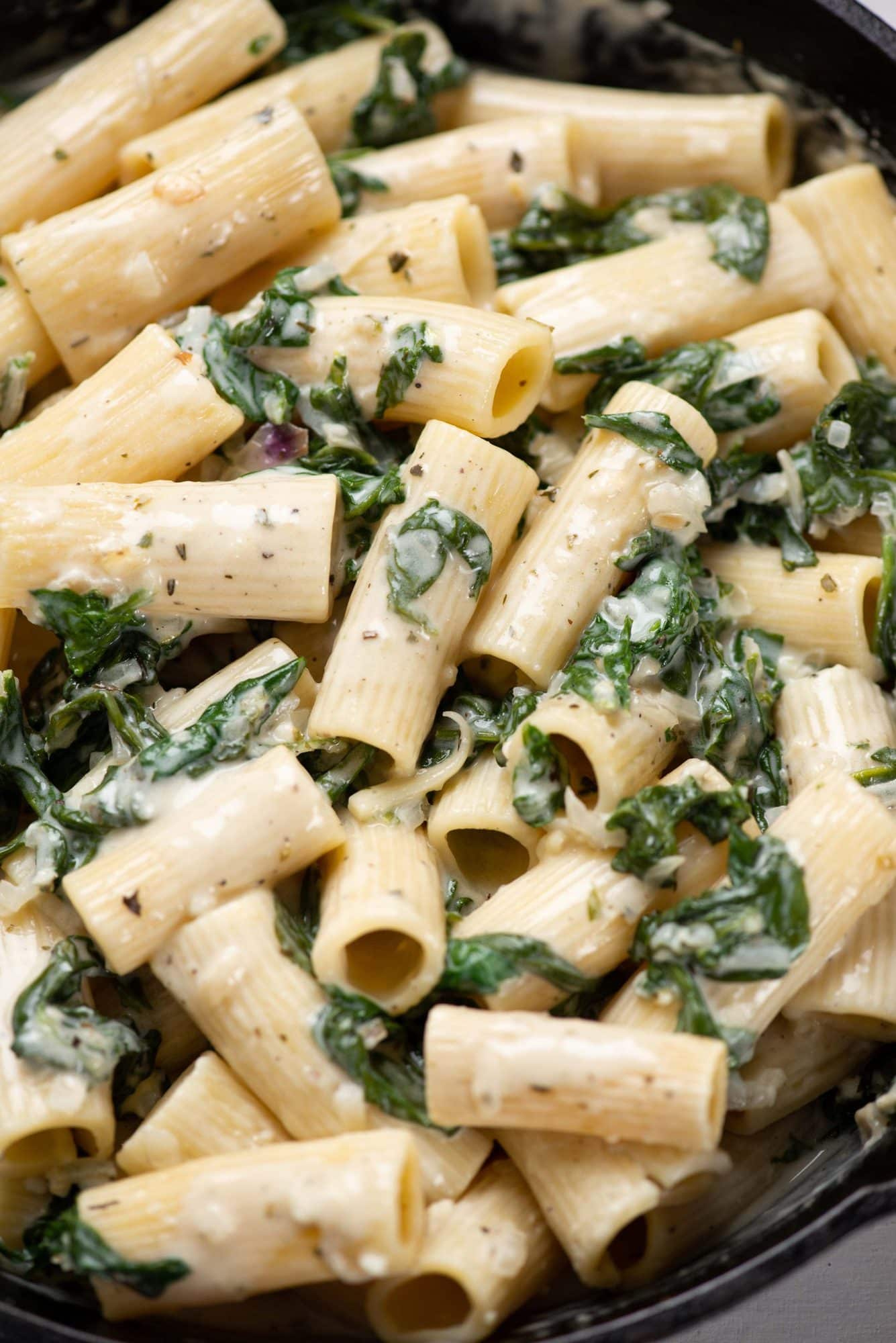 Adding Spinach to creamy pasta makes it healthy and filling. This pasta has simple has flavors and comes together in no time. The cream cheese in the sauce adds a bit of tang and gives richness to the sauce. Don't forget to check the Garlic Cream Cheese Pasta recipe, which also is one of our absolute favorites.
Want to make your pasta a lot more healthy with a lot more nutrients? Easy, add the evergreen Spinach to your pasta. And it makes it tastier too I feel. You get your daily intake of greens along with pasta.
Looking at the host of vitamins and anti-oxidants that spinach has, adding it can only be so good right. It just tilts the nutrition balance of the pasta dish to awesome. For many people, who look for the health and nutrition side of a pasta dish, they couldn't have been more satisfied looking at a spinach pasta.
Ingredients
Pasta – Any short pasta would work in this recipe.
Baby Spinach – Is more tender and has a sweeter taste so this is what I usually go for.
Cream cheese – Helps to make the pasta more creamy and just makes a very desirable sauce.
Parmesan – The classic choice for cheese in pasta and you simply cannot go wrong with parmesan in pasta.
Milk – Have used full-fat milk to help build a creamy sauce for the pasta
Flour – While the milk and cream help to get the creamy feel, have added flour to thicken and get the right consistency.
Shallots – Sautéing them lightly to get the flavors to the sauce.
Garlic – Love the flavor of garlic in pasta sauces.
Butter & Olive Oil – Combining butter and oil increase the burning temperature of the butter and makes sure it doesn't burn and spoil the taste of the dish.
How to make
Cook pasta – Pasta needs to be cooked as per instructions specified in the packet. Take half of the boiled pasta water and reserve it to be used later especially when you need to water it down.
Sauté for flavor – Onions and garlic when sauteed release their flavor to the oil. It also takes off the harshness of raw onions and garlic. First heat oil and butter together. Mixing oil with butter doesn't let butter burn easily. Sauté onions and then add garlic and sauté after adding flour.
Add milk – Keep at low heat during the next steps. While adding milk, you need to add it slowly while whisking at the same time to avoid any lumps. Also add 1/2 cup of pasta water. Add cheese and seasoning too and mix everything well. Add spinach and let it wilt and then mix everything.
Pasta – Add the cooked pasta and stir so that the pasta gets coated with sauce well.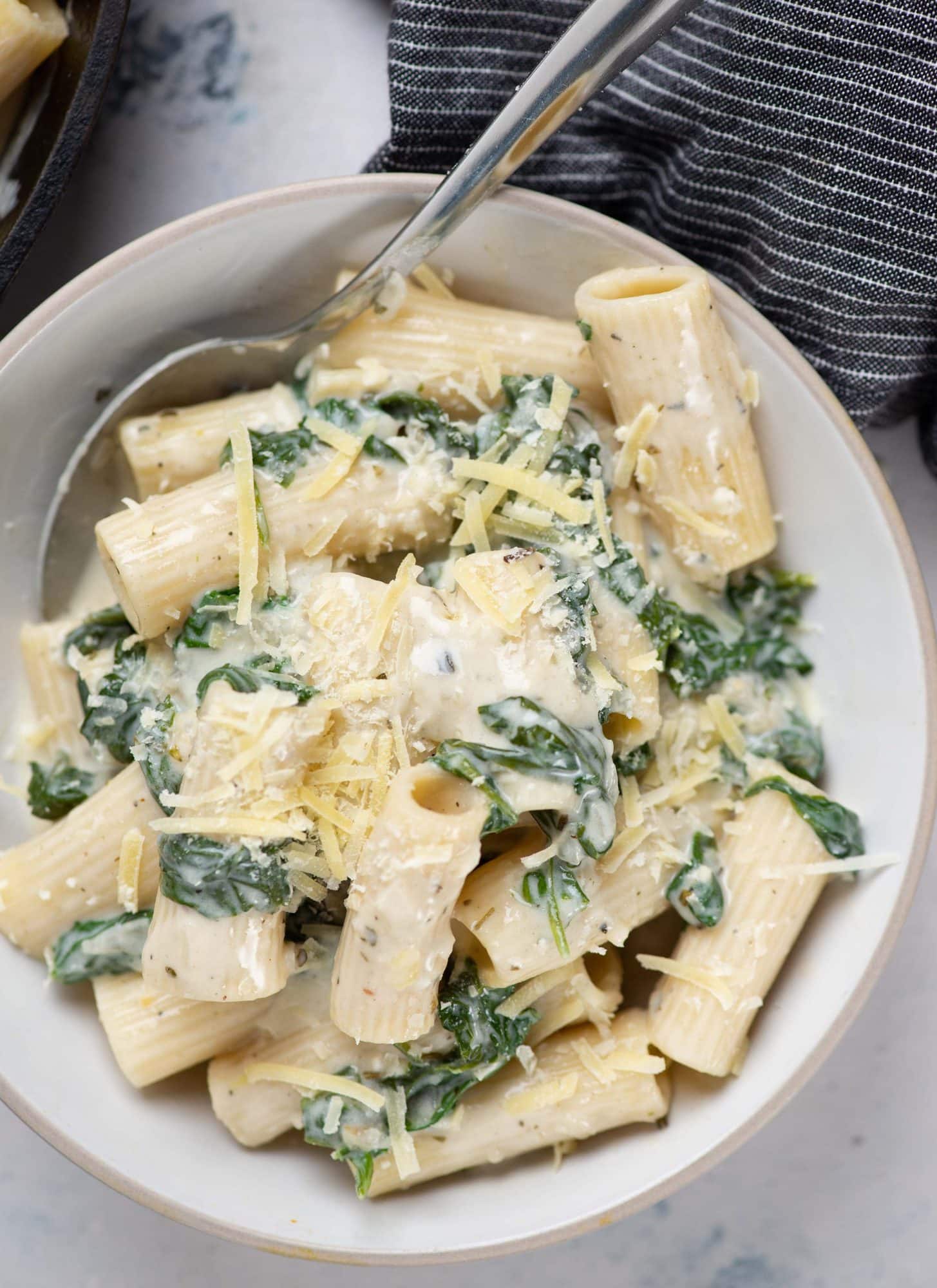 Serve With
Pasta is best served with some grilled meat like Easy Grilled Chicken, Grilled Shrimp, Grilled Rosemary Chicken Kebabs, or Grilled Teriyaki Chicken or with bread like No-Knead Rustic White Bread.
Store
You can store this pasta in the refrigerator in an air-tight container or zip-lock bags. This can be refrigerated for up to 4 days only as this contains cooked onions and garlic which makes this perishable.
Other Spinach Recipes
There are so many ways you can use spinach. I have used it soups – Red Lentil Soup With Spinach & Healthy Spinach Soup, used it as a stuffing in chicken – Mushroom Spinach Stuffed Chicken Breast, as a wonderful filling in Spinach Corn Sandwich – Video recipe, a delicious appetizer – Creamy spinach stuffed portobello mushrooms and there is a very popular Indian curry – Palak Matar Curry ( Spinach and Green Peas Curry).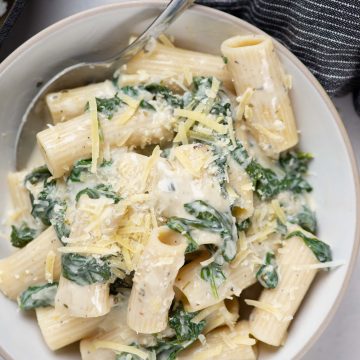 Creamy Spinach Pasta
Pasta with lots of spinach and creamy sauce using garlic, parmesan, cream cheese and Italian season. Delicious creamy pasta with healthy Spinach makes a perfect dinner.
Ingredients
250 grams Dried pasta
500 grams Baby Spinach
2 tablespoon Butter
1 teaspoon Olive Oil
2 tablespoon Chopped Shallots
½ tablespoon Garlic minced
2 tablespoon Flour
1 cup Milk Full fat Milk
100 grams Cream Cheese
1 teaspoon Italian Seasoning
½ cup Parmesan
salt and pepper to taste
Instructions
Cook pasta as per package instruction. Reserve 1 cup of pasta water to use later.

Melt butter and oil together over medium-high heat.

Add finely chopped onion and garlic. Saute until softened.

Add flour. Saute until the raw smell is gone ( roughly about 2 minutes).

Lower the heat. Gradually whisk in the milk, Keep stirring the mixture to avoid any lumps. Slowly add 1/2 cup of pasta water ( reserve remaining pasta water and use if needed to thin down the sauce)

Keep the heat low. Add parmesan cheese, cream cheese and Italian Seasoning. Mix until the sauce is creamy and smooth. Check the seasoning and add salt and pepper as per taste.

Add spinach and mix. Let the spinach wilt a while. Then add in the cooked pasta. Mix gently until pasta is coated with the sauce.

The sauce will thicken when it cools down. If the sauce feels too thick, add reaming pasta water until the desired consistency is reached.